As I have written before here on the TerroirSense Wine Review, among China's wines that have most impressed me right from the first time I visited the country and began tasting its wines seriously (now over a decade ago), those made with Marselan always stood out the most. In fact, I have no difficulty stating that along with those made with Gernischt and Petit Manseng, Marselan's are China's best wines. Furthermore, considering the sheer numbers of new wines appearing on the market every year and the increasing annual volumes of Marselan wine production, it is fair to say that China's most important grape and wine today. Clearly all those who have planted oceans of Cabernet Sauvignon, Chardonnay and Merlot (and even more so those who pushed fledgling wineries to plant the same old varieties grown everywhere else in the world) would beg to differ, but that's to be expected. Fact is, outside of some very good Bordeaux blends being made in Yunnan and a few other Cab and Chard wines made elsewhere in the country, the real excitement in Chinese wines lies in other grapes. Domaine Zijin, also known by its western name of Amethyst Manor Vineyard (Amethyard, for short), is one of the country's best producers of Marselan wines and it is theirs that is the subject of this vertical tasting report.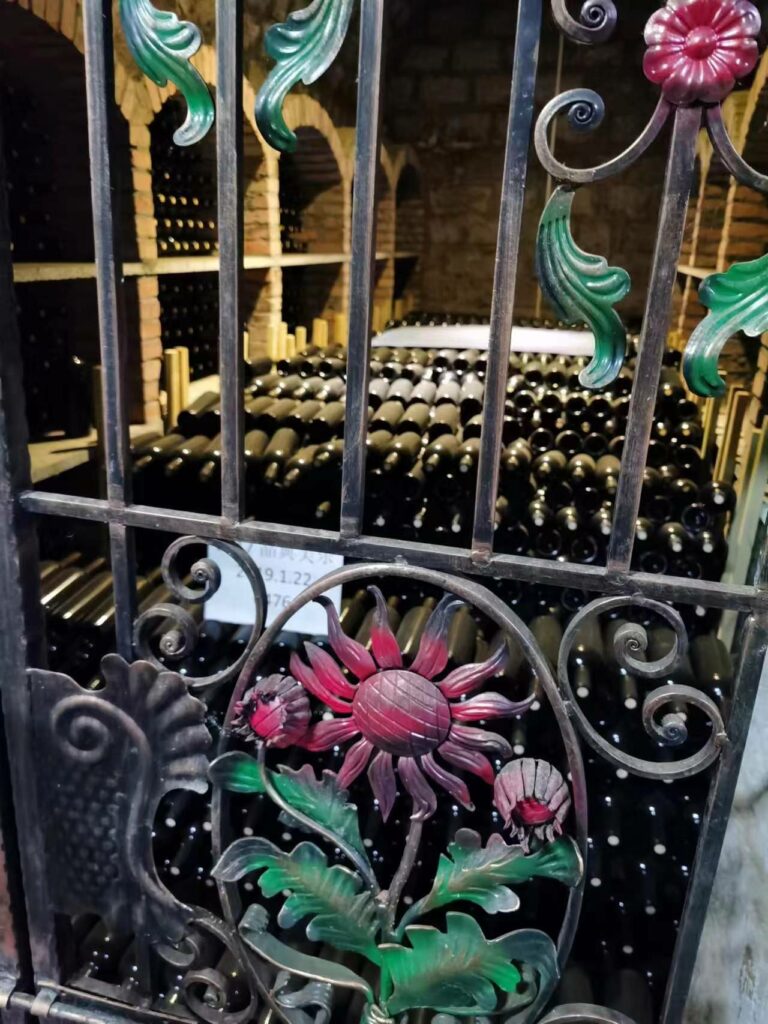 Getting to know Domaine Zijing, or Amethyst Manor (Amethyard) Vineyard winery
Founded in 2008, Domaine Zijing (or Amethyst Manor Vineyard as it is known in western idioms; Amethyard for short), is located in the Huailai wine region of the Hebei province close to Beijing. I was told the estate is only eighteen kilometers removed from the Badaling side of the Great Wall of China; in fact, you will have no problem seeing the Great Wall (one of the world's true engineering marvels) as you drive from Beijing to the winery in what will be for you, I guarantee it, a truly jaw-dropping vision.
Amethyard owns a total of forty-five hectares under vine: tellingly, at fifteen hectares, Marselan is the most planted variety. Other varieties that are planted, and from which Zijing makes wines include, Cabernet Sauvignon, Cabernet Franc, Gewurztraminer, Merlot, Petit Verdot, Petit Manseng, Chardonnay and even Hungarian varieties. Surprisingly, Riesling, that had also been planted initially didn't work out because of the difficulties posed by the local weather (grapes would burst from disease pressure). Which is curious, because for the most part Vinifera varieties have no problems growing in the region: the presence of the Guan Ting reservoir helps moderate temperature fluctuations and limit extreme adverse effects that could possibly come down from much colder areas to the north. The first vineyards were planted in 2008 (Cabernet Sauvignon, Cabernet Franc, Marselan and Chardonnay); the Gewurztraminer was planted in 2009, the Petit Verdot in 2011; the Riesling was uprooted in 2013 and Marselan was replanted in its stead, and more in 2018). Amethyst Manor Vineyard winery/Amethyard winery makes some of China's best wines, and it is noteworthy to know that, up until this year at least, the estate has excelled with virtually any grape it decides to confront itself with. The first Marselan wine the variety made was the 2012; like all its red wines, the estate believes in cellaring wines for appropriate lengths of time before releasing them for sale, so the winery has large stocks of many different recent vintages of Marselan wine (and not just Marselan wine) currently resting in its cool cellars (the current wine on sale is the 2014; the '15, '16,'17. '18, and '19 have all been produced as well).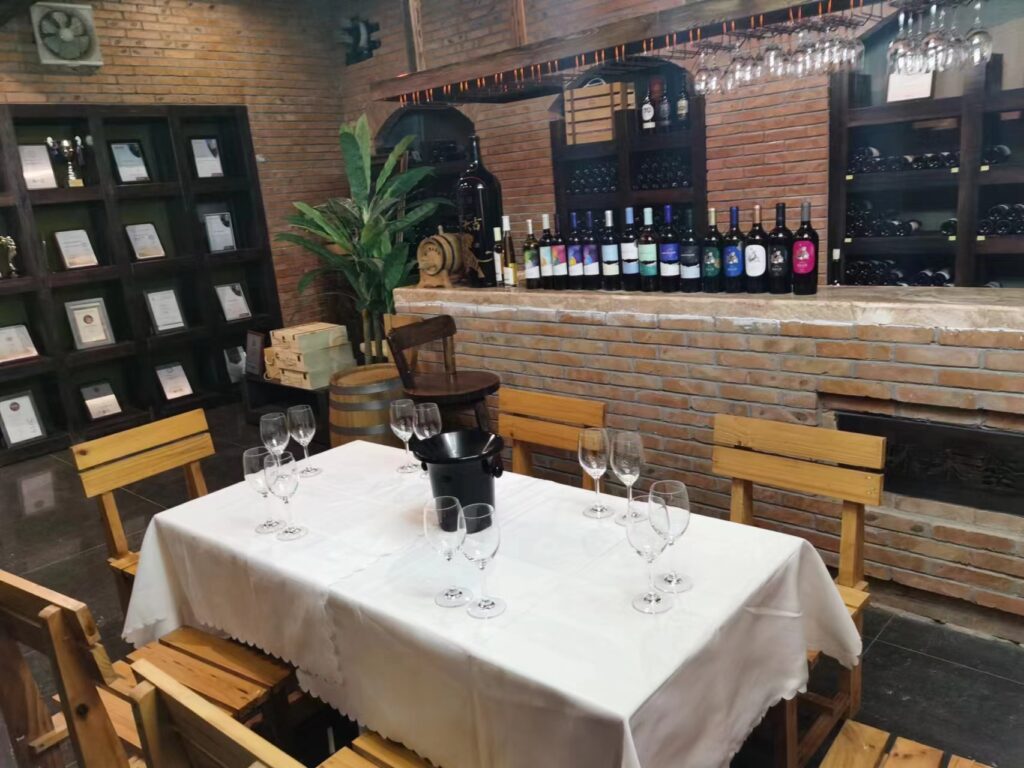 Unfortunately, Amethyard's winemaker has recently left to take up the same post at another winery, and so we will have to wait and see if this means a new course for Zijing. However, given the great passion and commitment of owner Ma Shusen to his labour of love, I have no fears the winery will continue to deliver. I have met Mr. Ma numerous times over these last four years, both at the winery and in Shanghai at private functions, and I have come away impressed by him and his devotion to the craft of wine, something he has invested heavily in over the last fifteen years or so. It is to his credit that there is no other winery in China that is so remarkably successful with as many as seven different grape varieties: though no single wine stands out as the best of its category, virtually any wine you pick from Zijing, blends included, are amongst the best and very close to the pinnacle of Chinese wines in their respective categories. The wines are varietally labeled but keep in mind they can in fact contain up to 25% other grapes as Chinese law allows a minimum of 75% of the grape variety only the name of which is indicated on the label. The winery currently makes about 180,000 bottles a year (of which 42,000 are of Marselan wine), but has the production potential to make many more. The wines are sold in four different lines of varying quality levels: Brilliant, Fairy, Classic and Premium.
Marselan, the grape variety and wine
Marselan is to China what Malbec is to Argentina, Pinotage is to South Africa, and Carmenère to Chile. Simply put, the variety has found a home in China, and the world's best Marselan wines are without doubt the Chinese ones. Marselan is a French wine grape resulting from a laboratory crossing of Cabernet Sauvignon and Grenache Noir by scientist Paul Truel in 1961 who was working at the time at the Institut National de la Recherche Agronomique (INRA) in Montpellier. Over his illustrious career, he achieved success in creating new grape crossings [as many as eighteen successful ones, including Caladoc (Grenache Noir x Malbec); Chasan (Listan Blanco x Pinot Blanc, though some say it was Chardonnay instead), and others]. There is no doubt however that the crossing that has garnered the most praise over the decades and is planted nowadays from southern France to South America is Marselan, a Cabernet Sauvignon x Grenache Noir crossing. As always when attempting a new crossing, the goal was to combine in a new grape the qualities of its two parents without their defects. Besides slightly small berries that therefore do not allow for huge wine volumes to be produced with it (never a plus in the eyes of farmers), the grape boasts nothing but positives: it has very good resistance to oidium, mites, grey rot, and berry shatter (coulure) and it thrives in hot and droughty conditions, not exactly a minor selling pint in times of climate change. Marselan's wine offers a bright rich deep red colour, intense, complex perfume (red and blue fruits, tobacco, black pepper) and very supple tannins. Last but not least, it ages better than many people think.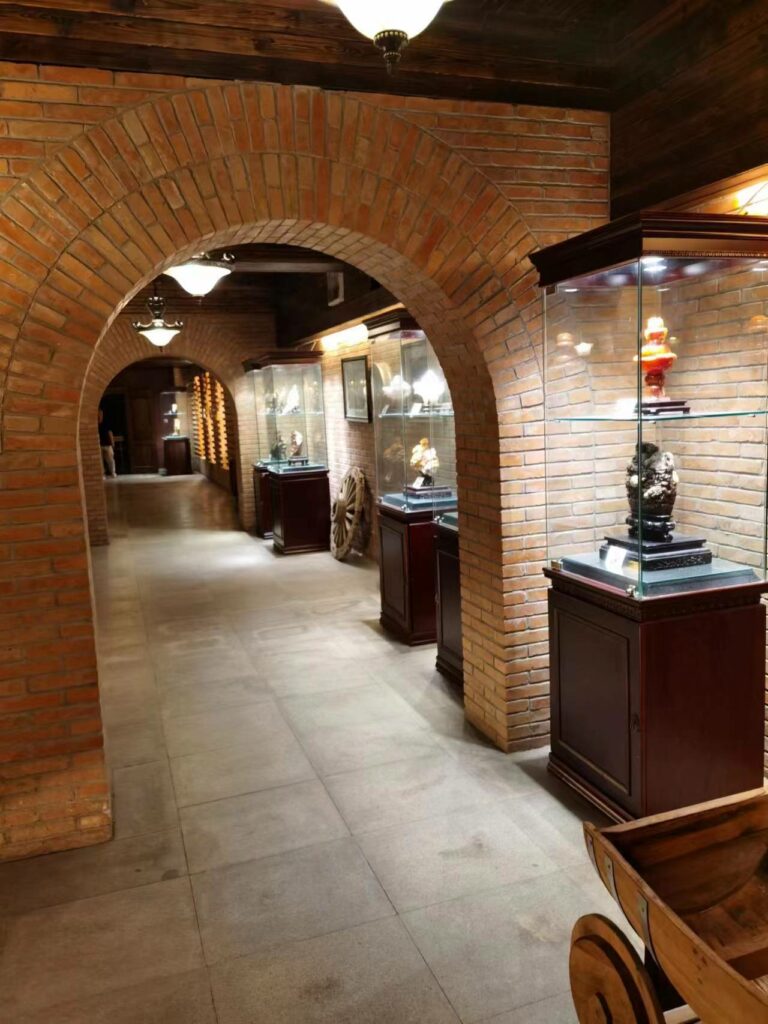 Truel named Marselan after Marseillan-Plage, a French coastal town where the INRA experimental grapevine collection vineyard of the Domaine of Vassal was located (the Unité Expérimentale du Domaine de Vassal) that he was curator of. Initially envisioned as a variety that would perform ideally in Southern France's hot and droughty climate, the reality has been somewhat different: French wine people were less than enthused by the variety's small berries (and hence the small volumes of wine that could be made with it), and so over the years the grape has been planted sparingly there and in other parts of the world. Today, there are some very good Marselan wines made in Uruguay, Chile and southern France, but the largest number of good to great wines made with Marselan are those of China. The Chinese wines aren't just head-turning, but also express clear-cut differences in terroir; there are many different Chinese Marselan wine styles made depending on where the grapes are grown. For example, the cooler, fresher Marselan wines from Shandong and the richer, fleshier, higher in alcohol wines from Ningxia. The wines of Huailai fall somewhere in between those two extremes, with more flesh and volume than those of Shandong, but less alcohol, size and sweetness than those of Ningxia. Perhaps more importantly, it is genuinely hard to find Marselan wines from China that aren't at the very least interesting. And Zijing's/Amethyard's are amongst the best of them all.
[For more information on this super-interesting grape and wines, please see: TerroirSense Wine Review. Three budding Chinese wine stars (May 12, 2021); and TerroirSense Wine Review. Marselan finds a home in China. (April 22, 2022)].
The wines in this tasting report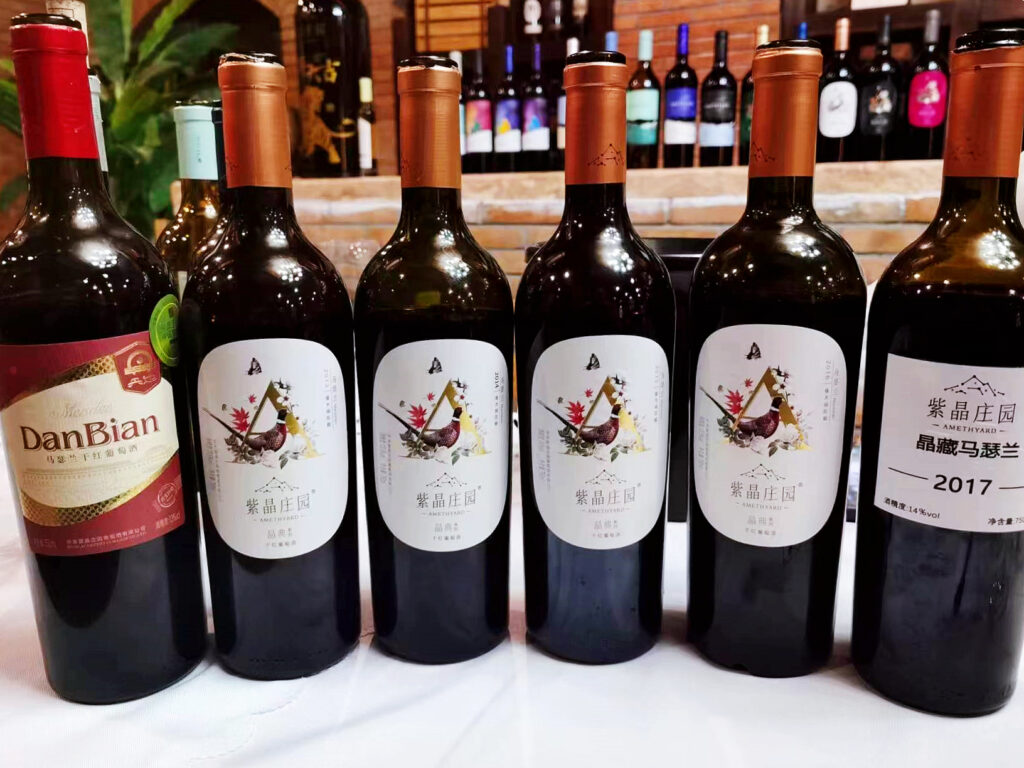 Domaine Zijing/Amethyard 2019 Marselan Huailai Hebei            94
This is superb. Moderately saturated red colour. Aromas of sweet, ripe red fruit and coffee on the nose are complemented by hints of spicy vanilla and violet. Enters quite oaky for a wine by Amethyard, but there's oodles of fresh strawberry, raspberry coulis, and dark cherry flavours lurking beneath the oaky veneer: I have no doubts the fruit will outlive the smooth tannins. The finish is long, suave and multi-layered, and confirms the initial impression of marvelous sugar/acid/tannin/fruit balance. Very well done, this is a world-class wine that showcases the relatively cooler climate-styled wines of Huailai Hebei. This is a 91% Marselan wine, with 3% Petit Verdot, 3% Cabernet Franc, and 3% Petite Syrah rounding out the blend. Aged in 50% French oak, 25% Hungarian oak and 25% American oak for thirteen months. Drinking window: 2026-2030.
Domaine Zijing/Amethyard 2018 Marselan Huailai Hebei           93
Deep red-purple color. A touch of volatile acidity adds freshness and lifts the ripe, glycerally-rich and blue fruit, coconut, and candied violet aromas and flavours, further heightening Marselan's spicy personality on the long youthfully chewy but well-balanced finish. A lovely Marselan that really improves in the glass with aeration, offering sneaky concentration and depth. This is likely to age well too. Well done. This was aged in French oak (27% new) for about thirteen months. This is 88% Marselan with 8% Cabernet Sauvignon and 4% Cabernet Franc. It's not just the blend that is different in this wine compared to the 2019, but the aging too: this matured in 50% American oak, 25% Hungarian oak and 25% French oak for thirteen months. Drinking window: 2025-2034.
Domaine Zijing/Amethyard 2017 Marselan Huailai Hebei           93
Good full deep ruby colour. Notes of flint, black and blue fruit, violet with hints of black pepper and coconut on the inviting nose. Then classically austere and steely in the mouth, with minerally-accented dark plum and blueberry flavours. Smooth but noteworthy tannins provide backbone on the long, sweetly spicy, almost Syrah-like finish, but with the gracefulness of a fine Saint-Julien. This was matured in 50% American oak, 25% Hungarian oak and 25% French oak for thirteen months. Curiously, this struck me as being a much darker wine than the 2018, not just in terms of colour but fruit profile too, even though there was a little bit more of the Cabernet varieties added in 2018 compared to 2017. This is 90% Marselan, 5% Cabernet Sauvignon and 5% Cabernet Franc. Drinking window: 2024-2032.
Domaine Zijing/Amethyard 2016 Marselan Huailai Hebei           92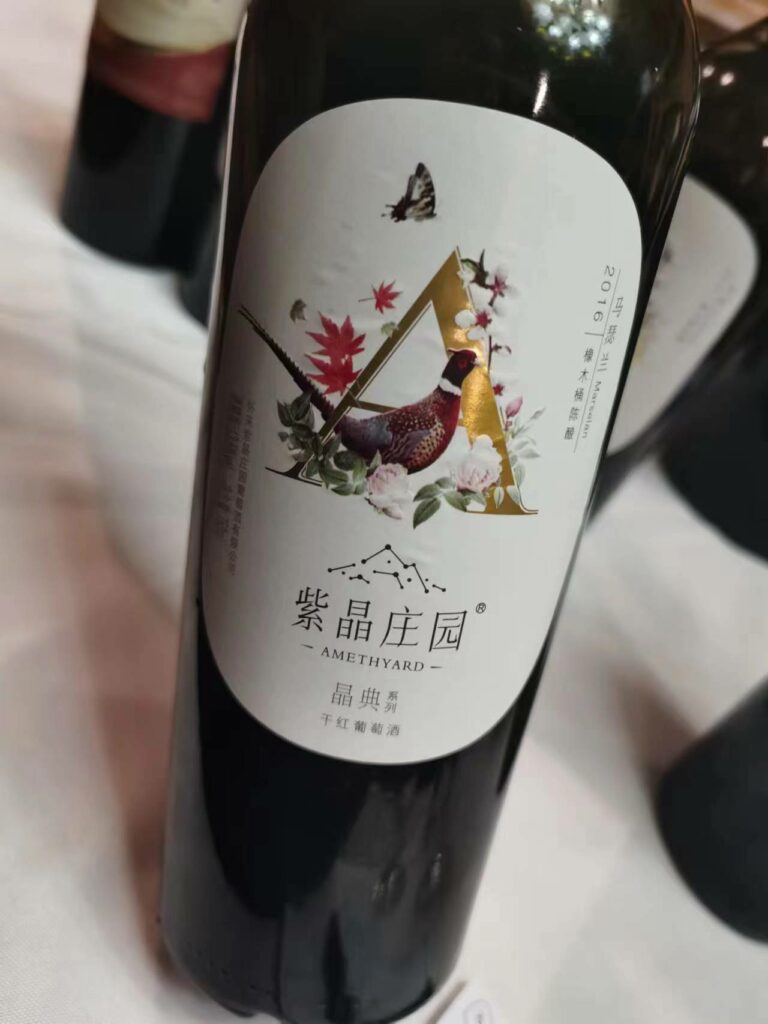 Good full ruby-purple. Slightly reticent on the nose at first, the nose opens with aeration to reveal  hints of strawberry, lemon peel, cumin, forest floor and black pepper, lifted by a bright violet topnote. Vibrant and juicy, with flavours similar to the aromas: the tasting profile strikes me as more complex than that of the 2017, and more nuanced, but also more herbaceous. The green note rises on the long back end, but it's nuanced enough that it adds interest rather than seeming a flaw. This 2016 Marselan's more herbal, tighter, less outwardly fruity style is in keeping with the cooler 2016 growing season. Aged thirteen months in small barrels (half of which in 50% American oak, 50% Hungarian; roughly 50% new oak). 100% Marselan. This is a very good example of Chinese Marselan wine, just like the 2015 (the product of an even cooler year), that is juicy and lifted and very different from the fleshy ripe wines of Ningxia, for example. Drinking window: 2023-2030
Domaine Zijing/Amethyard 2015 Marselan Huailai Hebei            89
Bright pale purple-red. Slightly simple but fresh and easygoing aromas and flavours of strawberry, cinnamon, cumin and red dragon fruit. Aged thirteen months in oak barrel (half of which in 50% American oak, 50% Hungarian; roughly 50% new oak), this100% Marselan is the product of a much cooler year, and its somewhat lean, rigidly steely delivery of light fruit flavours showcases that to good effect. Well-made and clean, but almost too simple, it's a very different wine from the other Marselan wines that are part of this vertical tasting report, especially so on the nose, which is not as deep and interesting as that of the others. Drinking window: 2023-2029.
Domaine Zijing/Amethyard 2014 Marselan Huailai Hebei            94
Bright full ruby with a garnet rim. Captivating aromas of superripe red cherry, cinnamon, violet, Sichuan pepper, and soy sauce. Enters sweet and round, boasting lovely fruit ripeness and a candied violet quality. Finishes fleshy and long, with slightly chewy tannins nicely buffered by the sweet red fruit flavours (strawberry, raspberry, red cherry macerated in syrup) and a whiff of alcohol. This was obviously made in a much riper year than the 2015 and 2016 wines, with some air-drying occurring on the vines, but the wine is very light on its feet and is currently drinking beautifully but I wouldn't hold on to it much longer. Aged thirteen months in oak barrels (half of which in American and half in Hungarian oak, about 50% new). 100% Marselan. Drinking window: 2023-2030.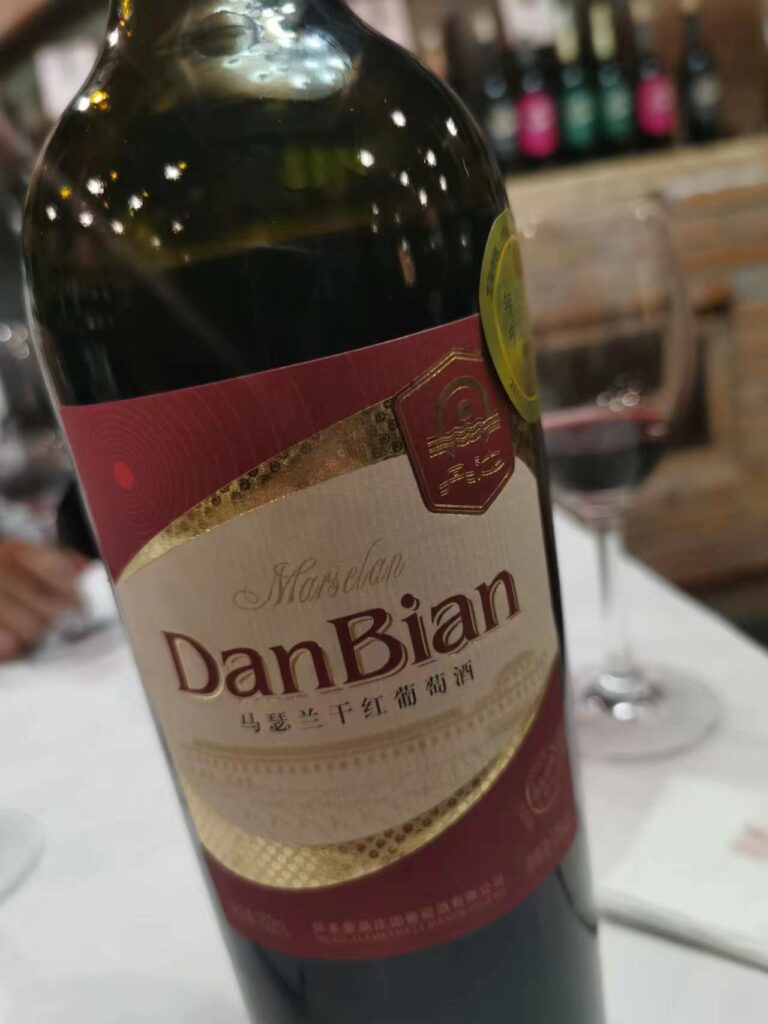 Domaine Zijing/Amethyard Dan Bian 2013 Marselan Huailai Hebei            93
Good full red-ruby with an orange-garnet rim.  The nose shows some fruit (blueberry and strawberry) but more mocha, smoke and earth, with a hint of a violet top-note. Tactile and fresh in the mouth, this boasts nice concentration and nuance with flavours that are similar to the aromas. Closes slightly chewy with repeating violet, strawberry, mocha and tobacco flavors and good lingering sweetness. This wine was bottled under the estate's other label, Dan Bian that was more commonly sued in the past. Drinking window: 2023-2027.