Paolo and Cristina Baudana are the life partners that run together the lilliputian (roughly 2.5 hectares large) Barolo estate of La Contrada di Sorano in Serralunga d'Alba. This is another discovery I made years ago and have followed their wines closely over the years. I was therefore happy to check in on the progress being made, and the result is this vertical report of the first five years of Barolo made at the winery. The La Contrada di Sorano may be still little-known, but it is a little jewel in the making we will likely be hearing more and more from in the future.
A little bit of history
It's funny how life works: sometimes, it really does seem like it is having fun playing with us miserable little puppets strutting on a stage. And there's in effect something vaguely Shakesperean in the funny twists of fate that characterize our two relatively new knights of the Barolo table (Paolo and Cristina's first Barolo wine dates to the 2015 vintage). The two started their farm in 2013, but the full-fledged winery only in 2014. The first twist of fate lies in that Paolo comes from a farming family but trained as a mechanic dealing with industrial machinery. It was only later, about twenty years ago, that he came back to wine by working with his father Giancarlo who used to sell bulk wine to the likes of San Silvestro, Oddero, Gagliardo, and Sartirano, but dreamed of making estate-bottled wines from his excellent cru vineyards. Another funny family twist is that in the family, it was actually Paolo's brother Bruno who graduated from wine school: it was he who was supposedly destined to be working in wine, but today he's a plummer. Then again, with a last name like Baudana, the  chances of everyone in the family escaping a Barolo-destiny are slim at best: in fact, Paolo's cousin was the well-known Barolo producer Luigi Badana.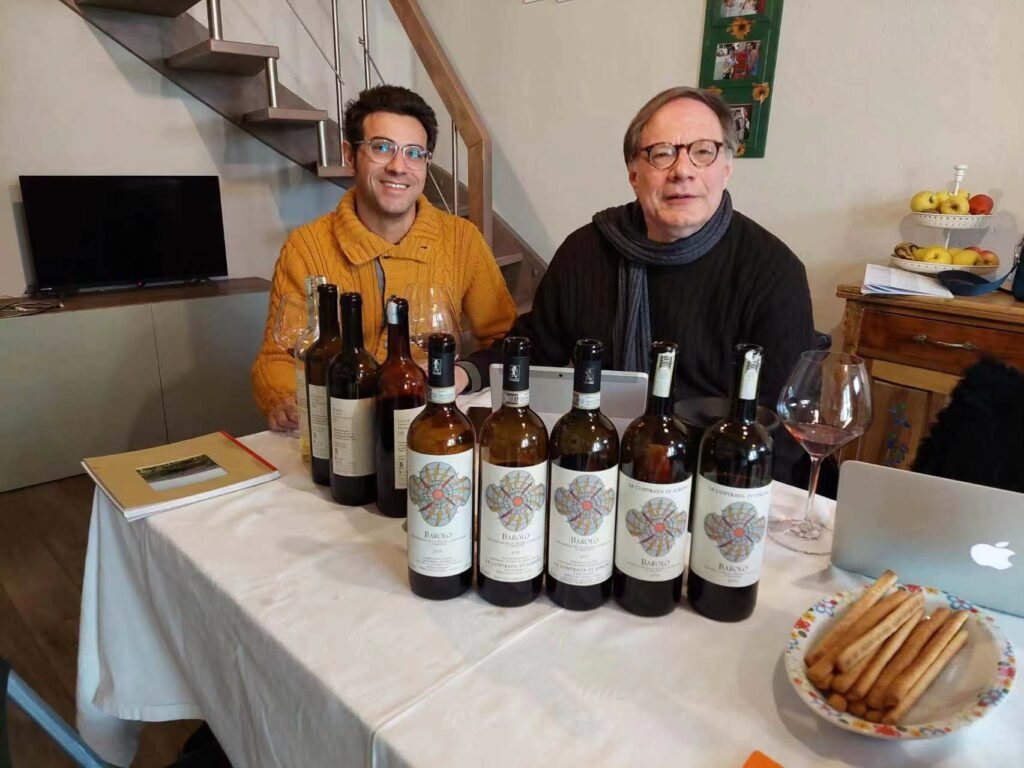 And wine wasn't much removed from Cristina's side of the family either. Before devoting herself to the new family estate full-time, Cristina used to be zootechnical sciences professional and worked for the Biraghi company making cheeses such as Grana Padano and Gorgonzola. "But you know Ian…" she laughed while I was tasting with the two of them at the winery this past spring, "…People here are born with wine in their milk bottle: it's way of life, and in some shape or form, it is for all those who are in the Langhe. For example, my cousin Gianfranco Manzone used to make wine for friends and he too used to sell it as bulk wine. So, there's no escaping here". More twists of fate were in order: having decided that wine was going to be squarely in their future, the couple's original idea was to move to the Alta Langa; but fate intervened here again, with Paolo's father falling sick, pushing the two to come back to Serralunga and help out as none of the other siblings wanted to work in the agricultural domain. Sadly, Paolo's father passed away prematurely. And this is how Paolo and Cristina found themselves farming and owning vineyards in Serralunga d'Alba, only one of the most valuable and best places in which to make wine in the world.
For what fate takes away, it also gives back.
The vineyards and the wines
Paolo's father's vineyard holdings amounted to roughly 1.5 hectares but the life couple are also renting another hectare (0.9 hectares, to be precise) from Paolo's mother: these vines of Barbera (part of which will be uprooted in favour of new Nebbiolo plantings) and Dolcetto are located in Sinio. Paolo's mother also owns 0.3 hectares in the San Rocco cru but these grapes are not yet vinified by Paolo and Cristina as they can't manage to handle any more grapes for the time being. They certainly plan to do so in the future.
It's the 1.5 hectares that are especially noteworthy, given that they are situated in well-known crus with in the Barolo denomination and planted to specific grape varieties that are known to perform particularly well in each. The breakdown includes: Favorita in the cru Bruni; Barbera in the cru Fontanafredda; Nebbiolo in the three crus of Gallaretto, Sorano and San Rocco. And while the winery is based in Serralunga d'Alba, not all their Nebbiolo vineyards are in that commune's territory. For example, Gallaretto and Sorano are rare examples of inter-communal Barolo crus, shared between the Barolo communes of Serralunga d'Alba and Diano d'Alba (other examples are the famous Brunate and Cerequio: while the majority of each of these two crus is located within the territory of La Morra, both spill partly over into Barolo's jurisdiction too). For precision's sake, Paolo and Cristina's part of Gallaretto falls within the boundaries of the Diano d'Alba commune while their vines in the Sorano cru fall within the territory of Serralunga d'Alba. No matter: though Serralunga is the more famous territory for Barolo production, the truth is that Diano's vineyards are outstanding too and there are many spectacular Barolos being made there.
The Nebbiolo plantings of La Contrada di Sorano (clearly, the estate takes its name from the cru) are especially interesting; in fact, I find them fascinating. The estate's plot in the cru Gallaretto has both very old and younger vines: the old vines are of Nebbiolo Rosé and were planted in 1973; the newer ones are of Nebbiolo Michet (the Michet grapes are planted in the lower part of Gallaretto: those planted lowest down, now twelve years old and all north-facing, go into the winery's Langhe Nebbiolo wine that first made in the 2014 vintage). The Sorano vines are of Nebbiolo Lampia; so in other words, at La Contrada di Sorano they have Barolo vineyards planted to all three of the most famous Nebbiolo grapes (that's right, there is not just "one" Nebbiolo, but many, many others: for more information on this incredibly interesting topic, I suggest you get a hold of Barolo Terroir: Grapes Crus People Places, available at amazon.com and that has over 100 pages devoted to these grapes, each described in its own separate chapter).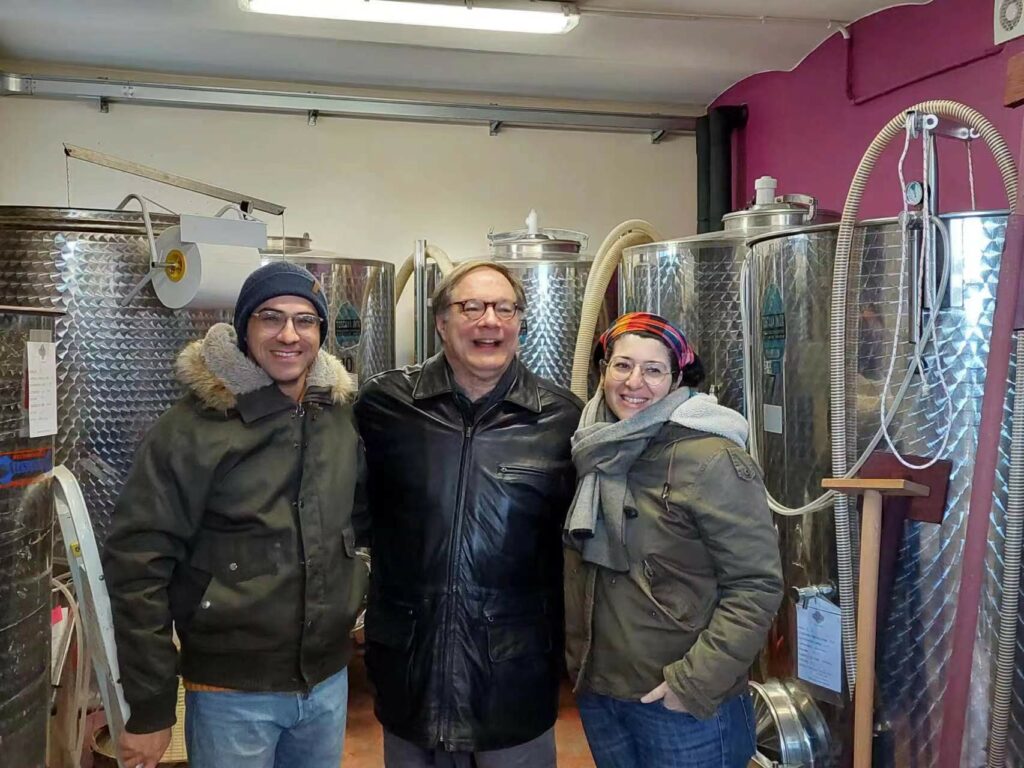 Nebbiolo Lampia, Nebbiolo Michet and Nebbiolo Rosé were long erroneously referred to as "clones" (some still do so: but what can you do, it is what it is) but we now know that is not at all so. Nebbiolo Michet is, for the most part, a virus-affected Nebbiolo Lampia (but as I explain in detail in the book Barolo Terroir, it is not at all as simple as that); and Nebbiolo Rosé has been known since the early 2000s to be a distinct variety from Nebbiolo, though the two grapes are so closely related and resemble each other so much that for all intents and purposes, can be considered biotypes (though it's not scientifically exact to do so). In fact, it was because these three Nebbiolos resemble each other so much (even though they do exhibit clear-cut, easily recognizable differences in morphology, viticultural and winemaking behaviours) that our ancestors used to consider them "clones".
The La Contrada di Sorano Barolo is a super-interesting wine that is made in a fairly traditional manner, with very long macerations (up to fifty days on the skins, depending on the vintage), but is aged in 500 liters barrels. Then again, even if at La Contrada di Sorano they wished to use the big old Slavonian oak mega-barrels that tradition dictates, they wouldn't know where to put them given the microscopic size of their cellar. First made in the 2015 vintage, it is important to know that up until the 2018 vintage the Barolo was made with only with the Nebbiolo Rosé vines of the old vineyard in Gallaretto. It was, in other words, a rare example of 100% Nebbiolo Rosé Barolo. Since then, Paolo and Cristina have added the Nebbiolo Michet grapes with the aim being that to make a Barolo made of more or less equal percentages of the three historic Nebbiolos of Barolo.
Today, La Contrada di Sorano winery makes about 8-9000 bottles a year of Favorita, Barbera, Dolcetto, Nebbiolo and Barolo wines a year. Up to 2018, this total number included only 700 bottles of Barolo a year. In 2019 they doubled the Barolo output, mostly because they are now selling less and less of their Nebbiolo grapes. That's no twist of fate: rather, it's a result of Paolo and Cristina taking their craft seriously and delivering the goods year after year, leading to increased demand for their wines. And so it should be.
The wines in this tasting report
All the wines in this report were tasted by me directly at the winery earlier this spring in the company of Paolo and Cristina. As always, all my travels, lodging and meals to the area were taken care of by me out of pocket. This article, like every other article at the TerroirSense Wine Review, is never paid for in any part by any producer, producer association, consortium, importer or other entity. It is your guarantee of our independence in wine writing and it is something we take extreme pride in because, quite frankly, it is not quite so common.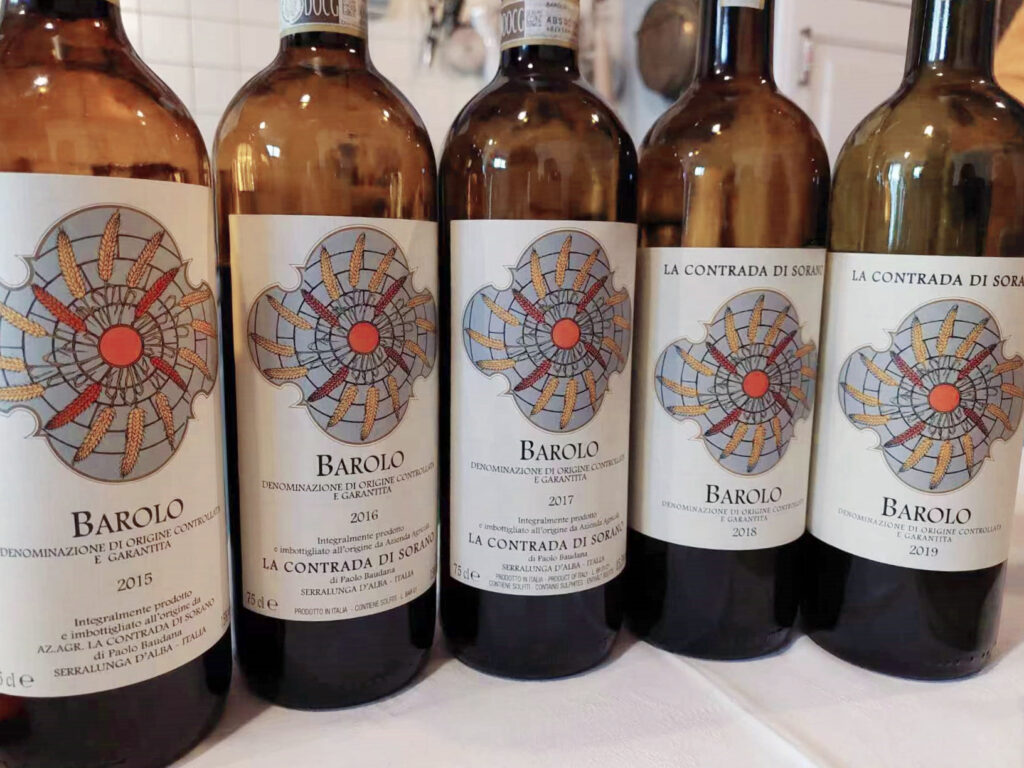 La Contrada di Sorano 2015 Barolo         95
Varietally accurate Nebbiolo Rosé medium-pale red colour. Then just as accurate aromas and flavours of red cherry, redcurrant, raspberry, rosehip, violet and brown spices. Freshened by a hint of volatile acidity that is just this side of verging on the too much, the mouthfeel is smooth but vibrant, with very good size and a luscious quality riveted in place by harmonious acidity and assertive if noble tannins. For a first-time effort, this was and is a very promising Barolo. All 100% Nebbiolo Rosé planted in 1973. In this vintage, the wine was kept on the skins for 30-40 days and was aged two years in used barrels. Drinking window: 2027-2039.
La Contrada di Sorano 2016 Barolo         96
Very dark red bordering on the ruby; I find this a slightly atypical colour for Nebbiolo Rosé but as it is neither purple nor inky, so I can accept it. Very sexy on the nose, with sweet spicy red cherry, licorice and camphor aromas that are layered and deep, lifted by violet and hints of rose. Vibrant and juicy on entry, then fleshy and luscious in the middle, this finishes very long, precise and energetic. The flavours of red fruits, cinnamon, graphite and porcini, are strongly marked by a mineral component that gives this gorgeous Barolo a steely personality. Great wine, but make sure you cellar it appropriately. The 100% Nebbiolo Rosé grapes were picked on October 26. Drinking window: 2029-2045.
La Contrada di Sorano 2017 Barolo         94
Medium pale red: this is the colour I love to see in Nebbiolo Rosé wines, and it's a truly beautiful colour at that. Slightly aromatically compressed because of the hot year, this is still very bright and lively on both the nose and the palate. Nicely balancing acidity frames the ripe red cherry, herbal, mineral and sweet red fruit aromas and flavours. Suavely textured and quite powerful. The aftertaste is long and nicely mouthcoating. So mouthcoating and powerful in fact, that this wine got the Paolo and Cristina thinking that a Riserva was possible with Nebbiolo Rosé, despite its reputation for giving magically perfumed Barolos of lesser size. (In fact, this variety gives wines that can be quite a bit more tannic than expected and that need time to evolve and open fully.) Make no mistake about it: this is an outstanding wine for the 2017 vintage, a hopelessly overhyped vintage not characterized by a plethora of great Barolos (despite what you might have read or have been told). But it just so happens this is one of the good ones. The grapes were picked on October 4, about two weeks before than in 2016, which cannot surprise given the heat of the 2017 growing season. Well done here: keep in mind that the Nebbiolo Rosé variety stands up to heat and drought much better than Nebbiolo, so this wine being a success in 2017 cannot surpirse. Drinking window: 2025-2036.
La Contrada di Sorano 2018 Barolo         92+
Gorgeous bright medium-pale red colour. Herbs and minerals dominate on the nose, with the clean red cherry and berry notes not as apparent at first, emerging with plenty of aeration. Then very 2018 in the mouth, with sharp vibrant and savory nuances of underbrush and licorice; once again, the Nebbiolo Rosé sweetness and inner-mouth perfume of fruit emerges with air. The aftertaste is long, smooth and savoury, with a hint of herbal bitterness on the back end. The herbal note dies down with plenty of aeration: if you prefer your Barolos on the fruitier side, then decanting a few hours ahead is absolutely necessary with this 2018 Barolo. Drinking window: 2026-2036.
La Contrada di Sorano 2019 Barolo         94+
Good full red; obviously darker than all the other Barolos in this tasting save maybe for the 2016. Captivating aromas of redcurrant, red cherry, rose, and almond paste, with a strong violet top-note. Very young in the mouth, with a solid, chunky, deep, rich texture that is still youthfully unevolved and only hints at rich flavours of red and black fruit and candied violet. The finish is long and nicely textured, with noble if youthfully chewy tannins. Still somewhat raw, this needs to spend at least another five to eight years in a good cellar. The first La Contrada di Sorano Barolo that is not 100% Nebbiolo Rosé, but 50% Nebbiolo Rosé and 50% Nebbiolo Lampia from the Sorano cru. Drinking window: 2029-2045.