Dubreuil-Fontaine 2014 Corton-Perrières Grand Cru Burgundy                92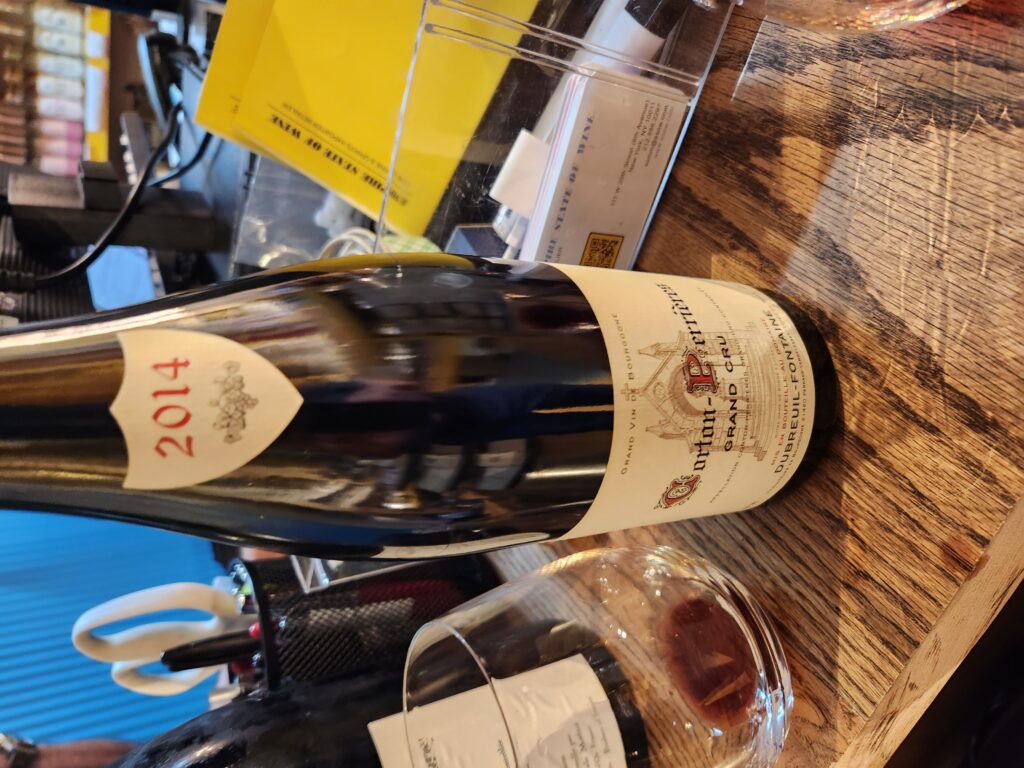 by Robert Millman
I had the opportunity to taste a bottle of wine I have not seen in some time: Dubreuil-Fontaine's 2014 Corton-Perrieres. Perrières is one of the nineteen lieux-dits  on the hill of Corton that are officially classified Grand Cru! It is situated on the southwest side of the hill. About ten hectares in size, it sports six owners of which Louis Latour is by far the largest. Of Dubreuil-Fontaine's twenty hectares in total, three are Grand Crus in Corton. The estate is of fairly recent history having been established in 1879. Today Christine Dubreuil and her daughter Clementine run the domaine. The wines are elegant, refined, quite precise with the fruit emerging from the structure. Some might find them too lean. This is misguided in my opinion. The red wines from Corton are rarely fat and juicy. It is true that the very warm recent vintages have bulked up the Corton wines, but the 2014 which I tasted does not belong to the warm period beginning with the 2015 vintage. It was an extraordinary vintage for white Burgundy, quite possibly the best in the last 20 years. The reds were less impressive but very solid and terroir specific. I find that the red wines from Corton have more than a little of the white wine, Corton-Charlemagne, for which Corton is famous.
I tasted this specific 2014 over a four-hour period. The dark, almost black hue yet luminescent, augured well for the wine. A bouquet of dark cherries, smoke and citrus fruits was unmistakably Corton-like. The energy in the appearance and nose carried right on over to the palate. A touch of oak, an overtone of wild berries and a lively mouth feel with firm mineral undertones defined the wine. The earthy, just a little rustic finish seemed to fit in with the mid-palate of the wine. Lovers of Barolo and Barbaresco will feel right at home with this aristocratic wine. Drinking window: 2023-2030.
Burggarten 2020 Blauer Frühburgunder Trocken Gutswein Ahr Germany       91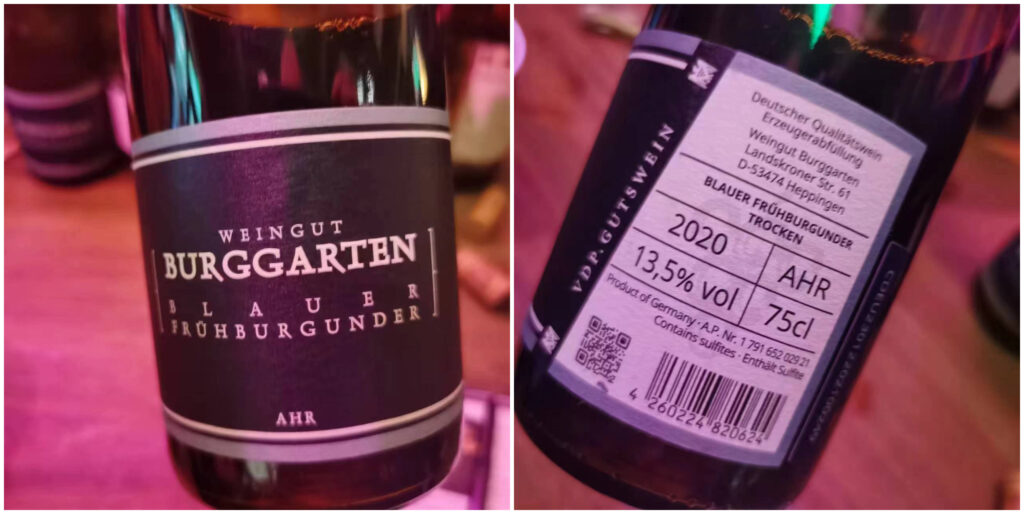 by Ian D'Agata
Since 1898, four generations and counting have been at it at this prestigious estate that wine lovers know can be counted on for outstanding white and red wines. Located at the foot of the Landskrone in the district of Heppingen of the town of Bad Neuenahr-Ahrweiler, in Germany's Ahr wine region that has become synonymous with up and coming Pinot Noir wines (Spätburgunder or Blauer Burgunder as Pinot Noir is often referred to in German language). In fact, to my mind and for my taste, Burggarten is even more remarkably successful with its white wines, for example making some of Germany's most interesting Pinot Blanc (or Weissburgunder) wines (especially) and almost as good Pinot Gris (Grauburgunder) wines.
But to stay on the topic of "Burgunders" (those grapes that were once believed to hail from Burgundy), one bottling from Burggarten that flies under the radar but is something to know about is their remarkably good Pinot Meunier still red wine. Called Blauer Frühburgunder in German (from "fruüh or "early", given that the variety generally ripens about two weeks earlier than Pinot Noir and is in fact was also once called, erroneously, Pinot Noir Précoce in French), Pinot Meunier  is a rare variety in Germany but is actually finding a home in the Pinot-group friendly confines of the Ahr, where a number of excellent monovariety bottlings are to be had. And Burggarten's version is absolutely delicious.
Bright deep red with ruby tinges in colour. Perfumed aromas of strawberry, red cherry and sweet spices waft from the glass. Then bright and clean, with juicy, fruity flavours of red plum and cherry complicated by spices herbs and minerals. The finish is long and very pure, not to mention nicely delineated. This may not be the most complex red wine you'll taste this year, but it's absolutely delicious and the first glass invites a second, the second invites a third… well, you really can't ask for much more than that. It's an entry-level wine that punches way above its weight class, so really, well done. Just in case you go checking, this wine, a Gutswein or entry-level wine, is currently not described on the estate's website, while their Neuenahr Blauer Frühburgunder, an Ortswein (a superior level wine made from the estate's best vineyards), is. Drinking window: 2023-2026.