Château Bellevue 2000 Saint-Emilion Grand Cru Classé        95
by Robert Millman
As much wine as I have tasted there are hundreds that have escaped my palate. The wine in question is a Grand Cru St. Emilion situated near the limestone plateau in eastern St. Emilion just above famous Chateau Angelus. Its seven hectares yield about 20,000 bottles annually. Quite small in fact. Its history goes back to Roman times. Perhaps its small size has rendered Bellevue less visible than its famous neighbors. Its current constitution is 98% old vines Merlot and 2% Cabernet Franc. Back in 2000 it had rather more Cabernet Franc—20% in fact. As readers of the TerroirSense Wine Review have surmised I was quite taken with this gorgeously perfumed 23 year old wine which I might have guessed to be 10-12 years of age.
The wine was served blind at an excellent beef-oriented restaurant in Manhattan called Hawkesmoor. Before I get into the particulars of what I liked about this still youthful wine, a comment about Bordeaux longevity seems in order. Everyone who has tasted a lot of wine knows that nothing can quite compare with Bordeaux in terms of slow-motion evolution and equally important, the quality of the plateau many wines achieve. This is not just a matter of how long a good Bordeaux will hold onto drinkable life but the quality of that longevity. In the case of this 2000 right bank beauty, the plateau may have just begun. I believe that the wine, properly stored will be at peak drinking for another 20 years. Is the Cabernet Franc responsible for the wine's freshness and age defying vitality? Perhaps. But I suspect that the terroir has a lot to do with the way the wine ages.
First to the color—nearly impenetrable black/purple hue with no browning at all: Nothing to indicate a wine that has been in bottle for more than 20 years. On the nose there was an abundance of blackcurrants, blackberries and dark cherries. The fruit has simply refused to oxidize. The richness and fruit intensity continues onto the palate. Behind all the exuberance and richness is a firm tannic support which lends a marvelous dryness to the finish. This is a classic Bordeaux one-two: Overt sweetness and dense fruit giving way to steely tannins which balance the wines so well. (One finds this in top Barolos as well—but that is another story). We drank the wine over two hours. My appreciation only increased. Whether the current versions of Château Belleveue are as good I cannot say. But the 2000 borders on being a masterpiece that can stand up to all but the very top rung of Bordeaux. Drinking Window: 2023-2040
CasalFarneto 2018 Cimaio Marche Bianco            94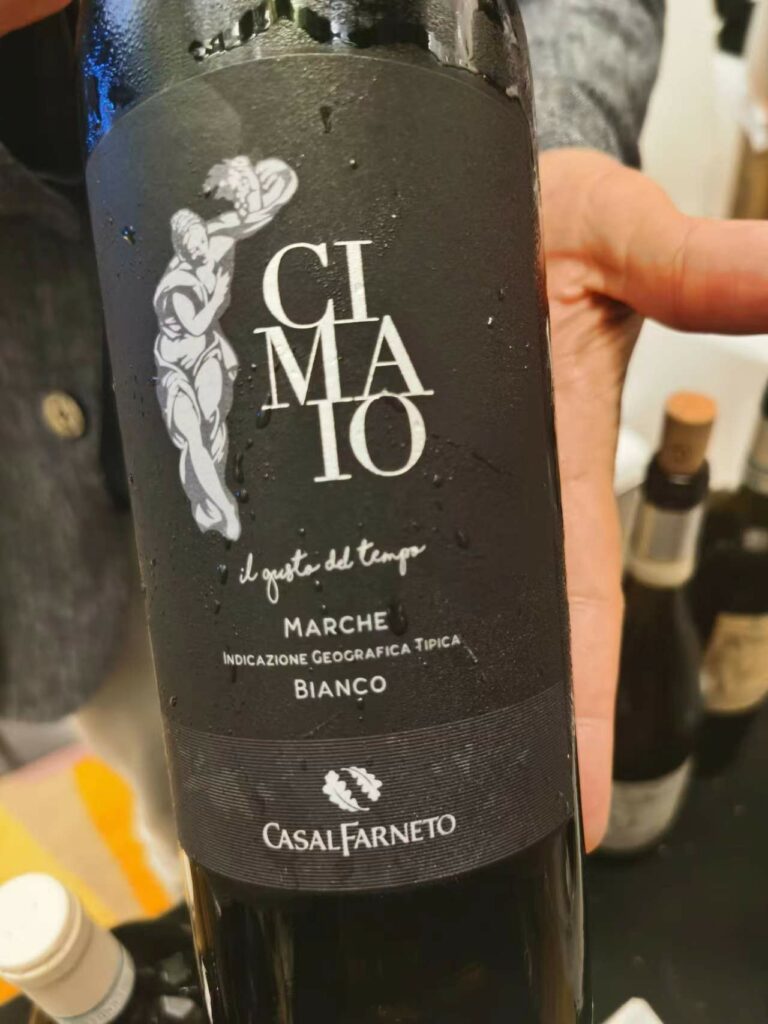 by Ian D'Agata
Cimaio by CasalFarneto is another of Italy's most unique white wines, not unlike the Sartarelli Verdicchio dei Castelli di Jesi Classico Superiore Balciana reviewed here recently (see TerroirSense Wine Review: Wines of the Week, ). Both wines share the characteristic of being 100% Verdicchio classically dry white wines made with partly and wholly noble rot-affected grapes (Balciana partly, Cimaio wholly), a real rarity in Italy (noble rot is, despite what people will tell you and what you will read, not that common in the country, outside of a few pockets such as the Castelli Romani and Orvieto). The 2018 Cimaio is an absolute knockout.
Deep golden yellow. Complex, very deep aromas and flavours of quince, almond paste, grilled hazelnuts and chestnut honey, are complemented by strong notes of smoky botrytis. Luscious, ample and broad in the mouth, with so much glyceral sweetness the wine starts off slightly sweet, then quickly turns classically dry thanks to the delicately bitter nuances brought on by the botrytis. Rich but light on its feet and nicely lifted, with caramel custard and smoke complicating the ripe orchard fruit, orange marmalade and marzipan flavours. The aftertaste is long and suavely mouthcoating. The Verdicchio grapes are late-harvested and more or less completely hit by noble rot; about half the wine is barrel-fermented (the other half ferments in stainless-steel) and is aged six months in oak and stainless-steel. It goes on sale after another 12-18 months spent in bottle. I think the 2018 Cimaio is one of the best in recent memory, mostly because of its exceptional sweet/bitter/acid balance. Really nicely done. Drinking Window: 2023-2030.