Moscato d'Asti is one of the world's favourite wines, but a little like Prosecco, it does not always get the respect it should. Admittedly, there are far too many Moscato d'Asti wines that are less than they should be (same with Prosecco), either because they are flat and cloying, or lacking in complexity. But there are also many good to great ones, and in this light, besides banking on the name of the producer, you would do well to know where each producer sources his Moscato Bianco grapes from. This is because there are real cru areas to Moscato d'Asti wines: for example, the communes of Canelli, Calosso, Mango, Santo Stefano Belbo, and Castiglione Tinella are usually associated with the best such wines, all of which are deeper and more complex than is the norm.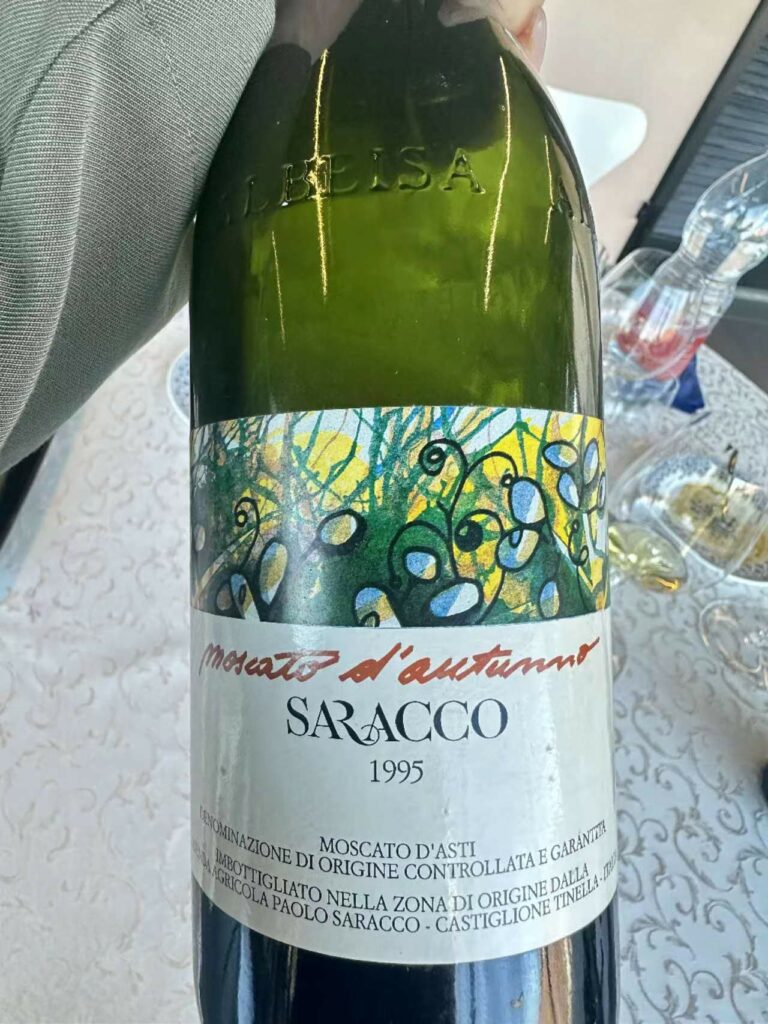 Castiglione Tinella is where the Paolo Saracco winery is located: the Saracco family has been producing Moscato d'Asti since the early 1900s, from estate-grown grapes. Already at the turn of the century, founder Luigi Saracco was selling Moscato Bianco wines in bulk; but it was with Luigi's son Giovanni taking over the helm when it was his turn to do so that the company grew rapidly, acquiring more vineyards and increasing production. Last but not least, in 1988, current owner Paolo Saracco (Giovanni's son) decided to start estate-bottling the Moscato d'Asti wine. With the advent of Paolo in the controls room so to speak, the Paolo Saracco estate has grown by leaps and bounds, becoming world-famous in the process and generally recognized as the best producer of Moscato d'Asti wines.
Paolo Saracco owns and/or farms vineyards in communes other than Castiglione Tinella too, and makes his classic Moscato d'Asti wine from grapes sourced in a number of different vineyards (for example in Santo Stefano Belbo, Castagnole Lanze and Calosso). These may change from year to year depending on the year's climate conditions. In some vintages that are especially good, Saracco makes a top-tier selection called Moscato d'Autunno, the grapes from which are usually always sourced from the same three to four vineyards. Unlike it has been written elsewhere, this is not a late harvest wine: rather, it is just a wine made with the estate's best grapes from the oldest vineyards (60-80 years old vines instead of the 40 years old vines used to make the classic Moscato d'Asti). Each year, when tasting from the vats, Saracco decides that some as yet unfinished wines are noticeably better than the rest (richer, deeper, more complex) and so bottles those wines separately as Moscato d'Autunno. The difference in production numbers of the two wines is significant: while Saracco makes about one million bottles a year of the classic Moscato d'Asti, he only makes about 12,000 bottles/year of the Moscato d'Autunno. Saracco believes the subsoil is all-important with Moscato Bianco, that he believes is a far better translator of terroir in the glass than is commonly believed. Saracco's vines are mostly planted on soils characterized by sand, silt, grey clay and limestone (containing fossils of shells and oysters). According to Saracco, it is the ideal soil by which to enhance Moscato d'Asti's perfumed aromas. But Paolo Saracco's wines are such a cut above the rest, that no one factor is singly responsible for the amazing quality of his Moscato d'Asti wines: rather, it is the combination of the soil's mineral content, the local meso- and microclimates, the altitude, and the number of sunlight hours, and Paolo's talent that lead to magical wines.
The wines in this tasting report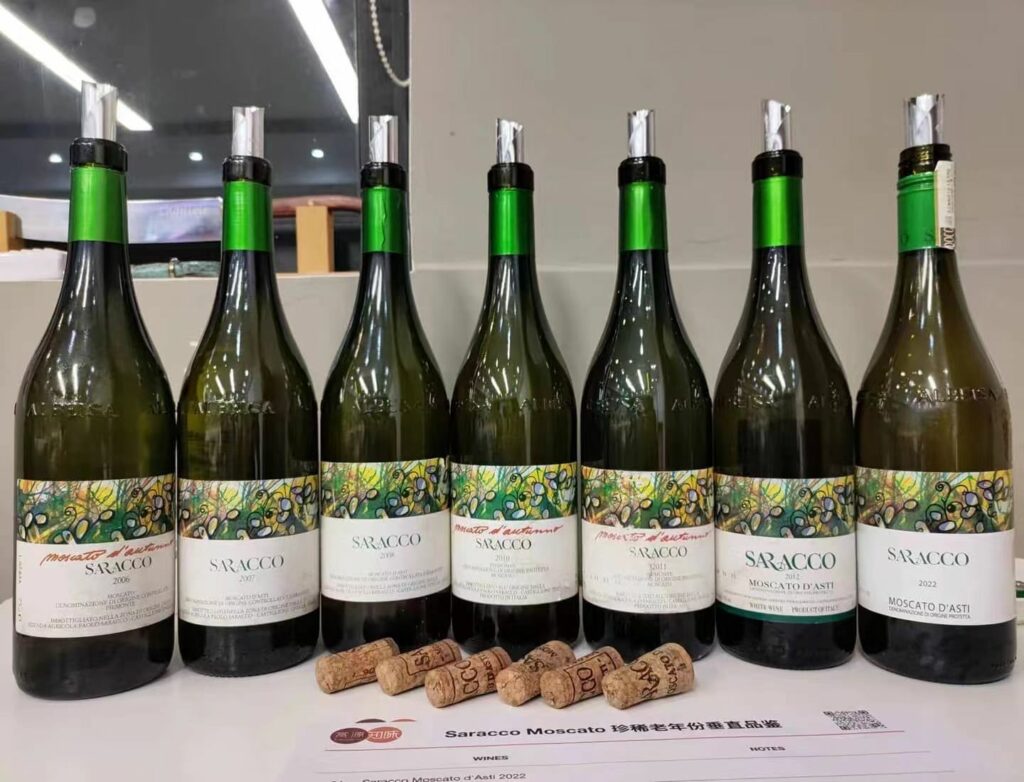 To the best of my knowledge, but confirmed to me by Paolo Saracco himself, this is only the second major vertical tasting conducted of Paolo Saracco's wines to be printed in the literature. It just so happens that I'm the one who organized the first tasting, about six years ago or so in Barolo. Always graciousness personified, Paolo Saracco is quick to give me credit for having opened his eyes to just how well Moscato d'Asti can age and since that first vertical tasting carried out in front of about forty to fifty sommeliers and wine writers from all over the world (many of whom still remember it fondly and write me about it often) he has begun to set aside a larger number of bottles for aging than he once did. This is why it is so hard to set up a vertical tasting with really old vintages of his or anybody else's Moscato d'Asti wines: as nobody really thought the wines could age, nobody bothered to keep bottles for later sales or tastings. Happily, that is now changing, and we are all the luckier for it.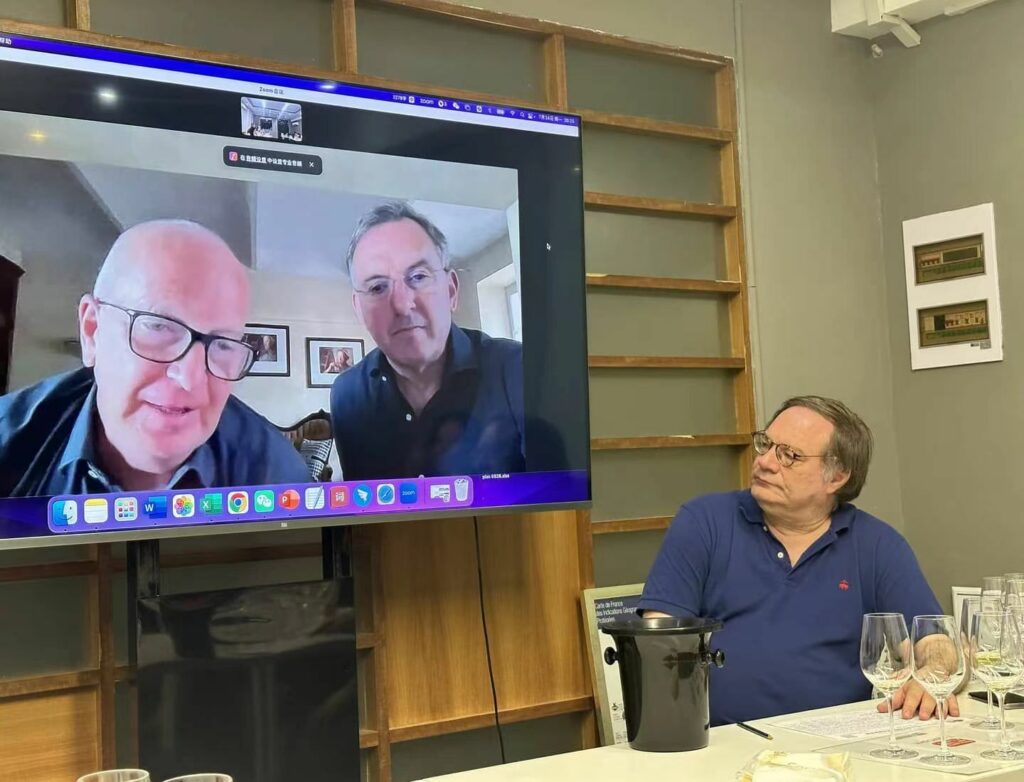 Paolo Saracco 2022 Moscato d'Asti                 95
Pale straw-green with a steady bright foam of small bubbles. Luscious, deep, concentrated aromas and flavours of honey, vanilla, grapefruit, orange flower and peach. Smooth and rich, mouthcoating in a suave way, and very long. Manages the neat trick of being at once light on its feet, boasting good freshness and juiciness, but is also creamy and ripe, a clear sign of the hot year and levels of grape ripeness that were reached. Given this 2022's almost Eiswein-like glyceral purity and creaminess of ripe fruit, this is not quite the lighter and lively-styled Moscato d'Asti you may be used to; it may also teeter dangerously close to the brink of being almost too sweet, but it's a truly outstanding wine that manages to be concentrated and viscous on one side while staying light and fresh on the other (again, Eiswein/Icewine-like). If you've never been blown away by a Moscato d'Asti wine, this is likely to do it thanks to its unbelievable depth and concentration of flavour. Drinking window: 2023-2029.
Paolo Saracco 2012 Moscato d'Asti                 96
Luminous pale straw-green: I almost thought I had poured a Ruwer Riesling in my glass instead! Captivating aromas of lime, grapefruit jelly, white flowers, apricot and mint. Then similar flavours, nicely framed by harmonious acidity that really lifts and extends them on the long extremely precise finish. This is more like a still white wine than a sparkling wine given its effervescence is not as strong as it would be in a younger wine, but it's just a knockout. At eleven years of age, this is a simply amazing wine that showcases to unbelievable levels of clarity just how well Moscato Bianco wines can age. There is nothing here that even hints at a wine that is so old, beginning with its wonderful pale straw-green colour. Drinking window: 2023-2032.
Paolo Saracco 2011 Moscato d'Autunno Moscato Piemonte            95
Medium golden yellow. Ripe yellow fruit and flowers dominate the nose and mouth, complicated by strong hints of honey and orange marmelade. Rich, very sweet and suave in the mouth, this leaves along unctuous, mouthcoating finish behind but manages the neat trick of being vibrant and fresh at the same time. Clearly a step up in concentration from the classic Moscato d'Asti, this is more like a Sauternes- or BA-styled sweet wine but with the freshness and levity of a Moscato Bianco wine. Drinking window: 2023-2026.
Paolo Saracco 2010 Moscato d'Autunno Moscato Piemonte     92
Pale golden yellow. Strongly pungent aromas and flavours dominated by mint characterize this thirteen years old Moscato Bianco wine. The fresh orchard fruit nuances typical of the variety are present in the background, but presently it is nuances of peppermint, spearmint, and pine cones that dominate the vibrant and long mouthfeel Drinking window: 2023-2028.
Paolo Saracco 2008 Moscato d'Asti                 91
Vivid straw-green with some gold. Very straightforward, linear aromas and flavours of tangerine, apple, pear and orange flowers. Bright and juicy in the mouth, with a light on its feet, elegantly austere personality to the orchard and citrus fruit flavours that linger nicely. Not the most concentrated Moscato d'Asti wine Saracco has ever made, but a paragon of elegance. Drinking window: 2023-2029.
Paolo Saracco 2007 Moscato d'Asti                 91
Deep yellow with golden highlights. Very ripe aromas and flavours of baked apple, orange marmalade, custard cream and vanilla that are slightly subdued because of the hot year. Big, rich and voluptuous in the mouth, leaving hints of candied orange peel and caramel on the long ripe finish. Not the most elegant Moscato d'Asti wine you will ever drink, and one that speaks clearly of the hot growing season, but extremely successful. Drinking window: 2023-2025.
Paolo Saracco 2006 Moscato d'Asti                 93
Bright golden-tinged yellow. Lively aromas and flavours of apple, pear, lime, orange jelly, sweet spices and jasmine. Fresh and juicy with very good verve to its orchard and citrus fruit flavours on the long finish. Still quite young, given it's now seventeen years old. Drinking window: 2023-2028.
Paolo Saracco 2006 Moscato d'Autunno Moscato Piemonte     95
Bright golden yellow. Thick, ripe, exuberant aromas of mango, peach, guava, orange peel and grapefruit gelatin. Then unctuous and rich in the mouth, built with great balance thanks to still lively acidity that lifts the ripe citrus fruit, honey  and sweet spice flavours on the long close. Much more honeyed and a real notch up in concentration and lusciousness compared to the classic Moscato d'Asti from the same year, but the two wines are so different that each will have its fans. This wine is seventeen years old Moscato Bianco wine is still very young. Drinking window: 2023-2032.
Paolo Saracco 1995 Moscato d'Autunno Moscato d'Asti          95
Deep burnished gold with amber tinges. Deep, multilayered aromas of chestnut honey, guava, lychee, lemon verbena, and caramel custard. Enters rich and round, with wonderful acid lift providing the smoky, beeswax and tropical fruit flavours with delightful verve and clarity. The aftertaste is long, luscious and pure. Though I wouldn't hold on to this wine any longer, at almost thirty years of age it is still relatively youthful. Drinking window: 2023-2029.