In many respects, Vega Sicilia is Spain's most famous and important wine estate, but as if that weren't enough, it is also one of the most admired and highly-thought of wine estates anywhere in the world. Vega Siclia was founded in Spain's Ribera del Duero region in 1864 by Don Eloy Lecanda y Chaves, who brought back from France cuttings of Bordeaux's grapes, including Cabernet Sauvignon, Malbec and Merlot (at that time, Malbec was much more prevalent in Bordeaux vineyards than it is nowadays) and blended them together with the local Tempranillo grape variety in order to make his wines. In fact, though the roots of Vega Sicilia's future success were sown early, its "golden age" probably began later, after 1903, under owner Antonio Herrero, whose wines began accumulating awards and medals in Spain and internationally. Today, Vega Sicilia is owned by the Álvarez family (since 1982: this is the same year in which the Ribera del Duero was granted Denominación de Origen (DO) status), and it's safe to say the winery hasn't missed a beat, continuing and possibly even further increasing in its successful ways, garnering accolades and awards everywhere.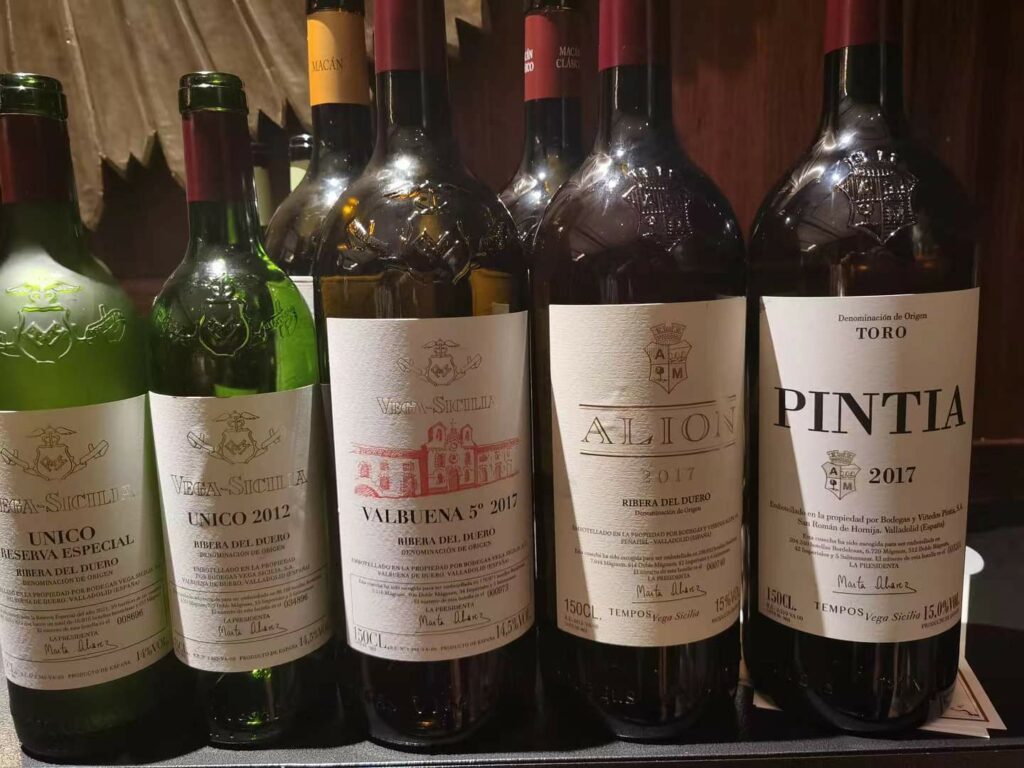 Vega Sicilia's territories, wineries and wines
Though it is not known for sure, Vega Sicilia's name most likely stems from the combination of "vega", a reference to the local vegetation growing along the banks of the Duero River, and "Sicilia", derived from Santa Cecilia, a Saint to whom are dedicated many local villages of the Castilla y León area. Actually, Vega Sicilia is not just one winery: the name indicates a galaxy encompassing different wineries, which include: Vega Sicilia proper and Bodegas Alión (both in the Ribera del Duero); Bodegas Pintia (in the up-and-coming wine region of Toro); Macán (in the Rioja, this is a partnership with Benjamin de Rothschild); and Oremus in Tokaj. Some of the wineries are very closely situated to each other (for example, Alión is only ten kilometers removed from Vega Sicilia proper), while others are far removed (Oremus is in Hungary, the group's first venture outside of their native Spain). Similarly, some of the wineries have long and storied histories, others are much newer: for example, Vega Sicilia proper and Alión were founded at very different times (Vega Sicilia in 1864; Alión in 1991) but the two are, in many respects, two sides of the same coin. One simply offers a more modern rendition of a wine (Alión), while the other harkens back to more traditional methods of winemaking (Vega Sicilia). However, both speak, if in slightly different ways, of the language of their place of origin, the Ribera del Duero. To this effect, each winery in the galaxy has its own vineyards too.
At the Vega Sicilia winery there are three wine cuvées made: the Valbuena 5° (a Tempranillo wine with a small percentage of Merlot that is aged for five years, hence the "5°" in the wine's name), the world-famous Único (literally meaning "unique") and the Único Reserva Especial (a multi-vintage blend that is modern-day reference to old Spanish winemaking traditions). It is no exaggeration to say that these last two wines are arguably the best wines made in Spain today (lovers of Pingus and Ermita might argue; but even then, it all amounts to a matter of at no worse "first among equals"). Both the Unico and Reserva Especial are mostly Tempranillo wines, with a small percentage of Cabernet Sauvignon included, and both are aged roughly ten years before being released for sale. By contrast, the Valbuena 5° is often presented or described by many as an "entry-level" wine, but in my humble view, it is no such thing; for while it is certainly a less expensive wine than those two other icons, the quality level offered every year by Valbuena 5° is such that it is anything but a base wine. Bodegas Pintia is located in Toro: the Alvarez family bought it in 1996, allowing them to craft a different expression of Tempranillo wine, one that speaks as much about a different location (differently from Ribera, Toro has much warmer summers and a different soil, gravel- and stone-rich, with clay subsoils) as it does of a local biotype of Tempranillo, the Tinta de Toro (or at least it is so when the wineries use old, local, vines of the locally adapted grape variety rather than go planting stuff they get from nurseries who sourced the plants who knows where). The trick in Toro is to harness the inherent power the wines are imbued with in spades and match it to a minimum of elegance: I think it's fair to say that at Pintia they succeed in doing so rather admirably. Bodegas Macán was born in 2004 as a joint-venture between the Compagnie Vinicole Baron Edmond de Rothschild and Vega Sicilia. The first wines, Macán and Macán Clásico saw the light of day in 2009, the first vintage, with the bottles released in 2013. The winery building was built in 2016 in the town of Samaniego.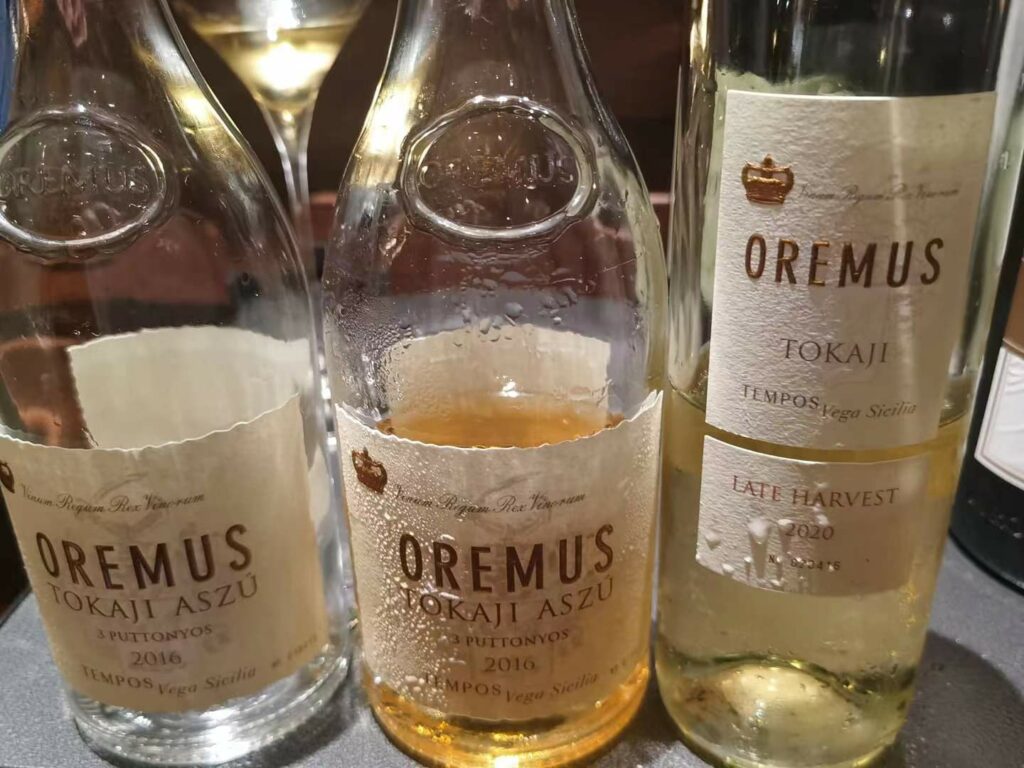 Vega Sicilia and Oremus
The Tokaj wine production area of Hungary (actually, Tokaj-Hegyalja, situated in a mountainous area of the northeastern part of the country) was the world's first denominazione or appellation, (as these are called in Italian and French, respectively) as well as a UNESCO World heritage site. In its first and so far only venture outside of Spain, Vega Sicilia founded the Oremus estate in 1993 (just three years after the fall of the Berlin Wall), the full name of which is Tojaj-Oremus Viñedos y Bodegas. There they have been making both the famous sweet wines of the area and classically dry wines (in fact, Vega Sicilia has been amongst the pioneers of the latter style of Hungarian wine since 2000). One of the attractions of Oremus is its park of fine vineyards, such as Petracs and Mandolás (ranked as of a First Growth quality level since at least the 1600s). In 1999, the company built a modern winery in Tolcsva, a building that benefits from a labyrinth of underground tunnels and cellars dating back to the thirteenth century.
As mentioned, at Oremus they excel at both dry and sweet wine production. The unique sweet wines are mostly made in the manner of the area's ultra-famous Aszú wines (aszú, or teardrops). The Aszú wines are traditionally made by using the "puttony" or "hods", 25-kilogram wooden hods that are filled with dried noble rot-affected mostly Furmint, but also for example Hárslevelű and Sárgamuskotály grapes (the latter is better-known worldwide as Moscato Bianco: but beware the translation from the Hungarian name into English, because it usually becomes "Yellow Muscat", which is a mistake, given that Moscato Giallo or Yellow Muscat is not the same as Moscato Bianco or White Muscat, the two are distinct varieties). These grapes are processed into a paste or dough (the Aszú paste). The quality level and taste of the Tokaj wine will differ on the number of puttony added to the must resting in the Gönc barrel (a special 136 liters oak barrel that is unique to Hungary). Wines are then aged in these same barrels or 210 to 220 liters barrels called Szerednyei, and the wines labeled as 2-, 3-, 4-, 5- and 6-puttonyos wines and even a Tokaj Aszú Essencia, the equivalent of a 7- or 8-puttonyos wine, until 2013 when the law changed in order to diminish confusion. Today Hungary uses residual sugar levels in the finished wines to qualify its wines, allowing only the production of wines labeled as: late harvest (minimum 45 g/L residual sugar); Aszú (the equivalent of 5-puttonyos that carry a minimum 120 g/L residual sugar); and 6-puttonyos wines (minimum 150 g/L residual sugar) and of the Essencia. Careful now, "Essencia" without the use of the word Aszú: this is the sweetest and most expensive of all Hungarian wines with a minimum of 450 g/L residual sugar made simply by collecting and fermenting the juice that oozes out from the grapes resting in the hods that will be later transformed into the Aszú paste). (In fact, consumers can find all the puttonyos levels they want, given that these wines age essentially forever so store shelves all over the world are still carrying wines of 3-, 4-, 5- and more puttonyos levels.) At Oremus, they currently have for sale a 3 Puttonyos wine, a 5-puttonyos wine and an Essencia.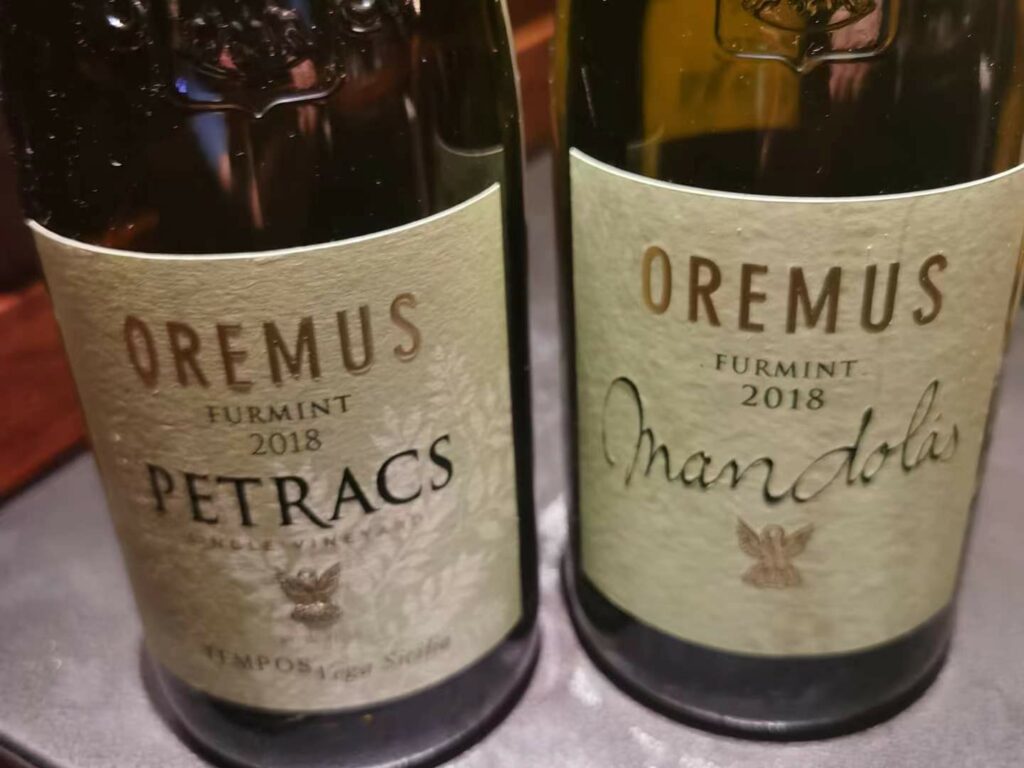 The wines in this tasting
Oremus 2018 Furmint Mandolás Hungary           91
Rather deep golden yellow colour. Ripe pear, peach, custard cream and a whiff of lime adding freshness. Then textured and ripe, with an almost Burgundian unctuosity to its ripe vanilla-laced flavours of ripe stone fruit and baked apple. Finishes very dry, with good size and decent length, offering rising herbal and buttery sensations rather than crunchy juicy fruit. 100% Furmint, but despite what you'll read or might hear elsewhere, this isn't much mineral at all, but actually, rather ripely fruity. The wine is named after a specific vineyard site, and the wine is aged in the typical local 136 liters Gönc (or Gönci) barrels and the 210-220 liters barrels called Szerednyei. Barrel-fermented in new wood barrels, the fact it is aged at least partly in extremely small barrels like the Gönc explains the wine's deep golden-yellow hue even at such a young age. The Mandólas vineyard is one of Hungary's most famous and it is planted entirely to Furmint. Drinking window: 2023-2026.
Oremus 2018 Furmint Petracs Single Vineyard Hungary                     94
Pale straw yellow; this is much lighter in colour than Oremus's strongly golden-accented 2018 Mandolas. Aromas and flavours of lime, quince, mint, and white flowers; so mineral that if you close your eyes you'll think you're in a rock garden. Finishes with laser-like precision, boasting nicely delineated, sharp, zingy fruit and very mineral nuances that linger for what seems like a lifetime. Lovely and very much like a pristine dry Riesling from the Mosel, this leaves you with the impression it will also age well. Made with 100% Furmint sixty years old bush vines densely planted at 7000 vines/hectare on volcanic soils. An individual expression of Furmint, very perfumed with a vividly pure palate. Fermented in French and Hungarian oak, one-third new, and aged for a further twelve months on lees, but I would have never guessed given how taut and saline this is. Not much batonnage was done, and that much is clear at first sip: this is a beautifully chiseled and sharply delineated Furmint wine. Drinking window: 2023-2030.
Bodegas Benjamin De Rothschild & Vega Sicilia 2018 Macán Clásico Rioja                        95
Bright red-ruby. Perfumed blackcurrant, blackberry, blueberry pie, and candied violet, plus subtle hints of cocoa and plum. Then similar flavours to the aromas, finishing long with captivating inner-mouth perfume and a whiplash of harmonious and food-friendly acidity. An absolutely irresistible juicy fruit bomb of a wine, this is virtually impossible not to like. My money is on all your friends polishing off their glass before you'll had the time to put the bottle back down. I can't remember the last time I had so much fun with a bottle of red wine. Vega Sicilia has hit a huge, and I mean huge, grand slam homer in this cooler vintage fashioning a remarkably elegant, fruit-filled wine that is just pure joy to drink. Macán Clásico is certainly not the most prestigious wine in Vega Sicilia's lineup, but at some point, when a wine is this good and enjoyable, you have to say prestige be damned and score the wine in such a way people won't miss out. After all, that's why you read and trust me. My advice is: buy the 2018 Macán Clásico not by the bottle but by the case. And don't worry, you can thank me later. 150,000 bottles made. This is vinified in stainless steel tanks with part of the malolactic transformation carried out in oak barrels. Aged twelve months in barrels (50% French and 10% American new oak plus 40% used oak). For my money, this is the best vintage of Macán Clásico I have ever tasted. Drinking window: 2023-2027.
Bodegas Benjamin De Rothschild & Vega Sicilia 2017 Macán Rioja                 91
Deep ruby. Dark cherry, cedar, mint, graphite and herbs on the nose and in the mouth. The nicely tapered mouthfeel boasts a steely quality and an austere personality. The aftertaste is long and chewy. The Mácan is the flagship wine of the Bodegas Benjamin de Rothschild & Vega Sicilia, clearly a more important and expensive wine than the Macán Clásico. But differently from the 2018 Macán Clásico, the 2017 Mácan is presently tough and ungiving, reflecting the very difficult year characterized by vicious frost (and hail later in the year) that wiped out almost three quarters of Rioja production that year and hitting the vineyards of San Vicente de la Sonsierra especially hard. This wine needs plenty of cellaring to round and mellow out. The 2017 Mácan is extremely well-made (extraction was very carefully gauged and the wine was aged in 50% new oak barrels for sixteen months) and there is not much in the way of hints of greenness, with apparently enough fruit lurking beneath the tannic cloak. I caution my readers that some colleagues of mine whose palate I trust have told me they have tasted bottles of the 2017 Mácan that's seemed precociously evolved but, at least up until now, that has not been my experience. Drinking window: 2026-2032.
Vega Sicilia 2017 Pintia Toro              95+
Fully saturated very dark ruby-purple; this is the darkest of the Vega Sicilia reds I tried. Downright brooding on the nose and the palate, with deep but currently reticent aromas and flavours of blackberry, cedar, coffee, licorice, black olives, green and black pepper, and herbs that are powerful and dense. A massive wine that literally smothers the taste buds, but boasts remarkable acid-fruit-tannin balance overall; for all its structure, the tannins are extremely fine-grained. The aftertaste is long and very pure, showcasing with prolonged aeration rising notes of violet and pomegranate. A super-impressive red wine that is sheer "power in a glass", it will require a little patience in order to get it to give all it has to offer, which is plenty (and hence the '+' sign attached to my score).  Importantly, and contributing in no small measure to this outstanding wine being the success that it is, Toro did not suffer in 2017 the same horrific frost episodes that clobbered the Ribera del Duero. Another beautiful wine in the making from Vega Sicilia. Made with 100% Tinta de Toro, the biotype of Tempranillo typical of the Toro Denominación de Origen (at Pintia/Vega Sicilia, 72% of the vines are ungrafted thanks to phylloxera having a lousy time surviving in Toro's soils. This wine aged for twelve months in both American (20%, which is less than before) and French oak, but my sense is they are attempting a gentler extraction than in previous vintages and also reducing the oak influence (in 2017, only 35% of the malolactic transformation was carried out in oak). Drinking window: 2028-2042.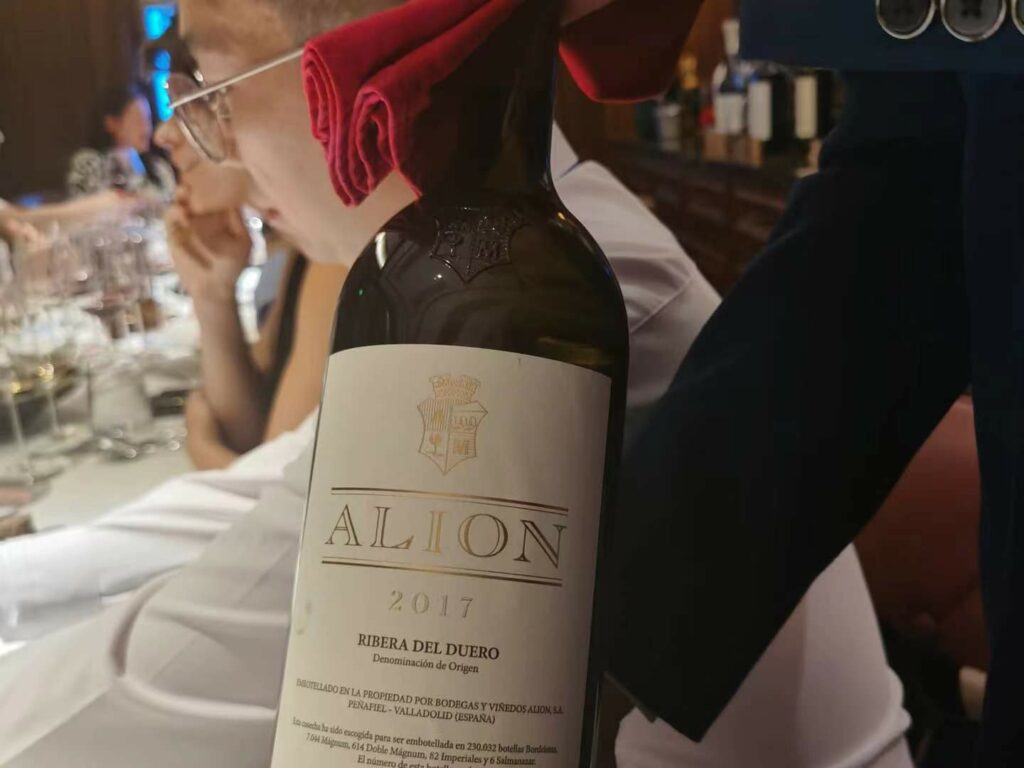 Vega Sicilia 2017 Alión Ribera del Duero        92
Balsamic nuances complement very strong and obvious notes of sweet milk chocolate and vanilla complicate and camouflage red cherry aromas and flavours. Finishes ripe and very creamy, with lingering nuances of toasty, gently smoky oak and of almond paste. The 2017 Alión is undoubtedly a very good wine, but I find it to be heavily marked by sweet, perfumed, toasty vanilla notes that as enjoyable as they might be, are presently completely overpowering and camouflaging the seemingly just as sweet fruit underneath. Which is interesting, because recognizing that 2017 was an extremely difficult year (due mostly to frost, but not just), the estate topok steps to manage the adverse weather's effects. In this light, reducing the new oak aging by almost 10% and aging another 10% of the wine in concrete were probably both very good ideas. Though I doubt it will be very long-lived, I do think the 2017 Alión will develop nicely; but for now, I'd let it spend time in a good cellar in the hope that more fruit and less vanillin oak will gradually show over time. Drinking window: 2024-2029.
Vega Sicilia 2017 Valbuena 5˚ Ribera del Duero          96
Vivid dark red. Red cherry, blackcurrant, sandalwood, cedar, anise and minty coffee beans on the drop-dead gorgeous nose. Enters sweet and creamy, then more austere in the middle with very nice floral lift to the soft, creamy ripe but bright, linear, precise flavours of dark berries, smoky plum and coffee liqueur. Closes long and vibrant. A very Euro-type of wine, with a classic, high but harmonious acid spine and assertive but noble tannins providing the creamy, ripe, voluptuous red and blue fruit flavours with plenty of support. A strong note of Merlot-derived milk chocolate lingers long and pure on the violet, plummy finish. Ready to drink now but also capable of aging another fifteen years without any problem, this was aged for almost three years in new and used French and American 225-liter barriques (for the first year) and then in 21,000-liter oak vats. The 2017 Valbuena 5º is yet another gorgeous Valbuena 5º in the making, and it's a remarkable achievement given how difficult the 2017 vintage was (the frost that hit at night between April 27 and April 28 will be remembered by everyone in the region for a very long time), so well done. The 2017 Valbuena 5º is a blend of 94% Tinto Fino (Tempranillo) and 6% Merlot; had I tasted this blind, I would have guessed for sure there was a little more Merlot than that. And I would have never guessed the wine was from the admittedly so-so, bordering on the downright lousy, 2017 vintage. Drinking window: 2025-2035.
Vega Sicilia 2012 Unico Ribera del Duero              95
Deep bright red-ruby. Perfumed aromas of red cherry, soy sauce, tobacco, blackcurrant reduction, Turkish Delight, espresso and flint. Then at once silky and powerful, with multilayered flavours of red and blue fruit complicated by iron, grilled meat and violet nuances. The finish is deep, long luscious and complex. Most impressive today for its silky but very generous, powerful, rich texture, an impressive feat in a relatively droughty year like 2012. My first bottle was unfortunately too advanced because of incipient oxidation (a cork that did not do its job properly), but the second bottle was splendid. The 2012 Unico will not go down in history as one of the all-time greats of this wine, but it is a splendid wine no matter from which angle you look at it. And even though this wine is already eleven years old, I think it will prove better than it already is should you cellar it for a couple more years. The 2012 Unico is a blend of a blend of 95% Tinto Fino (Tempranillo) and 5% Cabernet Sauvignon. It spent eighteen months in barriques and then a further three and a half years in 220hl vats (tinas) followed by Unico's usual very long bottle ageing. Drinking window: 2026-2040.
Vega Sicilia Reserva Especial Ribera del Duero (21 edition)    98
This is an absolute knockout: honestly, one sip will tell you immediately about this wine's undeniable greatness. Moderately saturated ruby red with a pretty garnet cast. Captivating aromas of red cherry pie, milk chocolate, hazelnut paste, star anise, red licorice, candied violet and plum reduction, with a whiff of sweet exotic spices in the background. Sweet, expansive, and multilayered on the palate, offering extremely sultry, downright sexy and fresh flavours of red cherry jam, balsamic oils, dark chocolate, coffee, Oriental wood, and sweet spices. The 2021 edition of the Reserva Especial is a blend of vintages 2009, 2010 and 2011 (and so different from the 2022 edition, which is based mostly on the 2008, 2010 and 2011 vintages). Think of this as very similar to the 2011 Unico, from which it differs because it is sweeter and creamier, but also softer and readier to drink. Drinking window:  2024-2050.
Oremus 2020 Tokaj Late Harvest Hungary    93
Luminous golden-tinged straw yellow. Drop-dead piercing perfume of acacia flowers, sweet orange flower honey, grapefruit jelly and jasmine on the nose complicated by hints of lemony botrytis. Then follows through on the palate with sweet flavours (about 95 g/L r.s)of apricot, yellow melon, vanilla and marzapan. Offers a risingly long floral finish. A very beautiful late harvest wine that is at once dainty and precise, boasting utmost clarity of fruit and noble rot aromas and flavours.  Drinking window: 2023-2028.
Oremus 2016 Tokaj Aszú 3 Puttonyos Hungary           92
Medium-deep bright golden-yellow. Canned peach, clover honey and hints of spicy botrytis on the ample, broad nose. Very impressive on entry, but turns a little monolithic in the middle and on the long mouth-coating finish with flavours that echo the aromas. Boasts very good acid-sugar balance (136 g/L r.s. and 9.4 g/ total acidity) but I don't feel the marmelady botrytis is quite as pure here as it has been in other vintages. All-right, I'm guilty of splitting hairs: this is really a pretty good sweet wine that will make any of your friends who like such wines (as I do) very happy. A blend of Furmint, Hárslevelű, Zéta and Sárgamuskotály grapes. Drinking window: 2023-2030.
Oremus 2013 Tokaj Aszú 5 Puttonyos Hungary           96
Luminous golden-tinged yellow. Penetrating aromas and flavours of fresh citrus, peach, ginger, acacia honey, tropical fruit cocktail (lychee and pineapple) and sweet spices plus gorgeously pure marmelady botrytis adding complexity. Pristine, precise and long on the perfumed, complex finish that is beautifully lifted. A knockout sweet wine that despite its richness is remarkably light oin  its feet. Curiously, and a very good example of why when it comes to sweet wines the numbers never tell you the whole story, this has more sugar and less acidity (156 g/L r.s. and 8 g/l total acidity) than the Oremus 2016 Aszú 3 Puttonyos, but this is a much better-balanced wine than that one and you can tell that the botrytis was much purer in 2013. A blend of Furmint, Hárslevelű, Zéta, and Sárgamuskotály. Drinking window: 2023-2038.