The Furst Castell wine estate of Franken in Germany, or the Fürstlich Castell'sche Domänenamt as it reads in its full name in German, can lay claim to many famous "firsts", or something very close to that. To begin with, it is one of Germany's and the world's oldest wine estates, founded in 1057 when Rupert de Castell is known to have settled in the area, meaning it has been twenty-six generations and counting that have led this estate in turn. A noble family, the Castells were originally counts (since at least 1205, the year of the oldest existing record attesting to the family's right to bear that title), but became Princes as of 1901, when Prince Regent Leopold of Bavaria raised the Castell-Castell and Castell-Rüdenhausen lines to that higher noble rank. But despite those noble titles, the family members have always remained heavily involved in agriculture, viticulture and forestry, and other activities. Wine is mentioned in association with the family's Count Rupert II as early as 1224. In the same century, the existence of four of the vineyards the family still owns today (the Hohnart, Reitsteig, Schlossberg and Trautberg) was documented (in 1266: they were also clearly identified a little later, on a 1497 map). In 1556, two "firkins" of Castell red wine were specifically referred to in a document of the time (which is interesting and a sign of how times change, given that the majority of the Castell estate's production today is of white wines). It was in 1774, following a local famine, that the family established a bank to help take care of the population, the Fürstlich Castell'sche Bank: it still exists today, and is in fact the oldest bank of Bavaria (the largest and, arguably, the most important state of Germany). Today, the Castell winery is owned by Ferdinand Graf zu Castell-Castell and is part of a three-pronged reality: the wine estate, the bank and the Fürstlich Castell'sche Forstabteilung; the family is also related to the owners of the prestigious and well-known Faber-Castell writing utensils, luxury leather goods, office and art supplies company. And as if all that wasn't quite enough, Castell was the first to plant Silvaner in the Franken, turning it into not just the wine ambassador of the whole region but focusing the Franken and Germany as perhaps the most important producer of Silvaner wines in the world.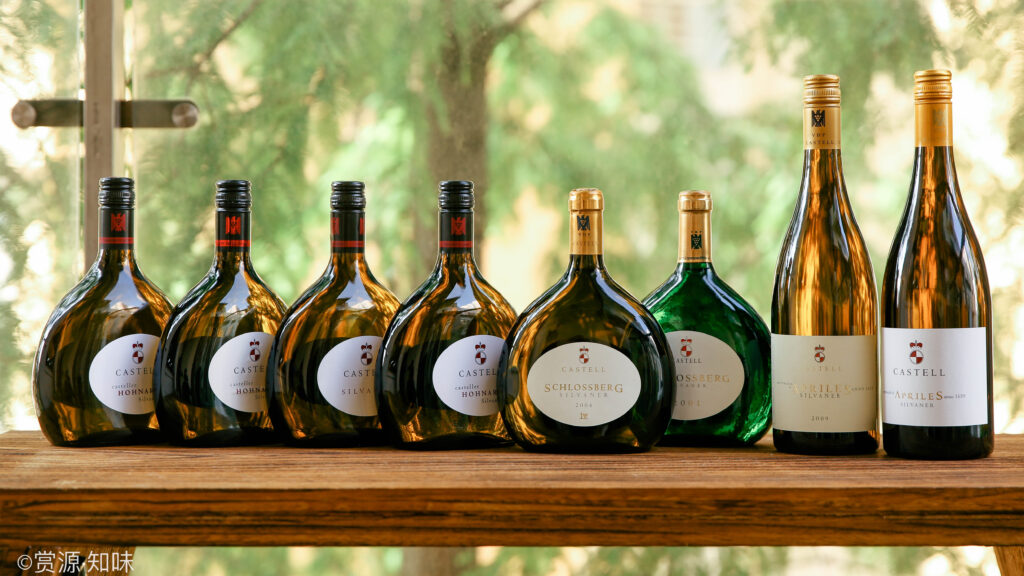 Silvaner and Castell
On April 6, 1659 Johann Georg Körner, the bailiff of the Count of Castell's estate, had "twenty-five Austrian cuttings" planted at the foot of the Schlossberg (or "castle hill", in English: intended as in "castle on top of the hill") that he had ordered via a messenger from the village of Obereisenheim, Michael Saueracker. The term "Austrian cuttings" may seem a tad strange, but back then Silvaner was known simply as "Österreicher" (or "the Austrian grape"), in observance of its Austrian origin. Silvaner is in fact the result of a natural crossing occurring between Traminer (Savagnin) and Österreichisch Weiss (Austrian White) and its name, Silvaner, harkens back to the Latin silva, meaning "wild vine" or "living in wild places" (but wouldn't you just know it, different interpretations of that word's meaning exist). Silvaner has always been very popular in Germany (not just the Franken) and up to the 1970s it was in fact Germany's most planted white wine grape. You might reasonably ask: what prompted the people at Castell to order the planting of Silvaner? Good question. The demand for the new wine grape was based on some very knowing and downright logical thought processes that tell us a lot about the viticultural reality of specific moments in time and of how capable human beings adapt to the time and place they live in. In this specific case, the planting of Silvaner was the result of both the Thirty Years' War (one of the longest and most disastrous wars in European history, lasting from 1618 to 1648) and severe winter weather. Back in the seventeenth century, climate change, at least compared to how we think of it today, posed a different problem: in fact, the term "climate change" at that time in human history referred to a general drop in average temperatures and to the noteworthy cooling of the seasons. Given the frigid weather of the time, the growers (no fools they) began seeking wine grape varieties that could withstand winter frosts and generally cold weather; in other words, cultivars characterized by a later bud burst (and therefore better able to survive unexpected, late spring frosts); fast-ripening curves that would allow grapes to be picked relatively early at full physiologic maturity; and yield a good crop from year to year. In all those respects, Silvaner was, and still is, the cat's meow (or perhaps the dog's bau, depending on whether you are a cat or dog person: I'm both, so I don't care which one you pick). Add to these weather-related considerations that the horrific Thirty Years' War had done quite a number on Europe's vineyards, leading to pothole filled hillsides and vast tracts of land that had become barren or close to it (the battleground was mostly Central Europe: for example, roughly 75% of the greater Franken area's 40,000 hectares of vines were abandoned). You understand why there was a need to replant, and specifically with a grape like Silvaner that is not just prolific and blessed with a realtively short vegetative cycle but also produces pretty darn good wines (when tended to with care and is planted in the right soils). In any case, Silvaner took to the Franken like ducks do to water, and by the end of the eighteenth century it had already become an extremely popular grape (for example, there are records showing that by 1791, the viticultural advice of Johann Christian Fischer was to plant every tenth vine with "Österreicher". A little later, in 1833, Johann Philipp Bronner (a noted pharmacist and viticultural pioneer) wrote that Silvaner was as ubiquitous as "salt in food". (By the nineteenth century co-planting of varieties and the resulting field blends were giving way to monovariety vineyards, and so the hectarage of a popular variety such as Silvaner had by then shot off into the stratosphere.) It is therefore not by chance that the Franken is referred to colloquially as the Silvanerheimat, or the "home of Silvaner". And while Silvaner's popularity is somewhat on the wane today (very misguidedly, let me add), it is still one of the Franken's three most important and planted wine grapes; at Castell, for example, it still represents about 40% of the total grape variety plantings. That is indeed very noteworthy: in this day and age, when importers everywhere are pressuring wine estates to uproot less sexy (meaning nothing more and nothing less than "harder to sell") grape varieties such as Silvaner and Müller-Thurgau in favour of Riesling and Grüner Veltliner, such that they all have an easier time of it (sorry now, but let's start calling a spade a spade), it is really refreshing to meet people who do the right thing. Which in this case means not haplessly following fashions and fads that will one day soon be forgotten just like the hula hoop, the yo-yo and rayon, but rather to continue growing the right grape variety in the right soil and habitat and thereby making the best possible wines (as opposed to the latest "flavour of the month"). In the long run, it is those people who stick to their guns and keep their brain switched on at all times that get ahead. So allow me: what an enlightened estate Castell is. Perhaps that's one of the reasons it is closing in on thirty generations at the helm, while other estates have come and gone. Just saying'.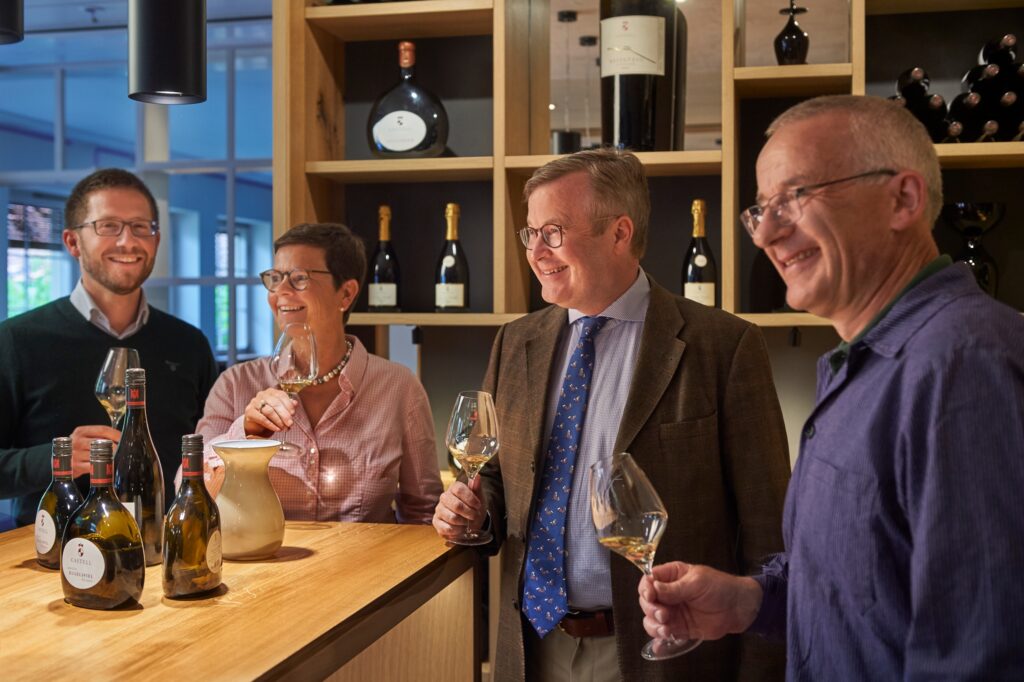 For when all is said and done, Silvaner gives one of the world's great white wines, and an amazingly age-worthy one at that. A wine grape that is very capable of expressing somewhereness in the glass, the soil in which you plant Silvaner in is extremely important. Strongly loamy and fertile soils tend to give slightly dull, neutral wines, while low yields and highly mineral soils such as Castell's Keuper marl-rich (see below) ones enable the production of very mineral, remarkably lifted, refined wines. And keep in mind that world-class Sylvaner wines are also made in other parts of the world, such as in Alsace and Italy's Alto Adige (do note that in those two wine regions, the use of the original, older, spelling of the variety -with a "y"- is used). For more on this please see the TerroirSense Wine Review: Region Report, June 27 (2022): Tasting Report: Recent Releases of Germany's Amazing Silvaner Wines. See also: Vertical Tasting, June 8 (2022): One of Italy's Best White Wines: Köfererhof Sylvaner 'R' Alto Adige Valle Isarco Vertical 2006-2019 and Vertical Tasting: March 30 (2021): Ernest Burn Alsace Sylvaner Vertical Tasting 1992-2017.
The Franken and Castell's vineyards
While most wine lovers are well-aware of the highly justified and well-deserved fame of German vineyards of and wines from, for example, the Mosel, Saar, Ruwer, the Rheingau and the Pfalz, the Franken's also highly meritorious vineyards and vinous potables are less well-known. Which is a shame, because the area has always enjoyed a lofty reputation wine-wise: it is documented that as early as in 777 ce (common era), the Fulda Monastery received a deed of gift of eight different vineyards belonging to the royal estate of Hammelburg; and that Charlemagne's men had studied and drawn up the  viticultural area between Randersacker and Würzburg already in 779 (in fact, it appears from documents dating back to 1298 that the Abbotts from the church had already owned a vineyard, presently known as Saalecker Schlossberg at that time).
In Napoleon's reorganization of Germany, the Franconian region was divided between the kingdoms of Bavaria and Württemberg and the Grand Duchy of Baden. Today, the Franken is an area that lies in the northern part of Bavaria, in parts of Baden-Württemberg, South Thuringia and Hesse (all Franconian-speaking), and is divided in three administrative regions (Upper, Middle and Lower Franken, or Franconia). Characterized by its own cultural and linguistic heritage, the Franken is nestled between the Rhön, Steigerwald, Taubertal and Spessart (not too high) hilly-mountainous ranges and boasts currently over 6000 hectares of vineyards that are mostly planted on south-facing hillside slopes between Aschaffenburg and Schweinfurt following the zig-zagging course of the Main River (it really does flow along a "W" shaped course). The Franken wine appellation was historically divided into three sections: the Maindreieck (extending from Schweinfurt down to Marktbreit and up to Gmünden), the Mainviereck (covering the territories of Lohr, Wertheim, Miltenberg and Aschaffenburg, to the west of Würzburg) and the Steigerwald (to the East and the South, where some of the greatest of all Silvaner vineyards are found, such as those of the towns of Iphofen and Castell) with the three main district areas boasting 23 Großlagen and 216 Einzellagen. However, in 2011 the Franconian Grower's Association decided to modify things so as to create twelve smaller -but, frankly speaking, very complex and confusing- wine zones in lieu of the big three, so things are not quite as obvious as I've just made them.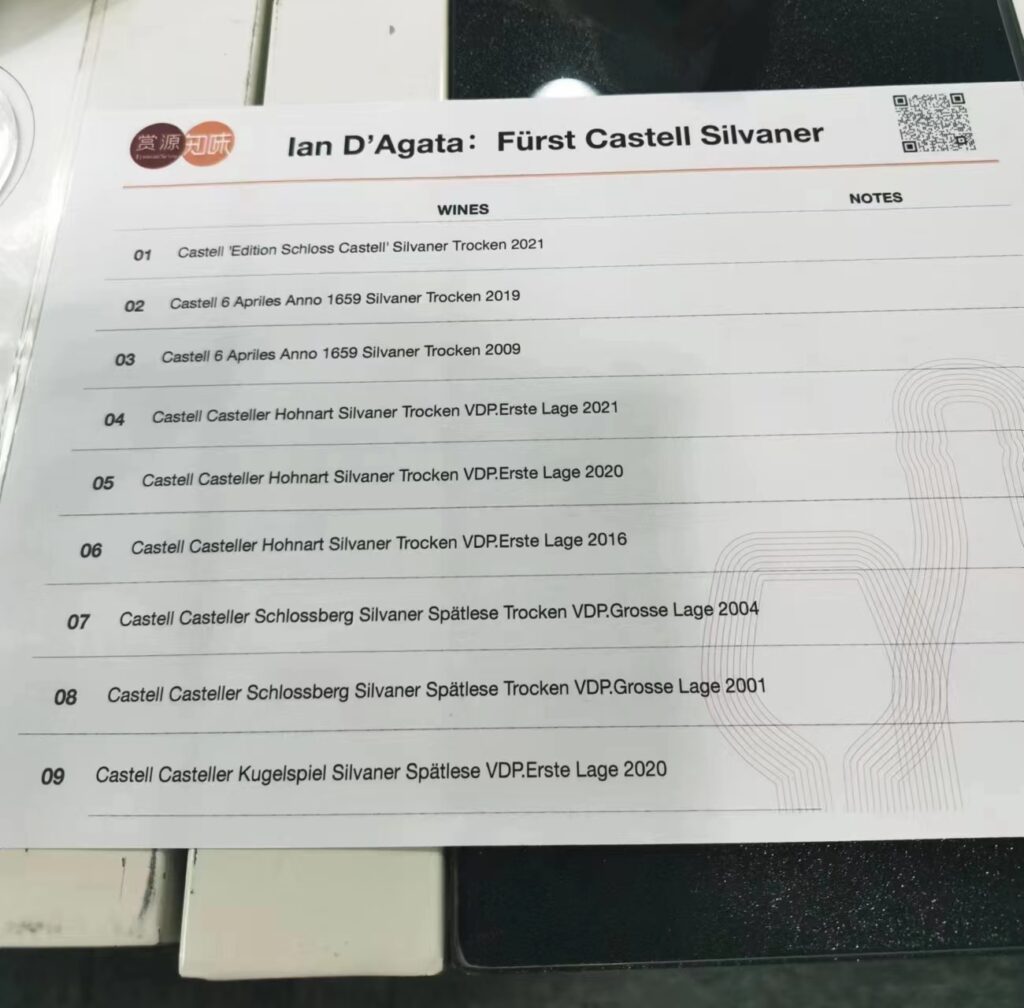 Castell is not just the name of a famous and ancient wine producing family, but also that of a Northern Bavarian town located between the cities of Frankfurt and Munich, east of Rodelsee. A large portion of the town's vineyards are owned by the family of the same name. The vineyards of the Castell estate all fall within the Franken wine appellation, and specifically in what used to be known as the Steigerwald, or the "elevated forest" (and as we have seen, also the name of a local mountain range). Historically, the Steigerwald was the easternmost of the three and included a piece of the Tauber valley, and has always been especially characterized by the highest altitude vineyards of the Franken (planted up to 400 meters above sea level) and the presence of a gypsum-rich Keuper marl soil [the layers of which are called steigen, and hence Steigerwald (and note that even though the term "Keuper" is now no longer used by modern geologists as it has been replaced by "Mercia Mudstone", most wine people still speak of Keuper marls)]. The combination of the area's continental climate and its unique geology ("unique" in that such mineral-rich gypsum keuper is found in this form only on the extreme eastern edge of the Franken in the Steigerwald area) creates a generally dry, warmer but also fresh mesoclimate allowing for the production of amazing wines with varieties as diverse as Riesling, Müller-Thurgau, Rieslaner and of course, Silvaner. And in fact, as mentioned earlier in this report, despite the first ever official record of wine from the Castell wine estate was of red wine, today the estate owns roughly seventy hectares of vineyards that are predominantly planted to white wine grapes. Primarily Silvaner, but the family also grows some Müller-Thurgau, Riesling, Bacchus, Weissburgunder (Pinot Blanc), and a small amount of Spätburgunder (Pinot Noir).
The winery owns vineyards in seven classified single sites surrounding the town of Castell of which five are monopoles (as in single ownership: in other words, Castell is the only one making wine from them). One is a Grosse Lage (the German equivalent of a French Grand Cru), and four are Erste Lage (or the German equivalent of the French Premier Cru). The Grand Cru is called Schlossberg, while the four Premier Crus are the Hohnart, Kugelspiel, Trautberg and Reitsteig. The other two non-monopole vineyard sites farmed by the Castell estate are named Kirchberg and Bausch, also Erste Lages. Of all these, the most famous is clearly the Schlossberg (beware that there are countless vineyards named "Schlossberg "in Germany, and in Alsace too for that matter; so don't get confused and always refer to the town associated with each one to know which Schlossberg you are dealing with). Immediately located above the town, the Schlossberg has a south/southwest-facing slope that is partially protected by the surrounding forest to its north and east. About 4.5 hectares large, and marked by steep slopes and heavy gypsum-clay, mudstone and calcareous marl soils, vines are planted between 300 to 390 meters above sea level; it gives Silvaner wines of rare power and refinement. Of the other vineyards owned by the estate, it is noteworthy that the very small Reitsteig vineyard (1.3 hectares) is actually located on the lower part of the Schlossberg slope, between 300-350 meters above sea level with a 15-30% slope gradient (a warmer slope, it is planted to Pinot Noir); the Kugelspiel (one of my favourite of the less well-known Franken vineyards) is located closer to the forest and is characterized by a much cooler mesoclimate (something which clearly, recognizably, translates into its wines); and the Hohnart (less steep at a 5-25% slope gradient, it's a thin sliver of vineyard of which five hectares are planted to Silvaner and 1.5 hectares to Riesling), it gives much larger, riper, broader Silvaner wines redolent of ripe yellow fruit.
All the wines in this tasting were sourced directly from the estate and tasted in Shanghai in May 2023, where I live and work, with Elisabeth Finkbeiner, the Director of Sales and Export at Castell in zoom connection with me from her hotel in Prague where she was working for her company that day, as well as the two owners of Seduo (Beijing), the Castell winery's importer in China. I am grateful to all these people, and the Castell family and estate, for giving me and my readers the opportunity to taste both newer and older vintages of what are truly remarkable wines.
The wines in the tasting
Castell 2021 Schloss Castell Silvaner Trocken Franken            92
Pale straw-green colour. Pure nose offers a hint of citrus peel complementing apple and pear, and an attractive floral perfume. Then vibrant and juicy, with precise flavors of fresh orchard fruit, citrus and herbs. Fresh and balanced on the long bright zippy finish. Apparently about 10% is aged in large oak barrel, but this is so fruity and fresh I would have never guessed. A very pretty wine, it has plenty of character and grip for something sold at such an inexpensive price point, and I can tell you that it will make, effortlessly, my year's end list of "Best Wine Buys of the Year". Really well done: it may not be the most complex white wine you'll ever drink, but it's just plain delicious and irresistible. The 2022 vintage is the one currently on sale now. Drinking window: 2023-2027.
Castell 2019 Silvaner Trocken 6 Apriles 1659 Franken             94
Pale yellow-gold. Penetrating, musky nose hints at minerals, aromatic spices (vanilla, cloves, cinnamon, white pepper), tangerine and banana. Nicely concentrated and solidly built, with creamy, mellow fruit framed by firming minerality. The note of banana repeats on the palate along with flavours of ripe pear, peach and herbs. Finishes with good grip and a tannic suggestion. Still youthfully reticent and in need of another 6 to 12 months of bottle age to express itself fully, but in fact this will have plenty more to say in many years to come. This is a really beautiful, extremely well-oaked wine made from fifty years old vines mostly from the Erste Lage (Premier Cru) Hohnart (70%) and from the Grosse Lage (Grand Cru) Schlossberg (30%). Drinking window: 2024-2034.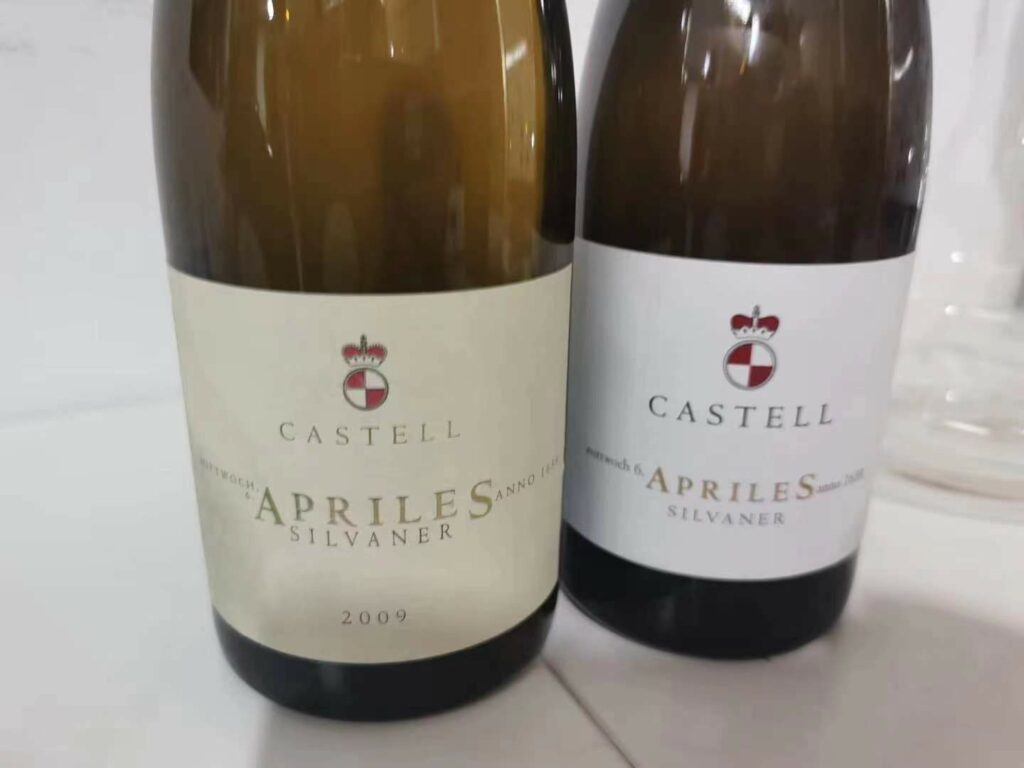 Castell 2009 Silvaner Trocken 6 Apriles 1659 Franken             93
Bright golden-tinged medium dark yellow. Very spicy aromas of honeysuckle, orange marmalade, honey, peanut brittle and smoky minerals. Fat and ripe but with very good lift thanks to harmonious acidity nicely focusing the sweet fruit salad and spice flavours. Finishes long, leaving behind a big, pliant mouthful of nicely firm slow-building honeyed fruit. Generous, easygoing Sylvaner that showcases the variety's capacity to give bigger-boned, fleshy white wines and at the same time, one that harkens back to an earlier time when white wines were being more generously oaked than they are today (about 30% of this was aged in oak barrels), but make no mistake, this is a beauty and one that all those who like bigger, fleshier, mouthcoating white wines will adore. Drinking window: 2023-2030.
Castell 2021 Casteller Hohnart Silvaner Trocken Erste Lage Franken                 91+
Vivid straw green. Aromas of yellow peach, pear anise, chamomile, spices, and nuts; less intense than the 2020. Fresh, nicely delineated and pure, this speaks of the vintage, conveying a somewhat simpler personality but boasting pretty mineral and inner mouth perfume to its herbal orchard fruit flavours. Finishes with good but not excellent length and noteworthy energy: did I catch this in an awkward, sullen phase? I wonder, but I'll give it the benefit of the doubt thinking it ought to improve with another year of cellaring (hence the "+" sign on my score, indicating this might improve meriting a higher score down the road). Very approachable and easygoing, this wine will match splendidly with freshwater fish and vegetable dishes.  Drinking window: 2024-2032.
Castell 2020 Casteller Hohnart Silvaner Trocken Erste Lage Franken                 93+
Luminous straw green. Peach, apricot and honey aromas and flavours are complemented by notes of mint and lemon curd. Very mineral, silky and precise, with outstanding cut and clarity on the long, floral, juicy finish. Beautifully precise and energetic wine that will age well. Drinking window: 2026-2040.
Castell 2016 Casteller Hohnart Silvaner Trocken Erste Lage Franken                  95
Good full yellow. Showy and ripe on the deep, complex nose, but with vibrant, musky citrus and chalky quality to its honeyed yellow fruit aromas. Then tighter-grained in the mouth with an obvious ripe yellow fruit (orange, tangerine, apple, mango, papaya) character and ripe acidity firming up the persistent, spicy finish. This is an absolute knockout of a wine that manages the neat trick of staying light and lively while also showcasing the more Baroque side of Silvaner (and of this specific premier cru in particular, one that tends to give larger-scaled wines). The grapes were picked in four different passes through the vineyard. Drinking window: 2023-2038.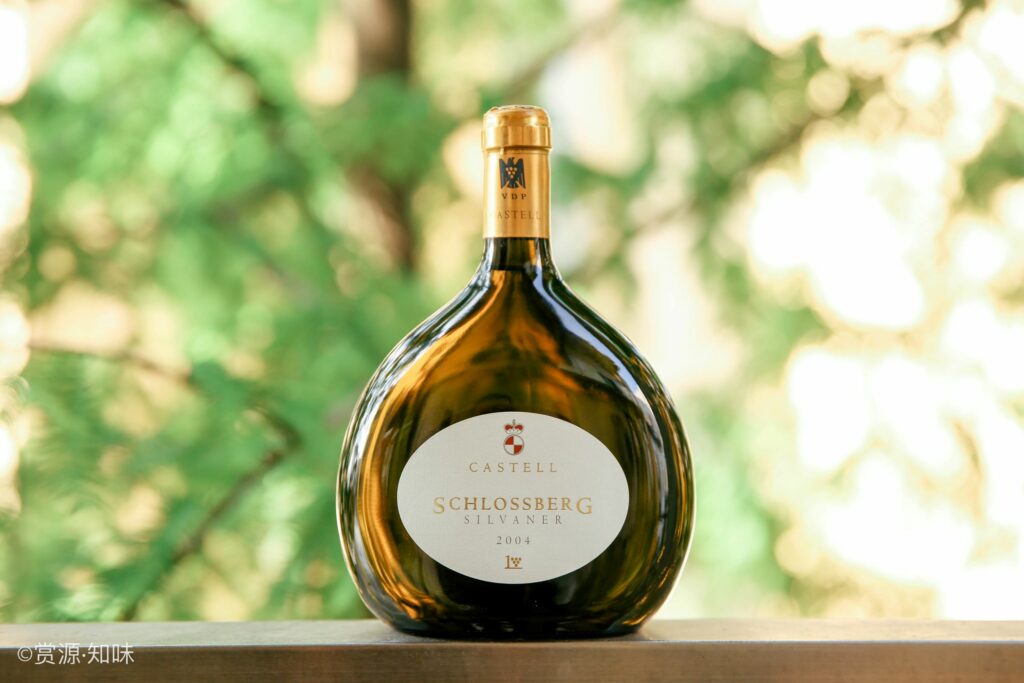 Castell 2004 Casteller Schlossberg Silvaner Spätlese Trocken Grosse Lage Franken                97
WOW, this is superb. Full straw yellow color with golden highlights. Very pure, refined nose offers sexy floral oils, ginger, pear, yellow melon, quince and mint notes that carry through on the palate where an enticing note of apple jelly emerges. Broad, dense and concentrated, with impressive inner-mouth aromatic character, this is at once delicate and rich, finishing very long and with noteworthy saline and savory tang. And although its beautiful to drink now, it will also age splendidly. Drinking window: 2023-2040.
Castell 2001 Casteller Schlossberg Silvaner Spätlese Trocken Grosse Lage Franken                  96
Pale golden yellow-tinged color. Cool, restrained, rather aristocratic aromas of quince, lime, mint, licorice, and powdered stone lifted by botanicals. Juicy, pure and detailed, with dusty peach and mineral elements perking up the taste buds. This classically dry and very long wine is very pure and refined, and leaves an impression of elegant, reserved austerity behind. It will outlive many of us. A beautiful wine but not for those looking for cheap banana and pineapple-caramel induced thrills, it shares many elements with classically dry Riesling wines from a warmer area (think Pfalz, but more steely and with less alcohol thrust). Drinking window: 2023-2042.
Castell 2020 Casteller Kugelspiel Silvaner Spätlese Franken                             94
Crystalline straw-green colour. Gently perfumed nose offers easy to grasp perfumed aromas of fresh nectarine, apricot and green apple, with bright jasmine and lemon verbena top-notes. Very juicy and floral in the mouth with a pronounced orchard fruit quality that is both very pure and fresh. There's plenty of mineral acidity nicely extending the flavours on the long, juicy and piercing back end. While sweet, this is so harmoniously vibrant that it comes off as off-dry rather than frankly sweet. It's really delicious, wonderfully sappy and sexy, with a very Riesling-like character to its white flower and mineral traits. It may not be the most complex or concentrated Spätlese wine you will ever drink, but it is so lip-smackingly delicious  I guarantee you'll have a hard time putting the glass down once you start drinking. Listen to me now: if all wines were this much fun to drink, wine sales all over the world would be much higher than they are. After all that, my advice to you is still to try cellaring it for a few years to see whether it develops a bit more complexity (which is likely). Drinking window: 2026-2045.