I spent four days in Burgundy recently. This was the first time there for me since 2019. Last year at this time I was supposed to go but came down with Covid which forced me to cancel the trip, alas. But I had already been warned by someone from Becky Wasserman's eponymous company that there was almost nothing to taste given the very meager crop in 2021 which followed another small crop in 2020. I cannot help but think that four years ago seems almost like an eternity now. Most importantly, many growers simply do not wish to entertain visitors at this point. Endless requests for time-consuming visits has led many growers to say no, politely, to almost everyone except reviewers and wealthy clients. Even I was turned down at a number of estates where I have known the vignerons for some time. And so nowadays, I am much more likely to see people like David Croix or Pierre Yves Colin Morey in New York than in Burgundy! Naturally I understand the problem. Time does not expand. It is always in short supply. Unlike Bordeaux where a PR team takes people around the various Châteaux, there is nothing like this in Burgundy with the exception of a few of the larger négociants.
Nonetheless, it was good to return to the source of my favorite wines. The weather was sublime: warm and dry. The vineyards, frankly, could benefit from more rain. There was decent winter rain but very little since. The vines are productive as they were in 2022: This will be a big crop—which is good news given the paucity of wine in three recent vintages: 2016, 2020 and 2021. In fact, the period from 2012 through 2015 saw only one relatively decent-sized production: 2015. The 2017 and 2018 vintages were characterized by reasonable crops but production in 2019 was 20% or so down from the two earlier vintages. At the same time, and perhaps even more problematic, the demand for Burgundy's wines (especially Premier and Grand Crus) has reached levels that could not have been anticipated a decade ago. And there are no signs of this request/desire moderating. Between demand way in excess of supply, and small crops, the prices of the high-end wines of Burgundy are simply discouraging. Truthfully, it is the distribution which is driving prices higher than they would be under conditions of lesser demand, but the appetite for Burgundy seems insatiable. Furthermore, for wealthy collectors and drinkers, the ever-increasing prices seem to validate the worth of the wines. This is a bubbalicous bull market fed by a small supply of highly sought-after wines. It is not so much the growers but the market itself which is turning Burgundy into a trophy hunter's field.
On Monday June 5th, I visited three domaines represented by Michael Stevens, proprietor (with his daughter Cara) of Vins Divins which represents and exports Burgundies from many estates in the Côte de Beaune and Côte de Nuits. Some of these wineries are very well-known , some are up-and-coming. I have always respected how Stevens finds out what is going on in many less well-known estates and gets to represent them early on in their move from obscurity to recognition. Clearly, Michael knows a lot about what is happening in Burgundy and who is doing first-rate work in the vineyards. It can never be said too often that the fate and quality of the wines of Burgundy is largely a function of the work done in the vineyards. Perhaps the second most important factor in determining Burgundian wine quality is the decision of when to pick the grapes. Before the era of ongoing warming, the growers might have had a leisurely week to ten days in which to pick the grapes. Philippe Bouzereau -now making first rate Meursault wines—told us that it has gotten to the point now that there are perhaps three days for optimal picking before acidity drops. This puts great pressure on the proprietors and their teams of pickers: a whole season's work is at stake. This is true for almost everyone in Burgundy.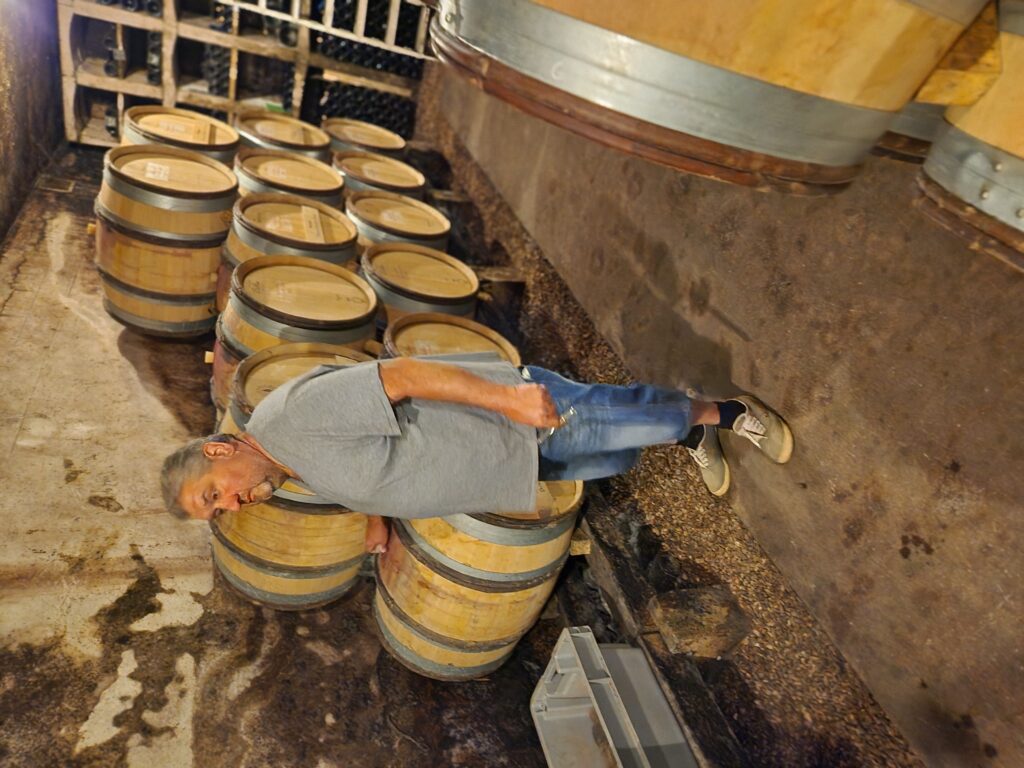 Our first visit was to Emmanuel Humbert of Domaine Humbert. I have been drinking the Humbert wines for a decade: Linear, precise, full of energy and acidity, they age for many years. The 2022s from barrel had more fat and sweetness than I remember his wines from previous vintages having. This turned out to be representative of other 2022 red wines I tasted in that week. But I am not complaining! The 2022s are less tannic than the 2020s and they will be very well-received by critics and buyers alike! Naturally the wines varied from site to site as one would hope. The wine from Estournelles-Saint-Jacques, a high elevation site in Gevrey-Chambertin was especially compelling. Even more complex and expressive was the 2022 Charmes-Chambertin made from vines Humbert grows in the Mazoyères portion of Charmes. This is a true Grand Cru wine, and should develop into a masterpiece. It will be expensive, but worth it for those who can afford the wine. For those on a more limited budget, the Gevrey Chambertin Vieilles Vignes -made from 13 different sites in Gevrey- expresses the basic character of Gevrey beautifully. All the Humbert wines were excellent. After what was a rather quick taste we followed Emmanuel into the vineyards where he had much work to do. His desire to get to work was quite apparent. Tasting is a sort of luxury for the growers.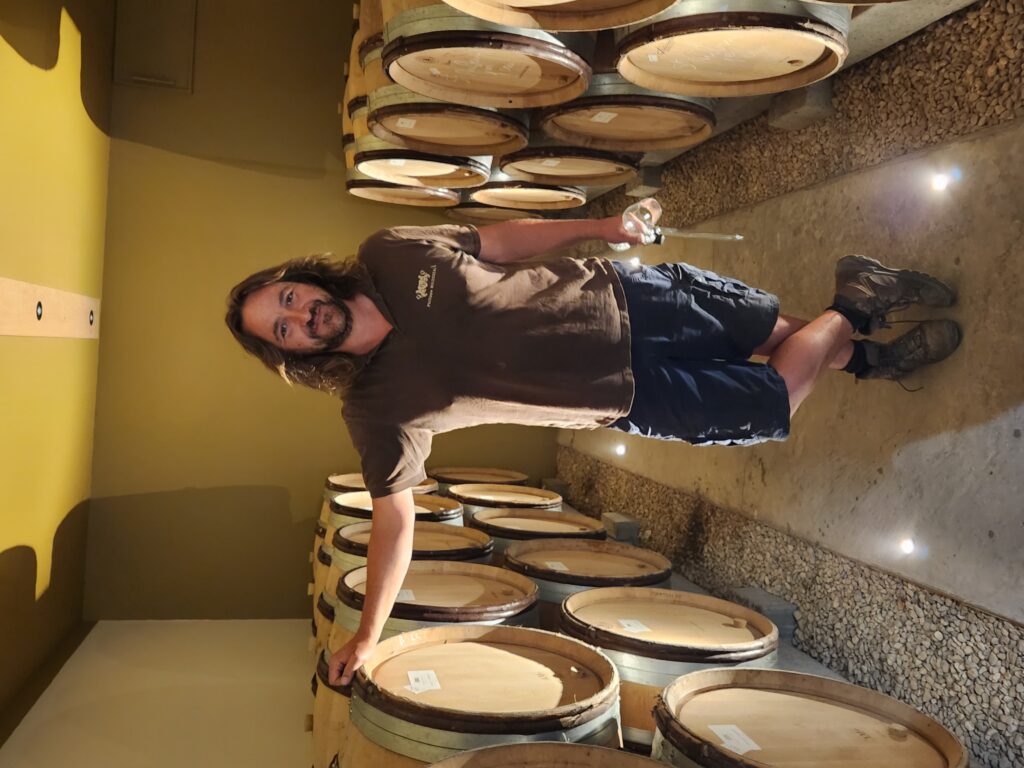 We visited Phillipe Bouzereau next, at his facility in Meursault. He has redone his cellar and is clearly committed to first-class wine. From barrel the different Meursaults were rich, clean and with lots of texture. This is a very good indicator of quality. As mentioned earlier, Bouzereau is a fanatic about the picking period of the grapes: as mentioned previously, global warming has reduced that period considerably, to just a few days (the pressure on the growers has increased significantly since 2014). Bouzereau also makes a few red wines including a small amount of Corton Bressandes, one of the best Grand Cru sites in the hill of Corton. Despite the young vines, the 2022 from barrel was a gorgeous primary wine. The heat of recent times has been fabulous for the wines from Corton. Bouzereau's wines are well worth seeking out.
Lastly, we went to what is a new domaine in Santenay: Jean-Baptiste Jessiaume. Jean-Baptiste has taken over from his father and uncle and reconceived the domaine in his image, so to speak. The estate produces many red and white wines from Santenay, Volnay, Pommard, Corton, Rully, Saint Romain, Bouzeron, Chassagne-Montrachet and even a Clos Vougeot from the Montpertuis lieu-dit. We tasted six to eight wines. The domaine's Santenay reds are terrific: rich, thick with earthy soil nuances, and at once active and energetic. The whites are very good as well but I find the red wines here to be the more interesting of the bunch. The Pommard Charmots Premier Cru will be an outstanding wine. It seems that the famous French wine writer Michel Bettane requested a visit to the domaine, and sent a note later that this Jessiaume is the best domaine in Santenay (in his opinion). It is always a delight to taste at an up-and-coming which is on the cusp of full recognition.
On Tuesday June 6th, we visited Louis Jadot in Beaune located just a few kilometers from central Beaune. This is my sixth or seventh visit to this winery over the years. Jadot is a large producer of first-rate red and white Burgundies, ranging from modest appellations all the way to several of the best and rarest Grand Crus. No wine is made indifferently. The Jadot hallmarks of fidelity to origin, elegant flavors, and textures which support the fruit are almost always there to a greater or lesser degree, vintages allowing. The exemplary balance of the elements are omni-present in the full range of appellations. I will add that the Jadot wines age exceptionally well. Madame Laurence Nijdam guided the tasting with gracious, helpful commentary. We tasted about 8 wines in total from 5 vintages: 2017, 18, 19, 2020 and 2021. I want to highlight two of the wines which exemplify the Jadot approach so very well: The 2021 Savigny Blanc Les Guettes and the 2019 Marsannay Clos du Roy. The point is that both wines, from what are considered secondary villages, were superb. The Savigny had the attack and spice of much more expensive wine from the northern Côte de Beaune. The richness and earthy density of the Marsannay were thrilling. The care in running these vineyards and making the wines is just as great as it is for the famous sites owned by Jadot: There are in effect no lesser wines at Jadot. Another exciting gem was the 2018 Beaune Célébration. In certain vintages, Jadot makes a celebratory red wine made from all the Beaune Premier Cru vineyards they own. This is a statement wine: all of Beaune, so to speak, in one wine. The 2018 captures the warmth and expressiveness of the vintage with typical Jadot freshness and harmony.
On Wednesday June 7th I visited Domaine Leflaive with Mounir Saouma whose Lucien Le Moine Burgundies are among the most interesting and singular wines of their type. I have known him for nearly twenty years. He is extremely knowledgeable and perhaps opinionated. I always learn from him. This was his first visit to Leflaive. We tasted separately at the Domaine. The 2021s were presented, most of which had been bottled very recently. The Leflaive wines take their time developing and in opening up. It was very difficult to assess these newborns: Introverted, intense, and uncompromising in texture and balance. Only the Folatières, from a warm site, was talking. It would have been helpful if a bottle of say a 2017 had been opened so that we could all experience the importance of time for these wines. To be sure, the 2021 was both a cool and a difficult vintage. Unlike the 2022s they are shy at this point. But no one buys Leflaive Pulignys to drink them young!
Every visit to Burgundy is fraught with excitement and unpredictability. That is the charm and the magic of its wines. Sometime the taster is thrilled, sometimes baffled. It is likely to be this way forever.