When it comes to wine, orange is the new black. For sure, orange wines are no strangers among fashionable young urbanites. But the modern revival of this category is just over twenty years old only.
In recent times, the "orange wine" craze has been on an almost continuous rise. An orange wave, if you will, one that many have taken to surfing on. Whether you're dining at an upscale Western restaurant or heading to your friendly neighbourhood corner nature bar for a sip, there seems to always be a few orange wines on every wine list. The distinctive aromas, flavours and textures of orange wines are more often than not perfect for spicy Indian, Thai, Moroccan, Middle Eastern or even Korean kimchi hot pot, though many fans enjoy drinking them on their own, much like beers.
The method of "orange winemaking" dates back to around 6000 bce in the Caucasus region, in an area which now corresponds to Georgia. At that time, winemakers fermented and aged wine in large clay jars called qvevri (pronounced kev-ree) which were closed off with stones and sealed with beeswax on the inside. They were then buried in the ground. Coating the inner wall of the amphora with beeswax allows very slow and sufficient passage of oxygen through the walls of the jars to aid in fermentation without having too much wine seeping through the walls of the jars. Furthermore, the wax impedes oxigenation happening too fast but rather in a gradual manner, which allows for wines that have oxidative, not oxidized, profiles (well, in theory at least). The white wine produced by this method is actually orange in color due to placing the grapes in the container with their skins (the traditional way of making wine way back then, which is therefore the predecessor method of making today's orange wines).
This method of winemaking has been used by winemakers all over the world, but the wines produced by this methodology never had a common category name. Up until recently, wines were only white, yellow (think Jura's Vin Jaune and China's yellow rice wine), pink and red. It was not until 2004 that an English wine merchant named David Harvey, of Raeburn Fine Wine, named a white wine made in this old-fashioned way logically enough after the real color of the wine. Hence the name of "orange wine", and the birth of a brand new wine category, that of orange wines.
While orange wines have been made in Georgia for a long time, it is no exaggeration to say that the revival of high-quality orange wine all over the world was largely due to a man from the Friuli Venezia Giulia region of Italy, Josko Gravner. Prior to his becoming keenly interested in this way of making wine, what had been going on in Georgia and thereabouts was not exactly the talk of the wine town. But the excellence of the wines made by the Graver winery and the man's credibility and fame focused attention on this winemaking style leading to orange wine becoming not just interesting but downright fashionable. Ultimately, with so many estates picking up the "orange wine challenge", so to speak, Gravner also made it so that orange wines became more accessible to wine lovers all over the world. Today there are many epigons making very fine orange wines all over the world, and Georgia's own production has become a focus for many wine lovers.
Friuli Venezia Giulia, Italy's first home of orange wines
In Italy, a number of wine producers are making orange wines all over the country now, but the real hot spot is Oslavia, a small town in Friuli Venezia Giulia which has long been viewed as a grand cru for wines made with the Ribolla Gialla variety. Oslavia is located in the Collio denomination, historically considered not just by locals but by most wine experts as the site of some of Italy's very best white wines. The Collio area is characterized by a very special macro- and mesoclimate, with an almost Mediterranean character. The Julian Pre-Alps chain keeps the area sheltered from most weather disturbances and the cold air currents that descend from the north-east. Furthermore, the proximity of the Adriatic coast allows sea breezes to drift inland and buffer extreme temperatures, keeping the grapes dry and disease-free. The soils (mostly ponca) are stony and very well-draining, composed of ancient sequential sedimentations of marine origin of sandstone and marl, with not much organic matter but rich in mineral elements. The combination of the relatively steep hillsides, old vines and poor ponca soils (compacted sand and marl) make for an area of stellar viticulture and winemaking potential. Clearly, the talent of those making wines in the area does the rest. Following in Gravner's footsteps, other local producers, led by Radikon and Primosic, took the next step and created the production guidelines of the "Ribolla di Oslavia" wine, that is made along orange wine production modalities. Besides Ribolla Gialla, many of the local producers (but not all) have taken to macerating (increasing skin contact between must and grape skins) their other grape varieties too, such as Sauvignon Blanc and Pinot Grigio, and in the process making wines with varying degrees of success (there is no doubt that Pinot Grigio takes to maceration much, much better than Sauvignon Blanc does). Today there are many local producers making very fine orange wines in and around Oslavia and all the Collio; of these, three have really struck me for the quality of their wines and that I will feature in this report (but I also love the wines of Primosic, which I tasted for the first time at Vinitaly this year in the Micro Mega Wines area of Pavillon F devoted to Italian small-volume, high-quality wines. The wines of Primosic will be the subject of an upcoming piece by Editor-in-Chief Ian D'Agata here in the TerroirSense Wine Review).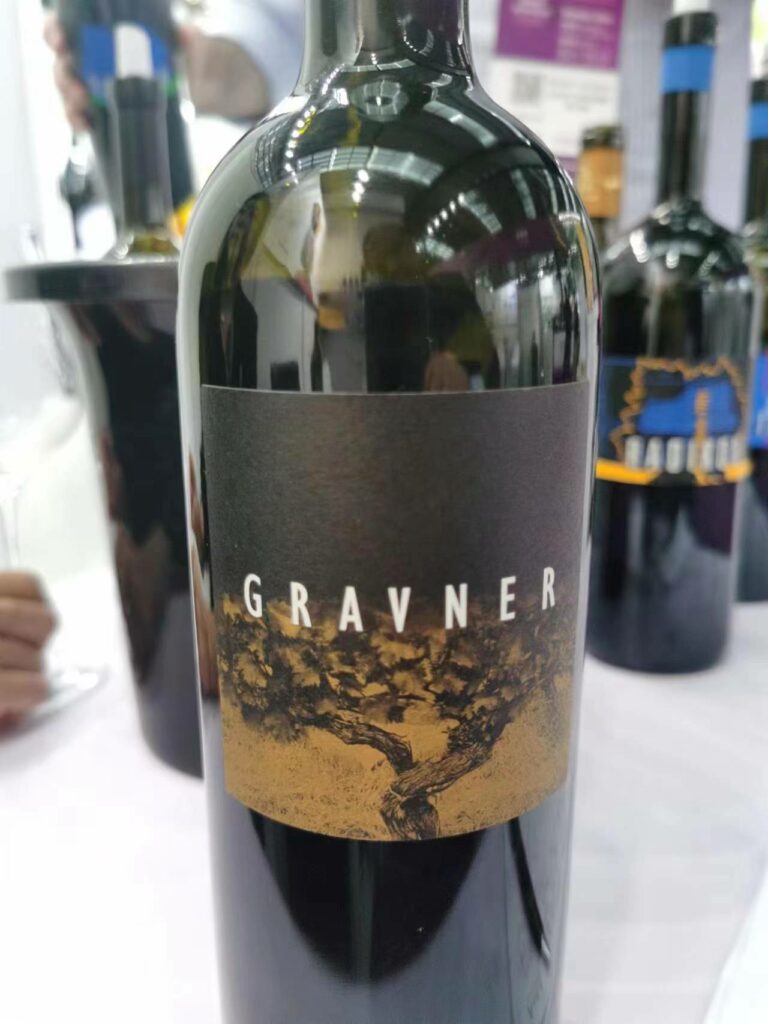 Gravner is of course the name that started it all. The owner, Joško Gravner, his daughter Mateja, and grand-son Gregor follow a strict biodynamic approach to the entire winemaking process, determining the most appropriate work in the vineyard and cellar according to the changing cycles of the moon. The winemaking method harkens back to very ancient winemaking methods that follow the six to seven thousand years old Georgian winemaking technique, where the grapes macerate for 6-7 months, the wine is fermented in the qvevri, then rests in clay pots for 4-5 months; after that, it is aged in large old Slovenian barrels for 6-7 years before being bottled unfiltered. The total amount of sulfur added is only 60-70 mg/L. After years in which the winery also grew international varieties such as Pinot Grigio, Sauvignon Blanc and Cabernet Sauvignon, and made wines with them, Gravner decided to uproot them all and is now making wine only from native, local, FVG grape varieties. And so the winery now produces one wine from the Ribolla grape and one red wine (made with Pignolo) only.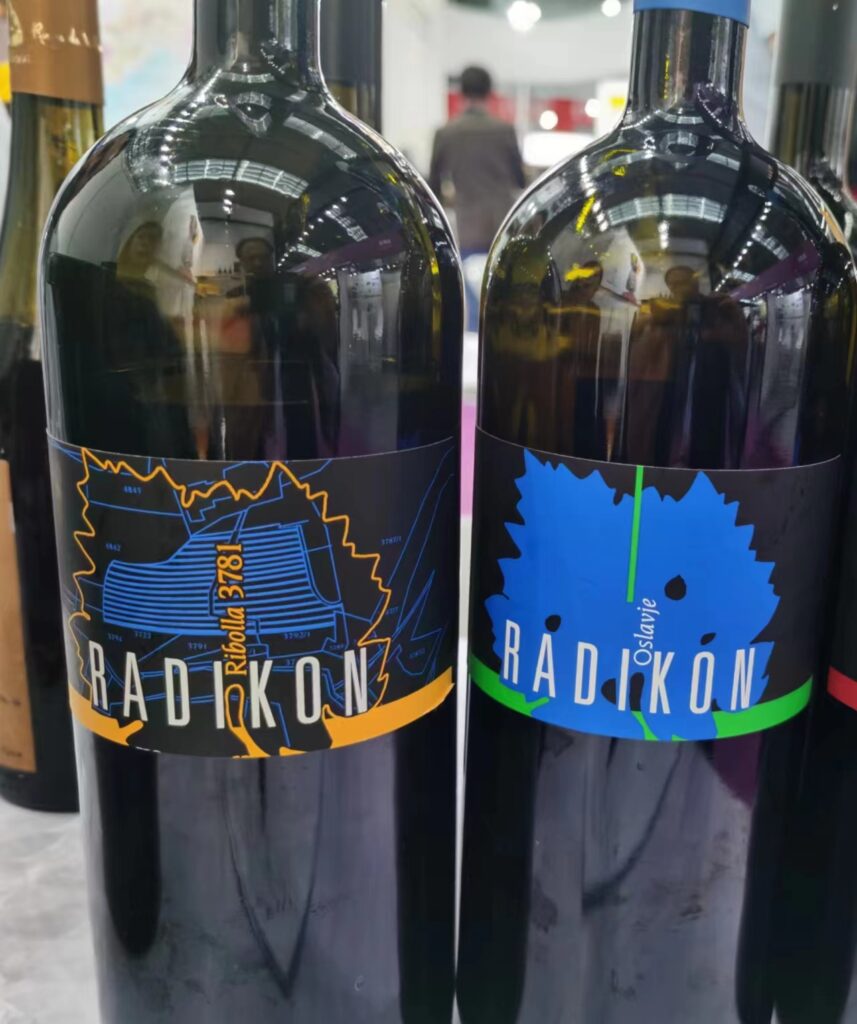 Another well-known winery of the Oslavia area is Radikon, another star winery in the world of orange wines, the wines of which are classic among classics. The Radikon family has been running the winery for generations: having lived through the World Wars and experiencing periods without any grass growing anywhere due to various causes including bombings and pesticides, Stanko (short for Stanislao) Radikon became even more respectful of nature. Stanko took over the family estate in 1979 and relied on temperature-controlled stainless-steel vats and old French oak barrels to vinify the indigenous grape variety Ribolla Gialla, which was not well-respected at the time for its exact qualities and potential. It was in 1995 that Stanko began experimenting with his grandfather's old winemaking method, which was to ferment the pulp and skins of Ribolla Gialla together for a week: that was the beginning of the story of orange winemaking at the Radikon winery. The family found that wine produced in this manner was marked by utmost purity and the aromas and flavours of the variety were greatly boosted. Because of the long maceration of the skins, the finished wine has an orange color and retains its crisp acidity. Furthermore, this way of making wine leads to wines characterized by a large tannin load, which in turn increases the ageworthiness of a wine and hence its shelf-life. Stanko believed that the long maceration time gives the wines enough antioxidant substances that there is no need to add additional sulfur, provided no negative conditions intervene (such as for example, rot/moulds). Sadly, Stanko Radikon passed away in a car accident years ago: in 2016, his son Sasa inherited the winery and has been making the wines since, brillianty carrying on on his father's work and upkeeping his legacy. At Radikon, all maceration takes place in oak vats, where the wine is stored for a year, then goes in stainless steel tanks for a few months and finally in bottles for a few months. Comparing these two famous estates, Gravner and Radikon, and admittedly generalizing somewhat, one uses clay pots and one uses oak barrels, but the differences between the wines of the two are not so marked. Perhaps the biggest difference between the two, a source of controversy even, is whether to add sulfur or not to the wine. Josko Gravner believes that a small amount of sulfur is essential to bring out the full flavor of a wine; by contrast, in 2002, Stanko officially removed the addition of sulfur from its Blue Label flagship wines. Which winery's wines you prefer will depend then greatly on how much funk and oxidation you are willing to accept in your wines: to those who don't mind a small degree of each, and really don't want any sulfur, Radikon's are the obvious choice. By contrast, those who believe that orange wines in which the potentially excessive oxidation makes it impossible to recognize the grape variety they are made with and that the wines end up all tasting more or less the same, will prefer Gravner's. Clearly, these statements are gross simplifications and generalizations applied to what are instead very complex realities. There really is no one clear-cut answer: for example, while I tend to prefer wines with a little bit of sulfur added, finding them to be crisper, cleaner, brighter and more varietally-accurate (after all, there's a reason why sulfur has been used for thousands and thousands of years in winemaking: and no, it's not because they had sulfur to sell or because they didn't know what they were doing) but in fact, I am a big fan of Radikon's wines too, that I believe are really some of Italy's greatest white/orange wines.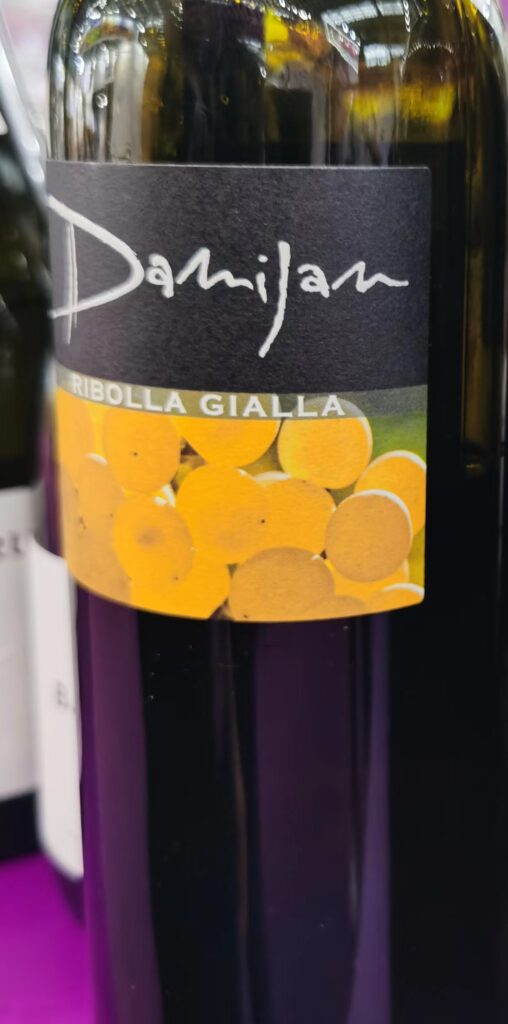 The varying degrees of "orange-wineness" are even more apparent when considering the wines of another standout Friuli estates, Damijan and Primosic. Damijan is the name used to describe the winery of Damijan Podversic. The estate is located in the Goriška Collio region, on the border with the Slovenian Goriška Brda. At only forty years of age, Damijan Podversic can already boast an incredible amount of experience. He began tending the few family vineyards as a young man, learning everything he could about wine from his only master: Josko Gravner. Accompanying him in the complicated management of the cellar-home, is his wife Elena, an anchor of sorts for Damijan over the years. The winery farms about ten hectares of vines: the most important vineyards, in addition to the small plots scattered throughout the Collio, are located on the wooded, south-facing slopes of Monte Calvario, on the outskirts of Gorizia, in an unspoilt environment that is perfect for growing healthy, flavour-rich grapes. Damijan Podversic's wines are a pure and natural expression of the grapes they are made with; they are made with long macerations, in a move thought to preserve the integrity of the fruit. Strongly attached to the oldest customs of the area, Damijan Podversic cultivates the typical local grape varieties and others that are becoming traditional to the area: Ribolla Gialla, Malvasia Istriana, Tocai Friulano, Pinot Grigio, Chardonnay, Merlot and Cabernet Sauvignon. The vineyards are managed with extreme care and attention, following the principles of organic farming. Harvests take place when the grapes are fully phenolically ripe, in order to bring aromatically rich grapes to the cellar. Vinification is carried out with long and patient maceration on the skins, so that the aromas are fully extracted. The whole process is very simple and natural, with a low use of sulfur, so as to offer healthy wines made in the best artisanal spirit.
The wines in this tasting report
Damijan.
Damijan 2018 Ribolla Venezia Giulia             92+
Medium golden yellow. The nose is practically aromatic, with hints of jasmine, peach, apricot, white lime and minerals, but also offering a little of the sweet herb flavour of rosemary. On entry, the acidity is medium-high, the wine is saline, almost salty in fact, with the mineral sensation very prominent, nicely supported by fine tannins. I find the taste to be a little more subtle than the smell, almost conveying a sense of residual sugar, but the beautifully concentrated fruit is not ostentatious. The long lively finish is dominated by repeating salty mineral tones. Very promising wine that is still and infant. Drinking window: 2025-2030.
Gravner.
Gravner 2013 Ribolla Venezia Giulia             95
Good dark golden-yellow colour. Perfumed nuances of orange peel and marmalade complicate aromas of white peach, chamomile, acacia honey and spices (saffron and ginger). In the mouth, a multilayered quality is apparent, with a mid-palate presence reminiscent of a Chinese green citrus pu-er tea, finishing long, light and sweet with grapefruit skin notes and very silky tannins. Not quite as thick as other vintages of this wine from Gravner, but boasts lovely crisp, vibrant flavour personality. Drinking window: 2023-2033.
Radikon.
Radikon 2019 Slatnik Venezia Giulia             91
Cloudy medium golden yellow colour. The nose is a bit funky, with herbal and faded flower nuances to the aromas of grapefruit peel and honeysuckle complicated by resin and balsamic oils, Medium-high acidity in the mouth, with a sweet-salty orange peel nuance to the herb and sweet spice flavours. Finishes long but with some bitterness, and with citrus and white flower notes echoing nicely. A very complex wine, it's this complexity that distinguishes it from most other natural wines  you'll try. An 80% Chardonnay and 20% Tocai Friulano blend. Drinking window: 2025-2032.
Radikon 2007 Ribolla 3781 Venezia Giulia    94
Now this is really excellent. Deep amber color (this is the "reserve" version of Ribolla Gialla, kept in the cellar for more than ten years). Very rich and floral on the nose, with aromas of acacia, honey, and stone fruit complicated by hazelnut and almond strokes. Large, full-bodied wine that boasts lively but harmonious  acidity nicely allowing the aromas to develop more fully and extending them on the ginger-accented finish, which also hints at tea leaves, minerals and rock candy. Not unlike a high-quality Amontillado Sherry, this will live just as long as the best Sherry wines you can think of: although already fifteen years old now, this beauty is still remarkably fresh and juicy in the mouth and has many years of life ahead. Drinking window: 2023-2038.