Bordeaux's image and reputation comes from its red wines, which, after all, account for about ninety percent of its production. Rating the overall quality of the vintage is always based on how the red wines fared, without regard to the whites. The famed 1855 Classification stratified only the reds and, except for Haut-Brion, only those from the Médoc where white wine was, and is still, rare. It took another 100 hundred years, in 1959, for the authorities to classify dry whites. But I'm here to tell you that Bordeaux, specifically Pessac-Léognan and more specifically, Domaine de Chevalier, produces spectacularly complex and age-worthy white wines. And sells them at reasonable prices considering their quality.
A recent tasting spanning four decades of both colors of Domaine de Chevalier reminded me of just how special and consistent the wines from the Domaine have been since it was acquired by the Bernard family, headed up by the ever-smiling Olivier and his son Hugo. Panos Kakaviatos, a Bordeaux expert, organized a tasting and dinner in May of this year at the 1789 Restaurant in Washington D.C. At that tasting, the oldest wine was a 1983 white, not a red, from the year the Bernard family purchased the property. Kakaviatos had arranged a similar tasting dinner at the French Embassy in Washington in 2020, just before Covid descended, presided over by Olivier Bernard. All the wines at both tastings came from the Domaine. Those two tastings confirm my enthusiasm for the Domaine's wines. This report will focus on their exceptional whites. I'll report on Domaine de Chevalier's reds at a future time.
Domaine de Chevalier lies just south of the city of Bordeaux itself, in Pessac-Léognan, which was a part of the Graves appellation until 1987 when it received its own AOC.  The soils of Pessac-Léognan are diverse, which accounts for both the stellar red and white wines coming from the appellation. The Cru Classé de Graves classification of 1959 ranked fourteen estates, all located in Pessac-Léognan, for white, red or both. Domaine de Chevalier is one of only six estates that is classified as Crus Classé for both red and white wine. (For completeness, the other five are Carbonnieux, Malartic-Lagravière, Latour-Martillac, Bouscaut, and Olivier).
Of the Domaine's roughly fifty hectares of vines, six are devoted to whites, up from three ha when the family purchased the property. Sauvignon Blanc comprises seventy percent of the plantings with Semillon accounting for the remainder. Bernard dedicates the cooler soils and sites to the white plantings to capture acidity, which will enhance freshness in the wines. He explains that heat and dryness during the summer will harm the white varieties more than the red ones, so it's important to keep the white varieties cool. The planting is dense, 10,000 vines/ha, which many believe increases the complexity of the wine, is unusual in Pessac-Léognan. Farming is done organically or biodynamically. Olivier explains that unlike red wine, he can make excellent white wine from younger, that is, 15-year-old vines.  The composition of the blend of Domaine de Chevalier's white typically follows the plantings, that is two-thirds Sauvignon Blanc and one-third Semillon.
The Domaine occupies a cooler site in Pessac-Léognan, abutting a forest, which Olivier says has been a Godsend with climate change and keeps the wines fresh. And, as the tasting notes will show, the whites display extraordinary development while maintaining freshness with extended bottle age.
Domaine de Chevalier produces only about 18,000 bottles of white annually, compared to about 100,000 bottles of red. A second wine, L'Espirit de Chevalier, made from young vines, comprises anywhere from 40 to 60% of the production depending on the vintage and the age of replanted vines. It represents a superb value.
"We are looking for freshness in the whites," explains Bernard, which is why the blend is weighted towards Sauvignon Blanc with its acidity and structure. Bernard points that Sauvignon Blanc has 20 percent more acidity than Semillon at harvest. The Semillon adds body and creaminess. He continues that with climate change and riper Sauvignon Blanc, they need and are using less Semillon.
Bernard's passion for white wine is evident, proclaiming with a broad smile and enthusiasm, "I like whites. They are another world. The world of red is in the soil. The world of white is in the heaven.  There is something ethereal in the whites. They are airy."
Though they use optical sorting at the winery for the reds, Bernard says they can easily spot defective white grapes visually. The key, according to Bernard and perhaps drawing on his experience with Sauternes—he is a part-owner of the famous classified Sauternes estate, Château Guiraud—is making successive passes though the vineyard, harvesting only the perfectly ripe grapes. He estimates that the maturation of their 50,000 bunches, though planted together, can vary by two weeks, so they will go through the vineyard up to five times over the two to three weeks of harvest.  Bernard estimates they spend two to four times as long harvesting whites as compared to reds—2000 to 4000 hours per ha versus 1000 hours per ha. Bernard adds that the subtleties are more apparent in whites, which means they must be more compulsive about the harvest of the white grapes. He continues by emphasizing that the focus of the whites should be on the delicacy of the fruit flavors, not the structured tannins, which again mandates a more selective harvesting. There is no skin contact during fermentation for the whites. They are vinified with only the juice and pulp using natural yeast and undergo no malolactic transformation. Fermentation takes place in small oak barrels, roughly one-third of which are new, followed by aging on the lees for up to eighteen months. Though the 1980 white, made before the Bernard family owned the Domaine, was chaptalized, there is no need for chaptalization today, with the average potential alcohol going from 12 to 14 percent over the last thirty years thanks to climate change.
Let me make some generalizations about the white wines before diving into the individual tasting notes. Closed when young, they need bottle age, and then even some air to let them unfold. They have an almost unbelievable ability to develop enormous complexity with decades of bottle age. The 1983 and 1989 tasted this year and the 1980 and 1990 tasted in 2020 were both otherworldly. Apart from the great white Burgundies, it's hard to find dry white wines that have developed this kind of complexity and captivating allure while remaining fresh and lively at thirty or forty years of age.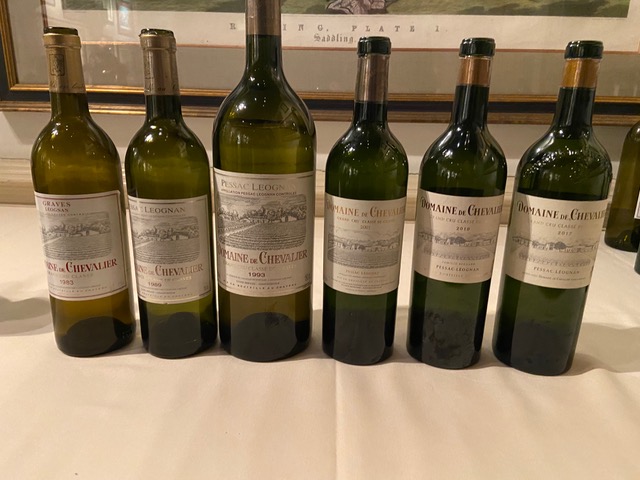 The wines in this tasting
Domaine de Chevalier Blanc 2017 Pessac-Léognan     95
Still youthful even at six years of age, this racy wine initially displays the bite of Sauvignon Blanc and oak influence. But, after 30 minutes in the glass all the elements coalesce in a beautiful harmony of citrus-infused creaminess. The lesson is don't rush these white wines. Give them time. The 2017 growing season presented problem after problem to winemakers.  The earlier harvest for the whites, compared to the reds, occurring in the first half of September, minimized the chance for crop-destroying autumn rains and perhaps explains, in part, why Domaine de Chevalier's whites excel in what the French euphemistically call "difficult" vintages. This one certainly does. Drinking window: 2023-2047.
Domaine de Chevalier Blanc 2010 Pessac-Léognan     97
There's no need to give this spectacular wine time in the glass. Its glories are immediately apparent with captivating aromatics. Displaying a great presence, it seduces you with elegance and charm, not power. A firm steeliness offsets a hint of round, nutty richness. Even the empty glass smells great! Drinking window: 2023 – 2035.
Domaine de Chevalier Blanc 2001 Pessac-Léognan     95
Clearly mature, but not old, it maintains a wonderful freshness that balances a subtle nutty character. Apricot undertones are reminiscent of a botrytis-infected Sauternes, but the wine is not sweet at all. An engaging tension between a citrus finish and dry apricots keeps your attention throughout the meal. Very lively, it also grows in the glass. Drinking window: 2023 – 2030.
Domaine de Chevalier Blanc 2000 Pessac-Léognan     92
(tasted in 2020): Though the 2000 vintage for reds was widely acclaimed, the whites did not fare so well, which makes the stature of this wine even more astounding. Still with a subtle and surprising youthful edginess, it combines a delicate peachiness with an invigorating citrus finish. Balanced and long, it's more evidence that Domaine de Chevalier makes excellent white wines in "difficult" years. Drinking window: 2023-2030.
Domaine de Chevalier Blanc 1993 Pessac-Léognan     90
(from magnum): Despite the larger format, the 1993 seemed more tired and less elegant than even older vintages. The same appealing combination of citrus freshness and dry apricots expanded in the glass. Still, it lacked the expressiveness of the 2001. That said, if consumed by itself and not next to grander vintages, it would garner applause. Drinking window: 2023 (drink up).
Domaine de Chevalier Blanc 1990 Pessac-Léognan     95
(tasted in 2020): With its riper peach-like and nutty nuances, the still charming 1990 reflects the heat of that vintage. Nonetheless, this generous wine retains enlivening citrus freshness and a firming minerality. Drinking window: 2023 (drink up).
Domaine de Chevalier Blanc 1989 Pessac-Léognan     97
Another spectacular example of how these white wines develop, the gorgeous 1989 exhibits a captivating array of herbal notes intertwined with a hint of tropical and stone fruit ones. Despite the plethora of sensations emanating from the glass, the wine is not flamboyant, but rather suave and seductive. A lemon cream acidity keeps it fresh and lively even at 30+ years of age. It also passes the empty glass test with flying colors. Drinking window: 2023-2040, and possibly longer.
Domaine de Chevalier Blanc 1983 Pessac-Léognan     96
Olivier Bernard's first wine, the gorgeous 1983 at 40 years of age is still fresh, balanced and a joy to drink. Great aromatics draw you into a panoply of flavors: creamy citrus, hints of dried apricots, and a touch of nuttiness. This sublime wine also passes the empty glass test! Note the Graves appellation on the label because Pessac-Léognan had yet to be established. Drinking window: 2023 (drink up).
Domaine de Chevalier Blanc 1980 Pessac-Léognan     94
(tasted in 2020): Bernard described 1980 as a really cold year, which explains why the previous owner, the famous Claude Ricard, chaptalized the wine. You wouldn't know it from tasting it. The lively 1980 conveys a marvelous and balanced combination of white peach-like nuances, subtle almond-like nuttiness all supported by enlivening citrus acidity. Drinking window: 2023 (drink up).