The Vin de Constance is one of the world's most famous wines: in fact, it can be successfully argued that for a while, it was the most famous wine in the world. In the seventeen and eighteen centuries, for example, it not only graced the table of royals and nobles, but was mentioned routinely in conversation and writing by the likes of Jefferson, Napoleon, Jane Austen (who mentions the wine of Constantia in no less a literary landmark than "Sense and Sensibility"), Charles Dickens (he writes of Constantia wine in his last novel, the Mystery of Edwin Drood), Alexander Dumas, and Baudelaire (who mentions Constantia wine in no less a masterpiece than is Les Fleurs du Mal). Kings Frederic the Great and Louis XVI were big fans (it has been reported that the latter owned more bottles of Vin de Constance in his cellar than he did of Burgundies); Napoleon, who was known to like wine (his favourite red was Chambertin) drank bottles of Vin de Constance regularly and, obviously no fool, apparently asked a glass of it even on his deathbed; U.S. politicians and presidents George Washington, John Adams and Thomas Jefferson all drank it; and most recently, Queen Elizabeth served it at the palace to visiting dignitaries.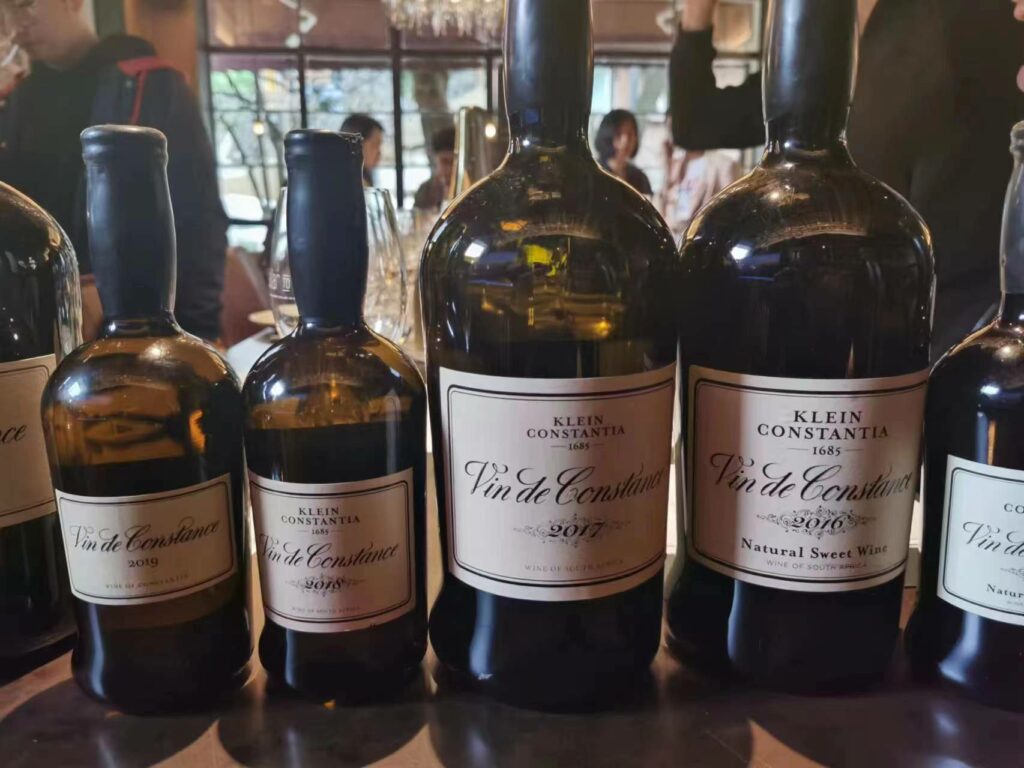 A bit of history
Constantia is of the oldest townships of Cape Town in South Africa, famous for its wines going back many centuries. It was upon the arrival of Jan Van Riebeeck in 1652, the first Commander of the Dutch East India Company. that vines were first planted in South Africa and its Cape region, when he and his gardener, Hendrik Boom planted vines in the Company Gardens. The farm called Constantia was founded in 1685 by Simon van der Stel the tenth Commander of the Cape who was granted his own farm (Stellenbosch was named after him) and went about picking where to set it up in anything but a haphazard way. The Commander had numerous soil samples analyzed, finally deciding that the sheltered area facing False Bay was where he wanted to be; the Constantia farm basically covered the whole of the Constantia Valley. Documents from 1692 and 1705 attest that the wine made at Constantia, which was planted already at the time with Muscat varieties, was of higher quality than others. Upon Simon van der Stel's death in 1721, the farm was sub-divided into three new entities: Groot Constantia (or "Great Constantia"), Klein Constantia (soon renamed Hoop op Constantia), and Bergvliet (today Buitenverwachting). The last of the three portions was the largest at the time but best suited for raising livestock that could graze freely. Hoop op Constantia was awarded to Johan Jurgen Kotze, who unfortunately passed away soon thereafter. His widow remarried in 1718 to Johannes Colijn, who was not just very interested in viticulture and in making fine wine, but must have been quite good at it too. This because, in a very short time, his wines (both red and white) became extremely popular and Colijn found he could not keep up with demand; and so, when Anna de Koning (the owner of Groot Constantia) passed away in 1734, Colijn arranged for his sister's husband, Carl Georg Wieser, to buy Groot Constantia. In the decades that followed the two estates become closely linked to the production of the famous sweet "wine of Constantia", or vin de Constance. In 1817, Hendrik Cloete Jr., then the owner of Groot Constantia, dies, and his estate is divided amongst two sons, Johan Gerhard Cloete and Jacob Pieter. The former settled on the upper, smaller portion of the estate, renaming it Klein (or small) Constantia ("small" in that it had only 33,000 vines planted of the estate's total 84,000 vines). Unfortunately, by the end of the nineteenth century a series of events (the abolition of slavery; onslaught of oidium; the end of preferential import duties on Cape wines; and the establishment of a free trade treaty between France and Britain; dry wines becoming more in fashion than sweet wines) led to Constantia and its wines falling on hard times, with the Colijn and Cloete families going bankrupt. And so it was that Klein Constantia produced no wine for literally one hundred years, only to come back to life in the 1980s with its acquisition by Duggie Jooste who wanted to bring the estate back to its former wine glory days. In order to achieve his goal he turned to Stellenbosch University Professor Chris Orffer and winemaker Ross Gower. In 1986, the winery released wines for sale in over a century, with its Sauvignon Blanc wine winning multiple awards. In 1988, the estate's Cabernet Sauvignon met with similar success. In 1990, it was the turn of the famous Vin de Constance to finally see the light of day once again, made by following what was believed to be the original "recipe" and with the same Muscat de Frontignan  grape (a biotype of Moscato Bianco, also known as Muscat à Petits Grains or Muscat Canelli). In 2000, Klein Constantia is honoured by being named one of the only nine "most mythical vineyards in the world" by the Institut International des Paysages et Architectures Viticoles along with the likes of Château d'Yquem and the Romanée-Conti. In 2003, Adam Mason takes over the winemaking duties from Ross Gower and implements harvesting grapes for the Vin de Constance in different passes (meaning at different stages of ripeness) and introduces organic farming methods leading the winery to be recognized for its ecosustainable approach to viticulture. In May 2011, Klein Constantia was bought by Zdenek Bakala and Charles Harman; in 2012, the estate fuses with Anwilka Vineyards in Stellenbosch, a Jooste winemaking venture with Bordeaux luminaries and famous wine folks Bruno Prats and Hubert de Boüard (who therefore became shareholders of Klein Constantia). In 2019, Klein Constantia became the first South African winery to be sold through the Bordeaux négociant market, the Place of Bordeaux (such as Duclos and Joanne) so it is sold along with some of the world's most famous wines, from Chile's Almaviva to Chapoutier's top bottlings and the Bordeaux crus classés.
The terroir
Klein Constantia's vineyards range in altitude from 70 to 340 meters above sea level (asl) and face mostly east to south. The upper reaches especially are characterized by a very cool microclimate with fewer sunlight hours and cold marine breezes flowing in from the ocean, only ten kilometers away. It is a habitat that allows the Moscato Bianco grapes to ripen fully before beginning to air-dry directly on the vine, allowing the production of very intense, refined and complex sweet wines, despite Constantia being a very wet area with a lot of rainfall, well over 1000 mm/year, meaning that the Muscat de Frontignan grapes are never botrytis-affected, even if late-harvested, and are always endowed with refreshing, harmonious acidity levels. The soil at Klein Constantia is decomposed granite: more fertile, deeper Oakleaf lower down and drier Glenrosa higher up. It is also rich in clay, ensuring good water retention in hotter, drier parts of the growing season.
Today the estate is planted to many different grape varieties, including, among others, Sauvignon Blanc, Chardonnay, Malbec, Cabernet Sauvignon, Petit Verdot, Riesling, Semillon, Syrah and of course, Muscat de Frontignan. The estate spent time energy and finances to study the various biotypes of Muscat in the South African vineyards and eventually settled on the plants that were felt to be the most adapted to the specific terroir. For example, no irrigation is allowed, and the vines are dry-farmed; therefore, drought-resistance is an important quality for the planted grapevines. The estate boasts numerous plots of their Muscat de Frontignan:
Block 112 (3.36 ha) planted at 80-105 meters asl on Hutton and Cartref soil
Block 113 [about 1.4 hectares (ha)] planted at 103-115 meters asl on Hutton soil
Block 132 (1.28 ha) at 117-135 meters asl on mostly Hutton and Bainsvlei soil
Block 322 (3.35 ha) at 103-121 meters asl on mostly Glenrosa, Hutton, Swartland, Cartref, and Bainsvlei soil
Block 331.2 (2.8 ha) at 108-125 meters asl on mostly Glenrosa, Hutton and Cartref form soil
Block 332 (4.19 ha) at 121-136 meters asl on mostly Glenrosa, Hutton and Bainsvlei form soil.
The wine is naturally made and fermentation stops on its own, without resorting to sulfur dioxide in order to have fermentation stop: it does so on its own. The wine usually ages three years in the winery cellar before going on sale. The final residual sugar level in the wine, depending on the vintage hovers about 160 g/L residual sugar but the wine is so bright and fresh it actually tastes much less sweet than that. Despite its concentration and intensity, the wine is always light on its feet and is extremely ageworthy. And though the estate has sprung back to life only in the last four decades or so, it can still count on old vintages in its cellar (the oldest wine in the estate's wine cellar is the 1791).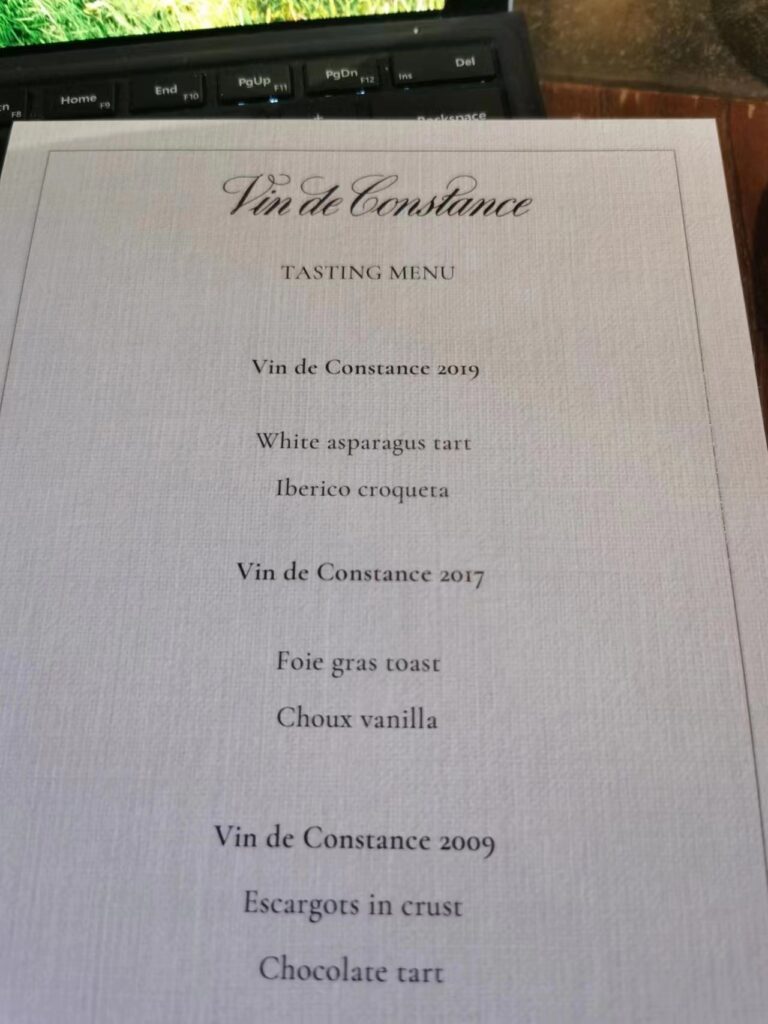 One last important word: on the subject of the Muscat family of grapes and wines
Whatever you do, please do not call this a "Muscat or Moscato wine" which even famous wine writers and "experts" will do: clearly, it is a Muscat wine, but it's nonsense to leave it at that, without any further specification. This I say because there are dozens of different "Moscato" grape varieties (one of the world's oldest grape families, so it only makes sense the thing has evolved in myriad directions over time) and even more biotypes planted all over the world. Vin de Constance is said to be made with 100% Muscat de Frontignan, which is in fact Moscato Bianco, that is called Muscat de Frontignan in southern France; it is also the name of a specific wine and French wine appellation created in 1936. The grape variety's real, official name is therefore Moscato Bianco (or White Muscat) also known as Muscat Canelli; or what the French also refer to as Muscat à Petit Grains. This specification is important, because wines made with Moscato grape varieties are not at all alike: a wine made with Moscato Bianco is recognizably different from one made with Moscato Giallo (Yellow Muscat) and Zibibbo or Moscato di Alessandria (Muscat of Alexandria). And unless you are blind, even more so different from a wine made with Moscato Rosa or Moscato di Scanzo, two red-berried grapes that give, imagine that, red wines. After all, you wouldn't generically talk about a "Pinot wine" when holding a glass of white wine in your hand, right? Of course not, because you know better, being well aware that Pinot Gris and Pinot Blanc, for example, give entirely different wines. Anyhow, Moscato Bianco has called South Africa home for a long time and so the local Moscato Bianco vines can be considered to be of a South African biotype, much as, for example, the Muscat d'Alsace is an Alsatian biotype of Moscato Bianco.
The wines in this tasting
All the wines in this tasting were tasted in April 2019 in Shanghai where I live and work.
Klein Constancia 2019 Vin de Constance South Africa             96+
This is remarkably good. Pale straw yellow. Intense penetrating tangerine oil, grapefruit, orange blossom, quince, sweet spices, lemongrass and white flowers. Very concentrated and luscious, but boasts noteworthy lift thanks to harmonious acidity that provides real clarity and cut. The Muscat-typical terpenic bitterness adds lift and bite to the otherwise sweet flavours of orange oils, lemon curd, tangerine peel and fresh citrus fruit. The aftertaste is at once bright and luscious, but there is no doubt the 2019 Vin de Constance speaks of the cooler year with noteworthy amounts of freshness and lift (6.1 g/L total acidity, 3.7 pH). The combination of the acidity and delicate chewy bitterness makes it so that this wine really doesn't seem that sweet (despite clocking in at 166 g/L residual sugar). It really does taste much less sweet than that residual sugar value implies (basically it's the amount of sugar you'll find in a Sauternes, but this is much lighter in style and lifted, almost German Riesling-like in fact). The grapes were picked over three months, a few blocks at a time, by passing multiple times in the vineyard over the course of the three months. As always made with 100% Muscat de Frontignan, a local South African biotype of Moscato Bianco or Muscat à Petits Grains picked in twenty-six different passes in the vineyard. It was aged in 50% new French and Hungarian oak for eighteen months and then for another eighteen in large oak foudres. Gorgeous stuff. Drinking window: 2025-2045.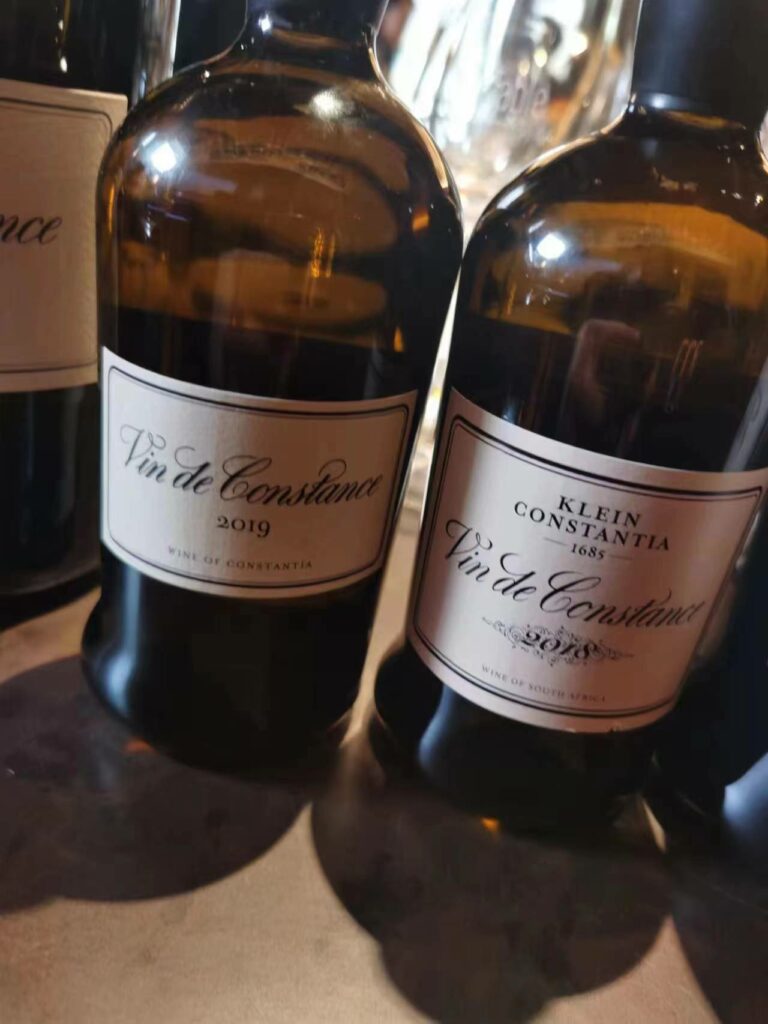 Klein Constancia 2018 Vin de Constance South Africa             93+
Vivid golden-tinged deep straw yellow. Subdued aromas of Orange marmalade, ginger, lemon oil and white flowers are not especially expressive or complex. Then rich, dense and luscious, with a mouth-coating sweetness to the thick apricot, peach jam, tropical fruit, raisins, and ginger flavours. The finish is long, suave and luscious. The 2018 Vin de Constance is a very impressive, nicely textured and mouth-filling wine, but also slightly one-dimensional in its reticent aromatics and slightly chunky mouthfeel. And while very sweet, I think it could use a little more acidity for better lift (6.2 g/L total acidity, 3.77 pH and172 g/L residual sugar, so the numbers don't tell the whole story). Despite the highest summer rainfall recorded in the area of the previous six years, and some rather cool nights making for the second longest harvest at Klein Constantia since the 1986 vintage, and a late harvest at that, I don't find the 2018 Vin de Constance to be as refined, complex and nuanced as other vintages of this great wine. Maybe I caught this at an awkward time, say during a shut down phase, hence the plus sign on my score because I do think the wine will improve gaining in complexity in the decades to come. A 100% Muscat de Frontignan wine made by picking the grapes in twenty-two different passes through the vineyards and aging it in 50% new French oak barrels and a small amount of acacia barrels. Drinking window: 2023-2040.
Klein Constancia 2017 Vin de Constance South Africa             95
Bright medium golden-straw yellow. Penetrating aromas of yellow fruit, ginger, lemon, marzipan and acacia honey. Very pretty in the mouth, with a nicely lifted sweet, creamy mouthfeel and boasting flavours of vanilla bean, caramel, honey, tropical and fresh citrus fruit, complicated by crystallized ginger and white pepper. Showcases remarkable balance (6.6 g/L total acidity, 3.7 pH and 165 g/L residual sugar) and outstanding clarity and cut; it also strikes me as being the first modern-day Vin de Constance made in a slightly fresher, higher acid and less luscious personality, in contrast to the previous vintages which all seem more opulent and richer to me. Closes with less floral and more sweet fruit on the dense, thick, back end that is very light on its feet. This is very different from the fresher, lighter-styled 2019, but each wine will have its fans as both are just amazing.  The 2017 vintage was another droughty one, but had more rainfall than 2016 and the growers remember it as a very fine growing season. Made with100% Muscat de Frontignan, the grapes were picked in numerous passes through the vineyards over slightly less than two months, from February 2 to March 20. The wine was aged in 50% new French oak barrels and a small amount of acacia barrels. Drinking window: 2025-2055.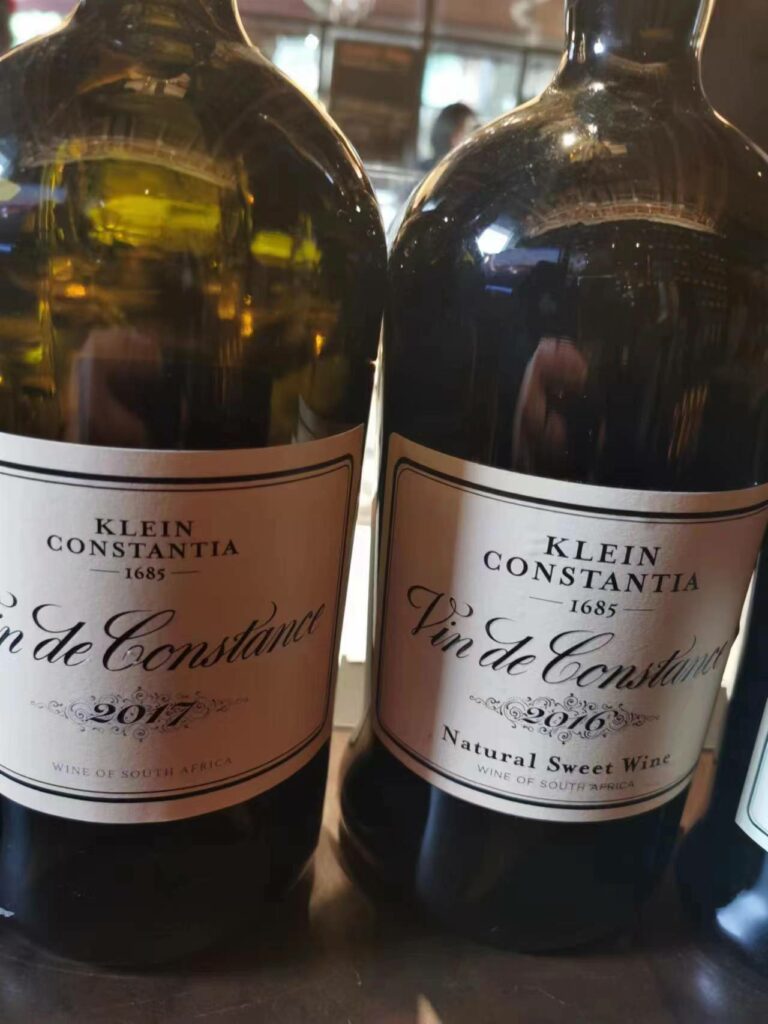 Klein Constantia 2016 Vin de Constance South Africa             97
Medium-pale yellow: very pretty, this strikes me as being lighter in colour than some other past vintages. Then brilliantly delineated on the nose and in the mouth, with floral hints to the very pure, intense notes of sweet spices, honey, ripe guava, grapefruit, banana and caramel. Very energetic and focused on the long, vibrant and sweet but lively finish (165 g/L residual sugar, 6.5 g/l total acidity, and a pH of 3.7). Beautiful wine, in a more politely styled rendition than the 2017, but this will hold greater appeal to those who like their sweet wines lighter in style, and this despite the 2016 vintage being marked by an earlier harvest and an almost total absence of rain, one of the driest vintages on record. Made with 100% Muscat de Frontignan, a biotype of Moscato Bianco, this was aged in 50% 500 liter tonneaux and 50% in new large oak foudres made with a mix of different wood (French and Hungarian oak as well as Acacia wood). This was the first Vin de Consatnce to be sold on the Bordeaux place. Drinking window: 2023-2040.
Klein Constancia 2009 Vin de Constance South Africa                    97
Golden amber colour. Extremely intense pure aromas of apricot, orange marmalade, caramel, barely sugar, chestnut honey, crystallized ginger, honeycomb, and beeswax complicated by very saline and musky notes on the captivatingly pure nose. Then also quite saline and savoury in the mouth, with a whiplash of saline acidity nicely framing the superripe, sweet fruit and herbal flavours (160 g/L residual sugar, 7.8 g/l total acidity, and a pH of 3.6). Complex and rich, this is a massive but not at all over the top beauty that is super-impressive and that will match very well with aged cheeses, grilled nuts and raisins, fruit cocktails and bread pudding. The 100% Muscat de Frontignan grapes were picked from late January to late April over twenty-five different passes through the vineyards. The wine was aged in a combination of 60 % new French oak, Hungarian oak and French Acacia wood for a period of four years on the gross lees. This was the first vintage for which new winemaker Matthew Day (who took over from Adam Mason) was wholly responsible for, and he describes it as an ideal blend of the 2007 and 2008 Vin de Constance. Drinking window: 2023-2050