Matricianella
Via del Leone, 4
00186 Roma
Italy
Tel.+39 066832100
The dishes
Fried anchovies (Alici fritte)
Giudia-style fried artichoke (Carciofo alla Giudia)
Mixed fry (Fritto misto)
Roman mixed fry (Fritto Romano)
Meatballs (Polpette)
Bucatini all'Amatriciana
Spaghetti Cacio e Pepe
Penne all'Arrabbiata
Grilled milk-fed lamb ribs (Agnello a scottadito)
Agnello alla cacciatora
Knowledgeable sybarites in Rome, Italy and the rest of the world know that Matricianella has been offering, since 1957, one of Rome's most authentic Roman cuisine experiences. This is very well-exemplified by the fact the place is always packed to the rafters with both Italians and tourists (but mostly Italians) and without a reservation it is near impossible to get a table. So don't say I didn't warn you!
The fact that Matricianella is not the darling of the Instagram-must see and be seen travelling set unlike other much-hyped (and very over-priced) Roman restaurants and bistros and yet is so popular tells you all you need to know about the quality of food and wines served there. At Matricianella you won't find minimalist décor, expensive linen and flatware, or weird stuff in your plates: what you will find is just good, traditional Roman dishes that are well-rendered and authentic. You could do worse.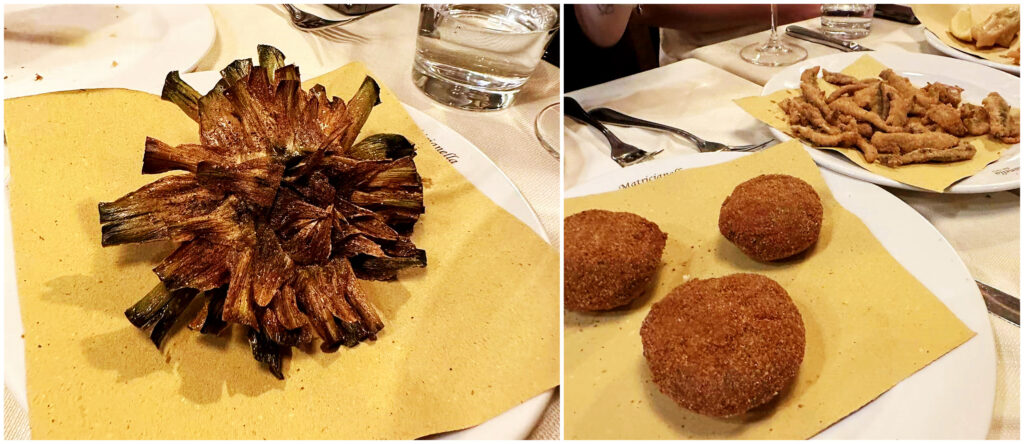 Matricianella was originally founded by a family that hailed from the Amatrice part of Lazio (located in the region's northeast corner, Amatrice was actually once a part of Abruzzo); but "Amatrice" was also the nickname of a small girl the restaurant's owner dedicated his restaurant to. Since 1995, the restaurant has been run by Giacomo and Graziella Lo Bianco who have successfully turned it into the fantastic place it is today. And it's not just the excellent, authentic Roman cuisine and one of the city's better wine lists that are cause to rejoice: another sign that everything here is run carefully and with passion is that the staff has essentially remained unchanged over time. For example, the chef is still the same fellow (Giovanni Fabbrotti) I met over twenty years ago: now how common is that in today's restaurants, I ask you? And therein lies one of Matricianella's many secrets to their success. You know, I actually first met Fabbrotti and the Lo Bianco's when we did a cooking show together for an Italian TV: what can I say except that I would have never have guessed then that the chance meeting would have led to my discovering what is still today one of my ten favorite every day restaurants (of the world!) in which to eat in. And people I like to hang out if and when I get the chance (which is basically never, but that's just a sad aspect of my life we won't broach here).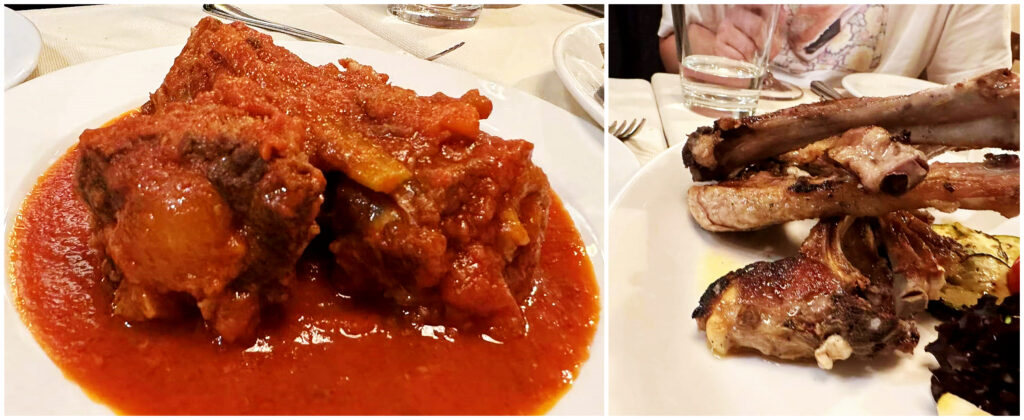 The food at Matricianella is pure Roman classicism: some dishes will sing more than others, but all hit high notes. The artichoke dishes are about as good as any you will find in the city, the meatballs flavourful (which are never, and I do mean never, served on spaghetti, which is an old Italian-Americanism: in Rome (and Italy in general), polpette or meatballs, often made with veal meat, have long been a staple on their own, usually swimming in a tomato-based sauce. Particularly in Rome, polpette have real dignity, so much so that there is a specific day of the week dedicated to eating them: Thursday. Which also means that when you go out to a Roman restaurant, they won't be served on days of the week other than that one (at least not in the city's more authentic and seriously-inclined Roman cuisine restaurants, and so that's a way to judge the caliber of place you find yourself in). Matricianella's two fritti appetizers, misto and Romano, are simply the best the city has to offer (those uninitiated in the truisms of Roman cuisine might want to be aware of the fact that a "Roman fry" (misto Romano) involves fried innards or cuts of meat that aren't quite standard fare for Anglo crowds: for example, veal brain). The pasta dishes are fine: if not quite on the same level as some of the city's more famous preparations (for example Arcangelo Dandini's stellar Amatriciana), they are absolutely lip-smacking delicious and hearty. I will just mention that the penne all'arrabbiata here are especially flavourful, though if you really like your food spicy with a capital "S" you might want to tell them to make the dish "molto arrabbiato", or very spicy, because "spicy" throughout most of Italy is actually never too spicy by most standards (as a Sichuanese friend of mine likes to say, "…spicy in Italy is a joke"). Lamb, and when it is available rabbit, are must-haves at Matricianella: the grilled milk fed lamb ribs (called scottadito in Italian because they are meant to be eaten by hand; and as they are usually quite hot, people risk burning their fingers, hence the scottadito name) are especially good. On this night however, the DOTN (Dish Of The Night) was the Coda alla vaccinara (oxtail stew in the style of the cow hands, or vaccinari); it absolutely stole the show, without doubt the best such dish I have ever had at Matricianella (and that's really saying something for I have had it at Matricianella -and beware that I am not joking- at least one hundred and sixty to two hundred times in my life). The dish's success on this occasion was most likely the result of having sourced an extremely high-quality ox tail (a cut of beef that can be a little too fatty at times) and I think also cooking the sauce a little longer than they have at other times. For with this specific recipe, cooking the meat and sauce for, at the very least, four and a half hours is essential. An hour more is not a bad idea ( In know I personally cook my oxtail stew at least five hours every time). In the past it seemed to me that this specific dish had not been cooked long enough, and that really does make a big difference. Once again, no such worries on this night, when the coda alla vaccinara was simply spectacular.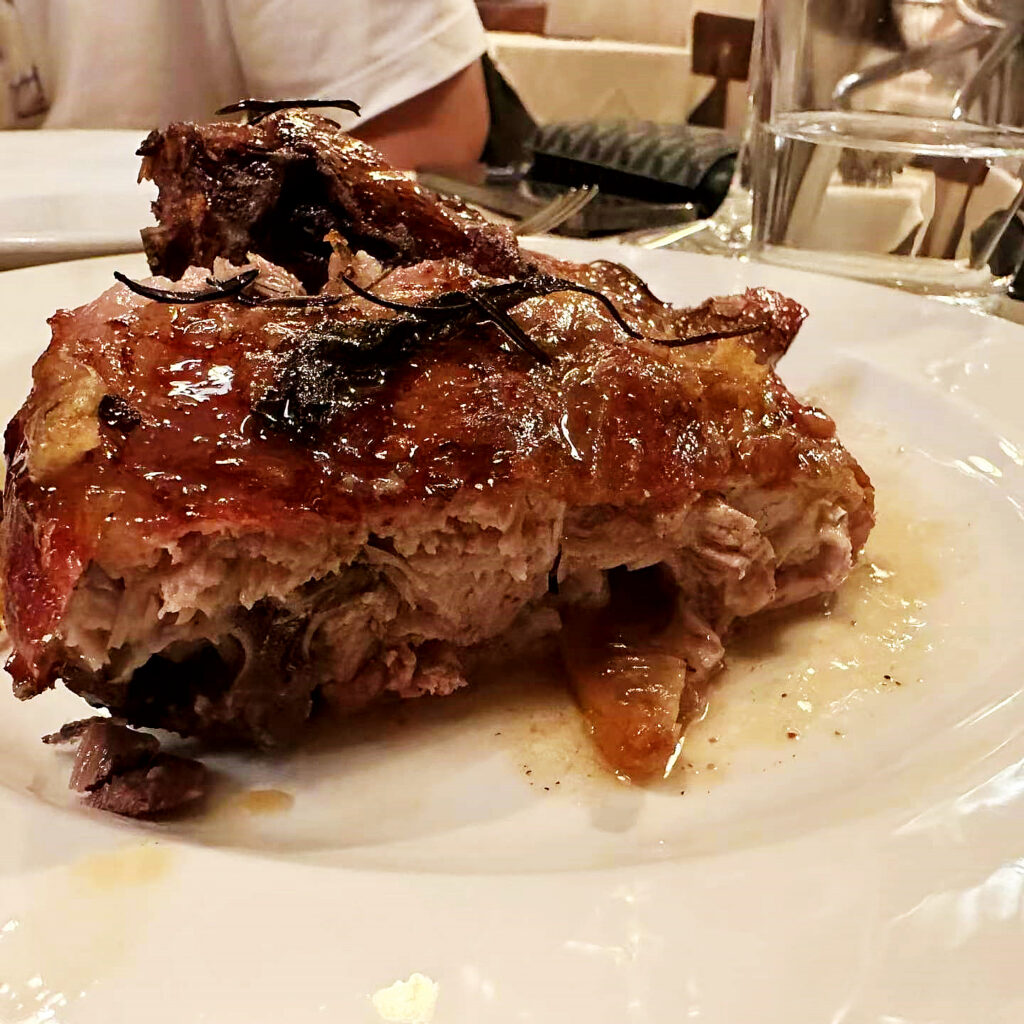 The wines
Castel De Paolis 2018 Donna Adriana Lazio Bianco   93
Tenuta San Guido 2020 Sassicaia Bolgheri           96
Castello di Ama 2001 Merlot Apparita Toscana          91

As always we drank well at Matricianella, a great place to go to in order to try good wines from Lazio, though the encyclopedia-like wine tome offers plenty of goodies from all over the country (be aware that there are no foreign wines served at Matricianella save for Champagne). The Castel De Paolis 2018 Donna Adriana Lazio Bianco is an 80% Viognier and 20% Malvasia Puntinata blend that has long been one of Lazio's best white wines (and one of Italy's most underrated): I actually liked it even more back in the early 2000s when the percentage of Malvasia Puntinata was higher (40% or so) but there's no arguing with this 2018 beauty. Tropical fruit, fresh citrus and peppery spices make for a luscious but at the same time lifted mouthfeel. Lovely stuff that matches well both with simpler dishes but is textured enough to stand up to white meat dishes easily. The Tenuta San Guido 2020 Sassicaia Bolgheri is just another splendid bottle from this world-famous winery. Interestingly, with the 2020 vintage we have a slightly more accessible, earlier-maturing Sassicaia but that one that will give great pleasure while your 1998, 2009, and 2016s are really ready to drink. That much accepted, keep in mind this wine has improved remarkably since I first tried it at the beginning of the year, filling out nicely and developing greater depth and complexity all the time: it promises to be another great Sassicaia, but it's also one that, opened too young, will fool many an inexperienced taster (Sassicaia almost always performs much better at least ten years after the vintage, and it won't be any different with the 2020). By contrast, the Castello di Ama 2001 Merlot Apparita Toscana is, at least by the standards of this normally fantastic wine (one of the world's ten or so best mono-variety Merlot wines) slightly disappointing. Now I don't know why it should be so, but over the years I have found that this is the case, more often than not, with the 2001 Apparita. Many bottles of 2001 Apparita have struck me as having, to a greater or lesser amount,  a sense of fatigue and something musty/earthy about them, two characteristics that are just not to my liking. This reality was that much more obvious to me because only two days prior I had opened a bottle of the 2004 Apparita from my cellar at home, and it just a wondrous wine, rich deep, pure long, concentrated and complex (easily a 96-97 points wine: see the Wines of the Week review here at the TerroirSense Wine Review).
Matricianella is one of my favourite dining places in the world. It has been brightening the lives of Romans and foreigners for a very long time now and there is clearly no sign of any letdown presently and none for the foreseeable future. Bravi!