Piazza Duomo
Piazza Risorgimento, 4
12051 Alba
Italy
Tel. +39 0173366167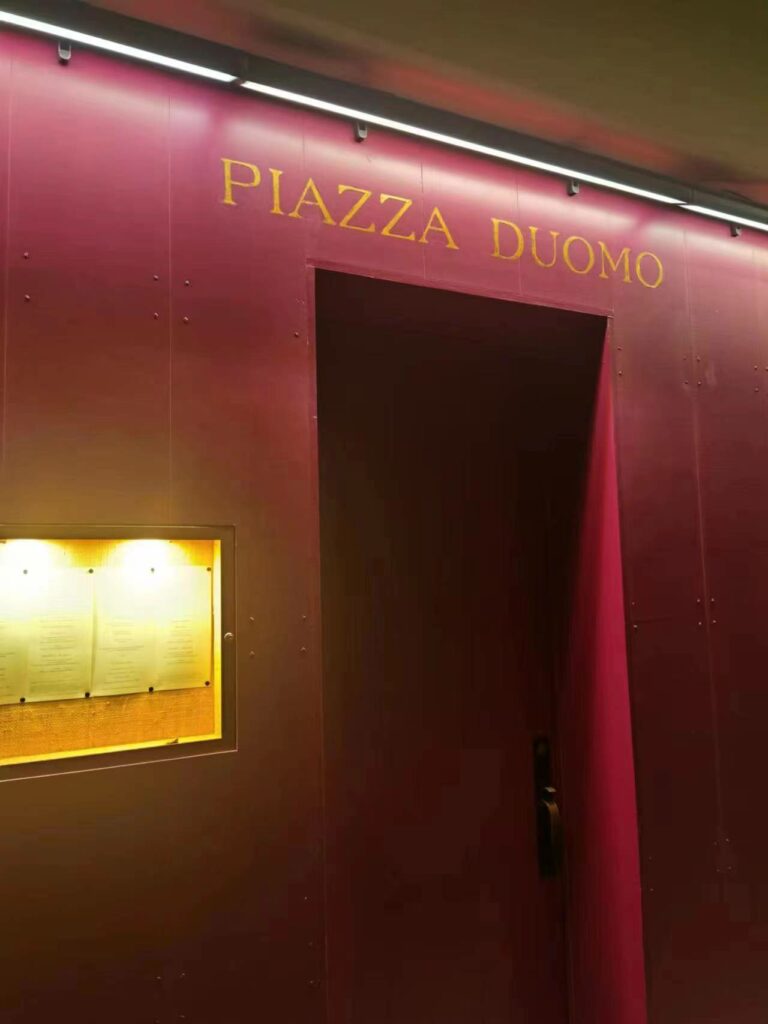 The dishes
L'inizio : L'Antipasto piemontese
Action painting, Jackson Pollock: Cotechino
2007 La nascita: Insalata 21…31…41…51…
Il mare e l'orto: ficoide e capesante
Sud America: lattuga romana e salsa chimichurri
Le Langhe: merluzzo e bagna cauda
Omaggio a Anselm Kiefer: Seppia e cardo
L'Affresco: Riso rosa e gamberi
Il viaggiatore: Piccione
Summerself 2011, Francesco Clemente: Pompelmo, vaniglia e lime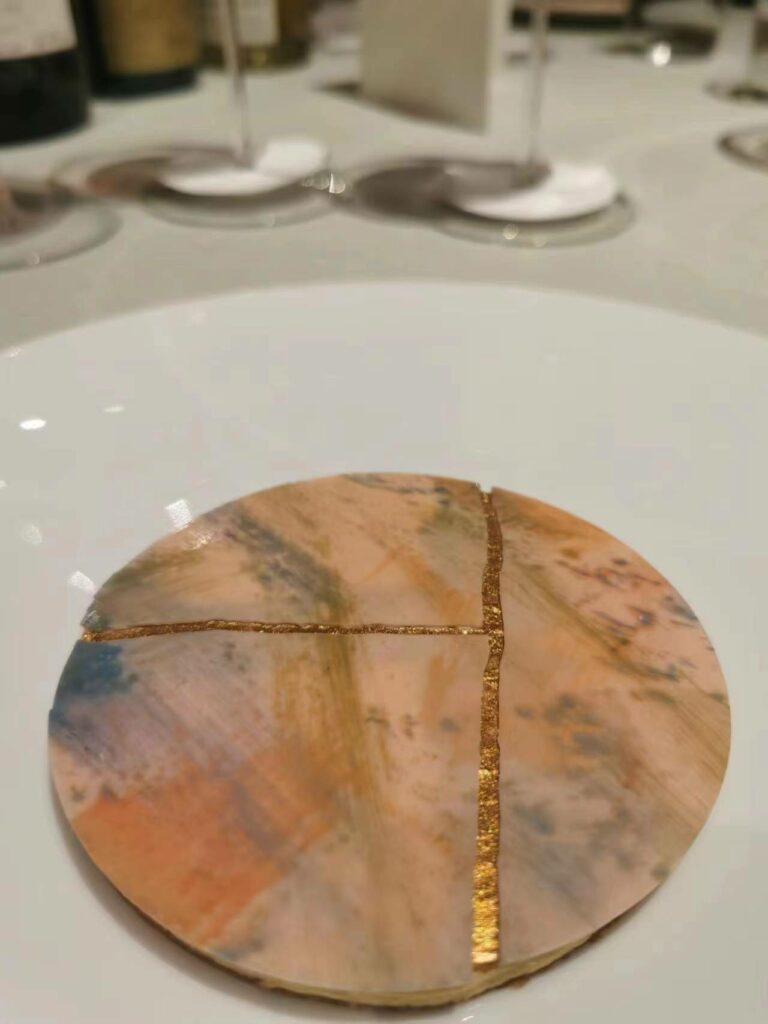 It took only seven years for Piazza Duomo, the restaurant owned by the well-known Ceretto family of Barolo and Barbaresco fame, to achieve three Michelin stars, successfully defended since 2012. And as far as awards go, the restaurant is also listed within the first twenty of "The World's 50BestRestaurants", in position number nineteen: no small feat indeed. True, you might be excused for thinking such individual awards don't necessarily mean much, given that their usefulness is unfortunately marred by some head-scratching decisions (for example, by misguidedly favouring some cramped eating places where the dining experience may be fashionable and cool but is far from stellar or "best of" anything, while penalizing truly landmark dining places where the whole experience of eating out is memorable). What can you do, we all have our opinions and preferences: however, everybody in the know, from occasional sybarites to professional restaurant critics, seem to agree on Piazza Duomo's current standing as one of Italy's best dining destinations. And tellingly, many of Piazza Duomo's historic customers I have talked to lately all concur that the food (especially), wine and service at Piazza Duomo have never been better than they are today.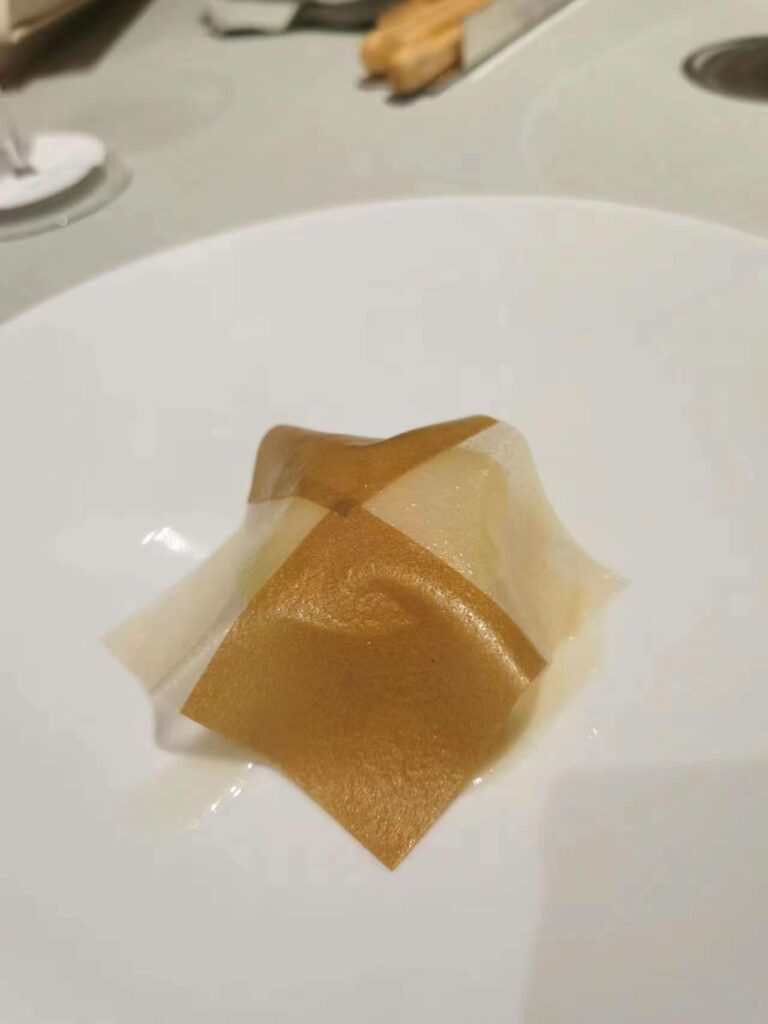 My most recent visit to Alba's storied dining address confirms as much: I too never had a better meal at Piazza Duomo than the one I enjoyed at the end of last March. The restaurant is serving two different tasting menus: one, the Barolo menu (clearly devoted to the wine paired with traditional if slightly tweaked recipes that match well with this majestic wine) was reviewed last year by Michele Longo (see TerroirSense Wine Review, Restaurant & Wine Reviews: Piazza Duomo in Italy, March 23, 2022), and so this year it is the turn of the Viaggio-Crippa menu  ("the voyage" as in the personal gastronomic interpretation of various market ingredients by Enrico Crippa, the star -literally- chef of Piazza Duomo).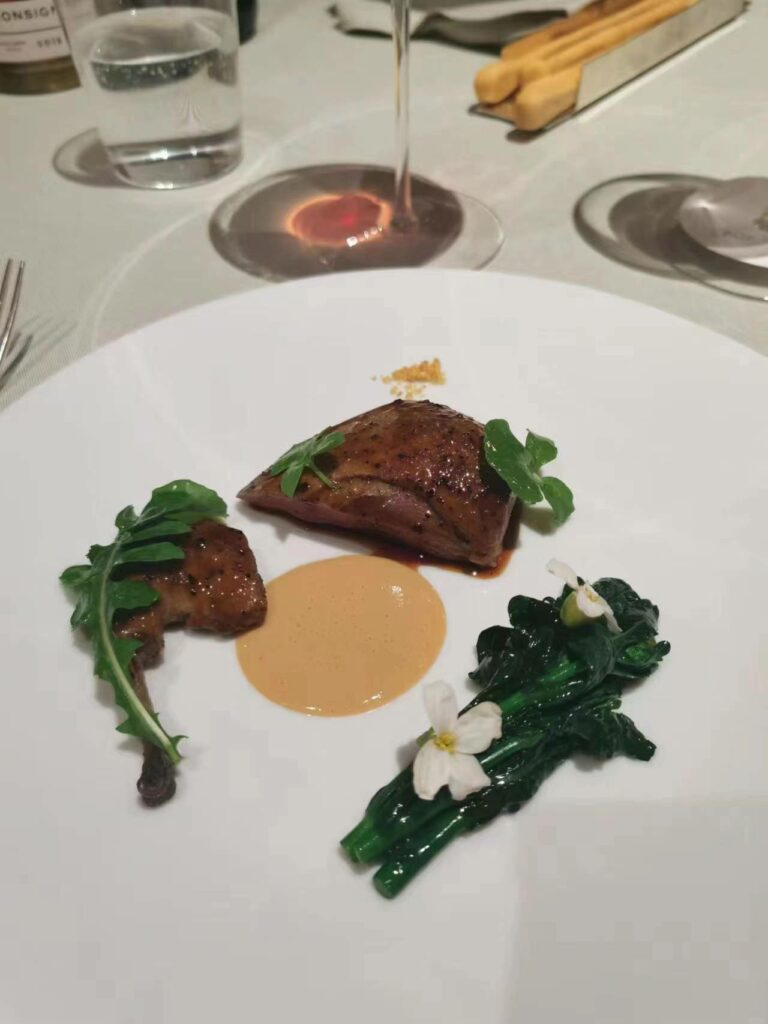 A number of the ingredients that are at the core of this menu are sourced directly in Crippa's by now almost mythical vegetable and herb garden at the Ceretto's Tenuta Monsordo Bernardina, that I have been fortunate enough to visit over the years on at least two or three different occasions with the chef. At 3000 square meters of outside vegetable garden and another 400 square meters of greenhouse, it's a truly impressive creation that was born when having one's own vegetable garden was not the "in" thing for restaurants that it is today. The dishes change regularly throughout the changing of the seasons, but given the ephemeral nature of what can be sourced in a garden, the exact composition of a dish might also change from week to week and even from lunch service to the dinner. All it takes is for Crippa to be unhappy, or even less than enthused about the look, the state of say one vegetable, one herb, or one flower and clearly the recipe needs to be rethought and reworked. And so, the voyage is hardly a static one, and indeed, given that name, it would be hilarious if it were so: this is why the voyage might have taken you in the past from Milano (a saffron-based soup creation) to Bangladesh (saffron again, but this time associated with pita bread) by way of the Ligurian Riviera (clams and zucchini). My particular "Crippa-gastronomic trip" took me to the Langhe (cod and Piedmont's famous garlic/olive oil-based sauce) and South America (the chimichurri sauce enlivening and adding zip to lettuce). As always, each menu at Piazza Duomo also holds references to art and artists: it can hardly surprise given the Ceretto's family strong interest in the artistic domain (witness, for example, the pretty chapel colourfully painted over by Sol Lewitt and David Tremlett; or the "cubo" in Castiglione Falletto, a work born as a project by the Debate study and built with the consulting help of R.F.R in Paris that oversaw that of I.M.Pei's famous crystal pyramid at the Louvre, and situated in Castiglione Falletto at the Bricco Rocche). And so it was that my particular voyage carried me through the mental travels brought on by the analysis of works by Anselm Kiefer (squid, cardoon) and Francesco Clemente (the night's most amazingly beautiful dish, a grapefruit and lime creation that actually looked akin to something that Arnaldo Pomodoro might have drawn up). But if I had to point out to one truly memorable dish (and on this night, they all were, in one good way or another) my choice would fall on the Antipasto Piemontese, an impressive array of little bowls that justifies by themselves the extra-large tables one sits at Piazza Duomo. Yes, others might pick the by-now iconic Insalata 21…31…41…51… (the number indicates the number of ingredients in the salad: the number depends on what is, and isn't, in season, or simply looks/smells/tastes good enough to make the final cut on any particular day). I repeat: I have eaten at Piazza Duomo before, but the food was never as good as it was on this most recent visit, from start to finish. No doubt whatsoever that Crippa is very obviously in exceedingly fine form of late.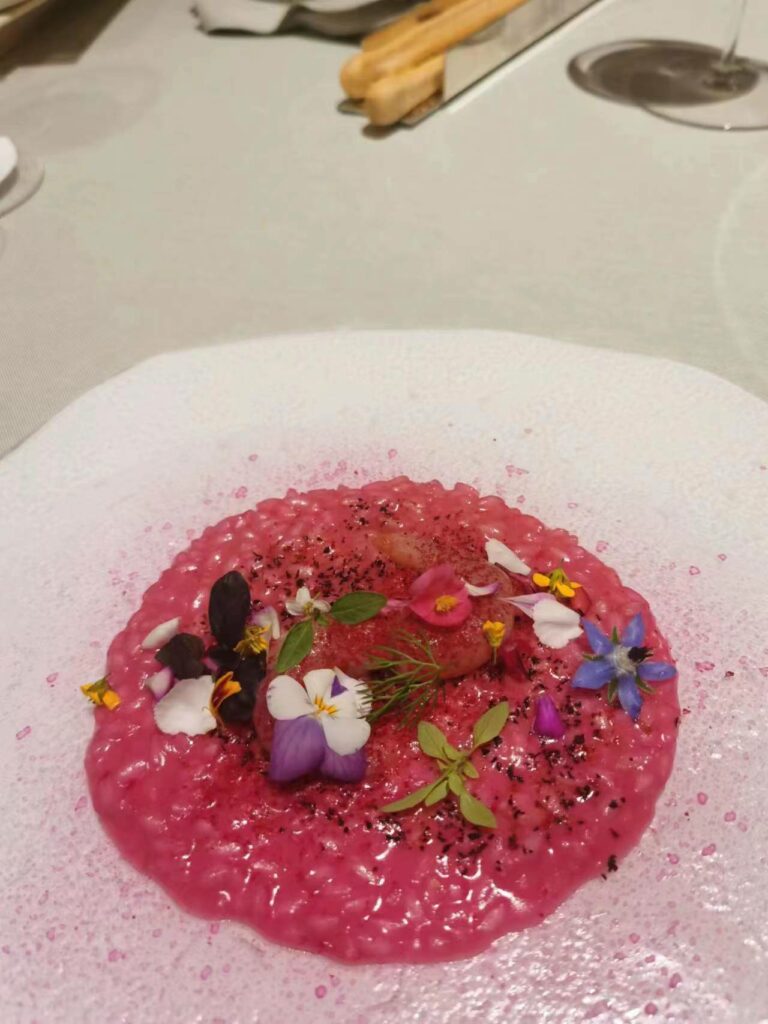 The wines
Pol Roger 2015 Champagne Blanc de Blancs               92
Monsignore 2018 Extra Brut Alta Langa Vicoforte            91
Ceretto 2005 Barolo Cannubi San Lorenzo                  98
Following up the food this time around was no easy task for the food. Vincenzo Donatiello, director and head sommelier at Piazza Duomo since 2015 has moved to Doha where he is overseeing the opening and launch of the restaurant Alba by Enrico Crippa (the first gastronomic foray of the Ceretto family outside their native Piedmont), but the staff replacing him is doing a fantastic job, elevating Piazza Duomo to even greater heights.  Given the lightness of being that characterizes Crippa's creations, bubbles are always a safe bet. And this is especially true if you make the mistake, like I did, to go to Piazza Duomo at the end of a long day in which I had tasted something like 100 different wines from both barrel and bottle had been tasted: honestly, it was not a day in which I felt like I need to drink anything more, and certainly nothing too tannic and high in alcohol. But that is, simply put, the wrong position to corner yourself in when coming to Piazza Duomo: Crippa's food deserves your being in full form and able to match a red to some of the meat preparations of the menu. Anyhow, the Pol Roger 2015 Champagne Blanc de Blancs and the  Monsignore 2018 Extra Brut Alta Langa Vicoforte were very pretty bubblies, taking us though 90% of the meal, right up to the pigeon's turn. The Pol Roger is always a highly dependable bubbly, bright and fresh with plenty of buttery and breaded nuances to the crisp white fruit aromas and flavours. But this time around it had to take a back seat to the surprisingly good, perhaps less intense and concentrated but more elegant Alta Langa, a new and obviously successful project by Roberta Ceretto and her husband. Our pigeon dish found its match with one of the best Barolos I have tried in some time, the magnificent Ceretto 2005 Barolo Cannubi San Lorenzo from the usual magnum bottle (this wine is only bottled in magnums), a glass of which was served by Coravin (a great idea). Drinking beautifully right now, the wine boasts the Cannubi San Lorenzo's magically silky tannins (it's one of the two sandiest parts of the extended Cannubi hill, which for accuracy's sake should not be referred to as just one entire "Cannubi" : that is flat out wrong, because the parts of the hill are different and so are the wines). People use the name of "Cannubi" generically because it is being allowed and because it is highly convenient for them to do so (after all, much easier to sell a wine called Cannubi than one called Cannubi Valletta or Cannubi Muscatel, for example; but the day will unavoidably be upon us soon when people just turn off realizing that many Cannubi-labeled wines are nothing to get excited about and having extended the use of the name to every part of the hill is far from a qualitative move). Ceretto's Barolo Cannubi San Lorenzo, from one of the best parts of the extended Cannubi hill, is Barolo at its suave and pure best, beautifully delineated, marvelously complex, fantastically light on its feet and extremely long on the close. It is perfect wine and vintage to serve in a restaurant setting, where often the lack of older vintages hampers more than one otherwise positive dining experience. Yet another thing that Piazza Duomo gets right, and it's just one of many.