Venissa restaurant
Fondamenta di Santa Caterina, 3
Island of Mazzorbo
30142 Venezia
Italy
Tel.+39 0415272281
The dishes
Sunflower and Fennel
Spaghetti and Shiokara
Chickpeas and Myrtle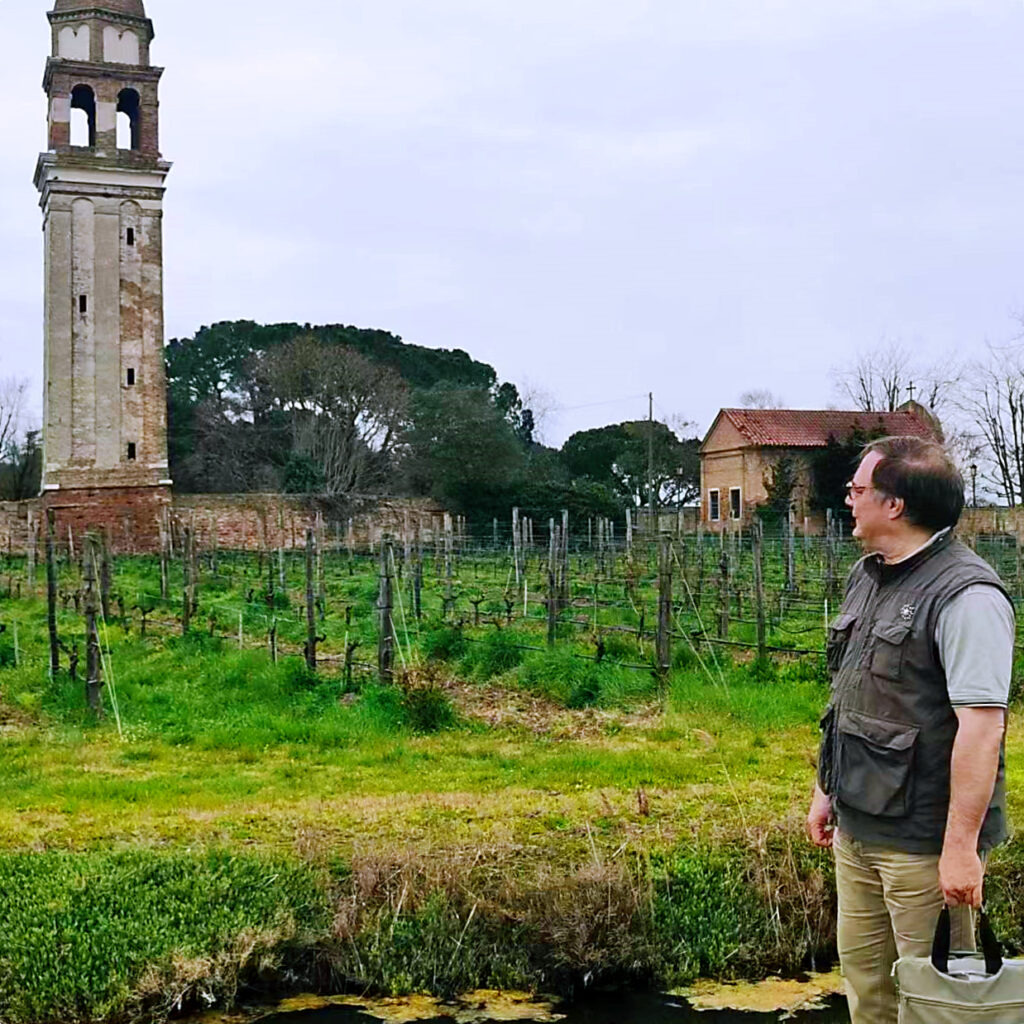 It's another Venice. One that the vast majority of humanity, almost all of it in fact, rarely sees or even knows about.
Part of the beautiful Venissa resort situated on the island of Mazzorbo, literally a walk across a bridge away from the more famous and colourful island of Burano, the Venissa restaurant and wine resort are immersed deep inside what is one of Italy's most unique wineries and wine terroirs. Far removed from the touristy throngs that regularly swarm into Burano like locusts looking for a good time, Mazzorbo is a haven of solitude, peace and quiet. And that zen-like atmosphere imbues Venissa's restaurant more than any other of its defining traits.
Of which, to be clear, there are many.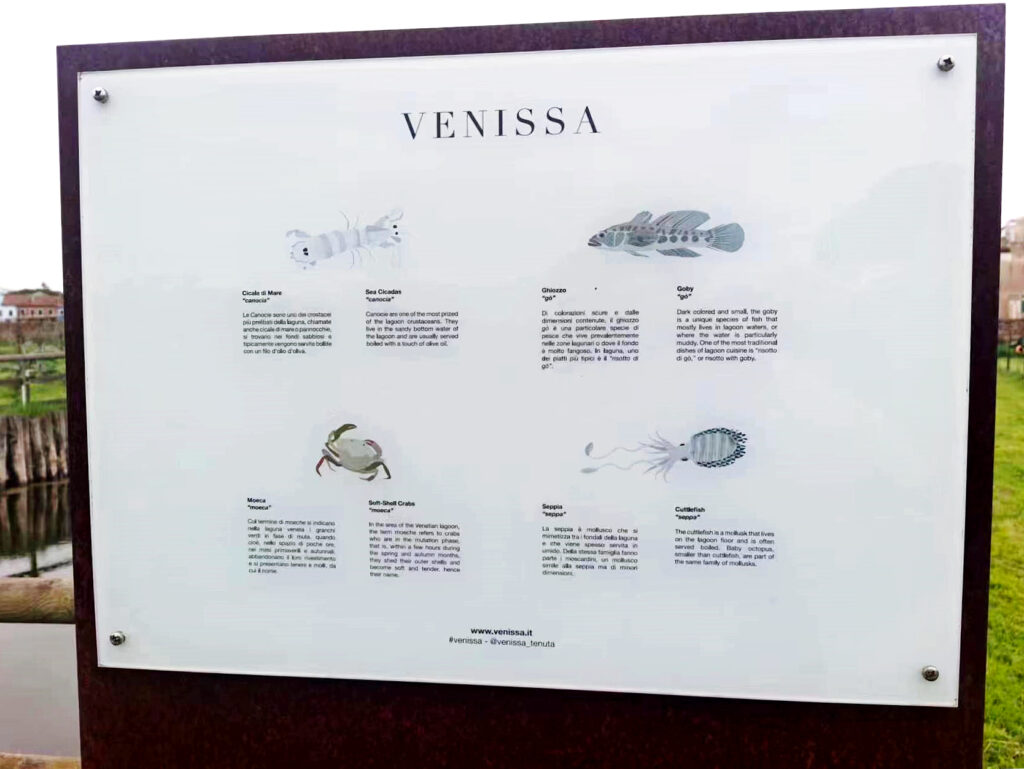 The property, owned by Gialuca Bisol and run by Matteo Bisol of the famous Bisol Prosecco wine family (the family sold its Prosecco brand to the Lunelli family of Ferrari fame to concentrate on the Venissa and other projects) is a multi-faceted one. It includes a Michelin-one star star restaurant called Venissa, a second restaurant (the Osteria Contemporanea, a more bistro-like setting where traditional local dishes are given a slight re-interpretation in keeping with modern lifestyles) and a small, high-end, refined boutique hotel (5 rooms). In fact, the resort also offers another thirteen rooms in five pastel-coloured houses composing a diffuse hotel-type setup known as Casa Burano by Venissa (and Gianluca Bisol tells me the group has acquired another four houses next to each other, and this will enable them to have another eight rooms on offer). The Venissa resort itself is located in a truly bucolic setting, that of the centuries-old walled Scarpa Volo estate and winery overlooked by thebeautiful bell tower of the San Michele Arcangelo church. It is the place where Bisol is making, under the Venissa winery brand, some pretty magical white and red wines that speak of the Venetian lagoon's terroir like practically none others (the whites highlighted by the use of the Dorona grape variety an ancient forgotten native grape that Bisol essentially rediscovered and brought back into the spotlight). It is pretty much the leit-motif that also permeates the food served at Venissa and the dining experience the place offers.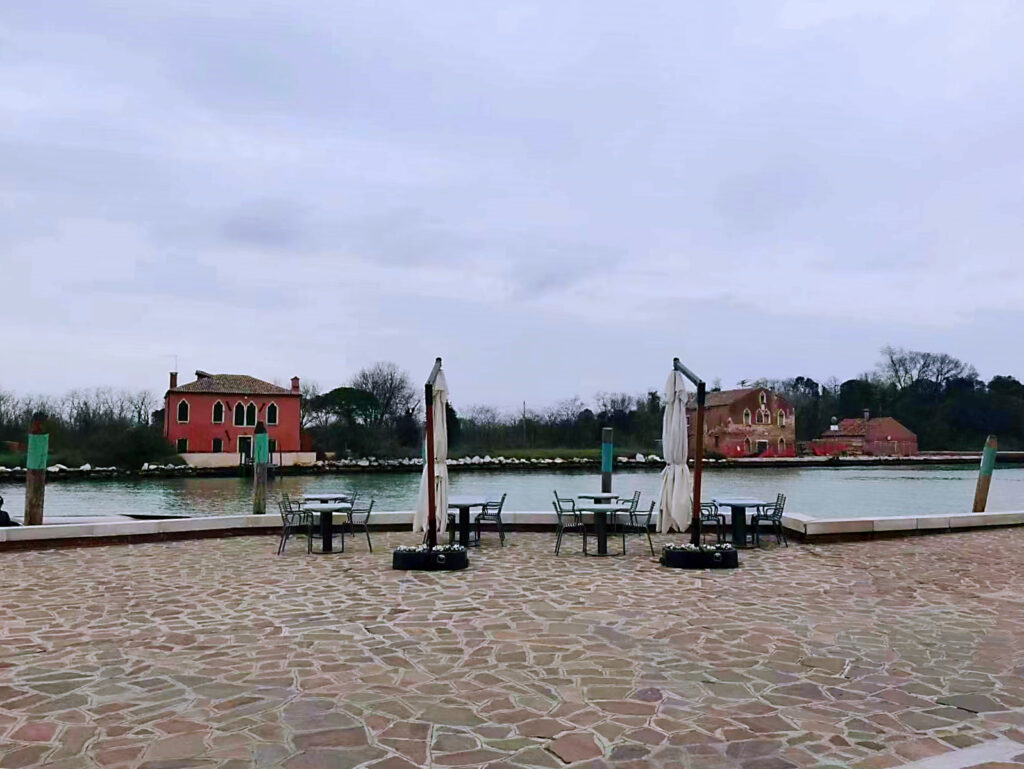 If you know Gianluca Bisol, an enlightened individual blessed with Energizer bunny-packs of drive, smiles and vision, you understand why he wanted his restaurant to be aplace of experimentation where local ingredients could be expressed to their fullest (as much as that is truly possible, given the polluted and climate change-affected world we live in). The restaurant's cuisine is the responsibility of two chefs Francesco Brutto and Chiara Pavan, partners in life as well as in the workplace. They source, as much as it is possible, most of their ingredients from the Lagoon, such as from the nearby island of Santa Cristina and the vegetable garden of Venissa, cultivated by the retired people of Burano. It's a cuisine heavily based on herbs and vegetables (as many as twenty-two different herbs are used), and where vegetables and fruits also have a big role. Meat and fish are not excluded, though the desire to focus on lagunar products makes sourcing those raw materials a great deal more difficult. Red tuna and Red grouse might all be fine and wonderful, but the former is a highly endangered species not native to Venice's lagoon (for that matter, neither are blue crab and leck (leerfish or garrick, Lichia Amia in Latin) , now commonly found on lesser Venice restaurant menus) and the latter hasn't flown anywhere near Venice throughout the millennia of time human beings have graced (?) the Earth with our presence. It all has to do with eco-sustainability and being aware of what is good health-wise: that ecological awareness had led Venissa to gaining not just a Michelin star over the years, but because of this efforts in this realm now a green Michelin star too. And those two are not the only awards the restaurant has gained over the years: for example, it has also been named to the World's 50Best Discovery Restaurant list, clearly nothing to shake your foodie swizzle stick at.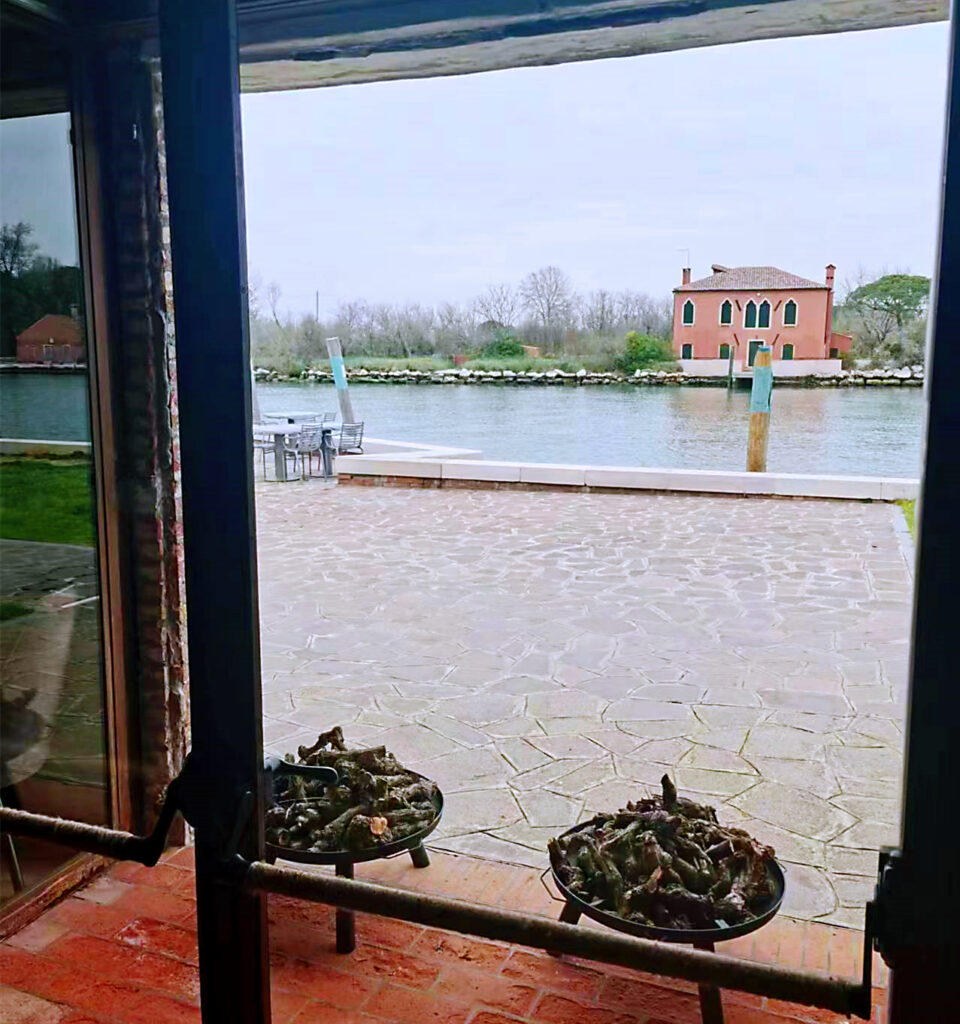 Seven and nine-course tasting menus are available and the dishes are innovative and enticing, including over the years such creations as: gnocchi with fig leaf, unripened figs and tarragon oil; Castraure artichoke risotto with marinated egg yolk, artichoke coffee and black garlic; Mont Blanc of sweet potato koji; eel with black truffles and porcini mushrooms; and spaghetti with cypress infusion and unripe Dorona juice. An oriental touch is often present in the dishes, and that's only fair and culturally-accurate, given La Serenissima's very important, lifestyle-defining, trade-derived, century-old ties to the Far East. (I'll stop right here now, or I'll find a way of throwing another hyphen into the equation.)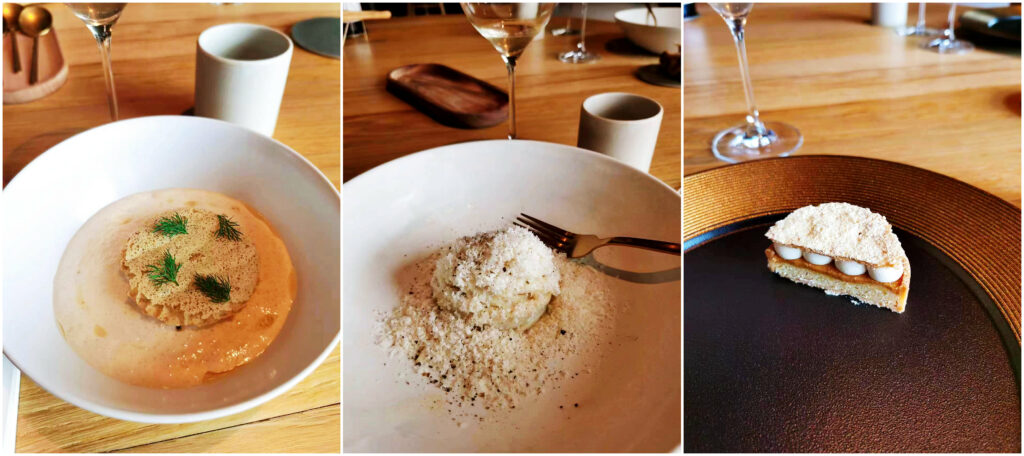 During my most recent visit (in fact too many years removed from the previous one, a sorry hiatus caused by the arrival of the Covid plague) and unfortunately too quick lunch at Venissa, I sampled three dishes: Sunflower and Fennel: Spaghetti and shiokara; and Chickpeas and Myrtle, the last one being a dessert. Each one of these dishes clearly bears the imprint of Venissa's DNA and that of the two chefs: for example the Sunflower and Fennel dish, not exactly ideal for those who like to gobble down simpler, even simplistic preparations is a complex and complicated creation featuring sunflower seeds front and center (then again, Pavan is very much into creating and using her own condiments, such as sauces made with pumpkin seeds or sunflower seeds; gels (for example, carrot); and herb-flavoured oils, butters, creams  and infusions (such as those made with wild fennel, cypress, and wormwood). The next dish wasn't a walk in the park either: by most accounts, shiokara is an acquired taste even for the Japanese, one of their chinmi elements typifying that cuisine (shiokara translates to " salty-spicy" and is made of small pieces of fermented meat from the viscera of various marine animals and reduced to a heavily salted, brown-coloured, viscous paste. At roughly 30% malted rice and 10% salt, mixed in with the forementioned fermented viscera (fermented for as long as one month, depending on the recipe one chooses to follow), you understand the stuff boasts no shortage of 'umami-ness'. And though shiokara will bring to the minds of any Italian and Mediterranean sybarite worthy of his or her taste buds the likes of anchovy paste (and to the truly knowledgeable garum), the thing really does have a completely different taste and texture from both those also heavenly concoctions. After all, Monet and Renoir where both Impressionists, but their paintings don't really look that much alike, save for some basic distinguishing features in the use of light, colour, and brush strokes. Same thing here. Last but not least, Chickpeas and Myrtle dessert was rich and multilayered in its delivery of aromas and flavours, but it is at the same time the only dish for which I have reservations. While the Fennel and Sunflower and the Spaghetti and Shiokara creations have a raison d'être (albeit a hard one for most people to appreciate and understand fully), they are brilliantly slotted into the course of the lunch. However, that is not the case with the Chickpeas and Myrtle creation, that though heavenly in its own right is much too rich and lacks freshness for it to prove an ideal means by which to close off a lunch. Yes, even a short one like the one I had., On its own, or with a cup of coffee or at an afternoon tea, it would prove delightful; but in this setting, not as much. It really is my only, very slight, criticism of Venissa's otherwise fun, intellectually stimulating meal. But that is the reality of Venissa's food: it's a very cerebral cuisine, one that provides more of a taste experience than it does actual dining moment, but then it's a journey (and a very pleasant journey at that) seamlessly fused into the reality of the whole of the Venissa experience, where thought and contemplation are just as important as activity itself.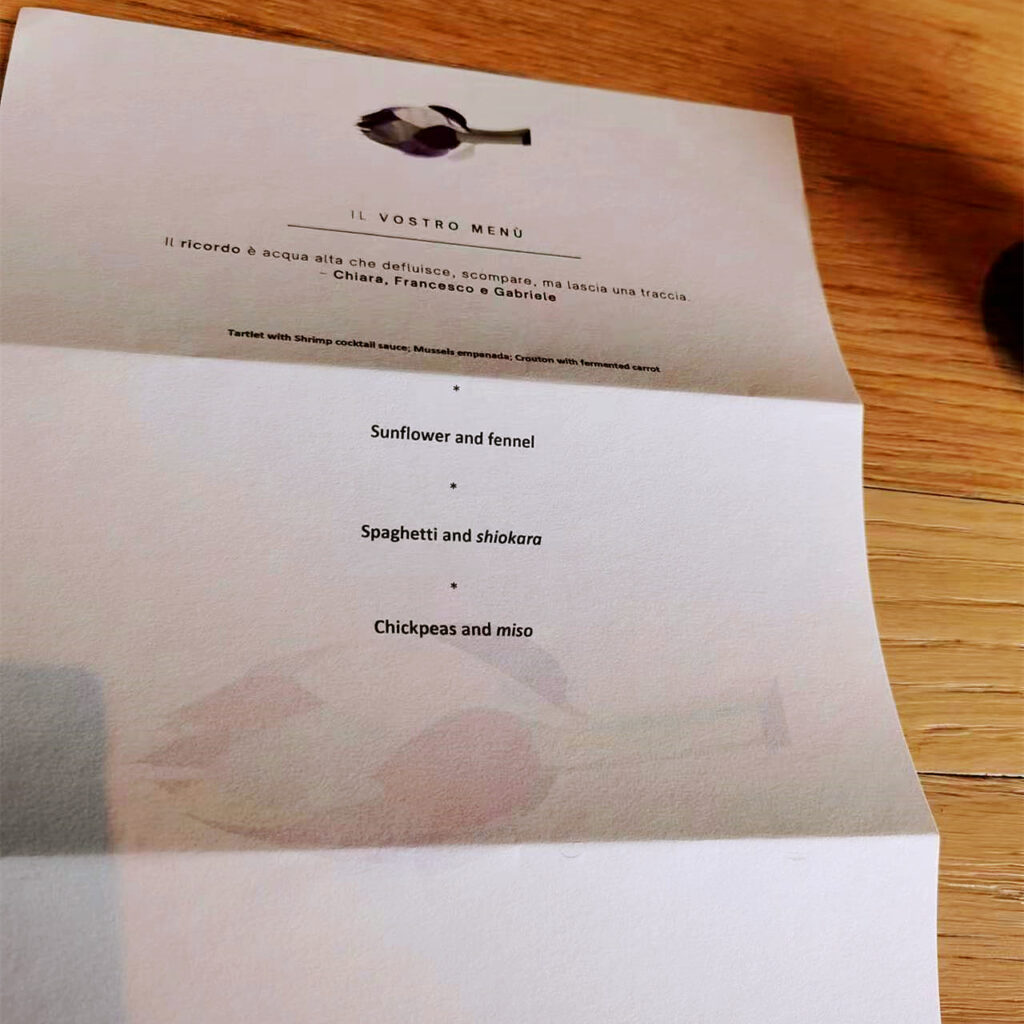 After all, Pavan has a background in philosophy (she first signed up for a philosophy degree at the university in Pisa, then two days later was already helping out as a chef in a restaurant but ultimately did get her degree), and so, one cannot remain too surprised by the thought processes that go into every dish at Venissa. Perhaps a somewhat of a Sartrian pour-soi exercise applied to the En-soi realities of ingredients, but a stimulatingly intellectual one embedded with the rest of the Venissa experience, a place not made for foodies whom live in the fast lane of taste always focusing on their next Instagram opportunity and in looking cool rather than thinking about what it is they are actually eating (and doing, but I digress). Those Type A's that flush the toilet even before they are finished using it won't be as impressed by Venissa as those who have taken the time to know who Fernand Point and Gualtiero Marchesi were, and what they meant to modern cuisine. But it's all OK: different people look for different things. Some people want to be surprised, others like to be manhandled, others still stimulated mentally, and others just want to sit down, turn their phone off and relax to a good meal. Trying to make all those different desires, backgrounds, and egos happy is no small task, and Pavan and Brutto go about it in their own unique way. I for one appreciate the purity and honesty of their approach.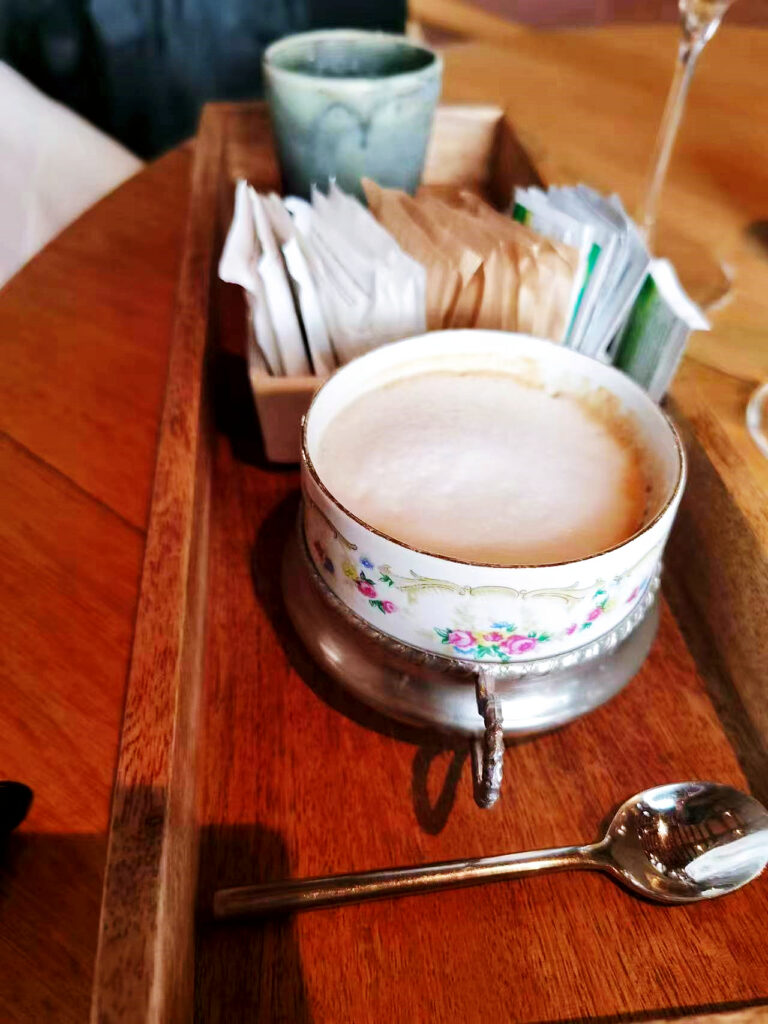 As these things normally go, over the years the Venissa restaurant has had different chefs: Paola Budel was the one in charge when Venissa opened in 2010 and garnered the restaurant's Michelin star quickly, in 2012. She then left to follow the love of her life in other, apparently non-culinary related projects, which meant the arrival of Antonia Klugmann and her sous-chef Arianna della Valeria to Venissa's stoves. Klugmann also stayed about two years before moving on to open her own restaurant in her native Friuli Collio area, and was followed by not one but a team of chefs (Sabina Joksimovic at the antipasti; Andrea Asoli at the primi; Michelangelo D'Oria in charge of the secondi; and Serena Baiano the master of desserts), a concept that Gianluca Bisol adapted from startups model and what Riccardo Donadon was then doing at H-Farm. It was in fact Matteo Bisol who identified in Francesco Brutto as venissa's next chef: Bisol greatly liked the almost extreme, inventive and flavourful cuisine that characterized Brutto's Treviso restaurant called Undicesimo Vineria (also Michelin-starred). Brutto initially divided himself between Undicesimo Vineria and Venissa, only to move to the latter for good in February 2020 once he and Chiara decided to share more than just the kitchen.
One more thing that is worth pointing out about Venissa is their "Venissa experience" package, one that includes a pickup by boat either from Altino, five minutes aways from Venice's Marco Polo airport, or from San Marco near San Zaccaria, or from Piazzale Roma, at pre-set hours that are communicated to the guests within forty-eight hours off their dinner's date. It also inclides a tasting of Venissa's wines, and at 220 Euros per person (given that the two tasting menus are 150 and 175 Euros respectively all on their own) it is a really pretty good deal. Just keep in mind that because of the seasonality of Venice's reality, the restaurant and resort are only open from March to November.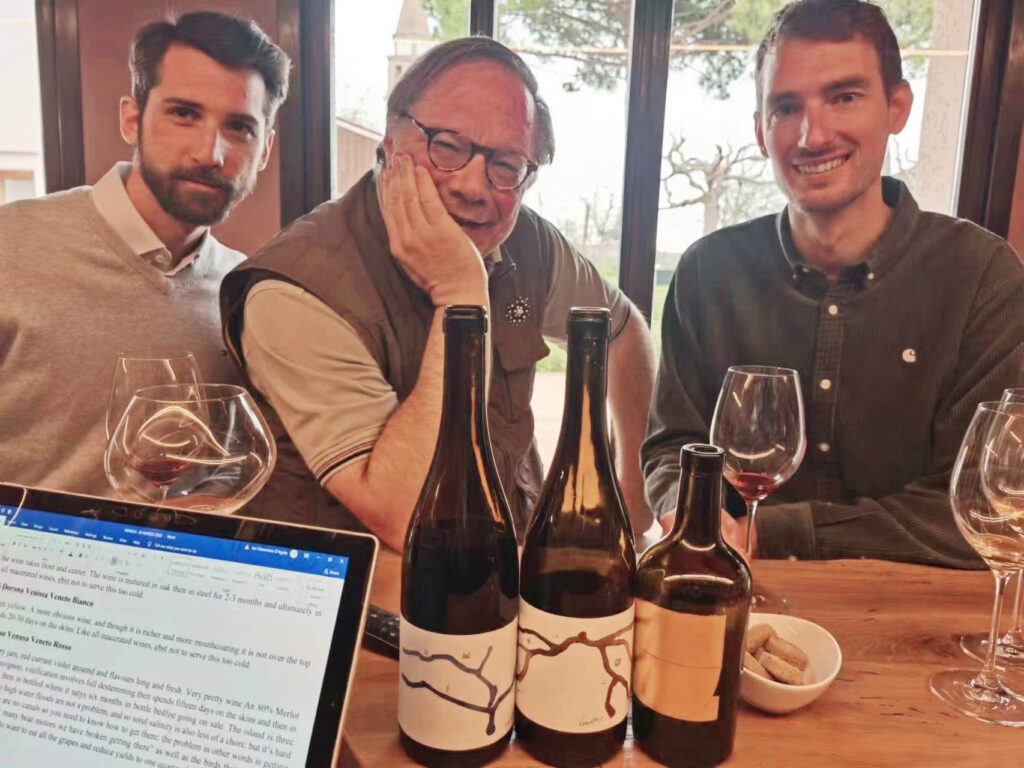 The wines
Monban 2020 Glera col Fondo Colli Trevigiani "Questo Neanche"      89
Venissa 2019 Venusa Bianco Veneto                             94
During my time at Venissa I tasted a bunch of vintages and wines, both white and reds, and found them all excellent. Venissa's white wines  are macerated in style, which is in keeping with the area's traditions goven that maceration was the only way by which to conserve wine long-term, seeing as if building underground cellars in Venice is, and has never been, possible. The Monban 2020 Glera col Fondo Colli Trevigiani "Questo Neanche" is a delightful wine made by Matteo Bisol on his own Prosecco-turf. It's fresh and immediately appealing, an easy-to-like, approachable white wine that will match well with simpler foods during lunch or make a splendid aperitif prior to dinner. Very different is the Venissa 2019 Venusa Bianco Veneto, in which the Dorona variety shines really brightly. Bright yellow but not too golden in colour. Very pure, intense aromas of balsamic oils, yellow fruit, orange liqueur, and rose water characterize the inviting nose. Then rich and layered in the mouth, with very pure, pretty flavours similar to the aromas. The must spent only two-three days on the skins (and that explains the lighter than usual colour for a macerated wine) but the wine is so thick and flavourful that it seems like it's a lot more than that, though the greatness of the 2019 Venusa is that it doesn't taste like a hopelessly over-macerated wine at all. The finish is long and vibrant and invites you to take another glass as soon as you are done with the previous one. This is stellar stuff, especially if you consider this is supposedly the "entry-level" wine of Venissa, but tastes nothing like an entry-level wine might. They'll probably be borderline upset me ast venissa for writing this, but this splendid white wine is actually much better than some over-done too macerated, almost rustic Venissa bottlings of the past (Venissa has since been re-styled and it's an equally magical wine: see my upcoming Veneto wines report here in the TerroirSense Wine Review).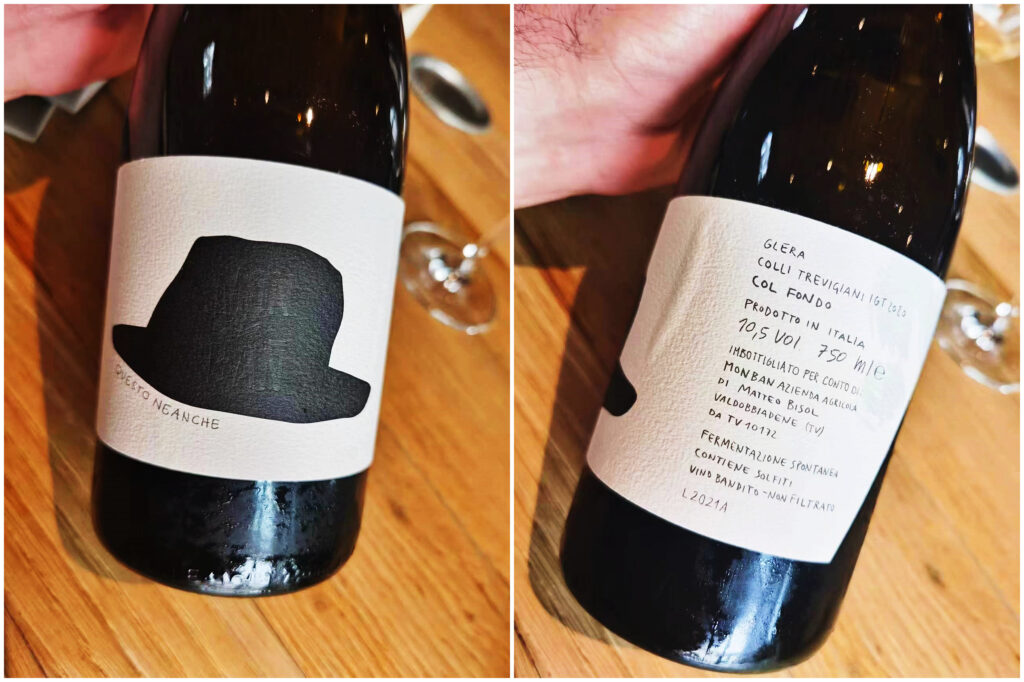 Over the years, the Venissa proiperty has been the sponsor and driving force behind other meritorious projects such as the winter's 2018-spring 2019 photography tours with Maurizio Rossi, an authentic inhabitant of Burano (of which there aren't that many) whose had shows of his work presented, such as the "I mestieri della Venezia nativa". It all adds up, contributes, to maintaining and forwarding the Venetian lagoon lifestyle, its memories, traditions, while underscoring the present and hopefully establishing a better future for everyone involved with Venice's islands, far from the madding tourist crowds.
Another Venice, indeed.