Domaine Weinbach Clos des Capucins 1983 Gewurztraminer Sélection de Grains Nobles Alsace          98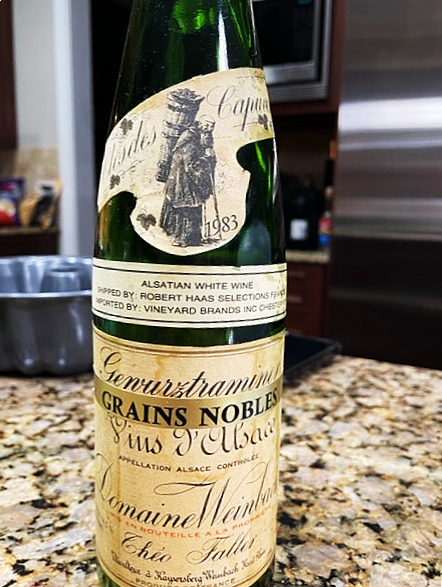 Not so arguably one of the world's thirty best wine estates, Domaine Weinbach is run by the Faller family with flair and class. Théo Faller, the father of current owner Catherine Faller, passed away at a relatively early age, but it was he and his wife Colette who really put the estate on the world quality wine map; his two daughters, Catherine and Laurence followed up the example of their parents by going one step further, turning out a bevy of amazing wines year after year literally catapulting the estate into the stratosphere of the world's greatest wineries where it is still firmly entrenched today.
The Domaine Weinbach Clos des Capucins 1983 Gewurztraminer Sélection de Grains Nobles Alsace harkens back to another era, one in which low yields were not quite as strict a reality as they are today and in which Laurence Faller, for my money the single most talented winemaker of Gewurztraminer wines to have ever graced the world wine stage, had not yet taken over,  but is nonetheless a phenomenal wine. Deep yellow gold colour. Captivating aromas of mango, grapefruit, cinnamon, white pepper and lychee, all complicated by notes of truffle and faded rose petals. Luscious and ripe, with near-perfect balance to its acid/sugar level, this finishes long and sweet but with a slightly bitter twinge building on the back end typical of the grape and of a time when very little residual sugar was being left in Alsace wines even at the Vendanges Tardives level. Absolutely drop-dead gorgeous to drink now, I wouldn't hold on to this much longer, and recommend, should you be lucky to have any bottles still lying around in your cellar, to drink it up and enjoy. And enjoy. And enjoy. And enjoy. And… Drinking window: 2023-2028.
Tenuta San Guido 2020 Sassicaia Bolgheri Sassicaia            96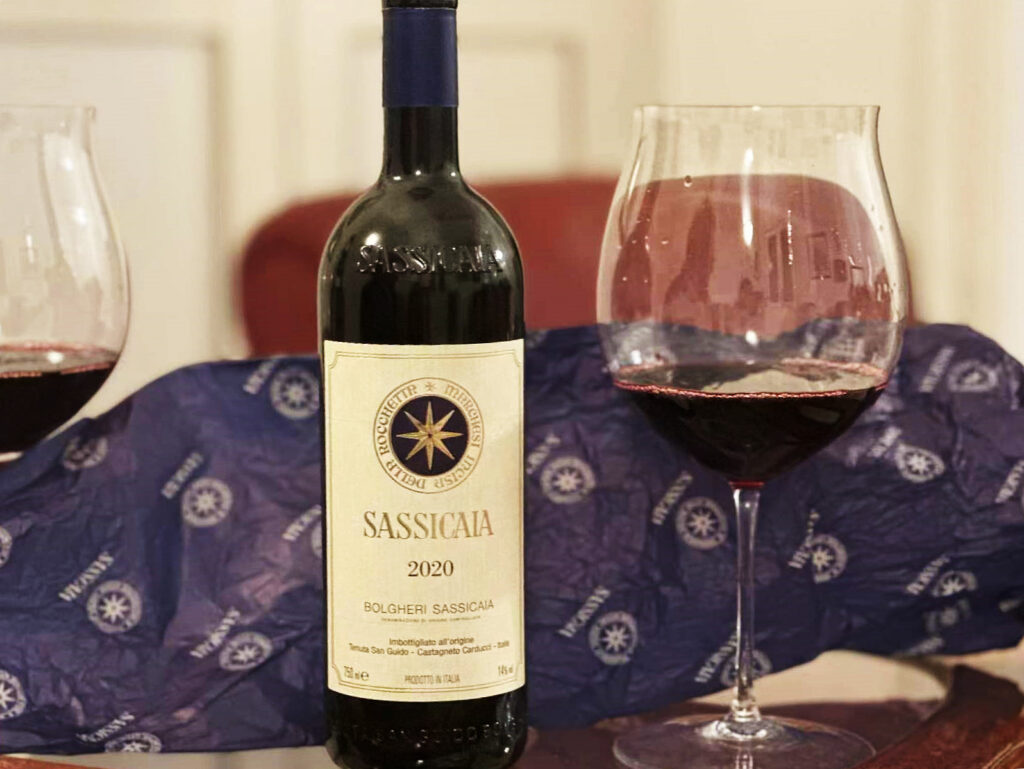 The 2020 Sassicaia is a very interesting wine that combines power and flesh on one side, and freshness and lift on the other like hardly any other recent vintage of Sassicaia I can think of. There are elements of the 2018 (easygoing, approachable already when young, plenty of early drinking charm) and of the 2017 (noteworthy ripeness and flesh) but ultimately the 2020 is like no other young Sassicaia I can think of. It's deceptively easy to drink now, but has so much almost jagged freshness that it really needs to lie in a good cellar for a decade or so such that it harmonizes and reaches a more balanced drinking stage. For sure, it is always going to be a more approachable, readier to drink Sassicaia that will be good to go while your say 2015s or 2016s rest in your cellar.
Deep ruby-purple colour: this is one of the darker more saturated young Sassicaias in recent memory. Very ripe aromas and flavours of dark cherry, plum jam, Mediterranean herbs, coffee, truffle and minerals are initially very thick and obvious, then gain elegance and refinement in the middle and on the long finish thanks to bright but youthfully spiky acidity. Suavely tannic and multilayered, this needs a good decade to harmonize fully and achieve optimal tannin/sugar/acid balance; not at all short of extract or of colour, this bigger-boned Sassicaia nonetheless maintains plenty of lift and freshness and will require some patience to come fully into its own. A clear-cut example of a red wine where having a little patience will have its rewards.  Drinking window: 2032-2045.