Maison Leroy 2009 Bourgogne Aligoté                                94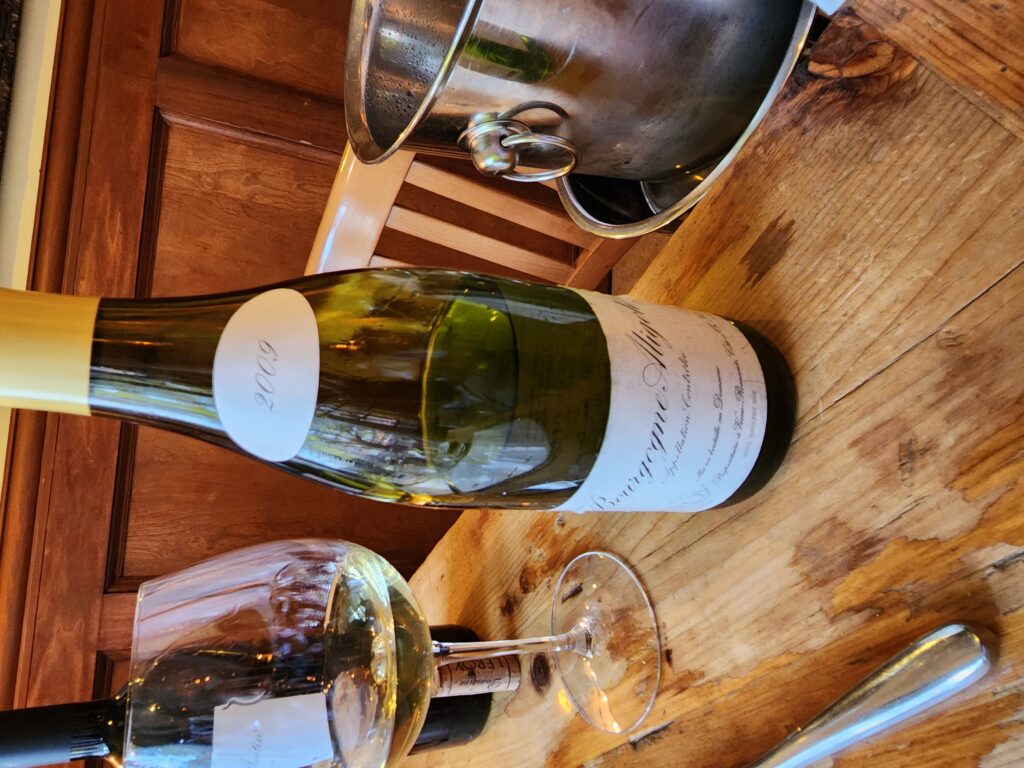 by Robert Millmann
I recently had lunch with Alessandro Lunardi who represents the Ornellaia and Massetto portfolio in the USA and just happens to have one of the best palates of anyone I have ever tasted with in the business. He brought his last bottle 2009 Maison Leroy Aligoté while I brought a Barolo which turned out to be disappointing—the 2007 Clerico Ciabat Mentin. Who could have predicted that a humble Aligoté could be so much superior to a famous Barolo? In truth, one of the endless sorts of fascination in the wine business are these unlikely outcomes. The unexpected brings with it real disappointments and thrilling successes. Wine is too complex and its evolution in bottle subject to so many factors that every bottle of aged wine becomes an adventure in tasting. I would not have it any other way. Predictability and boredom are highly correlated.
Burgundy lovers know that Lalou Bize Leroy has richly earned her reputation as the most singular person in the world of fine wine. I will not summarize her vinography other than to say she is not merely a force of nature but one-of-a-kind perfectionist who brings wines into the world which, when successful (which is not always), have a precision, depth, longevity and tension which exist in no other wines. Madame Bize-Leroy owns three different if complementary operations: Domaine Leroy which came into existence in 1988, D'Auvenay, an estate that comes from her husband's small holding of mostly Chardonnay in the Côte de Beaune and a négociant operation she inherited from her father called Maison Leroy. The prices for the wines from the two estates have long since reached collector levels unequalled by any other wines made in Burgundy. I wonder how many of these $10,000+ wines are ever actually tasted? By contrast, until recently, the Maison Leroy wines have been expensive yet affordable. That has started to change, alas. Frankly speaking, the quality of the many négociant wines from Madame Leroy wines has proved variable. Some are just normal wines, some a little odd, and some are sublime.  To make these wines, she has been purchasing fruit from numerous growers for a very long time. She will typically buy only from vignerons who work organically from old vine-low yielding vineyards. Having an impeccable palate Madame Bize-Leroy knows top-flight fruit when she tastes and so buys it. A great believer in aging wines to unlock terroir expression, Madame Bize-Leroy will surprise the market with releases of even twenty years old village level Burgundies. When good, these wines bear an uncanny resemblance to Grand Cru wines from these villages!
Let me return to the unexpected masterpiece we tasted, an Aligoté from the famously very warm 2009 vintage. Aligoté has taken on a second life in the last decade. Warming trends have enabled top wine makers to bring out as spicy richness which was all but impossible two decades ago. Had I been served the wine blind I would certainly have recognized it as a white Burgundy from a ripe vintage with perhaps 6-8 years of bottle age, not 13. The color showed a touch of honey but with plenty of green and above all the gleaming luminosity of a white wine it is prime. The nose was gorgeous: rich, creamy and spicy with white pepper and toasted notes and more than a hint of melon. On the palate the wine is fresh, voluminous, earthy and full of mature energy. As my friend Alessandro correctly noted, the mid-palate expansion before the slowly receding finish was one of the best aspects of the wine. Over the course of two hours, the wine showed no signs of deterioration. Frankly, this Bize-Leroy Aligoté would put many a Premier Cru Côte de Beaune to shame: it is a brilliant wine which appeals as much to the intellect as the senses. Drinking window 2022-2027.
Arnaldo Rivera 2019 Barolo Cannubi                           95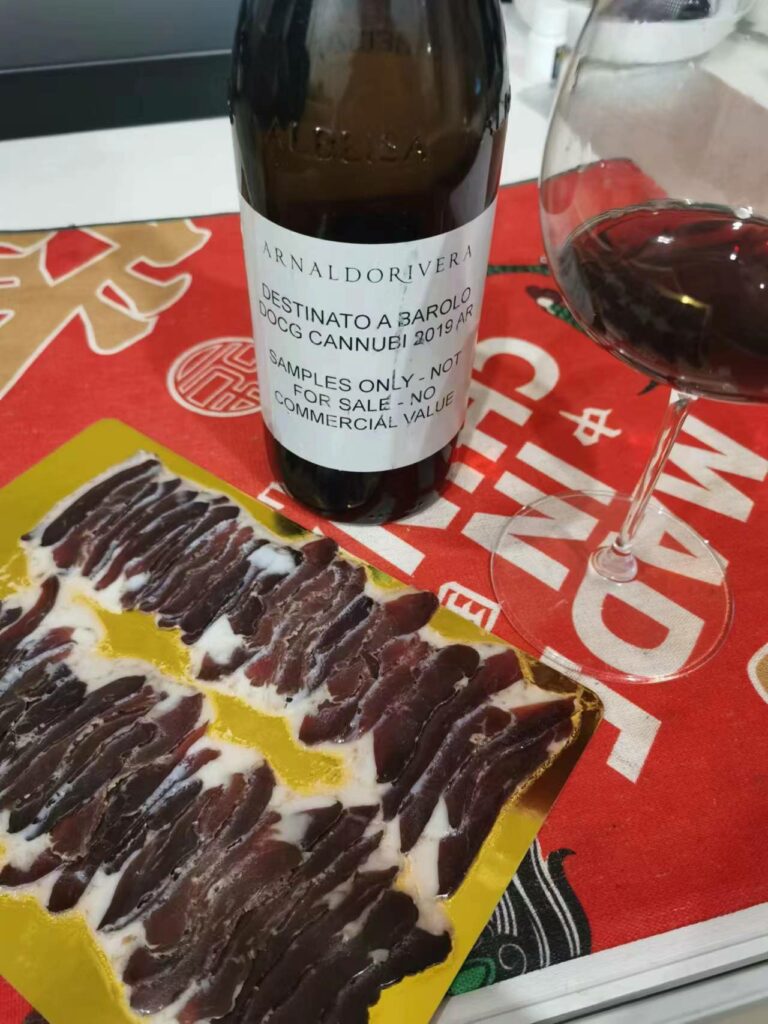 by Ian D'Agata
Arnaldo Rivera is the name of the top line of wines made by the Terre del Barolo coop in Castiglione Falletto. Make no mistake about it: coop or no coop, the Barolos in the lineup are excellent, with some reaching superstar status, as is the case with the utterly beguiling 2019 Barolo Cannubi, the latest addition to their long series of Barolo outstanding single-district vineyard wines (for example, a Barolo Rocche di Castiglione has been made since the 2013 vintage and a Villero since 2018). I didn't use the word "latest": haphazardly: in fact, the wine I am describing has not yet gone officially on sale, but will be released for the first time ever sometime early next year. (The wine I tasted was a sample bottled for me from the winery: this is why the wine bottle shown in the photo accompanying this article does not show the definitive bottle label.)
In September 2019, the coop had the opportunity to take back control of 0.5 hectares (5645 square meters, to be exact) of vines in the heart of the original Cannubi vineyard district, the Cannubi proper (or the Cannubi Centrale, as I have named it because of its central position on the extended Cannubi hill, already back in a 2011 Decanter article). These Nebbiolo vines face southeast, planted at about 300 meters above sea level and belong to a member of the coop, Michelina Fontana, but who had for twenty years prior leased the plot to another producer. In fact, it's not just the exceptional location of the vines, in the heart of what is Barolo's most famous vineyard that is remarkable, but also their age: the plot was planted in 1946 and is still populated by most of those original plants. It should also be noted how Michelina Fontana's choosing to bring these vines back into the coop's fold (rather than continuing to lease them out) is a testament not just to the high quality of the Arnaldo Rivera line of wines, but also to the painstaking and close working ties the coop's personnel have maintained with the local landowners throughout these years. The arrival of Cannubi in the portfolio of the Arnaldo Rivera single district Barolos is undoubtedly a real feather in the coop's cap.
The Arnaldo Rivera 2019 Barolo Cannubi is a real gem. Good full bright dark red. Perfumed aromas of red rose, red cherry, licorice, sandalwood and minerals on the extremely inviting nose. Then suave and lifted, with outstanding clarity and cut to the precise flavours of red cherry, aromatic herbs, candied violet, and black tea, complicated by a sprinkling of mineral dust. The aftertaste is long suave and vibrant. This beautiful Barolo boasts impeccable balance and sneaky concentration, yet it is so charming it can be drunk right now, though it will certainly improve with a few more years spent in a good cellar. It will also age and hold up splendidly for the next twenty years. I think this is the best Barolo Arnaldo Rivera has ever made: the first whiff unequivocally states that you are in the presence of something special, the result of a combination of the excellent 2019 vintage, the Cannubi-proper or Centrale origin of the grapes, and Arnaldo Rivera's viticultural and winemaking technical prowess. Well done. Drinking window: 2024-2038.