Ernest Burn 1967 Riesling Grand Réserve                   96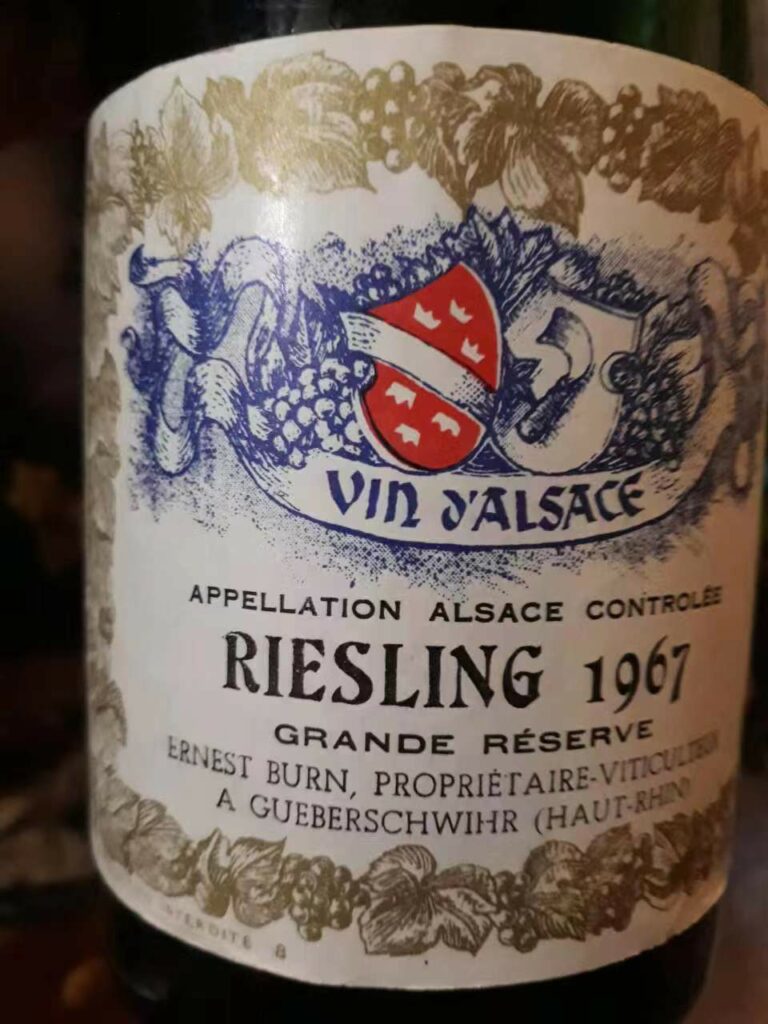 The 1967 vintage is one of the most famous wine vintages ever to have come out of Alsace, and there are myriad wonderful bottles that qualify as truly "memorable" wines. One such beauty is the Ernest Burn 1967 Riesling Grand Réserve Alsace at a time when it still wasn't known as Ernest Burn/Clos Saint-Imer as it is today. I was lucky enough to buy three bottles of about twenty years ago while on a trip to the region; but was I even luckier, given that I polished off those three beauties with almost criminal velocity, to find another one well-kept specimen four years ago in a dusty old cellar for sale during one of my usual investigative forays. And having at long last learnt the virtues of patience since that time, I finally tasted it just last week in the company of delicate Taizhou cuisine fish dishes, happy to report that, at now almost fifty-six years and counting, the wine is still excellent and lively.
Deep, burnished golden yellow colour. Extremely intense, penetrating aromas of chamomile, lemon curd, lichee, eucalyptus, wild fennel, grapefruit peel, brown sugar, and diesel fuel, all complicated by hints of spicy botrytis. Then thick and dense, but at the same time boasting truly exceptional inner-mouth perfume to the still lively flavours of orchard fruit, faded white flowers, balsamic oils and minerals. There's still plenty of acidity and mineral zing to give this mouthcoating beauty enough verve and clarity to keep it dancing on your palate, not to mention you returning to the glass time and again after every sip. That is up right until you'll find out you have finished the bottle in no time at all. Now I'm sure you will agree: when it comes to wine, that's always a really, really good sign. Drinking window: 2022-2028.
Tenuta del Travale 2020 Esmén Tetra Calabria Rosso                                    92
Tenuta del Travale 20 Nerello Mascalese Eleuteria Calabria Rosso          94+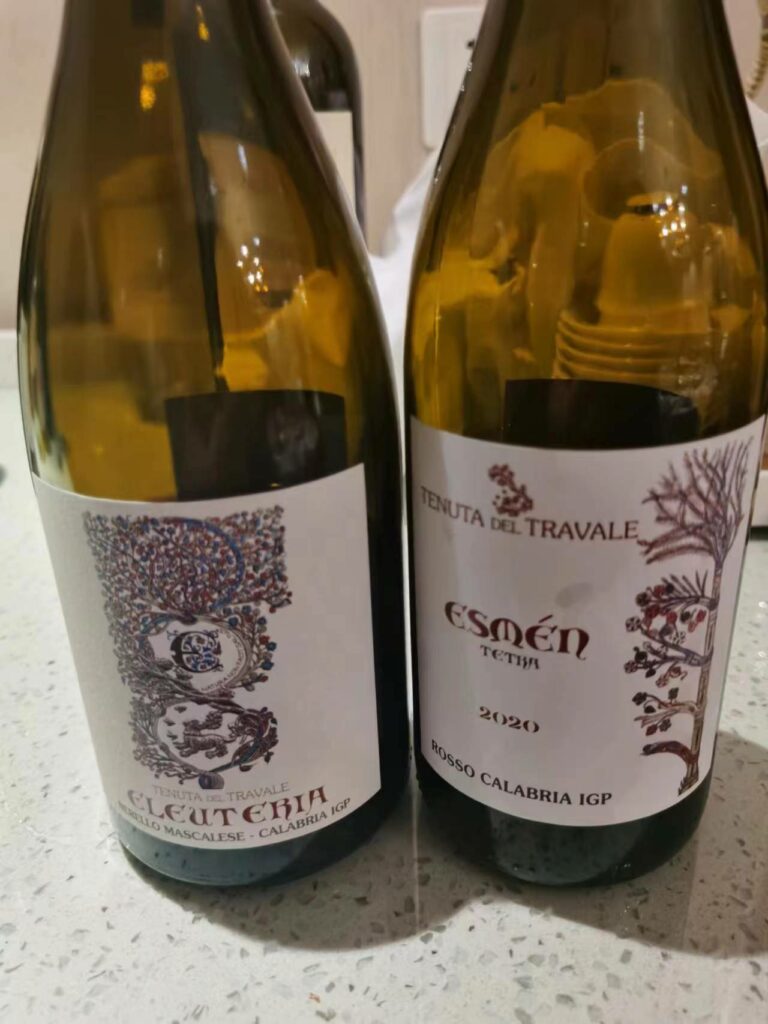 Have you ever tried a Nerello Mascalese wine from Calabria? Well, the outstanding wines made by Calabria's Tenuta del Travale is the place you should start doing so, with both the entry-level Osmen and the top of the line Eleutera are absolutely smashingly great wines. And while the two Nerellos are mostly associated with Etna and Sicily these days, the fact is they have long been grown in Calabria as well.
The Tenuta del Travale 2020 Esmén Tetra Calabria Rosso is just superb. Bright red in colour, it offers captivating aromas of red cherry, redcurrant, minerals, herbs and cinnamon, lifted by an amazingly intense floral component (violets, roses). The vibrant and fresh in the mouth, with piercing but harmonious acidity really lifting the red berry and cherry flavours on the long rising smooth finish that features nicely lingering floral and mineral nuances. A really knockout blend of 80% Nerello Mascalese and 20% Nerello Cappuccio, this is made with 20% whole bunches, and you can tell, there's an amazing Pinot Noir-like perfumed quality to this wine. Drinking window: 2022-2028.
If possible, the Tenuta del Travale 20 Nerello Mascalese Eleuteria Calabria Rosso is even better, a much denser richer, mouthcoating wine. Deep red. Brooding aromas of very pure ripe red cherry, raspberry nectar, strawberry jelly, aromatic herbs, sandalwood, cinnamon, nutmeg, and graphite all complicated by a perfumed red rose note and a sprinkling of talcum powder. Enters rich and round in the mouth, then turns elegantly austere in the middle, with its rich, deep red fruit and sweet spice flavours somewhat under wraps now due to the oaky veneer dominating presently, but there's an obvious multilayered quality here that speaks of old vines. Though still quite young, this is a wine of impeccable balance, boasting a very noble but strong tannic spine that nicely frames the ripe fruit on the long and extremely refined, finish. Less mineral and more richly fruity than most Etna Nerello Mascalese wines, this is a real knockout, and wine lovers everywhere will have a thrill comparing the two versions of Nerello Mascalese/Nerello Cappuccio wines that are possible from two different volcanic terroirs. But don't even think of opening a bottle for another three years at least. Drinking window: 2025-2035.