On October 25, 2022, TerroirSense Editor-in-Chief Ian D'Agata invited Catherine Kistler, daughter of Steve Kistler, to our magazine's Terroir Masters Livestream show,  a series of interview sessions that have seen the likes of Aubert de Villaine, Charles Perrin of Beaucastel, Mateja Gravner of Gravner, Helen Masters of Ata Rangi, Olivier Humbrecht of Zind Humbrecht, Sarah Hwang of Huet, Francesco and Santiago Marone Cinzano of Col d'Orcia, Laura Catena of Zapata and many others interviewed by Ian and his Products director, Echo Miao Zhou. Echo wrote this article based on what emerged from the interview as well as her prior knowledge of the estate and of tasting its wines over the years.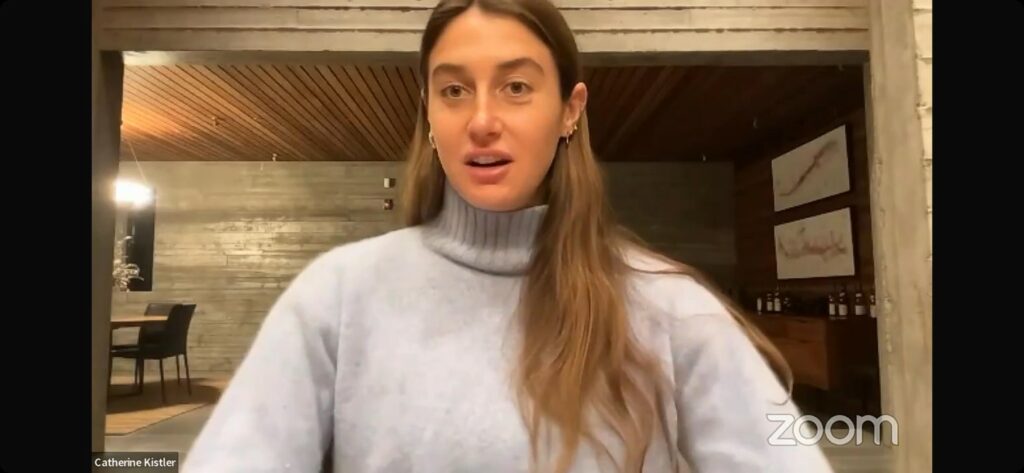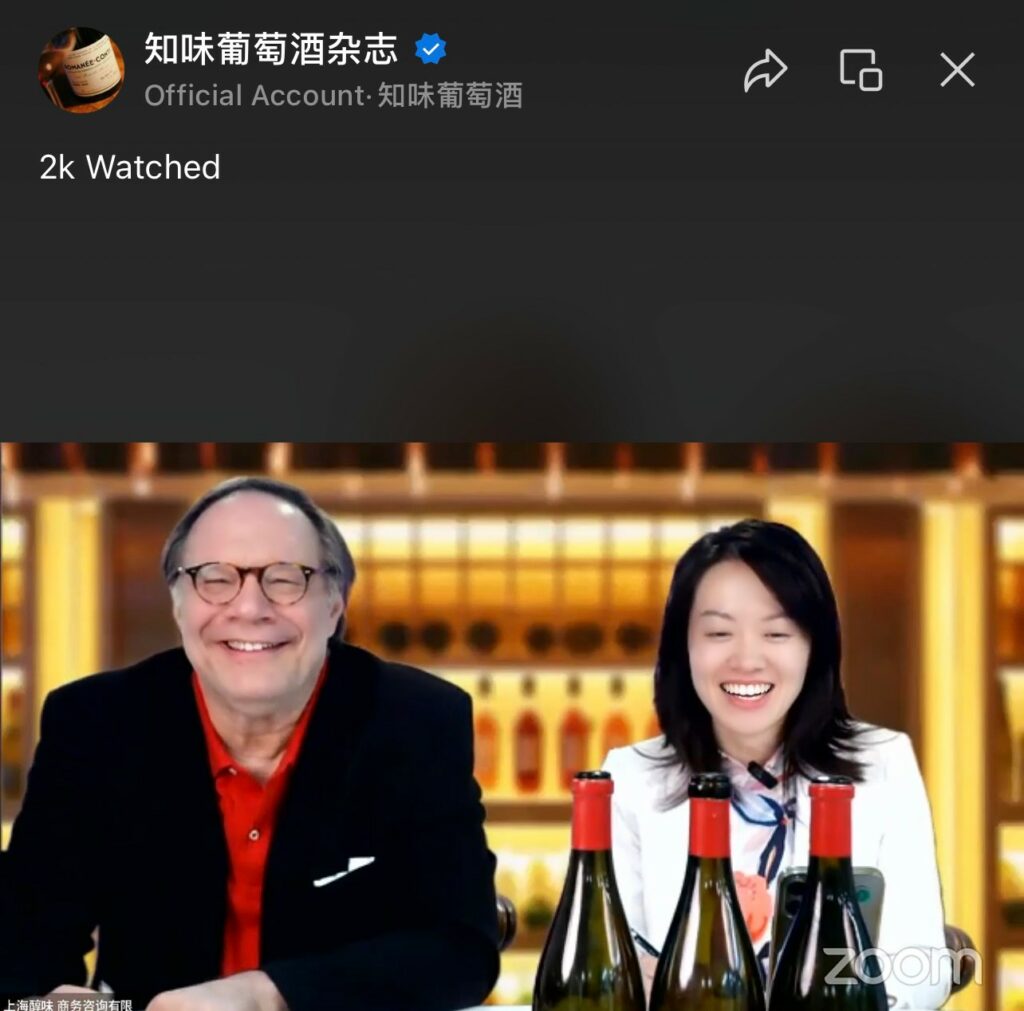 Finding the answer for profound Pinot Noir wines in California's Sonoma coast
Steve Kistler founded Occidental on the Sonoma coast in 2011, and from the beginning, decided to focus on just one variety: Pinot Noir.
People might wonder why Steve Kistler chose Pinot Noir for his new project, instead of the variety he has always been best known for, Chardonnay. Another question on everybody's mind was why pick a marginal site on the chilly, weather-challenged ridge tops facing the Pacific Ocean right at the limit of where Pinot Noir could ripen.
Catherine Kistler is the current Assistant winemaker at Occidental. She graduated from Harvard College majoring in Ancient Roman history, but has been immersed in wine since a young age. "Since joining my father at Occidental in 2017, I've learned more than I could have ever imagined in this field and what it takes to produce wines at a consistently high level as he has for four decades." Catherine also explained that "… Working at a small family business means embracing all the highs and lows and owning what you do." Indeed, she got up at four AM Pacific Standard Time to cater to Chinese audiences' time schedule for the Livestream.
Steve Kistler developed a passion for coastal vineyards during his time in Ridge as early as 1975, when he found he really liked the coastal character of the Zinfandel wine that Ridge was making at the time by using fruit from the Occidental Vineyard. And even more so when he compared that wine to the other Zinfandel wines made from very different locations. Starting in 1993, Steve produced a series of Pinot Noir wines; and later, in 1995, he planted a 1.61 hectares Pinot Noir vineyard on Taylor Lane directly across the street from the Summa Vineyard. He named it "Occidental Vineyard" because it overlooked the Pacific (obviously, it looks out to the West) but also because it reminded him of the time at Ridge. Then, in 1999 and 2008, he purchased the 40.5 hectares Bodega Headlands property (eight hectares of Pinot Noir were planted in 2001) and the 101 hectares property next to Bodega Ridge, on the same ridge overlooking the Pacific Ocean that is less than eight kilometers away from the ocean. Today, Occidental farms about 34 hectares of Pinot Noir vineyards in the Freestone-Occidental area. Peak production reached 9,000 cases of Pinot Noir by the 2021 vintage.
So why Pinot Noir in this far out coastal area?
"Clearly, Pinot Noir is a more challenging grape variety to farm than Chardonnay. It is very expressive of place, and when you get it right, there is nothing more beautiful than that" Catherine says. At a point in Steve Kistler's career, he had made a bevy of very famous Chardonnay wines for a very long time, so it might strike some wine lovers as strange that he would turn, so to speak, his back on that grape. "He's very proud of his Chardonnay wines, but he is the most curious and never-rest person I know, so he wanted to see how far he could push things… this is what drives him every day," said Catherine. And on that theme, last fall (in 2021) they purchased a nearby dairy farm ranch, a new property that is just four kilometers from the Pacific Ocean, that they are ready to plant with another roughly 22 hectares of Pinot Noir. When all is said and done, the Kistler family is committed to Pinot Noir and to this area. A coastal area that presents vine growing challenges, but from where the vines, thanks to the unique terroir they are exposed to, produce wines with more detail and nuance.
At Occidental, Steve Kistler and his daughter take a subtle approach to winemaking. They have 42 four-ton fermenters so that each vineyard block can be fermented separately, with no cold soak. They even go so far as to make Pinot Noir wine without any pressing and then only use free-run juice that drains readily from the tank and into 30% new François Frères barrels for aging. The Kistler goal is to handle the fruit as gently as possible and to ferment with as many whole intact berries as possible. Whole berries absorb some of the heat of fermentation, allowing the process to progress more gradually and so make the wines more elegant. Fermentation relies solely on native yeasts: it usually begins within 5-7 days, and the wine spends 18-21 days on the skins before the tanks are drained. The malo-lactic transformation usually begins by December and is completed by the end of spring. Catherine explains that each fermentation generates its own momentum and strength, peaks at its own maximum temperature, and then proceeds to dryness at its own pace with little or no refrigeration. This simple approach to fermentation allows the wines from each vineyard block to develop their own set of aromas and flavors.
Occidental aims to make profound Pinot Noir wines, and from what I have tasted so far from this estate, I'd say they are well on their way to reaching that goal, with a portfolio of truly impressive Pinot Noir wines being produced already now from what are relatively youngish vines. I tasted the wines in this report with Ian and the rest of our staff and found them to be beautifully crystalline wines bosting vivid aromatics and energetic red berry flavours, layered with savory and mineral qualities. Well done, Occidental.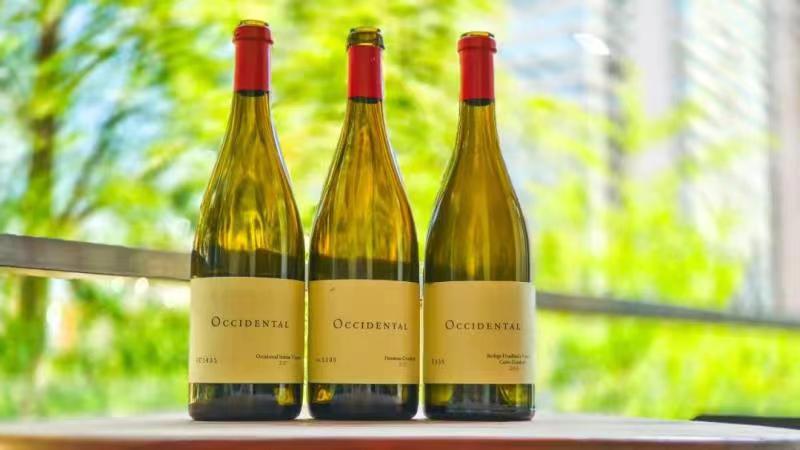 The wines in this report
I tasted these wines with Ian and the rest of our staff on October 20, 2022 in our office in Shanghai.
Occidental 2017 Pinot Noir  Freestone-Occidental Sonoma Coast             96
The 2017 Pinot Noir Freestone-Occidental is the only one of the current Occidental Pinot Noir wines that is not a pure single-vineyard offering, as the grapes come mostly from the younger vines of the Bodega Ridge Vineyard plus a small amount of fruit sourced in the Bodega Headlands vineyard. But this wine is made with the same attention to detail as the other single-vineyard wines, and only free-run juice is used.
Medium garnet color. Perfumed violet and other floral elements are followed by iron, pencil lead, and granite on the nose and in the mouth, with layering of cherry, kirsch, and cassis flavours supported by seamless, well-integrated tannins and complicated by mineral, pencil lead, and forest floor notes. This gorgeous wine fully opened up after sufficient aeration showcasing great depth and concentration with a lingering finish. Tasting it the following day, it still felt very generous and luxurious. A wine that is full of potential and that will drink well into the next decade. Drinking window: Now-2035.
Occidental 2017 Pinot Noir Occidental Station Vineyard Sonoma Coast   96+
This is made with grapes from a dry-farmed vineyard planted in 1996 by Steve Kistler, on gravel-sandy-stone soils rich in iron. As it is the most inland of Occidental vineyards, harvest is usually earlier here than in the property's other vineyards, and so it was in 2017, with the grapes picked two to three weeks sooner than in the others. In fact, the 2017 vintage was characterized by an unusually cold summer: it was only at the end of August the area finally got the first real heat for the summer. When similar conditions happen, the vine does one of two things: either it continues to ripen at an escalated rate with sugar accumulation, or it will be in such shock that it shuts down entirely and not produces any sugar. The flip side of the latter event is there is no loss of acidity. In 2017, the heat at the end of August pushed the grapes across all vineyards to the early edge of ripeness (just about when they start to pick at Kistler) and so the resulting wine has ripeness and fullness of flavor, but also the bright natural acidity that is the estate's specific aim to capture every year. Picking earlier and earlier was something that Kistler didn't learn until 2010 and 2011, which were unusually cold and difficult vintages. It was in October, and the sugar was still only 21 Brix, but the rain began to come hard, and so he needed to pick. It turned out to be a fine vintage, with grapes picked in the 21 and 22 Brix range and excellent wines made. Kistler was very impressed with how compelling those wines could be even at those lower sugar levels. Nowadays, as soon as they have enough heat units to push the ripeness to the point they want, that's when they start to pick at Occidental, without looking to push things along any further.
The Occidental 2017 Pinot Noir Occidental Station Vineyard Sonoma Coast is medium garnet, with delicate floral notes on the nose, and nuances of minerals, Earl Grey tea, red and blueberries on the palate are freshened up by a saline nuance. Offers great concentration and depth of dry tea leaves and mineral reminders on the saline, long finish. Medium-bodied with tight and well-integrated tannins, the freshness of raspberry fruits is apparent here, but the wine is more closed and restrained currently than the other wines I tried from Occidental. Drinking window: now-2030.
Occidental 2016 Pinot Noir Bodega Headlands Vineyard Cuvée Elizabeth Sonoma Coast          94
The first two weeks of the 2016 harvest were cooler than usual, and it took as much as ten days to finish picking grapes (compared for example to only four nights in the 2017 vintage). Catherine Kistler believes this is also probably one of the reasons why the vintage 2016 wines are more elegant in style. The grapes used to make this wine were sourced from the Bodega Headlands Vineyard planted in 1999 on 101-14 rootstock and grafted with proprietary massal selections of Pinot Noir. The soil there belongs to the special Goldridge soil series (sandy loam comprised of decomposed marine sediments and fractured sandstone), which is so well-draining it has just enough water-holding capacity to be dry-farmed.
The vineyard is planted at an altitude ranging from 120 to 230 meters above sea level, well within the fog layer.
The Occidental 2016 Pinot Noir Bodega Headlands Vineyard Cuvée Elizabeth Sonoma Coast is bright ruby red with slight orangey rims. The nose boasts red tea-like and red berry aromas, and is quite steely and energetic, while on the palate, lively acidity, crunchy cranberry and redcurrant flavours are very elegant and light in weight, nicely framed by silky tannins. The long aftertaste unleashes nuances of rose petals and of earthiness, and is lifted by the freshness of red cherry. Given its profile, I do not recommend decanting this wine too far ahead as compared to the other two wines in this report. Drinking window: 2022 -2030.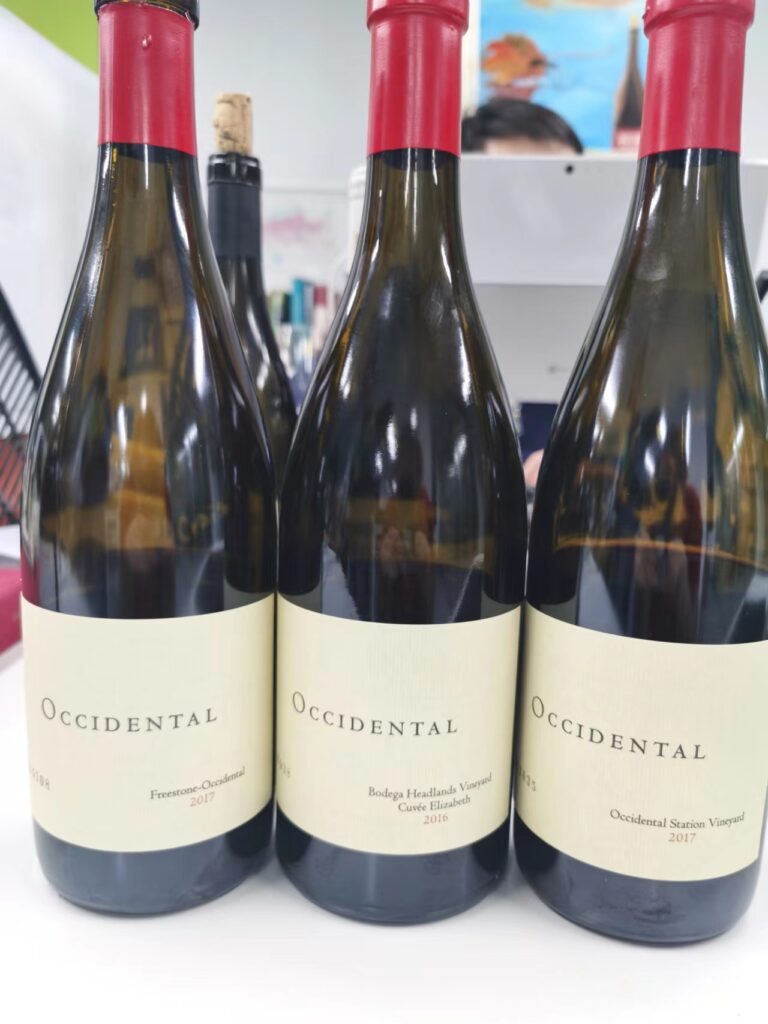 For wineries interested in participating in our Livestream sessions please contact:
iandomenicodagata@outlook.it