When it comes to Alsace wines, names like Domaine Weinbach, Hugel, Marcel Deiss, Trimbach and Zind Humbrecht seem to grab all the attention and spotlight, but the fact is there are almost countless small family-run estates in the region that produce marvellous wines too. Domaine Seilly is just one such winery: not the most famous of Alsace wine estates, but a very good one well worth getting acquainted with. It is located in pretty Obernai in the Bas-Rhin: but like most other wineries of the Bas-Rhin, it is less well-known than those of the Haut-Rhin, where there are famous tourist-magnet towns such as Ribeauvillé, Riquewihr, Eguisheim and Kaysersberg that dot the Alsace wine route and help haul wine tourists in. And so Domaine Seilly flies a little under the radar, but its wines are well-made and exemplify the enological bounty that Alsace offers so richly.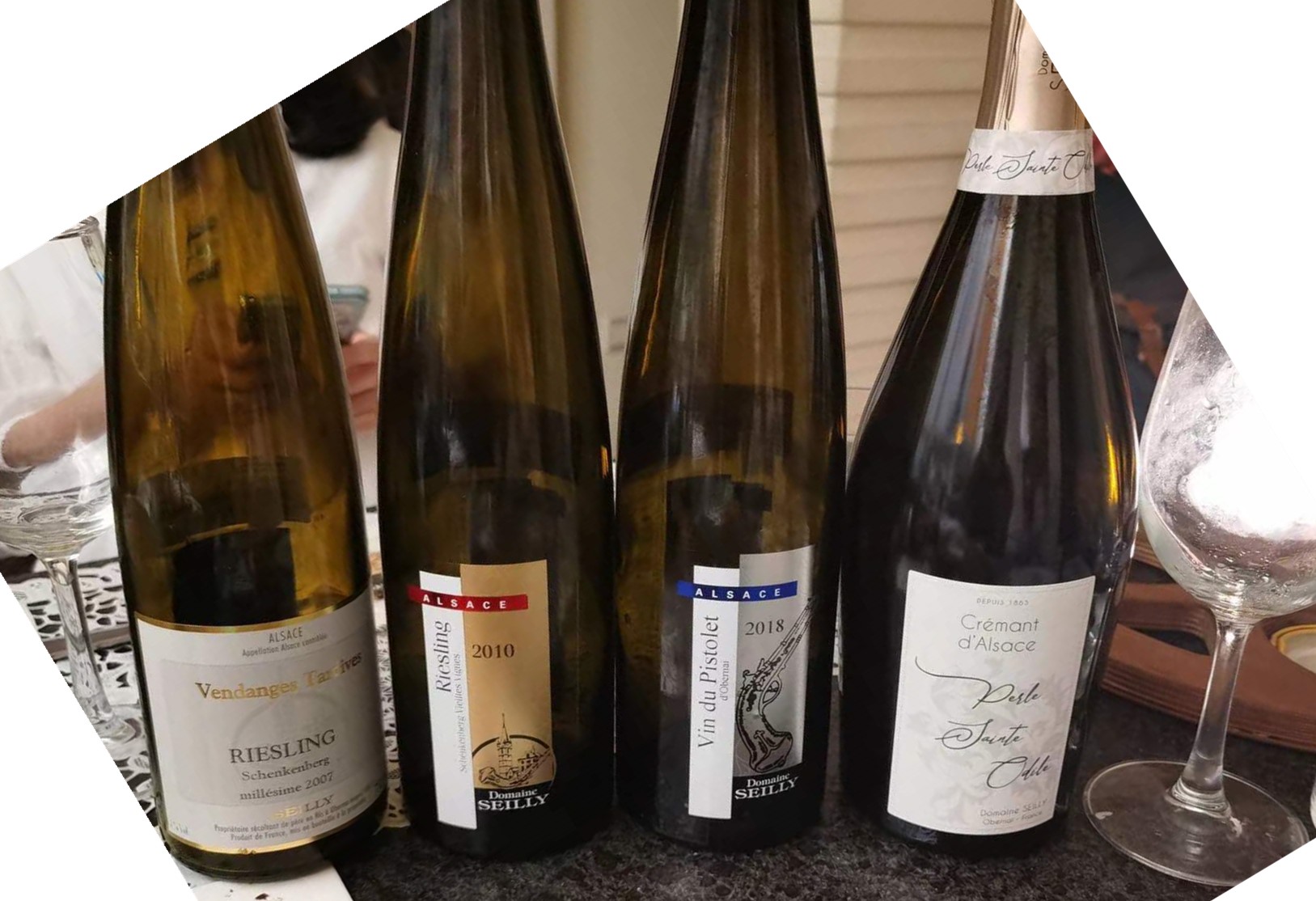 The estate 
Domaine Seilly was founded by Eugene Seilly in 1865 in Obernai. Today, it owns in total fourteen hectares, grown in viticulture raisonnée since 1995 and certified organic since 2012. The estate boasts vineyard holdings in various lieux-dits, including the Schenkenberg, Coteaux d'Obernai, and Heiligenstein. Of these, the Coteaux d'Obernai reaches 265 meters in altitude, and is characterized by a soil rich in compact limestone locally called muschelkalk (it is a limestone formation formed in the Jurassic period and that is associated with some of Alsace's finest wines), that brings great opulence, delicacy and minerality to the wines made there. The Schenkenberg is 265 meters in altitude and takes its name from the Schenk family of Ehenheim, first mentioned in official documents in 1178. Vineyards there are planted on a mostly chalky, clay and limestone soil and face south/south-east, producing ideal conditions for the grapes to mature (Domaine Seilly's vines there are planted on mostly clay and limestone soils). The vineyards of the Heiligenstein territory are located 350 meters above sea level: it's an area typified by very poor soils, with some silicate in the topsoil, plus silex and sandstone, with deep marl-clay layers below. Clearly, each one of these will produce slightly different wines and each is best suited to a few varieties specifically.
The main grape planted at Domaine Seilly is Riesling, followed by Pinot Gris, Pinot Blanc/Auxerrois, Chardonnay, Pinot Noir, Gewurztraminer, Muscat, Sylvaner, and Traminer. The latter really is Traminer, or Klevener de Heiligenstein as it is known locally, a non-aromatic variety mostly associated nowadays with the Jura (where it is called Savagnin) and not to be confused with the aromatic Gewurztraminer that is indelibly linked with Alsace (Alsatian Gewurztraminer wines are undoubtedly the world's best). The winery boasts a modern, state of the art vinification cellar allowing for temperature control and uses geothermal technology to do so (the cellar is also powered by solar panels). Domaine Seilly produces a full and typical range of Alsace wines, including sparkling (Crémant d'Alsace), white, rosé, red, Vendanges Tardives (late harvest), and Sélection de Grains Nobles (sweet wines made with noble rot-affected grapes).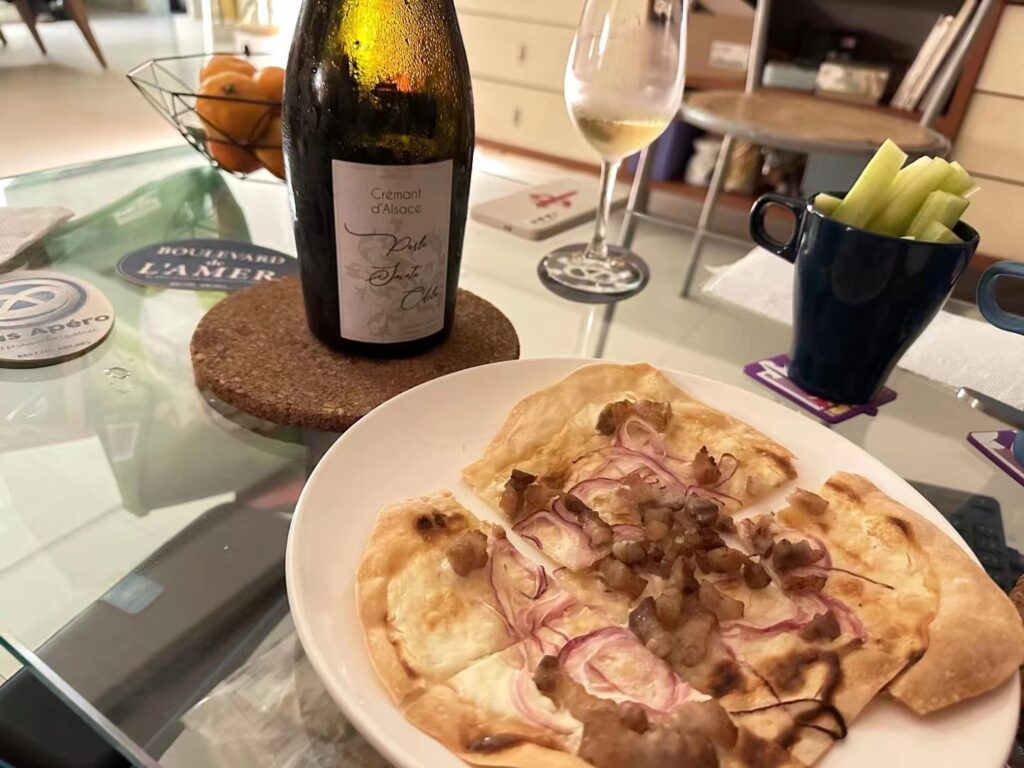 Domaine Seilly is a member of the vignerons independants d'Alsace. The extended Seilly family also runs a wonderful dining spot in Obernai, called the Le Caveu du Vigneron. It was created in the 1980s by Jean-Paul Seilly, who at the time must have been one rather busy man given that he was running the vineyards, the winery, and the restaurant all at the same time. Cathy Seilly, his youngest daughter, is in charge now of the dining spot (the restaurant's specialty is the tarte flambée or flammkuech, but all of the tavern's traditional winstub cuisine is to be recommended).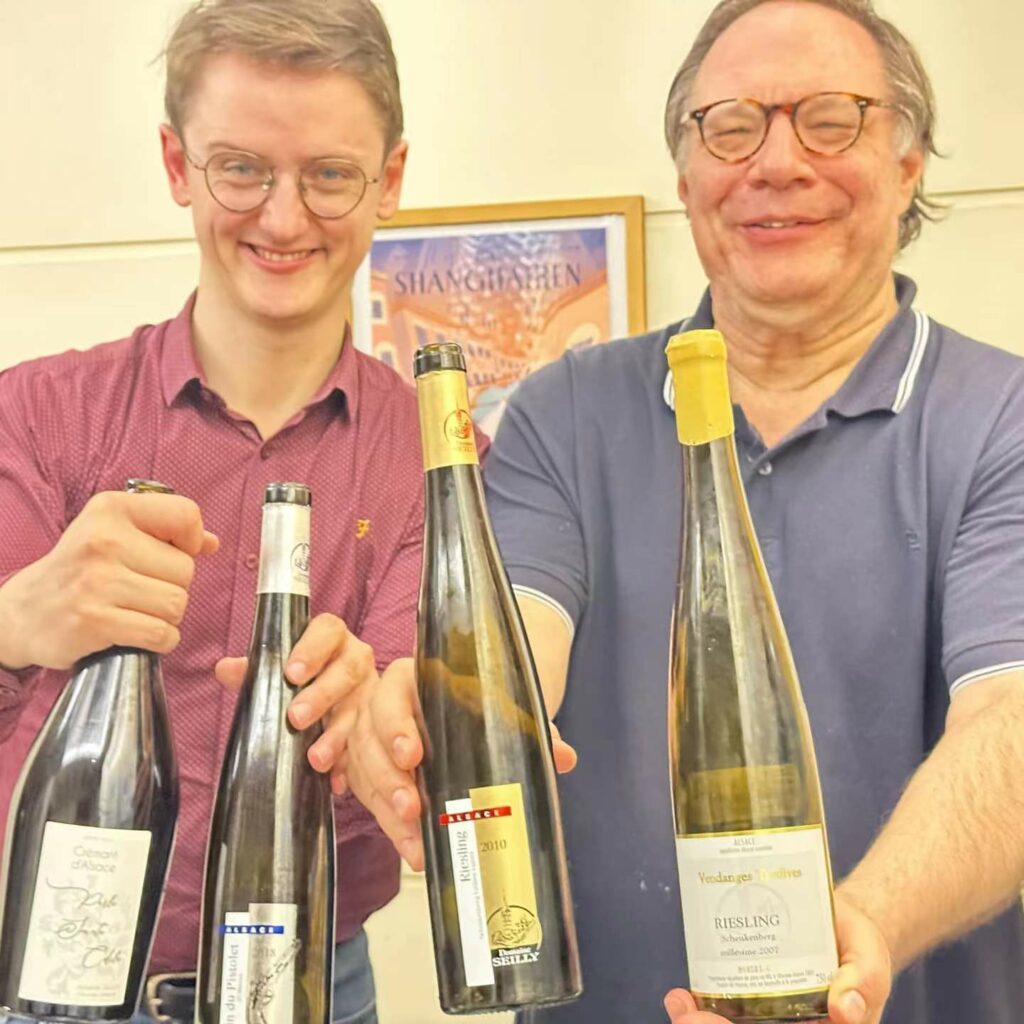 The wines in this tasting report
All wines in this report were tasted in Shanghai in 2022.
Domaine Seilly NV Crémant d'Alsace Perle Sainte Odile Alsace                 91
Pale yellow with an abundant but very fine mousse. Highly perfumed nose of white flowers, orange, lemongrass, honey (the tell-tale sign of the presence of Auxerrois in the blend) and smoky herbs. Then rather complex if juicy and approachable ripe citrus and orchard fruit flavors complemented by lemon cream and fresh thyme, with a delicate Pinot Noir-related flintiness that builds on the back end. Very fruit-forward but flinty too, this closes with very good breadth and gentle spicy-honeyed persistence. Drinking window: 2022-2028.
Domaine Seilly 2018 Vin du Pistolet d'Obernai Alsace                           92
Luminous straw yellow with gold tinges. Ripe but fresh musky aromas of grapefruit, lemon drop, honey, oatmeal, white flowers and sweet spices. Ripe and juicy on entry, but with lively harmonious acidity lifting the citrus and exotic fruit flavours and providing shape and grip to the finish. This boasts terrific flavour intensity and impressive depth for what is an entry-level wine. A blend of seven different Alsace grapes, including Gewurz, Riesling, Pinot Blanc, Pinot Gris, Sylvaner, Auxerrois and the Muscats, this is really quite good. Drinking window: 2022-2028.
Domaine Seilly 2017 Sylvaner Les Coteux d'Obernai Alsace                 93
Bright straw-green with golden highlights. Peach, quince, coriander, and chamomile on the nose, with some floral and minerally nuances. Densely packed and tactile, with a suave quality to its flavours of peach nectar, yellow apple, quince and savoury spices. A big, rich Sylvaner wine that manages to maintain finesse, closing with palate-staining persistence. This is a very impressive Sylvaner wine that is aging beautifully: at five years out, it's still remarkably young and lively. Drinking window: 2022-2028.
Domaine Seilly 2010 Riesling Schenkenberg Vieilles Vignes Alsace             95
Now this is superb. Pale lemon yellow. Complex aromas of fresh citrus and orchard fruits, with perfumed notes of honeysuckle, lemon verbena, jasmine and a strong dose of minerality. Finely etched lime, peach and Meyer lemon flavours are lifted and nicely extended by tangy minerality and piercing acidity that is so typical of the 2010 vintage. The finish displays refreshingly bitter citrus zest and repeating mineral notes, and is exceptionally pure, seamless and long. I will repeat myself, this is a knockout, with a depth typical of vieilles vignes and the penetrating quality of the amazing 2010 vintage. Drinking window: 2022-2030.
Domaine Seilly 2009 Pinot Gris Shenkenberg Cuvee Particulière Alsace    94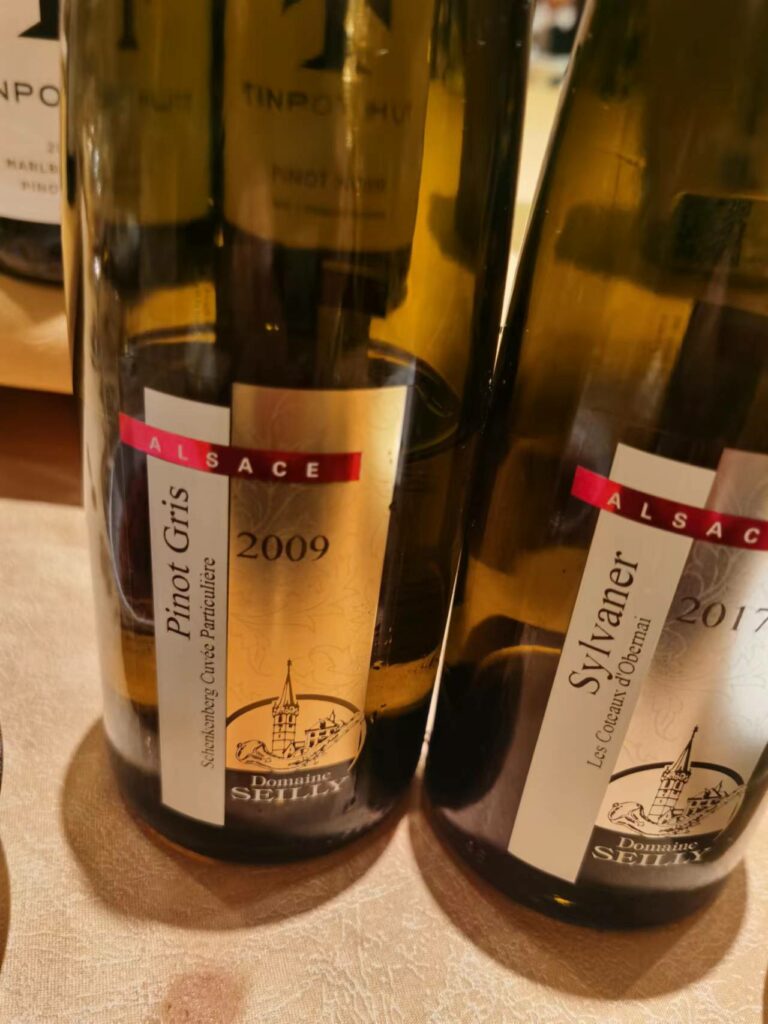 Deep straw yellow with some gold. Exotically perfumed nose of tarte tatin, smoky pear, butterscotch, toast and baking spices. Boasts intense flavours similar to the aromas, and a rich, viscous mouthfeel that showcases noteworthy depth and clarity. This impressive Pinot Gris wine really stains the palate, finishing with outstanding lift and persistence. An opulent wine that speaks of the warm, ripe 2009 vintage, at 43 g/L residual sugar it's not classically dry but rather more off-dry than dry. But thanks to very good balance, it seems less sweet than it really is. Drinking window: 2022-2028.
Domaine Seilly 2007 Riesling Schenkenberg Vendanges Tardives Alsace   93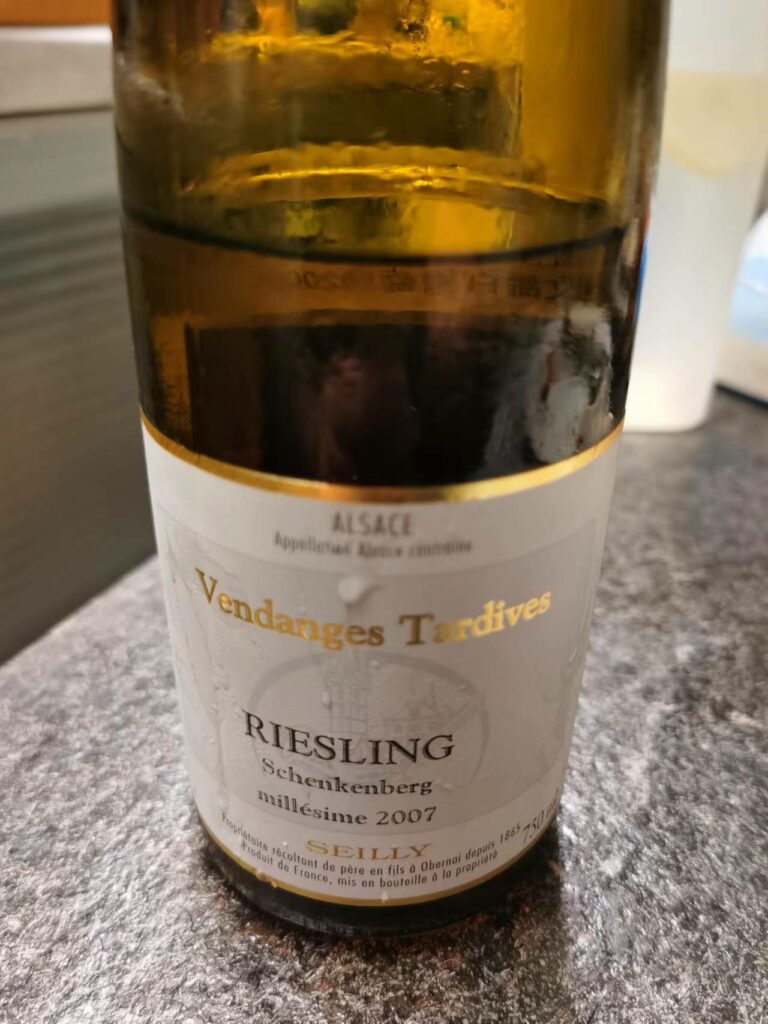 Vivid pale yellow-gold, with a green tinge. Smoke and honey complement pear, yellow melon and mango on the nose, complicated by hints of cumin, vanilla and allspice. Lush, palate-coating orchard fruit and cantaloupe flavours are firmed by a tangy minerality and harmonious acidity, picking up a nuance of smoke and much stronger notes of vanilla and butter on the long ripe, luscious finish. Showcases very good acid/sugar balance and does not come across as exceptionally sweet, though this is certainly an off-dry wine (as indicated on the back label's sweetness scale). Drinking window: 2022-2027.