Château de Nalys 2019 Châteauneuf-du-Pape Saintes Pierres                          93+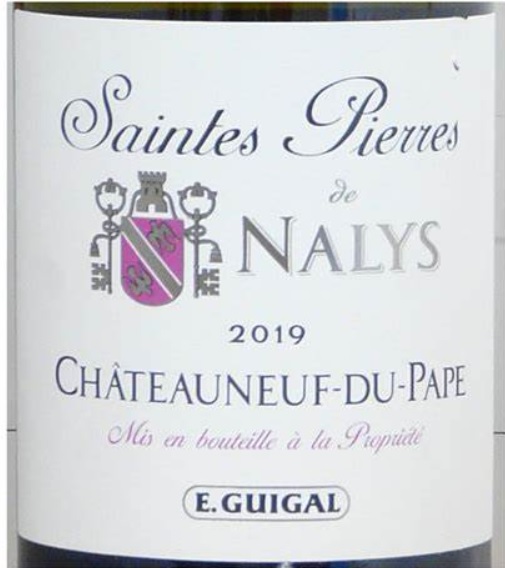 by Robert Millman
I attended an industry tasting recently which featured a broad range of Guigal wines along with the Châteauneuf-du-Papes from Domaine Nalys (acquired by Guigal in 2017). This was the first time I tasted the Nalys wines. I was impressed by the elegance, finesse subtle interplay of flavor and texture of their basic wine which is bottled under the label Saintes Pierres or "Holy Rocks", in translation. Nalys is a large estate of some sixty hectares. The grapes are sourced from three sub-regions: Grand Pierre with its red sandstone, Sénéchal, and the famous La Crau. The wine is made from 65% Grenache, 25% Syrah and the remaining 10% Mourvèdre, Cinsault, and two obscure grapes -Muscardin and Counoise. The wine is aged largely in stainless steel for eighteen months after a full month of fermentation. The vines average 45 years of age, and the yield is very low at twenty-five hectoliters/hectare.
The Saintes Pierres aims to capture the full range of Châteauneuf terroirs. The power comes La Crau, the delicacy from Grand Pierre. Large stones (galets) and sand are the two terroir pillars of Châteauneuf-du-Pape. In light of the increasing alcohol and intensity of many contemporary wines from this famous appellation, the Nalys is like a breath of fresh air. The bouquet is both floral and sweet with an almost Burgundian lift. On the palate the wine is juicy, redolent of berries with a spicy undertone and a vigorous finish. The tannins are ample but soft. It is not easy to achieve such freshness and friendliness in this era of relentless heat in the vineyards of the southern Rhône. Even though the alcohol is actually 15.4% it is simply not apparent on the palate. Perhaps the excellent acidity of the wine renders the alcohol a mere background factor. This is not the type of Châteauneuf that gets extravagant scores from the critics. Fine by me. The world of wine can use all the elegant, seductive wines it can muster in these times of exaggeration. Drinking window: 2022–2028.
Château de Beaupré 2020 Collection du Château Coteaux d'Aix en Provence                                                                 93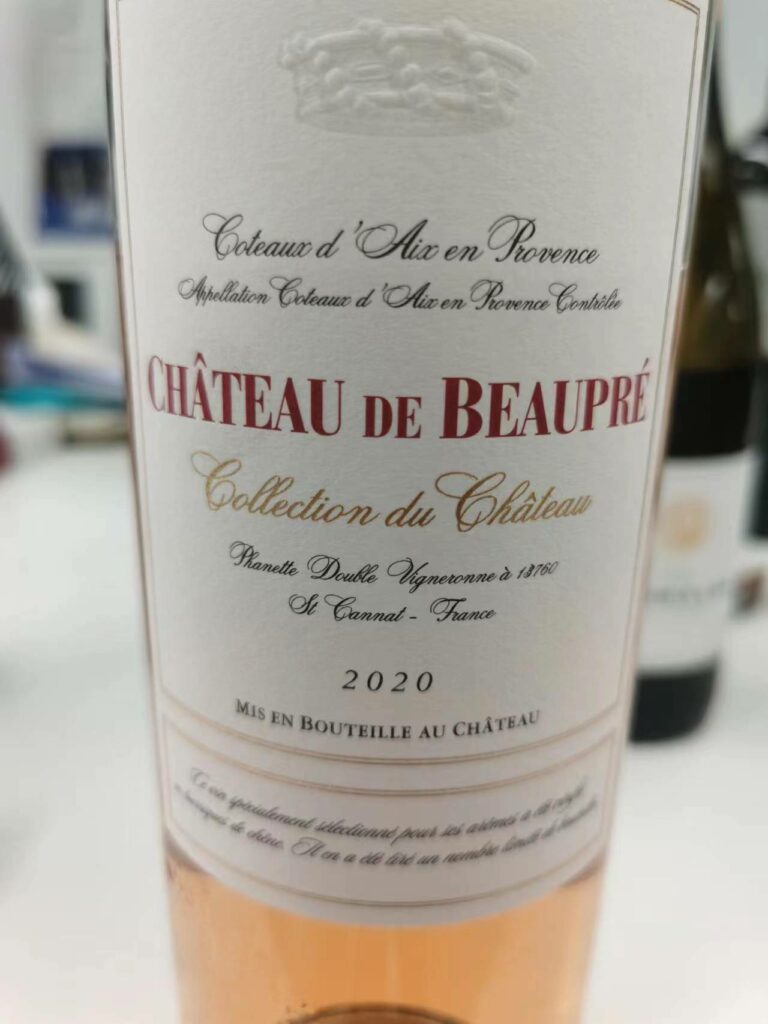 by Ian D'Agata
Though some are truly delicious and at times even very deep and ageworthy wines, the fact is that many if not the majority of Provence Rosé wines have become a caricature of what a pink/Rosé wine from Provence ought to be like: pale to the point of giving water a run for its colour-money, and delicate to the point of nullity, in terms of both aromas and flavours. This is not to say the area cannot give splendid Rosé wines, because in fact it can. And does. But it's just that when you come across one that is as splendid as the Château de Beaupré 2020 Collection du Château you can't help but feel like many out there are engaging in missed opportunities. From the Coteaux d'Aix en Provence, this is just a marvelous Rosé wine that offers layers and layers of aromas and flavours, above-average depth and real power, but with elegance and class to spare.
Very pretty medium-pale pink colour (so not to the point of being nearly colourless). Immediately captivating aromas of sour red cherry, rosehips, violet, lemon curd, guava and a delicate nuance of potpourri. Enters rich and dense, then tapered and nicely fresh in the middle, closing long and multifaceted on the smooth, mouthcoating finish. Similar flavours to the aromas are nicely lifted and extended at the back thanks to harmonious acidity and are not at all overcome by the judicious use of oak (vinification is in small oak barrels or barriques). A 90% Grenache, 5% Syrah and 5% Cabernet Sauvignon blend of organically farmed grapes, this superb Rosé is made by the saignée method (where the juice is bled from the vat after having spent at most 12-48 hours in contact with the skins). It's an absolutely flavour-packed, delicious Rosé that is really a notch or two above most Provencal pink wines you're likely to try anytime soon. Really well done here!!!. Now being run by the fifth generation, the Château was created by the Double family, who had moved to Beaupré in 1855 (talk about historic dates in which to make a life-changing decision), but vineyards were planted later, in 1890. The estate is famed biologically since 2013. Drinking window: 2022-2025.