New and exciting times in Spanish wines
I think it's fair to say that over the last twenty years, apart from the rediscovery of Italy's native wine grapes and the truly stellar wines that can be made with them, there has been no greater momentous event ripping through the world wine scene than the remarkable onslaught of "new wave" Spanish wines. And just as it was for Italy's many amazing but once forgotten native grapes, the world "new" in the context of Spanish wine is in fact a misnomer: for there is as much "new" going on in the Spanish wine scene of today as there is "old". You might even go as far as saying that what's old is new, and what's new is old again. These are both new and old times for Spain's wines: but any way you slice it, they are above all exciting times.
I hear you asking: Ian, why exciting? And the answer is: where do I even start? Well, as good a place as any would be with, guess what, the Spanish rediscovery of their own (old) native grape varieties and the potentially world-beating (new) wines these can deliver; but there's a whole lot more going on in those leafy vineyards. For example, the rediscovery (or the just plain discovery, period) of "new-old" wine zones; the creation of new wine denominations and categories that harken back to old practices that were in place in other countries already a century ago; and just in case I haven't beaten this "new-old" thing to death enough yet, how about the renewal of old traditional winemaking practices? Gone are the days of Spanish wines being only about new coconutty (American) oak, overripeness and overextraction, wines that often tasted old already at the time of bottling (clearly, that statement as a negative is applied to poorly made wines only, because many properly vinified and long-aged Spanish wines released after years of dormancy in the winery cellars are amongst the greatest wines in the world). By contrast, now we have "old" wines that taste "new". Ok, I'm going to give this a rest now lest you decide to get violent with me.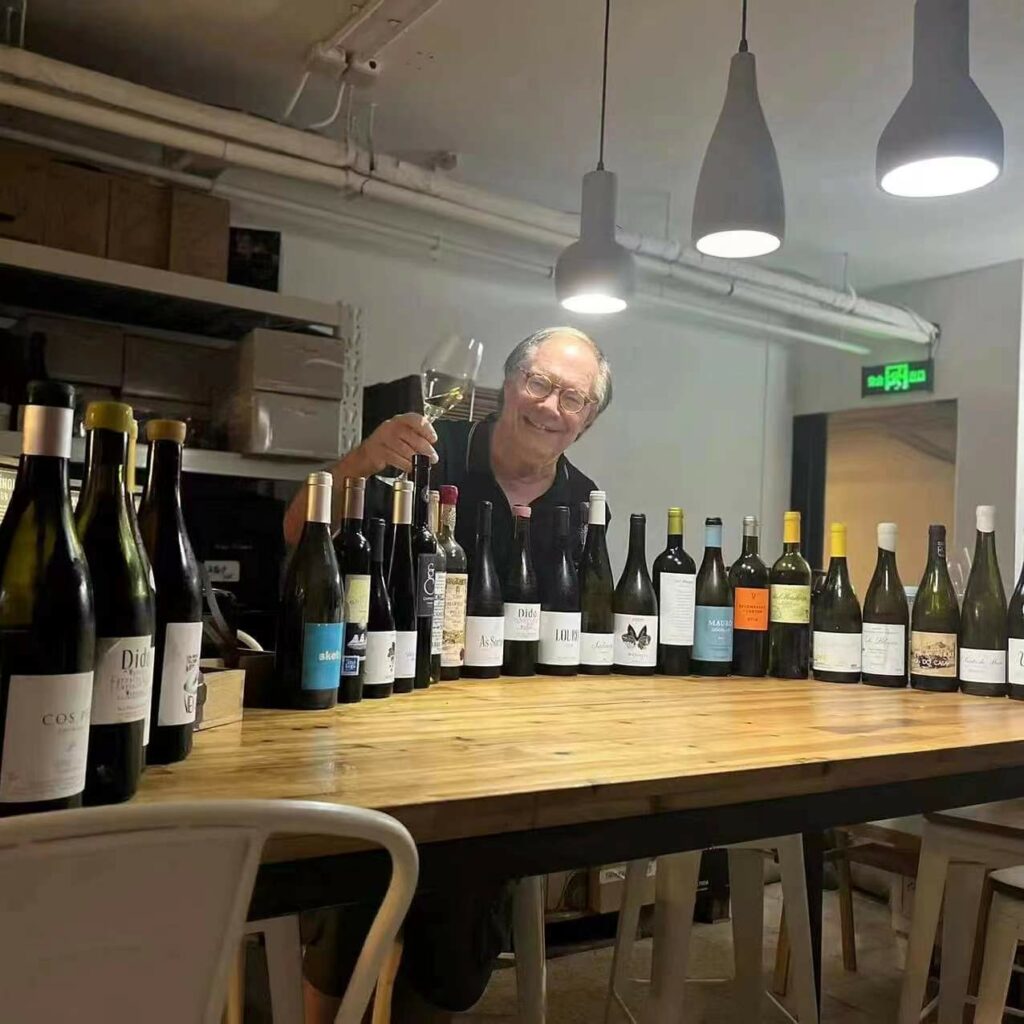 For anyone interested in reading and learning more about Spanish grapes, wines and wine regions, please view the (long) three-part series of articles devoted to Spain's new and recent wine releases published here on the TerroirSense Wine Review beginning late last year: The Wines of Spain: New and recent releases, parts 1, 2 and 3, published on December 24 and December 31 (2021) and January 28 (2022).
New grape varieties
"Dr. Native Grapes, I presume?". The standard reply is always: "Yes, of course: for it all starts with the grapes". Spain is blessed with a plethora of wonderful little wine grapes that had been banished to the boondocks of care, popularity and attention but are being finally brought in back from the cold (shoulder). In the hands of competent and passionate producers, these indigenous varieties are really delivering some truly amazing wines. Not surprisingly, the list of said grapes is a long one: I say "not surprisingly" because Spain has ether the third or fourth largest number of native grapes with which to make wines (the exact position depends on who is doing the counting and how that counting is being done), so that the country is likely to have many potentially very good to great wine grapes is just about a certainty, or thereabouts. Some of these grapes have made quite a name for themselves over the last ten years or so: for example, Mencia. Others, like Verdejo and Xarel·lo have either just made it into the big leagues, or are just about to enter them. Still others are busy in their climb to reach for the top, but will undoubtedly get there: Treixadura and Bobal come to mind. And then there are also those patiently waiting for their turn in the spotlight, which is sure to come sooner or later, and in fact their ascent to the stars is beginning to get under way. Anyone who has tasted a wine made with Listán Blanco or Listán Negro will immediately see where I'm coming from and agree with their humble scribe. And don't even get me started on the potential joy that wines made with the likes of Caiño, Espadeiro, Listán Prieto, Tardaña, Torrontés Sanjuanino and Torrontés Riojano, and  many others too could bring us all (by the way, it's not clear to me if Spain also grows the least aromatic of the three Torrontés varieties, called Torrontés Mendocino, or if that is a wholly South American grape variety born from a natural crossing of a still unknown grape with Muscat of Alexandria; then again, based on what I've heard from Spanish wine "experts" I've talked with about the subject, I don't think it's clear to anyone in Spain either). And while we are having this much fun, please do allow me to tell you to beware that the Galician Torrontés is a distinct grape from the more famous Argentinian Torrontés Riojano, despite the two having the same name, more or less. Of course, not all is great with these Spanish grapes: for example, learning to understand where all the accents go when you speak and when you write about them is quite the task. Then again, I live in China and am learning to speak and write Mandarin, so with that language's four tones and accents every which way but loose, I can live with and accept whatever the Spanish want to throw at me. I'd actually be happier about an in-depth study analyzing and detailing all the many distinct Malvasia grape varieties the country has, correctly identifying them and accurately breaking them all down into regional biotypes (and by the way, would it surprise you in the least if I were to tell you that the aforementioned Torrontés Riojano is also called "Malvasia" by some obviously imagination-challenged individuals?) In any case, never forget that what has lived in a specific and often forgotten nook and cranny of one wine region for centuries is no longer what was brought and planted there years and years (and years…) prior. But I digress.
May I suggest some Spanish grape names to start getting excited about? Here's but a small selection. As I mentioned in last year's report, I am a big fan of the red grape called Bobal, and its wines, if and when well-made. The grape had long been used only as bulk wine fodder, but now estates such as are giving it a chance to shine as it should. Its brightly fruity wines are not unlike a lighter, fresher Zinfandel or a crisper Valpolicella, and sporting about as much fruit as the nearest farmer's market you can think of. Add to that usually non-existent or at the very least velvety tannins, and so, what's not to like? This is about as good a time as any for me to jump aboard my high horse and tell you to not swallow hook, line and sinker all the many broad and facile written wine statements you will come across: for example, you will read that the name bobal derives from the Lation bovale, meaning something related to bulls, probably given this grape bunch's stocky appearance. But be aware that Bobal is not in any way related to the two Italian Bovale-something varieties (Bovale Grande and Bovale Sardo; and while we are at it, neither one of those is a Spanish variety such as Mazuelo as has often been, incorrectly, written). The best Bobal wines seem to come from the Denominación de Origen (DO) of Utiel-Requena (a DO is the equivalent of an Italian Denomination, a French Appellation or an American AVA). And while in Utile-Requena's high altitude vineyards (it's the coolest of the subregions of the Levant region), Bobal has had a long and distinguished history, good results are also being had in the other Levant subregions of Manchuela and Ribera del Jucar. But keep in mind Bobal is Spain's second most planted grape, and so you need to do your homework before you buy. Good names to look for include the wines of estates such as (in alphabetical order): Agricola de Vinos la Higuera, Altolandon, Bodegas Murviedro, Mustiguillo and especially Vera de Estenas, a real Bobal specialist.
The white grape Godello, typical of northwestern Spain and northern Portugal, is really at home in the beautiful wind- and sea-swept Galicia. It is especially good when grown in the subregion of Valdeorras, giving wines that are bright, juicy and mineral but that are also blessed with surprisingly rich mouthfeels. If you like, and generalizing somewhat, you can think of Godello's wines as what a cross of a New Zeland Sauvignon and a white Burgundy might ideally taste like. The aromas and flavours of Godello wines redolent of grapefruit, brine and smoky minerals are really quite impressive. Look for the Godello wines of Rafael Palacios (who has done the most to broadcast and support this grape's qualities) and Telmo Rodriguez, two of the most famous names in Spanish wine and well-known to collectors everywhere, but don't forget to also try wines from the likes of Avancia, Bodegas Gargalo, Emilio Moro, Godeval and Viña Somoza, among many excellent other choices. Another white grape we are hearing more and more of is Treixadura, very often written as Trajadura. It is a slow and late-ripening grape, so planting it with the right exposure and at the right altitude are key factors in making the best wines possible. Long used as a blending agent, Treixadura has shown recently that, in the right hands, it can give wines that are at once pleasantly aromatic, refined and structured. Though most famously associated with Portugal's Minho region and its lovely Vinho Verdes, Treixadura does very well in Spain too, especially in the Ribeiro region (where it has been historically blended with Torrontés and Lado), not to mention Rias Baixas (where it was traditionally blended with Albariño, Loureiro and other grapes too). Look for the wines of Adega do Moucho, Bodega Alanis, Cume de Avia, El Patito Feo and Ramon de Casar.
Emerging wine regions
Speaking of grapes, the red Listán Negro and white Listán Blanco grapes are giving some of Spain's hottest wines right now. Moreover, they are intimately linked to what is also one of the country's hottest wine regions: the Islas Canarias, or Canary Islands. These are amazingly beautiful islands (in fact, they rank amongst the world's most loved tourist destinations) that form an archipelago not far off the coast of Marocco and Africa. I discussed them at length in part 3 of my series of articles devoted to Spanish wines in January of this year so I refer you to that , where you can read about other hot to trot Spanish wine regions as well. Here I will just add that a recent trend in Spanish wine has been to seek out high-altitude mountain vineyards, from where some of the country's most exciting wines are currently being made. A knee-jerk response to climate change? Sure. Soemething that runs deeper than that? Sure again. Witness the success of the Sierra de Gredos, an area just outside Madrid where old vines at 800-1200 meters above sea level are a way of life and giving marvelous results. Comando G, the wines of which I reviewed extensively in last year's three-part series on Spanish wines, are leading the quality wine pack.
Somontano is another area worth knowing: there's currently only about thirty wineries there, but already now, the wines range from promising to downright great. It's a wine production area situated in the foothills of the Pyrenees mountain range that separates Spain from France, with vineyards planted anywhere from 350-750 meters above sea level. I mentioned Valdeorras earlier when discussing Godello, and it is undoubtedly a wine region to watch in Spain, given the many truly noteworthy wines coming out of there these days. (Ribeira Sacra is its immediate neighbour: as I wrote about it in part 2 of this past January's series of articles devoted to Spain, I refer you there now). And of course, there's no need to mention the amazing wines of Ribera del Duero: what is worth mentioning is, given it's not something that many are aware of, that Ribera del Duero has the highest located vineyards in Spain, ranging from the 700 meters in altitude of the western part of the DO to the 1000 meters and counting of its eastern section. You might just say that these high-altitude vineyards are taking Spanish wine to dizzying new heights.
The new classifications
Spain's world of wine is ablaze with the willingness, the need even, to categorize. Everywhere you look in Spanish wine, there's some new form or type of wine classification being put into place. Differently from the old and quite famous classification of wines used in Rioja which is based on length of aging (a Joven wine is different from a Crianza wine which is different from a Gran Reserva), most of the new Spanish classification models are a take (or two) on Burgundian classifications. Then each Spanish wine production region uses the Burgundian template to implement its own classification scheme as it best sees fit. Take Priorat for example. It followed the example set in 2017 by Bierzo with its Burgundian-inspired wine classification model, to create its own. Bierzo's classification model led the way creating a series of wines that fall into the categories of regional wines, lieu-dit wines, premier crus and grand crus. Importantly, the single vineyard wines must have a record of traceability: five years for the premier crus and ten for the grand crus, such that the owner of a vineyard the wines of which have risen up out of nowhere (usually fostered by high scores) cannot hope to be awarded the prestigious cru level overnight. It's not a moot point: there are far too many wine production areas of the world where just about any vineyard gets called a cru, but more often than not those are crus in the minds of those who own the vines there and practically nobody else. In the Priorat, we have the new Els Noms de la Terra classification, also vineyard-based (in fact, it was the first wine region of Spain to introduce, in 2007, the concept of villages-based wines.) As in all such classifications, it is based on a pyramid model: the largest and lowest level is made up of the Regional Wines (DOQ Priorat wines that can be made with grapes grown all over the region), followed up the pyramid by the Vi de vila (villages-level wine), that can be made only with grapes grown in a specific village's territory. In 2017, it was the turn to launch the Vi de paratge (what in Burgundy they would call lieu-dits) as well as single-vineyard wines labelled either as Vinya classificada (more or less a premier cru) or Gran vinya classificada (akin to a grand cru). The first Vinya classificada wines are those that are labeled as Vi de finca (or single-vineyards) under Catalonian law.
Speaking of Rioja, in 2017 two new wine categories were approved there, those of Regional and Villages wines. Unfortunately, the focal point of this classification remains the location of the winery, such that you might say that what the new classification does is certify the origin of the bottling (clearly, a good thing because in this way you don't have Spanish wines from the specific region being bottled in Germany, for example) but perhaps misses out on the opportunity to certify the (vineyard) origin of grapes (as is done routinely in Burgundy, for example). Other problems remain, such as the creation of the Vinedos de Alava/Arabako Mahastiak appellation wanted by many Rioja Alavesa producers but generally contrasted by bigger Rioja wineries. It's a complex issue, so time will tell.
Recent Spanish vintages
Spain is a large country with myriad topographies, altitudes, meso- and macro-climates, and exposures, plus a large mix of mountain and coastal vineyard areas: this means that generalizing about vintages across the country is fraught with peril, if not downright impossible. So I'll give you a quick rundown only, while trying to mention specifically in which vintage what regions fared best (or worse). The 2020 vintage was initially characterized by a wet spring such that disease pressure was high (Rioja, Galicia and Catalonia were at a disadvantage, while cooler, higher-altitude Ribera del Duero suffered less), but that ultimately gave nicely juicy fruity red and white wines. A better year was the one that preceded it: the 2019 vintage was sunny and generally dry, though a difficult spring limited flowering and reduced yields.  The Priorat was very successful, with many balanced wines. Wet and cold, the best wines of the 2018 vintage are characterized by pretty vibrancy and crisp fruit, not to mention generally slightly lower alcohol levels, but quality is not uniform across the board (such as, for example, in Rioja). The most difficult year of the last five years period (2017-2021) was undoubtedly the 2017 vintage, when growers in parts of the country were saddled with hail, drought and even frost. Some areas were less hard-hit than others, such as Penedès in the South and Galicia in the North, but others like the already cool Ribera del Duero had an especially tough time (many, but clearly not all, thick wines with gritty tannins) . Much better has turned out to be the 2016 vintage, with the wines of Rioja, Ribera del Duero and Rueda some of the best in years, and Priorat's also excellent. But the 2015 vintage was even better, and is generally considered uniformly good across the country (some Ribera del Duero and Rioja wines can be a little on the jammy side). Last but not least, the 2014 vintage was marred by some late season shaower activity but the wines have mostly turned out very good indeed.
The wines in the tasting report
The following wines were tasted in August 2022 here in Shanghai, courtesy of Alberto Pascual and his Pasion Wines, the leading importer of small, boutique high-quality Spanish wines in China. In parts 2 and 3 of this series of articles devoted to Spanish wines that are either new or recent releases, I will include a few more wines from Pasion Wines but mostly the wines of many other importers too. Given the long introduction, this article was long enough as it is and so I limited the number of wines I have reviewed. As usual, this article, like every other article appearing in the TerroirSense Wine Review, is not sponsored or paid for in any way by anyone and the wines and domaines selected within represent my choice of domaines and wines to write about, and mine only.
Arcos de Condesa.
Arcos de Condesa 2020 Albarinho O Fillo de Condesa Riais Baixas            92
Bright straw-green. Mint and orchard fruit on the lively nose. Menthol-accented flavours of peach and licorice have lovely juicy creaminess. Closes long and clean with repeating minty nuances. Fermented in stainless steel and aged three months on the fine lees, this is a beautifully fresh, vibrant Albariño wine that is crisp and flavourful, and just as invigorating as taking a brisk walk by the sea. Lagar da Condesa was founded by the Gil Family in 2013 and is located in the rather damp and humid Val do Salnés area of Rías Baixas, where soils are dominated by granite mixed in with alluvial deposits of clay, silt, sand, and gravel. It's where Albariño is happiest (not surprisingly, given it was born there) and you can tell as much from the many smashingly good wines that are made there, like this one. Drinking window: 2022-2028.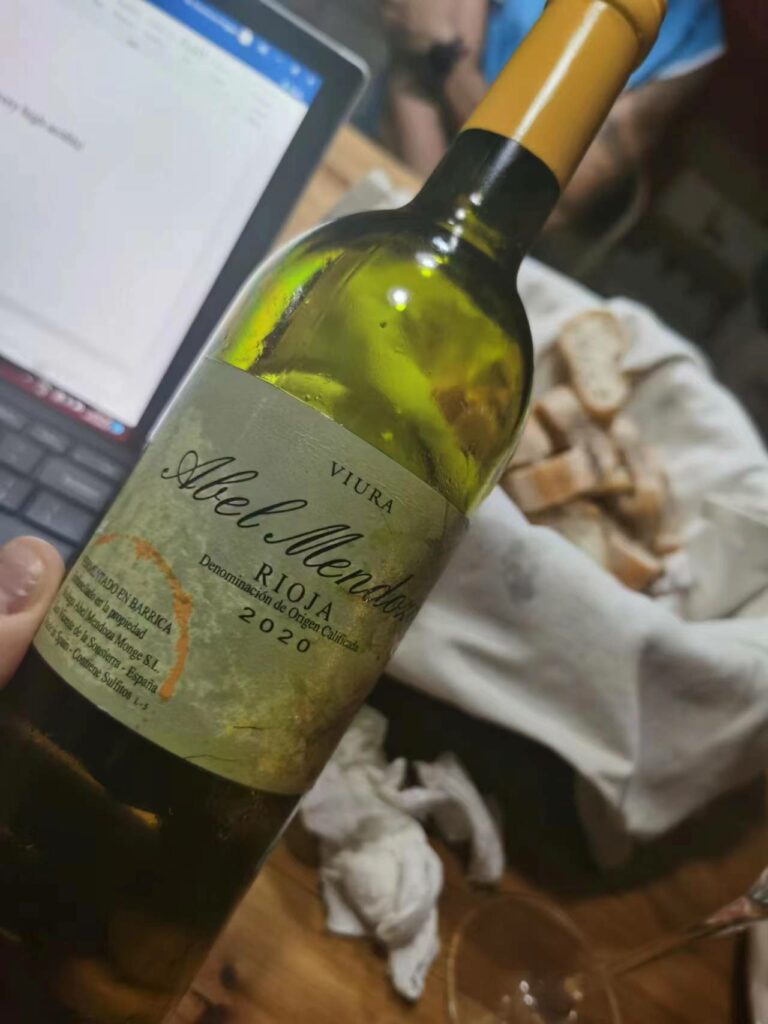 Bodega Abel Mendoza.
Bodega Abel Mendoza 2020 Viura Rioja
The 2020 Viura Rioja from Abel Mendoza ids a knockout white wine. Bright deep yellow with golden tinges. Very thick, dense aromas of honeycomb, ripe peach, pear, and vanilla but with noteworthy citrussy lift. Then rich and ripe with honey, licorice and peach flavours, but for all its glyceral richness, the long finish is really very classically dry. Clocks in at 14.5% alcohol but you can't tell, because it's so well-balanced. A truly lovely 100% Viura (known as Macabeo everywhere else but in Rioja) from 35 years old vines in the Sonsierra, Rioja Alta, the wine is fermented in new oak barrels and aged in the same barrels for five months. Drinking window: 2022-2027.
Bodega Albamar.
Albamar 2020 Albariño Alma de Mar Riais Baixas                  93
Straw green. Fresh citrus, quince, pear and passionfruit on the nose and in the mouth. Quite saline, salty even, and so mineral that one swig and it's like sucking on wet stones or chunks of lava. Fermented and aged in stainless steel tanks. This single-vineyard wine is made from roughly forty years old vines planted on sandy/clay/granite soils, and offers lots of flavour and only 12.5% alcohol. Drinking window: 2022-2026.
Albamar 2020 Albariño Pepe Luis Riais Baixas                        93
Deep straw yellow. Aromas and flavours of peach, pear, tarragon, mint and chamomile. Then similar flavours are lifted by harmonious acidity and last long on the seamless aftertaste featuring waves of clean fruit. Very serious, thick, rich Albariño wine but that nonetheless boasts lovely freshness. Made from 40-50 years old Albariño vines grown in five different vineyard plots on sandy, schistous and granite soils, this was fermented in neutral Austrian and German large oak barrels with native yeasts, and aged in neutral oak too, for thirteen months. The wine is named after Xurxo Alba's older brother who sadly passed away. Drinking window: 2022-2028.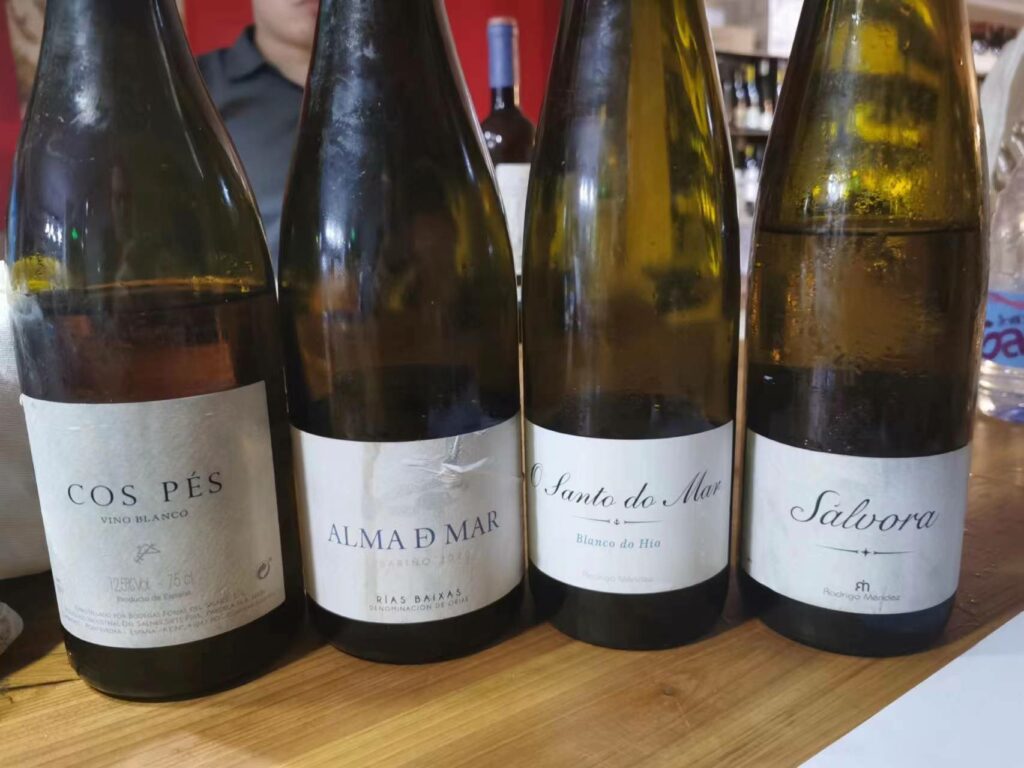 Albamar 2019 Albariño Riais Baixas                             92
Green-straw yellow colour with golden highlights. Piercingly pure aromas of pear, lime, and fennel on the bright nose. Then fuller-bodied than many Albariños wines you'll taste, with the gentle barrel-fermentation adding a layer of butteriness and spice to the bright, herbaceous flavours of peach and pear. The long fresh aftertaste is clean and saline. The Albariño grapes from individual plots were vinified separately, with some fermenting in stainless steel and others in barrels. The wine spent six months on the lees and strikes me as being less angular and green than the fresher 2018 Albamar, perhaps not unlike the 2016 made here. The winery and its vineyards are close to the Atlantic Ocean, near the mouth of the Umia River in the heart of Galicia's Rías Baixas. Despite 2019 being a difficult vintage in Galicia, marred by the coast's late summer rains, this is an outstanding entry-level wine. Winemaker Xurxo Alba believes in organic and biodynamic farming principles (easier said than done given the weather by the coast, so well-done) and ferments with native yeasts. Drinking window: now-2025.
Albamar 2018 Albariño O Sebal Galicia                              90
Pale straw yellow with green highlights. Penetrating aromas and flavours of fresh citrus fruit, herbs, sea breeze and white flowers. At once creamy and saline, with good length and complexity on the fresh, crisp finish. This spent fifteen months on the lees so as to gain complexity. Made by spontaneous malolactic fermentation with native yeasts in a natural winemaking style (there's no sulfur addition) but the wine is very well-made, such that it is neither dirty nor tired. The O Sebal is made with grapes sourced from a mix of old and younger vines in two vineyards planted on mostly granite soils that are both outside the Rías Baixas appellation. Drinking window: 2022-2026.
Albamar 2017 Tinto O Esteiro Rias Baixas                         90
Medium palish red: it's a really very pretty colour typical of the local grape varieties used, such as Caiño that tend to give pale red wines (the Mencia helps kick the shade up a notch or two). The aromas and flavours of pomegranate, plum, rare meat, violet, iris and peony are intense and piercing and have a Mencia-typical ferrous quality. Closes long and juicy, very sharp and shrill in a Poulsard-like sort of way. Though not funky, there's a natural wine mouthfeel to this that honestly may not be for everyone. The aftertaste is long and just as vibrant, to the point of shrillness. Offers lots of flavour and only 11% alcohol. A blend of 34% Caiño, 33% Mencia and 33% Espadeiro grown on sandy-granitic soils and sourced from many small old vine plots, the grapes were pressed by foot. The wine was aged for a year in 228 liters oak barrels and bottled unfined and unfiltered. Drinking window: 2023-2029.
Bodegas Bernabeleva.
The winery was founded in the mid-2000s, but has actually been owned by the Villamil family since 1923, when Vicente Álvarez-Villamil purchased the property. Bernabeleva means "bear path" or "where the bear lives", which explains its logo depicting the goddess of the hunt and a bear in a rite extoling the virtues of wine. Bernabeleva owns 35 hectares of vines farmed organically and/or biodynamically planted mostly to Garnacha and white varieties such as Albillo and Moscato Bianco (the latter has long been planted in this specific area; it's the same grape as the Muscat à Petit Grains, also known as Muscat d'Alsace, of France and the Muscat Canelli of the New World).
Bodegas Bernabeleva 2016 Moscatel (seco) de Benabeleva Cantocuerdas San Martin de Valdeiglesias                                               93
Luminous straw yellow. Pristine aromas and flavours of white flowers, grapefruit and orange nectar. Very fresh and easygoing white wine that finishes long with repeating nuances of balsamic herbs and a hint of residual sweetness that gives it a rounder mouthfeel while coming across still as a classically dry white wine. Made with Moscato Bianco, the estate also makes a lovely sweet wine as well with this grape that is light and lively and just as delicious as this drier-styled (seco) wine.  Drinking window: 2022-2025.
Bodegas Camilo Castilla.
Camilo Castilla NV Moscatel Capricho de Goya Navarra        94
Burnished golden yellow with mahogany tinges. Brightly aromatic on the nose, showing at once notes of reduction and oxidation (figs, dates, orange peel, menthol). Then very rich, long and complex, with concentrated flavours similar to the aromas that persist nicely on the suave finish. Try it with aged cheeses, cheesecakes, and almond and or/chocolate desserts. This is 100% Moscato Bianco, also known as White Muscat, Muscat à Petits Grains, Muscat Canelli or Moscatel a Gran Menudo in Spanish, aged first in demijohns for more than there years, then in large oak casks for at least another three. Founded in 1856 by Camilo Castilla Alzugaray in the Navarran town of Corella, this is Navarra's oldest winery and it specializes in making sweet wines with the Moscato Bianco grape that finds itself at home in the local habitat. I tasted another bottle for last year's Spanish wines report and though that one impressed me even more than this one, I can't help but say that Capricho de Gioya is just a superb sweet wine and a standout example of what can be achieved with the Moscato Bianco grape in the area. Drinking window: 2022-2032.
Bodegas El Nido.
El Nido 2019 Vina de Corteo Jumilla               91
Deep purple-ruby. Aromas of blueberry, blackberry, herbs and smoke. Then very rich, dense and thick in the mouth, with floral and spicy overtones to the ripe blue and red fruit, smoky and herbal flavours. The aftertaste is long and supple and features repeating notes of potpourri. 100% Syrah. Another Spanish wine that boasts 16% alcohol but that does an admirably good job of keeping all those octanes in the background so that they do not become bothersome. Drinking window: 2024-2029.
Bodegas El Regajal.
El Regajal 2018 Le Dean Tierra de Castilla y Leon                   92
Good full, deep ruby-purple. Sexy aromas of blue fruit, cedar, licorice, minerals, truffle and violet. Suave and lush, boasting an open-knit texture with fine tannins nicely supporting the flavours of blackberry and blueberry, smoke, and tobacco. A medium-bodied, nicely balanced red that is very long and perfumed on the aftertaste. A 99% Tempranillo and 1% Albillo that sourced from a plot in Quintanilla de Onésimo (Valladolid) and one in Hontangas (Burgos), co-fermented together and aged for twenty-one months in French oak barrels. Established in 2009, the duo at the helm are winemaker Jerôme Bougnaud (who worked with Peter Sissek and Quinta Sardonia before setting out on his own to make small-batch wines from very old vines) along with Daniel García-Pita of El Regajal. Drinking window: 2024-2030.
El Regajal 2018 Clos Santuy Tierra de Castilla y Leon                    95
Good full ruby with purple highlights. Deep aromas of black cherry, strawberry and minerals. Big and rich in the mouth, with a creamy texture and an almost chocolatey nuance that carries through to the aftertaste. Nicely delineated and very silky in texture thanks to harmonious acidity but this is still very young. Closes with delicate but very persistent notes of candied black fruits, violet, and licorice. Aged 23 months in French oak 90% Tempranillo and 10% Albillo growing in a single 1.12 hectare plot planted in 1930 on mostly gravelly-sandy soil and located in Piquera de San Esteban (Soria). Drinking window: 2024-2030.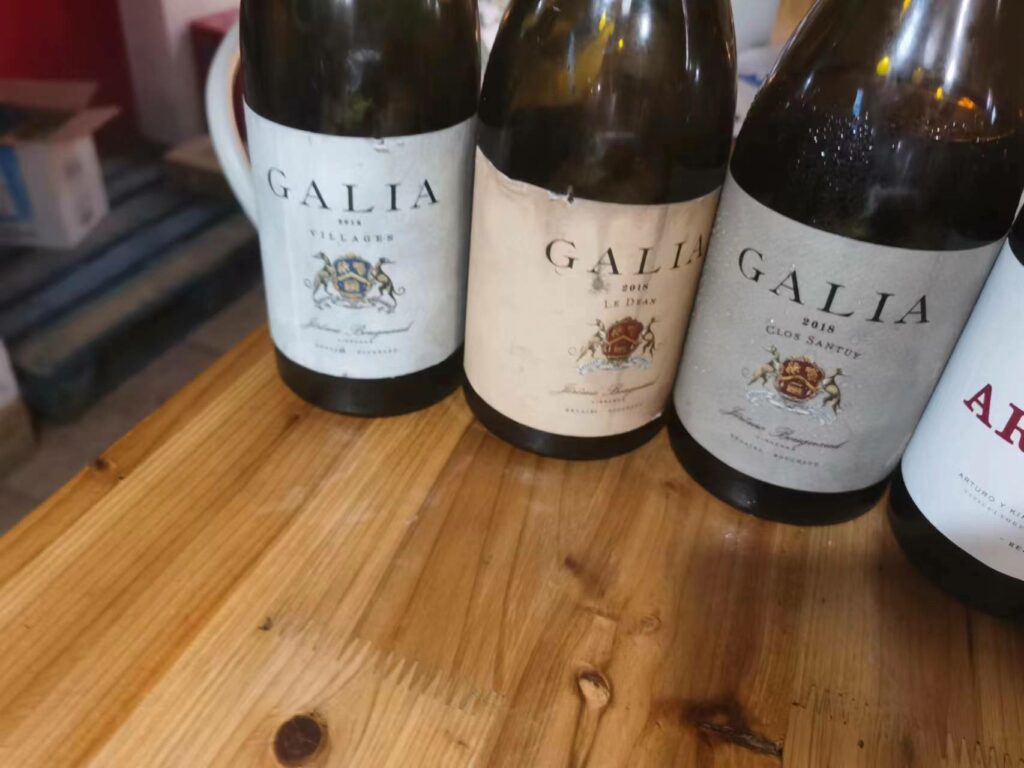 El Regajal Galia 2016 Villages Tierra de Castilla y Leon                 93
Vivid purple-ruby. Intensely floral on the nose (iris, rose, magnolia), with a nice complement of sweet spices and black tea to the plum aromas. Then powerful but elegant with good spicy lift to the dark fruit and cocoa flavours. Very pretty wine that finishes long, clean and fresh. A blend of 87% Tempranillo, 9% Grenache and 4% Albillo, with the grapes sourced in small plot, high altitude vineyards in the areas of the villages of San Esteban, Fuentelcésped, Hontangas, Cuevas de Provanco and Trigueros de Valle. Drinking window: 2023-2028.
Bodegas Juan Gil/LLicorella Vins.
LLicorella Vins 2019 Clar del Bosc Priorat                          92
Deep red-ruby color. Aromas of plum, blackcurrant and kirsch are complemented by smoke, soy sauce and violet. Rather plush in the mouth, but with good vibrancy and restrained sweetness to its ripe flavours of blue fruit, underbrush and field herbs (rosemary, thyme, wild fennel) and licorice. Finishes with fine-grained tannins and nicely persistent notes of herbs and dried flowers. Very rich sweet long juicy lovely. A blend of 49% Grenache (Garnacha, in Spanish), 36% (Cariñera), 13% Syrah, and 2% Cabernet Sauvignon fermented mostly in small open stainless steel tanks of 15-30 hL and partly in 500L French oak barrels, and aged fifteen months in oak. The winery, yet another belonging to the large Gil Family Estates group, was named after the terraces of blue slate and quartz soils locally known as llicorella. Drinking window: 2024-2030.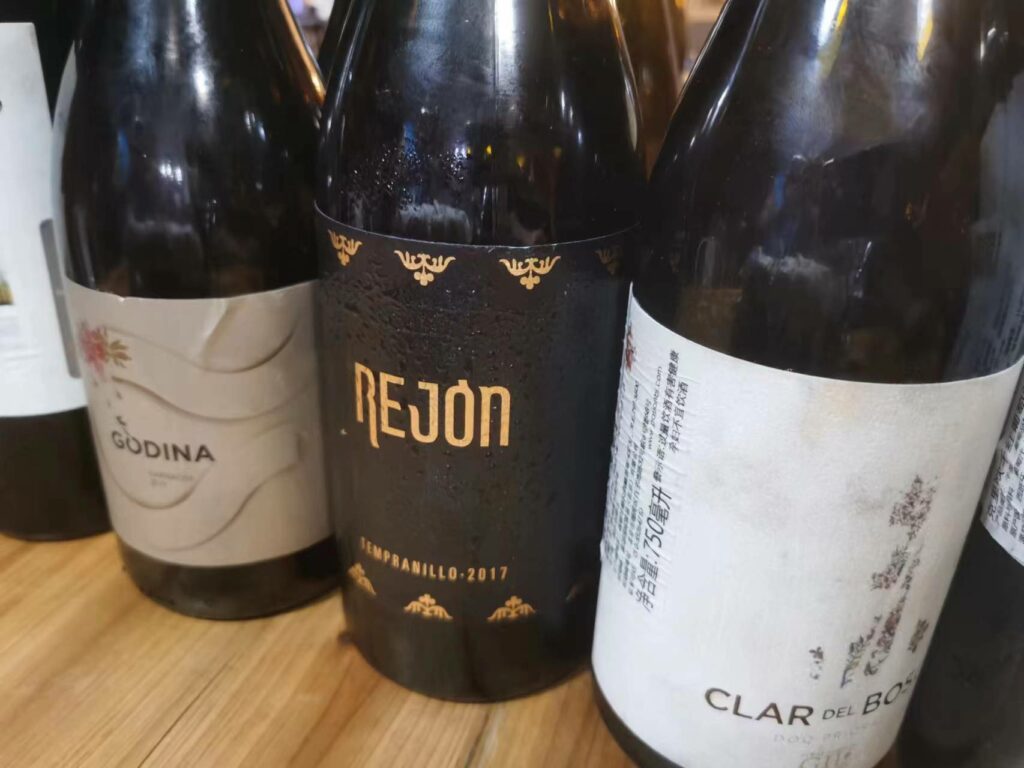 Bodegas Morca.
Bodegas Morca 2019 Godina Campo de Borja                           93
Purple-ruby. Bright aromas and flvours of red cherry, plum, cedar and sweet spices, with a vague herbal top-note at the back. Nicely fine-grained and juicy. Finishes very long and clean, this is really a very pretty wine. Located in the village of Borja in the province of Zaragoza, Bodegas Morca is one of Spain's many up and coming Grenache-specialists, farming many old plots that are vinified individually. This 100% Grenache undergoes malolactic in oak barrels where it also ages for fifteen months. Drinking window: 2022-2027.
Bodegas Morca 2018 Tourán Campo de Borja                          93
Fully saturated purple-inky ruby. Smoky aromas of ripe plums fgs macerated in soy sauce, balsamic oils and herbs. Dense and tactile, with a low-acid but still fresh mouthfeel, with ripe flavours that echo the aromas. The aftertaste is long, plus and mouthcoating but amazingly, there's no undue heaviness here. I normally find such overly big, rich and frankly bombastic red wines (16% alcohol, and no, this is not supposedly an Amarone…) over the top and tiresome, but there's nothing I can say here except well done: the 2018 Tourán is just a fantastic wine, boasting impeccable balance and power that is not just power for power's sake. This is 100% Grenache made in only a limited number of bottles. Bodegas Morca belongs to the large Gil Family Estates group, that owns a bunch of wineries Drinking window: 2022-2028.
Bodegas Tridente.
Bodegas Tridente 2018 Gota de Arena Tierra de Castilla y Leon   90
Medium ruby-purple. Very lively, pure aromas of blackcurrant, plum, cedar, mocha, and cloves. Sweet, plush and creamy, with sweet cassis flavours complicated by exotic notes of smoky cedar and vanilla. An immediately accessible, expansive style of Tempranillo with obvious smooth creamy fruit but nicely supported by an underpinning of noble tannins. Closes very suave and clean, with spicy nuances emerging on the long close. Though not exactly a wine of mindboggling complexity, the 2018 Gota de Arena is absolutely irresistible and offers a boatload of great wine for a song. Very, very well done. Drinking window: 2022-2026.
Bodegas Tridente 2017 Entre Suelos Terra de Castilla y Leon        92
Good deep red-ruby. Lively aromas of cassis, licorice and graphite. Lush and sweet but with good definition and lift to the flavours of blackberry, coffee and mocha. The juicy, long finish features smooth, sweet tannins that nicely frame the plush fruit on the long satisfying spicy aftertaste. Made with Tempranillo, this is another great wine buy from Bodegas Tridente as the quality in the bottle is that of what should be a much more expensive wine. Drinking window: 2022-2026.
Bodegas Tridente 2017 Tempranillo Rejon Castilla y Leon             94
Fully saturated deep purple ruby. Inviting aromas and flavours combine notes of blueberry, blackcurrant nectar, violet, vanilla, spicecake and minerals. Densely packed and youthful but already shows a silky texture and considerable early accessibility. Closes clean, fresh and vibrant, with noteworthy persistence. The wine is 100% Tempranillo and it was aged twenty months in oak. The Tempranillo is sourced from extremely old vines (as much as 130 years old) from the Rejon vineyard (hence the wine's name) which Bodegas Tridente considers its best single vineyard. Drinking window: 2025-2032.
Bodegas Valverán.
Bodegas Valverán is one of the five different wine-related projects of Bodegas Masaveu, that forst became involved in wine in 1974 with the launching of Bodegas Murua in Rioja. Bodegas Valverán is instead located in the beautiful Spanish region of the Asturias, where the winery owns 35 hectares in the Asturias Cider Protected Designation of Origin (specifically in the Finca El Rebollar in Sariego). The estate, the first cider press in Spain to make ice cider, has more than 35,500 apple trees of eleven different varieties (Blanquina, Xuanina, Regona, Raxao, Fuentes, Collaos, De la Riega, Verdialona, Perico, Durona de Tresali and San Roqueña), and its high quality ciders have has garnered awards and accolades all over the world.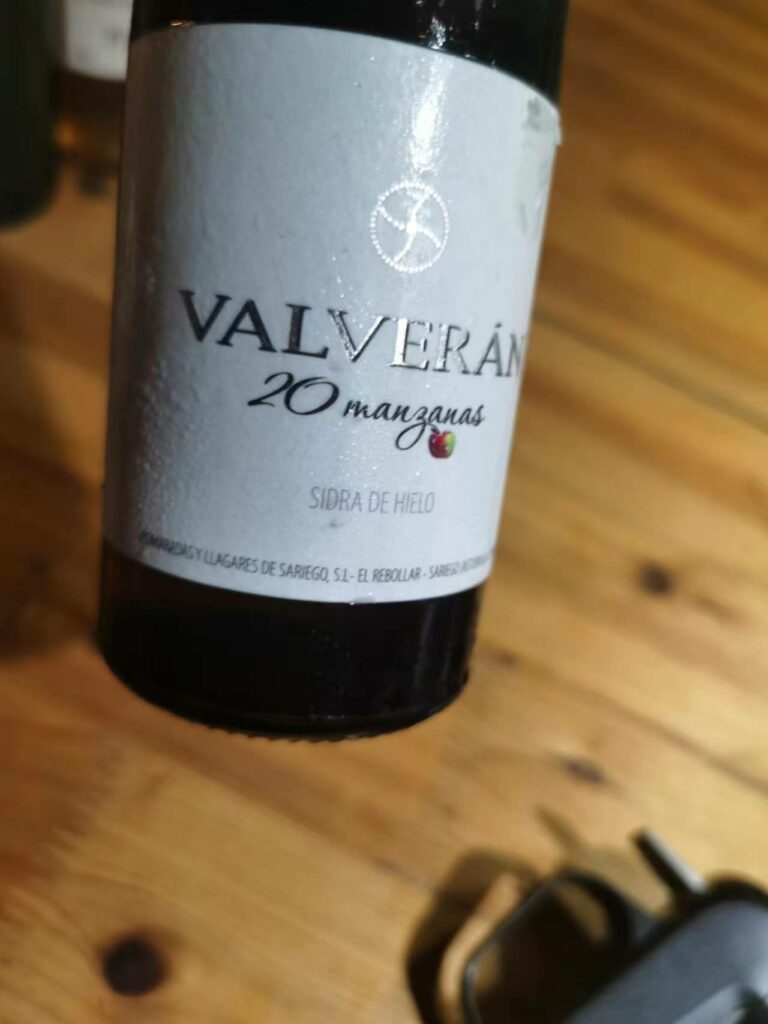 Bodegas Valverán 20 Manzanas Sidra de Hielo Consejo de Sariego Asturias     95
Vivid pale golden-amber colour. Superripe but lifted nose offers aromas of ripe stone fruits, baked apple, sweet spices and star anise. Rich, ripe and sweet but with terrific acidity nicely framing the apple flavours. Harmonious, lip-smacking acidity provides the wonderfully lush, layered fruit flavours with outstanding clarity and cut. Closes extremely long, lemony and vibrant, but not at all hard. Now this is really superb: "Sidra de hielo" in Spanish means ice cider in English. And this is an absolutely knockout cider, made from the estate that was founded in 1998 and has quickly risen to the top rank of world-class cider and ice cider producers. The name of 20 Manzanas derives from the amount of apples (manzanas, in Spanish), at least twenty, to make a single 375 mL bottle (but in fact many more than that are actually required, because only the twenty best ones are used). The ice cider is made by freezing the apples at twenty degrees Celsius below zero, the apple must is then fermented slowly for ten months and aged on fine lees for twelve months. Drinking window: 2022-2024.
Bodegas y Vinedos Rodrigo Méndez.
Rodrigo Méndez 2020 Albariño Riais Baixas Cies                               92
Bright straw yellow. Very clean lime, lemon and mineral aromas and flavours. Crisp and clean, with nicely persistent aftertaste. This wine exhibits very saline and mineral nuances showcase a strong influence from the nearby Atlantic Ocean. 100% Albariño from 30-70 years old vines. Fermented in 50% stainless steel and 50% oak barrels, then aged six months in large oak barrels. The wine is named after one of the most beautiful islands off the coast of Galicia (the Spanish say most beautiful in the world). Drinking window: 2022-2028.
Rodrigo Méndez 2019 Albariño Riais Baixas Salvora                       89
Bright straw yellow. Nectarine, peach and menthol are complemented by a briny twang.  Big, ripe and round, with intense and concentrated flavours of orchard fruit and balsamic oils. Very saline and herbal on the long, almost oily finish. This is very impressive but it's almost too much for me. The Albariño is sourced from very old vines, many over a hundred years old, planted on granite, sandy and chalky soils. Fermented one year in 600 liters oak barrels. Salvora is yet another island off the coast of Galicia. Drinking window: 2022-2029.
Bodegas y Vinedos San Roman
San Roman 2016 Toro                                              94
Ruby-purple. Perfumed, lively aromas and flavours of red and blue fruit (mostly plums and blueberries), sage, flint and earthtones are multilayered, concentrated and lifted. Long, clean and very lively on the bright aftertaste, this is really a beautiful Tempranillo wine. Drinking window: 2024-2034.
Castro Candaz.
Castro Candaz 2017 Mencia Finca el Curvado Ribeira Sacra                 93
Lively purple-red colour. Very pretty aromas and flavours of fresh flowers, dry spices and licorice have a piercing precise quality. The aftertaste is long and lively. Castro Candaz is one of a series of collaborative efforts between two of Spain's hottest and most influential wine personalities, Rodrigo Méndez and Raúl Péréz (of Ultreia fame). For Castro Candaz, the two source grapes from very old vines along the Río Asma in the Chantada subzone in the northern section of the Ribeira Sacra, which is characterized by an even more cool climate and rugged than the Ribeira Sacra. Drinking window: 2023-2029.