I have always liked the wines of Brigaldara. In fact, ever since the early 2000s, when I began tasting the winery's entire lineup of wines regularly every year, I have been impressed by the light touch Brigaldara's wines are characterized by. Wines of a translucent purity, gracefulness and elegance, and that are never about size for size's sake. If your idea of Valpolicella is that of a wine that monkeys Amarone, and if your idea of Amarone is something that can give Port a run for its money, then steer clear: Brigaldara's are not the wines for you. Rather, these are refined wines of nuance and grace that speak clearly of what they are supposed to be: for example, the Valpolicella is light, fruity and vibrant, the Amarone is much richer and creamier but not excessively so. In other words, wines that are not at all wimpy but that are easy to drink and that boast a clear-cut lightness of being, without however lacking concentration and depth.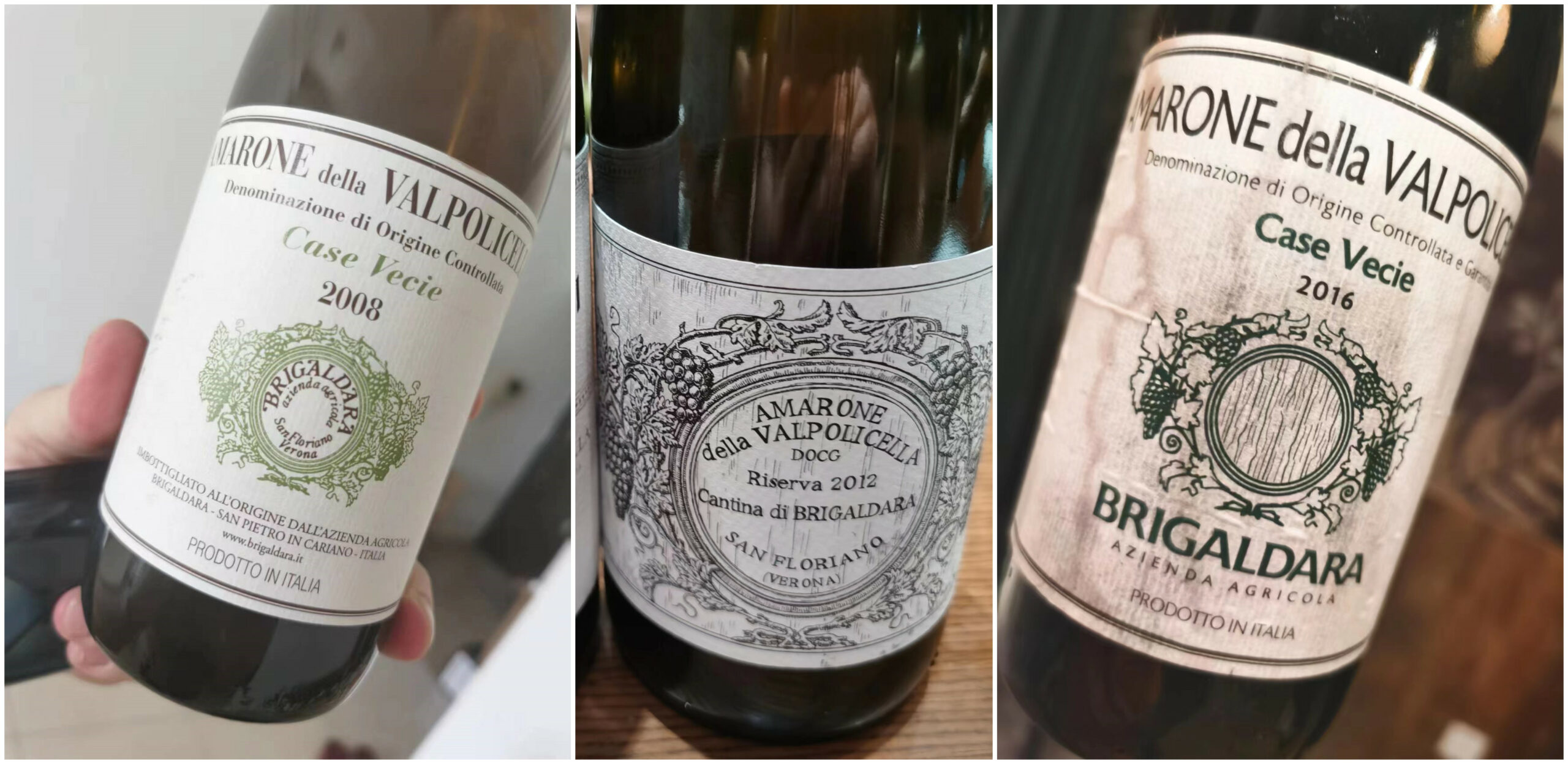 The estate's name, Brigaldara, derives from a toponimo (or lieu-dit), that appeared in the past as "Bragadara" and "Bragaldara" already in the twelfth century. It refers to a hilly area located between the towns of San Floriano (where the winery is located) and Valgatara at the foot of Mount Masua in the heart of the Marano valley (one of the four valleys that make up the Valpolicella Classica wine production zone). Old documents show that already back in the twelfth-fifteen centuries a farmhouse existed that had animal grazing and vegetable fields, as well as olive trees and vineyards ("arativa cum vineis et olivis"). That long wine-related history has found its natural continuation in the splendid wines made by the Cesari family, owners of the modern-day Brigaldara winery. I recently had the chance to catch up with owner Stefano Cesari, one of the nicest and most competent people in Italian wine, and we got to reminisce together about the winery, its great wines, and its terroir.
Ian: Ciao Stefano! So nice to talk with you again! Ready for the interview? No pressure, but Veneto-wise, you are following on the heels of Tedeschi and Speri, with Masi and Tenuta Sant'Antonio coming up right after…
Stefano: I'll do my best to be worthy of my esteemed colleagues! All kidding aside, it's always such a pleasure to talk with you.
Ian: Absolutely, count on it! All-righty then, let's get started: the winery has been around for a long time, but when was Brigaldara founded exactly? I seem to remember 1928…
Stefano: We actually finalized the acquisition of the estate in 1929, but only made our first wine in 1979.
Ian: And how many hectares do you own? And how much of those are under vine? Spread out over how many denominations?
Stefano: We own 130 total hectares, of which 51 are planted to vines. Of these, forty-nine hectares are in the Valpolicella area (in fact, in all three Valpolicella denominations: Classica, Valpantena, and Allargata) and two hectares are in Soave.
Ian: As you know only too well, I am a huge believer in the importance of the grape varieties that are used to make wine, for they colour (literally, you might say) the wine that one makes more than any other single parameter. An Amarone with lots of Corvinone is a different wine from one made with hefty percentages of Rondinella, Croatina or Oseleta, for example. And so, what grape varieties do you grow at Brigaldara?
Stefano:  Corvina, Corvinone, and Rondinella mostly; then smaller amounts of Oseleta, Molinara, and Dindarella. For our Soave, only Garganega.
Ian: And how many different wines does Brigaldara produce?
Stefano: Valpolicella, Valpolicella Superiore, Valpolicella Ripasso, Amarone, and Recioto.
Ian: And the total number of bottles produced per year?
Stefano: Roughly 350,000 but take that as a yearly average.
Ian: In fact, you have begun producing estate-bottled wine only recently. What were the first vintages of all your wines?
Stefano: Amarone in 1979, our top-level Amarone Casa Vecie in 1999, the Amarone Riserva in 2007, the Amarone Cavolo in 2012, and the Valpolicella Superiore Casa Vecie in 2016.
Ian: Your estate owns vineyards throughout the various Valpolicella denominations. What do you think are the most important characteristics, and eventually differences in the wines between the various valleys of the Valpolicella Classica, but also for example between the Valpolicella Classica, the Valpantena and the Valpolicella Allargata?
Stefano: I really believe the single most important point to be aware about, and that includes wine writers and sommeliers, is where the vineyards lie. In Valpolicella that is absolutely key, and you really need to know: are they flatland vineyards? Or are they hillside vineyards? In the Valpolicella there is no doubt that the hillside location makes a world of difference to the final result. I for one do not believe that it should be allowed to produce Amarone from flatland vineyards, save for rare instances of very dry years and extremely small yields with an exceptionally attentive selection of the grapes used. Amarone is one of the world's greatest wines, we need to protect it from cheap knockoff versions that live off its prestigious name but have very little in common with the truly great wines the denomination can offer. Immediately following the location of the vines, next up in terms of importance is the hillside's exposure. Clearly, eastern or southeastern exposures are cooler and give wines of greater refinement and freshness, while southwestern/western facing vines give much richer, textured wines thanks to generally warmer habitats.
Ian: Gotcha, though I think we agree that whether foreigners who just fly in for a few days on trips paid for by others get to hear the exact truth or not may be another kettle of fish. But it is what it is. What about differences between communes? For example, the Bordeaux wines of Margaux are different from those of Pauillac, and those of Chambolle even more recognizably so from those of Pommard. So, is there a case to be made for a San Floriano-ness or a Negrar-ness, for example?
Stefano: Relative to our area dominated by Mount Masua, that starts at Pedemonte and climbs up top Gnirega, it is divided amongst different communes. So the western-facing section of the hill belongs to the communes of San Pietro di Cariano and of Marano, while the eastern-facing section belongs to the commune of Negrar. If we were to list the producers located on the western side, this sector's vocation for high-quality wines becomes immediately obvious: starting from the southern reaches, we have Tommasi (they make their outstanding Amarone Ca' Florian with grapes grown there), Tedeschi (their just as marvelous Amarone Monte Olmi), but also Venturini, Manara, Villa Spinosa, Clementi, Gamba and ourselves. It is an area full of marogne and limestone-clay tufa, with the soil and subsoil boasting very good water-retentive capacity. Therefore, vineyards in this part of the Valpolicella Classica rarely if ever undergo water stress. Clearly, the wines will differ from each other because of the different decisions each winery makes relative to viticulture and winemaking (yields, length of air-drying period, how much residual sugar is left in the wines and so forth). For example, at Brigaldara we prefer not to push air-drying to a fault, we want our Amarone to be classically dry and not excessive, but elegant.
Ian: As you know, I am a huge fan of native grapes and both you at Brigaldara and the Valpolicella area boast quite a few little-known wine grapes that, to be frank, I believe deserved better than they got (though I understand this is a very complex issue). For example, Molinara, which gives a beautifully light-bodied, very fresh, spicy and saline wine but that many have removed from vineyards in the years when black as ink super-jammy wines were all the rage, fearing a dilutional effect in their wines.
Stefano: Yes, unfortunately Molinara has been somewhat forgotten. But we have some, just like we do of Dindarella, another variety that gives very politely-styled wines. We use a little of both, especially in our Recioto della Valpolicella (Recioto is the sweet red wine of the Valpolicella area) to add a salinity that would otherwise be lacking. As you know very well for you are the first English-language wine writer to have ever written in-depth about and scored it, for a while we also tried making a Rosato with our Dindarella, but honestly it didn't have much success. But I've always liked it.
Ian: Are you hinting you plan to bring it back? After all, I did really like that Dindarella Rosé wine… perhaps it was also unfortunate time, when Rosé/Rosato wines had not yet reached the incredible levels of popularity they have today…maybe if it were available now things might be different.
Stefano: I think there's truth in what you say. For now, we have decided to make a brand new wine with the Dindarella, a traditional method sparkling wine in the manner of Champagne and Franciacorta (with secondary fermentation taking place in the bottle). The bottles are currently resting in our cellar on the lees, so we'll see what they are like next year!
Ian: Believe you me, I most definitely look forward to trying a sparkling wine made with Dindarella! Can't wait, in fact! I think it should be just great, given the characteristics of the grape. Do you have any other rare grapes such as Forselina?
Stefano: No, we have never grown any other grapes save for the one I listed earlier.
Ian: In your opinion, what are the most important reasons explaining the differences between Valpolicella, Amarone and Recioto wines? Many people speak of, especially relative to Amarone, as a "wine of technology", but that's a mistake, it's not so at all, for Amarone has very much a "terroir" (actually, many terroirs). But what do you think? Are differences in the wine mostly due to human or biological/physical factors of terroir?
Stefano: Like I said earlier, I think exposure and hillside location are the single biggest determinats of quality in the Valpolicella area, where flatland soils are much too fertile and not conducive to making wines of truly stellar quality. For example, our Case Vecie cru is located at 450 meters above sea level and is south-facing, our Cavolo vineyard is at 150 meters above sea level and faces east, and the remaining Brigaldara's vineyards are mostly between 150-250 meters above sea level and face west. All three give grapes that can make outstanding Amarones, but clearly each wine will be different because the grapes grow in different environments.
Ian: What would you say are the challenges that the Valpolicella and Amarone and Recioto wines face in the years to come? What would you like to see happen? Let's begin with Valpolicella, a wine I personally really enjoy in a fresh, lively, juicy and easy to drink style, and much less so, in fact hardly at all, when it's turned into a cheap Amarone wannabe.
Stefano: I see your point, and I'd say you are in very good company. My hope is that Valpolicella, the wine, will be seen as a great wine without needing to be made with air-dried grapes. Valpolicella wines made with air-dried grapes may or may not be good, but that's not the point. We already have Amarone and Recioto, respectively a classically dry and sweet red wine made with air-dried grapes. To go and use exactly the same productive technique by which to also make Valpolicella is a mistake. Our Valpolicella Superiore, made by lowering yields drastically and not using any air-dried grapes, is a step in that direction. Maybe we use a bit more Corvinone that we would otherwise to confer a bit more structure to the wine, but we arrive at a bigger texture without resorting to air-drying, at least with this specific wine. Time will tell if we are right or wrong in our belief.
Ian: And Amarone then?
Stefano: With Amaorne we need to stop the folly of leaving high residual sugars and making excessively concentrated wines resulting from air-drying pushed to ridiculous extremes. To make a wine that is powerful yes, but we need to ensure it has elegance at the same time too.
Ian: And Recioto? I love the Valpolicella, a truly beautiful wine production zone and all its potentially marvelous wines, and none more than Recioto della Valpolicella. It is the area's truly historic wine, but has unfortunately lived through tough times of late, like many of the world's sweet wines. And so, how do we get it back into fashion?
Stefano: That's my dream, you know? I love the wine, and besides, like you say it is the wine that is most representative of our area: not Valpolicella, and not Amarone. I'd say it's once again, just like with Amarone, a matter of balance: we need to make wines that have sufficient acidity to keep them light and lively so as to avoid palate fatigue. With Recioto, it's all about finding the right sugar-acid-alcohol equilibrium. At Brigaldara, we like to have total acidities of 7 g/L and no more than 15% alcohol, but it depends on the vintage. A while back I proposed to the powers that be the option of allowing producers to make a fortified Recioto as well, sort of like a Port, but up until now nobody has wanted to hear of it.
Ian: I didn't know about the idea of making a fortified Recioto, and neither have I read of it anywhere else. Thanks for allowing TerroirSense Wine Review and myself to publish another in a long line of scoops. But most importantly, I look forward to visiting you soon at the winery.
Stefano: That would be great, you know we are waiting for you with open arms.
The wines in the tasting
Brigaldara 2020 Valpolicella                                   92
Lively bright ruby-red. Piercingly subtle aromas of red plum, red cherry, violet, and musk. Sappy, sweet and nicely concentrated for an entry-level wine, with vibrant flavours of blackberry, black pepper, orange peel and minerals. Brisk acids nicely extend the fruity fresh flavours on the long saline back end. A blend of old vine 55% Corvina, 20% Corvinone, and 25% Rondinella picked in the Marcellise and Brigaldara vineyards (that were planted in 1970 and in 1980) at 150 to 250 meters above sea level. Aged in stainless steel only. Brigaldara has a long history of making outstanding, easy to drink but flavourful Valpolicella wines that I have been scoring highly since forever, and it's no different this year. A joy to drink with pizzas, pastas and burgers of all kinds.  Drinking window: 2022-2024.
Brigaldara 2019 Valpolicella Superiore Case Vecie                  92
Good bright, dark red-ruby.  Complex, perfumed nose offers red berry, fresh blue flowers, botanical herbs and a whiff of vanilla, complicated by nuances of black pepper and ink. Then juicy and penetrating, with lovely purity and subtlety to its flavours of black plum, sage oil, cocoa, licorice and candied violet. The close is long and vibrant, and boasts hints of minerals and orange peel. The blend of 39% Corvina, 30% Corvinone, and 31% Rondinella is the same as that of the Amarone Case Vecie, because in effect it reflects the vineyard makeup from where the grapes are sourced (the Case Vecie vineyard at 450 meters above sea level in the area of Grezzana). It is a high-altitude area that is characterized, not surprisingly, by high diurnal temperature variations explaining the wine's lovely freshness and lively aromas and flavours. Aged for eight to twelve months in large oak casks, the whole of the Valpolicella area needs to make more Valpolicella wines like this one and much fewer of the tiring, boring and frankly not very drinkable Valpolicella s that try to monkey (cheap) Amarone. Drinking window: 2022-2028.
Brigaldara 2018 Valpolicella Superiore Ripasso                        91
Full ruby-red. Spicy red cherry, balsamic herbs, almond paste and dried flowers on the rather perfumed nose. Dark berries, brown spices and a distinct sweet caramel note in the mouth, with seamless tannins and harmonious acidity nicely lifting the rich flavours on the long aftertaste. As most of my readers know, the word "Ripasso" on the label refers to a specific technique in which the Valpolicella is pumped over Amarone pomace (skins, mostly) for about five days so as to create a more velvety, smoother, richer wine than a Valpolicella would normally be. But Brigaldara's ability lies in making a Ripasso wine that you actually want to drink, neither overly chocolaty nor porty. Well done. This wine is aged for one and a half years in large wooden barrels. Drinking window: 2022-2028.
Brigaldara 2016 Amarone della Valpolicella Classico               94
Good, deep red-ruby. Musky, deep-pitched aromas of ripe red berries, strawberry nectar, violet, and flint. Blueberry and licorice flavours are complicated by tobacco and flowers and lifted by sweet spices and forest floor. Suave and fine-grained, with the customary Brigaldara freshness to the red fruit flavours on the long vibrant close. This is a benchmark example of how Amarone can be at once modern and light on its feet while remaining extremely powerful and concentrated (and clocking in at 16+% alcohol). A blend of 47% Corvina, 39% Corvinone, 6% Rondinella and 8% other local varieties sourced mostly from the Brigaldara vineyard at 250 meters above sea level. It was aged in small barrels for one year and then two in larger oak barrels. Drinking window: 2023-2032.
Brigaldara 2016 Amarone della Valpolicella Case Vecie                 97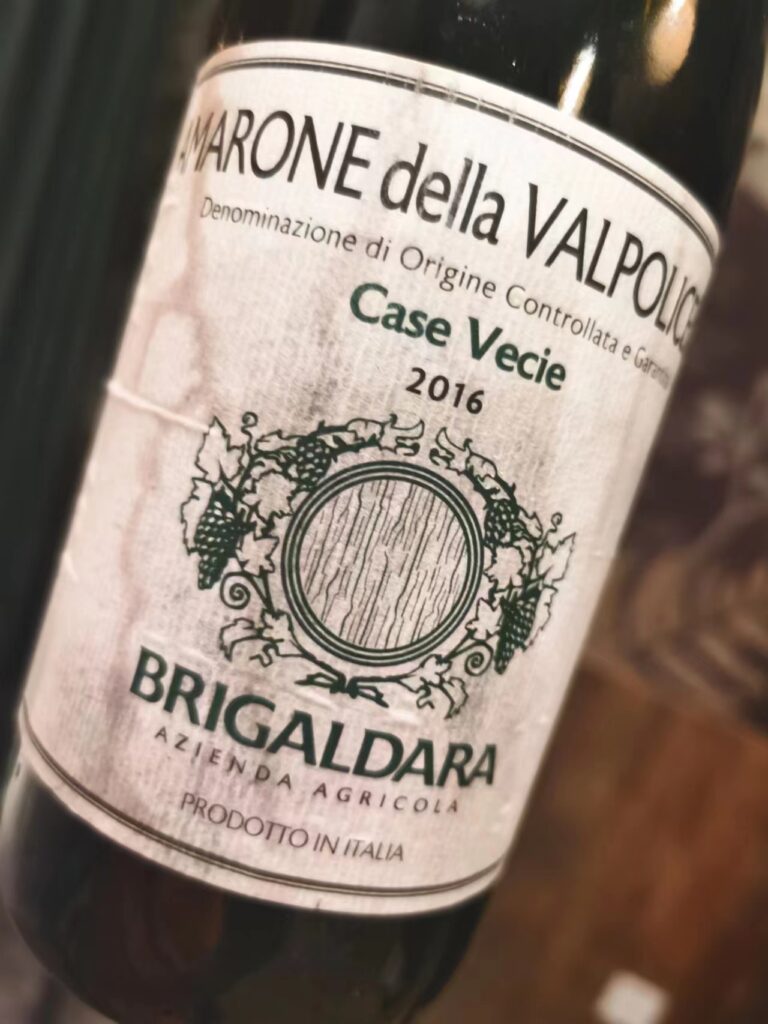 Luminous ruby-red. Captivating, varietally expressive aromas of dark and red berries, dark chocolate, violet and black pepper, complicated by steely minerals and balsamic oils. Then downright suave and silky in texture, with brooding, complex flavours of black cherry, dried herbs and smoky underbrush, accented by hints of graphite, licorice and strawberry nectar. Closes with compelling sweetness, suave and wonderfully fine-grained but with undeniable fleshiness given shape by harmonious acidity. This is a still very young, brooding, but very promising Amarone that is also remarkably refined and that just glides effortlessly along the palate; not surprisingly, it shows more depth and concentration than the regular release from the same vintage. A blend of 39% Corvina, 30% Corvinone, and 31% Rondinella sourced in the Case Vecie vineyard at 450 meters above sea level in the area of Grezzana. This Amarone was aged one year in barriques and another two years in larger oak casks, but the wine is so rich, dense and silky that oak is completely unobtrusive. Marvelous Amarone from a very great vintage. Drinking window: 2025-2035.
Brigaldara 2012 Amarone della Valpolicella Riserva                93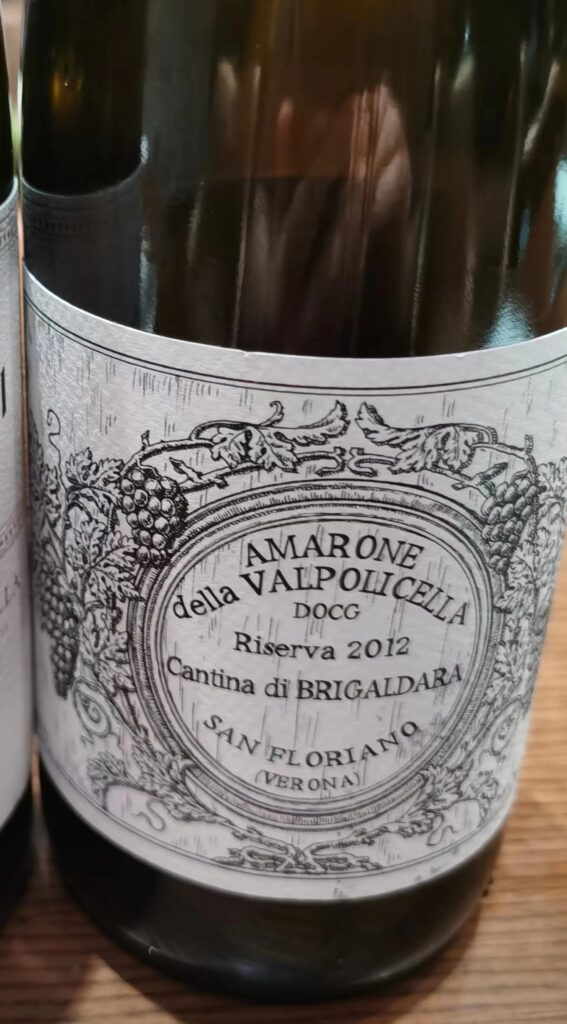 Moderately saturated ruby-red. High-toned, slightly roasted aromas of black cherry, bitter chocolate, licorice and nutty oak, with a violet top-note adding freshness. Round, ripe and fruity, with a broad and fine-grained quality to its appealing flavours of red cherry, sweet spices, peppery cocoa, balsamic oils and olive tapenade. Very pliant and already approachable, as good as this, I find it a little too opulent and bordering on a porty excess; don't get me wrong, it's a very impressive outstanding wine, but to my taste, this just lacks a little of the grace and refinement that usually typifies Brigaldara's Amarones. A blend of 55% Corvina, 20% Corvinone, and 25% Rondinella, this spent two years in barriques and three more in large oak casks. Drinking window: 2022-2030.
Brigaldara 2008 Amarone della Valpolicella Case Vecie                 97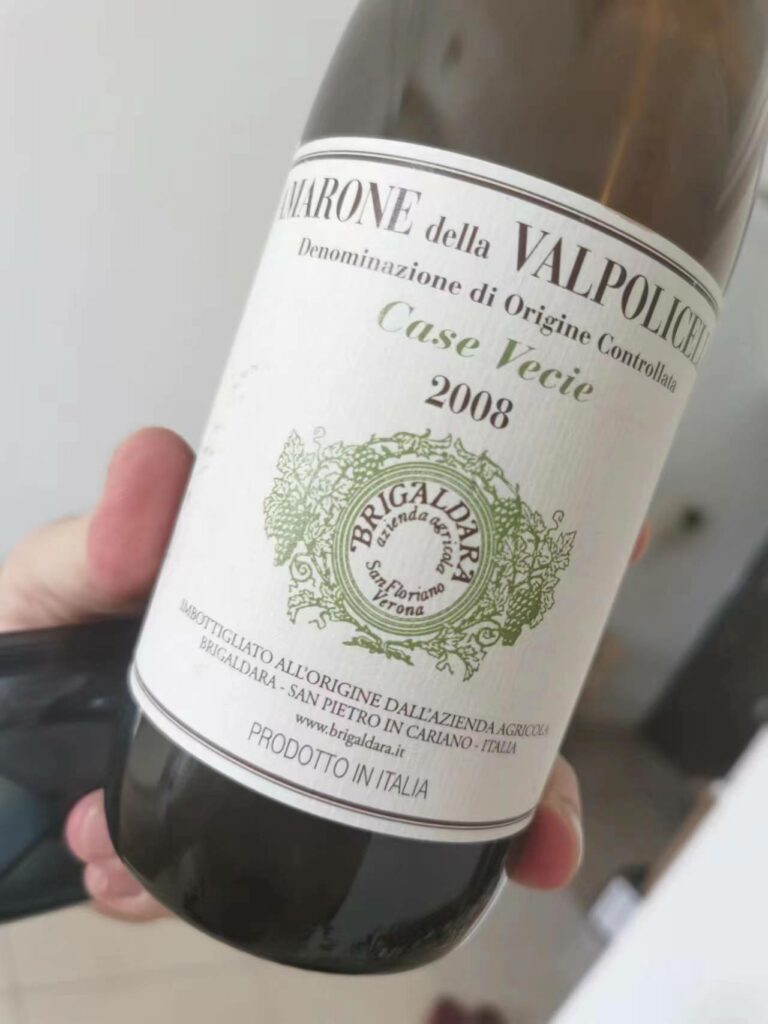 Saturated vivid ruby-red with a pale rim.  Utterly pure and drop-dead gorgeous on the nose, with suave violet, rose and mineral-tinged strawberry and raspberry aromas complicated by notes of mint, tobacco, blood orange and subtle baking spices. At once lush and austere, with remarkable purity of redcurrant, red cherry, cedar and sweet spice flavours that are thoroughly ripe without going over the top. The finish boasts enticing sweetness and noble if still assertive tannins. A great vintage for this estate, this Amarone has done nothing but improve over the years, with my scores increasing in time from 92+ to 94+ to 96 and now a well-deserved 97. Drinking window: 2022-2033.
Brigaldara 2019 Recioto della Valpolicella                                 95
Moderately saturated vibrant ruby-red. Delicately aromatic nose offers red raspberry, milk chocolate, cassis, almond paste, candied violet, and spices. Sweet, suave and wonderfully fine-grained, this is very light on its feet offering nicely lingering, lively flavours similar to the aromas on the smooth aftertaste. From vines that were planted in 1970, this classically sweet but lifted blend of 55% Corvina, 20% Corvinone, and 25% Rondinella is absolutely spot on in the typically lifted Brigaldara house style. Aged for about two years in oak casks, this bpasts lovely acid/fruit balance and is not especially sweet (roughly 80 g/L residual sugar), though clearly nobody will ever mistake this Recioto (or any Recioto) for a dry wine. Lovely to drink as an aperitif with patés, blue and aged cheeses, rich chocolate desserts (not chocolate mousse) and even thick, flavourful stews of beef and/or game, as was once commonly done in the area. Drinking window: 2022-2032.