Domaine JosMeyer is one of Alsace's leading estates that traces its roots back to 1854 when Aloyse Meyer added a négociant wine business to the family activities. However, the modern winery was officially founded in 1963 by Hubert Meyer, who added the first three letters of his father's name, Joseph (from whom he took over in 1941) to the family name, such that Jos+ Meyer became the winery's name of JosMeyer. It was his son Jean (who passed away in 2015) who turned the estate into the world class winery it is today, greatly augmenting its notoriety and visibility everywhere (the wines were served on the French navy) and really increasing the firm's export markets. It was also he who decided to turn to organic faming, making JosMeyer one of France's first estates to practice organic faming already in the 1990s; later, he moved it to biodynamic agriculture as well (certified in 2004). Today it is his two lovely and talented daughters that run the show rather brilliantly: Céline is acting president and general manager, while Isabelle is the winemaker. Without doubt, this is one sibling duo where the talents of each really complement each other, and the results (as in wonderful wines) are there to prove it.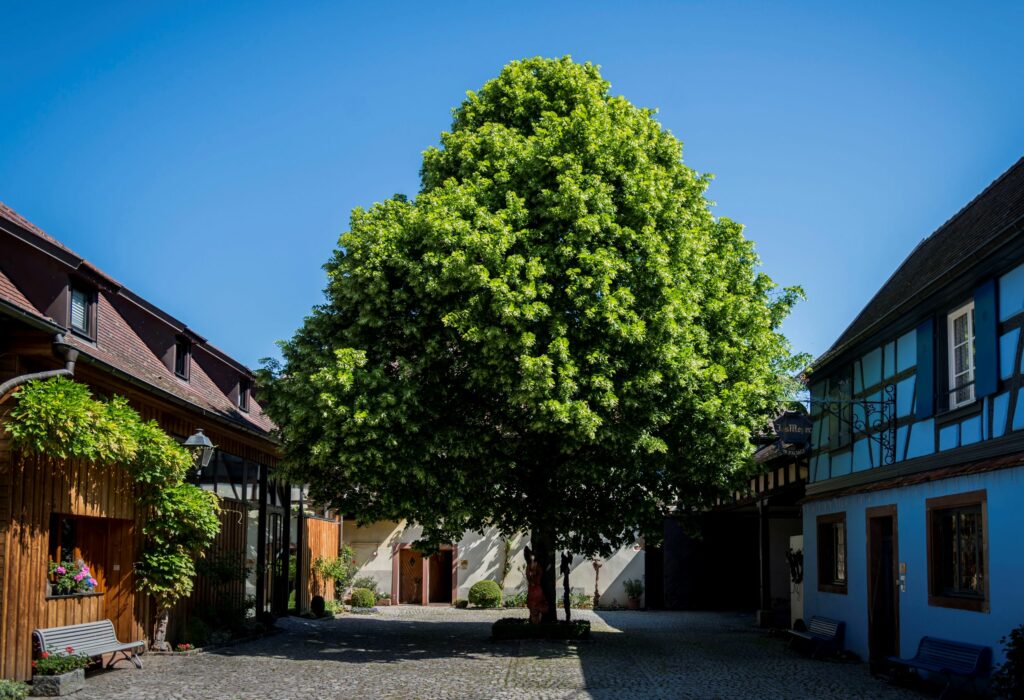 The welcoming winery is located in downtime Wintzenheim, not too distant from Colmar, the heart of the Haut-Rhin's wine production area. It grows all the usual Alsatian varieties including Riesling, Gewurztraminer -written without the umlaut as this is France- Auxerrois, Sylvaner (both the more common green and the rarer red-berried kind), Pinot Gris and the Muscats. What is instead not so typical is that at JosMeyer they have always been most famous for the production of classically dry wines, and this even in the 1980s and 1990s when Alsatian wines often carried a hefty dose of residual sweetness. This has been carried over to almost extreme levels nowadays as the estate is practically not making its late harvest Vendanges Tardives and Sélections de Grains Nobles anymore (a shame, as they really were particularly good wines). Most recently, the estate has also been known for its very pretty artist labels: the artist range was initially created by Jean Meyer in 1987, and this is now being continued by his daughter Isabelle, the estate's winemaker but also the resident family artist, whose artwork now graces many of the wines sold each year.
The estate boasts vineyard holdings in some of Alsace's greatest grand crus, including the Brand and the Hengst. In particular, it is my belief that the estate's Pinot Gris from the Brand is one of Alsace's greatest wines, and more importantly to be one of the top dry Pinot Gris wines made anywhere in the world. In the best years, this multilayered, complex and ageworthy wine has as much in common with a grand cru white Burgundy than it does with anything made in the region.
The Brand (57.95 hectares large) is one of the world's greatest vineyard sites for Riesling especially, but the Pinot Gris wine that JosMeyer makes there is truly revelatory. The Brand of today is a much larger site than it once used to be, such that it can effectively be broken down into different subregions; for example, at JosMeyer they farm both the Steinglitz and the Schneckelsburg portions. However, given the young age of the former's vines (only about fifteen years old), the Riesling Brand is made essentially from two plots in the latter portion of the Brand only. The Brand is essentially known as a granite-dominated site, though with its enlargement at the time of the official grand cru delimitations in Alsace, not all of it is now characterized by that type of rock formation (for example, the Schneckelsburg has more organic matter and even some limestone, compared to the Steinglitz that is instead very much granite). Nevertheless, at JosMeyer they harvest late and train the grapes low to the ground so as to allow for the catching of the sun's rays thereby further increasing grape ripeness (in fact already quite ripe, given that at Josmeyer they push the envelope and harvest as late as possible in the season). The increased ripeness levels bring about increased concentration of the overall grape acidity too, so as to ensure that JosMeyer's wines are not just among the most concentrated in Alsace but usually also among the most piercing too.
The Hengst is the estate's other grand cru of repute, in my view one of the three best places on Earth in which to grow Gewurztraminer (it's mostly a marly-sandstone-limestone grand cru that is fifty-three hectares large). That much admitted, climate change is now really throwing a monkey wrench in everybody's plans, so much so that at JosMeyer, where they want to make classically dry wines, they decided to uproot part of their Gewurztraminer and plant Pinot Noir instead. In fact, the Hengst seems to be one of the two or three or best places to make potentially world class Pinot Noirs in all Alsace; for sure, the days of weedy, thin Alsatian Pinot Noir wines are no more, and at JosMeyer they are better set and equipped than most other domaines to try and attempt having real success with that finicky grape variety too. Time will tell.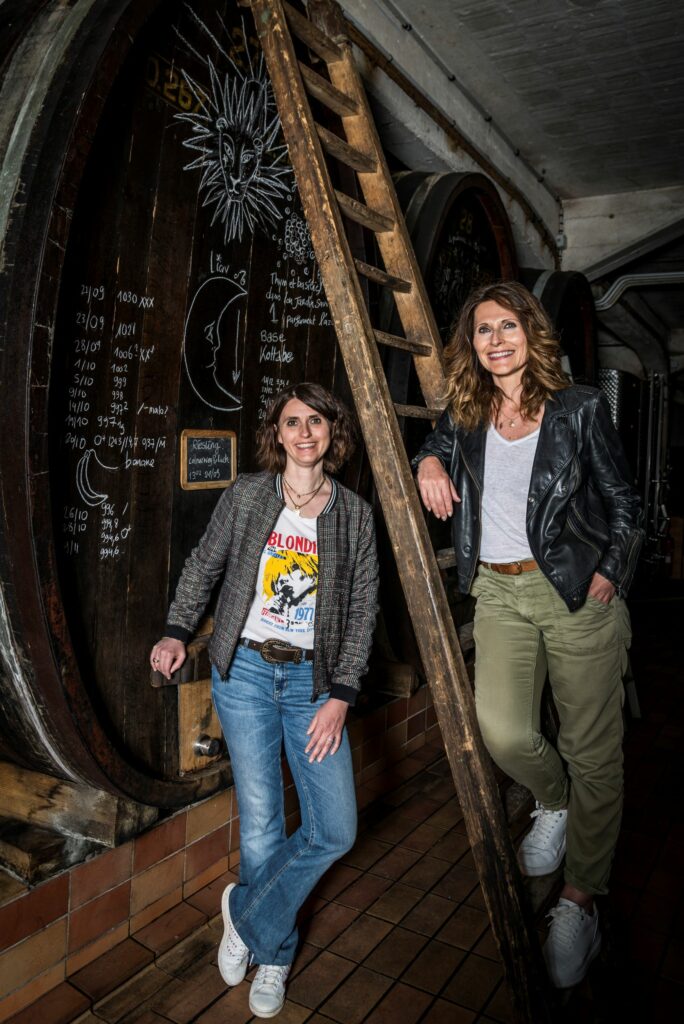 QUESTION&ANSWER WITH THE MEYER SISTERS
Ian: Bonjour mes belles, heureux de vous revoir! Mais nous irons continuer en anglais, ok?
Céline et Isabelle: "Certes! Et au cas où, tu vas traduire pour nous!"
Ian: Good, let's get started, I have a bunch of questions for you, ranging from general stuff to more precise technical queries, so you two just feel free to just jump in as you see fit any time…
Céline and Isabelle: We will try to be clear and concise!
Ian: To begin, exactly how many hectares do you own under vine? I see reports on the internet and paper articles in which the numbers are clearly outdated: I have been to your estate every year for the last twenty or so and I know for a fact you have more than seventeen hectares, and it's been so for a while now…
Céline: Yes, we own 24.40 hectares all of which are planted to vines in 90 different plots!
Ian: Now that sounds like fun…and a whole lot of hard work! How many bottles per year?
Céline: We produce about 150,000 bottles a year, give or take…
Ian: And let's confirm all the grape varieties you grow?
Céline: Those we make wine from and bottle include Riesling, Pinot Blanc and Pinot Auxerrois, Pinot Gris, Gewurztraminer, the Muscats, Sylvaner and Pinot Noir. (Ian's note: beware that at JosMeyer they still like to refer to "Pinot Auxerrois" rather than Auxerrois, the more modern name).
Ian: And so, with that many different grapes, how many different wines do you make every year?
Isabelle: There's about twenty different cuvées on our sales offering every year…
Ian: Your estate is rightly well-known not just for outstanding wines, but dry-tasting ones too. How did you get to have that reputation? Going back further still, why did you make that choice, especially at a moment in time when it was common for a lot of supposedly "dry" Alsatian wines to carry a bit of residual sugar?
Céline and Isabelle: We made the "dry" wine choice based on our taste preferences, but also out of loyalty to our father who adored the great white wines of Alsace that were driest.
Ian: One of the things that I think is most remarkable chez vous is that you have a collection of marvellously situated plots in two of Alsace's greatest grand crus. Maybe not huge tracts of vineyard land, but really top spots. The Hengst, for example, is in my not so humble opinion if not the single greatest spot to make a Gewurztraminer wine in the world, then at no worse one of the top three…
Isabelle: The Hengst's is a strong terroir, if I may use that term: Hengst wine always has a very broad, horizontal and compact structure. It is characterized by noble bitterness and a very strong minerality, but also a very deep fruitiness. All of which is probably linked to its marly-calcareous soil rich in iron inclusions. We own there 1.2 hectares of Riesling, 0.24 hectares of Pinot Noir (that as you know we planted this year by removing some of our Gewurz there) plus 0.46 hectares of Pinot Gris, some Sylvaner and some Auxerrois (note: as mentioned above, at JosMeyer, they continue to refer to Auxerrois with the old name of Pinot Auxerrois). Clearly though, Gewurz remains the variety most planted there.
But given that the Hengst grand cru is 55 hectares large, we really don't own much in the way of vineyards there; and yet, it is an extremely important site for us for sentimental and historical reasons. It was our grand-father who was the first to plant Riesling as well as Pinot Auxerrois in the Hengst, right after the second world war (Ian's note: this is a little-known fact about Alsace). If you like, it's a sign that already back then our family leaned towards making classically dry wines; and so, while everyone planted Gewurz in the Hengst where it gives marvellously powerful and spicy wines, even then we were opting for other grapes and other wines.
Ian: Besides the Hengst, you are also fortunate to own vineyards in the Brand grand cru…
Isabelle: Yes, it's a site that boasts a granite soil: there we own 0.76 hectares of Riesling, 0.22 hectares of Gewurztraminer, and 0.53 hectares of Pinot Gris. Clearly, Riesling on granite is absolutely superb, really there's no other grape variety that performs as well on it! But the Brand's Pinot Gris is just as noteworthy, characterized by a very precise mouthfeel, piercing acidity and extreme food-friendliness.
Ian: And that's something really worth talking about: let's face it, as good as your wines are, it really is the Pinot Gris wines that are absolutely remarkable. I have written before that I think your Brand Pinot Gris to be one of the three or four greatest classically dry Pinot Gris wines in the world… and it ages remarkably well too.
Isabelle: We have been working on making classically dry Pinot Gris wines for many years now, and this not just because we like it so, but because we find that at times Alsatian Pinot Gris wines can be a little boring, too sweet, too flat. In this respect, we have started experimenting with the variety and its wines in sandstone jars to give it even more verticality and nuance. Why? The goal is to try to find a new balance with Pinot Gris, a wine that is usually all about sugar and alcohol, but that in our view can be about so much more. We wish to pull out of it the variety's telluric side, its minerality, that are undoubtedly there. For this very reason we never hesitate to include some grand cru grapes even in our Pinot Gris base wines such as ICARE, that is completely bone dry and sports only 13 degrees alcohol. But clearly, the fact our Pinot Gris vines are as much as 45 to 50 years old really helps us bring that underlyingmineral spine to the fore.
Ian: I can certainly vouch for that: the Brand Pinot Gris you make is as good and as complex as any grand cru Burgundy white wine you can think of. And while I'm at it, let me ask about this old "noble varieties" thing that I think is an absolute plague of Alsace wine. Only Riesling, Pinot Gris, the Muscats and Gewurz wines are allowed to be labeled as grand cru wines (when the grapes are grown in a grand cru site, clearly); with the the lone exceptions of the Zoztenberg grand cru for Sylvaner and the recent addition of Pinot Noir to the list with the inclusion of the Hengst and the Kirchberg de Barr in that list of varieties allowed to be labeled as grand cru wines. But that's a joke, because it has pushed Alsatian farmers to plant the so-called "noble" grapes everywhere in the grand cru sites, even where they are not especially suited. Even worse, much worse, beautiful fifty-sixty years old vines of Pinot Blanc, Chasselas and Sylvaner are getting ripped up to make way for varieties that will ultimately give lesser wines. To my way of thinking, and even being the absolutely positive, Alsace-loving, glass is always half full kind of guy that I am, it's not just stupid, but absolutely crazy….
isabelle: I agree with you on this point, I also think this story about the "noble varieties" is old and depassé, anachronistic.
Ian: So tell me about your Sylvaner wine, which is a rare example of a wine made not with the usual green Sylvaner but a red-berried variant, Sylvaner Rouge…
Isabelle:  In fact, that's why our Sylvaner wine is named "Peau Rouge", meaning "red skinned": it is planted on the northern face of the Hengst as well as on a more alluvial-gravelly soil in Turckheim. Actually, we do not grow only the red-berried variant: it's more of a 50-50 mix of the two Sylvaners. We think the two combine very well, because the red-berried variant helps soften the green's at times slightly vegetal side while also supplying a nice spicy touch. These are also old vines that were massally selected and we are very happy with this wine.
Ian: And what about Gewurztraminer's future? It really is one of the world's greatest wine grapes, with wines that are immediately recognizable and amazingly ageworthy (something most people do not realize) but climate change is impacting it negatively, perhaps more so than other varieties… or am I mistaken?
Céline: In effect, Gewurztraminer is suffering somewhat. But at the same time, we have been making for a very long time now classically dry Gewurztraminer wines that marry marvelously well with Mediterranean and Asian cuisines. Personally, I think people, not just wine lovers, love the aromatic side of Gewurz biu don't necessarily want its power and size. I think most people really love the more elegant and fresher versions that can undoubtedly be made with this wine. Another road is that of extended skin contact: there is no doubt that Gewurztraminer is one of the world's best wine grapes with which to make orange wines, the wind is really in its sails on this count. And so it is that we too have begun making Gewurz wine with prolonged skin contact. In 2020 we did our first trial: one third whole bunches, two thirds destemmed, and we kept the must on the skins for one whole month. It's a completely dry wine but that keeps the strongly aromatic side of the grape while offering a very saline, tannic mouthfeel. These orange Gewurz wines are really exciting, I dare say they are opening a whole new world for the variety. A brand new horizon looms ahead.
Ian: I agree with you, you know? As much as I love "classic", non-macerated Gewurz wines (I have had absolutely brilliant Alsatian Gewurzes from the 1960s that are as good as any Riesling wine I have ever tasted), I have to agree that maceration is something that Gewurztraminer handles extremely well. It's amazing how much better its wines are than those made by the same method with other varieties.
All-right: you just knew I couldn't keep you here this long and NOT ask you about your amazing Auxerrois wine called "H"…"H" because it stands for Hengst, clearly.
Céline:  The secret to the Pinot Auxerrois wines of the Hengst are the really old vines we own there. The old age is key because they deliver a level of acidity that is atypical of the variety: at the same time, the Hengst terroir supplies power, depth, and complexity. But it's really that very fine acidity that is the secret to that wine. Clearly, one also has to beware of overripeness with this variety, as it is a low acid grape. And maybe, just maybe, we do pay a little extra attention to that specific wine, because we are very attached to it, it is one that really put us on the world map. Over time, it has become a symbol of sorts of our estate.
Ian:  Similarly, you just knew I had to ask you about the estate's love of biodynamics…you were amongst the first in France to turn to this practice, and that's something that really should be recognized and you all be given credit for.
Céline: The choice of biodynamic farming was really made by our father, out of respect for the grapevine, its excellence, its essence and soul even. It has been more than twenty years now and we all live together at the estate, men, women and vines in a perfect symbiosis…
Frankly climate change imposes a change in our habits: therefore, in the habits of viticulture also, that cannot really continue as it always has and had. I really don't know what the future of viticulture in Alsace will be about. All I can say is that the AVA (Association des Vignerons d'Alsace) has declared itself favourable to irrigation in case of drought. It follows that the path (or the voice) of the masses will never be one of respect and intelligence, but rather that of taking the easy way out and of continuity. With all due respect, I am completely against this. And yet, I am not oblivious to the fact that I too own plots of vines that always suffer drought each and every year. But water is a precious foodstuff: if we really will need to irrigate one day in Alsace, then perhaps, maybe, we will need to move on to something else. And we will need to learn and accept it.
Biodynamics is a philosophy in which one has to have faith, wholly. One needs to divest him or herself of preconceived notions and create, to find, one's own path. But then, no, biodynamics will never be a reality of the majority, because the majority does not like to leave the main road behind and take to the paths off to the side.
In ultimate analysis, the important thing is to remain loyal to ourselves and our deepest convictions. First and foremost, we make the wine that we like and that we wish to defend. And if our clients like our wines, then so much the better. But it's also a question of freedom.
The freedom to follow our instinct and to make wines that have a real story to tell.
I leave you now with a poem that I wrote.
GARDER INTACT
de Céline Meyer
Le bruissement de la terre, la couleur du temps, l'éclat du raisin
L'énergie du vivant, cette part d'inconnu, la précision et l'élan
L'émotion d'un vin, tel un poème au vin.
KEEP INTACT
By Céline Meyer
(Ian's note: I have attempted to translate to the best of my abilities and I hope to have done Céline's beautiful poem justice)
The rustling of the earth, the colour of time, the radiance of the grape,
The energy of the living, that part of the unknown, the precision and the flair
The emotion of a need, so is an ode to wine.
The wines in the tasting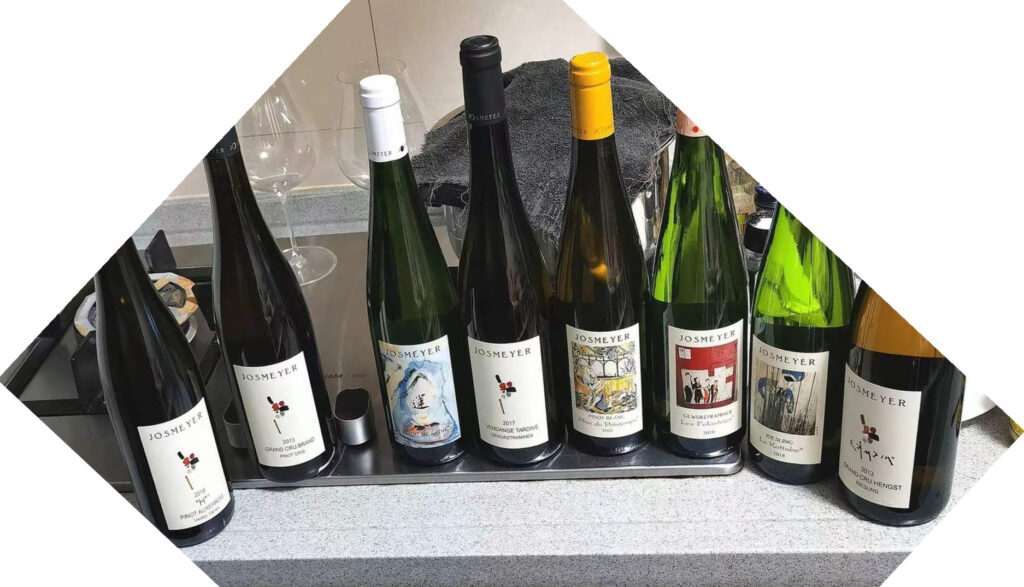 JosMeyer 2019 Alsace Fleur de Lotus                                 92
Bright deep straw-yellow with golden tinges. Aromatic, full, deep aromas and flavours of sweet spices, orchard and tropical fruit that are absolutely captivating. Finishes broad, tactile and long but with noteworthy acid lift that extends the flavours and keeps this dancing on your palate. One of the best Fleur de Lotus ever. Made with grapes from the Herrenweg de Turckheim, a marvellous lieu-dit site situated on the ejection cone of the Fecht river, and characterized by a clluvial soil witj gravelly sandy subsoil: it's not unlike a gravel-rich soil that tends to give ripe, aromatic wines of some refinement. The wine's name fleur de lotus, was chosen because the lotus flower symbolizes purity and wisdom in Asia: at JosMeyer they thought of this name because the wine was really created to pair well with the great Asian and world cuisines. Drinking window: 2020-2026.
JosMeyer 202o Pinot Blanc Mise de Printemps                  90
Straw-green with golden highlights. Butter, apple, pear, cumin, anise and honey on the nose and in the mouth. Then nicely spicy and thick, with good freshness on the long finish. Not the most nuanced wine in the world but lovely and satisfying. Perfect with grilled salmon, but also quiches, grilled vegetables (asparagus too) and even white meats. At 0.1 g/L residual sugar, this couldn't be any drier than it is, and yet it tastes remarkably well-balanced.This wine's name refers to the fact that it usually gets bottled (mise) in the spring to celebrate the arrival of that season. The grapes grow in the lieux-dits Rotenberg and Herrenweg de Turckheim and from around Wintzenheim. As always in Alsace, even though the label states it is Pinot Blanc, in fact this is an 80% Auxerrois and 20% Pinot Blanc wine.
JosMeyer Alsace 2018 Pinot Auxerrois Vieilles Vignes H          92
Bright deep straw yellow with gold. Rich aromas and flavours of pear, apple, tangerine, herbs grilled nuts, and balsamic oils are broad and ripe. Thick and luxurious on entry, in the middle and on the long and strongly honeyed finish. In my experience, this is not the most graceful or minerally-nuanced "H" ever made, but it's a pretty irresistible mouthful of wine: match it to rich foodstuffs such as lobster and chicken in sauce, though a bowl of mussels and grilled salmon steaks will be very happy too in its company. Curiously, at JosMeyer they maintain the "Pinot" in front of the Auxerrois in the wine's name on the label, as was done decades ago when it was thought that Auxerrois was a member of the Pinot family (it is not). The "H" is instead a reference to the Hengst grand cru, where the Auxerrois vines are planted. The soil there is essentially conglomeratic in nature dating back to the Oligocene, a mix of limestone and multi-coloured marls. Drinking window: 2022-2028.
JosMeyer 2018 Alsace Riesling Le Kottabe                        93
Deep straw-green. Piercing, pure aromas of lemon, lime, jasmine and lemon verbena, with a strong dusting of talc and other minerals. Simply captivating, beautiful stuff. Then a little less complex in the mouth, but with very pure orchard and citrus fruit flavours that linger nicely on the juicy, classically dry and very refined, intensely minerally finish. Now this is a gem: best Le Kottabe ever? If not, darn close to it. My score is an average between nose (94) and palate (92). The name is a reference to a game of love and skill, the Kottabe, Kottabos in Greek, used to be played during banquets in ancient Greece. The grapes are picked from old vines in the Herrenweg de Turckheim and around Wintzenheim. Drinking window: 2022-2029.
JosMeyer 2013 Alsace Riesling Hengst Samain                         96
This is marvellous. Luminous deep straw-yellow. Profoundly complex and refined nose of apple, peach, nectarine, minerals, iodine and white flowers, complicated by a hint of cinnamon and of mint. Broad and rich in the mouth, but lifted by penetrating acidity that really enhances and extends the flavours similar to the aromas on the long textured and multilayered finish. Wondrously complex Riesling wine that has the perfume of a great wine from Forst but the texture of a Bâtard-Montrachet. From a relatively cool year that really provided vibrancy and nuance: I guarantee this will be one of the better Riesling wines you'll taste this year. The Samain is made from three adjacent plots in the heart of the Hengst holdings; the name refers to the most important Celtic feast held at the end of November to celebrate the end of the harvest. Drinking window: 2022-2040.
JosMeyer 2013 Alsace Pinot Gris Brand                             95
Deep straw yellow gold. Ripe, luscious aromas and flavours of apricot, orange marmalade, sweet spices, chlorophyll, grilled porcini, wild fennel, nutmeg, and an amazing, piercingly intense note of strawberry that is so typical of the world's greatest Pinot Gris wines (it is a red grape, after all). Tactile, lush and broad, it lasts seemingly forever on the aftertaste. All-right: just when I thought it would not be possible to do better than the 2013 Riesling Hengst Samain, along comes this wine that though very different, is almost as good. Drinking window: 2022-2040.
JosMeyer 2018 Alsace Gewurztraminer Les Folastries                     92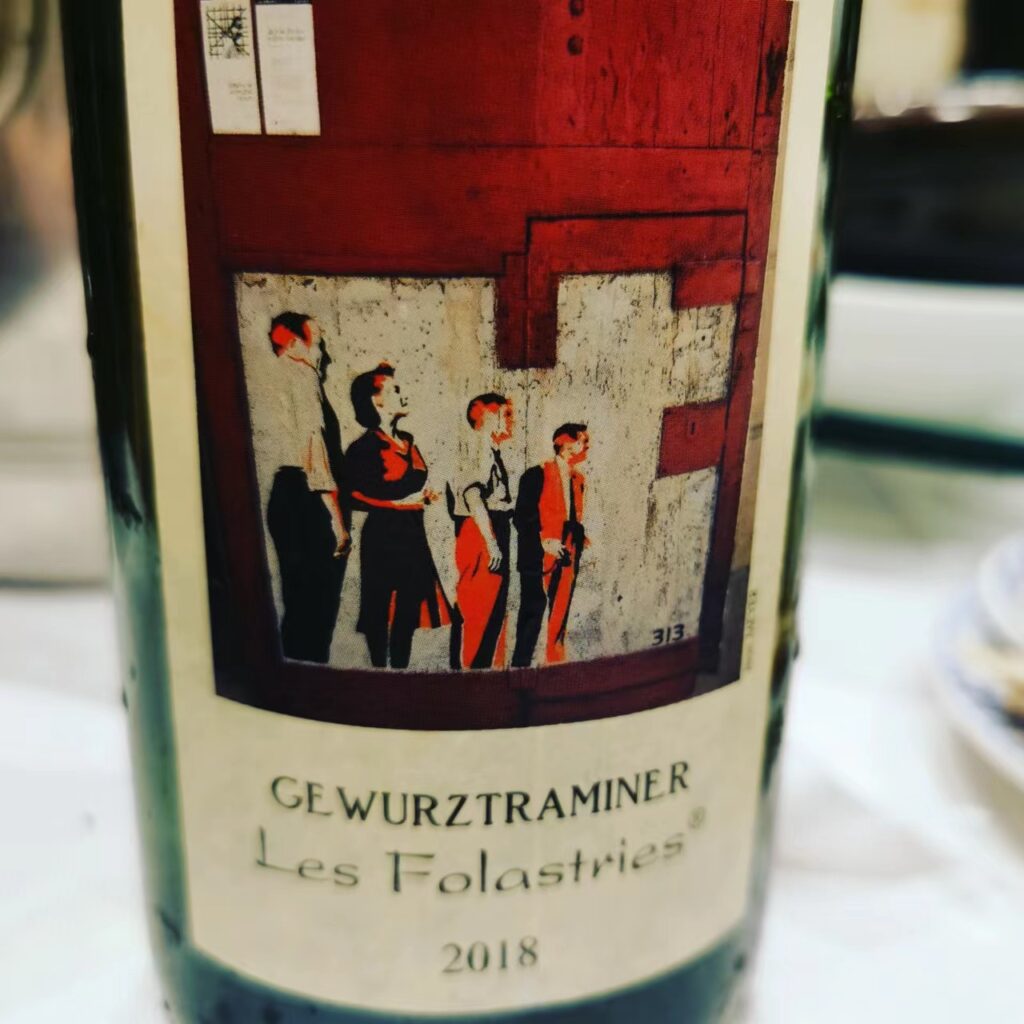 Vibrant yellow-gold. Ripe, rich aromas of orange nectar, grapefruit oil, cinnamon, nutmeg, vanilla and honey. Enters rich and broad, then sweetly honeyed and more precise in the middle, finishing long and suave, with similar flavours to the aromas. Very refined yet thick and chewy Gewurz that will prove an immediate crowd-pleaser. Those who really love Gewurz will find this absolutely irresistible, but even those who don't care for the variety will be won over; and its friendly price will win it many new fans. I can tell you that I served it to a dozen wine loving friends at dinner the other night and of the twelve bottles we opened, this was the favourite wine of the evening, tied with another. The magic that is a well-made Gewurz wine. Drinking window: 2022-2026.
JosMeyer 2017 Alsace Gewurztraminer Vendanges Tardives                 96
Pale yellow-gold. Grapefruit, pineapple, ginger and cinnamon on the perfumed, vibrant nose that is complicated by an intense note of pink rose. Very sweet and fruity (77 g/L r.s.), but with attractive ripe acidity (4.5 g/L total acidity in tartaric units) contributing to an impression of refinement and levity. The sweet spice and floral qualities follow through on the fresh, lively and persistent finish. If you like Sichuan cuisine, then this is the wine for you: but any strong cheese, from aged Comté to aged Brie (not the soft fresh one), as well as the classic Munster of course and even lighter blue cheeses, will marry perfectly too. Fr something more complex, try oven-roasted butternut squash with nutmeg or pumkin soup with scallops. And don't forget fruit cocktails and fresh tropical fruit in general. Made with a special selection of grapes from plots located in the Herrenweg of Wintzenheim, characterized by a more loam-rich soil, with clay, sand and gravel, that is pale yellowish in colour and very fine in texture. Importantly, it is a very different soil from that of other parts of the Herrenweg, one that gives much more powerful wines. The 2017 growing season was part of a weird year weather-wise with snow well into March, a late spring that was followed by very fine weather up to a very hot summer, rainfall in September and October complicated this vintage somewhat. And yet this wine's a marvel: well done. Drinking window: 2022-2038.