Cogno is one of Barolo's leading estates and their Barolos are sought after by collectors everywhere. With its Barolo Ravera Riserva Vigna Elena, the winery was the first to highlight in a systematic way the specific qualities of Nebbiolo Rosé, a specific Nebbiolo type that gives simply amazing wines and that is gaining in popularity after years of neglect. This not just because of its truly outstanding wines, but because of the variety's heat- and drought-resistance. In this exclusive report, Editor-in-Chief Ian D'Agata narrates the Cogno's Barolo Ravera Riserva Vigna Elena in the first ever in-depth vertical devoted to one of the world's greatest and most unique red wines.
Remembering Elvio Cogno, one of Barolo's great men
On June 12, 2016 Elvio Cogno died. Just a few days later, I attended his funeral, in fact the only English-language wine writer to do so. But Elvio deserved to be accompanied off. Tellingly, Roberto Conterno was among those who where there too.
Elvio Cogno is no longer with us, but his memory will never leave me, or those who knew him. Going one step further, Elvio Cogno's memory will never leave Barolo: for along with (in alphabetical order) Gianfranco Bovio, Beppe Colla, Giovanni Conterno, Bruno Giacosa, Bartolo Mascarello, Renato Ratti, Violante Sobrero and a few others, Elvio Cogno was truly one of the great old men of Barolo. Over the last fifty-plus years, he oversaw many of the most important changes that have taken place in the Barolo denomination. First at the Marcarini winery in La Morra (where he made the wines from 1964 until his departure in December 1990), and then at his own Cascina Nuova estate in Novello, Elvio Cogno was responsible for some of the Barolo denomination's greatest wines. His were traditionally-minded Barolos that proved  extremely ageworthy and that were among the first of the area to speak to and attract international buyers, at a time when Barolo was a mostly local reality. For example, the Marcarini 1964 Barolo Brunate, one of the very first Barolos to bear a vineyard's name on the label, is still an iconic wine today; it was the first vintage Cogno worked at the Marcarini winery (talk about starting off on the right foot) after moving from his family's restaurant in La Morra to take on the cellar master duties at the Marcarini estate (he met the estate's owner, Giuseppe Marcarini, at the restaurant).
But Cogno's contribution to Barolo amounts to much more than mere winemaking ability. He was brilliant to the point of seeing the future long before anybody else in the area did. He single-handedly put the Novello township on the Barolo map, helping establish it as a world class hotbed for Barolo production. To be crystal-clear, if famous wineries such as Vietti and Vajra are bottling Barolos from Novello today it is only thanks to Elvio Cogno's lead and success. But Cogno not only established Novello as a fine Barolo-making commune; he also helped place Ravera, Novello's most important MGA vineyard district on the quality vineyard map (an MGA is a Menzione Geografica Aggiuntiva, not a single vineyard but a usually large vineyard district from where many different owners make wine). "Before Cogno" (I'll spare you the easy and probably inappropriate pun), nobody gave Novello and Ravera much of a second or even a third thought. But as he was born in Novello and knew the area better than most, Cogno moved into the area knowing exactly what and where to buy. And so, he was able to scoop up a simply spectacular farmhouse or cascina (Cascina Nuova) that doubled as home and winery: you have to see the place in order to believe just how beautiful it is (Paradise does exist on Earth, folks). The Cascina Nuova is not just gorgeously situated atop a hill overlooking the valleys and hilltops in the distance, but it also has most of its vineyards located immediately around the winery, a very rare buying proposition today but that back in 1990 was still a possibility.
Cogno didn't do it all on his own: he had help. His ultra-talented and ultra-likeable son-in-law Valter Fissore, who worked with Elvio at Marcarini for many years (and who married Elvio's daughter Nadia) and then obviously continued to do so at the Cogno estate too, has taken the estate to even higher levels of quality and prestige once Elvio began understandably stepping back. In 2005, the winery decided to buy a section of the Bricco Pernice, not so arguably the other grand cru area within the too large Ravera vineyard district. And so it is today that the Cogno estate farms grapes and makes wines from the two best vineyard areas of all Novello.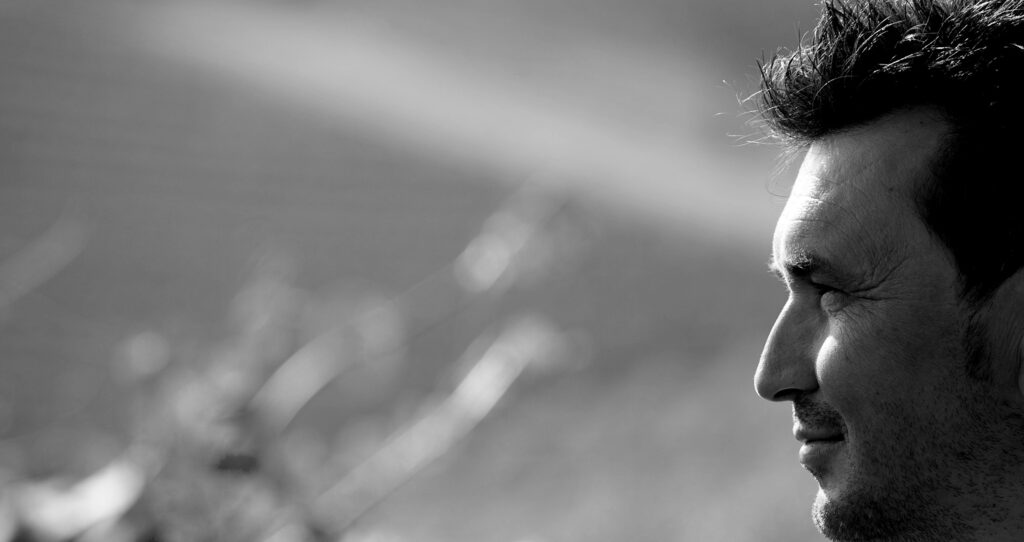 As if putting not one but two places (Novello and Ravera) nobody could have cared much about relative to single-site Barolo production wasn't enough for one lifetime, Cogno's many merits don't stop there. In fact, you might say it's fair to recognize he wasn't just a "wine-man" but he was a full-fledged "grape-man" too. For it is thanks to him that we have now Nascetta to talk about and enjoy the wines of. When Elvio Cogno arrived on the scene, Nascetta was a grape that only locals knew something about. Thanks to Cogno and his son-in-law Valter, Nascetta's many charms were revealed: furthermore, they were able to convince other local producers to believe in the variety (in fact the only white grape native to the Langhe). The pair was in fact so adept at creating consensus that they were able to have a brand new denomination created, that of the Nascetta del Comune di Novello. Given how hard it is in Italy to have a place name recognized for a grape and wine, you'll appreciate the magnitude of this accomplishment. A merit further heightened by the fact that in order to plant Nascetta in Novello, people have to do so on vineyard land that could easily be planted with Nebbiolo and make the the much more remunerative Barolo. Today, Nascetta is planted all over the region and the numbers of those producing not just Nascetta del Comune di Novello but also Langhe Nascetta (another wine denomination for the variety) is growing steadily year after year: today there are roughly thirty producers of Langhe Nascetta and thirteen producers of the Nascetta del Comune di Novello. Chalk up another one for the Cogno family.
But Nascetta is not the only wine grape that Elvio Cogno and Valter focused people's attention on: Nebbiolo Rosé is the other variety that our dynamic duo helped put on the map. A variety that should have never been forgotten in the first place and that is quite rightly and quite understandably finally getting its deserved place in the sun. More on this below.
So just to recapitulate, the Cogno estate boasts the best vineyards in one of Barolo's only eleven communes; it has put a vineyard district (MGA), Ravera, on everybody's radar; it has launched Nascetta and created a new wine denomination, as well as a functional, non-schizophrenic producers association that actually likes to work together and does good things for the grape variety and its wine; and last but not least, has helped launch Nebbiolo Rosé in the grape straosphere where it always belonged in the first place. To be clear, a great deal of what has been achieved to this day at the Cogno estate has been also through the incessant hard work, generosity and kindness of Valter and Nadia, a couple that is frankly impossible not to like. But all of the above that has been accomplished was made possible by one man's initial telant, passion, drive, effort and vision: Elvio Cogno, one of the great old men of Barolo.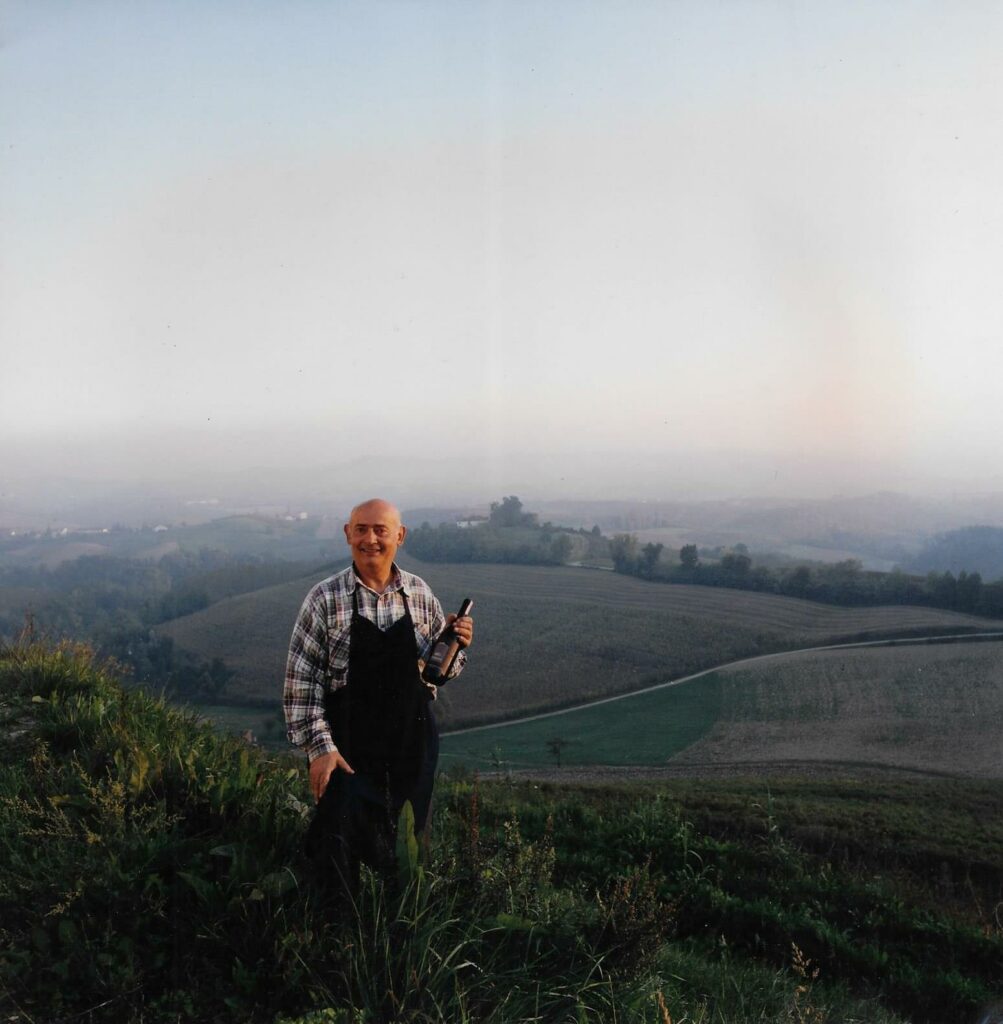 Nebbiolo Rosé, the grape variety
Nebbiolo Rosé is one of Italy's greatest if somewhat misunderstood grape varieties. It has also always been one of my absolute favourite grape varieties that I have been asking producers about and tasting the wines of since the 1980s, as many can attest. As an aside, I have in fact finally pooled together thirty years-plus of interviews and winery visits in writing the largest ever chapter on Nebbiolo Rosé including never before published information on it in my upcoming book Barolo: Crus People Places due out in September 2022 and co-written with my good friend Michele Longo. (So watch this space.)
Nebbiolo Rosé is one of the three historic "clones" of Nebbiolo, which are Nebbiolo Lampia, Nebbiolo Michet and Nebbiolo Rosé. In fact, as our knowledge of grape science has increased and improved, we have come to understand that these three are not clones at all, but rather different expressions of the Nebbiolo grape variety that adapted over time to its habitat and other exogenous stimuli. Grape science is extremely complex, and practically nobody who writes about wine today has the necessary scientific background to broach the subject properly, and there is plenty of inaccurate statements to be found in the literature. Furthermore, given that knowledge in this field moves fast, what we hold true today may well be proven wrong tomorrow. These caveats accepted, today's level of scientific knowledge allows to consider Nebbiolo Lampia as the original Nebbiolo, Nebbiolo Michet as a virus-affected biotype of Nebbiolo Lampia, and Nebbiolo Rosé as a distinct variety, and in fact Nebbiolo Lampia's closest relative. However, it is not so cut and dried: at some point we all have to be pragmatic. Let's face it, for all intents and purposes, Nebbiolo Rosé is essentially a  Nebbiolo Lampia with truly minimal genetic (DNA) differences: yes, those DNA differences mean that by definition it is a different species from Nebbiolo Lampia, but in practice differences between Lampia and Rosé are so minimal  that the two have to be viewed as the same grape that gives slightly different wines, each with its merits and flaws (again, I analyse this at length and in extreme detail, as has never been done before, in the upcoming book Barolo: Crus People Places). It follows that for practical purposes, if perhaps not entirely correct from a scientific perspective, both Nebbiolo Rosé and Nebbiolo Michet can be considered to be biotypes of Nebbiolo Lampia that present slightly different characteristics (and so do their wines). Furthermore, recent thinking (however accurate it may or may not be) has also postulated that the lone Nebbiolo Rosé clone we know of, Nebbiolo clone CN 111, may in reality be a Nebbiolo Lampia that looks and behaves as a Nebbiolo Rosé. Whether you believe that or not, in ultimate analysis Nebbiolo Rosé is still very much a Nebbiolo in looks, in behaviour, where it lives and in the wines it gives. More perfumed and paler-coloured wines, but recognizably Nebbiolo. In fact, when Nebbiolo Rosé is hit by fan leaf virus, it morphs into a grape that looks very much like Nebbiolo Michet, or like a cross of Nebbiolo Lampia and Michet would look like.
Knowledge about Nebbiolo Rosé was further hampered by those two very sorry decades (beginning in the late seventies and lasting until the end of the nineties) in which ultra-dark, high pH and needlessly thick wines were all the rage (a style of wine that couldn't have been farther removed from the type of wine Nebbiolo Rosé delivers; or even Nebbiolo Lampia, for that matter). A real "situation" if you will, that led to the poor wine grape getting (very misguidedly) uprooted almost everywhere. And if it's getting uprooted left and right, you realize that not much learning was going on. Not Barolo's finest hour, frankly. Mercifully, fads and fashions change, and most human beings (the successful ones, at least) learn from their mistakes; consequently, things are looking up for those grape varieties like Nebbiolo Rosé that give wines long on elegance and perfume, if shy on colour and size. Add to this that we have since come to realize that Nebbiolo Rosé is much more drought- and heat-resistant than Nebbiolo Lampia and you understand why in these horrific times of disastrous climate change an ever-larger number of Barolo and Barbaresco producers is now looking at the variety with increased interest. Frankly, they'd be stupid not to.
With a few important exceptions, Nebbiolo Rosé was historically only a small part of most Barolos made, comprising about 5-20% of most finished Barolo wines (the rest being mostly Lampia and some Michet, but here too, there were Barolos that were also mostly or all Nebbiolo Michet and Nebbiolo Rosé). For the longest time, the Cogno estate was the only one in Barolo that made a 100% Nebbiolo Rosé wine, but it actually did not happen by design. Like many of the world's greatest discoveries, say an apple falling on someone's very bright head or unexpected mould surprisingly killing the bacteria colonies growing in the petri dishes of another very bright mind, so it was that Nebbiolo Rosé's potential as a source of ultra-fine Barolo was discovered almost by accident. In 1990, when Cogno and Fissore began working at the new estate in Novello, they chose to plant vineyards of each of the three Nebbiolo "clones" that were then known: and so it is that they planted entire vineyards to Nebbiolo Lampia, Michet and Rosé obtained from nurseries. The Nebbiolo Rosé planted was the Nebbiolo clone CN 111,  that exhibits the characteristics one looks for and wants from the Rosé variety (those being: paler colour, intense floral and spicy perfume, greater heat- and drought-resistance, and generally more elegant wines, though of course the party line among many in Barolo is that there's nothing greater in life than Lampia, right up there with hula hoops, yo-yos and pre-sliced bread). Cogno's and Fissore's original idea was to make Barolo wines in the classic way, by blending the grapes of all three "clones", as had always been done. But when they started vinifying the grapes of each vineyard separately, they quickly realized that each "clone" gave outstanding wines; even better, that each had something unique about it, and merited to be bottled on its own. That's exactly what they decided to do, and so they released their first vintage of Barolo Vigna Elena, 100% Nebbiolo Rosé clone CN 111, in 1997.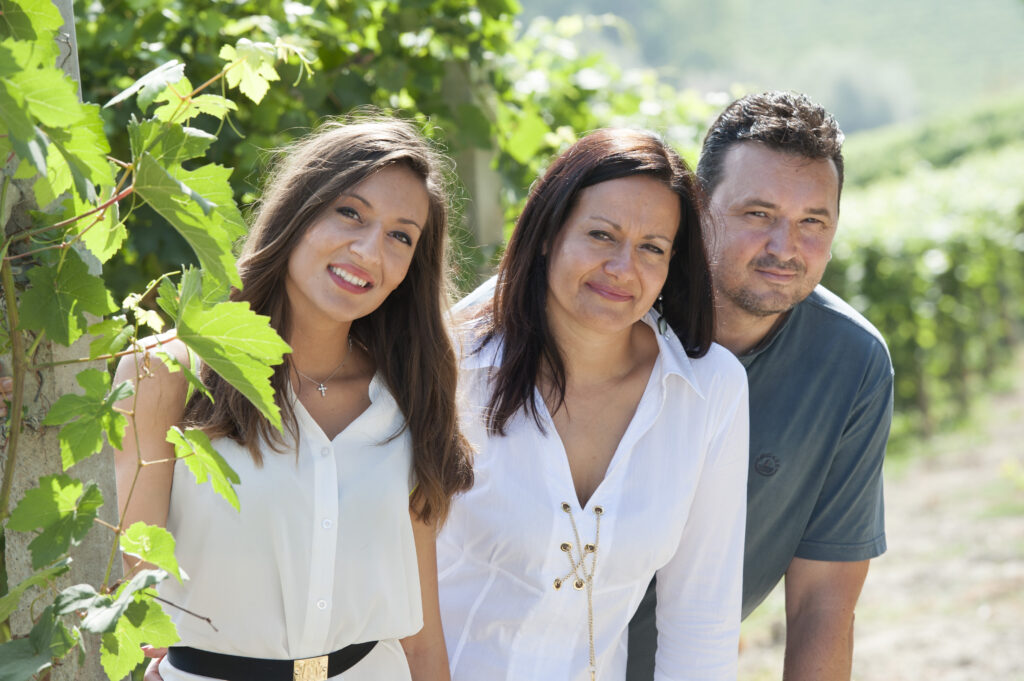 The Vigna Elena vineyard and the Cogno Barolo Riserva Vigna Elena
Ravera is an extremely large MGA vineyard district of the Novello commune (careful: do not confuse it with the similarly named Ravera di Monforte vineyard district of the Monforte commune). The Vigna Elena is right next to the Cogno winery and is easily visible from one of the building's many balconies. They planted the Nebbiolo clone CN 111 in 1991 about half way up the hillside (about 350 meters above sea level) with a vine density of 5,000 vines/hectare on mostly limestone-clay soil with a good percentage of sand and loam containing high phosphorus and potassium concentrations, with vertical trellising, Guyot pruning and 100% organic agriculture practices employed. The vines in the Vigna Elena are therefore now more than 30 years old.
In fact, it is my experience and my firm belief that in the Vigna Elena, the Nebbiolo clone CN 111 behaves somewhat atypically, being the last Nebbiolo grapevine harvested at Cogno (which is not the norm for Nebbiolo Rosé, but this is a very complex matter. See Barolo: Crus People Places, out at the end of September of this year, for more information on this subject). The Barolo Vigna Elena is characterized by a slightly lighter red colour (though again, Cogno's version is less typical than most given that his wine is a beautiful crimson colour and is neither too pale red nor too orangy), less flesh, and more perfume than the other Barolos he makes with Nebbiolo Lampia and Nebbiolo Michet. But it is much more tannic and structured than I would expect with Nebbiolo Rosé, and in fact this is the only Barolo Riserva that Cogno makes (another observation that flies in the face of what we know about the variety). The Barolo Riserva Ravera Vigna Elena is very traditionally made featuring thirty but in some years as much as forty days of maceration, fermentation temperatures that do not exceed 32 degrees Celsius (pump overs for fifteen days employing the submerged cap method for another twenty-five days). The wine is aged for thirty-six months in large (40 hL) used Slavonian oak barrels, followed by another twenty-four months in bottle (as mentioned, the need for this longer period in oak and bottle is to smoothen the tannins).
The estate made its first vintage of the Vigna Elena in 1997, with the aim of making it only in the best years (for example, Cogno chose not to release this wine in 2008, as it was too cool a year for the Nebbiolo Rosé to ripen fully there). I find that the earlier vintages, though excellent wines, are more often than not less interesting than those made beginning in 2007, probably as a result of increased vine age that helped contain the grapevine's intrinsic vigour, not helped by the rather vigour-pushing rootstock choice.
The wine's unique label
Last but not least, the Barolo Riserva Ravera Vigna Elena is bottled with a very distinctive label that depicts a small chick, a drawing that Valter and Nadia's daughter Elena (after whom the vineyard and wine were named) drew when she was only three years old. She is now a professional graphic designer and all the estate labels are drawn by her. The first vintage had a very large version of the drawing taking up half the total label space on a distinctive black background, with the words "VIGNA ELENA" written in large block letters. Beginning with the 1998 vintage, the label becomes similar to the current one, with the drawing somewhat smaller in size, though still very clearly visible and very recognizable. The label was later changed slightly one more time: with the official naming of Barolos vineyard districts (the MGAs) in 2010, beginning with the 2011 Vigna Elena, the wine's name on the label was changed to include the word "Ravera", the vineyard district in which the vigna Elena vineyard is located. Hence, the wine's name is Barolo Riserva Vigna Elena from 1997 to 2010, and then Barolo Riserva Ravera Vigna Elena from 2011 to the present day.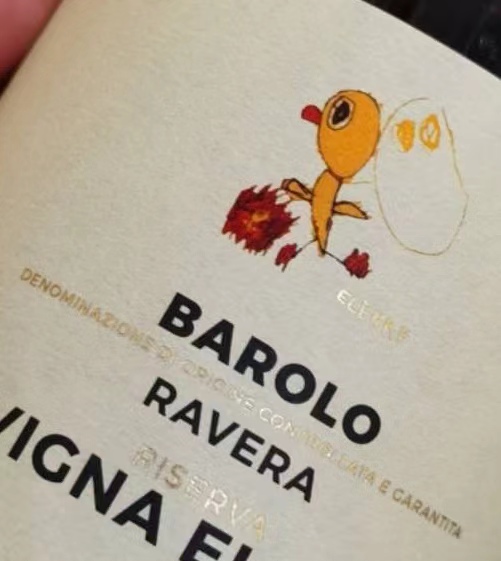 In ultimate analysis, I consider the Cogno Barolo Ravera Riserva Vigna Elena to be one of the twenty greatest wines of Barolo: depending on the growing season's characteristics, don't touch a bottle for at least ten years (give or take) after the vintage and then enjoy it for another twenty after that.
The wines in this tasting were tasted in Shanghai in my office and at a masterclass I organized for the TerroirSense Wine Academy and the Wine Review over the course of the last eight months.
The wines in this tasting
Cogno 2016 Barolo Riserva Ravera Vigna Elena                              100
Luminous medium red colour. Very complex, deep aromas of sour red cherry, blackberry, rose, iris, violet, and balsamic oils on the captivating nose. Very pure and compact, with wonderfully fine-grained tannins and a bright mineral overlay to its delicate, penetrating floral flavours of sour red berries and black cherry. Juicy and still youthfully hard, with fresh, harmonious acidity extending the pristine, multi-layered and firm finish in terrific fashion and lifting the repeating nuances of minerals, balsamic oils and dark red fruit to truly uncommon heights. Cogno's absolutely superb, memorable 2016 Barolo Riserva Ravera Vigna Elena is a wine of crystalline beauty and everything you'd want in a Barolo, if showcasing a very unique expression of the wine. It is a truly fantastic wine that is not just a benchmark for what the Nebbiolo CN 111 Nebbiolo Rosé clone can deliver, but also a veritable stylistic exercise in class. Bravissimi! Drinking window: 2028-2050.
Cogno 2015 Barolo Riserva Ravera Vigna Elena                              98
Good full vibrant red. Higher-pitched scents of strawberry, raspberry nectar, cinnamon, mocha, camphor, minerals, and dried flowers. Then sweet but refined on the palate, with a strong brown spice character to the ripe red and black fruit flavours complicated by hints of blood orange, camphor and truffle. The aftertaste is long and pure, but this beauty is still very much and infant. It's another powerfully built Vigna Elena but with a creamier personality and brimming with truffle and spicy elements typical of this wine in warmer years. Drinking window: 2025-2045.
Cogno 2014 Barolo Riserva Ravera Vigna Elena                              95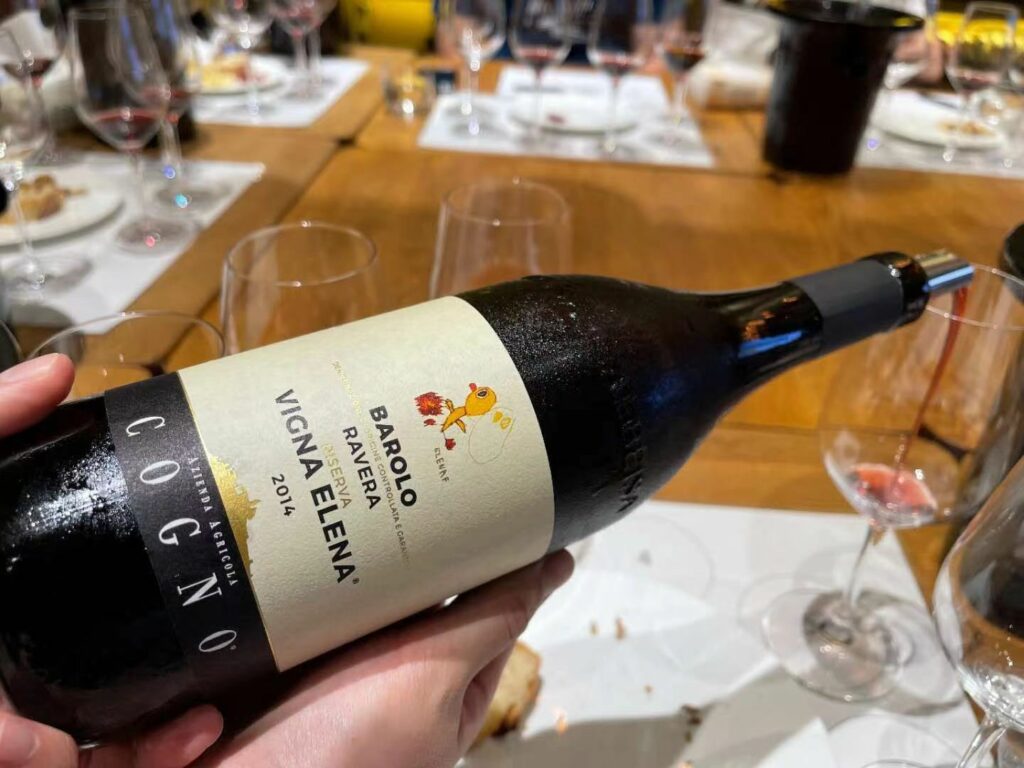 Bright medium red. Redcurrant, red cherry, rosehips, minerals, star anise, white pepper, and licorice on the enticing nose, lifted by hints of crushed rose and violet. A step up in depth, sweetness and intensity from almost all other Barolos you might have tried from the sorry 2014 vintage, with more volume to its medium-bodied, smoothly tannic frame. The mounting finish showcases outstanding energy and focus (the total acidity of 6.3 g/L guarantees freshness) to its extremely long and pure spicy red fruit and mineral flavours. The vintage, which was marred by copious rainfall and warm overall temperatures (which in turn meant heavy disease pressure and ultimately low yields) was essentially saved by fine autumn weather (the grapes were harvested in October). Drinking window: 2024-2036.
Cogno 2013 Barolo Riserva Ravera Vigna Elena                              97
Vibrant, deep red. Very pure and precise aromas of red cherry, pomegranate, rosehip, blood orange, and Assam black tea, complicated by elements of licorice, camphor and fine old leather. Multilayered, dense and pure, with a seamless quality to the flavours of red fruit and spices, that linger impressively on the rising, smooth, and energetic finish. An outstanding but generally underrated wine, the 2013 Vigna Elena offers plenty of pleasure now but will age well. Drinking window: 2025-2045.
Cogno 2012 Barolo Riserva Ravera Vigna Elena                              96
Bright garnet-red; there is a definite orange tinge at the rim that is highly typical of the Nebbiolo Rosé variety. The pretty nose is very perfumed, redolent of sour red cherry, violet, faded rose petal, cinnamon and potpourri, not to mention lifted by hints of sweet spices, orange peel and coriander. Harmonious acidity nicely frames the juicy flavours of red berries and fragrant botanicals supported by a solid tannic spine. Closes very long with a steely quality that is also very characteristic of the CN 111 Nebbiolo Rosé clone. A simply superb wine in a hot vintage rife with many overrated Barolos, I have written before that this is one of the vintages of the Barolo Vigna Elena that most speaks of the Nebbiolo Rosé variety (cinnamon!) and that best showcases how wonderfully this grape perform in hot droughty vintages. Drinking window: 2022-2040.
Cogno 2011 Barolo Riserva Ravera Vigna Elena                              93
Deep red-ruby with only a hint of pale garnet at the rim. Initially very reduced nose opened somewhat with aeration to show strawberry, raspberry and minerals, along with a light grilled herb and eucalyptus quality. Then broad, serious and chunky, with decent freshness but limited refinement to its candied violet, licorice, sage, dried fruits and pipe tobacco flavours. Finishes long but not so subtle, and with tannins that are still slightly on the chewy side. Drinking window: 2024-2038.
Cogno 2010 Barolo Riserva Vigna Elena                                         96
Good luminous red, and very little garnet at all. Very perfumed, incisive aromas of pomegranate, red cherry, mint, white pepper, eucalyptus and licorice on the enticing, deep nose. Sweet and seamless on entry, with very refined and vibrant flavours of red berries, balsamic oils and flint, complicated by strong notes of candied violet and crystallized blackberry. Finishes with polished but serious tannins and impressive length. A knockout wine that boasts a very pure, lively and long finish of real class. It's a wine that also showcases the best side of 2010 (a very good but also very overrated year with many Barolos that are overripe). Drinking window: 2022-2050.
Cogno 2009 Barolo Riserva Vigna Elena                                    95
Bright red with a large orange-garnet rim. Very spicy nose is typical Nebbiolo Rosé: cinnamon, nutmeg, clove, coriander and cumin complement red rose petal, blood orange and strawberry aromas and flavours. Juicy hints of camphor and tar emerge on the supple, forward and effusively spicy and floral back end. Another knockout Vigna Elena that is readier and more forward than most, but perhaps at the expense of some detail and precision. Touted by some as a great effort in a hot vintage, it is really nothing such: rather it is the usual, expected, successful expression of Nebbiolo Rosé in hot vintages, climate conditions it is uniquely well-suited for. But clearly, you have to know such things in order to write accurately about a wine and the grape variety it is made with. Drinking window: 2022-2038.
Cogno 2007 Barolo Riserva  Vigna Elena                                        97
Lively deep red with garnet highlights. Remarkably refined nose of sour red cherry, raspberry, lemon oil, all lifted by a violet topnote; here the cinnamon note is less marked than in the 2012 and 2009. Then dense juicy and elegant with precise flavours of red cherry and raspberry lifted by outstanding clarity and cut. A remarkably refined 2007 (a hot year of large behemothy Barolos but the Nebbiolo CN 111 clone came through in splendid fashion, as it always does in hot droughty years) this magically combines elements of the Barolo Riserva Vigna Elena of 2012 and 2009, but with a more refined spicy note to the nose and a slightly more austere mouthfeel than is usual for this wine in hot years. Knockout stuff. Drinking window: 2022-2037.
Cogno 2006 Barolo Riserva Vigna Elena                                    94
Good full red-ruby with a garnet rim. Aromas of pomegranate, camphor, crushed rocks and violet. Enters rich, dense and sweeter than almost all other Vigna Elena vintages I can think of off the top of my head, then turns more austere and with a steely quality to its bright core of red fruit and mineral flavours. Finishes with noteworthy acid bite, almost shrill in fact, on the long floral and slightly tough tannic finish. Call me crazy, but the 2006 Vigna Elena strikes me as having more Nebbiolo Lampia-like elements than usual. Still, this is a remarkably refined and deep Vigna Elena that will age splendidly. Drinking window: 2022-2040.
Cogno 2005 Barolo Riserva Vigna Elena                                    93
Bright red with a pale rim. Enticing, very pure aromas of dark red cherry, licorice, faded flowers and sweet spices. Enters suave, but turns austere in the middle, with firm acids framing the red fruit, spice and floral flavours to leave an impression of refined classicism on the long and mineral back end. A very successful Vigna Elena in an underrated Barolo vintage that was probably not ideal for Nebbiolo Rosé. Drinking window: 2022-2036.
Cogno 2001 Barolo Riserva Vigna Elena                                    94
Good full red with an orange translucency. Beautiful notes of crystallized cranberries, camphor, minerals, cinnamon, dried flowers and tobacco on the nose and in the mouth. Broad and sweet but with lovely lift, with a long finish featuring serious palate-saturating breadth and broad, very polished tannins. One of the softer Vigna Elena wines. Drinking window: 2022-2033.
Cogno 2000 Barolo Riserva Vigna Elena                                    94
Deep, bright red with an orangy hue. Expressive but low-pitched aromas of ripe red cherry, blueberry nectar, nutmeg, cinnamon and chestnut, lifted by white peppery nuances. Sweet, juicy and very intensely flavoured, conveying a powerful impression of energy and focus not to mention clarity and cut on the long finish. Perhaps not as fine-grained as the 2006 and 2007, but immensely pleasurable and charming right now. Drinking window: 2022-2040.
Cogno 1999 Barolo Riserva Vigna Elena                                    98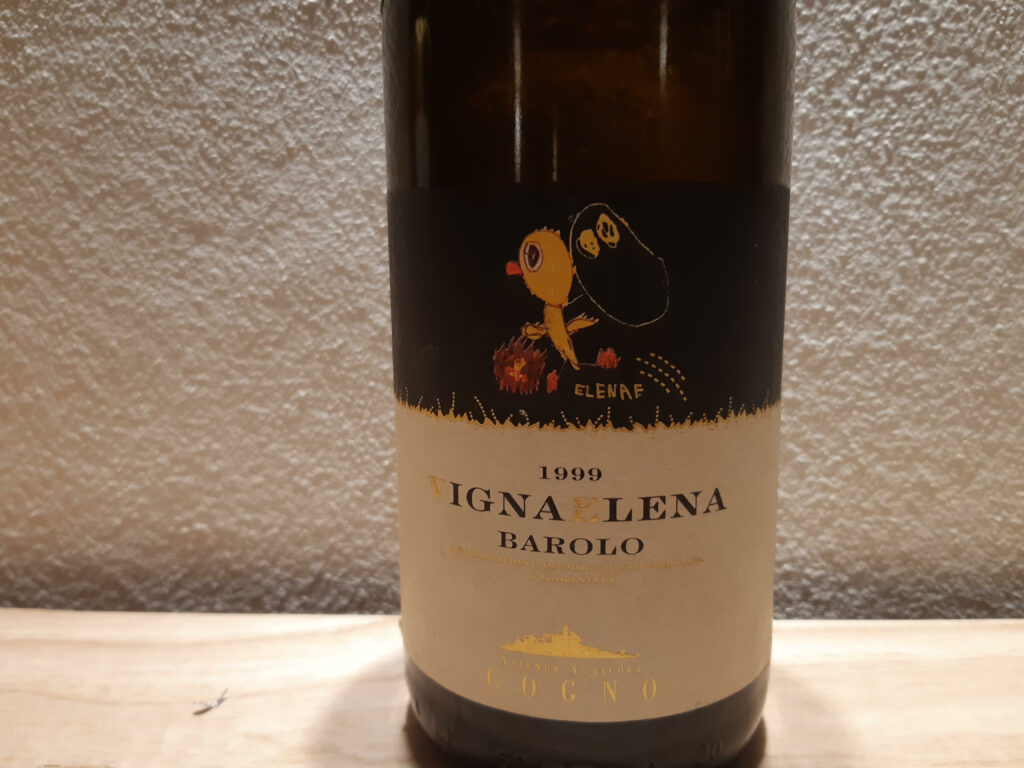 Full, deep red. Incredible nose combines red fruits, blood orange, minerals, sweet spices and truffle. Sappy, silky and weightless on the palate, with a pristine quality to its amazingly intense red fruit, tobacco, camphor and mineral flavours. An absolutely memorable wine that saturates every taste bud of the palate, closing long and mineral-driven. The 1999 Barolo Riserva Vigna Elena is one of the all-time great wines that Cogno has made, but it is a very hard wine to score. Beware that there is unfortunately noteworthy bottle variation because of an issue with corks (since resolved). If you get a properly stored bottle with a good cork, it will prove one of the best Barolos you will have tasted in some time: in that case, it makes for compelling drink currently, but will still evolve positively for another decade at least. My score is actually an average of four different times I tasted this wine in the last eight months: just so you know, in my score, I chose to err on the higher side because on one of the four occasions, the wine was so spectacular I scored it 100 points, and so it deserves the benefit of the doubt. But the bottles with corks that haven't held up are marred by what are excessive notes of damp forest floor and saltpetre, which is a pity. Drinking window: 2022-2033.
Cogno 1997 Barolo Riserva Vigna Elena                                    91
Good deep, dark red with a large garnet rim. Spicy aromas of red fruits, herbs, licorice and minerals. Large-scaled, broad and rich, with good but not memorable depth of flavour and sweetness and with slightly tiring crystallized red berry, forest floor and minty flavours. Finishes nicely persistent but not extremely long, with broad, dusty, tannins and repeating truffle, forest floor and spicy nuances. Drinking window: 2022-2030.