This hardly seems controversial. One only has to taste the same wine from two adjacent vintages with very different weather patterns to experience this truth. Yet we have seen such an improvement in vineyard management, leaf management, selection of grapes, use of oak, timing of picking, etc. to see that human intervention has been directed at compensating for the impact of weather on the maturation of grapes. With considerable success I might say. And with the increasing warmth of summer temperatures it seems that underripe grapes is a thing of the past. In the past twenty-two years in Burgundy there has been only one vintage in which the grapes were picked in October: 2013. So perhaps vintage does not count as much as it once did. When was the last time Germany experienced what was normal in the 1960s, 70s and 80s—only 3-4 ripe vintages in a decade?

However, my experience tells me that despite global warming,  there are still significant variations in many important wines, year after year.  One only has to taste 2007 and 2008 Barolos to be reminded the terroir is not the only determinant of expression, aromatics, texture and balance. In fact, we have the least say in terroir of all the factors that determine how wines will turn out over say a decade.  The older the vines of course the more the wine is given its basic character from what happens deep under the surface. Would we want it any other way? Vineyard names designate terroirs, not variables which change every vintage. Over the fundamental harmonies and melodies which come from terroirs, weather and human intervention determine just how clearly and decisively these terroir fundamentals reveal themselves.
This was brought home to me recently at a tasting of the wines from Leoville Las Cases, one of Bordeaux's greatest properties.  The presenters chose to pair the relatively mature 2001 with the youthful 2015. The vintages could hardly have been more different: 2001 was one its way to being a worthy successor of the powerful 2000s. Nature made it sure that the "ripeness which is all" did not happen. The 2015 growing season was on the other hand one of lots of sunlight and warmth. We could all sense the presence of the sun on the 2015 and its absence in the 2001. Of course, the terroir properties of Las Cases—the deep dark berry fruit, the iron, lead pencil and that cool, firm inner reserve which is part of the DNA of Las Cases was evident in both wines. The 2015 was much richer, fuller and deeper. An infant—a most promising one—the 2015 Las Cases is well on the way to being a masterpiece. The synthesis of Las Cases' inner density and self-containment and the exuberance of the sun light made for a remarkable wine. The absence of the sun on the 2001 inhibited its expressive possibilities. First rate "Terroir" with the assistance of an abundance of sun makes for an unbeatable combination. So yes, vintage counts.
The wines in this tasting by Ian D'Agata: a vintage comparison
Château Léoville-Las-Cases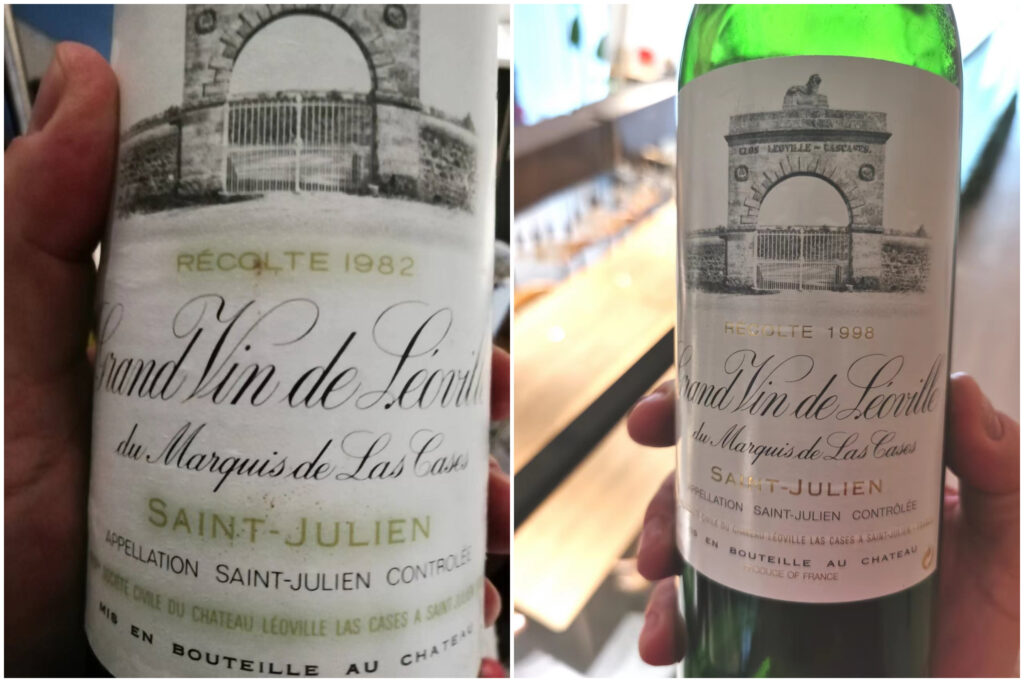 Château Léoville-Las -Cases 1982 Château Léoville-Las -Cases Saint-Julien Bordeaux                                                                         99
If this isn't a perfect wine, it comes darn close. It showcases the exuberant, almost flamboyant  side of the vintage in which the Cabernet Sauvignon took front and center stage (a very warm year, temperatures didn't drop much even in the evening) and somewhat diminishing the "Bordeaux" character of the wines (that was much more evident with the underrated 1983s). Bright ruby in colour with a pale rim, the 1982 Léoville-Las-Cases offers a panoply of elegant blackcurrant, cedar and mineral aromas and flavours woven together by harmonious acidity and nicely supported by polished tannins. The finish is long and lifted thanks to a pretty violet top-note. This classic, dense, beautiful wine was made by Michel Delon who was in charge until 2000; it is just as multilayered, extremely complex and long as almost every Léoville-Las-Cases unfailingly proves to be from a great vintage . Even better, at 40 years of age, it is still drinking beautifully and is nowhere near being on the old side. Drinking window: 2022-2035.
Château Léoville-Las-Cases 1998 Château Léoville-Las -Cases Saint-Julien Bordeaux
94
Bright ruby-red with a large disc of garnet at the rim; paradoxically, the 1982 is darker overall in colour. Cedar and lead pencil complement the violet-tinged dark berry aromas and flavours. Surprisingly rich in the mouth, with a medium-bodied weight on the palate and a gentle texture that is deeper than most left bank 1998 Bordeaux wines but that doesn't have the flesh and ripeness of the 1982 Leoville-Las-Cases. By contrast, the 1998 Leoville-Las-Cases offers a perfect example of what a great property can do in so-so year (1998 was wildly better on the right bank than it was on the left); while this doesn't have the three dimensional texture and depth of the unforgettable 1982, it is a remarkably accomplished, polished wine that speaks of the talent level at this estate. A 76% Cabernet Sauvignon, 15% Merlot and 9% Cabernet Franc blend, the 1998 LLC is one of the better left bank wines of the 1998 vintage, in fact. Drinking window: 2022-2035.
Tenuta San Guido Sassicaia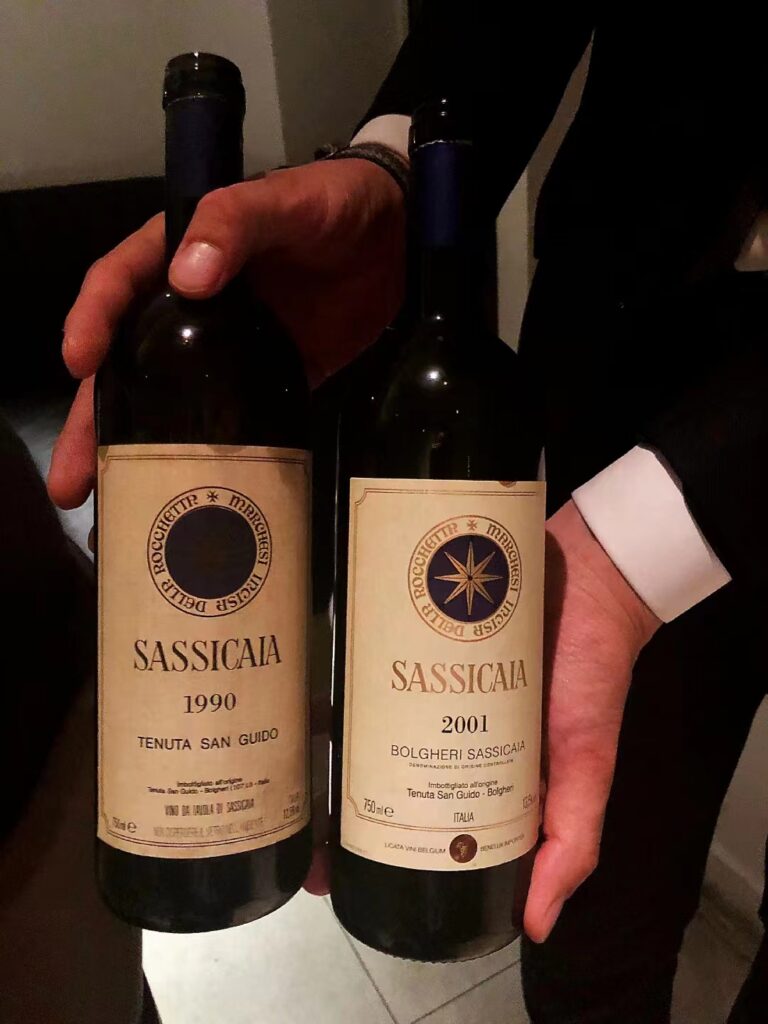 Tenuta San Guido 1990 Sassicaia Bolgheri Sassicaia                       96
Deep red-ruby with a garnet rim. Rich aromas and flavours of cassis, ripe dark plum, balsamic oils, tropical cocoa and eucalyptus, plus a strong loamy note, and complemented by vanillin oak tones. Then rich and very ripe but without any undue weight on the palate, offering a thrilling combination of density, intensity of flavour and superripe fruit flavours that stay just this side of jammy: there is real palate presence but without thickness of texture. This bombshell of a wine (certainly so by Sassicaia's usually more restrained standards), finishes with suave, mouthcoating tannins and subtle notes of pepper and herbs. Will last another couple of decades in a good cellar, but the 1990 Sassicaia is so good to drink now, why wait? It will probably also embark on a descending slope after 2030, so enjoy it at its peak now. This beautiful wine showcases the effects of the warm vintage with a ripe, seemingly low acid wine that is altogether different than about 90% of all Sassicaias ever made. Vintage counts, indeed. Drinking window: 2022-2030.
Tenuta San Guido 2001 Sassicaia Bolgheri Sassicaia                       94
Good ruby-red with little or no rim. Plum, spice cake, coffee, licorice and a minty nuance on the nose. Supple and sweet, with sneaky intensity of flavor and nicely integrated acidity delivered in a very elegant, restrained manner and with a seamless mouthfeel. A rather suave style of 2001 Bolgheri, finishing with fine-grained tannins and subtle persistence; it's a wine that speaks more of Sassicaia than it does of the 2001 vintage in Bolgheri and also a wine that gives a marked demonstration of just how much vintage counts. A fresher year, the 2001 Sassicaia has always stood out for a lighter frame and a gentler disposition to its delivery of fruit and substance. It could not be any farther removed from the style of the almost bombastic1990 Sassicaia, yet the two wines are practically of the same quality level and which you prefer will depend mostly on what style of wine you prefer. Rich and opulent versus racy and refined: I think the 1990 is the better of the two wines, but that much admitted, I would much rather drink the 2001 with dinner tonight. Drinking window: 2022-2035.
Château de Rayne-Vigneau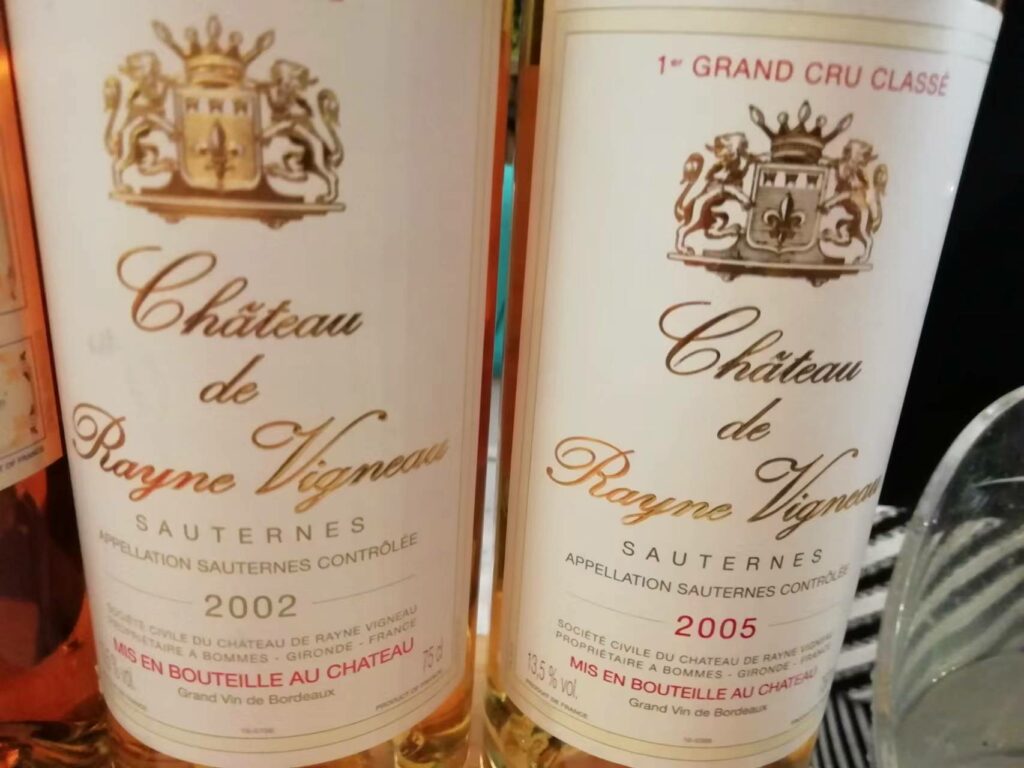 Château de Rayne-Vigneau 2005 Château de Rayne-Vigneau Sauternes           92
Bright golden yellow. Exotic aromas of quince, orange marmalade, honey, marzipan, lemon curd and just a hint of saffron. Then somewhat more taut and less showy in the mouth, but with the tell-tale richness of the 2005 vintage (a very warm year) on full display. Closes long and lively with very good precision and focus. Not as exuberant given the year as I might have thought, this is still a fairly rich, sweet, viscous wine that is very-well balanced. Lovely to drink now but will age for much longer still in a good cellar. Drinking window: 2022-2035.
Château de Rayne-Vigneau 2002 Château de Rayne-Vigneau Sauternes    90
In a striking demonstration of just how much vintage counts, the 2002 Rayne Vigneau is a completely different wine from the 2005. Lighter gold in colour, it boasts an extremely floral nose that is nuanced and reticent hinting at honey, quince jelly and peppermint. In the mouth it is light and lively and nowhere near as creamy or as rich as the 2005 Rayne Vigneau with hints of crème brulée and sweet spices lingering nicely on the fresh, light on its feet medium-long finish. Very good clarity and cut here for a 2002 Sauternes, a cooler, rainier vintage that makes up for lack of power with daintiness and perfume. Lovely, and ideal as an aperitif. Drinking window: 2022-2027.