Petit Manseng, the grape variety
Petit Manseng is originally from the Pyrénées-Atlantiques department (what used to be the Béarn in the east and the three French Basque provinces of Le Labourd, La Basse Navarre and La Soule in the west) of Southwest France. And still today, Petit Manseng is most associated with the Jurançon wine Appellation of France's southwest, though it is also an important player in two other nearby French Appellations, the Pacherenc du Vic-Bilh (the white wine of Madiran) and Irouléguy (the latter is in French Basque country: and so there the grape also goes by the name of Ixkiribot Xuri Tipia). Genetically, Petit Manseng appears to be closely related to Savagnin (Traminer).
Though not especially abundant and still essentially limited to the country's Southwest, the hectares of Petit Manseng in France have been climbing slowly but surely over the last century. There were 32 hectares planted in 1958, 34 hectares in 1968, 520 hectares in 1998, 620 hectares in 2008, and 1445 hectares in 2018. In fact, it remains fairly rare everywhere else: listed among the official grape varieties of Bulgaria, Italy, Portugal and Spain, its hectarage there is also limited. For example, you can count Italian monovariety Petit Manseng wines on the fingers of one hand, and still have fingers to spare. Petit Manseng is also grown outside of Europe. In the United States, it is planted in North Carolina, where it is used to make mostly dry wines, and in Virginia, were it is used mostly to make sweet wines. Its fortunes in the latter State seem to be on the rise: while in 2004 there wasn't enough Petit Manseng grown in Virginia for it to be even listed in the State's Commercial Grape Report, in 2019 its plantings were just behind those of Cabernet Sauvignon. Furthermore, Petit Manseng wines had won major medals in local competitions (as many as better known Viognier, for example) over the past five years. Petit Manseng is also grown in Australia, though hectares there are much less than previously believed because it was confused with Gros Manseng, another in the long list of ampelographic identification mistakes made all over the world and in this case demonstrated by DNA analysis as detailed by the Commonwealth Scientific and Industrial Research Organisation (CSIRO) and Wine Australia. Petit Manseng is also relevant in Uruguay.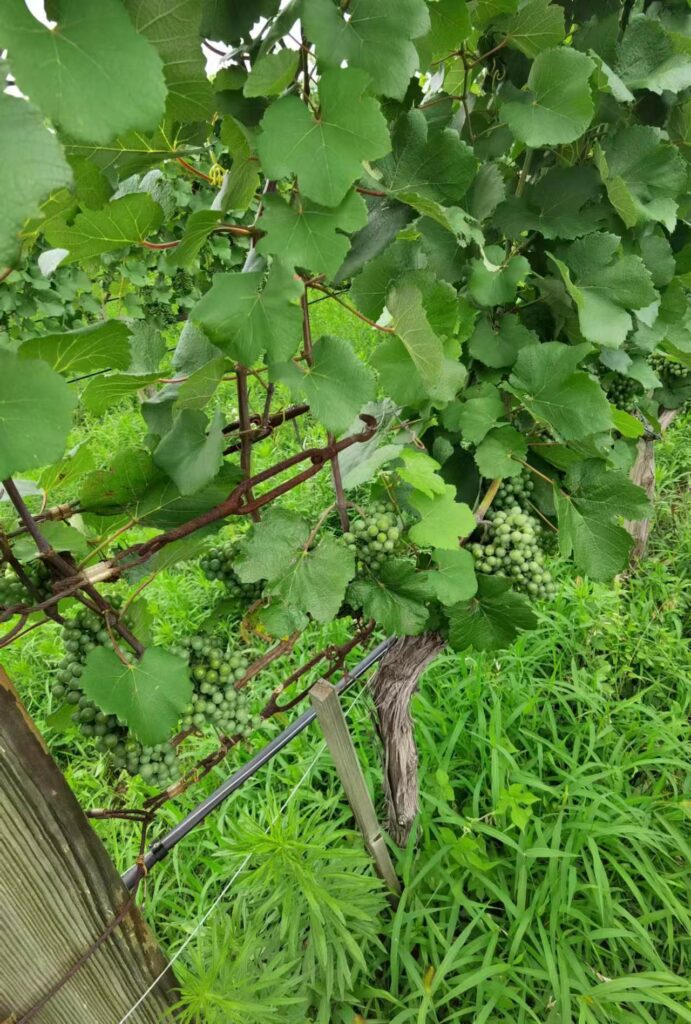 From a viticultural perspective, Petit Manseng is very recognizable in the vineyards, thanks mostly to its very round leaf that has almost no indentations of any kind (the lateral sinuses are practically non-existent; when they are, Petit Manseng's leaf can be said to have, vaguely, five lobes, but for the most part the thing really is pretty circular). As the "petit" in its name suggests, Petit Manseng has small bunches and even smaller, round, berries. That look is what distinguishes it from Gros Manseng, another white grape variety of Southwest France and  characterized by bigger berries and bunches; for the longest time, not unexpectedly given its characteristics of size and much larger productivity, it was Gros Manseng that was the more popular of the two Manseng-named varieties, but today everyone agrees that it is Petit Manseng that is the finer of the two.
Clearly, as with all grape varieties, the way Petit Manseng looks depends on the clone or biotype one is looking at. There exist currently four certified Petit Manseng clones, designated with the numbers 440, 573, 1107 and 1113. Clones 440 and 573 are ENTAV clones respectively certified in 1976 and 1978; clone 1107 is a CA64-ENTAV clone certified in 2006; and clone 1113 is a CA64-IFV clone certified in 2007. Each has a slightly different ampelographic appearance and viticultural behaviour. Clone 1107 has low fertility, clone 440 medium fertility, and the other two have high fertility. Crop levels are usually lowest with clone 573 and highest with clone 1113. Clone 573 is also the clone that has the biggest bunch and berries. Clone 1107 usually concentrates less acidity in its berries than the other three clones (but as we shall see shortly, when it comes to acidity levels "less" is a very relative term with Petit Manseng) while clone 1113 always boasts the highest levels of titratable acidity.
In general, Petit Manseng is an early budding variety, and so unexpected late season frosts pose a real threat; for this reason, the variety is usually trained high off the ground so as to keep it away from the cooler air below. It also has a long growing season, so viticultural areas characterized by relatively long hot summers with noteworthy heat units right around harvest time are ideal. It tolerates humidity well and has reasonably good resistance to rot (but canopy management is key). It is very resistant to downy mildew (oidium) and generally speaking the grape is mostly a pleasure to grow, with some winemakers describing it as a "bulletproof variety". It's an especially ideal wine grape for wet, humid places such as Virginia in the USA and the Shandong peninsula of China.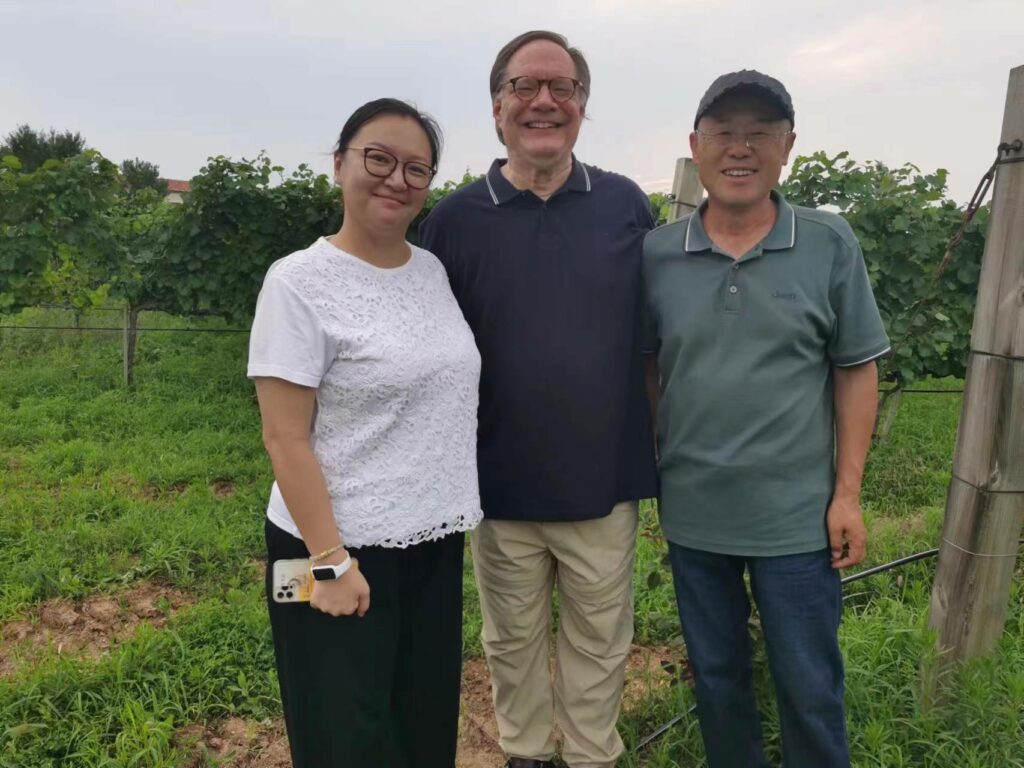 That much said, morphologic and viticultural differences in Petit Manseng become even more apparent when looking at its many different biotypes growing in old vineyards out in the Jurançon countryside. In this respect, it cannot surprise then that a conservatory set up in 1996 in the Jurançon boasts approximately one hundred (100!) different Petit Manseng clones and biotypes: so yes, this variety's morphologic and viticultural characteristics can vary in a noteworthy manner.
However, Petit Manseng's single most important and variety-defining characteristic is not morphologic, but physiologic: it is one of the four or five best grape varieties in the world at concentrating sugar in its berries while maintaining sky-high levels of acidity. For example, the must of suitably air-dried Petit Manseng grapes can reach between 16 and 24% potential alcohol easily, but the slow, long fermentation process is invariably stopped at around 14% alcohol, such that most Petit Manseng sweet wines will have 40 g/L-150 g/L of residual sugar. But given that total acidity can be as high as 7-9 g/L, Petit Manseng's sweet wines are never cloying. Thanks to its combination of high sugar and lip-smacking acidity, Petit Manseng makes some of the world's greatest air-dried sweet wines (Petit Manseng's thick skin makes it hard for noble rot to take hold), though it is being increasingly used to give classically dry wines of real bite (think Chenin Blanc-like acid bite) too.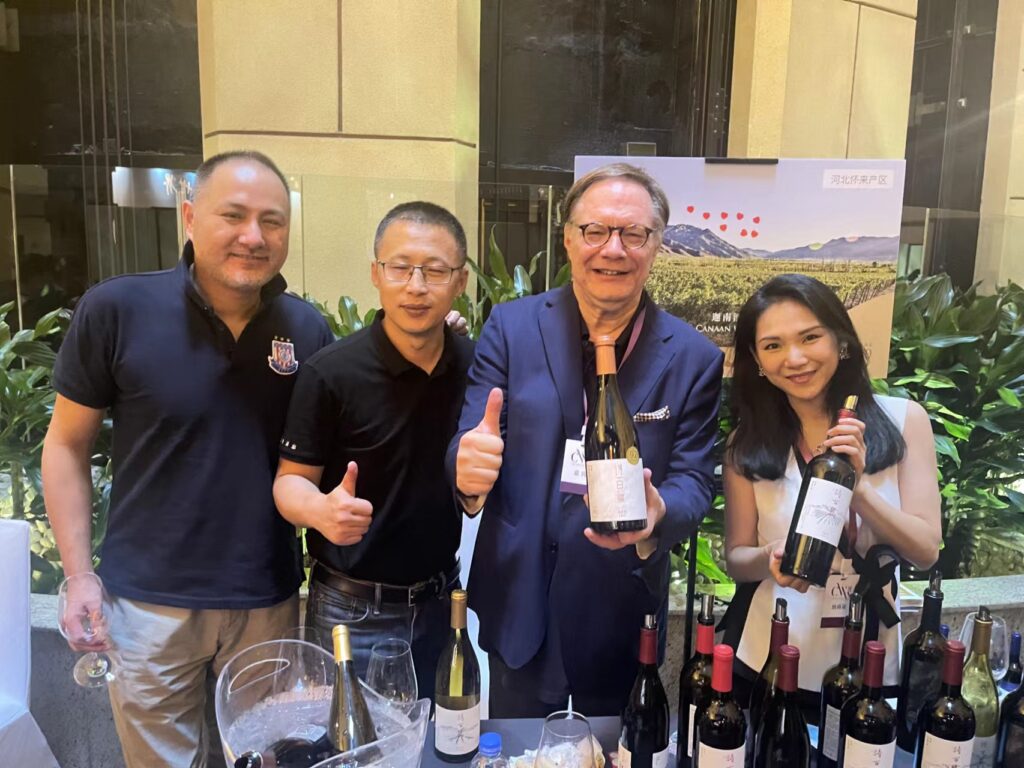 Last but not least, while most other wine grapes tend to drop their acidity when approaching full physiologic ripeness, with some doing so at an alarmingly fast rate, Petit Manseng holds the fort so to speak, and acidity tends to remain on the high side. However, it behaves like any other grape, and its acidity levels will also begin to fall at that point in the maturation curve, so it is best to also pick Petit Manseng grapes fairly quickly in order to safeguard one of the variety's best traits.
Petit Manseng in China
Chinese Petit Manseng wine has been a truly amazing success story; and in many ways, a revelatory one. Why revelatory? Well, because there is a great deal we can all learn from Petit Manseng's trajectory of fame in China. In fact, Petit Manseng's rise to prominence in the country was essentially unforeseen, and not specifically planned for by any winemaking consultant; at the same time Petit Manseng's Chinese success story showcases the importance of proper research and development.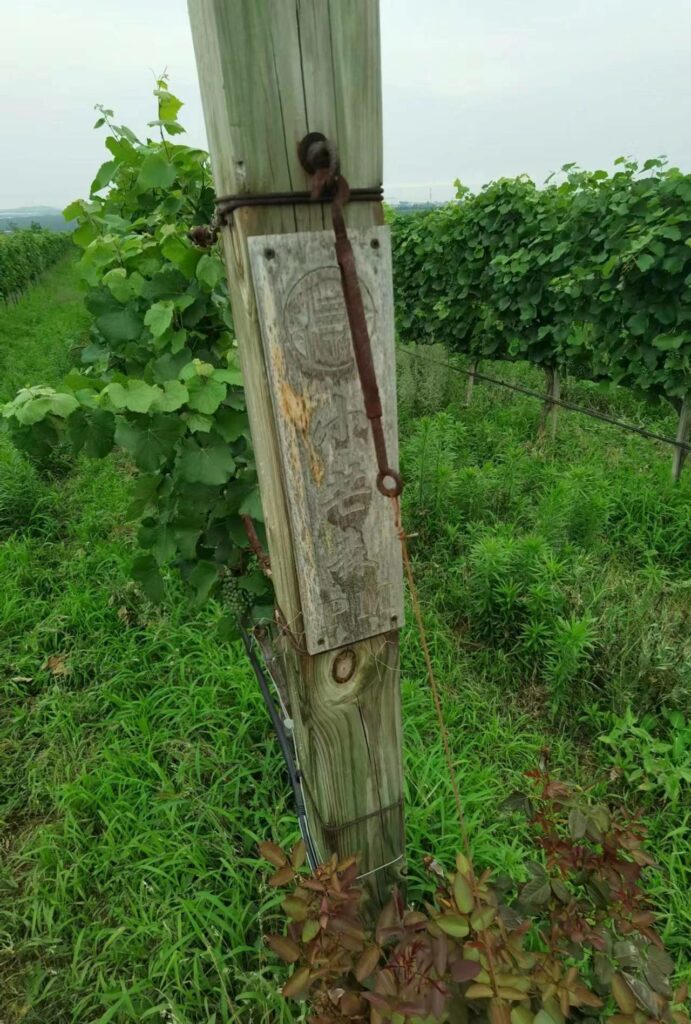 Petit Manseng arrived in China through the auspices of the now historically famous and extremely meritorious Sino-French collaboration that got underway in 1999. It was then that the Domaine Franco Chinois, a boutique Chinese winery, was created with the support of former Chinese Prime Minister Wen Jiabao and former French President Jacques Chirac. This explains the winery's name (Domaine Franco-Chinois), which highlights its origin as a joint venture between the countries of France and China. Located in Huailai (in the Hebei Province) in central Northern China, a little under a two-hour drive from China's capital Beijing (or a little more than thirty minutes by fast train), the Domaine Franco Chinois was the setting for an initial planting of sixteen different grape varieties (and twenty-one clones); those that adapted best to their new Chinese habitat and showed the most promising fine winemaking potential are those grapes that are still grown at the winery today. And after more than twenty years of study and trials, there is no doubt whatsoever that two wine grape stars have turned out to be Marselan and Petit Manseng, with which many of China's best wines of the last decade have been made. The success of what are two essentially little -known speaks volumes about the importance of the specifics of terroir (for the time being at least, neither Marselan nor Petit Manseng are much planted, or have been successful, outside of small viticultural pockets in specific world production areas). But this success is also a poster highlighting the immense importance of R&D in the development of a wine industry anywhere in the world. For it is highly unlikely that, had those many varieties not been planted when they were and for the reasons they did at the Domaine Franco-Chinois, Petit Manseng would have shot to prominence as quickly as it has in China. Think about it now: when is the last time you heard of a winery anywhere in the world, from California to Italy, planting Petit Manseng or being told to do so? Practically never, right? It's only and always Cabernet Sauvignon, Merlot, Chardonnay and the likes that people are told to plant, and this even in the face of many objectively poor and infinitely boring wines made with those grape varieties all over the world. Not to mention a sales market that is already more than saturated with such wines. Clearly, just like every other country, China has also planted plenty of Cabernet Sauvignon, Chardonnay, Pinot Noir, Syrah and other international grapes, and not surprisingly, given they are outstanding grapes, makes some very good wines with them too. So that's to be expected. By contrast, what is unexpected is to have success with a little-known grape such as Petit Manseng. Clearly, had China taken the usual route to planting grapes and setting up wine estates, the country would neither have taken stock as quickly as it did of the amazing potential of its Petit Manseng wines, nor how well the cultivar can adapt to its huge diversity of terroirs. But even if China lucked into its Petit Manseng windfall (and a little luck never hurt anybody), it is also true that the country and its wine sector have infinite merits in recognizing the world-class quality wines that could be made with Petit Manseng there. And even more interestingly, of the potential for different terroir-related expressions of Petit Manseng's wine in the country's highly varied terroirs. In today's somewhat sad wine world of increasing viticultural and winemaking uniformity, Petit Manseng's highly individual, distinct wines are a blessing and wonderful news for wine lovers everywhere (not just in China).
Today, at roughly 135 hectares, plantings of Petit Manseng in China remain very small, especially when compared to Chardonnay's roughly 6500 hectares and Cabernet Sauvignon's 4,000 hectares; but Petit Manseng's hectares are on the rise, with more and more estates trying their hand at it. The only clone planted thus far in China is the 573, but given the grape's undeniable success on Chinese soil, it is likely that more will be planted in the future. Today Petit Manseng is grown in Chinese provinces as diverse as of Hebei, Shandong, Shanxi and Ningxia. In China, Petit Manseng is used to give both lifted and very luscious sweet wines, and increasingly, classically dry wines too. The wines exhibit the typical array of aromas and flavours the variety is well-known for, ranging from honey to ripe tropical fruit to almond paste, to tropical fruit and sweet spices.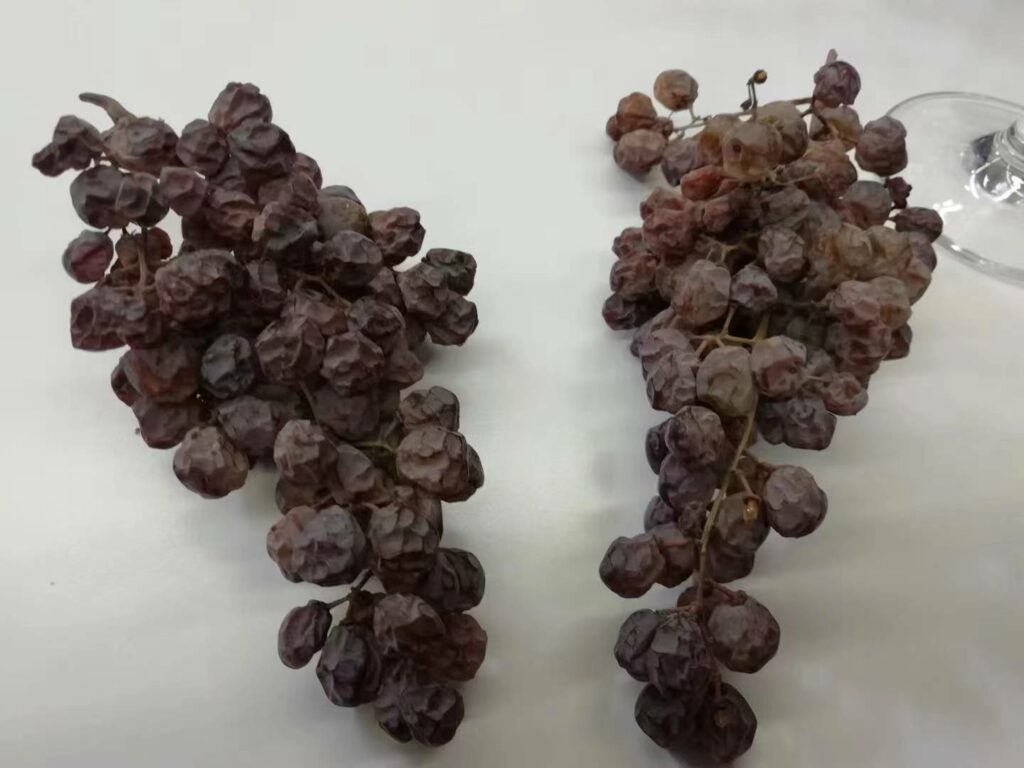 In fact, Chinese sweet Petit Manseng wines have been characterized in their key odor‐active compounds by gas chromatography–olfactometry, aroma reconstitution, and omission tests published in the journal Food Chemistry in 2021 (Yibin Lan, Jingxian Guo, Xu Qian, Baoqing Zhu, Ying Shi, Guangfeng Wu, and Changqing Duan). Results of this super interesting study showed that 3‐Mercaptohexanol, isoamyl alcohol, ethyl octanoate, isovaleric acid, (E)‐β‐damascenone, and phenylethanol are especially prominent in the aroma spectrum of these wines. Even more interesting, distinguishing between wines from three Chinese wine regions was successfully achieved by partial least squares discriminant analysis based on the quantitative results of key odorants. Among these, 3‐Mercaptohexanol is apparently most associated with regional discrimination and had highest concentrations in Petit Manseng wines from Jiaodong Peninsula. To put it in simpler terms for you, it appears that there is most definite terroir-related effect in Petit manseng wines, as shown by different aromatic profiles of wines made in different regions.
Petit Manseng is proving marvelously suited to the cooler, wet climate of parts of Shandong especially. According to Liu Layu, one of China's most talented winemakers and Head of winemaking at Longting Vineyards, Petit Manseng there prefers gravel-rich soils that offer good drainage, not an unexpected finding given how rainy it can get in Shandong. That much said, a minimum of water-retaining capacity is also necessary so as to better resist drought-affected years. There it is usually harvested in mid-September when the aim is to make dry wines, and in mid-October and even later when the objective is to make sweet wines. Of note, at Longting and everywhere else in China they make true late harvest wines and avoid air-drying altogether, which explains the much more vibrant, lifted personality of Longting's and most Chinese sweet Petit Manseng wines.
Chateau Anuo, in the Yentai area of Penglai district (Penglai is a county-level city) belonging to the prefecture-level city of Yantai in the Shandong peninsula, is another up and coming Chinese wine estate the wines of which are going from strength to strength and that have quite impressed me over the last few years. Recently, the estate has begun making some really good classically dry Petit Manseng wines, by engaging in various trials. For example, in 2018 super-talented winemaker Allen Shao harvested the grapes at a potential of 350 g/L of residual sugar (r.s.), fermented to 18% alcohol, and kept the wine in oak for fifteen months. In 2019 they toned things down a bit, achieving 290 g/L of r.s. in the grapes and fermenting so as to have a lighter, pleasantly fruity and sweet wine with only 11% alcohol. In 2020, the r.s. level of the grapes was 230 g/L but they fermented to dryness (leaving only 5g/L r.s in the finished wine: but with Petit Manseng's laser-like acidity, the wine tastes totally dry) and bottled it at 12.8% alcohol. They do make a sweet wine, and like at Longting, prefer not to air-dry at all, but rely on leaving the grapes directly on the vine. Over in Quingdao (Tsingtao), on the eastern side of the Shandong peninsula, Chateau Nine Peaks has also been making some outstanding Petitit Manseng wines bottled as part if their Collection series of wines (also featuring outstanding Cabernet Franc, Cabernet Gernischt, and Petit Verdot monovariety wines). There the climate is slightly warmer and drier and budburst occurs about a week early with respect to the other parts of Shandong. During a couple of my visits at the winery about six months apart, I had the chance to talk at length with winemaker Emily Jin and her competent, well-trained staff. She told me that in their part of Shandong Petit Manseng seems to have adapted extremely well; apparently, Petit Manseng likes the area's high average temperatures and the large diurnal temperature shifts so it keeps perfume and acidity and is very easy to manage. They made their first wine in the 2019 vintage, and I can vouch that it is a wine that hit the ground running: though there are only a few vintages to fall back on, thus far Chateau Nine Peak's Petit Manseng wine has never been short of excellent.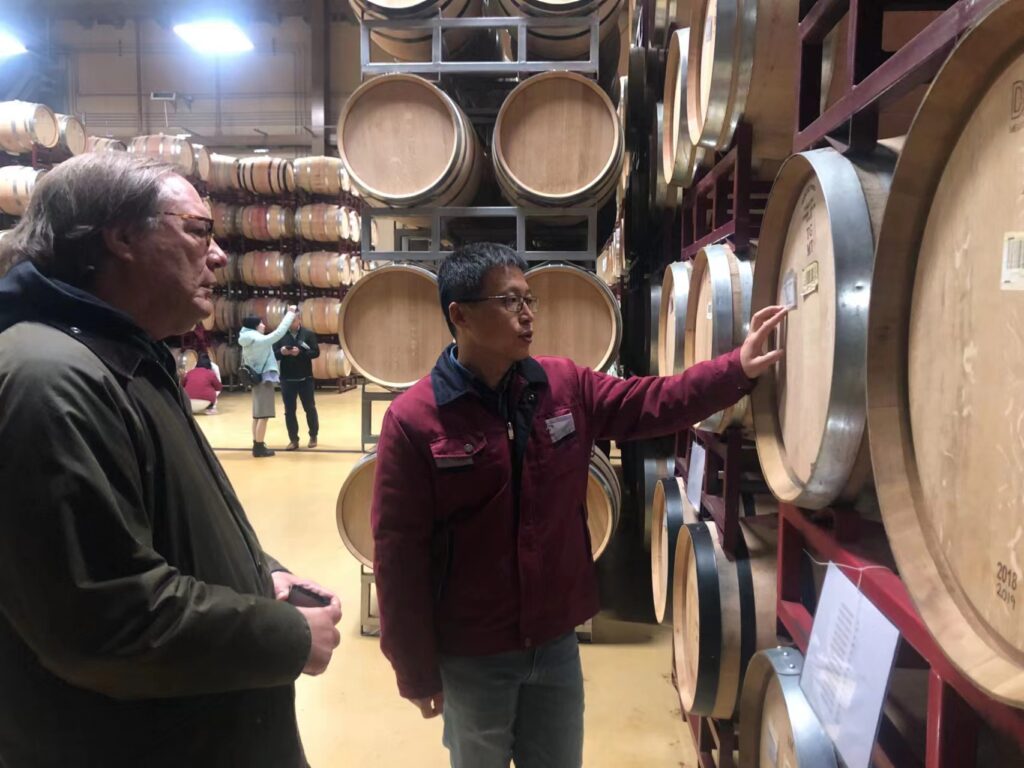 But clearly, the Chinese wine estate that has had the most success thus far with Petit Manseng is Domaine Franco-Chinois: it can be argued that this winery's Petit Manseng is, in many respects, China's most successful and instantly recognizable wine. For sure, it is the one Chinese wine that all major sommeliers, both Chinese and international, agree is an absolutely world class wine, and the myriad awards the wine has garnered over the years provide ample support in that regard. Richard Li, CEO of the Domaine Franco-Chinois and its sister winery Canaan, confirms that soil-wise, like in Shandong, gravel is an important part of the equation, but mentions that a sandy component is also key so as to maximize perfume. Therefore, he characterizes the ideal soil for Petit Manseng in Hualai (Hebei province) to be sandy-gravel in nature. His winemaker, Desheng Zhao, adds that Hualai's Petit Manseng sweet wine is a different wine from the sweet ones of Shandong: at Domaine Franco-Chinois at least, they look for greater richness and concentration, such that this estate's wines sport residual sugars closer to 150-200 g/L compared to the 50-100 g/L of most of Penglai's sweet Petit Manseng wines. At Franco-Chinois they also leave the grapes hanging on the vines, but in Hualai the dry and windy climate makes things easy, such that they can pick grapes as late as in mid-November (as a general rule, one month after than in Shandong and up to a month and a half after they have picked the Petit Manseng grapes with which to make their classically dry wine). Richard Li also mentions that Petit Manseng's yields really are low: "I think it's also worth mentioning that the yield of Petit Manseng is around 2250 kg (grapes) per hectare, whilst our regular white grape yields are double that amount (but still low compared to other Chinese wine production areas). At vinification, you get 30-40% of juice for Petit Manseng, and 50-55% for other white grapes and wines".
In ultimate analysis, the number of very good to excellent Peitit Manseng wines, dry or sweet are on the rise in China. Production volumes are still small, but this is undoubtedly a grape variety that has found a real home in China, and like Cabernet Gernischt and Marselan has to be considered nowadays as a one of the three signature Chinese wine grape varieties. I know I look forward to trying the Chinese Petit Manseng wines that will soon be seeing the light of day. There really is immense promise ahead for this grape in China and the many Chinese families that make a living with vine have reason to smile.
The wines in this tasting report
Chateau Anuo.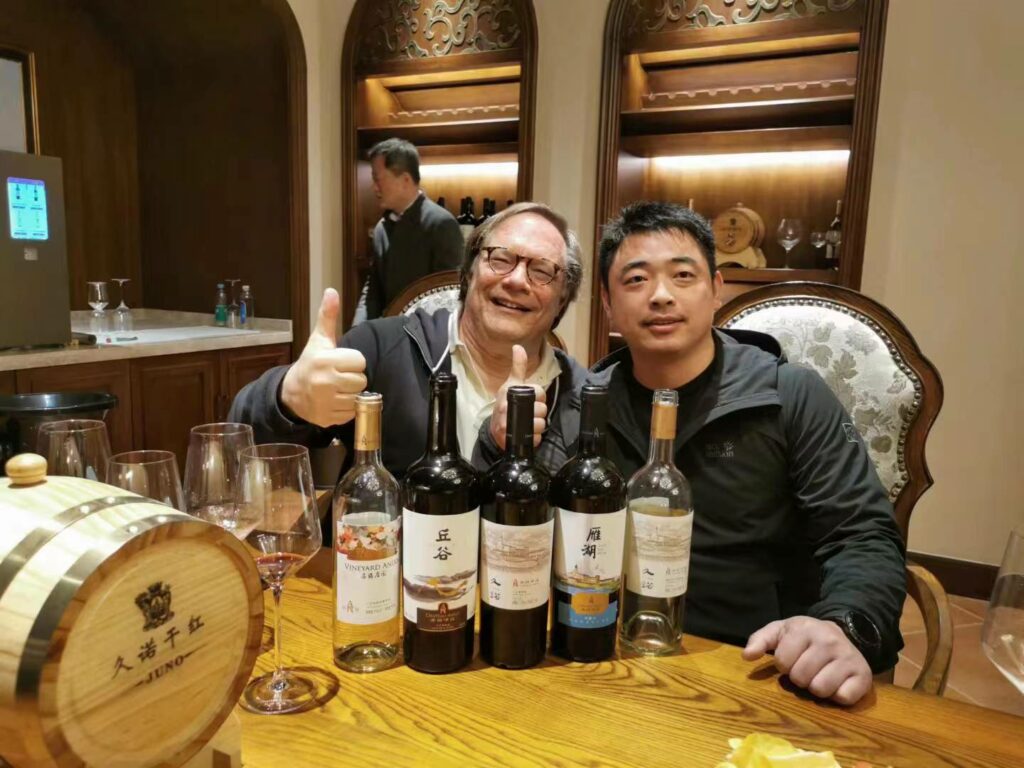 Chateau Anuo 2021 Petit Manseng Vineyard Anuo Dry White Wine Shandong                                                            92
Bright, deep straw yellow. Complex, musky nose combines white peach, guava nectar, mango, white flowers and sweet spices; boasts a grapey character that suggests a very concentrated wine and that is typical of good Petit Manseng wines. Then rich and dense, with harmonious acidity giving shape to the pristine flavours of white peach, minerals and tropical fruit. The finish is long, tactile and mineral-edged. Considering these vines were planted only in 2015 and so are only seven years old, this is an extremely promising wine and I look forward to trying new vintages in the years ahead. For now, it's the best Petit Manseng wine yet from Chateau Anuo, and frankly, the future ahead looks bright. Well done. Drinking window: 2022-2028.
Chateau Anuo 2020 Petit Manseng Vineyard Anuo Dry White Wine  Shandong                                                            90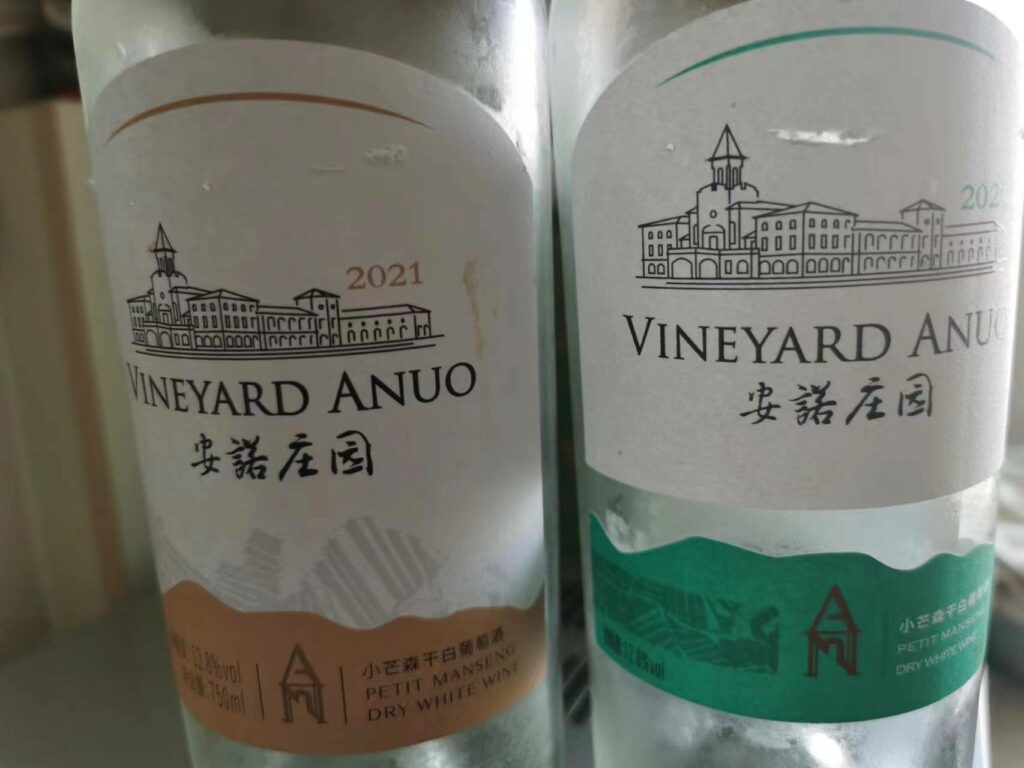 Pale golden-tinged straw colour. Reticent but clean aromas of apple and pear, complicated by hints of minty herbs and candied ginger. Then also linear and straightforward in the mouth, with lively acidity providing support to the delicate orchard fruit and citrus flavours. Finishes clean and crisp, but not as concentrated or as complex as the other Petit Manseng wines I tasted from this winery. Drinking window: 2022-2023.
Chateau Anuo 2019 Petit Manseng Vineyard Anuo Dry White Wine  Shandong                                                            91
Bright straw-yellow. Slightly subdued nose hints at ripe orchard fruit and guava. Then rich and dense with more obvious flavours of sweet tropical fruits and impeccable acid-sugar balance (100g/L r.s. and 6.5 g/L total acidity) and bosting only 11% alcohol while packing in plenty of flavour. The grapes were picked at the end of October and were late harvested, resulting in a slight air-drying directly on the vine. Lovely, clean lightly sweet wine that seems less sweet than it really is because of Petit Manseng's enamel-shattering acidity. Drinking window: 2022-2025.
Chateau Nine Peaks.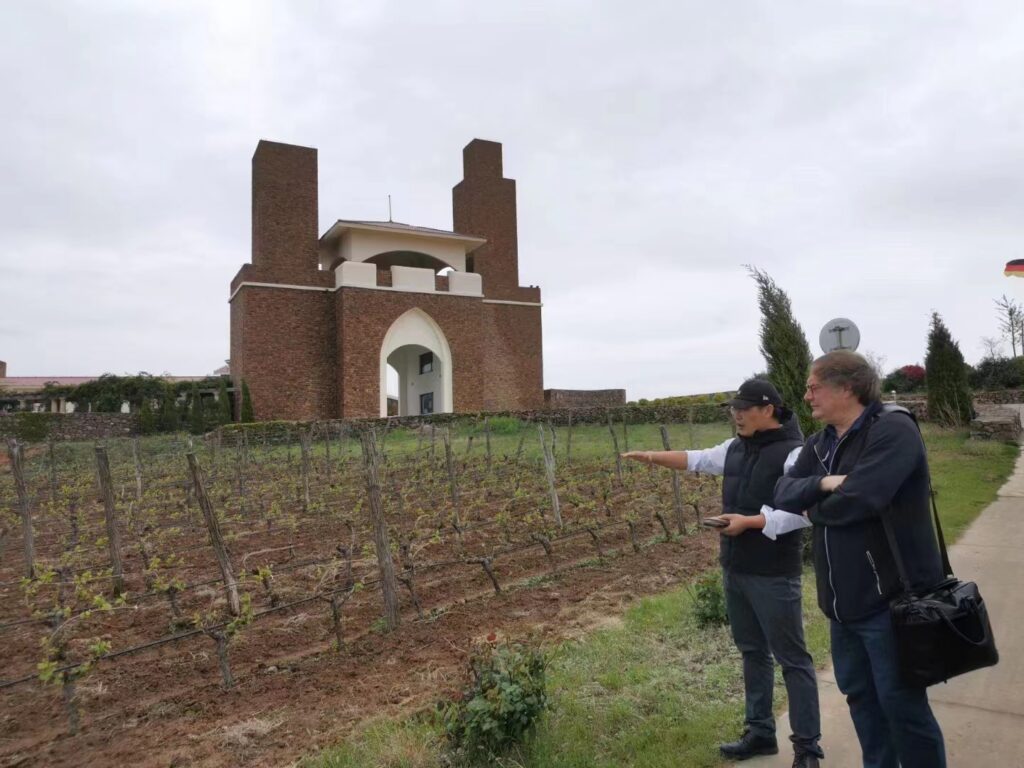 Chateau Nine Peaks 2020 Petit Manseng Collection Tsingtao                    91
Luminous straw yellow. Very pretty, delicate aromas and flavours of honey, ripe orchard fruit, green figs and guava.  Then also very pretty on the palate with balanced acidity and a nicely creamy but not weighty palate presence. Closes long and suave. Not as concentrated or as complex as the 2019 but a lovely wine. Chateau Nine Peaks has a real knack with this wine. Drinking window: 2022-2025.
Chateau Nine Peaks 2019 Petit Manseng Collection Tsingtao                    92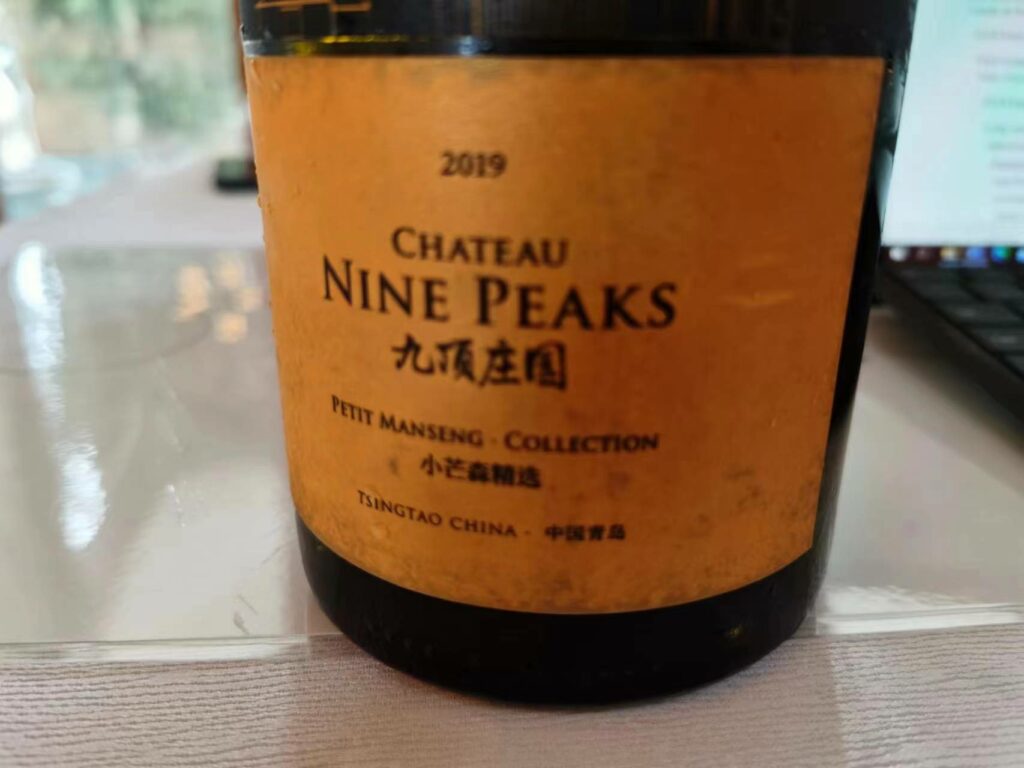 Bright golden-tinged straw yellow. Ripe tropical fruit (mango, guava, roasted papaya), canned pineapple, and honey on the nose and in the mouth but impeccable balance (120 g/L r.s. and 8.4 g/L total acidity) makes this very intense, rich, tactile, and concentrated wine seem extremely light and lively on the palate. Finishes long, with a creamy, almost oily nuance and a hint of tannin. Harvested in October 20. Denise Cosentino, then at Chateau Nine Peaks and now head winemaker at Lafite-Rothschild owned Long Dai winery, told me she pressed the grape herself by foot. Drinking window: 2022-2027.
Domaine Franco-Chinois.
Domaine Franco-Chinois 2017 Petit Manseng Hualai Hebei               95
Vivid, deep golden-yellow colour. Extremely intense and piercing aromas of ripe papaya, mango, tropical fruit cocktails, honey, and sweet spices. Downright decadent in the mouth, boasting exceptional inner-mouth perfume and honeyed flavours of tropical fruit jellies, vanilla, and passionfruit nectar. So rich and thick it coats the mouth from start to finish, but despite it being so massive harmonious acidity leaves an impression of balance and grace behind on the long suave aftertaste. To be crystal-clear, this is a world class Petit Manseng wine: richer and bigger if perhaps less nuanced than the best of southwestern France, but make no mistake about it, this is very much in the same league. Very, very well done here, from the estate that showed everyone in China what a bright future petit Manseng and its wines could have in the country. Drinking Window: 2022-2030.
Domaine Franco-Chinois 2016 Petit Manseng Hualai Hebei               92  
Full, deep golden yellow. Exotic, full-blown, slightly high-toned aromas of apricot, pineapple syrup, honey, marzipan and crystallized mango. Thick, fat and honeyed, but with barely enough lift to its fairly viscous, rich, suave flavours. Finishes very long and sweet, with notes of crystallized apricot, and honey and caramel. This is an absolutely outstanding wine, and a truly massive one at that, but I couldn't help feel a little more nuance and layers would have made for an even better wine. Still, this is really pretty impressive as it is. Drinking Window: 2022-2027.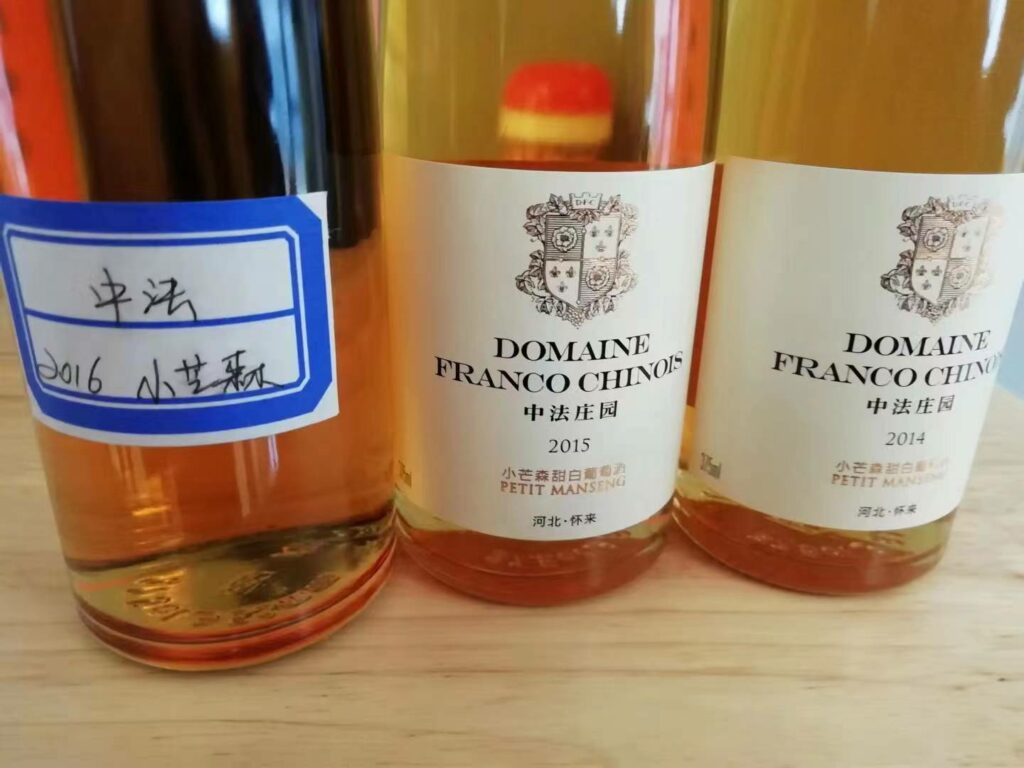 Fei Tswei.
Copower Jade Fei Tswei Petit Manseng Sweet White Wine 2018                          95
Bright yellow. Drop-dead gorgeous nose of tropical fruit, canned pineapple, caramel, honey and lemon curd. Enters rich and ripe, then lifted in the middle by harmonious acidity, which nicely extends the ripe, sweet fresh citrus and tropical fruit flavours on the long, caramel-accented and lively finish. A world class sweet wine that is about a lot more than just sweetness, what I especially like about it is its very harmonious and crystalline acid spine that really lifts and extends its flavours. Very rich, this is never over the top and each sip makes you want to take another right away. Chapeau! Drinking Window: 2022-2028.
Longting Vineyard.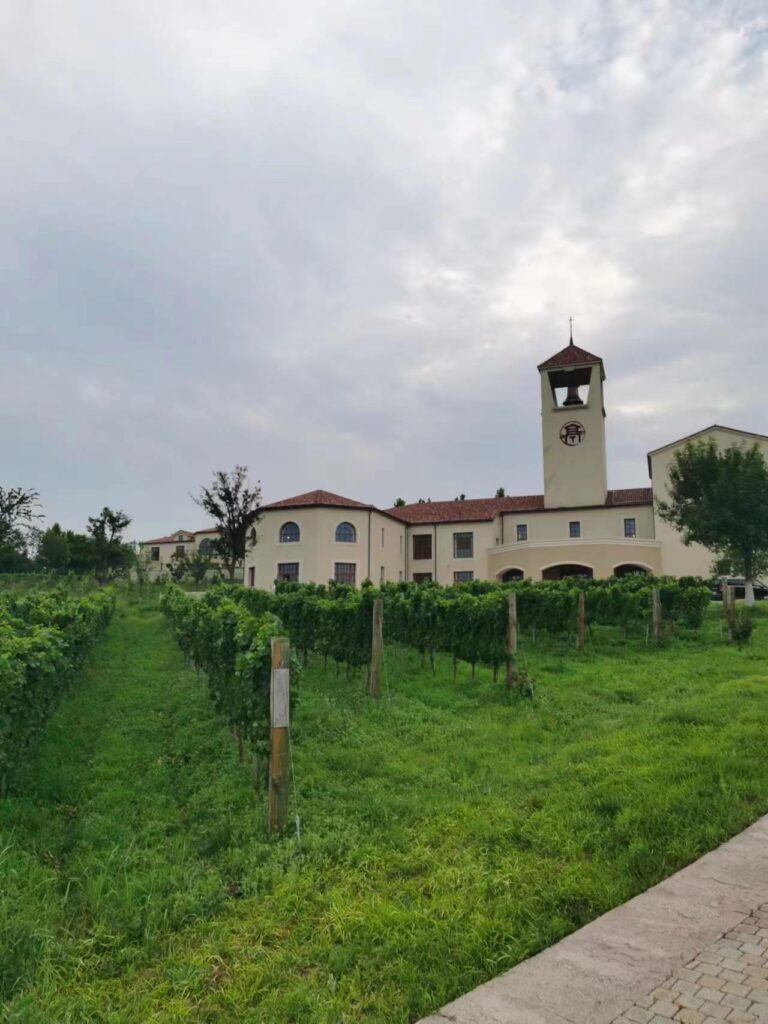 Longting Vineyards 2020 Petit Manseng Dry Bing Hai Penglai                                  90
Luminous straw yellow. Honeyed and tropical fruit on the rich, perfumed nose, lifted by freesh nuances of citrus fruit. Bright and juicy on the palate, and not sweet at all, with steely, even austere flavours of orchard fruit and mineral nicely framed by lively acidity. The long finish features a tactile slightly chewy mouthfeel and a bittersweet twinge of almond pits. This classically dry wine (7 g/L r.s. and 7 g/L total acidity) is the first ever dry wine made at Longting, and I'd say it's major success. My guess is it will be even better with about 6-12 months of cellaring. The grapes were picked in mid-October and the estate made about 6000 bottles a year. The estate didn't make a dry Petit Manseng wine in 2021 but will do so again in 2022. Drinking window: 2022-2025
Longting Vineyards 2021 Petit Manseng Late Harvest Bin Hai Art Series Penglai                                     92
Vivid straw yellow. Nectarine, pineapple, tangerine, and minerals on the nose and in the mouth, with a noteworthy white pepper nuance. Finishes long with notes of honey and stone fruit and repeating white pepper notes that out-Grüner many a Grüner Veltliner. Another wine of amazing purity and freshness, long, lively and very focused if not quite as concentrated as some other Petit manseng wines made by Longting in these years. Tastes off-dry in a great Kabinett sort of way, with about 80 g/L r.s. and 6.5 g/L total acidity (the grapes were picked in early November). Drinking window: 2022-2027.
Longting Vineyards 2020 Petit Manseng Late Harvest Bin Hai Art Series Penglai                                                                91
Vivid golden-tinged straw yellow. Outstanding light and lively aromas and flavours of fruit cocktail, almond paste, honey and fresh citrus fruits. Not so sweet and very fresh like grape juice mixed with honey, this finishes long and clean with vibrant almond and citrus fruit nuances. Very light and lively, this is another Petit Manseng late harvest wine from Longting that boasts impeccable balance and lift (96 g/L r.s. and 6.5 g/L acidity). Drinking window: 2022-2027.
Longting Vineyard 2019 Petit Manseng Late Harvest Bin Hai Art Series Penglai                                                                 94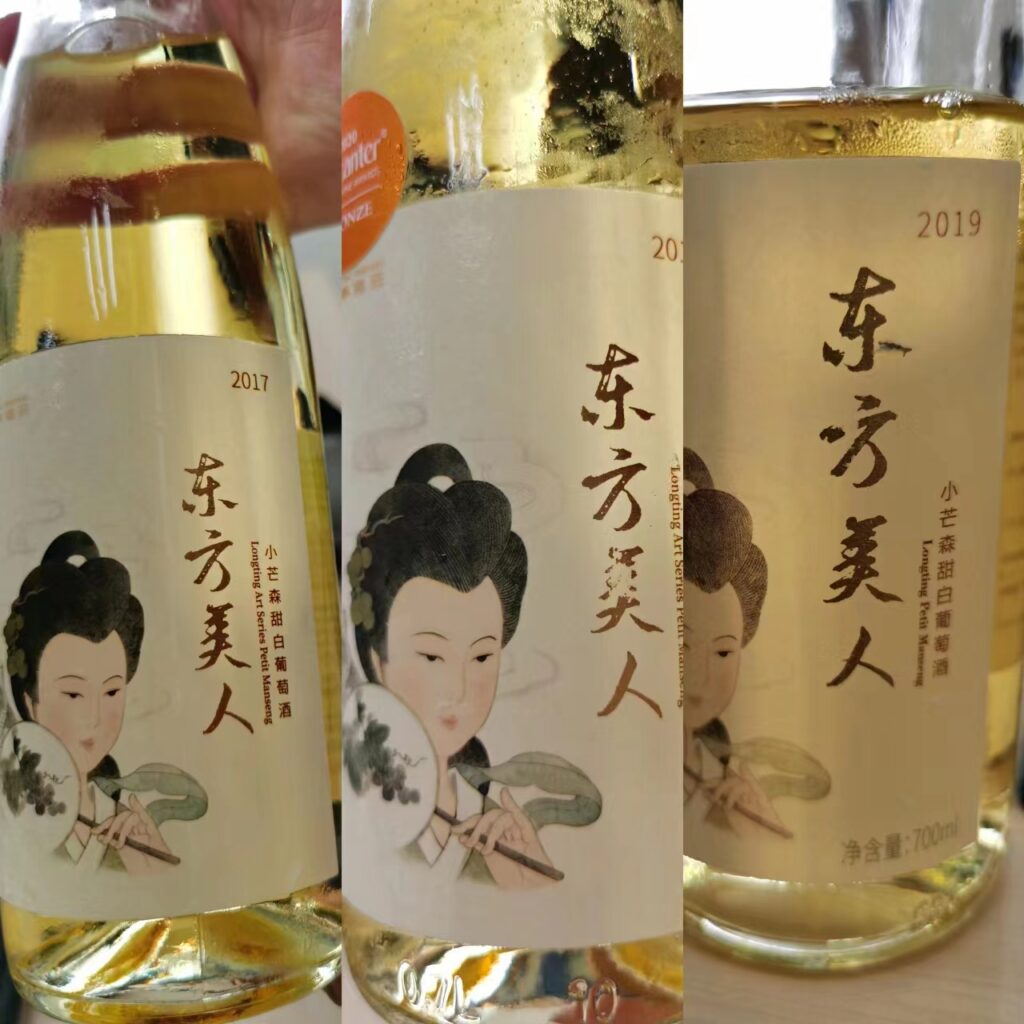 Pale yellow. Clean fresh white flowers, nectarine, pear and lemon flower honey on the extremely pure, refined nose. Really lovely freshness leaves an impression of finely chiseled sweet tropical fruit and honeyed flavours. Easygoing but sneaky concentration and complexity to a mesmerizingly beautiful wine. World class Petit Manseng made in a not excessive overly ripe style but that walks the tightrope of sweetness and freshness (92 g/L r.s and 6.6 g/L total acidity) with unbelievable grace and charm. Knockout wine that is about as good as any sweet wine you will try from France's southwest. This is really that good. I tasted this wine on three separate occasions scoring it 95, 94 and 92, and so this score is an average of those three scores. Drinking window: 2022-2032.
Longting Vineyards 2018 Petit Manseng Late Harvest Bin Hai Art Series Penglai                                                                       93
Golden yellow: this is one deeper coloured Petit Manseng wines from Longting because the 2018 vintage was hit and drier than usual and so the grapes air-dried on the vine. Then also more tropical on the nose and in the mouth, with rich and ripe notes of mango and guava. Finishes very long and not especially sweet (58 g/L r.s and 6 g/L total acidity). The 2018 contage is considered to be a very good one; the grapes were harvested in mid October. Drinking window: 2022-2030.
Longting Vineyards 2017 Petit Manseng Late Harvest Bin Hai Art Series Penglai                                                                92
Good full straw yellow with golden highlights. The delicate, clean nose offers an initial note of canned peach and papaya, then opens with aeration to offer more discreet aromas of rose water and apricot. Then also very elegant in the mouth, with a fine and even austere mouthfeel and flavours similar to the aromas. This is really a very pretty wine that is not especially sweet (73 g/L r.s and 8.4 g/l total acidity) finishing long and with a tactile, slightly tannic bite. The grapes were harvested in mid-August. Drinking window: 2022-2029.