Marc Colin 2013 Chassagne Montrachet 1er Cru Les Vide-Bourses                     94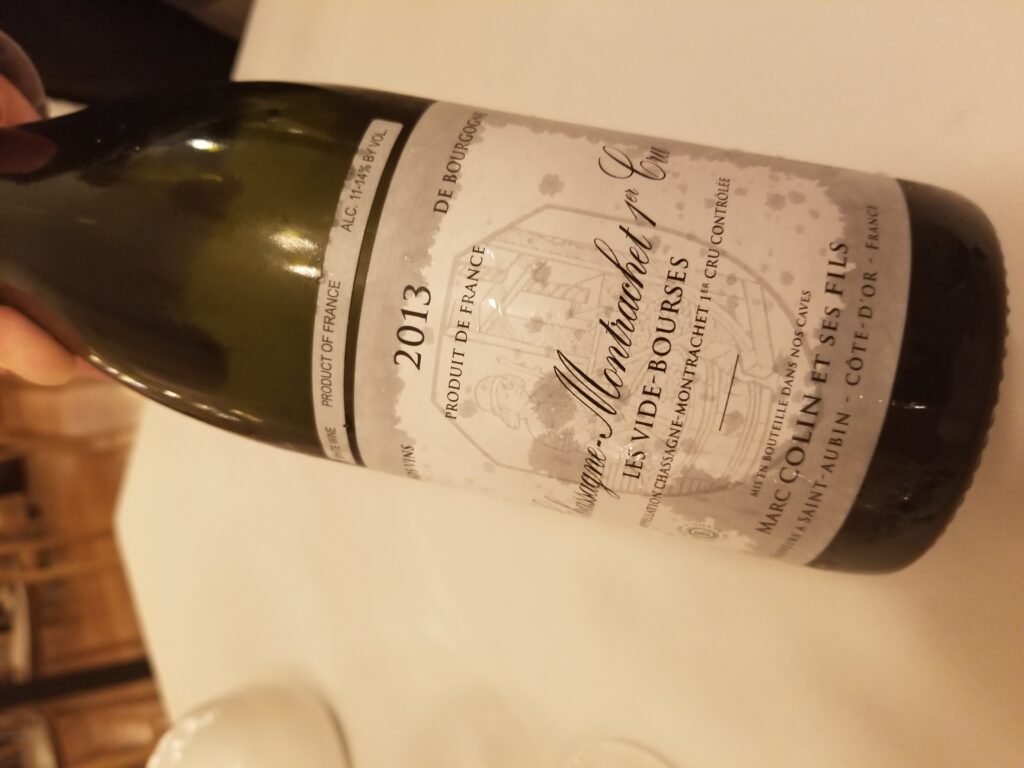 by Robert Millman
I had lunch recently with a wine merchant from California who specializes in Champagne, Barolo and White Burgundy. That is a nice business to run! Offering wine you love and respect is the best way to be in the wine business. In that case, it is not so much a business as a service to astute wine lovers. He brought a wine I had not tasted in years: the 2013 Marc Colin Chassagne Montrachet Les Vide-Bourses.  One of the best estates in the Cote de Beaune, much of it is now dispersed among two of his sons: Pierre Yves and Joseph. Pierre Yves has become famous. His intense, long-lived wines are in high demand and relatively expensive. Joseph Colin's Chassagnes and St. Aubins began appearing with the 2017 vintage. Marc Colin has retained a core of his original seventeen hectares and has released a limited amount of his excellent wines through the 2020 vintage. His original estate owned property in four Premier Cru Chassagnes, one Puligny Premier Cru and more than half dozen St. Aubins.  These used to be the poor-man's alternative to Chassagnes and Pulignys. Prices have crept up but are still 20-30% lower than their more illustrious brethren. Marc Colin is also blessed with small amounts in both Batard Montrachet and Montrachet too.
His wines have always been absolutely true to their respective terroirs and free from any attempt to represent a certain style of white Burgundy. His are wines that are 100% about where they originate, not who made them. The 2013 Les Vide-Bourses is about as correct an expression of the vineyard and the vintage as one could hope to find. A mere 1.17 hectares, Les Vide-Bourses (empty bank account, empty purse, etc.,) is situated just under Batard Montrachet and is perhaps best understood as a junior version of its powerful big brother. There is a wonderful sense of earthiness and chewiness in a properly made Les Vide-Bourses. The 2013 was one of the very few cool climate vintages in Burgundy since 2008. It has taken a while for the whites to emerge from their shy shell. The freshness, angularity and mineral intensity of Colin's 2013 version is thrilling. Just one sniff and sip and we were in white Burgundy heaven. The wine is ready to drink yet has enough acidity and liveliness to suggest another five years of peak drinking. I would pounce if I found it in a restaurant list or in a retail shop. Drinking window:  2022-2027.
Contini 2016 Vernaccia di Oristano Flor                                     93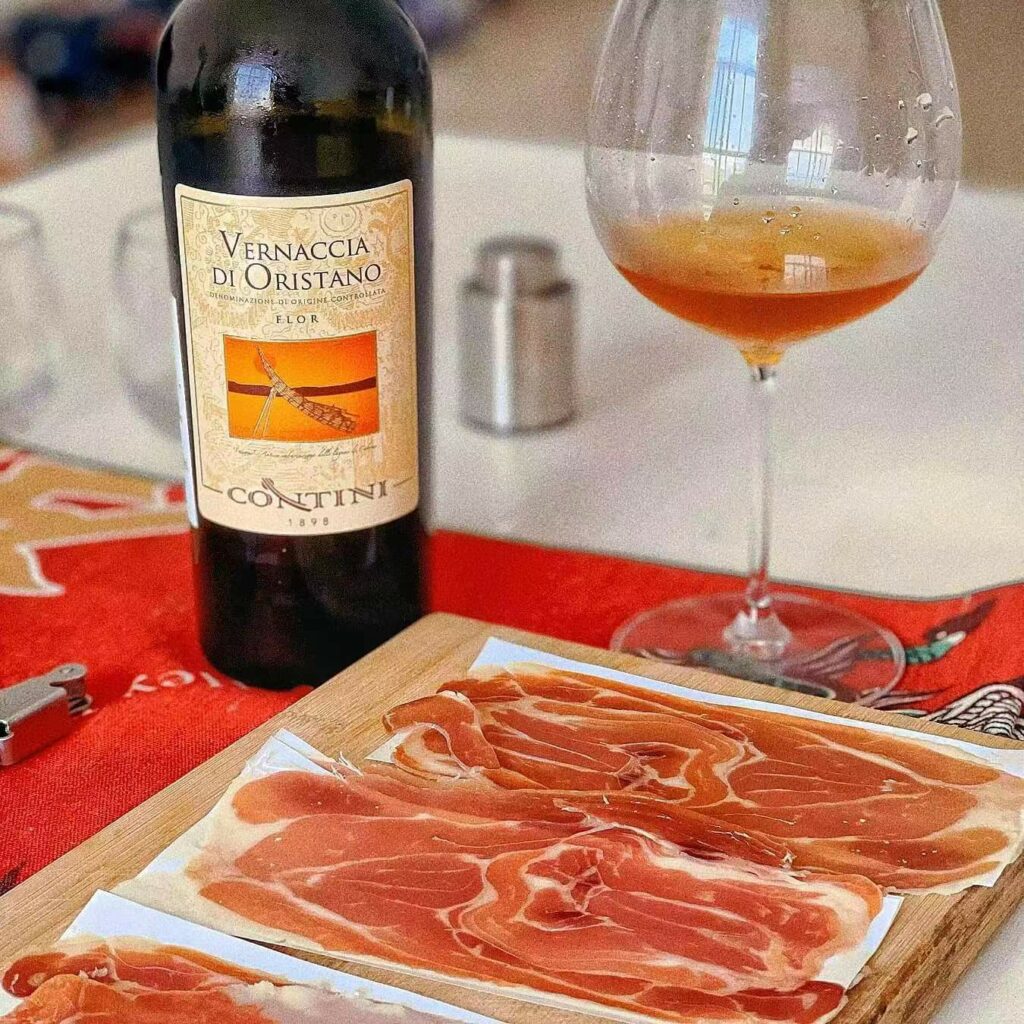 by Ian D'Agata
Vernaccia di Oristano is one of Italy's greatest wines, on a par with Barolo and Brunello, and yet few producers besides Contini, Silvio Carta and very few others are internationally known. This is a real pity because this Sardinian wine and denomination deserve to be much better known and have more than just a mostly local following. Vernaccia di Oristano belongs to the class of oxidative wines much like Sherry, and though these wines are slightly less fashionable today than they were in their heyday decades ago, they remain some of the world's grandest, most complex wines. Differently from Sherry, Vernaccia di Oristano is not fortified (though a fortified, or Liquoroso version of Vernaccia di Oristano does exist, it is the lesser category of wine and nowhere near as interesting as the non-Liquoroso stuff). Similarly to Sherry, Vernaccia di Oristano is a wine born of an oxidative aging process that is possible thanks to the flor yeast strain of Saccharomyces cerevisiae, that besides munching on sugar to carry out alcoholic fermentation can also live off an oxidative metabolism in which in the presence of oxygen (hence the flor film that develops on the surface of the resting wine) other compounds besides sugar, such as ethanol, can be used by the yeast to survive. And in the process creating the unique aromas and flavours that we have all come to associate and know to be typical of this category of wines.
Contini is an extremely high quality estate that was founded roughly one hundred and twenty years ago and makes a bevy of outstanding Vernaccia di Oristano wines. Indeed, their Antico Gregori is one of Italy's thirty best wines, all colours and categories included, but all their Vernaccias are remarkable. Their NV Vernaccia di Oristano Flor is a case in point.
Bright amber yellow colour. Explosive aromas of apricot, orange peel, tangerine nectar, almonds, milk chocolate and Mediterranean garrigue. Fresh and rich on entry, then very mellow in the middle and on the finish, but with less complexity to the yellow fruit and almond flavours than its aromas. Better on the multilayered nose than the suave mouth today, closing with decent length leaving behind a sweet and savoury trail. Anymore complexity and this would have easily merited 95 points, but it's a pretty amazing wine as is. Try it with capers and olives or even a very good prosciutto or jamon, not to mention baked or pan-roasted fish of any kind. Made from vines growing at sea level not far from the seashore on alluvial sandy-clayey soils, Contini's Vernaccia di Oristano Flor is aged for at least four years in traditional very small barrels (caratelli) of oak and chestnut wood. This is a highly enjoyable wine that showcases the charms of Verncaccia di Oristano very well. For greater complexity and depth, I suggest trying one of Contini's vintage-labelled (such as their amazing 1995 Vernaccia di Oristano) or their Antico Gregori Vernaccia di Oristano wines. Drinking window: 2022-2035.