Martin Ray 2019 Pinot Noir Santa Cruz Mountains Coast Grade Vineyard        92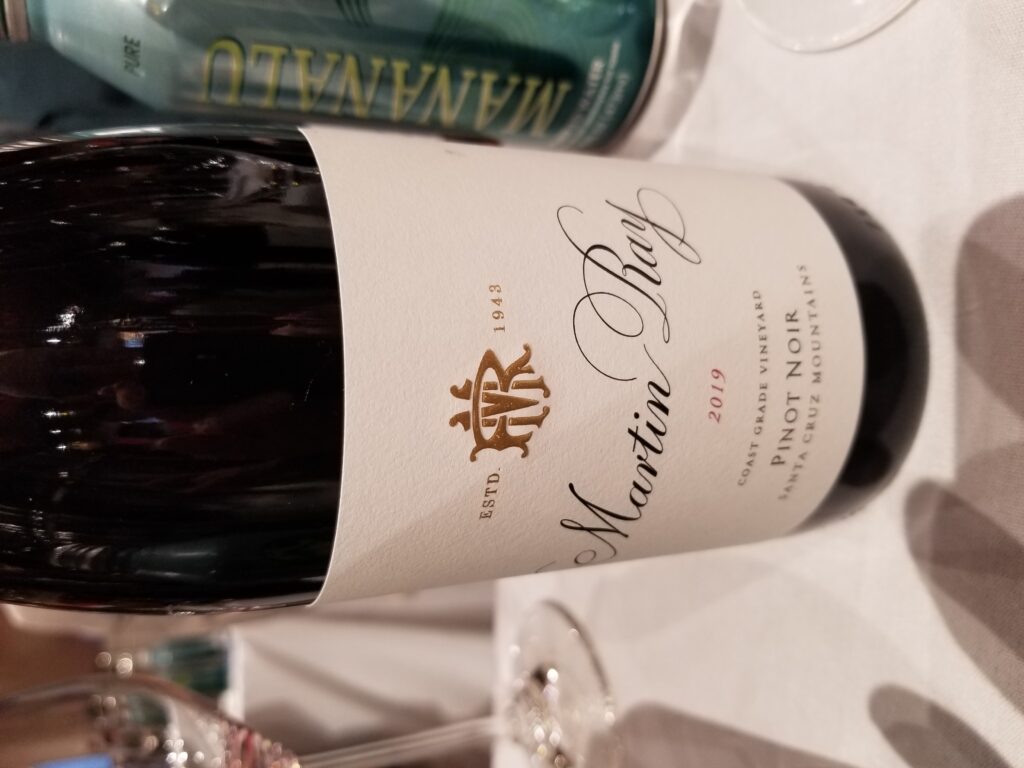 by Robert Millman
I attended an industry tasting recently which featured mostly South American and Tuscan wines. There were a dozen Bordeaux and perhaps twenty-four American wines, mostly from California. One of the most intriguing, and least expensive wines of the afternoon, was a single vineyard Santa Cruz Pinot Noir from the venerable Martin Ray estate. On the label you see "Established 1943"! What was going on with California wine before the end of World War II? Prohibition had ended in 1934, a mere 9 years before that maverick Martin Ray began planting French clones from Burgundy on Santa Cruz. It would be another fifteen years or so before Joe Heitz began planting grapes and nineteen years before Ridge vineyards began making Cabernet Sauvignon on Sant Cruz Mountain sites.
In 1990, vineyard owner Courtney Benham discovered 1500 cases of Martin Ray wines whose qualities were so exceptional that he decided to purchase the Martin Ray estate and focus on Ray's beloved Pinot Noir. Benham and his team make seven Pinot Noir wines from fruit in the Green Valley, the Russian River Valley, Sonoma coast and of course Martin Ray's home site in Santa Cruz. In fact, the Coast Grade Vineyard, owned and farmed by Beauregard Winery, is a unique site; planted at about 400 meters (or 1300 feet) in elevation, a little less than five kilometers (or three miles) from the ocean, on limestone soils. The vineyard is right around the fogline, so is often cooled by the copious morning fog from the Pacific. The rocky, limestone rich soils impart a discernable, etched minerality to the wine which helps play off the fresh berry fruits and forest floor notes. Limestone is Burgundian, indeed: but those rolling fogs, so crucial to the best California Pinots and Chardonnays are unique to the Golden State. The 2019 Coast Grade Pinot Noir is a happy synthesis of well-defined terroir and microclimate characteristics with a gracious, fluid quality which is so important for Pinot Noir. This has to be the most distinguished under $30 Pinot Noir I have tasted in a long time. Drinking window 2022-2025.
Château Cos d'Estournel 1986 Saint-Estèphe Bordeaux                         97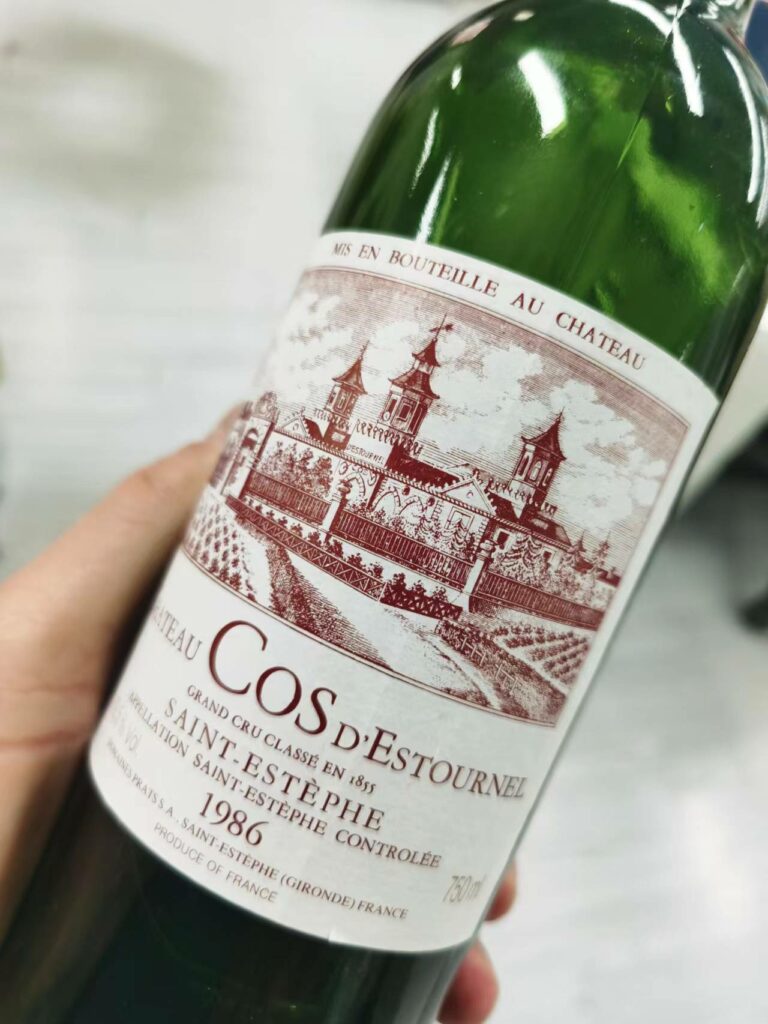 by Ian D'Agata
To be clear, the 1986 Cos d'Estournel has always been one of the greatest wines made at the property, and keep in mind Cos has a long and deservedly illustrious history. I will add that in my not so humble opinion it is also, along with the 1982 Cos, the best wine the property made between the 1980s and the end of the first decade of the new century, when Cos finally got back on track with their outstanding 2005 and 2010 wines (the 2009, which was an absolute disaster when presented at the Primeurs, top-heavy in overripe Merlot (33%!), has suddenly morphed into a much more elegant wine with the Cabernet Sauvignon is now front and center (go figure). In some ways, the 1986 wines have morphed too: always very tannic and big, the question always was whether the fruit would outlast the huge tannins. It is safe to say that, at least in the case of the 1986 Cos, the fruit has certainly held up, and then some. This gorgeous red is the picture-perfect poster (no alliteration intended) for everything that is great, unique and unforgettable about Bordeaux reds, the only place in the world where Cabernet Sauvignon blends reach a similar level of sophistication, power, drinkability and depth. Yes, it is a grandiose wine. Even better, though the 1986 Cos certainly also speaks of that specific vintage, it is also recognizably Saint-Estèphe: there is no way that anyone with even a little experience in Bordeaux matters will mistake this wine for a Pauillac, a Saint-Julien or a Margaux.
The Château Cos d'Estournel 1986 Saint-Estèphe is deep red-ruby in colour, with hardly any hint of bricking at the rim: this bottle was obviously very well-stored during its lifetime. Complex, multilayered but extremely refined on the nose, with aromas of blackcurrant, licorice, black pepper, sweet spices, cedar, graphite that are all lifted by a violet top-note and hints of forest floor. Then dense but suave, with harmonious acidity providing the forest berry, black pepper, herb and spice flavours noteworthy clarity and cut. It's a massive wine, but neither jammy nor treacly in that garagiste-sort of way; by contrast, it's endowed with levity and grace such that it just dances on the palate and glides effortlessly over your tastebuds in a lingering, smouldering, mineral- and tobacco-accented finish. Unlike many lesser left bank Bordeaux reds that tend to become fruit-challenged with age while still hanging on to their impressive but ultimately tough and shrill tannic skeletons, the 1986 Cos still has gobs of sweet ripe black and blue fruits providing flesh to the underlying tannic framework and boasts impeccable balance. It really is a magnificent claret, and one that will continue to age effortlessly (in a good cellar) for another fifteen to twenty years. The only reason why I am not scoring this even higher is that, as marvelous as it is (and it is just that: marvelous) , it lacks the complexity of a 100-point wine, say an (authentic) 1982 or 1989 Petrus, a 1986 Château Margaux or a 1948 Château Cheval Blanc. But it is very much a wine of that ilk, a grand vin loaded with grace and style, eschewing power for power's sake and not trying to out-Napa wines of Napa. It is, in short, a true Bordeaux red. No, check that: it's a true connoisseur's wine. The 1986 Cos is a blend of 68% Cabernet Sauvignon, 30% Merlot and 2% Cabernet Franc. Drinking window: now-2038.