see also: "MicroMegaWines, Part 1"
In the second installment of his three-part series of articles devoted to Italy's small batch wines that he recently tasted at the Vinitaly wine fair in Verona, Michele Longo continues his reportage on little-known and little Italian wineries making high quality small batch wines from native and international grapes.
Massimo Ciarcia – Tuscany.
If you ask Massimo what his "flag-ship" wine is, he will answer you: the Toscana Rosso "Poggio Regio" (100% Merlot) as this is the wine he believes best expresses the mission of MicroMegaWines and Ian D'Agata's vision in creating it. Elegant, refined, with pleasant aromas of blackberry, violet and tobacco, it's nicely structured with a lively acidity and a long and pleasant fruity finish. Very good also is the 2021 Vermentino Terratico di Bibbona "Le Carraie" a 100% Vermentino, offering a lot of varietal character, with apricot, pear, white flowers, mint and hints of citrus on bth the nose and in the mouth Great energy, vibrant acidity, fresh, saline with a long finish on citrusy reminders.
Najma Prosecco – Friuli Venezia Giulia.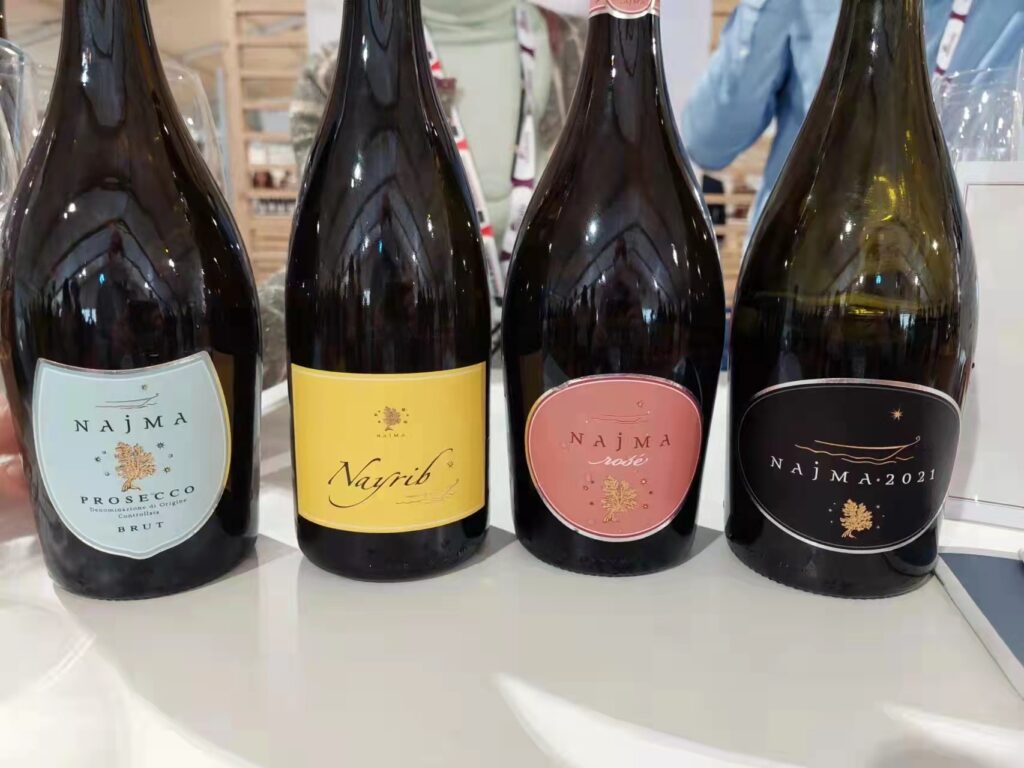 Elisabetta and her son Andrea are really nice people with whom it is a pleasure to talk about wine: I mean, it's hard not to enjoy ebing in the company of wine producers, but the time I spent with this duo was especially fun. Elisabetta was undecided about which wine to present at the MMW Masterclass because the estate best seling wiens are the Proseccos (especially the the vintage Najma Prosecco Millesimato Extra Brut: this year they are relasing the 2021), but ultimately decided to go with something more innovative and obscure, the Najma Rosè Spumante Rosato Brut NV (100% Refosco dal Peduncolo Rosso). Also, the Millesimato Prosecco had just been bottled, and she opted for the Najma Spumante Rosé with even more convinction. It turned out to be the right decision, as the wine provrd a pleasant surprise, no dout my favorite wine of theirs. This bubbly showcases the enticing aroma and flavour profile of the Refosco dal Peduncolo Rosso (red cherry, blueberry, red flowers and slighty flinty hints). Fresh, savoury and extremely pleasant. Very good too the Prosecco Brut NV.
Pietraventosa – Puglia.
I met Marianna for the first time four years ago while visiting her winery in one of Puglia's more beautiful and wild inland areas. Already then,  her wines struck me for their elegance and for how much they were more refined and balanced (also thanks to a cooler climate) than most of the wines of her territory that I tasted elsewhere in the region on that occasion. In recent years, her wines have made Pietraventosa a leading estate in the area and throughout Southern Italy, with rapidly increasing international availability. All the wines I tasted then were interesting and excellent, and it's safe to say the estate has never looked back. At Vinitaly this year, the wines that I liked the most were: 2017 Primitivo Gioia del Colle Riserva (the wine they presented at the Masterclass), boasting an enticing nose of dark cherry, blackcurrant, raspberry jam, blood orange, blonde tobacco and flint. Very suave on the palate with an impressively long and vibrant finish, it's just an on outstanding wine. Practically just as good is the 2019 Primitivo Gioia del Colle "Allegoria" (aromas of ripe red cherry, strawberry jam, licorice and tobacco; juicy and sweet but nicely fresh, with a very balanced acidity, finishing with polished tannins and outstanding length on spicy reminders. It's my "one bottle is not enough wine", meaning it's the wine that I would have loved to drink more than one bottle all by myself  (and also the wine Marianna believes best expresses herself and the motto of MMW, or less is more). Very good also 2021 Primitivo Rosato Murgia IGT "Est Rosa".
Poggio Verrano – Tuscany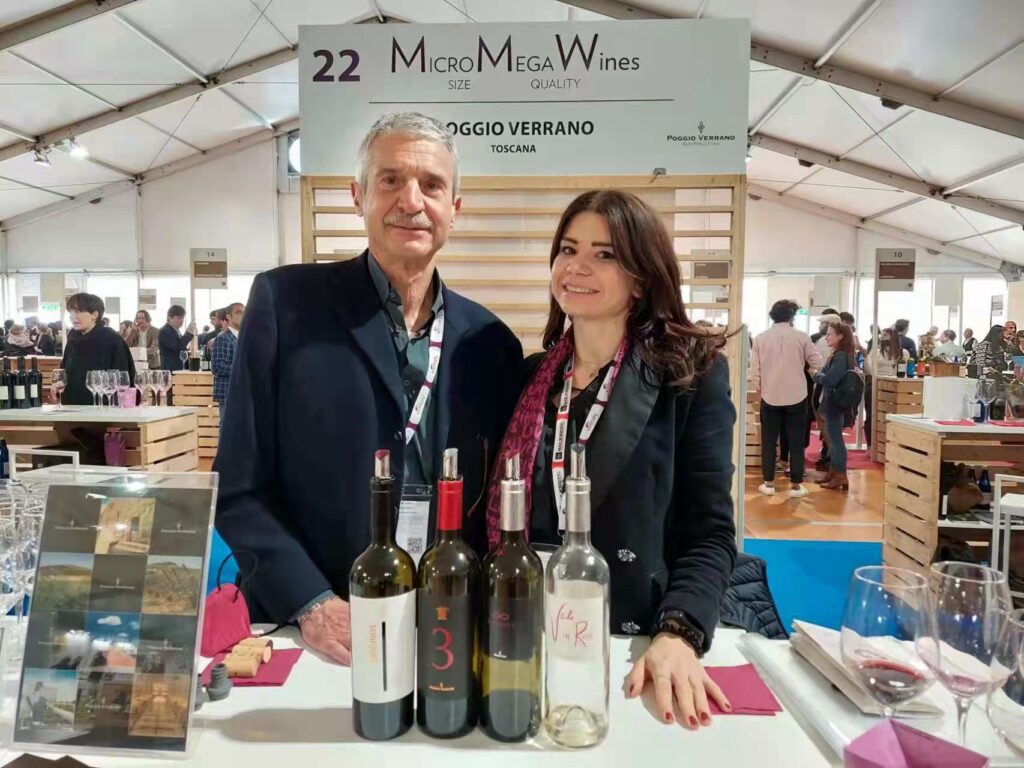 Francesco Bolla and his daughter Valentina lead this estate in Maremma with great passion. The 2012 Costa Toscana Rosso "Dròmos" (40% Cabernet Sauvignon, 30% Merlot, 15% Alicante, 10% Sangiovese, 5% Cabernet Franc) is their flag-ship wine that they believe best expresses their philosophy and the heart and soul of MMW. It's also the wine they chose to present at the Masterclass. My favourite wine of theirs was however the  the 2021 Toscana Rosso "Infinity" (100% Alicante Bouschet). The beauty of MicroMegaWines is that it gives you the opportunity to meet new small ("Micro") estates and to taste new wines (never tasted before), such as this wine made with a grape (Alicante Bouschet) that I had not yet tasted in monovariety version. It's a rae thing indeed in Italy to find a pure wine made with this variety only, and if it does happen, it's only on the Tuscan Coast where it has been planted in any amount. Enticingly pure aromas of red cherry, redcurrant, licorice, eucalyptus and spicy hints rule. Then juicy, vibrant, savoury with nicely concentrated cherry fruit finish in the mouth. Very good too the 2021 Costa Toscana Rosato "Vale In Rose" (100% Sangiovese), a pleasantly fresh, savoury and juicy Rosato (pink) wine.
Tamburino Sardo – Veneto
If you ask Giuliano what their Micro (size) Mega (quality) wine is, the Custoza Superiore "La Guglia" is his answer, but it's also the wine that best represents him and the estate. I also loved the 2021 Custoza (a blend of Garganega, Cortese, Trebbiano di Soave and Tocai Friulano from morainic soils, with intense aromas of peach, exotic fruit, white flowers, lavender and mineral hints; sharply delineated, with terrific cut to its saline, citrus, mineral flavors). By contrast, the much bigger fleshier 2020 Custoza Superiore "La Guglia" (almost the same blend of grapes with the addition of a 5% of Incrocio Manzoni), is also more complex and more luscious thanks to slightly late harvested grapes and lower yields.
Tasi – Veneto
For Matteo Cristofoli, authenticity (the ability to be fully representative of the grape variety and the link with its territory in the wines he makes) and uniqueness (the unique and free expression of the producer) are essential characteristics of a great wine. Well, his wines are both authentic and unique. Among the wines he presented, my favourite one was the 2018 Valpolicella Superiore, from a vineyard (one of a kind), recovered from an ancient quarry in the Illasi Valley, with a soil rich in limestone. This Valpolicella is spicy and floral, with a whiff of blood orange and notes of white pepper, blackberries and red rose; then juicy, savory and spicy in character with a mineral core that leaves the palate incredibly fresh. This is a fantastic Valpolicella. But my favourite wine was the 2021 Valpolicella: a beautiful wine, fresh, pleasant. The palate offers an attractive combination of fruit, spices yet it also maintains amazing freshness and energy.
Tenuta del Travale – Calabria.
The other side (expression) of Nerello Mascalese, the result of the passionate research of Nicola and Raffaella. The taste of Nerello Mascalese, the scents of southern lands and the beauty of the Calabrian terroir that are so different from the rendition typical of Etna and that everyone knows much better. Among the wines they presented, my favourite one  was the 2016 Nerello Mascalese Rosso Calabria "Eleuteria" (85% Nerello Mascalese, 15% Nerello Cappuccio), intensely flavored, juicy and tight, with brisk acidity, with underlying stoniness and spicy notes. The finish is structured and long. I found it to be a little bit more complex and balanced compared to 2019 Nerello Mascalese Rosso Calabria "Eleuteria" (100% Nerello Mascalese), the wine presented at the Masterclass. Very good too the 2019 Rosso Calabria "Essendo" (80% Nerello Mascalese, 20% Nerello Cappuccio).
Tenute Lu Spada – Puglia.
The goal of Carmine Dipietrangelo and his friends is to revive the ancient winemaking tradition in Brindisi (historically considered to be "the land of wine"), and for what it's worth he is well on his way (I know Ian D'Agata certainly thinks so). No doubt there: thanks to the quality of their wines, they will be able to make it. Among the wines they presented, my favourite one (my "one bottle is not enough" wine) is: 2020 Susumaniello Brindisi "Philonianum", a monovriety Susumaniello. Enticing, pure aromas of red-cherry, pomegranate, raspberry and pleasant notes of sweet spices. The palate offers an attractive combination of sweet fruit, power and energy. Very good also the 2021 Minutolo Salento "Avocetta" a pleasant, fresh, saline white wine with a captivating bright, pure, complex nose.
Tazzelenghe Team – Friuli Venezia Giulia.
Eight wines from eight estates across four different vintages: 2019: Rieppi, Colutta Gianpaolo, Pitticco; 2017: Jacuss; 2016: Conte D'Attimis-Maniago, Casella; and 2013: Le Due Torri e La Viarte. Tazzelenghe is simply one of the three or four most underrated Italian cultivars; it runs the risk of disappearing because it cannot give big, fat jammy wines. Thanks to the Conte Alberto and his fellow Tazzelenghe-growing colleagues we are able to taste more than one Tazzelenghe wine, agood thing because it is not the esiest thing to do given there are only about eight ehcatres left of it in the world. A crazy situation, given the quality of the wine (think a lively Cabernet Franc but with hints of Pinot Noir: helloooooo, what's there not to like?). Among the wines they presented, my favourite one was: La Viarte 2013 Tazzelenghe Riserva Friuli Colli Orientali (complex aroma and flavor profile, violet, red berries, black cherry, flint, balsamic, smoke and sweet spices; multilayered, juicy and deep, with a very long palate and a vibrant finish. Very good also Conte D'Attimis-Maniago 2016 Tazzelenghe Friuli Colli Orientali and Casella 2016 Tazzelenghe Friuli Colli Orientali, but truth be told, you can't go wrong with any of these wines. Well done here, ladies and gentlemen.
Tenute Parco dei Monaci – Basilicata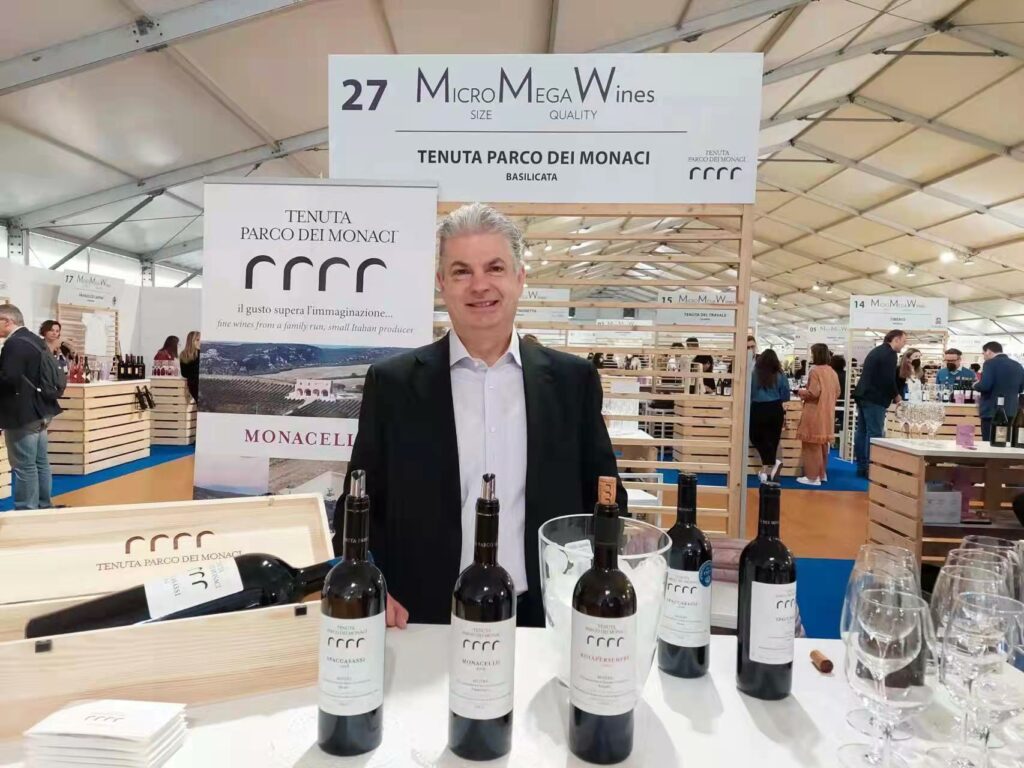 The Greek philosopher Aeschylus wrote that: "the wine is the mirror of the mind", and it's true, absolutely true for Matteo and his wife Rosa. A lot of passion and a lot of work dedicated to this small estate within the Parco della Murgia Materana (Matera Moors Park): a wild limestone plateau crossed by a deep canyon with a river, the "Gravina" of Matera. Their wine they believe best expresses the beauty of small batch wine (presented in the Masterclass) is the 2018 Matera Moro "Spaccasassi": a mostly Bordeaux blend (60% Cab Sauv 20% Merlot) with 20% Primitivo. Enticing aromas of violet, blackberry, plums, sweet spices, tobacco and a slight balsamic note. Fresh, savoury with refined and round tannins. A beautiful wine with a long and fruity finish. Very good also the 2019 Primitivo di Matera "Monacello".
Tenuta Sanoner – Tuscany.
The winery's philosophy is simply contained in this sentence: "As guests of nature, we follow its rhythms, welcome its fruits, and transform them into a nectar which tells the story of the land". Beautiful, right? And so are the wines of Tenuta Sanoner. From biological and biodynamic agriculture, extremely clean and pure wines, perfectly reflecting the beauty and the soul of the Orcial Valley terroir. The wine they believe best expresses the philosophy of less is more is the 2019 Orcia Sangiovese "Aetos", a delicious wine: violet, sweet dark cherries, balsamic, leather, tobacco and sweet spices harmonize in a Sangiovese that impresses for its depth and balance. Among the wines they presented, my favourite one was, just by a whisker, the 2018 Orcia Sangiovese Riserva "Aetos", more complex and refined than the previous, extremely pleasant and fresh, with beautifully silky tannins and an incredibly long finish.
Teularju – Sardegna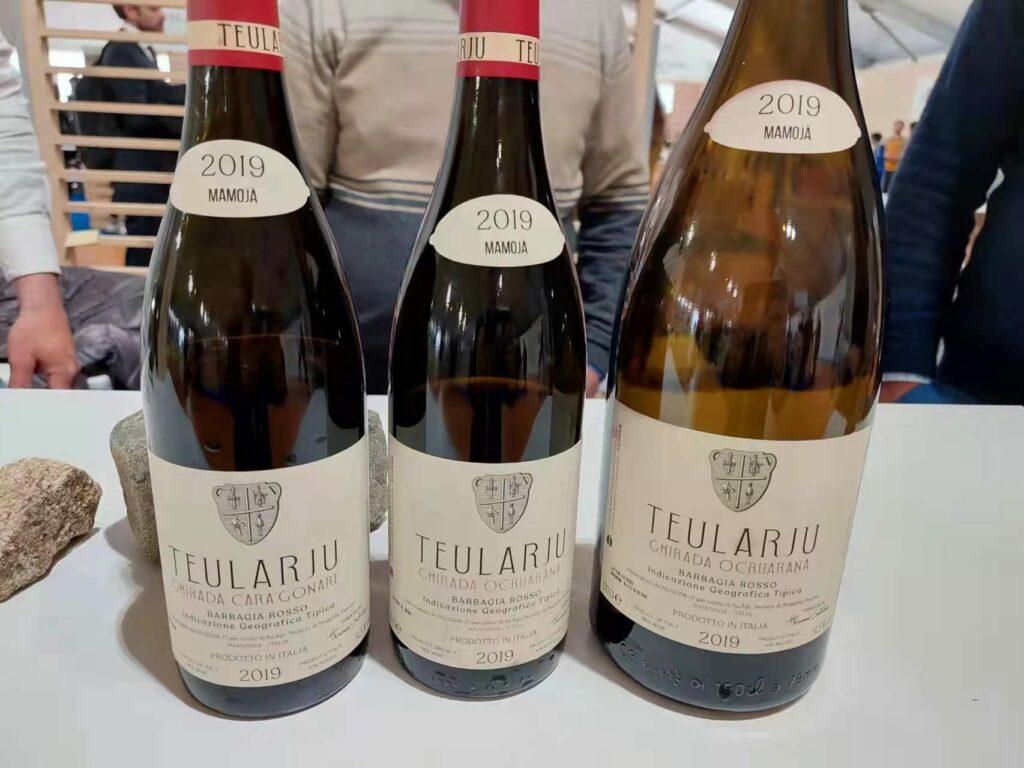 One of the interesting and fascinating aspects of MicroMegaWines is that it has given me the opportunity to meet many small estates, which I did not know before, and consider I travel to vist them all year long, Covid allowing. Over the years, I have had the opportunity to taste many Sardinian wines and to meet many producers, but I had never tasted Mamojada's Cannonau of this estate, and it was a really pleasant discovery. The wine they presented at the MMW Masterclass was the 2019 Ghirada Ocruarana Barbagia Rosso, loaded with intense aromas of cherry and dark fruits, leather, aromatic herbs and sweet spices. Rich and suave, it's a beautiful wine. Having said that, my favourite one is his "brother": the 2019 Ghirada Cara'Gonare Barbagia Rosso, a wine that literally left me speechless: sexy aromas and flavors of black cherry, minerals, graphite, menthol, licorice. Fresh and juicy, with a multilayered personality and enticing concentration. Silky tannins; savoury, bright and complex on the clean, smooth and balsamic finish. Gorgeous.
Maeli – Veneto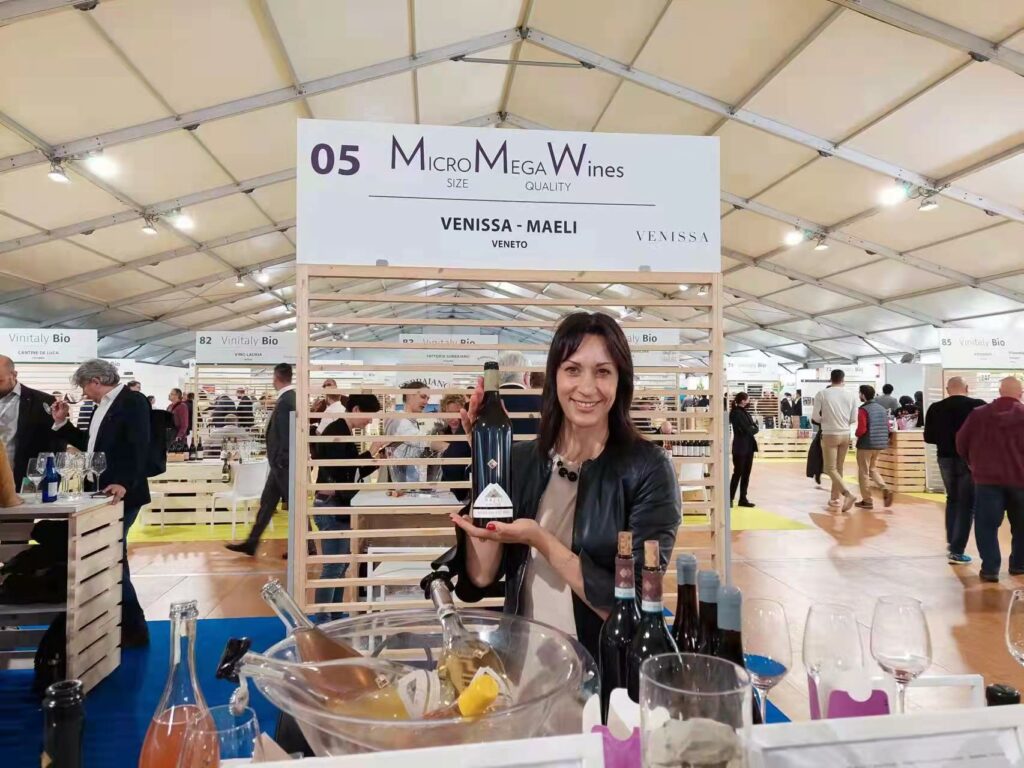 I love Moscato Bianco and all its direct descendants, a family laoded with great graoe varieties (like Ian D'Agata always says, pelease don't say "Moscato wine", because that's like saying a Cabernet wine when, as I am sure you are well aware of,  there's in fact a huge difference between Cab Sauvignon and Cab Franc). One of these Muscat varieties, the Moscato Giallo, has become the mission of Elisa Dilavanzo. Her passion for Fior d'Arancio wine (the one in which Elisa recognizes herself the most and a Veneto wine made with Moscato Giallo, not Moscato Bianco) was born to show the world that this wine (and the Moscato Giallo grape) has a multifaceted nature and great versatility (Maeli is the only winery to have produced Moscato Giallo in five different versions). The 2020 Fior d'Arancio – Colli Euganei is a delicious wine. Floral notes of yellow flowers, peach and candied citrus. Creamy, pleasant, well-balanced with a clean, savory mouthfeel and a long finish. It was very difficult to determine the winning wine on this day. My favourite one was the  2020 Moscato Giallo Veneto "Dilì", a semi-sparkling wine. Jasmine, broom, aromatic herbs, fruity notes of citrus, pear and peach and balsamic hints. Fresh, saline and mineral with an extremely long and pleasant finish with fruity remindings. Very good also the 2017 Moscato Giallo Metodo Classico Brut Nature.
Venissa – Veneto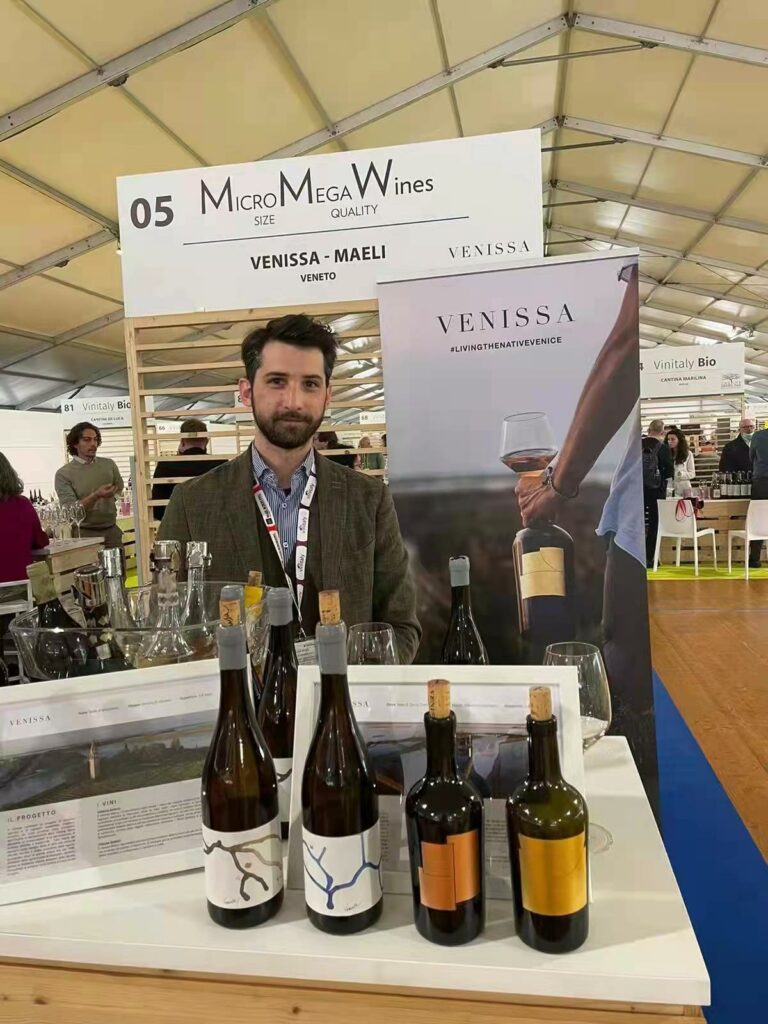 A unique wine, expression of a recently rediscovered grape in a place of  unique beauty. This is the Dorona Veneto Venissa Bianco, the truly iconic wine made by this estate in the beautiful Ventian lagoon. The 2016 Dorona Veneto Venissa Bianco is a gorgeous wine, my favourite among the wines they presented at the Vinitaly wine fair. Beautiful aromas and flavors of golden delicious, chamomile, tea leaves and orange zest. Silky textured, saline, wonderfully long and tactile, finishes with pleasant citrus reminds. Very good also the 2015 Veneto Venissa Rosso (a blend of 82% Merlot and 18% Cabernet Sauvignon) a silky wine, with an enticing bouquet, well-balanced and refined with a pleasant long fruity finish and the 2018 Dorona Veneto Venusa Bianco, simpler than Venissa but extremely fresh, vibrant and enjoyable.
The wines in this article were tasted by Michele Longo in the second day of MicroMegaWines, the new thematic area created by Ian D'Agata for Vinitaly in Verona. Ian has been working along with the team led by Gianni Bruno over the past three editions of the fair in Verona, organizing and guiding wine tastings and MicroMegaWines is an initiative he specifically created for Vinitaly to highlight the quality wines of small Italian wineries and their small lot wines that might otherwise face difficulties in obtaining visibility and space at a large fair such as is Vinitaly.