Marselan has fast become one of China's signature grapes and wines, if for no other reason because it's in China that the grape gives the world's largest number of high quality wines. Marselan is regularly featured in the masterclasses of the annual China Wine Summit, and is the focus of the World Marselan Day celebrations (this year in Shenzhen, April 23 and 25; Beijing, April 24).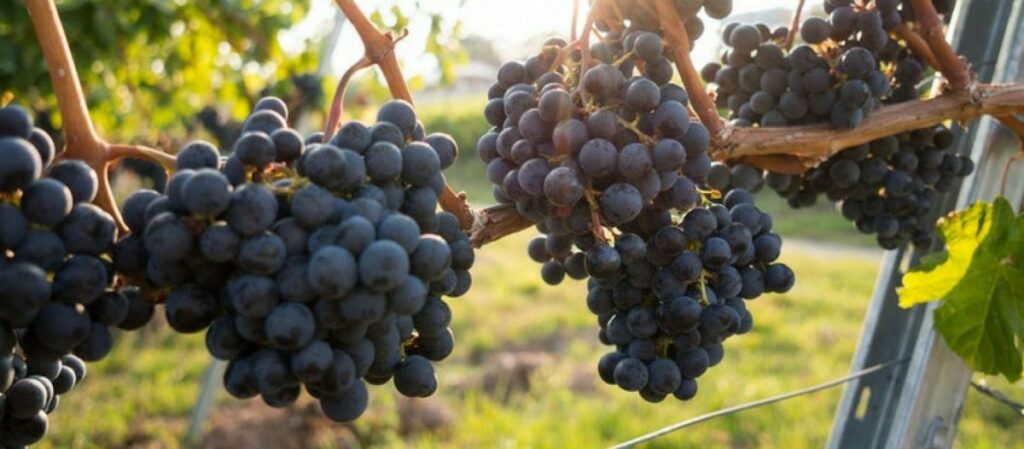 Much like Carmenère in Chile and Malbec in Argentina, Marselan has found a home of its own: in China. Marselan is a French wine grape resulting from a laboratory crossing of Cabernet Sauvignon and Grenache Noir by scientist Paul Truel in 1961. Truel was working at the Institut National de la Recherche Agronomique (INRA) in Montpellier where he trained under one of the world's most famous ampelographers, Pierre Galet (in many respects, the recognized father of modern ampelography). Over his illustrious career, he achieved numerous successes, a small list of which includes: creating at least seventeen other successful grape crossings besides Marselan [(for example, Caladoc (Grenache Noir x Malbec), Chasan (Listan Blanco x Pinot Blanc, though some say it was Chardonnay instead), Clarin, Danlas, Ganson, Lival, Ribol and Segalin)]; correctly pointing out a number of the seemingly never-ending ampelographic mistakes made time and again in vineyards and nurseries all over the world (including Australian Tokai that was really Muscadelle and California's Pinot Blanc that was in fact Melon); being the first to suggest that Petite Syrah and Durif were the same grape; and co-authoring a major three-volume tome on table grapes. Nevertheless, of all his many truly noteworthy successes, it is Marselan he is most remembered for nowadays, a grape he named after Marseillan-Plage, a French coastal town where the INRA experimental grapevine collection vineyard of the Domaine of Vassal was located (the Unité Expérimentale du Domaine de Vassal) that he was curator of. Marselan has been since planted all over the world, but it has given its best wines thus far in China, where the country's most uniformly good wines are made with it (it is genuinely hard to find Marselan wines from China that aren't at the very least interesting). There is no doubt that, along with Cabernet Gernischt (which is neither Carmenère nor Cabernet Franc: see TerroirSense Wine Review. September 24, 2021) and Petit Manseng, Marselan gives China's most exciting and distinct wines of today (see TerroirSense Wine Review. May 12, 2021).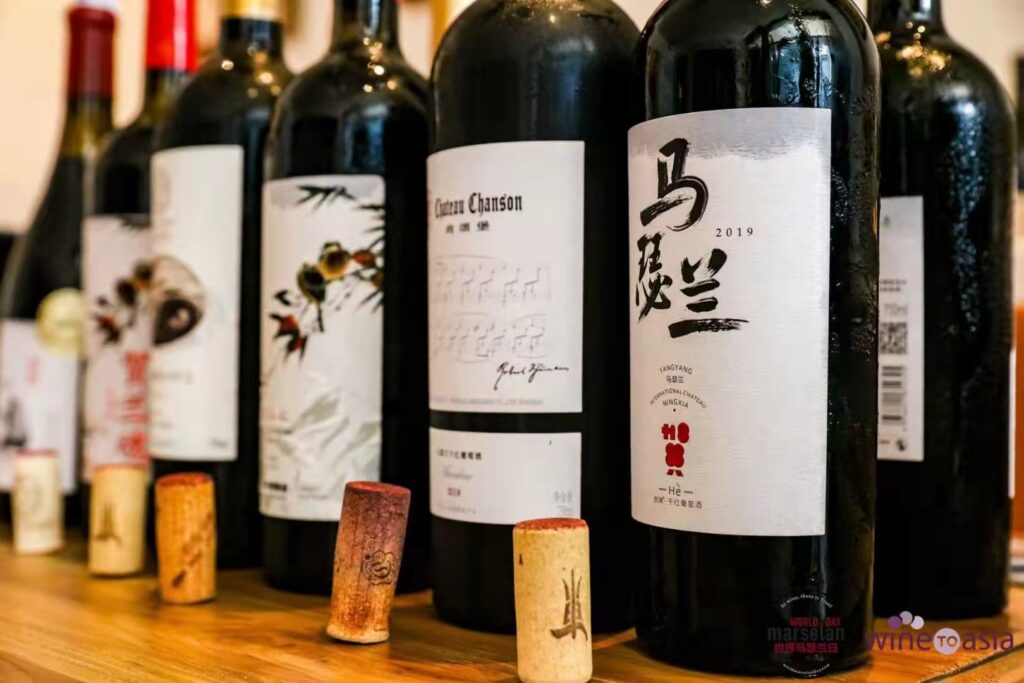 Marselan grape and the wine
While Marselan's popularity is on the rise today everywhere it is planted, it was not always so. Far from it, in fact. The original goal in breeding it was to create a disease- and heat-resistant, high-yielding variety with large berries of at least moderate to good quality. Crossing Cabernet Sauvignon and Grenache seemed like a good idea at the time, but Marselan turned out to have small to very small grapes, not exactly the apple (er, grape) of farmer's eyes. Not surprisingly, the project, and the grape, were quickly shelved as it did not seem likely the variety would ever encounter commercial success. However, times change, and as I have written hundreds of times before, it's hard to keep a good grape down. With the change in fashions, objectives and tastes occurring over the last fifty years, grape varieties such as Marselan that are more about quality than quantity started gaining traction once again. In fact, save for its small grape size, Marselan offers just about anything anyone who likes wine could want in a grape and its wine. Broadly speaking, the grape has very good resistance to oidium, mites, grey rot, and berry shatter (coulure); it thrives in hot and droughty conditions, always a big plus in this day and age of climate change (but areas that are too hot can be problematic: being a late-ripening variety, if planted in areas that are too hot, sugar buildup outpaces grape tannin maturity and the risk of harvesting not fully ripe grapes in order to avoid making wines too high in alcohol is a real issue). Marselan's wine offers a bright rich deep red colour, intense, complex perfume (red and blue fruits, tobacco, black pepper) and very supple tannins. Last but not least, it ages better than many people think. Numerous research studies have put Marselan under the microscope, so to speak: the findings have given us considerable valuable insight into what is still a relatively little-known grape (that I will be discussing in depth in my upcoming "Marselan in China, part 2" article. See: TerroirSense Wine Review. May 11, 2022).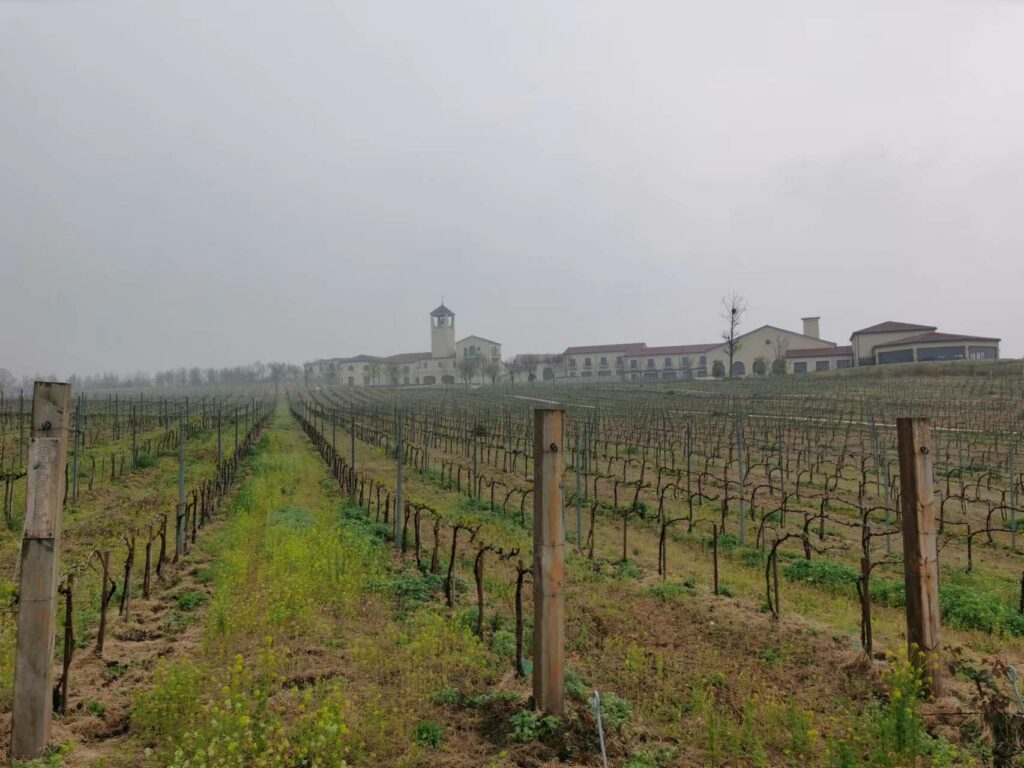 Marselan in China
For a grape that has known such meteoric success in the country, Marselan was introduced in China only very recently. In 2001, it was planted along with fifteen other French grape varieties at the Domaine Franco-Chinois in the Sino-French Demonstration Vineyard, a collaborative winemaking project sponsored by the French and Chinese governments in the Huailai region in Hebei. From there, Marselan quickly gained new ground (literally): save for the country's coolest viticultural regions (to be clear, there are no Chinese Marselan Icewines), it is now planted almost everywhere in China, including the Shandong peninsula, Ningxia, Shaanxi, Shanxi, Xinjiang, Gansu and Yunnan provinces. What were initially only 2.75 hectares of Marselan and only one producer in all of China, are now close to 300 hectares and 80-100 producers. In fact, after France, China has the second-largest vineyard extension devoted to Marselan in the world.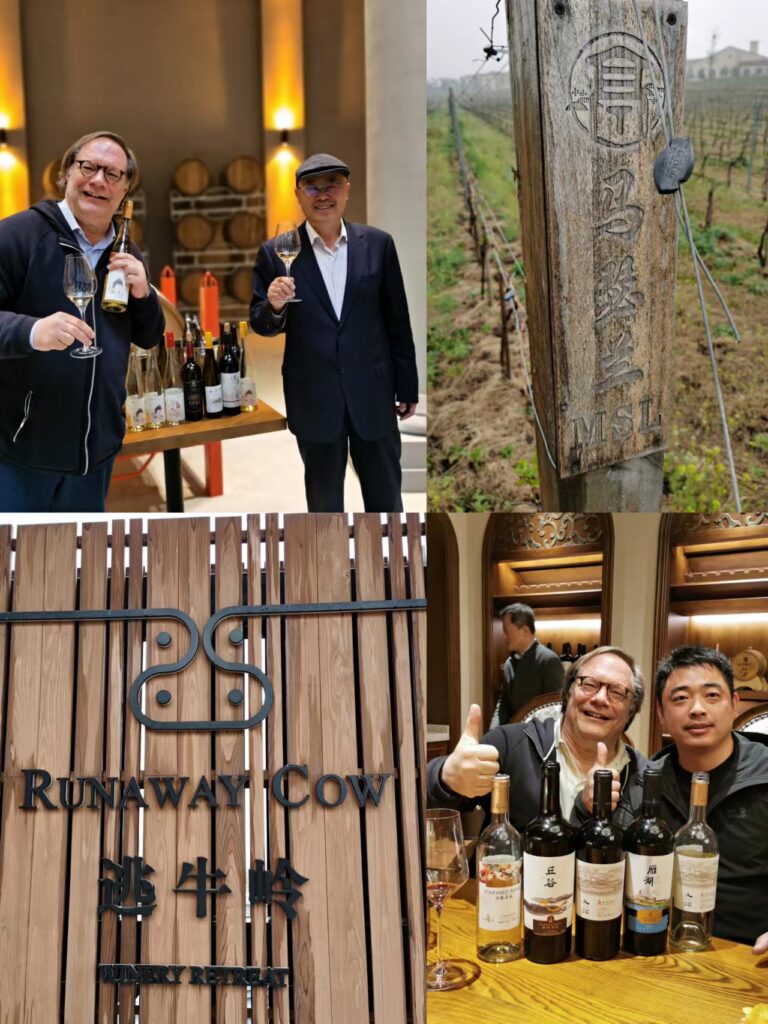 While initial wines made with Marselan in the Languedoc (precisely the type of hot climate-type viticultural area for which Marselan had been created) were nothing to get excited about and did nothing to further the poor grape's cause, Marselan in China has been a revelation. Most interestingly, it has become apparent that Marselan in China can give very terroir-specific wines. In other words, the Marselan wines of Ningxia are very different from those of Shandong and other Chinese viticultural regions. Marselan appears to be able of give wines that translate "somewhereness" in the glass rather effectively. In this light, Marselan has a lot more in common with Pinot Noir and Nebbiolo than it does with Merlot and Cabernet Sauvignon. For example, the Marselan wines of the Shandong Peninsula tends to be lighter-coloured than those of Ningxia and just about everywhere else in China. They are also lighter-bodied, and neither trait can surprise much considering Shandong's cooler, more humid climate. Its Marselan wines are however very pretty and refined. Ningxia's notably high summer temperatures means that its Marselan wines pack quite the number of octanes (read: alcohol level) and the tannins can be tough if not made with fully ripe grapes. When everything goes right, they are some of the darkest-coloured, richest Chinese Marselan wines of all. Hebei near China's capital Beijing, also makes fuller-bodied, structured wines, though I have found that Marselan's trademark glossy fruit is always front and center in wines from this part of China. These wines represent an ideal meeting point between those of Ningxia and those of Shandong. Xinjiang Marselan wines are also exciting, very balanced and rich, but suave. Granted, some producers choose to blend their Marselan with Merlot and/or Syrah, and though this may lead to interesting wines, it's hard not to see it as a missed opportunity given the uniqueness of Chinese Marselan wines. To be clear, wines like nobody else can produce anywhere else in the world. And so it is that most of China's best wineries all have planted Marselan with most of them making a monovariety wine with it. The list includes Domaine Franco-Chinois/Canaan Winery, Silver Heights, Legacy Peak, Pushang Vineyards, Longting Vineyards, Grace Vineyards and many more still; and even the very prestigious Long Dai estate, owned by Domaines Barons de Rothschild (of Chateau Lafite-Rothschild fame) has done so, including a small percentage of Marselan in their second wine.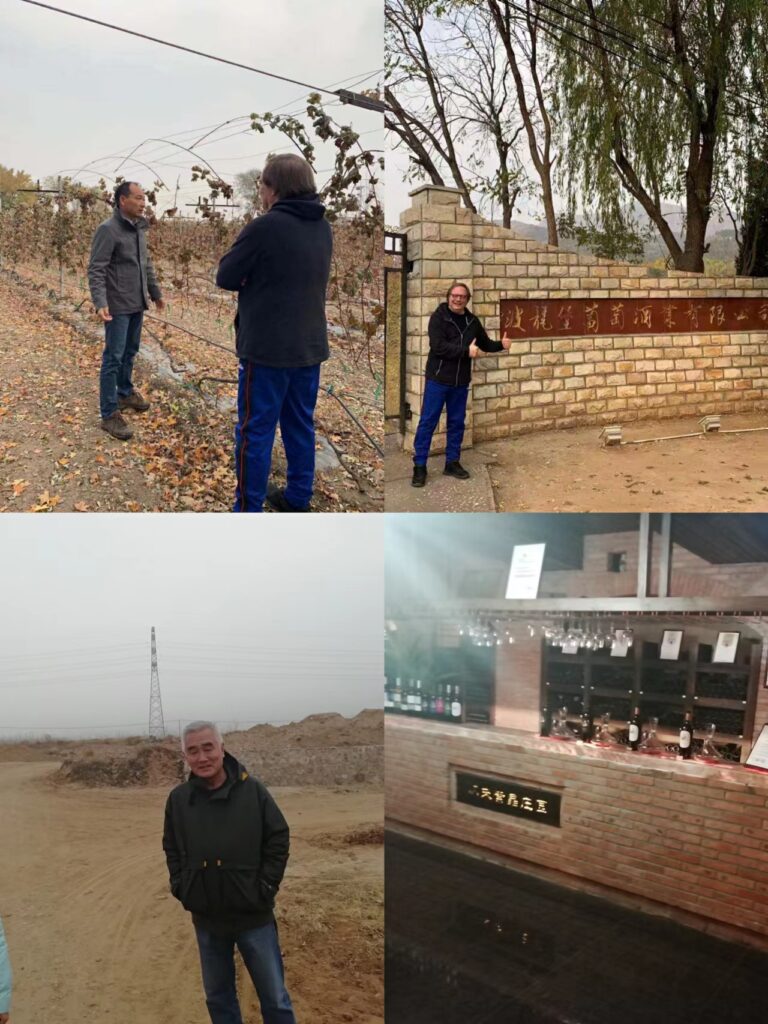 Chinese Marselan wines have come along way in very little time. I remember when I attended the first ever China Wine Summit in Shanghai, now almost ten years ago, called, and frankly honoured, to be only one of the three judges (along with the UK's Jancis Robinson and France's Bernard Burtschy) to atste and evaluate the 100 or so Chinese wines in the competition. The China Wine Summit is in my view the country's premier Chinese wine competition and show, organized by the Shanghai Morning Post daily newspaper and the TasteSpirit Wine Media and Education company, and I was very favourably struck by the quality of most of the wines. But right there and then, I was completely surprised by how good the Chinese Marselan wines were (and the Cabernet Gernischts too), wines that I admit I did not have much experience with at the time. Since then, Marselan has gained acceptance at all levels, from Chinese wine professionals to the wine-loving public at large: the name Marselan is one that Chinese people recognize today, a grape and wine they are proud to call their own. Clearly, human nature being what it is, not all is perfect: still there are those who view Marselan with suspicion, when not with downright disrespect. I have collected many contrasting opinions over the last ten years and have noted that some of Marselan's very strengths go unrecognized, or are not fully understood. First there's the camp of those who view all grape crossings with disdain, and independently that the wine they have in their glass might be a really good one, will shoot it down mercilessly without giving it a second thought (or any thought, for that matter). I have met so many individuals of this ilk over the years (the classic "wine snobs" we have all met at one time or another in our lives) that I don't bother even giving them the time of day anymore. Then there's those who complain that the wine's colour is too light (Marselan has nothing to worry about here: after all, Pinot Noir, Nebbiolo and Sangiovese have all had the same problem over the years, so I would say that Marselan is in really pretty good company). In order to combat what is perceived to be a problem (when in fact a bright red colour is no problem at all: only those who really don't drink much wine are unaware that red wines do not have to be inky to be of high quality), some producers will late harvest Marselan or over-oak it, neither of which is a really great idea. As the grape has small berries and a high skin to pulp ratio, late harvesting it is not going to be the key to financial success; and leaving it too long in oak simply kills the variety's capacity to give wines of bright inner-mouth perfume and glossy red fruit flavours of compelling sweetness.
Marselan's success has been such that Bejing-based wine writer Jim Boyce has created "World Marselan Day", an annual celebration of the grape at wine shops, wine bars and restaurants that takes place over a number of days, organized by Grape Wall of China and powered by Wine to Asia.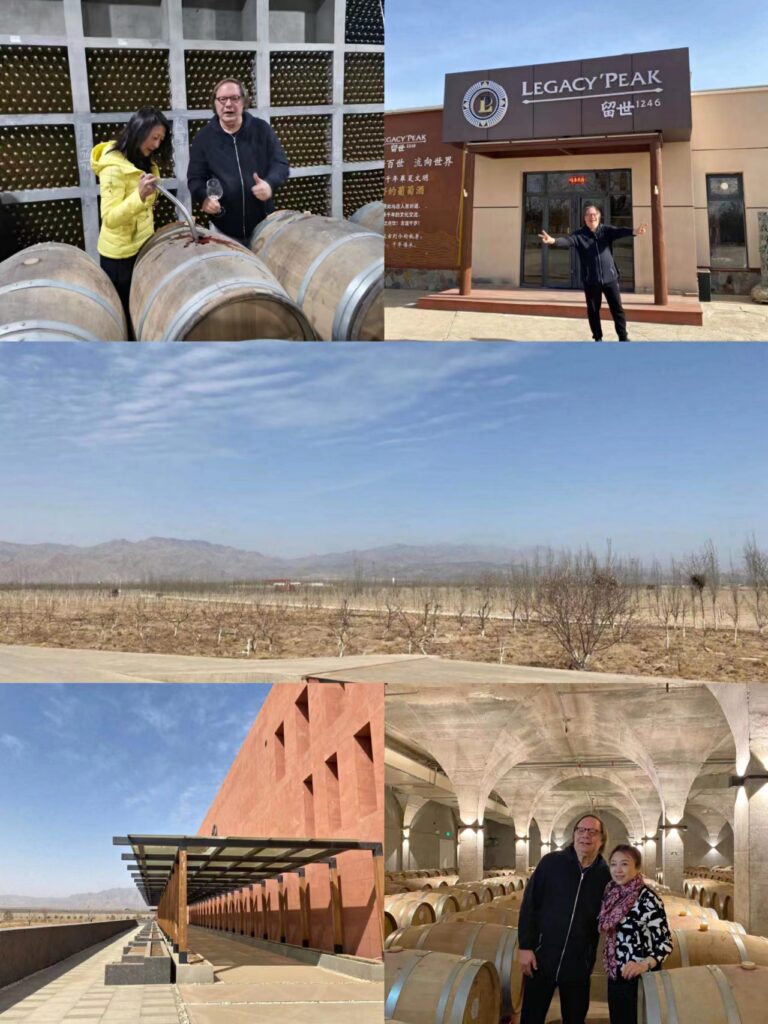 Marselan around the world
Given its ability to resist hot weather conditions and give good wines, Marselan has become increasingly planted by international wineries that are routinely confronted by such conditions. Besides France and China, Marselan has been planted in Argentina, Brazil, Chile, Uruguay, Italy, Spain, Switzerland, Israel, and the USA. In France, Marselan was entered in the official register of grape varieties in 1990, and is approved for commercial production and sales. Historically associated with the Languedoc and the Rhône, where it has mostly been used in blends, the first monovariety French Marselan wine apparently dates back to 2002, made near the city of Carcassonne, in Roussillon. Most recently, in 2019, in a bit of news that made quite the waves, Marselan was named one of the four new red grapes authorized in Bordeaux wines, a clear-cut attempt to try and offer vignerons there a means by which to fight increasing temperatures as a consequence of climate change. In 2007, the US Alcohol and Tobacco Tax and Trade Bureau (TTB) allowed for wines carrying the variety's name on their label and Marselan wines can now be sold in the States too. The list of producers who are studying Marselan and/or making wine with it all over the world is a long one, and includes names such as: Vignobles Rousseau (10% Marselan in its Bordeaux wine), Domaine de l'Armet, Collines du Bourdic, Domaine De Couron, Domaine Sibille, Château Camplazens, Domaine de Tavernel (makes a wine called Terra Futura Rouge is a 60% Merlot and 40% Marselan blend); Spottswoode Winery, Helena View Winery, Caldwell Vineyard, Sextant Winery (California); Dragoon Vineyards, Page Springs Winery (Arizona); Bodegas Garzon (Uruguay); Salton (Brazil):  Recanati, Bin-Nun, Tabor (Israel).
China's Marselan wines: the tasting.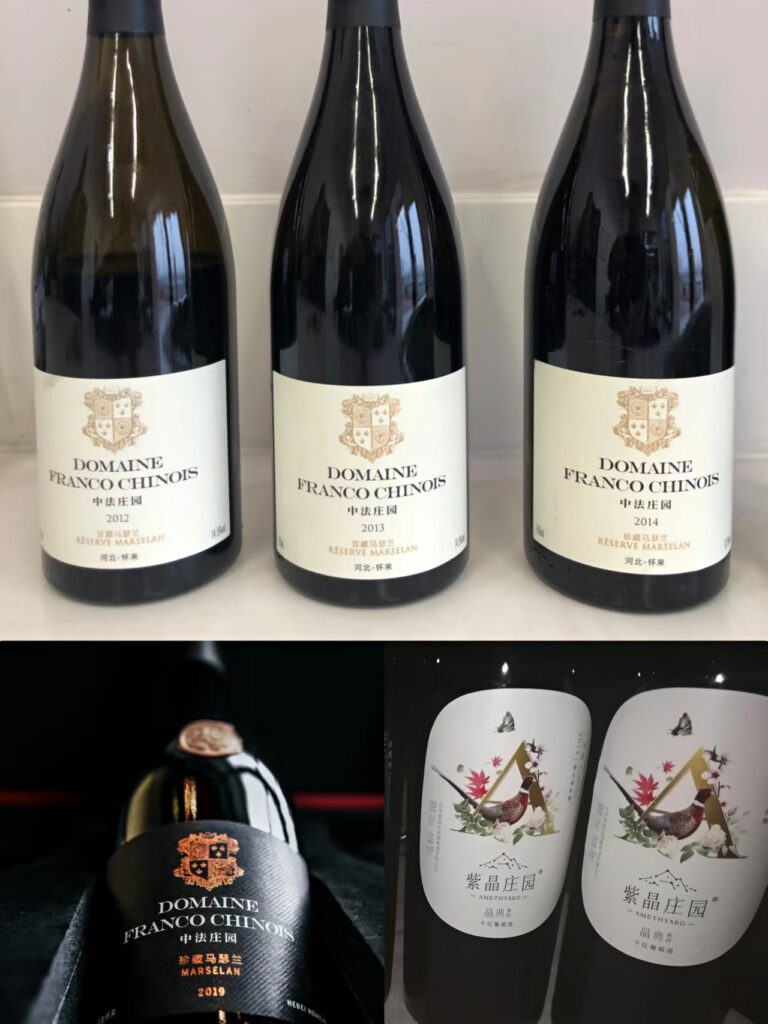 Domaine Franco-Chinois.
2014     Marselan Reserve Hebei Hualai                                93
Deep red. Fresh red fruit, herbs and a hint of black pepper on the nose. Very well balanced in the mouth, with lovely smooth clean flavours similar to the aromas but complicated by nuances of grilled beef. Finishes long with floral (violet especially) reminders. Lots of flavour here and only 13.5% alcohol. A very pretty wine. Drinking window: now-2032.
2013     Marselan Reserve Hebei Hualai                                89
Vivid red. Ripe red fruit aromas and flavors are complicated by some notes of tar, licorice and black pepper. Ripe and juicy on entry, then a bit more austere in the middle, finishing with some alcoholic warmth and slightly tough tannins. There's enough fruit here to make this enjoyable with hearty fare (think braised pig's cheek or beef stews); it lacks the grace of the very pretty 2014 Marselan Reserve, but this was a difficult, damp, vintage. That Canaan Winery/Domaine Franco-Chinois makes wines that speaks of the vintage is commendable, and you should keep that in mind. Well done here in a difficult year. Drinking window: 2023-2026.
2012     Marselan Reserve Hebei Hualai                                       92
Bright red. Perfumed aromas of red cherry, star fruit and cumin, even a hint ginger with aeration.  Then very light on its feet, with clean smooth flavours of peppery red fruits and herbs. Not the most complex wine you will ever drink in your life, but this is suave and very nicely balanced with a long aftertaste. A very pretty wine that closes classically dry, but with a hint of sweetness that adds a little volume and does not detract from the wine's pleasantness. Drinking window: now-2030.
Chateau Anuo 2019 Marselan Yan Hu Shandong                                91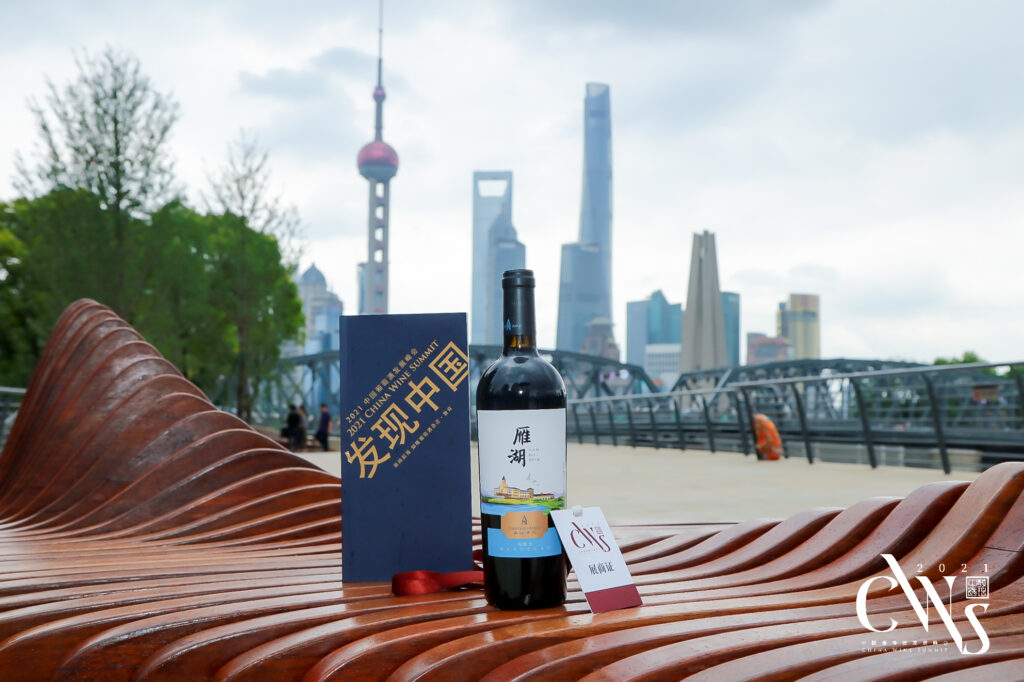 Bright red colour. Typical Marselan aromas of smoky licorice and ripe red fruit. Fresh and juicy on entry, then slightly mouthcoating with still grainy tannins that will need further in the cellar to evolve fully, but there's very good underlying fruit and juiciness here. Boasts lovely red berry, red cherry and sweet spices on the varietally accurate finish. Promising wine given the vines have only four years of age or so. The 14.5% alcohol is hardly noticeable, further attesting to the wine's excellent overall balance. Drinking window: 2024-2030.
Chateau Baolongbao 2018 Marselan Fangshan Beijing  (Taransaud barrel sample)           (92)
Luminous red. Very perfumed rose petal, violet, plums and minerals on the nose and in the mouth. Long ripe and round, with a fruity-floral long finish. Not the most complex wine in the world but very well balanced and welcomingly vibrant. Frankly, these are exactly the sort of wines you want to eat with, and it will match much better to many Chinese cuisines (even with carefully chosen Sichuan and Yunnan dishes). This was a barrel sample as at the time the estate had not yet decided if it was going to bottle the wine as such or use it in a red wine blend. Still, it's a very good Marselan and provides the winery with food, er wine, for thought. Drinking window: 2023-2030.
Chateau Chanson 2018 Marselan Ningxia                              91                   
Very pretty red colour. The nose is varietally accurate, speaking of Marselan through and through: bright red fruit, herbs, tobacco and spices; a hint of tolerable volatile acidity adds freshness. Enters peppery and juicy, then turns suaver and fruitier, with a long, classically dry and youthfully chewy finish. An excellent example why Marselan is China's signature grape, this is just a lovely medium-bodied red wine that will match well with a boatload of different foods. Drinking window: now-2028.
Chateau Lion 2018 Marselan Dry Red Wine Fangshan Beijing                    90+
Bright red colour, very typical of Marselan: once you've had some experience with this grape and its wines, it's a colour you recognize immediately when tasting blind. Licorice and herbs dominate the nose but with red cherry and plum nuances peeking through with aeration. Enters soft and juicy, then very light and vibrant in the middle, and with very good tactile vivacity and freshness on the long slightly saline finish. Not a viscous or especially concentrated Marselan but easygoing and accessible. I loved this!
Domaine Charme 2019 Marselan Ningxia                                     91+
Fully saturated ruby. Very clean and pure aromas and flavours of red and black fruit, minerals, sweet spices, licorice and mint. Rich, deep and very dense, with a concentrated but refined mouthfeel and real power on the mouthcoating but nobly tannic and mountingly peppery-spicy aftertaste. This lovely wine is at once big and delicate, powerful and refined. I'd forget about this in the cellar for a few years, then enjoy for another eight to ten years after that. Well done! Drinking window: 2024-2032.
Domaine Zijing/Amethyard.
2018      Marselan                                                93
Deep red-purple color. A touch of volatile acidity adds freshness and lifts the ripe red and blue fruit aromas and flavours. The bright acid spine further heightens Marselan's spicy personality on the long, youthfully chewy, but well-balanced finish. A lovely and varietally accurate Marselan that really improves in the glass with aeration, offering sneaky concentration and depth. This is likely to age well too. Well done. Aged 13 months in French oak about 27% new. 100% Marselan. Drinking window: now-2033.
2017      Marselan                                                91
Good full ruby. Deep flinty nuances to the violet, ripe plum and black pepper aromas and flavours; this has an almost Syrah-like quality. Less oak-dominated than some older vintages of this wine, but still very austere at present with an almost stiff tannic steeliness. No easy sweetness here, but turns more fruity, juicier, and riper on the long finish with aeration. Tannic it is, but they are noble tannins that just require a little time in a good cellar. Aged 13 months in oak barrels (45% American oak, 40% Hungarian and 15% French oak; about 90% new oak). A much darker wine than the 2018, which I imagine is in relation to the different oak regimen used in 2017 (there was about half as much new oak used) compared to 2018. 100% Marselan. Drinking window: 2024-2032.
Fei Tswei Winery Ningxia.
2019 Blend 1 Fei                                           (91+)
Deep, bright red. Expressive, high-pitched aromas of red plum, blueberry and chestnut, lifted by peppery spices. Juicy and intensely flavored, it boasts sweet ripe flavors similar to the aromas that broadcast energy and focus. Classically dry on the broad and very saline finish that features repeating spice and chestnut reminders. Currently showing very smooth and compellingly suave, it's a lovely wine. A 50% Syrah and 50% Marselan blend that you might say speaks of Marselan on the nose while on the palate it's the Syrah doing the talking. This was not yet bottled when I tried it, hence the score in brackets. Drinking window: 2024-2030.
Fei Tswei 2018 Marselan Ningxia                                    90+
Bright medium red colour. Initially reticent, the nose opens up into Marselan-like aromas of red fruit and sweet spices, complemented by a nice floral note. Then juicy and fresh, but with a nice tactile presence and very good acid cut to the red berry and cherry flavors. Spicy hints linger nicely on the peppery finish. Another lovely wine from Fei Tswei that is characterized by an almost saline personality. Given how good the barrel sample of their red blend wine (50% Marselan) was that I tried, I'd say they have a pretty good potential with Marselan here. Drinking window: 2023-2028.
Grace Vineyards
2019 Marselan Tasya's Reserve China                                   91
Good medium red. Nicely expressive on the nose with aroams of blue fruit and herbs, but less compelling than this estate's amazing Sangiovese and Aglianico wines. Richer and sweeter in the mouth, with a powerful spine of acidity and good energy contribute to the wine's tactile quality and providing lift on the aftertaste. Perhaps best today on the finish, which features broad, supple tannins and repeating blue fruits that linger impressively. Drinking window: 2023-2030.
2017 Marselan Tasya's Reserve China                                   91
Good deep red. Very ripe aromas and flavours of red cherry, blackberry, vioelt and flint. Light on its feet, with flavors of red fruits, flowers and minerals. Boasts great sap and floral lift, with plenty of energy on the bright long close. Drinking window: now-2028.
Ho-lan Soul 2017 Reserved Organic Marselan Ningxia                      92
Bright ruby-red. Refined aromas and flavours of red cherry, mint and sweet spices. Finishes long and clean, with a Cabernet Gernischt-like nuance at the long back end that hints at red tea. Clearcut proof of how a wine does not need to be massive and mouthcoating to be a great wine indeed. Well done, this is beautiful. Drinking window: 2023-2028.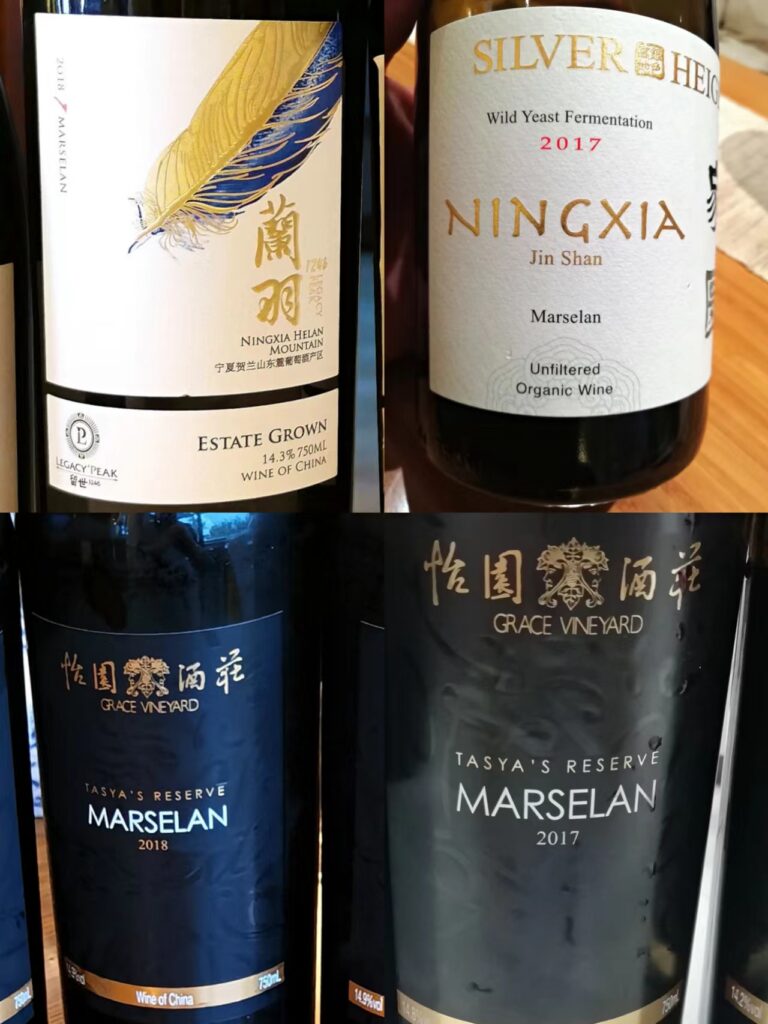 Legacy Peak 2019 Marselan Ningxia                                             91
Very deep colour for a Marselan wine, though in parts of Ningxia the grape does seem to give wines that are darker in colour than what I would normally associate with this variety. Spicy earthy nose with the very typical and instantly recognizable artemisia nuance common in many wines of Ninxia (most often associated with the province's Cabernet Sauvignon wines). Then deep and thick in the mouth, with tar, tobacco and licorice notes dominating the dark red fruit flavours. Closes long, fleshy and tactile. Reportedly 100% Marselan, a very good wine that is currently a little monolithic and chunky, and quite different from many other Ningxia Marselan wines that are more exuberantly fruity. Store it in a good cellar for a few years and enjoy for another eeight eyars or so after that. About 6-8000 bottles a year. Drinking window: 2024-2031.
Lilan Winery 2019 Lancui Marselan Ningxia                                       91
Very pretty bright light red colour. Extremely perfumed red cherry and sweet spices on the inviting nose.  Then juicy, pure flavours that are similar to the aromas. Closes long and clean, with a slightly austere personality. Aged in large oak barrels for 15 months (and fermented in big barrels too). Nicely done here. Drinking window: 2023-2028.
Martin Vineyard 2018 Marselan 308 Huailai Hebei                              87
Deep red. Stalky ripe red and blue fruit and herbal flavors have a slightly oxidative nuance that some will like a lot more than I. Not especially complex or long on the mellow finish, but I cans see how many out there will like this. Drinking window: now.
Pula Valley 2018 Marselan Dry Red Wine Yantai Shandong                            87
Medium red. Straightforward aromas of strawberry and herbs, but I couldn't find much varietal character on the nose. Then slightly fruit-challenged in the mouth, and dominated by spicy oak. Closes bright and fresh, but a little astringent on the finish. The Marselan was planted in 2014 and 2015, so these are still very young vines. The wine has promise, but they need to gauge the use of oak better so as to not camouflage the fruit too much (in this vintage, the use of a small amount of oak chips to get some oak flavouring might not have been the best idea). I loom forward to trying more vintages of this wine as I hhope there's underlying potential. Drinking window: now-2026.
Domaine  Pu Shang 2019 Marselan Ningxia                                        92+
Bright red. Vivid aromas of red fruit, minerals and herbs. Also bright and juicy on entry, then a little tight in the middle with a noteworthy saline edge to the red fruit and tobacco flavours. Finishes long and smooth. Clearly a more herbal rather than fruity version of Marselan, but this is an extremely good wine that will likely improve with another year in the cellar. Drinking window: 2023-2028.
Runaway Cow 2019 Mulan One Marselan Penglai Shandong                    90
Very deep ruby, almost opaque; for my parameters, this is very dark for a Marselan wine. Subdued but clean nose hints at fresh plums, ink and savory spices. Then fresh and juicy with resting flavours of plums and ink on the long, vibantly spicy finish. About 50% of the wine spends 14 months in small used French barriques and another 50% in stainless steel. I thought this was by far the best wine I tasted during my visit at the incredibly beautiful Runaway Cow estate. In Chinese language, this wine's name is prettier than in the English translation: "the soul of Mulan" Drinking window: 2023-2029.
Silver Heights Ningxia.
2018 Marselan Wild Yeast Fermentation Jin Shan Ningxia                 93
Deep red. Aromas of red cherry, raspberry and herbs are complemented by a pungent floral note (this smells like whole bunches were used here,  at least in part). Bright and pure in the mouth, with noteworthy precision and real lift to the floral red berry and spicy flavours. Finishes long and smooth with building pepperiness and real freshness. Knockout Marselan.  Drinking window: now-2028.
2017 Marselan Wild Yeast Fermentation Jin Shan Ninxia                   91
Bright red. Fresh and fruity on the nose, but with a curious metallic edge. Vibrant clean and pure on the palate, boasting lovely red fruit with a strong core of spices on the highly peppery back end. Drinking window: now-2026.
Tiansai 2018 T95 Marselan Yanqi Xinjiang                         92
Good full ruby. Very smooth, almost seamless Marselan offering beautiful aromas and flavours of red fruit, sweet spices, Sichuan pepper and menthol. Long on the clean, powerful but well-balanced aftertaste offering real vivacity and viscosity. Drinking window: 2023-2028.
Chateau Zhongfei 2018 Marselan reserve Yanqi Xinjiang                  91+
Deep ruby. At once candied and floral, with sweet ripe but lively flavours echoing the aromas of spicy fruit, minty herbs and Puer tea. Finishes long with youthful tannic bite but not hard or gritty. Perhaps made in a slightly riper, jammier style, but I'd say very successful, at least in this vintage. Drinking window: now-2028.