Chinon and its wines have long been famous. François Rabelais, born in Chinon and one of France's all-time greatest literary figures (penning an opus like Gargantua et Pantagruel will do wonders for your name and legacy) sang the wine's praises already back in the sixteenth century. But in slightly more modern times such as those of today, Chinon is still rightly considered (along with three other Loire appellations, Bourgueil, St-Nicolas de Bourgueil and Saumur-Champigny) to be one of the world's few truly great terroirs for Cabernet Franc wines.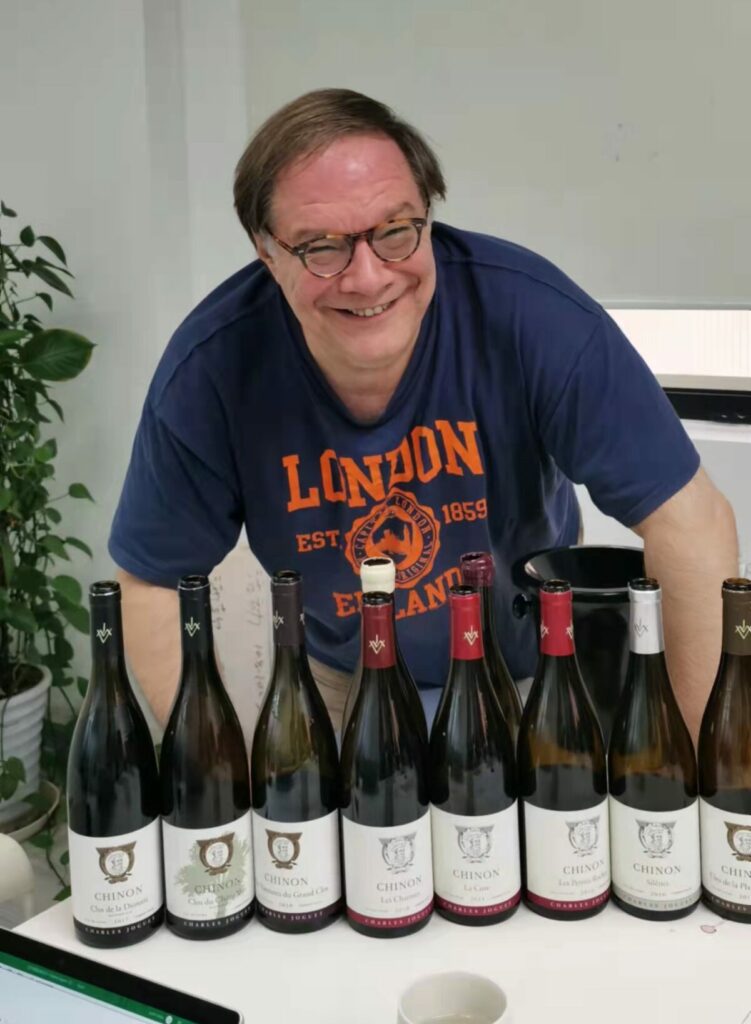 Without doubt, one man who greatly contributed to Chinon's standing in the world of fine wine was Charles Joguet, who abandoned a promising career in art (he was a painter and sculptor who had trained at at the Ateliers du Montparnasse and graduated from the École des Beaux-Arts in Paris; not to be outdone, his wife was a famous theatre critic) in order to take over the family estate in 1957 when his father died suddenly. Joguet immediately began asking questions and was fortunate to have a very good mentor in M. Taffenau, a local highly esteemed vigneron. In so doing, he turned his estate into a world quality leader. For example, he was aware that the vineyards his family owned were situated in historically famous sites mentioned already back in the Middle Ages. And yet the family had always sold its grapes to negociants, rather than choosing to estate bottle. Joguet decided to do things differently, and so was one of the first in the region to begin estate-bottling (it is amusing to know that one of the reasons Joguet instituted this practice was apparently so that his elderly mother would not have to continuously go up and down the cellar stairs for people to sample and taste the family's wines). Moreover, it was apparent to Joguet that the soils of his vineyards varied greatly, and it stood to reason that very different wines could be made from each, provided the grapes from the plots were vinified on their own and more or less in the same manner. He began bottling single-vineyard Chinon wines, something that had never been done before in the area. However, Joguet did not stop at bottling vines from single vineyards: he also implemented the production of wines based on the age of the vines, so as to make wines from younger vines and other wines from older vines. Last but not least, he was always the last to harvest in Chinon, but was also the first to age his wines in second hand Bordeaux barrels (bought from Château Latour circa 1970).
The end-result of all these actions is that Joguet met with great success, something due not just to his own passion and talent but also because of his vineyards located in some of the best plots located between the Loire and Vienne Rivers (and especially those of the Vienne river's left bank near the town of Sazilly). Joguet retired outright in 1997 (after forty vintages, he wished to return to and pursue his artistic interests fully). He had already sold the first half of the estate to the Genet family in 1995 (the owners of the estate today and who also owned a few vineyards in the area of Véron that then became part of the Charles Joguet domaine's holdings). Ever since Joguet retired, the estate has been run by Kevin Fontaine, who has been and is helped by various members of the Genet family, from Jacques Genet (Joguet's chartered accountant whom Joguet first looked to financial help in 1985) to his daughter Anne-Charlotte.
The winery boasts thirty-six hectares of vines planted to Cabernet Franc and another three hectares in the Appellation d'Origine Controlee (A.O.C.) Touraine, but planted to Chenin Blanc (which in the area is also called Pineau de la Loire (grapes are sourced from the communes of Sazilly, Chinon, Anché and Beaumont).
The vines and the wines
At Joguet, there are two set of wines made (nine wines in total), bottled following the rhythm of the seasons: a more easy going, accessible line of wines that are ready to drink sooner, and a line characterized by more age worthy wines that, more often than not, develop quite slowly. Early maturing wines include the likes of the "Cuvée Terroir" and "Les Petites Roches" (or "Little Rocks" in English). The estate's three best crus are also the names of the wines: Les Varennes du Grand Clos, a high quality premier cru site, and the upscale Clos du Chêne Vert and Clos de la Dioterie, that would easily be classified as grand crus if only the Loire used such terminology.
Les Varennes du Grand Clos is a 4.5 hectares large vineyard that represents the natural prolongation of the Le Clos de la Dioterie, with which it shares more than one feature.  Like the latter vineyard, Les Varennes du Grand Clos is mostly north-facing (north to north-east) and has a similar soil: clay with some sand at the top of the slope and clay that is more sandy-gravelly towards the bottom. The grapes and wines made in each vineyard are however very different: the grapes and bunches of Les Varennes du Grand Clos are smaller (and hence the yields are lower), but the wines also have much higher alcohol. Le Clos du Chêne Vert is named after a large green oak said to have been planted by the Benedectine monks of the Abbey of Bourgueil back in the eleventh century. A little past the oak tree, the soil changes noticeably, the heavy clay giving way to limestone and large rocks, that help give wines that are, not surprisingly given that description, lighter on their feet and more perfumed. Joguet bought the long-abandoned vineyard in 1976 and replanted it on 41B rootstock with massal selections from his own vineyards. The Le Clos de la Dioterie is the vineyard that more often than not gives the estate's best wines. Always harvested almost two weeks later each year than Le Clos du Chêne Vert (not surprisingly, given La Dioterie is a north-facing site: not a bad thing in this epoch of climate change), it boasts a heavy clay soil mixed with a little gravel and sand lying in a thin layer over a limestone subsoil. The vines here are not just old, but extremely old (going on ninety years plus of age!) and the small 2.2 hectare Clos (not walled off completely) has been famous since the Middle Ages.
In this report, I'll cover the estate's wines from a bunch of different recent vintages, including the 2016 (a difficult vintage presenting many challenges including heavy rains as well as a hot and droughty summer, but also frost and hail, but ultimately the better producers such as Joguet  made  powerfully rich high acid wines); the 2017 vintage, another one that was anything but a walk in the park (noteworthy for spring frosts hitting shortly after bud break, and threatening to destroy the majority of the crop before it even had a chance to show fruit, but the frost-related damage was lower than in 2016 and Cabernet Franc areas such as Bourgueil and Chinon less hammered than other parts of the Loire, with a very good harvest season that made the vintage -and those producers who harvested earlier making the better, more balanced wines that otherwise risked being low in overall acidity); last but most certainly not least, the 2018 was characterized by a large crop and very good ripeness, with perhaps slightly lower acidities in some Loire wines than usual, but for the most part this is an excellent vintage for Chinon and its wines. Vintages are quite important in assessing Loire wines and those from Cabernet Franc especially so; for example, even the most talented producers had difficulty getting their grapes to ripen fully in a frost and cold weather-affected 2012 vintage (I tasted the 2012 Clos de la Dioterie for this report and even though it is a standout wine in most years, even it fared less well than usual in 2012; by contrast, no such problem with the marvellous 2018 Clos de la Dioterie, for example, but '18 was a much better vintage).
The following wines were tasted in my office in Shanghai in two separate occasions, first in the summer of 2021, and again between October 2021 and January 2022.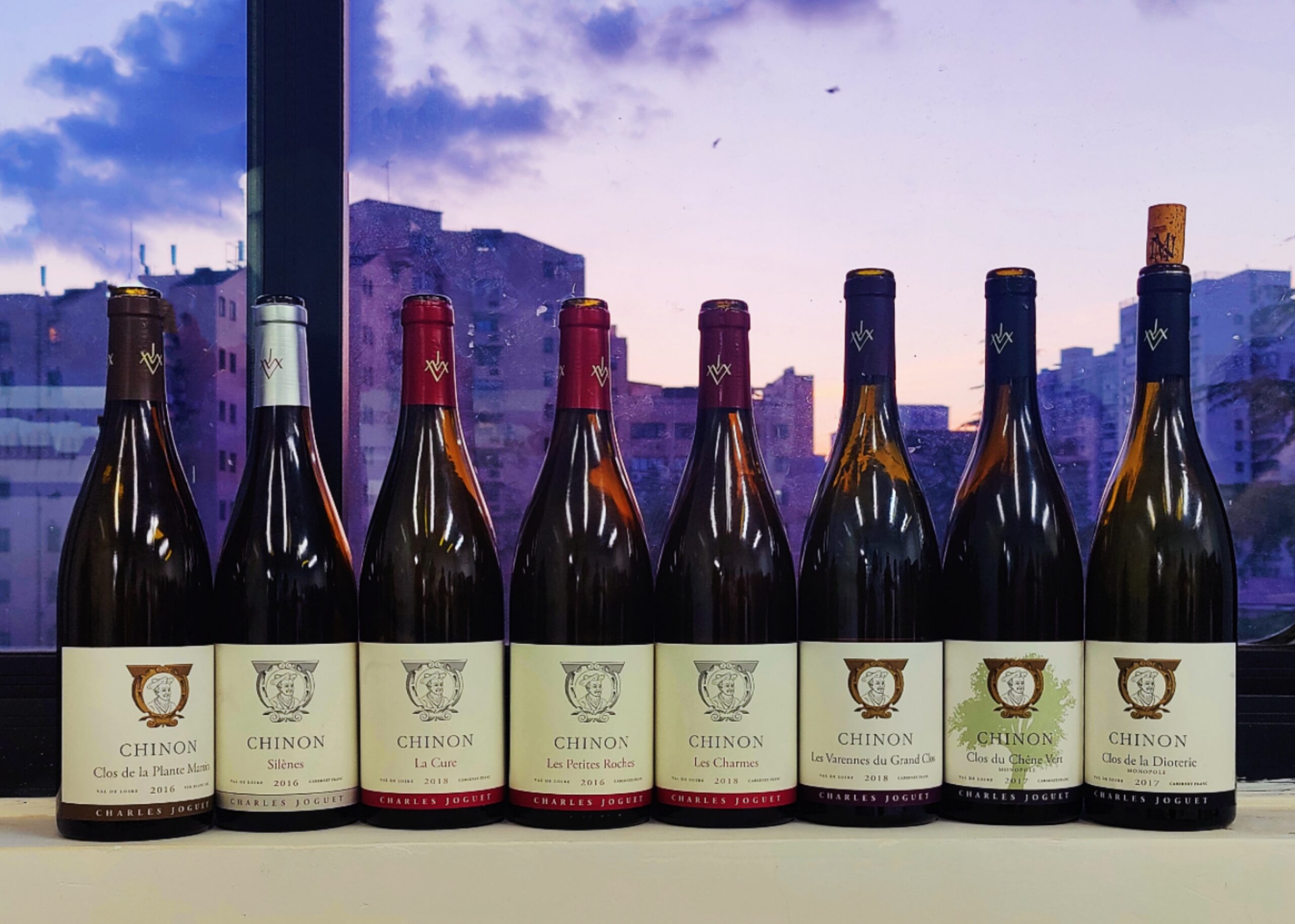 The wines
Charles Joguet 2016 Chinon Blanc Clos de la Plante Martin          91
Bright pale straw colour. Beeswax, lanolin, white flowers, nectarine, lime and lemon on the citrussy and floral nose. Enters sweet and tactile, then extremely pure and piercing with lemony acidity typical of the limestone soil. Pear, green apple, minerals, a hint of quince and tropical fruits on the long saline but riper than expected finish (as those fruit descriptors attest). Quite juicy and good really, this was previously labelled as a Touraine Blanc. This is 100% Chenin Blanc planted between 1994 and 1999 on mostly limestone and clay soil. Joguet planted the Chenin Blanc in 1994, from which he was also able to produce some sweet wines as well (for example, in the 2005, '07,'09 and '10 vintages) as he correctly chose to harvest the grapes in several passages. Aged in 225 liter barrels of which up to a third are new. Drinking window:  now-2030.
Charles Joguet 2016 Chinon Silenes                                     85
Bright dark red. Chewy, spicy, downright peppery and leafy Cab Franc aromas and flavours. Finishes with rising alcohol-derived heat. Not for me. Drinking window: now-2025.
Charles Joguet 2016 Chinon Les Petits Roches                                 87
Deep red. Fruit-forward, pure aromas and flavours of spicy strawberry and white pepper, plus a hint of tomato leaf in the background. Much riper red fruit and sweet spices on the nose and in the mouth here and very little of the green leafiness that plagued the 2016 Silenes. Clean and long but with a slightly drying, almost fruit-challenged quality on the finish. From roughly thirty-five years old vines planted on mostly gravel and limestone soils, this is aged in stainless steel tanks. Drinking window: now-2026.
Charles Joguet 2018 Chinon Cuvée de la Cure                                 92+
Fully saturated bright red-ruby. Deep, rich and dense on both the nose and in the mouth, with r long and very nicely balanced aromas and flavours. Much more coffee here than in any other red wines tasted from the estate for this report, with a clear-cut mineral bent but also a definite ripeness of fruit and noteworthy complexity. Spicy and with a pleasantly bittersweet twinge, this is very juicy, boasting a clear gravel-derived personality (the soils are essentially clay over deep gravel) leaving a hint of aromatic florality on the long, juicy back end. This is yet another 2018 that will likely develop very nicely, given a good cellar and some time, though it's very approachable and enjoyable now. Two hectares large, the vineyard is now roughly 35 years old; it's located in front of the village church and was purchased by Joguet in 1970. The grapes from this parcel are usually blended with those from a smaller plot in the center of Sazilly known as Pièce de la Chapelle. Drinking window: 2024-2034.
Charles Joguet 2018 Chinon Les Charmes                                        91+
Good full ruby-red. Peppery, leafy, brambly red and black fruit with a hint of vanilla spice, but this is fairly shut down currently. Then big and beefy, with plenty of heft to the flavours of ripe dark berries and herbs that will also need time in a good cellar to fully express themselves. Closes long and suave. The grapes are picked in a six hectare north-facing vineyard of roughly 35-40 years old Cab Franc planted on limestone and clay. Drinking window: 2026-2035.
Charles Joguet 2018 Chinon Les Varennes du Grand Clos                    93
Deep ruby-red with hints of purple. Rich, ripe aromas and flavours of red cherry and berries, with captivating sweet spicy and floral nuances. Very deep and smooth, and almost deceptively easy to drink, but there's lots of structure and concentration of fruit here that will require patience. This will offer lots of pleasure and far greater complexity with another five or so years of cellaring. I especially like this wine's balance and length, not to mention its vibrancy and juiciness. With a touch of new oak currently showing, but also a bit more tannic thanks to greater extraction partly no doubt due to higher fermentation temperatures, this is a brooding beauty that ought to develop very well indeed. Knockout stuff in a really outstanding vintage for Chinon. This is a 4.6 hectare single vineyard 100% Cabernet Franc wine planted from 1962 to 1976 on siliceous chalk/limestone and clay on the left bank of the Vienne River in Sazilly. Aged in one to three year old barrels for about sixteen months. Drinking window: 2026-2038.
Charles Joguet 2017 Clos du Chêne Vert                                    94
Fully saturated bright ruby-purple. Rich coffee, cocoa, red cherry and violet dominate on the slightly pungent nose. Then very long and suave, with brilliant delineation and gracefulness to the red fruit, underbrush, mineral and sweet spice flavours. Made from 2.2 hectares of thirty-five years old Cabernet Franc planted on siliceous chalk and clay, this is one of Chinon's best and most famous vineyards, located on the right bank of the Vienne River with a south/southwest exposure; it takes its name from a huge, old oak tree that was replanted where another centenary plus old oak tree had been planted by the monks of the Abbey of Bourgueil. This vineyard is usually harvested before the Clos de la Dioterie, and always gives elegant wines of very fine tannins and juiciness. Drinking window: 2026-2038.
Charles Joguet 2017 Clos de la Dioterie                                      94+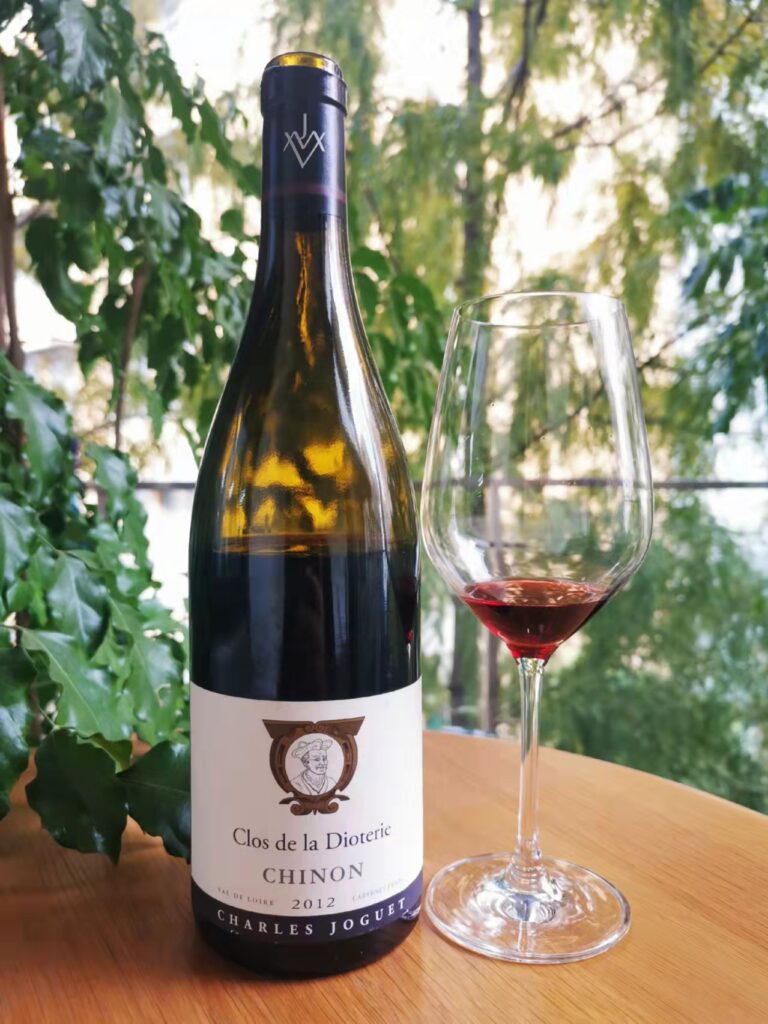 Deep vibrant ruby colour. Perfumed and lively, downright aromatic notes of spicy cocoa and coffee complicate the red berries and mineral aromas and flavours. Boasts a vibrant, well-delineated personality and noteworthy refinement, finishing long, deep and suave. I loved this wine's telltale Cab Franc aromatic personality and its long beautiful, multilayered long clean finish. A knockout wine. North-facing single vineyard 100% Cabernet Franc planted on 2.2 hectares from 1930 to 1940 on white limestone and clay on the left bank of the Vienne River. Drinking window: 2026-2038.