Henri Jayer was a legendary vintner known to many Burgundian wine lovers. Since he passed away in 2006, the bottles that he left behind have kept setting records at auction with prices even much higher than the "supreme" vintages of Romanée-Conti. Jayer's family auctioned off the last remaining collection of wines in the cellar in June 2018 with an average price of over 35,000USD for a bottle of his Cros Parantoux, not to mention his remaining Grand Cru bottles of Echézeaux and Richebourg. As the reliably sourced wines gradually disappear on the market and the optimal drinking window for old vintages is passing away, Jayer's wines are becoming a myth which can rarely be tasted in the future.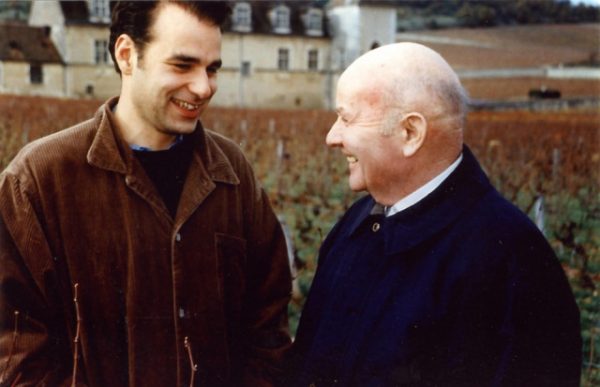 The name of Méo-Camuzet is constantly mentioned along with that of Henri Jayer. Although many Burgundy vintners were mentored by Henri Jayer, only two of them – Jayer's nephew Emmanuel Rouget and Jayer's former employer Jean-Nicolas Méo, the heir of Domaine Méo-Camuzet are recognized as the most important inheritors of Jayer's mantle in terms of terroir and philosophy. In particular, these are the only two wineries to own Jayer's masterpiece vineyard, the Cros Parantoux, which was reborn after around 400 blasts with dynamite and unimaginably hard work by Henri Jayer. His most expensive wine – Richebourg was also made from the vineyard of Méo-Camuzet.
Méo-Camuzet has been a prominent Burgundian family for very long time, owning some of the best terroirs in the heart of Burgundy. Jean Méo, father of the current owner of the domaine, Jean-Nicolas Méo, was an advisor to General de Gaulle for a two-year period (from 1958 to 1959), and his uncle, Etienne Camuzet, was a member of the Côte d'Or Council for thirty years. As his elders, Jean-Nicolas could have also chosen a career in politics, or in finance as what he has done in the United States for a year after graduating from the Ecole Supérieure de Commerce de Paris (ESCP). In the end, he chose to become a vintner.
After studying oenology at the University of Burgundy and economics for master degree from the University of Pennsylvania in the United States, he returned to the winery in 1989 to gradually take the helm under the personal tutelage of Henri Jayer, who was hired at that time by Méo's family. And he has ever since gone from success to success. As the estate gradually rose to the top of the Burgundy hierarchy, the market pushed the price of his wines upwards in seemingly non-stop fashion. Some enthusiasts mistakenly believe that the Méo-Camuzet is estate where it is today mostly because of Henri Jayer; clearly, while nobody wants to deny the merits of Jayer in helping the estate and Jean-Nicolas Méo gain prominence, such a view is uncharitable at best, and unfair at worst, to Méo's talent, passion and hard work.
In this light, a response Méo gave to a Chinese wine lover back in 2015, when he was invited to Shanghai by TasteSpirit & TerroirSense to hold a vertical tasting/masterclass on Clos de Vougeot and the wines his estate made from there, is telling. At the end of the tasting, during the question and answer period, the attendee, peppered Méo with several questions in a row, making sure that the Frenchman would answer his main question, which was: "What exactly did Henri Jayer have to do with you, what was his role?". As the gentleman in question was quite persistent on this topic despite Méo's best attempts to talk about other matters pertaining to the cru and its wines, Méo finally had to answer reluctantly that "… Jayer used to be an employee of our winery and I learned from him".
That answer, a fair one, tells you a little about Jean-Nicolas Méo, a serious, quiet, soft-spoken, unsmiling man. You may see him smile only once or twice during a visit to the winery, when you are tasting with him near a barrel. Jean-Nicolas Méo once told us "…Henri was one of the vineyard tenants hired by my father, Jean Méo, after World War II, so it was only natural that he would teach me when he could. I quickly fell in love with Henri's wines, so I stopped looking for my own path (at that time) and decided to listen and learn from him, as we both preferred wines that were rich, fruity, round, mellow, fresh and delicious."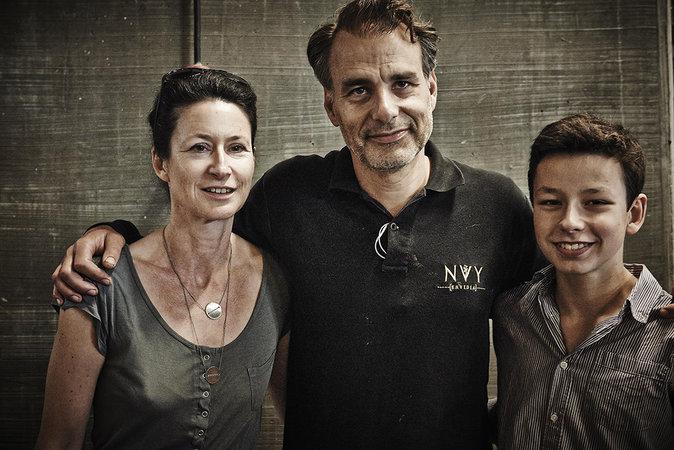 With his natural understanding of viticulture and wine, and the more than thirty years of practice gained on the job, Méo has developed his own style based on that of his mentor Henri Jayer, which, combined with the prestigious terroirs left by his family and the other plots the terroir of which he has since mastered, has culminated in Méo-Camuzet making benchmark wines and the estate's lofty status in Burgundy today. Over the years, Jean-Nicolas has also upgraded the estate's farming practices and actively experimented with organic and biodynamic farming methods. Henri Jayer was strongly against the practice of whole-bunch vinification (ie. including stems), but Jean-Nicolas was and is more adaptable, willing to try new things. For example, he included about 10% small stems in making the 2017 Cros Parantoux.
In the same optics of trying new things, Méo-Camuzet has also launched a négociant business, making wines from several villages across the Côtes de Nuits and the Côtes de Beaune (Fixin, Gevrey-Chambertin, Chambolle-Musigny, to Vougeot, Flagey-Echezeaux, Vosne-Romanée, Nuits-St-Georges and Corton). Clearly, it's only people with great talent, knowledge and passion for and about their subject matter that are able to work with, and then express fully, the many different terroirs of so many very different villages. It's not something that just anybody can do, or at least not with the same degree of success of Méo-Camuzet.
In 2014, Jean-Nicolas has also established a new estate Nicolas & Jay in Oregon in the United States, with his long-time wine friend Jay Boberg, ex-president of MCA Records, making Pinot Noir and Chardonnay wines on the terroirs of the Willamette Valley.
Tastespirit & TerroirSense is honoured to have organized with Jean-Nicloas Méo himself several masterclasses during our Terroir Renaissance International Wine Symposium in Shanghai, covering verticals tasting of his benchmark Clos de Vougeot and 1er Crus of Vosne-Romanée.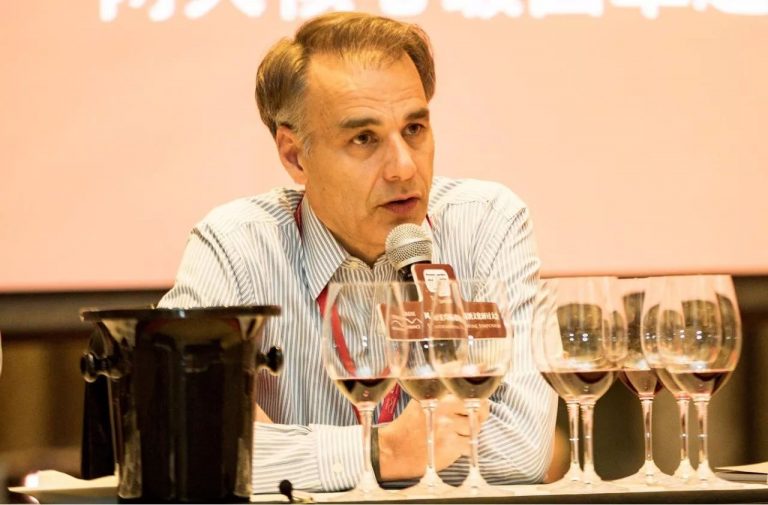 We have also organized recently a rare wine tasting dinner of Méo-Camuzet's quintessential wines. The following are my detailed notes on all the wines in the tastings, their terroirs, how they were served, and how they performed.
A Domaine Méo-Camuzet wine tasting and dinner record
Domaine Méo-Camuzet 2016 Nuits-St-Georges Premier Cru Aux Murgers                    93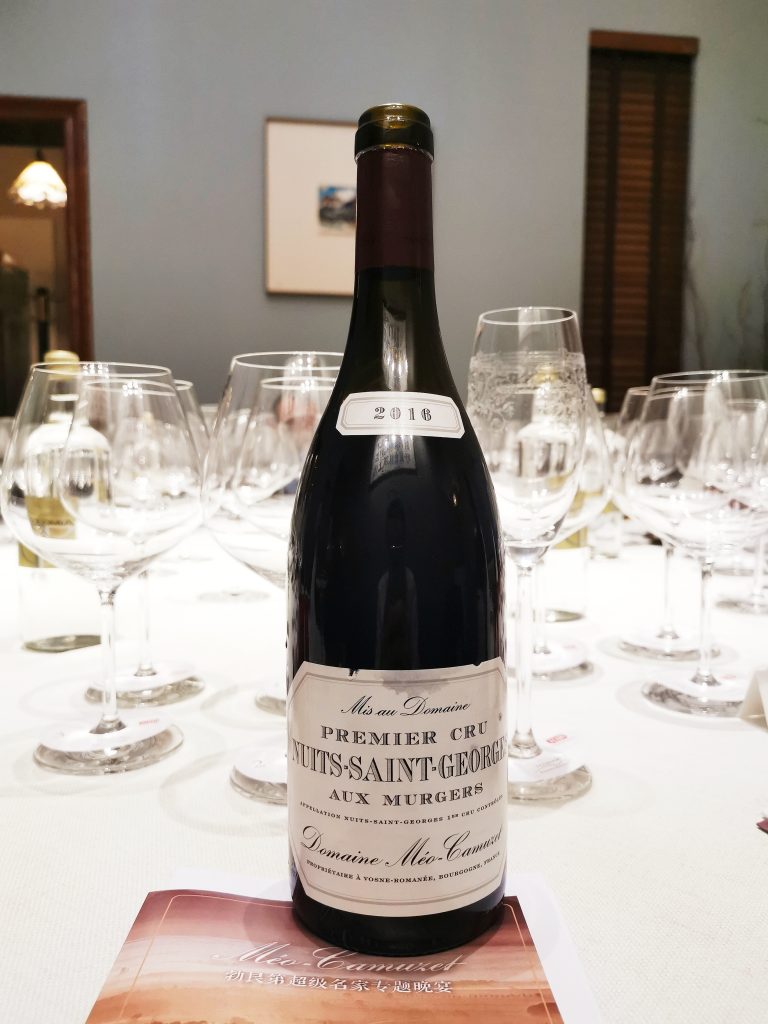 Situated near Vosne-Romanée, Aux Murgers is an outstanding Premier Cru in Nuits-St-Georges that the estate owns 0.73 hectares of. In fact, Méo-Camuzet produces four different Premier Crus in Nuits-St-Georges, of which Aux Murgers (means "low stonewall" in Burgundy) and Aux Boudots, also adjacent to Vosne-Romanée, are the most highly rated (the other two Les Perrieres and Aux Argillas are by Negociant). Despite being in Nuits, both these crus give wines the traits of which are close to the sensual and elegant style of Vosne-Romanée, while maintaining a certain sense of solidity typical of Nuits-St-Georges. The forty to fifty years-old vines in the stonewall vineyard were probably planted and tended by Henri Jayer himself.
The wine is bright ruby-red in colour. On the nose, once aerated and opened, the 2016 Nuits-St-Georges Premier Cru Aux Murgers is almost exuberant in its perfume, offering an extremely transparent set of fresh rose petals and delicately herbal aromas, but with complicating earthy and protean nuances, plus a slight hint of spice and of wood from the new oak barrels. With air, a magnificent scent of black cherries slowly and fully spreads out on the palate, thick, textured and concentrated, with a rich, floral-fruity flavor. Generally speaking, the wine is a combination of the sensuality of Vosne-Romanée and the structure and backbone of Nuits-St-Georges. An excellent wine indeed (after the sommelier poured one glass, the rest was left in the bottle for 1.5 hours decanting before it was poured again). Drinking window: 2024-2036+
Domaine Méo-Camuzet 2013 Nuits-St-Georges Premier Cru Aux Boudots              93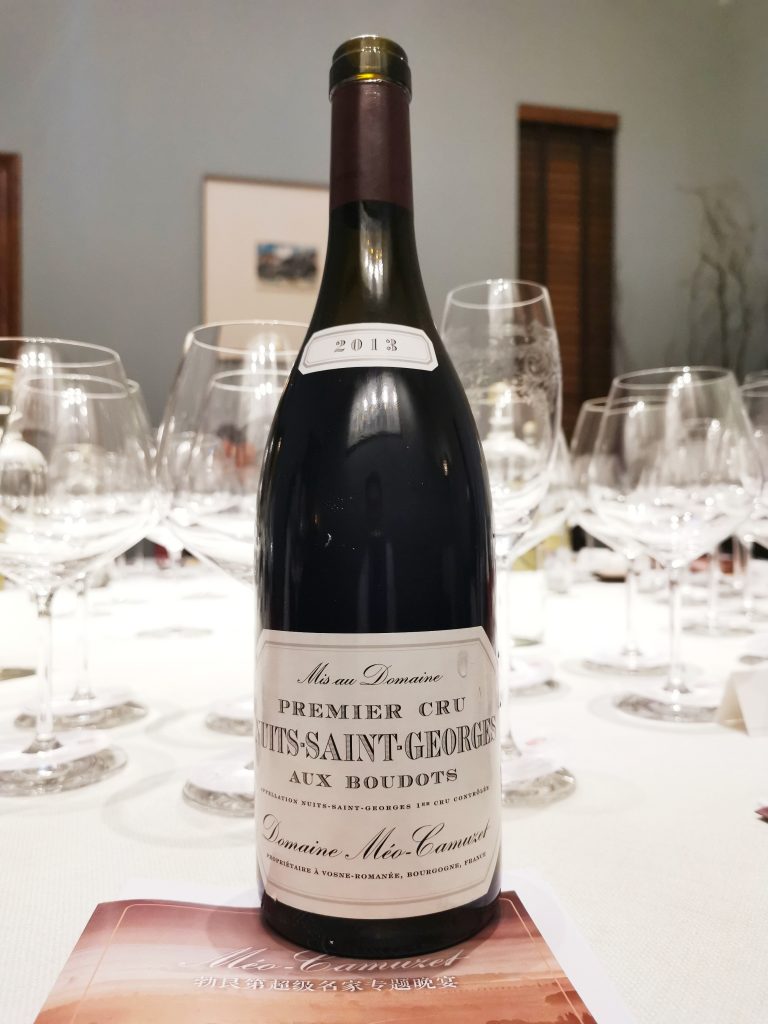 Aux Boudots is an outstanding Premier Cru in Nuits-St-Georges, that like Aux Murgers, is near Vosne-Romanée. Méo-Camuzet'plot of Aux Boudots is 1.04 hectares large. It is a cru that has an outstanding terroir, perhaps because it borders Les Malconsorts, one of Vosne-Romanée's most famous premier crus that many believe is of Grand Cru quality level (in this light, it's not without some importance that the other side of Les Malconsorts borders La Tâche, one of the world's most iconic, legendary vineyards). Aux Boudot's soil is characterized by a high percentage of clay, which, coupled to the sixty-years old vines, result in full-bodied and solid Pinot Noir wines.
The 2013 Nuits-St-Georges Premier Cru Aux Boudots is deep ruby-red and opens with a deep and delicate aromas and flavors of black cherry and black plum, complemented by light touches of rose and earth (15% whole bunch fermentation in 2013), and some woody notes from the new oak barrels used. There's a high level of concentration and masculine power here, with fine but voluminous tannins giving excellent texture and astringency in the mid-palate, and allowing a forecast of exceptional aging potential for this wine. Although three years older than the previous 2016 Aux Murgers, the 2013 Aux Boudots showcased a more solid and durable structure given tannins that were at once more astringent and delicate. Another excellent wine (after the sommelier poured one glass, the rest was left in the bottle for 1.5 hours decanting before it was poured again). Drinking window: 2023-2036+
Domaine Méo-Camuzet 2009 Vosne-Romanée Premier Cru Les Chaumes               94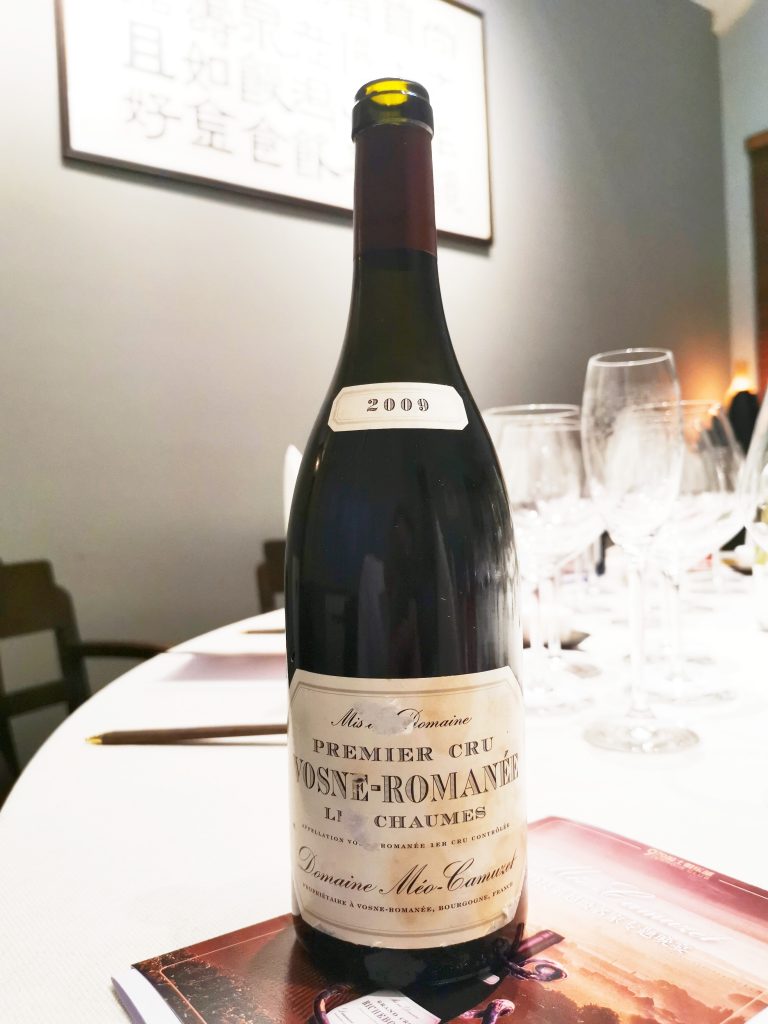 In many respects, Les Chaumes is the key premier cru in Vosne-Romanée, located at the foot of the hill in the southwest of Vosne-Romanée. Characterized by a thin layer of topsoil, Les Chaumes covers 6.46 hectares, just downhill from the famous Grand Cru La Tâche and the outstanding Premier Cru Aux Malconsorts. In Vosne-Romanée, a vineyard of more than 5 hectares is considered large (at two hectares, Méo-Camuzet is the largest landowner in the cru), and given that land here is at a premium, Les Chaumes has many different owners (in a correspondingly higher number than that of other vineyards of Vosne-Romanée). Given the high level of winemaking in the area, it's not easy to stand out from the pack, but Méo-Camuzet's version is considered the benchmark expression of Les Chaume's terroir.
Domaine Méo-Camuzet's 2009 Vosne-Romanée Premier Cru Les Chaumes is both elegant and sexy. The greatness of the 2009 vintage is also on display here, with the wine offering exuberant floral aromas from the get-go. After two hours of aeration in the bottle, the fragrance in the glass slowly unfolded further, and with the delicate aromas and flavours of fresh rose petals bolstered by scents of minerals, neatly extended on the long aftertaste. Now in its optimal drinking period, the wine's length is such that it will likely continue to age at least until 2029-2030 (don't underestimate the ageing potential of fine and delicate wines such as this one, because there is real structure underneath the floral aromas). Jean-Nicolas Méo once told me that he values this vineyard very much and that he never gives up trying to find and pull out something deeper from the terroir, compared to the traditional, slightly "frivolous and superficial" styled wines that Les Chaumes has come to be associated with over the years. Given how good this wine is, and improving year after year, one cannot help but say he's surely getting better and better at achieving his stated goal. Drinking window: now-2030+
Domaine Méo-Camuzet 2012 Corton Grand Cru Perrières                                        94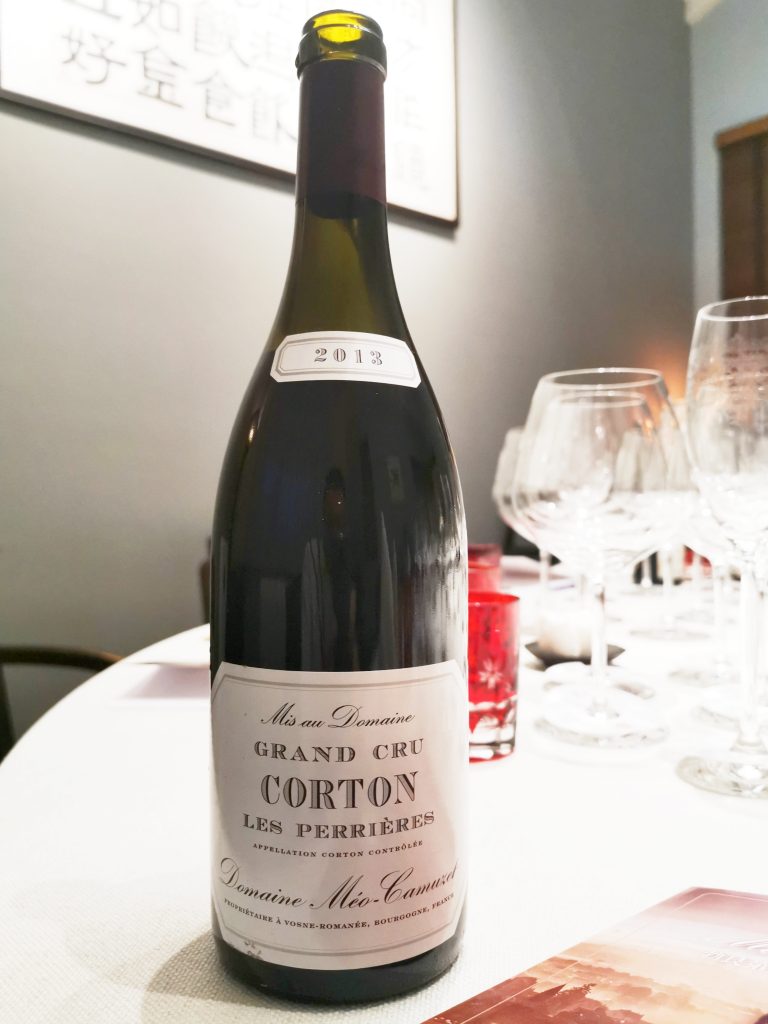 Méo-Camuzet's parcel of vines in Corton's Grand Cru Perrières is 0.68 hectares in the Aloxe side of the cru (the grand cru Perrières is on the whole slightly less than 10 hectares large). The estate's plot is located mid-slope, facing east. The site's name, "Perrières" tells you right away that there are a lot of pebbles there, and in fact there are many mostly rose-colored stones littered throughout the deep soil. It's a grand cru that proves excellent in making great wines of real durability. Interestingly, Jean-Nicolas Méo has only begun to produce the Corton Perrières wines since 2009: the exceptional quality of the wine he makes there vintage after vintage demonstrates clearly his deep understanding of the cru's terroir and he has the capacity, not just the ambition, to make great wines here.
A little shy at first, the 2012 Corton Perrières only hinted at some seductive sesame like earthy notes more typically associated with top Burgundy white wines (though the region's reds can also boast similar style of aromas). But hidden beneath the scent of black cherry there is a taut structure, and after about two hours in an open bottle (after first having been decanted and poured back into the bottle), the wine blossoms offering deep aromas of black cherry, plum and rose, and a full-bodied, fleshy texture in the mouth, where the black fruits combine with fresh and charming nuances of sesame and game, leaving behind a particularly hedonistic and seductive impression. Featuring a strong underlying mineral backbone, this beauty finishes long with very pure smells of black cherry fruit emerging on the long, slightly steely, mineral aftertaste. This will be a great wine and has excellent aging potential. Drinking window: 2028-2038+.
Domaine Méo-Camuzet 2009 Clos de Vougeot Grand Cru Grand Maupertuis               95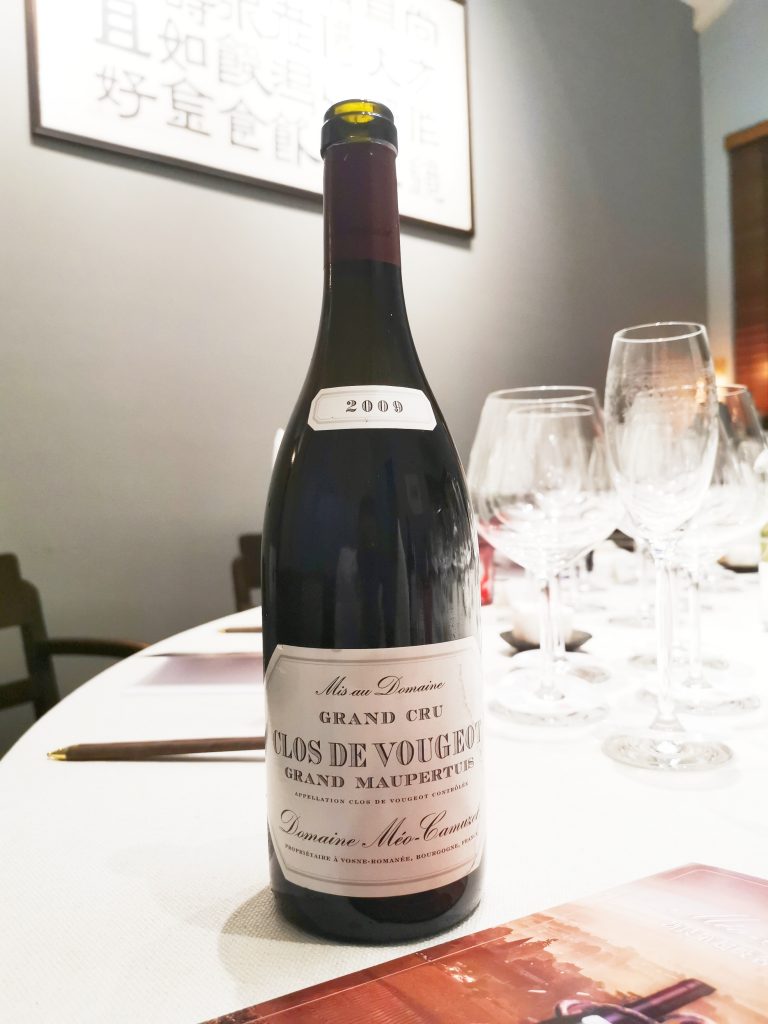 The Clos de Vougeot, a symbol of Burgundy's wine history, is home to more than eighty estates, of from which Méo-Camuzet makes the acknowledged benchmark wines, thanks to its core plots located in Les Chioures (3 hectares) near the Château de Vougeot. The Clos de Vougeot Grand Cru Grand Maupertuis is a special, rare, version of the Clos de Vougeot Grand Cru wine, made from an exceptionally high quality section of the Clos, a very tiny plot (0.25 hectares) located up the hill near the Grands Echezeaux Grand Cru (so small in fact that the wine's production is lilliputian too, less than 1000 bottles). Thus far, Méo-Camuzet has only produced this wine in 2009, 2014, 2016 and 2017 (in fact, the estate also owns another tiny plot of vines a little further downhill, called Près le Cellier, which has only produced wines in 2009 and 2017).
The Clos de Vougeot Grand Cru Grand Maupertuis opens with a very attractive aroma of fresh rose petals and an enticing smell of sesame and earth. Underneath the uplifting floral aroma, there's a seductive flirtation resulting from the presence of animal fur as well as a pure scent of red and black cherries. Excellent minerality and sweetness show in the mid-palate with medium-high concentration of fruit, a solid structure and a long aftertaste that keeps changing in the glass for more than an hour without diminishing. Overall, the minerality is not as dominant here as it is in other, more productive, wines from Clos de Vougeot, but this is an absolutely enchanting, sensual and far more attractive wine that went as far as even reminding us of the amazing aromas of some of Domaine Leroy's top red wines! If you come across this rare wine, don't forget to buy it. The quantity is very small, but the quality is very fine. Drinking window: now-2039
Domaine Méo-Camuzet Vosne-Romanée Premier Cru Cros Parantoux 2009                  96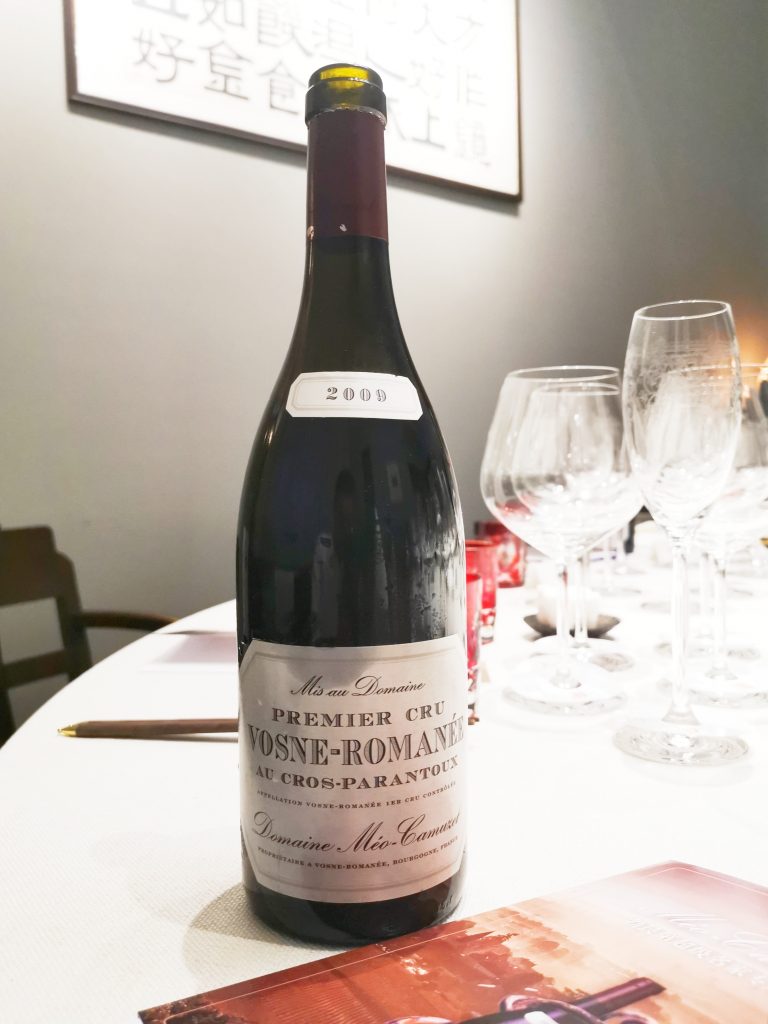 The Cros Parantoux Premier Cru, which became a legend thanks to Henri Jayer, is very well located next to the very famous Richebourg Grand Cru, which slopes to the northeast and is on a more uphill location with a cooler climate. Méo-Camuzet is one of the only two estates that own vines in this cru, an unfortunately small area that is a little less than a third of the cru (0.2950 hectares). The estate's annual wine production from this cru hovers around 1,000 bottles. Very interestingly, despite its grand present-day fame, historically this cru wasn't as well regarded by the well-known Burgundian terroir authorities Lavalle and Rodier, at last compared to other surrounding vineyards. And so, it's not surprising to know that when phylloxera invaded in the early twentieth century, the site was uprooted and abandoned. But for some reason, Henri Jayer, who had planted artichokes on this land during the war years, was convinced that it held great and as yet untapped potential. In his own words, Cros Parantoux is a "ruthless" piece of land (the artichoke roots dug so deep down that it took him one to two years to clean them all up). So if that weren't enough already, the soil was also embedded with many large rocks that he had to blow holes with dynamite to loosen the soil in order to plant vines there. He once recalled that he blew the plot up something like 400 times in total. But all that hard work paid off. As Henri Jayer expected, the red wines of Cros-Parantoux show the finesse and complexity typical of its great neighbor, the Richebourg Grand Cru; perhaps not quite the same power, intensity and depth of Richebourg, but Cros Parantoux's wines do boast the same rare softness and delicacy typical of a fully mature vintage of Richebourg. So it is fair to consider the Cros Parantoux as a "Grand Cru" among the Premier Crus, for it really is very close to the greatness, giving well-rounded wines rich in fruit aromas, compelling sweetness, fine tannins, and harmonious acidity so wines from this cru take more time to balance all these elements together. These are wines that generally need more than ten years of aging in a proper cellar.
We tasted this wine after pouring a third of the wine into the decanter and then immediately pouring it back into the bottle. After 3.5 hours airing in the bottle, it was poured back into the glass. Upon opening, there is a fresh and dense aroma of delicate rose petals. After decanting and pouring into the glass, the aroma, at first relatively closed, slowly began to unfold and spread out exhibiting a very pure and fresh scent of refined rose, as well as a ripe flavor of red cherries and red plums. The wine's structure is grand, boasting excellent concentration, showing a masculinely mineral spine beneath its floral surface. With purity and muscle, everything is tightly balanced and taut in the mouth, and the finish is very persistent, with multiple ongoing subtle changes all the time. The intense aroma of fresh rose petals was still gushing out from the glass even after an hour. Stunning aging potential here: the 2009 vintage is still at very young stage and will reach its prime drinking period only around 2025. I am very much looking forward to drinking this wine in the future, but of course its market price has already surpassed that of the 2007 Richebourg, which was tasted just after it. Drinking window: 2025-2039+.
Domaine Méo-Camuzet 2007 Richebourg Grand Cru                                  95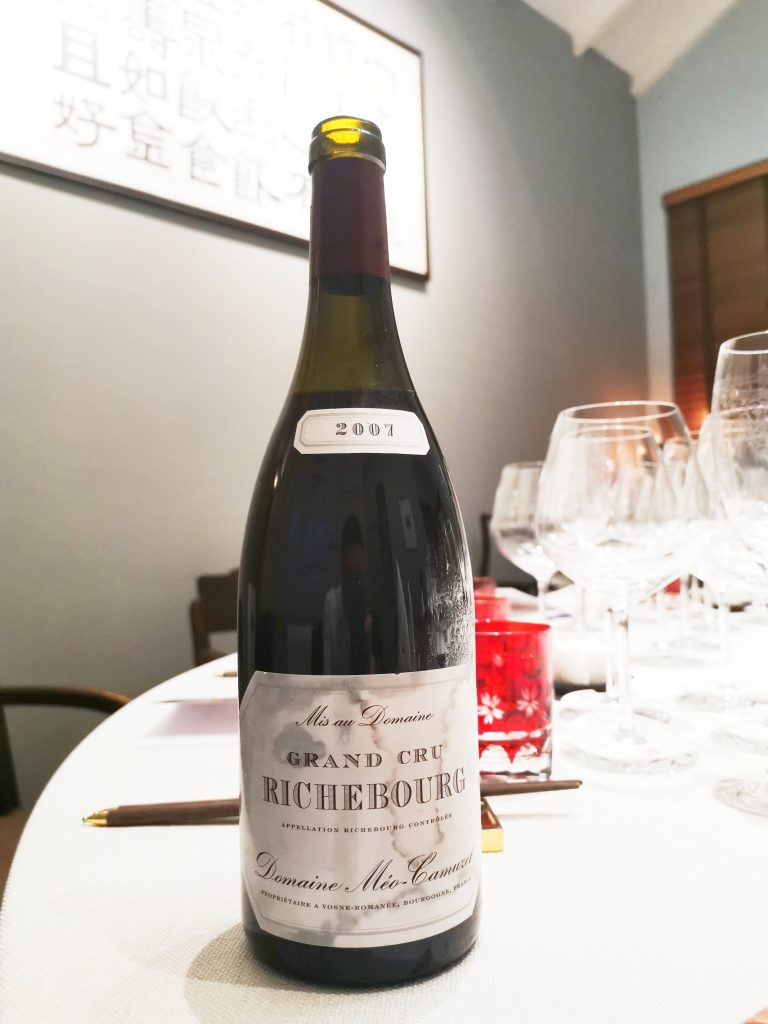 The flagship wine of Méo-Camuzet is definitely the Richebourg. The estate owns two plots in this famous vineyard: one is in Les Verroilles with an area of around 0.30 hectares, and a smaller one (0.04 hectares) located in Les Richebourgs, just below Cros Parantoux. Overall, the estate's production is only around 1,100 bottles/year. Most of the plots are on east-facing slope, generally on the cooler side of the grand cru's terroir. The greatness of Richebourg unfolds when it ages to its peak – you can often find a surprisingly fresh floral aromas and subtle layers in an more than 15-year old bottle. And like the name itself implies ("Richebourg" refers to "riche", meaning "richness and abundance" in French), it's arguably the terroir that gives the richest and fullest wines in the entire territory of the Vosne-Romanée village. But caveat emptor: it takes the wines at least ten years to begin showing their extraordinary charm, whether it's a great vintage or not, and almost all the Richebourg wines are able to to age for at least twenty years. In this respect, it's a shame that most Richebourg wines today are tasted prematurely before they reach their prime drinking time. The estate has actually long been associated with this fantastic site. According to knowledgeable Steen Öhman, Henri Jayer had begun tending the Méo family's vineyards in 1945 (at the age of 23). He began to replant the Richebourg vineyard in the 1950s, and gradually bottled small amounts of Richebourg wines in his own name from around 1959 until 1976, and by then he had built up enough confidence in his abilities and understanding of the cru to bottle more of them. The 1978 vintage is the first in which Jayer bottles the entire production, and this became his first famous vintage (maximum production of about three barrels). Relative to his last vintages, the 1985 and 1986 wines were lightly filtered prior to bottling, while 1988 was not, and this is viewed as a superb bottling fully representing the heights Jayer could attain. Jayer's lease on the Richebourg vineyard expired in 1987; after that, it was returned to Domaine Méo-Camuzet.
We tasted this wine after the sommelier poured one glass, with the rest of the wine left in the bottle for 3.5 hours before it was poured into the glasses for the tasting. Once opened, the wine emanated the typical aroma of fresh rose, mixed with scents of dried rose petals and black cherries. Underneath the overwhelming and abundant aroma, there was an obvious rocky backbone supporting the broad and grand structure and flavours similar to the aromas. Excellent concentration and a thick texture here, though maybe a little less refined and translucent than the superb 2009 Cros Parantoux, but its floral surge is pure Richebourg in its drinking prime, which the 2007 vintage has just begun to enter, but it will deliver better complexity with more aging. Drinking window: 2022-2035+.
Méo–Camuzet Frères & Soeurs 2014 Corton–Charlemagne Grand Cru                         94
The Méo–Camuzet Frères & Soeurs monicker indicates this to be a wine belonging to the negociant branch of the company, that was first made in 2011. The Domaine has been able to make this wine by obtaining the grapes from two plots through a crop exchange agreement. One plot is in Pernand-Vergelesse cooler portion of the grand cru and slopes facing west, while the other is in Aloxe-Corton warmer section and slopes facing south.
We tasted this wine after the sommelier poured one glass out first, while leaving the remaining wine in the bottle for 3.5 hours before it was poured again into the glasses of the eager tasters. Once poured into the glass, the 2014 Corton-Charlemagne offers an attractive bouquet of white sesame, flowers and fresh citrus, along with some new oak and caramel notes. The wine has a thick, almost oily texture in mouth, but it's also light on its feet, with harmonious acidity, plenty of energy and a long finish. Overall, it's a very tasty and attractive high-level white wine, but it's still very young right now. It will reach its prime drinking period some time in this year and evolve beautifully for another ten years or so after that. Drinking window: 2022-2030+