I first visited Château Haut-Bailly towards the end of the 1990s, and one of the first people I remember visiting, and liking, in Bordeaux was Véronique Sanders (now Véronique Sanders-van Beek, married to Alexander van Beek, the talented general director of Château Giscours in Margaux and of Caiarossa in Tuscany). Sanders-van Beek, as talented as they come, has had a deservedly fulgurating career in Bordeaux, in that after obtaining her DUAD (University Diploma in Wine Tasting Aptitude) from Bordeaux University in 1997-1998 she was named manager of Château Haut-Bailly in 1998. This was no small feat, as her grandfather Jean Sanders had sold Château Haut-Bailly in 1998 to an American, Robert G. Wilmers, and it wasn't a given that young Véronique would be entrusted with such a prestigious role, especially given a new ownership. But Wilmers obviously saw something he liked in the young lady; and he certainly has had no reason to regret his move, with Sanders responsible for one great wine after another. In fact, he named her to the CEO position in 2000.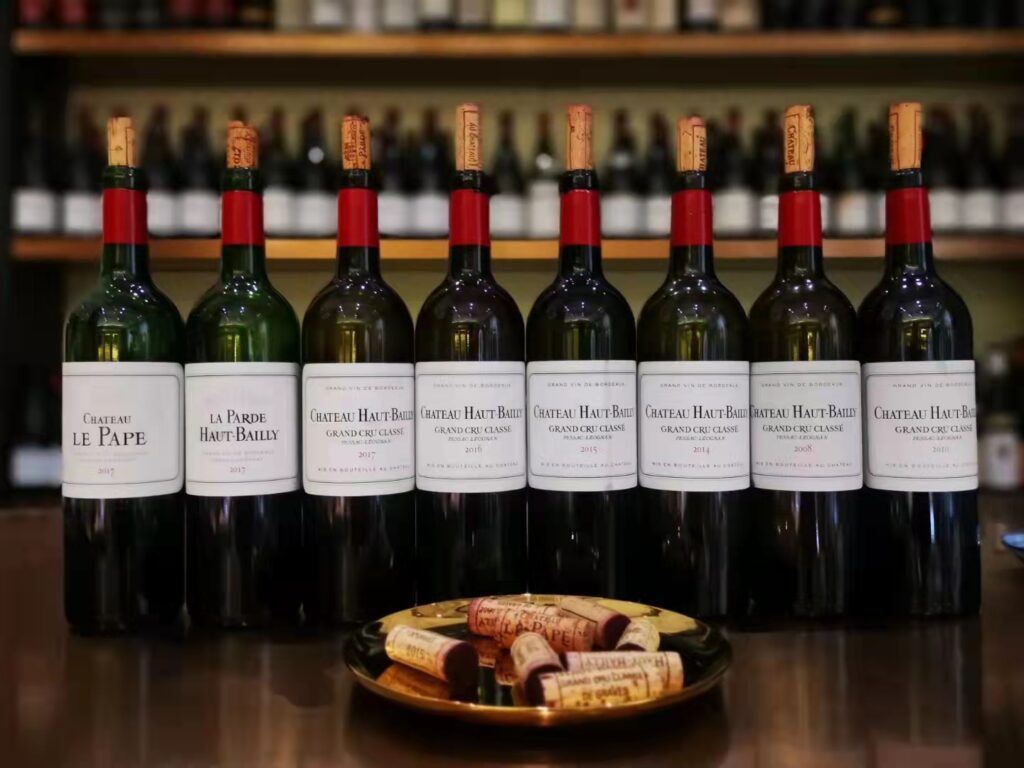 A little bit of history
Ranked among the Crus Classés for red wine in the Graves wine Classification of 1953 and 1959, Château Haut-Bailly's wine is regarded as one of the finest wines made on the left bank. In fact, the estate boasts a long and distinguished history in Bordeaux drinking circles. It is a matter of record that already in 1461 vines were grown at the estate, though modern-day viticulture seems to have begun at the Haut-Bailly we know of today in the mid-1500s. It was then that the owners, first the the Goyanèche and later the Daitze families, bought land in what was later to become the Graves appellation (and later still the Pessac-Léognan Appellation). The estate actually gained its name, or at least part of it, at a later date, when in 1630 Daitze sold it to Firmin Le Bailly and Nicolas de Leuvarde, two Parisian wine-loving bankers, and lovers especially of fine Graves wines. Reportedly, Haut-Bailly's wines were very popular at the time, and it was one of the first Bordeaux wines to be sold with specific vintages recorded on the label. But there were other important owners in Haut-Bailly's history, such as Thomas Barton, very well-known in Bordeaux circles. In 1872, Haut-Bailly's fortunes turned even better, when it was purchased by Alcide Bellot des Minières, a talented and passionate man who was a very well-known Bordeaux wine figure, knicknamed the "king of winefarmers". It was also he who built the Château building we can still visit today, and it was under his guidance that Haut-Bailly's wines became some of Bordeaux's best (so much so that the property's wine then sold as much as those of the First Growths). It was des Minières belief that the quality of Bordeaux wines resided in, among other things, in each of the varieties the area was long-known for, and it is for this reason that Château Haut-Bailly's oldest plot of vines is planted with all of the major varieties of the region, including Cabernet Sauvignon, Carmenère, Cabernet Franc, Merlot, Malbec and Petit Verdot. The advent of the Sanders family at Haut-Bailly took place in 1955 when Daniel Sanders, a Belgian Bordeaux wine merchant, bought the estate, that had fallen in the meantime on hard times with both buildings and vineyards in disrepair. Jean Sanders, Véronique's grandfather, took over in 1979, and by 1988, the vineyard was once again fully replanted and the wines singing. As mentioned previously, Sanders sold the estate in 1998 to Robert G. Wilmers (who unfortunately passed away in December 2017; his role has since been taken over by his son Chris Wilmers), an American banker (head of Buffalo's M&T Bank) married to Elizsabeth, a Frenchwoman. It is thanks to the Wilmers-Sanders combo that the property, already known for excellent wines, made even better wines from then on. No doubt, our dynamic duo benefited from the improvement in weather and winemaking and viticultural knowhow compared to that present in previous centuries, as well as many of the charismatic and ultra-talented consultants the estate has worked with over the years (a veritable "who's who" of Bordeaux great men of wine, the list includes Emile Peynaud, Pascal Ribereau-Gayon, Jean-Bernard Delmas and Denis Dubourdieu), but the fact remains it is thanks to their teamwork that Haut-Bailyy now ranks with the best of the best in Bordeaux. In 2011, Haut-Bailly bought its neighbour, Château Le Pape, therefore also a Pessac-Léognan estate, now equipped with five prestigious guest rooms (a guest house  type of accommodation designed as a family home) that are ideal for welcoming eager eno-tourists from all over the world. Last but not least, in 2021, Haut-Bailly inaugurated its bright new, ultra-modern cellar.
Vines and wines
Château Haut-Bailly is located in the heart of the Graves appellation on one of the highest hills on the left bank, an enviable topographical situation that means the vines are blessed with a unique microclimate and excellent natural drainage. Today, Château  Haut Bailly has thirty hectares under vines (of thirty-three in total) planted to 60% Cabernet Sauvignon, 34% Merlot, with the rest made up of Cabernet Franc, Petit Verdot, Malbec and Carmenère. Like at many other Bordeaux left bank properties, the years have seen a small increase in Petit Verdot and a decrease in Cabernet Franc plantings, but recent vintages still contain at times a good percentage of the latter variety (for example, 5% Cabernet Franc in the 2018 Haut-Bailly). Haut-Bailly's terroir is recognized as one of the best in the entire Appellation, constituted of the typical gravel with sandstone and silica, plus limestone soils and is rich in fossils dating back to the tertiary time. The vines average about 35 years of age, but there are roughly four hectares of vines that are about 100-120 years old, which are not just some of the oldest in all of Graves, but in all of Bordeaux (it is this old plot of vines that is planted to all the Bordeaux varieties as wished for by de Minière; in fact, the domaine's vineyard can be divided in over fifty different plots of vines). Winemaking is very standard and typical of Bordeaux, with a cold soak preceding fermentation, followed by use of thermo-regulated cement tanks and stainless-steel vats (ranging from 50-110 hectoliters in size) of various sizes in an effort to allow for parcel by parcel vinification. The wine is aged in French oak barrels (50% to 65% new) for an average of 16-18 months. Somewhat atypically for Pessac-Léognan and Graves in general, Haut-Bailly makes no white wine (though it did many years ago) but it does make a second wine, Haut-Bailly II (first made in 1967, this was known as La Parde de Haut-Bailly from 1979 to 2019, and as Domaine de la Parde before that). Like some other famous Bordeaux properties, the estate produces a third wine, simply called HB, from declassified fruit.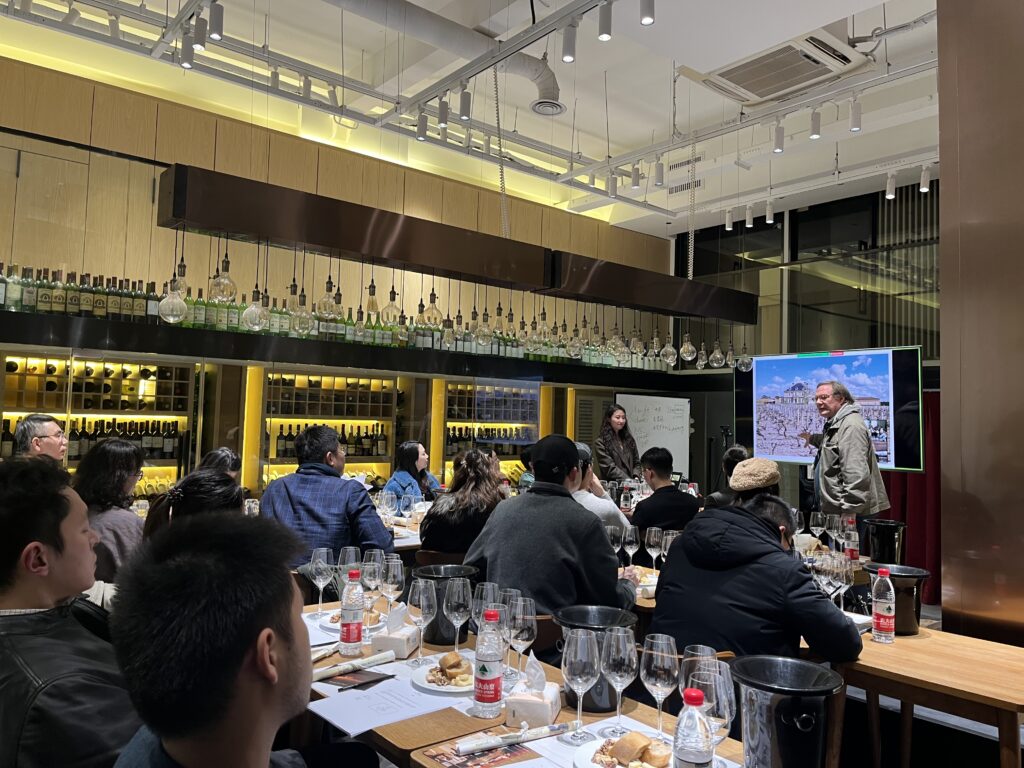 All the wines in this report were tasted in Shanghai on February 2022 at the TasteSpirit masterclass on the wines of Haut-Bailly, with Véronique Sanders present by zoom conference
The vertical tasting
2008 Chteau Haut-Bailly Pessac-Léognan                         95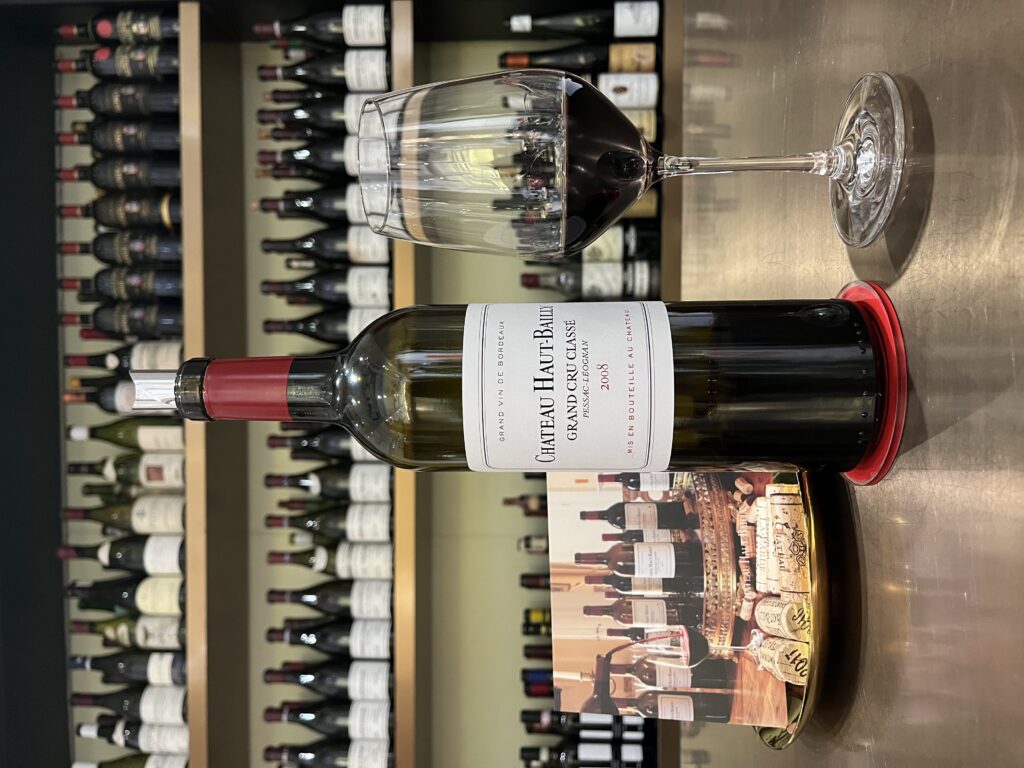 Dark luminous ruby. Very refined nose of blackcurrant, cedar, graphite, charcoal, and a hint of smoke on the classic, nose. Then medium-bodied but intense, with elegant flavours that echo the aromas, this is a silky, minerally-driven Bordeaux red that speaks well of its Pessac-Léognan terroir. The very precise finish is long, tapered and dominated by the Cabernet Sauvignon. The 2008 Château Haut-Bailly is a blend of 70% Cabernet Sauvignon and 30% Merlot.  Drinking window: now-2035
2009 Chteau Haut-Bailly Pessac-Léognan                                98
Translucent deep ruby with purple tinges. Concentrated, ripe, but elegant aromas of blackcurrants and spice, complicated by hints of mushrooms, cassis and sweet spices. Rich and creamy, with an almost opulent mouthfeel that is unlike Haut-Bailly but very much typical of the wonderful 2009 vintage, it boasts dark berry, forest floor, coffee and cocoa flavours, with the typical Pessac-Léognan smoke and minerality somewhat still in the background. The aftertaste is long and frankly seductive. Despite its low acid personality, this is so well-balanced I have no doubts it will age effortlessly another twenty-thirty years. A gorgeous Haut-Bailly I wish I had bought more of at the time of its release. The 2009 Château Haut-Bailly is a blend of 60% Cabernet Sauvignon, 37% Merlot, and 3% Cabernet Franc.  Drinking window: now-2040.
2010 Chteau Haut-Bailly Pessac-Léognan                                98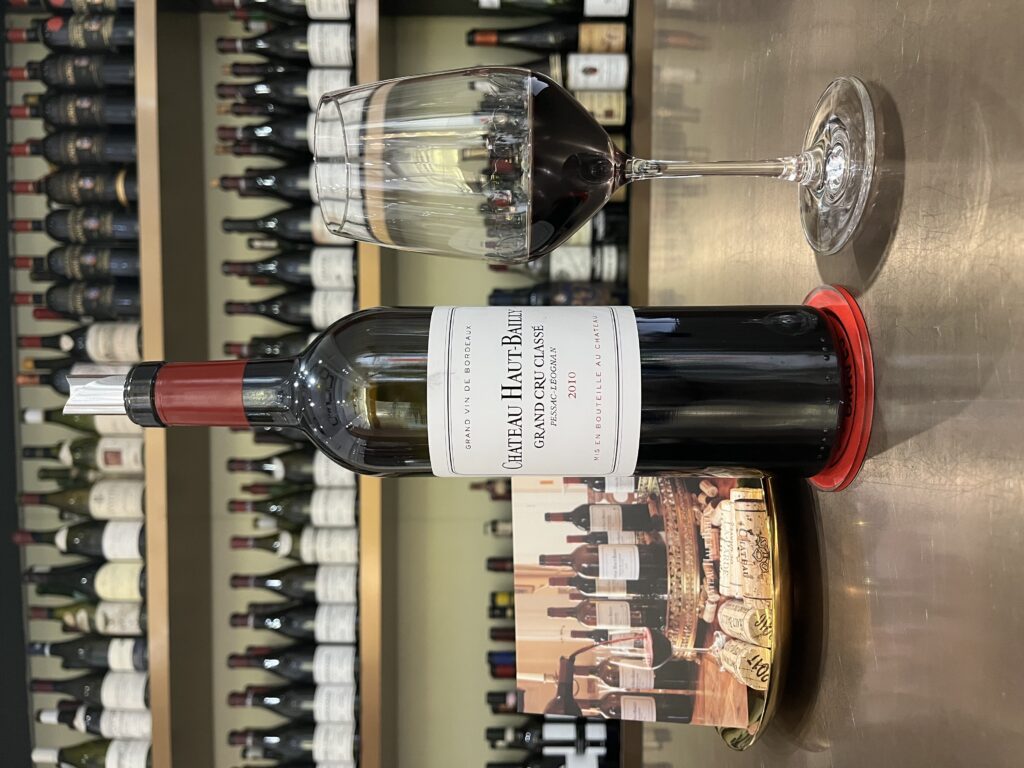 Good full ruby. The complex nose offers notes of lead pencil, blueberry, blackberry, underbrush, graphite and sweet spices, with a noteworthy violet lift. Then similar flavours to the aromas, with a tight core of acidity nicely framing the ripe fruit, and polished tannins providing ample backbone on the long, tapered close. While the 2010 Bordeaux are much tighter and fuller-bodied than their 2009 counterparts, this has never been the case of the 2010 Haut-Bailly, one of the bigger and creamier versions of this wine ever. That said, the wine has finessed noticeably since the days I first tasted it during the Primeurs, when it seemed bent on "out-Californianing" some wines from Napa. Always a very deep rich and concentrated wine, it has gained with the passage of time a measure of restraint and delicacy that is much more in tune with Haut-Bailly's historic body of work, while retaining impressive volume and creaminess. The 2010 Château Haut-Bailly is a blend of 62% Cabernet Sauvignon, 36% Merlot, and 2% Cabernet Franc.  Drinking window: now-2050.
2014 Chteau Haut-Bailly Pessac-Léognan                         93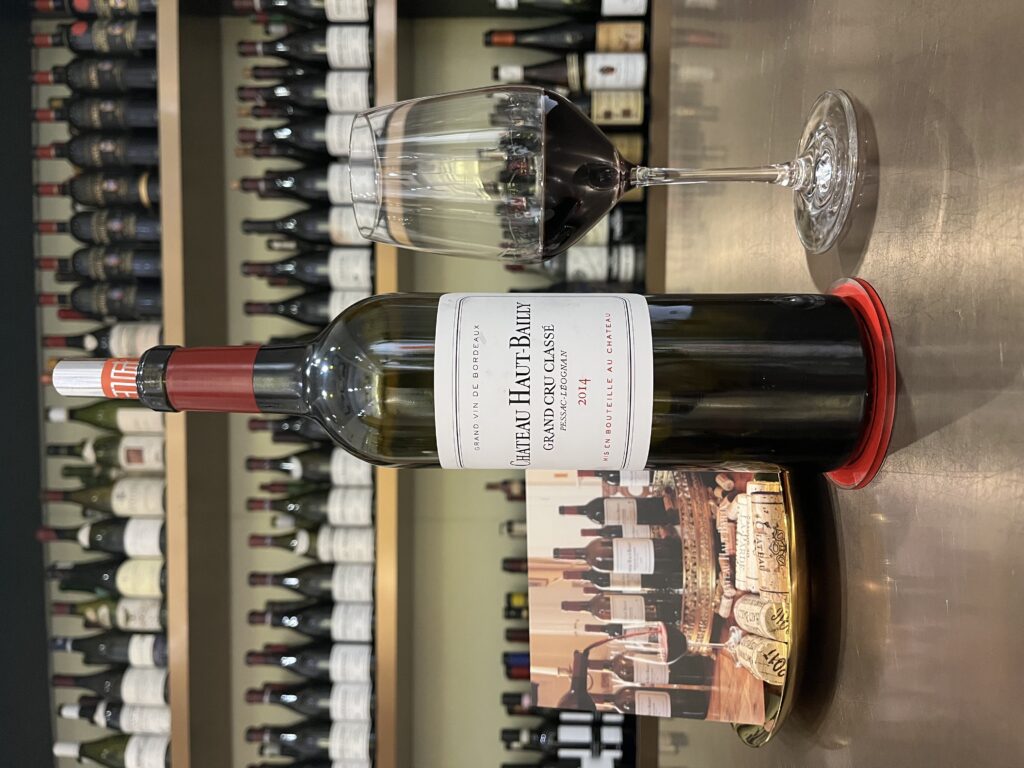 Vibrant red-ruby. Blackberry, raspberry, iron shavings, crushed rocks and menthol on the enticing nsoe. Then similarly inviting on the fresh palate, with lifted floral flavours of dark berries and forest floor that are very Cabernet Sauvignon. Very juicy and brightly acid in the mouth, this boasts a harmonious interplay between floral and fruit flavours, noble tannins and a refined mouthfeel on the long classic finish that features beautiful tobacco and dark olive nuances. A return to form for Haut-Bailly after the rather opulent (for the property) wines of 2009 and 2010, this struck me as being one of the better wines from the left bank in the 2014 vintage. The 2014 Château Haut-Bailly is a blend of 66% Cabernet Sauvignon and 34% Merlot. Drinking window: now-2040.
2015 Chteau Haut-Bailly Pessac-Léognan                                97+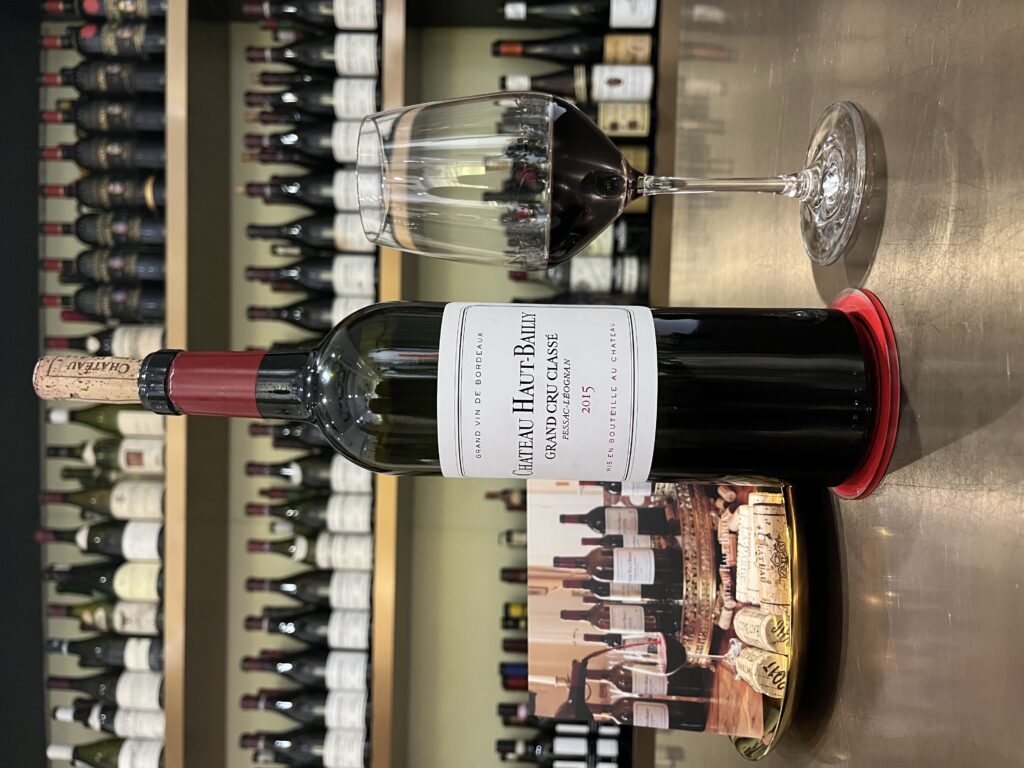 Deep ruby-purple. Enticing aromas of violet, blackcurrant, tobacco and cedar on the downright gorgeous nose. Rich and pure on entry, tight and tapered in the middle, then creamy and long on the refined aftertaste, this boasts drop-dead gorgeous flavours of cocoa, blueberry, milk chocolate and minerals, complicated by hints of woodsmoke and black truffle. The 2015 Haut-Bailly is a medium- to full-bodied beauty that finishes long and precise, offering an uncommon blend of power and refinement. Ver well done here. The 2015 Château Haut-Bailly is a blend of a blend of 60% Cabernet Sauvignon, 36% Merlot and 4% Petit Verdot (hence with more Petit Verdot than usual, and the violet/peppery note hints at that from the first taste), that is ready to drink now but that will last decades: try to avoid opening your bottles too soon, as this ought to be one of the vintage's great left bank Bordeaux wines. In fact, I think it's the best Haut-Bailly made since the magic pair of 2009 and 2010 and will likely outscore them in the end (my + sign attached to the score indicates the wine will almost certainly merit a couple of points more when tasted in upcoming years). Drinking window: 2025-2045.
2016 Chteau Haut-Bailly Pessac-Léognan                                96+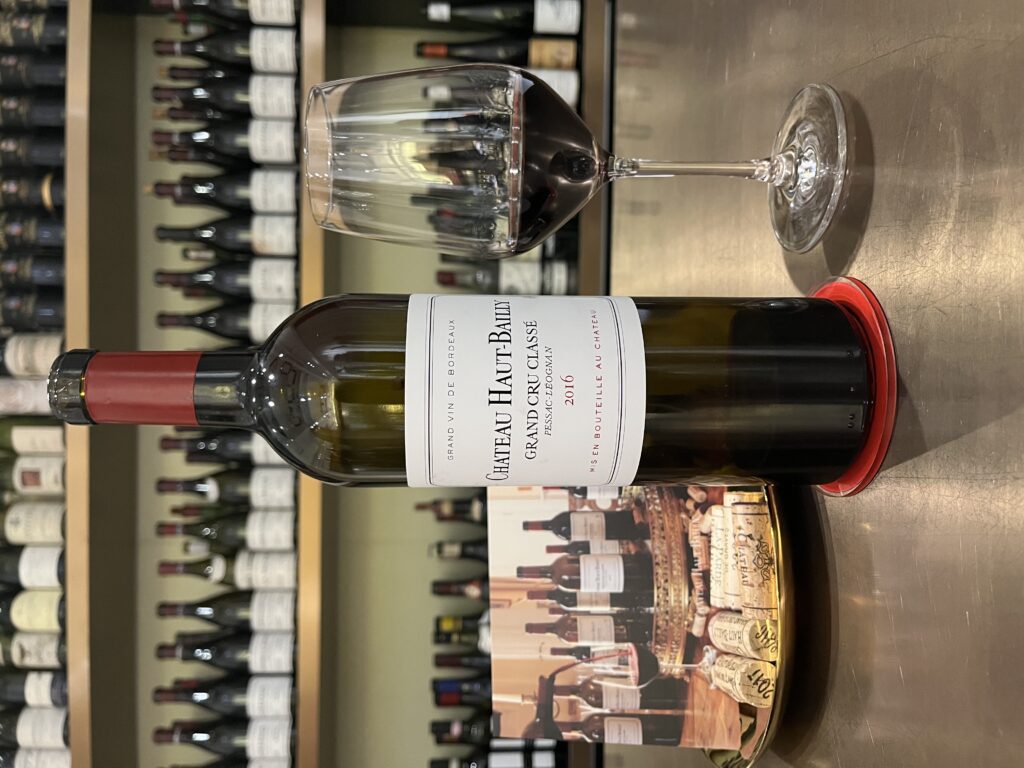 Moderately saturated red-ruby. Forest floor, dark berries, tobacco, and licorice dominate on the fragrant, pure nose that is lifted by a bright violet topnote that is very Cabernet Franc. Full-bodied but refined thanks to harmonious acidity that nicely frames the ripe blue and black fruit flavours complicated by tobacco, mineral, milk chocolate as well as noble cocoa nuances (in other words, not just the milk chocolate of Merlot, but also the cocoa of Cabernet Franc), this multilayers wine boasts at once a rich but refined quality, and lasts and lasts on the delicious, complex close. Not as concentrated as the 2015, but a really beautiful wine that will probably age longer than that also beautiful wine. Which of these two gorgeous wines you prefer will be more or less a matter of different strokes for different folks. The 2016 Château Haut-Bailly is a blend of a blend of 53% Cabernet Sauvignon, 40% Merlot, 4% Petit Verdot and 3% Cabernet Franc. Drinking window: 2028-2050.
2017 Chteau Haut-Bailly Pessac-Léognan                                93+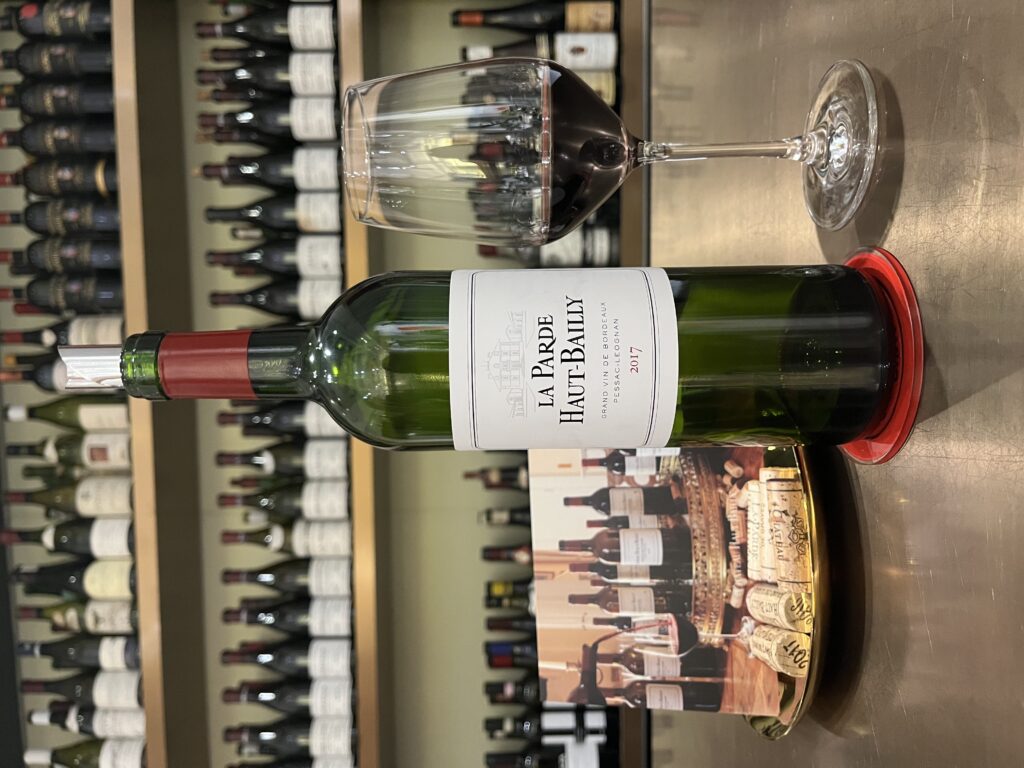 Vibrant red-ruby wth purple highlights. Dense, almost brooding aromas of blackcurrant, boysenberry, cigar box, cedar, tar and licorice are nicely framed by whiff of violet and of rose petals. Then surprisingly spicier in the mouth, with hints of cloves and cinnamon complicating the mineral and dark berry flavours boasting a ripe connotation that is typical of the vintage, but this remains, in typical Haut-Bailly style, fairly understated throughout. Closes long and suave, with a medium-bodied mouthfeel and excellent length. Aged for sixteen months in 50% new French oak, the 2017 Haut-Bailly is a blend of 60% Cabernet Sauvignon, 32% Merlot, 4% Cabernet Franc and 4% Petit Verdot, about 50% of the total production was used to make the Grand Vin (a small part of the vineyard that was hit by frost had yields that were half the normal ones). Drinking window: 2026-2040.