XIAOLING WINERY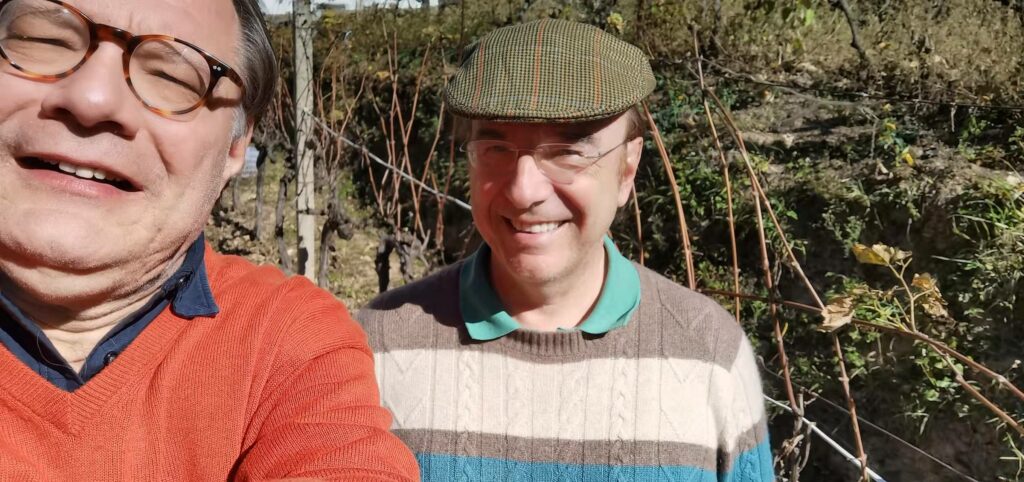 XiaoLing winery makes one of the most atypical red wines in all of China, and the world, really. That's because it's a high-quality red wine that though made mostly with Cabernet Sauvignon, tastes more (much more) like if it were made with Pinot Noir, old vine Schiava Grossa, or Petit Rouge. Therefore, it is safe to say it is quite unlike any Cabernet Sauvignon wine you have ever tasted. Whether this is because of the estate's specific terroir (part of which is characterized by a cool, very rainy habitat), or the Burgundian background of Bertrand Cristau, XiaoLing's Chief Executive Officer and major shareholder (who has lived in China for forty-one years and is married to a Chinese lady, but whose family is related through the maternal side to the famous house of Bouchard Père et Fils), or the fact that the estate consultant is none other than Burgundy super-winemaker Sylvian Pitiot (for years at the helm of Clos de Tart as its general manager and also an author of best-selling books and maps detailing the crus of Burgundy like never before, Pitiot is the second largest shareholder of XiaoLing) is not entirely clear. Most likely, it is a combination of all those factors. In fact, the estate was originally founded in 2014 by Alexis de Guillebon, together with the French association Les Sentiers du Ciel that was developing projects in the area and Swiss winemaker Yves Roduit (who made the estate's first two vintages, 2014 and 2015, but has since moved on to create his own namesake estate – see "Château Roduit" in Producer Insight, TerroirSense Wine Review, Friday, November 19, 2021). Bertrand Cristau is at the helm today, helping continue XiaoLing winery's growth and to reach new successes. At the same time, XiaoLing's undeniable success, as well as that of neighbouring local wineries such as the LVMH-owned Ao Yun and Château Roduit, all three of which make truly exceptional, world-class wines, showcases the immense winemaking potential of the Yunnan wine region.
XiaoLing means "the clouds on top of mountain peaks", and no name could have been more apt given the winery's location. This is because it situated on the banks of the Upper Mekong River (Southeast Asia's longest river and the twelfth longest river in the world), high up at 2100 meters above sea level in the truly beautiful Shangri-la area of the just as beautiful Chinese province of Yunnan. In fact, Shangri-La is the center of Diqing Tibetan Autonomous Prefecture to which belong Dêqên (Deqin in pinyin) county where is located the vineyard of Xiaoling. Dêqên lies in the transition between a subtropical highland climate and humid continental climate , with a regular but mercifully short monsoon season (the wettest month still only receives about 130 millimetres of rain), and while climate varies very little from one village to the other, temperature variations are truly noteworthy, ranging from 26 degrees Celsius in summer to 3 degrees Celsius in winter, with an average diurnal temperature variation range of 13-16 degrees Celsius. All of which explains the potential to make extremely perfumed, light- to medium-bodied red wines high in acidity. All those are recognizable characteristics of XiaoLing's wines, that though made mostly with Cabernet Sauvignon, will never be mistaken by anyone even vaguely knowledgeable about wine, or quite simply with his or head screwed on right, for Cabernet wines made in Napa or Barossa.
Deqen county surface (7596km2) is roughly the same as Cote d'Or (8763km2) but do not expect as much wine as it is mostly composed of mountainous areas, only the river banks of upper-Mekong and upper-Yangtse can receive vineyards
XiaoLing and the search for its terroir
Viticulture has a long history in this particular part of China, an inheritance of French Catholic missionaries who planted vineyards around their churches starting in 1933. Given that Catholic history and the need to make wine for the Holy Mass, not to mention the inclination of priests and monks to know a thing or two about making good wine (there's the Burgundian connection again), it cannot surprise that the concept of terroir dominates the thinking and the actions at XiaoLing. The estate boasts roughly three hectares of ungrafted vines spread out in numerous distinct and small vineyard plots in various villages, each with its own exposure, microclimate, soils… in short, each with its own specific terroir. These plots have been planted on the area's steep slopes (some with as much as a forty-degree gradient and hence need to be terraced) by the government starting from 2002, they are located between 2000-2800 meters above sea level and are farmed by twenty-three local families under the supervision of the estate and with whom XiaoLing has long-term rental and work agreements (a third major shareholder of the estate is still the Les Sentiers du Ciel (SDC), a non-governmental organization created in France with the goal of helping the development and the growth of local populations that have had historic ties to France). To date, grapes are sourced from eight or more villages, but not all villages are planted with the same grape varieties. For example, red grapes (mostly Cabernet Sauvignon, but there's a little Merlot and even Baco Noir, a hybrid locally called Rose Honey, though that is name used for one and possibly two other distinct varieties in China) are grown in the villages of Badongxicun (five vineyard plots), Rinitong (10 plots); Cizhong (1 plot); Rimi (2 plots); Tsekou (also known as Cigu, 2 plots); Jiunongding (3 plots); Rizui (3 plots). Chardonnay is grown in Hongpo (1 plot), but the estate is evaluating this grape's potential in other sites as well, and so far likes what it has found. In summary, this means that XiaoLing farms presently twenty-seven different vineyard plots in eight villages that aren't all exactly close to each other, and even more are sure to come in the near future. I don't know about you, but just thinking about that tires me out, never mind doing any actual work!!!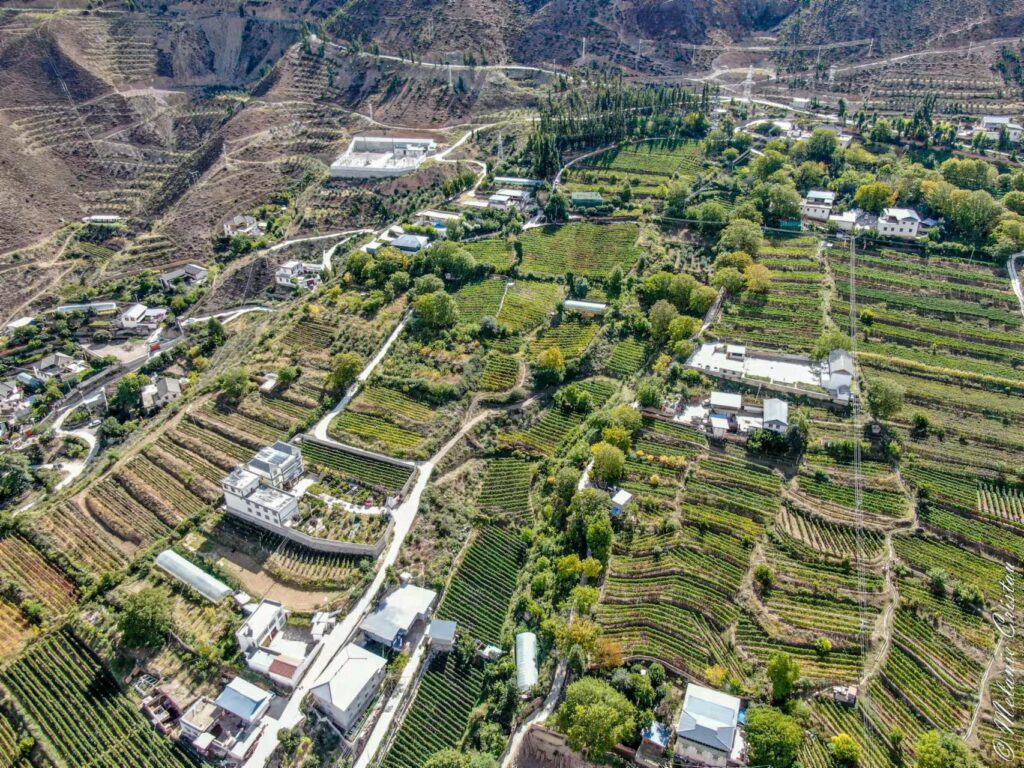 After five vintages of just blended wines being made, called the Xiaoling Cizhong (made from the best grapes grown in the property's many vineyards, the XiaoLing red wine carries the name of Cizhong on its label but this refers to the estate's address, or the village the winery is associated with, not a single source of grapes) the estate has gotten to know the vineyards and terroirs it works with well. Consequently, it has chosen to express and highlight the diversity of the various terroirs of the villages in Deqin County by launching its "Terroir series", made up of wines bottled from single villages. This limited series of wines (only 160 (six bottles in 2018, eight bottles in 2019, expect more in the future) cases of mixed village wines) is an effort to highlight the terroir of each village (an increasingly popular and interesting move on the part of Chinese wineries, at least in Yunnan; for example, the Ao Yun estate, as mentioned before also located in Yunnan, is doing much the same and will release its first ever set of "single village wines" in 2022). In fact, such a village-oriented move is very consistent with XiaoLing's Burgundian roots, not to mention the estate's philosophy. At first, eight villages were felt to give wines that were most representative of their specific terroirs and so were chosen to be included in the "Terroir" series of wines. Most of these vineyards provide grapes used to make the estate's Grand Vin, the XiaoLing red wine (the estate also makes a second wine, called Sentiers de XiaoLing). As a general rule, those vineyards located north of the winery (where the hamlets of Jiunonding, Rizui, and Hongpo are located), are blessed by a much warmer and drier climate, as opposed to the southern ones [(where the hamlets of Badong, Tsekou (Cigu), Cizhong and Rimi are found)], where rainfall is copious and the Cabernet Sauvignon does not always fully ripen (so much so that Cristau told me they are now looking into planting varieties such as Albariño, more tolerant of shadow-rich and wet habitats). The soils in the northern and southern areas are also remarkably different, with the vineyards in the North, compared to those of the South, characterized by soils with a greater percentage of sand (as much as 80% of the total soil makeup), less clay and with virtually no gravel.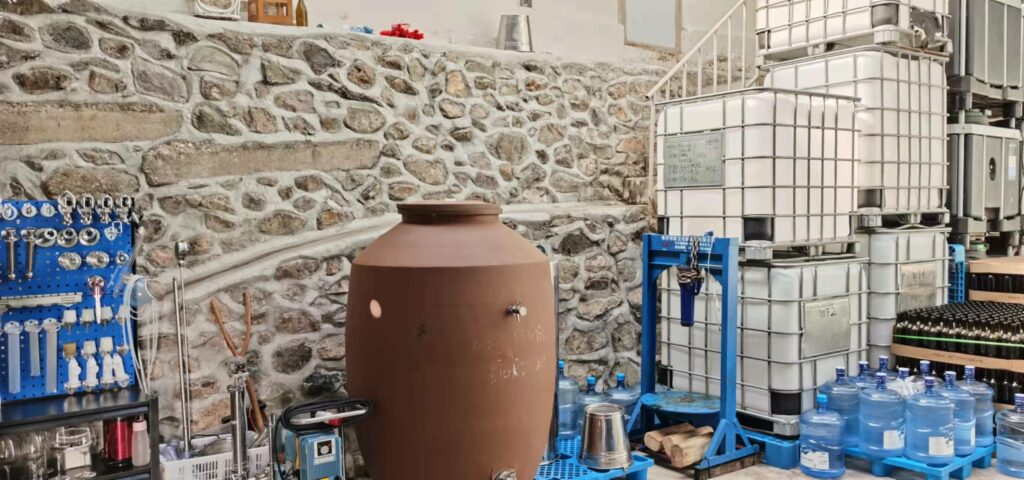 Grapes are hand-harvested and hand-destemmed by teams of two to three dozen locals of Tibetan descent or origin. The alcoholic fermentation is carried out in traditional Chinese clay pots, that in China are commonly used for Chinese white alcohol or Huangjiu fermentations. The wines are aged mostly in French oak barrels, though a small percentage is also aged in stainless steel tanks and clay amphoras. The estate's first vintage was the 2014, when 3000 bottles of wine were made. Production has increased progressively since then, reaching the current annual production of 9000 bottles. Production will not exceed 12,000 bottles/year until the new cellar in Cizhong will have been completed. The winemaker is currently Feng Jian (who followed on the heels of the previous winemaker, Mu Chao), while the Viticulture manager is Li Da; a young local lady, Amu, handles, very effectively, all the day-to-day tasks of running the cellar and the winery.
I tasted all the single-village wines in this report directly from barrel in the company of CEO Bertrand Cristau and Viticulture manager Li Da directly at the winery during my visit there in November 2021. By contrast, I have tasted the XiaoLing Grand Vin on numerous occasions over the course of the last twelve months.
The wines
2020 Chardonnay Hongpo "Terroir Series"                                     89
Pale, bright yellow. Perfumed nose combines lemon, hazelnut, herbs. Fresh and chewy, with strong acidity and a saline quality giving shape to the middle palate. Finishes with flavours similar to the aromas but a slightly lean and with a bitter element. 100% Chardonnay that grows at 2600 meters above sea level. Drinking window: 2023-2028
2020 Rose Honey Rosé Cizhong                                                   90
Pale pink colour. Wild strawberries, crushed seashell and herbs on the lovely nose. Tightly coiled flavours of strawberry, redcurrant, minerals and lemon. This lovely blush wine really lifts the palate and tickles the taste buds on the penetrating finish. Made with a local variety called Rose Honey that may in fact be Baco Noir, though the genetic testing on the vines has been non-conclusive (at least up until now). This isn't exactly the last word in complexity, but it is a really delicious, juicy pink wine that is far better than many overrated colourless Provence rosés that cost much more. Drinking window: now-2023
2020 "Terroir Series" Tsekou (Cigu)                                                91
Bright ruby. At once fresh and powerful on both nose and palate, with nuances of red berries and herbs dominating. Finishes medium-long with good freshness and lift, though not quite the complexity of the best wines from some of the other villages (in fact, Cristau tells me this village almost always ends up in the estate's second wine). Made from a single plot of Northeast-facing Cabernet Sauvignon vines planted on roughly 40% clay, 20% sand and then mostly gravel at 2000 meters asl. Drinking window: 2024-2030
2020 "Terroir Series" Rimi                                                          91+
Medium-dark ruby, perhaps lighter than the Tsekou bottling. Fragrant aromas of strawberry, candied blueberry, mocha, licorice and violet. Juicy and lively, with a strong inner-mouth floral character contributing to an impression of clarity and cut. Dense but nicely delineated, with substantial but silky tannins on the long, polite, balsamic-accented finish. Made from two plots of west-facing Cabernet Sauvignon vines planted on roughly 50% sand, 20% clay and then mostly gravel at 2000 meters asl. The soil is quite different from that of Tsekou (essentially, it's much sandier) and the wine is consequently, and I dare say logically, also quite different. Drinking window: 2024-2030
2020 "Terroir Series"Badongxicun                                                    92
Deep ruby: strikes me as the darkest of the red wines made from XiaoLing's southern vineyards (but still lighter in colour than the wines of the northern vineyards). Vibrant, high-pitched aromas of blackcurrant jelly, iron, and violet, complicated by a note of decadent, superripe red berries. Very suave and lively on entry, with dense flavours of dark and red berries, minerals and flowers. Nicely delineated and smoothly tannic, the long and clean aftertaste hints at a candied quality (possibly chaptalized?) with repeating nuances of violet, plum nectar and dark chocolate. This wine struck me as being quite good even though the site is hampered by copious rainfall (as much as 1000 mm!), and so a little chaptalization here would not only be not surprising, but also necessary (to be crystal-clear, they do so in Burgundy, so they can certainly do so in China too). Made from two plots of Cabernet Sauvignon vines planted on mostly clay-limestone soil with different mineral elements accounting for variations in the soil's colour, that ranges from whitish to reddish (even the locals speak of a red and a white soil in the area) at 2150-2400 meters asl. Drinking window: 2024-2031
2020 "Terroir Series" Rinitong                                                   94
Good full saturated ruby-red. Very elegant aromas of crushed raspberry, blueberry, red cherry nectar and mineral scents, with an ethereal, pungently perfumed floral quality. Suave, fresh, youthful and sweet, this is a real fruit bomb on both nose and palate boasting a decadent superripe quality that is thrilling. Finishes long, with ripe tannins and a hint of spicy new oak showing. This is extremely well-made. These ten plots are actually also situated in the Badong area as are those of the Badongxicun wine, but the name of the specific hamlet is actually Rinitong. 100% Cabernet Sauvignon vines planted on roughly 35% clay, 35% sand and 30% loam at 2200 meters asl. Drinking window: 2024-2034
2020 "Terroir Series" Rizui                                                         93
Very dark ruby, much darker than the wines made from the estate's southern vineyards. Coffee, spices, black cherry, and dark chocolate on the pure nose. Silky and elegant in the mouth, with cherry and coffee flavours repeating on the dense, long and lush finish. Mostly Cabernet Sauvignon but there is a little Merlot co-planted in the three plots). Drinking window: 2024-2032
2020 Merlot Young Vines Jiunongding                                              (88)
Deep ruby. Rather simple aromas and flavours of blackcurrant, coffee and graphite. Has a slightly gritty quality to the tannins on the medium-long finish. This is the only hamlet where there are significant plantings of Merlot as well as of Cabernet Sauvignon, so much so that I was able to taste barrel samples of 100% Merlot and of 100% Cabernet Sauvignon wines. At five years of age, these Merlot vines are quite young, planted on roughly 70% sand and 30% clay soils with big stones. Cristau is not yet sure of what this wine will become; it will most likely not be bottled as a member of the "Terroir Series", but will be blended into the estate's second wine, Sentiers de Xiaoling, though that ahs not yet been decided and there is still plenty of time to make a final decision. The score is in brackets because I doubt this wine will ever be bottled as such.
2020 "Terroir Series" Merlot Old Vines Jiunongding                                    93
Good full ruby. Deep, rich, sexy aromas of cassis, roasted plum, violet, pepper and coffee. Then quite densely packed, rich and ripe with pungent cassis and mineral flavours nicely extended by noteworthy acidity on the long, precise finish. I wondered if this had been acidified, but they told me it was not so (only the wine from Rimi is acidified from time to time). These Merlot vines are about fifteen years old and that difference is obvious in this vastly superior wine to that made with the young Merlot vines. It is also one of the best Chinese Merlot wines I have ever tasted, a variety that has not impressed me much in China, compared to the wines made with say Cabernet Gernischt, Cabernet Franc and Cabernet Sauvignon. Drinking window: 2024-2034.
2020 "Terroir Series" Cabernet Sauvignon Jiunongding                                     93
Fully saturated ruby, this is really very dark. Black fruits, cocoa, licorice and herbs dominate the nose. Dense, thick and chewy, with concentrated flavours similar to the aromas. Finishes with big, youthfully chewy tannins and excellent persistence, if not boatloads of elegance. Located just above Rizui at about 2300 meters asl, this is the only hamlet where there are significant plantings of Merlot as well as of Cabernet Sauvignon, so much so that I was able to taste barrel samples of 100% Merlot and of 100% Cabernet Sauvignon wines. The soils are roughly 50% sand, 40% loam and 10% limestone and have a whitish colour. Drinking window: 2024-2034.
2018 Sentiers de XiaoLing Cizhong                                             90
Good full pale medium ruby. Vibrant aromas of black cherry, earth, minerals, mocha and licorice. Then bright and focused in the mouth, showing excellent depth of red and dark berry, coffee-accented flavours; deceptively open today but rather powerfully styled and will keep. Finishes with substantial, dusty tannins and obvious acid lift but I liked its rising fruitiness as it opened in the glass. Quite chocolaty too on the entry and finish, with the wine's slightly sandy,  chewy tannic framework currently dominating somewhat and made that much more obvious by its juicy acidity,  but there's enough bright fruit to leave a sense of balance and charm. Drinking window: 2023-2028.
2018 Xiaoling Cizhong                                                           94+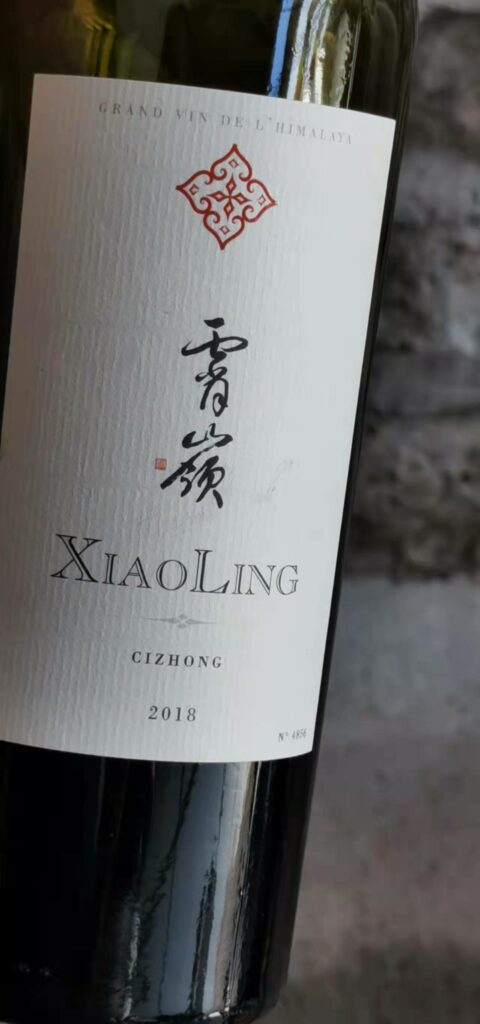 Very bright medium ruby. Blackberry, strawberry, violet and blackcurrant on the expressive, fragrant nose. Nicely concentrated and delineated, with a sappy sweetness and chewy density to its flavours that are very similar to the aromas. Dark fruit and dark chocolate flavors are framed and carried by juicy acids. Finishes with even tannins and noteworthy if harmonious acidity that really carry and extend the flavours on the vibrant back end. A young wine, but an outstanding one, and will age. A rather atypical Cab Sauv wine that tastes as if it has some Cabernet Franc and Cabernet Gernischt in it too (not altogether unlikely given that the three were often co-planted together,  by mistake or desire, when vineyards were first planted in a China years ago), I like this wine's juicy lift and fragrant perfume. No blockbuster, it is clearly a cool weather Cabernet wine, but one that has grace and refinement in spades (those weaned on New World Cabs might find it green, but not so). The vibrant acidity and gentle red fruit nuances give it almost Pinotnoiresque elements, or of Petit Rouge or Schiava varieties if you will, but there's no denying that the tannins,  though brought to the fore by the lively acid spine, are polished and classy.Drinking window: 2025-2035.