To pick 100 top wines of the year is always a fun but ultimately very difficult endeavour. To pick what really are the favourites, the best of the best if you will, runs the risk of compiling a laundry list of famous, hard-to-find names at impossible prices: in my view those lists are fun to read, and to then of course disagree with, but their utility is at the very least questionable, and ultimately not very helpful. And so, over the years I have developed a mixed-bag approach, that though far from perfect is meant to convey a blend of the high and lower-scoring and the higher and lower-priced, an ensemble of wines of higher and lower fame. All however should be excellent examples of what wines made with the respective grape varieties can and should taste like, as modulated by the physical habitats and human roles they grow in and exposed to. As much as I admire and respect creativity, it is my firm belief that a wine that states, for example, 'Chardonnay', 'Cinsault', or 'Sangiovese' on the label, should taste, or at the very least remind you of, those varieties; similarly, if a wine says Alsace or Saar, I would also like to find elements in the wines that remind me of those places. Wines that taste all the same, that have no signature of grape variety or of site, in short, of their terroir, are completely uninteresting to me: to my mind, wines that all taste the same, be it because of excessive new oak use or faulty-apple cider aromas that dominate everything else, are not the reason why I, and many others, drink wine. After all, if I wanted to drink something that always the tastes the same and is actually pretty good, then I'd just reach for an industrially-made soft drink, all of which follow a standard, often secret, recipe and are the same all over the world, no matter where you buy them. That is in fact part of the reason why people buy such drinks to begin with, because there are no surprises, you know what you are getting each and every time. But wine should surprise, and it should speak of the very specific grapes, places and people they are about. Of course, you are welcome to disagree with my viewpoint, and that's part of the fun with wine.
It follows that the "Ian D'Agata's Top World Wines" list is not to be a summa of the best of the best: rather it is a list of excellent to outstanding wines, each of which has something of interest to tell us (provided we are willing to listen): they might speak of a specific grape variety, a specific place, or the interpretation of each, or both, by the human beings who made them. Some of the names in this list are very expensive and hard to find (I am indebted to the friends who gave me the opportunity to taste them by bringing them to where I live through their heavily restricted travels), the producers who sent me the samples, and to those enlightened importers who do their job with attention to detail and passion. Others are very easy to find and not expensive at all, but pack plenty of punch and flavour and are more readily available. Clearly, because of the Covid-infested world we live in, 2021 was not a brilliant year as far as the numbers of bottles tasted, and so, I enlisted the help of a few people I have worked with over the years and do so nowadays in helping round out the list as best as possible. Still, there are obvious areas that aren't covered to the extent I would have liked (for example, I tasted too few wines from Hungary and too few Ports this year to come up with any sort of meaningful conclusion, something for which I am sorry, as I love both). In the end, a very large number of grapes, appellations and wine styles are represented, from Napa to Patagonia, from Niagara to Chinon, from Rioja to Bordeaux, from Barolo to as far away as China and Japan. And if you like to try different grapes you're in luck: you'll find within not just wines made from Pinot Noir and Cabernet Sauvignon, Chardonnay and Riesling, Gewurztraminer and Viognier, but also wines of Sciaccarellu, Cinsault, Loureiro, Sylvaner, Müller Thurgau, and Koshu. So hopefully, something for everyone.
In any case, this list would not have been possible without the expert help of, in alphabetical order, Michael Apstein, Emily Huang, Michele Longo, Robert Millman and Zihong Zhang (Michael and Robert write of course for TerroirSense Wine Review, and Zihong Zhang is my editorial assistant here). I am grateful to all of them for all their help, experience and knowledge.
Château Margaux 2018 Château Margaux Margaux (France)   100
The 2018 Château Margaux strikes me as being an outstanding wine that is one of the best young wines I have memory of, and that's saying something given the incredible run the property has been on of late. Deep ruby, with a nose that is crammed with ripe blueberries, blackcurrants, violets, sandalwood, and ink, it is just as intensely concentrated and fruity in the mouth. Despite its sheer voluptuousness and size, this maintains noteworthy finesse, finishing silky and extremely long. The 2018 Château Margaux is a blend of 90% Cabernet Sauvignon, 4% Merlot, 4% Cabernet Franc, and 2% Petit Verdot.
1946 Don Pedro Ximenes Convento Selecion Madeira Montilla Moriles (Spain)    99
Luminous medium golden-amber colour. Ultra-concentrated umami-tinged aromas and flavours initially dominated by cinnamon, camphor and petrol but with aeration and time white chocolate, toffee, orange peel, lemongrass, spicecake, salted caramel and maple syrup emerge. Rich, dense and suave, this is at once sweet and salty on the long, mellow, complex close. It's a fabulous sweet wine that is a great deal more complex and graceful than many super sweet wines made with Pedro Ximenes, a wine I personally love when well made, that all too often are impressive at first taste but then neither especially lifted nor nuanced, despite all the high scores that are usually lavished on them. Only 825 bottles made, this was produced at the end of WWII but was bottled only in 2011.
Fuligni2016 Brunello di Montalcino (Italy)                                                                           99
Elegant and steely, yet deep and rich at the same time, an essence of Montalcino Sangiovese. Brunello doesn't get much better than this, and if you don't give top marks to a century vintage such as 2016, then as a wine writer you are doing the wine, the producer, and the reader a disservice.
Dominus 2018 Dominus Napa Valley (USA) 99
From one of the best Napa Valley vintages in memory (mine, at least), comes one of those wines that Dominus does so well, not massively structured but very refined, seamless (the fine-grained tannins are a marvel) and extremely long. The wine hits all the high notes you'd expect from an 89% Cabernet Sauvignon, 6% Cabernet Franc, and 5% Petit Verdot blend aged in 40% new French oak: iron shavings, blackcurrant, riper blackberry, cocoa, freshly ground black pepper, all tied together by a captivating floral (violet) nuance. The wine will be ready sooner rather than later and will start entering its optimal drinking phase in about eight years, but will easily last another forty after that. Great stuff.
Giacomo Conterno 2015 Barolo Monfortino Riserva (Italy)                                           99
Not much to say here: great producer, great cru, great wine. It's almost like a mathematical equation. Beautifully deep and layered, this is everything we'd want a great Barolo to be.
Poggio di Sotto 2016 Brunello di Montalcino Riserva (Italy)                                                  99
Almost always one of Italy's best wines every year, Poggio di Sotto rarely disappoints. Thanks to a unique combination of soil climate and specific Sangiovese vines that look different than many others grown in the area, the estate comes up every year with a wine of amazing grace and real power. Juicy yet fleshy, ripe yet elegant, perfumed and steely, the 2016 Poggio di Sotto is just an amazing wine.
Domaine des Chezeaux 2018 Griotte-Chambertin (France)   98+
The largest owner of Griotte-Chambertin (about 60% of the vineyard is theirs), Domaine des Chezeaux does not make wine but receives it as payment for a metayage agreement with the vignerons it leases out the vineyard plots to. No matter, the partnerships they have established are absolutely first rate and so you'd expect this to always be a great wine. It is in 2018. That said, readers need to keep in mind this is a very powerful example of Griotte, perhaps the most powerful of all, with a steely core of tannins to which, skeleton-like, are attached gobs of very ripe, super glossy fruit. Delightfully spicy and elegant, the nose offers both red and dark cherry aromas complicated by cassis, violet, tobacco and earth tones. Then very intense and downright muscular on the palate, but with super-intense flavours of red cherry and red berries that are mineral-driven. The outstanding, long close is somewhat austere presently, but unlike some past vintages of this wine that bordered on being drying and had me worried about their potential longevity (meaning the capacity to improve over time) this has no such problems. Built to age, it's just a great wine.
Château Palmer 2018 Château Palmer Margaux (France)                98+
One of the most successful young Palmer wines in memory, this beauty is at once refined and concentrated. Deep, fully saturated ruby-purple, with showy aromas and flavours of smoke, blackberry, blackcurrant and bitter chocolate, this boasts a suave texture for such a big tannic wine (about 80% new oak) and noteworthy layering of flavour.  Production was limited to a paltry 11hl/ha (so much so that no Alter Ego was made). A blend of 53% Cabernet Sauvignon, 40% Merlot and 7% Petit Verdot.
Costanti2016 Brunello di Montalcino (Italy)                                                                      98+
Andrea Costanti has been turning out one great Brunello after another over the years and so you just knew he would ace this great vintage. Flint, red cherry, camphor, violet…they're all here wrapped up in a steely juicy core of elegance and power. I may have actually been too stingy with my score here, hence the plus sign.
Domaine Ponsot 2018 Clos de la Roche Cuvée Vieilles Vignes (France)   98
Arguably the most famous Clos de la Roche wine of all (and certainly the biggest single holding of vines in this famous grand cru), the Domaine Ponsot 2018 Clos de la Roche Cuvée Vieilles Vignes boasts aromas and flavours of ripe dark plum, blueberries, scorched earth, and sweet spices. Rather full-bodied and in a muscular style that is in keeping with the year, the long finish is elegant and showcases lovely violet accents. At Ponsot they reported mildew-related difficulties and lower than usual yields (roughly 35% to 40% below average), but the wine is a real success. Cellar this for ten years to get the most out of it, though.
Château Haut-Brion 2018 Château Haut-Brion Rouge Pessac-Léognan (France)         98
A 49.4% Merlot, 38.7% Cabernet Sauvignon and 11.9% Cabernet Franc blend that is fairly typical for Haut Brion in its best vintages adds up to another amazing wine. Fully saturated ruby-purple, the nose is initially reticent hinting at plums, redcurrant jelly, blueberries, Oriental wood, smoke and cinnamon. Then flavours similar to the aromas in the mouth, with crème de cassis, candied violet and truffles lingering impressively on the smooth, long, multilayered finish. One of the best red wines in the world in most vintages every year, and it's no different in 2018.
Pian dell'Orino 2016 Brunello di Montalcino Vigneti del Versante    (Italy)                           98
The talented duo of Caroline and Jan can't make a bad wine if they tried and this 2016 is one of their best ever. Which is saying something, given how many great wines they have made over the years. Captivating perfume and silky tannins are the deal-breakers here, but I bet you'll love the extremely precise, pure, crunchy red fruit.
Domaine Dujac 2018 Clos de la Roche Grand Cru Burgundy (France)          98
From Dujac, I normally prefer the Clos St.Denis refinement to the Clos de la Roche power, but in 2018 it's hard to argue against the latter's (many) merits. Very ripe and powerful, with dark berry nectar and smoky plum nuances, even an enticing hint of cocoa on the long, tightly-packed back end. This needs plenty of time in a good cellar to unwind completely, but will ultimately prove to be a magical bottle.
Baricci2016 Brunello di Montalcino   (Italy)                                                                         98
Layered, complex, deep and yet very refined, this quintessence of Montosoli Sangiovese showcases the greatness of site. And confirms once again Baricci to be one of the top five or six producers of Brunello today.
Domaine Duroché 2018 Chambertin-Clos de Bèze Grand Cru Burgundy (France) 97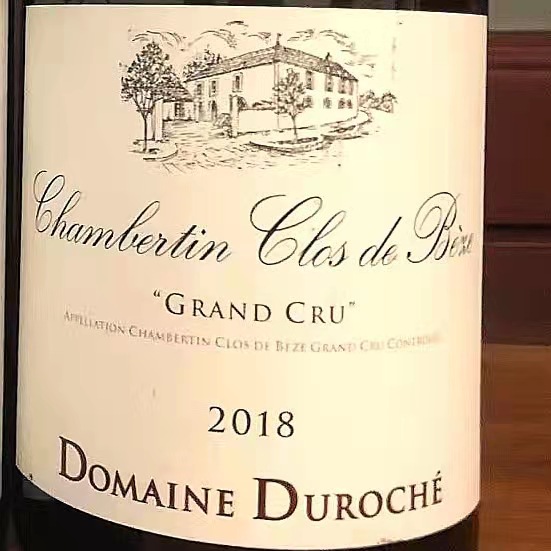 Near-seamless and extremely well-delineated, with hints of crushed red berries, blood orange, sexy oak spices and flowers, all lifted by a whiplash of liquid minerality, it's hard to do much better than this beauty from one of the world's truly legendary vineyards. Owner Pierre Duroché, a real rising star in Burgundy ranks, has been at the helm here since 2005 and is fortunate to own a plethora of old vines in some of Burgundy's most vaunted sites, but clearly he has the talent to do something beautiful with them. This parcel of Pinot Noir vines was planted back in the 1920s: given that age of the vines and the quality in this bottle, I would too.
Georges Vernay 2018 Condrieu Coteau de Vernon (France)          97
From possibly the single best site for Viognier in all of Condrieu, the magical Vernon delivers another magical wine. Concentrated yet refined, lively yet opulent, this is a textbook on great Viognier and the unique greatness that is possible when an amazingly talented vigneronne like Christine Vernay is at the helm. Beautifully done here, chapeau.
Tua Rita 2018 Redigaffi Toscana  (Italy)                                                                                      97
An iconic Italian wine if there ever was one, Redigaffi is a 100% Merlot wine that never disappoints. The 2018 is a more elegant version that some behemoths of the past, but even so, this vintage manages to pack in plenty of punch and size offering nuances of dark cherry, ripe plum, coffee, cocoa, menthol and herbs. Nicely chiseled and positively seamless, the 2018 Redigaffi is another standout wine in a long line of standouts from owner Stefano Frascolla.
Egon Muller/Le Gallais 2019 Wiltinger Braune Kupp Riesling Auslese (Germany)            97
A jolt of liquid minerality, a long stream of lemon verbena, jasmine and chamomile, an elegant note of lemony botrytis, a basket full of ripe tropical fruit (mango and guava) but fresher nectarine too, plus about a liter of acacia as well as a richer clover honey might begin to just convey what this beauty is all about. An earthy note on the log back end is very Braune Kupp, so terroir speaks nicely in this wine. And when all is said and done, that long multifaceted, delicately but at the same time richly sweet, utterly pristine finish leaves me, you, and everyone else scrambling for words. So what is there left for me to say? Well, for one that if I didn't love my mother so much, I'd want Egon to adopt me, but all kidding aside, it's wines like this one that really make you think. Like absolutely nobody else in the world, Egon Muller is able to concentrate in your glass mind-boggling concentration and utter purity, not to mention impeccable balance. And believe me, achieving those three things all at once in wine is next to impossible to do, and yet it seems to be par for the course with him. The Wiltinger Braune Kupp vineyard is one of the Mosel's best and most historical, characterized by richer loamier soil than the nearby Scharzhofberger that Egon Muller is most associated with. This means his wines from the former site are always much creamier and broader than those from the latter site. The site is also warmer than other nerby ones because here the Saar flows in a loop (roughly between Kanzem and Wiltingen), creating a concave amphitheatre on the right bank that allows not just the Wiltinger Braune Kupp but also the Kanzemer Altenberg (another famous local cru) protection from the cold winds the Saar is known for.
Benanti 2015 Etna Rosso Rovittello Alberello Centenario Particella No. 341 (Italy)    97
A work of art, really one of the best red wines I have tasted all 2021. Made with grapes grown on the volcano's northern slope (by far the best for Nerello Mascalese) in the Contrada Dafara Galluzzo, this is a magically balanced and refined Etna Rosso made from a small plot of centenary pre-phylloxerc vines. It boasts a translucent pale red colour that is in keeping with the lack of pigment strength that Nerello Mascalese is known for (remember, if someone serves you an inky or impenetrably dark ruby wine said to be made all or close to with Nerello Mascalese, either refuse to pay for it or take it to a lab and have fun). It is also magically perfumed, offering sour red cherry, redcurrant, strawberry and mineral aromas that go on and on, as do the very similar flavours of red berries, minerals and fine herbs. Silky and extremely long, this is macerated for a very long time on the skins, and aged in 15 Hl French oak barrels for roughly 24 months and another twelve months in bottle prior to going on sale.
Thibault Liger-Belair 2018 Nuits Saint Georges Les Saints Georges Premier Cru (France) 96
From a 2.04 hectares parcel planted on brownish limestone and very stony soil in 1944, the Thibault Liger-Belair 2018 Nuits Saint Georges Les Saints Georges is still tightly wound and downright brooding. A really beautiful wine that's a bit muscular now but that should develop splendidly, it is not just big but very deep too, boasting impressive density and noteworthy underlying complexity. The pungent floral note (Osmanthus flower) on the nose and that persist nicely on the suave finish is very typical of this estate's wines in 2018. In a nutshell, this is jus a great wine that will require a little patience. In another nutshell, it's wines like this one that are the best proof of how Les Saint-Georges is a grand cru in name only, at least for the moment, but that will change soon. After all, it was already at the end of the nineteenth century, that the village of Nuits was authorized to attach the name of the famous cru of "Saint-Georges" to its own name, and that tells you something right there.
Philipponnat 2012 Champagne Clos de Goisses Extra Brut (France)                 96
The combination of one of the steepest and warmest vineyards in all Champagne and a Champagne house with a vast experience in making the best bubblies possible (Philipponnat traces its roots back to 1522) means that Clos de Goisses is one of the very best Prestige Cuvées in all of Champagne. Theis remarkably stylish and refined, with a very precise steady stream of small bubbles and noteworthy depth to the orchard fruit, vanilla, sweet spice and herbal aromas and flavours.
Biondi-Santi Tenuta Greppo 2013 Brunello di Montalcino Riserva (Italy)                       96
From the most historical estate in Montalcino, a wonderful wine that speaks of the classic year and the house style: elegant, vibrant, and very typical of this section of Montalcino. Certainly not the biggest or most powerful Brunello Riserva you will ever drink but its combination of sneaky depth, utter purity of aromas and flavours and seamlessness are captivating.
Bodegas Aalto y Vinedos 2018 Aalto PS Ribera del Duero (Spain)          96
Good full purple colour. Effusively fruity and soft on the nose, with ripe, complex aromas of vanilla, ripe plum, blackberry nectar, smoke, flint, chocolate, coffee and herbs. Then elegant and refined in the mouth, with a laser beam of acidity nicely framing the spicy blue and black fruit. Finishes long and clean. This is excellent, and even better than another bottle I had three or four months ago, so this score is an average of the two bottles I tried.
Cogno 2016 Barolo Ravera Bricco Pernice      (Italy)                                                             96
A great vintage, a super-talented producer and a very great plot of vines in the heart of a favoured site are always a good recipe by which to make great wine. And so it is with the 2016 Cogno Barolo Ravera Bricco Pernice, a full-bodied but elegant red that conveys very well the magic that the Nebbiolo grape can add up to. Red cherries, raspberries, licorice and herbs are all nicely woven into a luxurious and very long mouthfeel.
Gaja 2018 Barbaresco   (Italy)                                                                                         96
I jumped the gun last year and published my tasting note on that year's Barbaresco report on the new and recent Barbaresco releases. Nothing has changed since the last time I tasted this beauty, a real work of art that speaks mostly of Treiso's Pajorè vineyard that makes up the majority of the blend given that about half the other Gaja parcels in other crus were hailed upon and the fruit not used to make this wine. Good full red. Bright, perfumed nose of fresh flowers, sweet spices and red cherry. Then more austere, but also very refined, precise and deep in its delivery of pure red cherry, raspberry and mineral flavours. Long, fresh and clean, this is a really outstanding wine given the difficult 2018 growing season. Really well done here.
Domaine Huet 2016 Clos du Bourg Moelleux (France)                                    96
The 2016 Clos du Bourg Moelleux is a magical wine, with layers and layers of ripe of lemon verbena, honeysuckle, white peach, beeswax, guava, mango and tangerine mingling with honey and minerals in what amounts to a liquid paradise. The laser-like acidity is such that this will age forty years effortlessly and will only be better if you allow it at least ten years before you pull the cork, though it is admittedly delicious already now. Huet is the single biggest name in Vouvray and without doubt one of the world's most famous white wine producers. Founded roughly eighty years ago by Paris bistro owner Victor Huet, whose failing health prompted to relocate in the bucolic countryside of the Loire river valley, the domaine was essentially born in 1928, when the first vineyard (Le Haut Lieu) was bought. In 1937, Victor's son Gaston took over (who had actually been involved in the domaine right from the start) and it is thanks to him that the estate became the powerhouse and quality leader that is admired today the world over (the estate is owned by Anthony Hwang and his children today).
Donnafugata 2018 Passito di Pantelleria Ben Ryé  (Italy) 96
I have said it before and will do so again. The Rallo family deserves nothing but credit for their investment of passion and time in the island of Pantelleria and its wines, especially at a time when sweet wiens do not sell as well as they once did. And yet Donnafugata not only perseveres admirably, but in the process makes what may very well be Italy's best sweet wine, and if not certainly one of the top five or so. Peaches, grapefruit, dates, raisins, violets, lavender and so much more make up an explosively perfumed, fragrant richly sweet wine but buoyed by pristine, harmonious acidity levels the likes of which are not easy to find, at any latitude. The 2018 strikes me as an especially well-balanced version of this famous wine.
Artuke 2019 La Condenada Paraja Camino del Ciego Rioja (Spain)           96
Deep purple-ruby. Very penetrating, deep clean aromas and flavours of violet, plum and blueberry. Wonderfully silky and harmonious in the mouth, with a very pure quality to its fruity and mineral aftertaste.  La "Condenada" means abandoned, as in something that nobody wants, an area that was rescued by the Arturo and Kike siblings that run the winery and whose name serves as its acronym: crazy to think that these beautiful, roughly 90-100 years old vines had been abandoned.
Louis Roederer Champagne Cristal (France) 96
Canalicchio di Sopra2016 Brunello di Montalcino  (Italy)                                               96
Absolutely smooth and precise as is common with all the wines of Canalicchio di Sopra, I love the purity in this wine, all up front gorgeous fruit aromas and flavours, but there are still elements of complexity that linger long in your memory and taste buds. The vintage was a great one in Montalcino and owner  Francesco Ripaccioli made one sensational wine after another.
Quintarelli 2013 Amarone della Valpolicella Classico (Italy) 96
Amarone this good is almost unfair: elegant yet full-bodied, powerful yet light on its feet, very pure and concentrated, it is a textbook example of what air-drying can achieve when it is done right. The 2013 Quintarelli Amarone is a little less rich and glyceral than some other memorable vintages of the past, and seems marked by a slightly higher but harmonious vein of acidity, but is still a remarkably voluptuous, rich, ripe wine that, given its slightly lighter frame, will most likely appeal greatly even to those wine lovers who usually don't care so much for Amarone.
Roagna 2016 Barbaresco Asili Vecchie Viti (Italy)                                                                 96
It would have been too easy to write about the 2013 Barbaresco Crichët Pajé, everybody's pick as a wine of the year from this winery, but the Asili is just mesmerizingly good and in a vintage like 2016, relatively cool-climate in which the signature of site is very well expressed, this wine really sings. Pure minerals, sour red cherry and berries are complemented by aromatic herbs and sweet spices. Closes long and suave. Luca Roagna is an amazingly talented young man and his Vecchie Viti bottlings, especially, are amongst Italy's very best wines.
Vallone 2016 Graticciaia Salento (Italy)96
Tiberio 2018 Trebbiano d'Abruzzo Fonte Canale (Italy)96
Valentini 2015 Montepulciano d'Abruzzo (Italy)                                                                 95+
From one of Italy's most talented winemakers, another gem to a long collection of outstanding wines made over the years. Anyone who has tasted this estate's 2001 or 2006 Montepulciano wines knows exactly what I am talking about: deep, rich, multi-layered, complex, suave, this is the beginning and the end to what greatness can be achieved with the Montepulciano grape. A few come close (Emidio Pepe, Tiberio's Colle Vota, Valle Reale), each boasting its own uniqueness and charm, but nobody can match the best Montepulciano wines the Valentini estate is capable of making. In terms of Montepulciano d'Abruzzo, the 2015 harkens back to some other great ones from this estate.
Ao Yun 2017 Ao Yun Grand Vin Yunnan (China) 95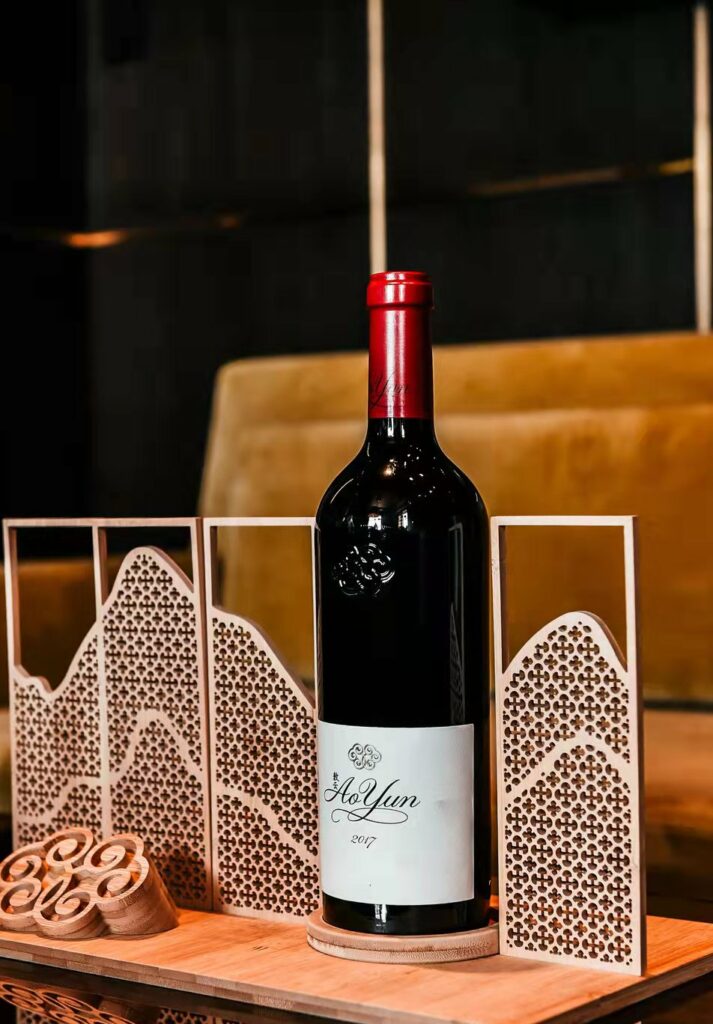 Very deep, saturated ruby colour. Underlying gamey nuances accompany aromas of rich ripe plum, herbs, mushrooms, ink and graphite on the deep nose. Then also rich in the mouth, with a fleshy, round texture and a slightly peppery bite to the chocolaty and herbal dark fruit flavours. Deep and flavourful, with a flinty quality to the youthfully chewy finish, this is an impressive young red wine with powerful tannins that will need time. A 72% Cabernet Sauvignon, 19% Cabernet Franc, 4% Syrah, 3% Petit Verdot and 2% Merlot. If I really had to pick between this and the 2016, my choice might go with the latter,  but frankly, both are world-class, just great wines through and through. China can be proud of wines like this one. About 3000 cases/year produced. Tasted three different times with slightly different impressions, so my score is an average of the three.
Domaine de Villaine 2019 Bouzeron (France)                             95
Though there are some other great wines to also try in the area, Bouzeron just doesn't get much better than this. Pale green-tinged yellow, offering enticing lemon jelly, white stone fruit, iodine, jasmine, and minerals on the vibrant, precise nose. Then pure and seamless in the mouth too, with terrific cut and clarity to the saline, fine-grained lemon, mineral and orchard fruit flavours. Long, refreshing and nuanced on the long close. A terrific wine best enjoyed over the next five years, though it will last another ten in a good cellar, picking up honeyed, buttery notes that are totally absent presently.
Heitz Cabernet Sauvignon Martha'sVineyard Napa Valley (USA)              95
One of Napa's most iconic names in wine, many of the wine made at this estate were for the longest time my favourite US red wines each year. I am happy to report that the 2016 falls into that track of excellence. Winemaker Brittany Sherwood has been in charge since 2012, and this maybe her best wine since her arrival: stylish, suave, very minty (or should I say "eucalypty", given the wine in question?) and with a panoply of dark fruit aromas and flavours, it's just a wonderful, somewhat restrained California red, no doubt to the long growing season that the excellent 2016 vintage provided. Beautiful stuff.
Château d'Yquem 2019 Y Bordeaux Blanc (France)                       95
The 2019 Y Bordeaux Blanc is another very strong Y in a long lineup of excellence. Very pale yellow in colour. Extremely fresh aromas of unripe pineapple, gooseberry, sage, thyme, candied grapefruit, and nectarine are all lifted by a vivacious note of lemon verbena, jasmine and minerals; indeed there is something vaguely reminiscent of Riesling here, though clearly it is the Sauvignon Blanc that dominates (not at all surprising, given this is a 75% Sauvignon Blanc and 25% Semillon blend). Crisp and lively in the mouth (and with a pH of 3.15 it would be strange if it were otherwise), with penetrating flavours of orchard and tropical fruit lingering nicely on the extremely long and zingy finish thanks to harmonious clean acidity. Very pure and very memorable, the still painfully young 2019 Y is absolutely superb, and is likely to put on a little more weight and gain in complexity with age. So don't miss it.
Billecart-Salmon 2008 Champagne Brut Rosé Cuvée Elisabeth Salmon (France) 95
Nicolas Joly/Clos de la Coulée de Serrant 2018 Clos de la Coulée de Serrant (France)      95
A seven hectare appellation all its own, the Nicolas Joly/Clos de la Coulée de Serrant 2018 Clos de la Coulée de Serrant is a luminous pale yellow-gold colour. Pear, yellow apple, flint, honey, ginger, and white mushrooms dominate the nose and in the mouth. A hint of bruised peach and of wet wool emerge on the long fresh, very well-balanced back end. Only indigenous years are used and so fermentations can take a long time (months and months), te wine is aged in neutral old 500 Liter barrels and is bottled unfined.
Pierre Gerbais Champagne Rosé Grains de Celles (France)                 95
Bright salmon-pink in colour, this delightful bubbly offers aromas and flavours of small wild strawberries, herbs, minerals and violet. It lingers long on the suave but vibrant finish, boasting a youthfully round but chewy texture and a multilayered quality that just builds and builds. This lovely pink Champagne is a Rosé d'assemblage, an Extra Brut that is a blend of 45% Pinot Noir, 22.5% Chardonnay and 22.5% Pinot Blanc; the roughly thirty years old vines are cultivated in a certified sustainable manner (Ampelos certification). Extremely well-done here, really: this is the best NV Rosé Champagne I have tried all year. Drinking window: now-2026.
Gessinger 2019 Zeltinger Sonnenuhr Riesling Beerenauslese (Germany) 95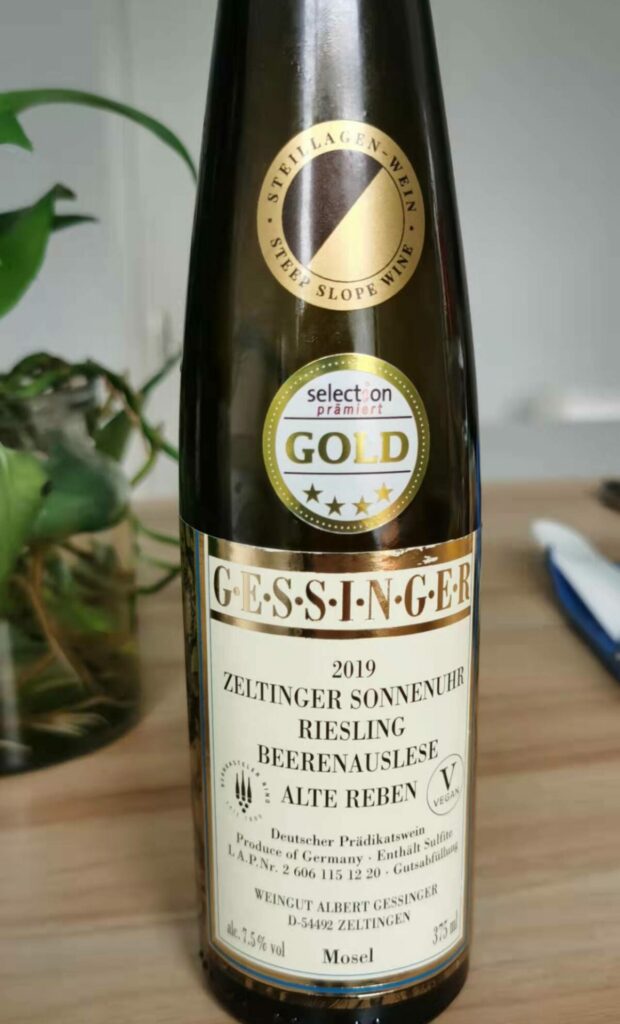 Lovely precision and impeccable balance to what is one of the best sweet wines tasted this year. No blockbuster, but just marvellously complete, with tropical fruit and sweet spice reminders mingling nicely with lemon verbena, jasmine and gin tonic on the long, sexy finish. Very light on its feet despite its sweetness.
Joseph Drouhin 2018 Clos des Mouches Rouge Beaune Premier Cru (France) 95
Bright red in colour, aroma and flavour profile: the Joseph Drouhin 2018 Clos des Mouches Rouge Beaune Premier Cru is an ode to ripe red cherries everywhere, complemented by a sprinkling of minerals and complicated by a strong floral component that adds to the enchanting juicy-fruit quality this lovely Burgundy has in spades. The growing season's heat might have led to a hint of warmth on the back end, but rather than be bothersome, it makes the red fruit flavours taste creamier and rounder. So yummy, this is one of those classic wines you won't be able to put the glass back down of. This clay-calcareous site situated at mid-slope is perhaps most famous for its white wine, but truth is the red is often just about as good, and very underrated.
Château La Tour Blanche 2018 Château La Tour Blanche Sauternes (France)        95
Big rich, opulent even, incredibly luscious but with so much bright acidity it all comes together in a really memorable wine. Smoky botrytis complicates the grilled plantain, dried apricot, mango and peach and pineapple aromas and flavours complemented by notes of flowers and honey. Luscious and big, this is a huge Sauternes that offers so much immediate pleasure it's utterly irresistible right now. And you may not want to hang on for it too long (say ten years at most) because its acidity level is flirting dangerously with the "low" sign.
Hugel 2013 Riesling Grossi Laüe Alsace (France)          95
Now this is delicious, a real essence of Alsatian Riesling. White flowrs, minerals, licorice, anise, and orchard fruits last and last on the nsoe and in the mouth. Very clean and pure on the long finish. Hugel chose to sell this before the 2012 because it's more open and forward compared to the still fairly closed 2012, and it was a good move. The 2013 is superb: it really couldn't be otherwise, considering that all the Schoelhammer grapes went into it as that wine was not made in 2013. 'Grossi Laüe' is a Germanic term (but they tell me it's Alsatian dialect) that refers to
'the finest vineyards', making it analogous to the French grand cru or the German Grosses Gewächs.
Guigal 2017 Château Nalys Châteauneuf-du-Pape(France)   95
There are wines that leave you just speechless from the surprise, and this is one of them. I fully expected a wine with this pedigree from Guigal to be excellent, but the reality greatly surpassed my imagination. And considering that the 2018 vintage is the first time that the Guigal family (that bought the estate in 2017) was able to put its stamp on the whole production from start to finish (pruning, flowering, veraison, harvest, winemaking and bottling), this 2017 is even more impressive (in 2020 Guigal increased their holdings in Châteauneuf-du-Pape by  buying the Clefs d'Or domaine, which owned a large swath of old vines (some very, very old: how very, very old? As in nineteenth century old) in La Crau, one of the two or three best crus of Châteauneuf-du-Pape. Given that those graes will now go into Château de Nalys, this is a wine that can only get better and better (there is also a readier to drink wine, the Saintes Pierres de Nalys).
Seña 2019 Valle de Aconcagua (Chile)                      95
Obviously still very young, the 2019 needs to spend some time in a good cellar to fully smoothen out, and even though it's a joy to drink just now, I have no doubt this will improve over the course of the next five years or so. Good full ruby in colour, the nose expresses redcurrant, strawberry, and potpourri, plus some coffee, sage and rosemary. Nicely showy but not opulent or over the top, the flavours are similar to the aromas, finishing long, youthfully chewy, clean and fresh. This blend of 60% Cabernet Sauvignon,  21% Malbec, 15% Carmenere and 4% Petit Verdot spent 22 months in 80% new French oak barrels and 10% in foudres: it tastes ripe and like the product of a warmer year, but retains an element of refinement that is enticing.
Ravines Wine Cellars 2017 Dry Riesling Argetsinger Vineyard Finger Lakes (USA)                         95
In its short two-decades of life, Ravines Wine Cellars is already making world-class Riesling. The Danish-born winemaker, Morten Hallgren, comes from a winemaking family—his parents own the top-notch Provence-based Domaine de Castel Roubine. Though the Castel Roubine produces no Riesling, Hallgren certainly understands that grape. Mineral-y and fresh, this Riesling has poise and penetration. The wine reminded me to look to the Finger Lakes region as a source of superb Riesling and that terroir matters, everywhere, because this single vineyard bottling stands head and shoulders about their multi-vineyard offering. (Tasting note and score by Michael Apstein).
Rare/Piper Heidsieck 2008 Champagne Rare (France) 95
Pale yellow in colour with greenish tinges, it has a strong fine bead that settles after an initial rush to the top of the glass. Minerals dominate the nose and the palate, but nuances of iodine, licorice, green pineapple, nectarine, stone and orchard fruit (especially Williams pear, a descriptor that in my experience with Rare becomes even more apparent with aging) and a hint of fresh almonds (that with age will veer to almond paste, as is the case with the lovely, delicious Rare 2002 presently). Brightly focused and energetic, it repeats the aromas on the palate as very similar flavours, and thanks to lively but harmonious acidity these are nicely extended on the long back end, where an obvious hint of coconut persists nicely. The 2008 will long be remembered as an excellent vintage, one characterized by wines with a generally fresh and bright personality (a rainy spring and some summer rain in the midst of generally hot days contributed to the wine makeup). Since October 2018, rare has been its own Champagne brand, while previously it was always presented under the Piper-Heidsieck banner. There have been only eleven Rare Champagnes made to date: in forty years of history, these are 1976, 1979, 1985, 1988, 1990, 1998, 1999, 2002, 2006 and 2008. In that same time span, only two vintages of Rare Millésime Rosé have been made, the 2007 and 2008.
Château de Beaucastel 2019 Châteauneuf-du-Pape Rouge (France)   95
Misha's Vineyard 2015 Pinot Gris Central Otago        95
Luminous straw-yellow colour. Asian pear, yellow apple, fresh citrus fruits, white flowers (jasmine, white rose), even a hint of lichee and of honey; really wonderfully elegant nose. Then even more refined in the mouth, utterly brilliant in fact, with headshaking levels of purity and intensity to the yellow fruit, gingerbread, almond paste and floral flavours, nicely focused and energized by firm but harmonious acidity. A mineral presence and a hint of ginger, plus a repeating note of acacia honey in the background increase the complexity and the interest level of this truly uncommonly good, slightly off-dry, well-balanced and precise New World Pinot Gris wine. The close is very long, wonderfully racy, and very complex. The free run juice portion was cool-fermented in tank, while the later press portion was fermented at warmer temperatures in older French oak hogshead barrels with indigenous yeast to add further complexity. This is just a knockout wine that can stand up to the best of Alsace and Italy
Château Musar 2014 Chateau Musar Rouge Bekaa Valley (Lebanon)                 95
Characterized by silky tannins and outstanding density, this deep young Musar is devoid of any of the gamey notes that at times will plague this wine. Rather the fruit is pure and lustrous, with crunchy red cherry, dark berries, tobacco, herbs and a peppery and saline twinge dominating throughout. Finishes long and suave with more smoke and tobacco spice. One of the fruitiest more immediately appealing generous young Musars I have memory of. Well done. Cabernet Sauvignon, Carignan and Cinsault make for a winning combination in thekaa Valley.
Freimuth 2018 Mönchspfad Riesling Trockenbeerenauslese Rheingau (Germany) 95
Very pretty wine boasting absolutely pristine aromas and flavours of honey, sweet tropical fruit and spices, all tied together by liquid minerality. Neither jammy nor caramelized, this is like drinking an essence of fruit that is remarkably pure and vibrant.
Robert Chevillon 2019 Nuits-Saint-Georges Vieilles Vignes (France)   94
Alain Graillot 2019 Crozes-Hermitage Blanc (France) 94
Now this is great. Opulent yet lively, refreshing yet structured, mouthcoating yet ethereal, an essence of Marsanne and of Rhône-somewhereness, this is just a masterful white wine from Graillot. It showcases just how wonderfully lifted yet highly concentrated the white wines from this region can be, without coming across as oily or flabby.
Château Grillet 2018 Côtes du Rhône Blanc (France) 94
This wine, simply named Côtes du Rhône like the Appellation it belongs to (so technically this is not a Chateau-Grillet Appellation wine) was first made with the 2011 vintage, as the technical team at Chateau Grillet looked to be even more selective about the Viognier used to make the estate's top wine, Chateau Grillet. All I can say is that this may well be one of the top ten second wines I have ever tasted, a simply amazing mouthful of rich but lively, sultry but refined, extremely varietally accurate Viognier aroma and flavour sensation (think peach, apricot, pear, white flowers, honey, guava). The wine is magically balanced and is downright addictive". I can't say enough good things about it.
Burn/Clos St.Imer 2018 Sylvaner Vieilles Vignes Alsace (France)          94
Pale golden-yellow. Captivating aromas of baked apple pie, nutmeg, lemongrass and white pepper on the bright rich nose. Then riper, rounder and much spicier than Burn's 2019 Sylvaner Vieilles Vignes, which is a more fruity-floral wine; by contrast, sniffing this 2018 reminded me of a pear elixir or eau de vie. Rich, dense and round on the palate with honeyed flavours of cinnamon apple pie, nutmeg, coriander, lime cordial, pepper and quince jam. Boasts outstanding richness and balance (18 g/L r.s and only 4 g/L total acidity, but the wine dances effortlessly on your palate never once causing palate-fatigue). Closes long and clean, with repeating ripe fruit flavours.
Philippe LeClerc 2018 Gevrey-Chambertin Les Cazetiers Premier Cru (France) 94
Rather big and muscular, with a veneer of oak that is in need of cellar time to round out completely and fade into the background. Still the oak is not obtrusive and rather complements rather than overpowers the rich ripe concentrated red fruit. This is smashingly good, slightly ripe but not over the top[, Pinot Noir that will draw you back to your glass time and again.
Cave Spring 2018 Riesling CSV Beamville Bench Niagara (Canada)          94
A slightly warmer vintage for Niagara means a more accessible Riesling CSV bottling than usual from this historic Ontario producer, with hints of white flowers, nectarine, apple, tangerine, lemon meringue pie, and orange peel nicely lifted and extended on the long back end by harmonious acidity. Made from very old vines planted back in 1978 (in fact some of Canada's oldest Riesling vines) on stony clay soil with limestone and dolostone, the CSV is one of Canada's greatest wines and a shining example of the heights and world class wines the Riesling grape can achieve and lead to in Niagara.
Château Raymond-Lafon 2018 Château Raymond-Lafon Sauternes (France)        94
Domaine Méo-Camuzet 2018 Corton Grand Cru Les Perrières (France) 94
When you are supremely talented and are lucky enough to own close to five hectares in about six different Burgundy grand crus (think owning land on Fifth Avenue in NY or Bond Street in London) you cannot help but make special wines. Such is the case with Jean-Nicolas Meo, who took over the estate in 1989 and proceeded to estate bottle, and such is the also the case with this impressive Corton, a less chunky rendition than many wines from this grand cru but still very much a full-bodied beauty that needs another eight to ten years in a good cellar to reach its optimal drinking phase. Pure and precise, brimming with notes of blueberry, raspberry, black cherry, black tea, underbrush, iron filings and orange peel notes, it has a tough underlying tannic spine that will allow it to age gracefully.
Brokenwood 2014 Semillon Trevena Kindred Vineyards Hunter Valley (Australia) 94
You know, I'll never stop thanking all those friends who fly to places and bring back bottles of wine for me to try and given how difficult things are nowadays with flights I have to say I was touched when I was surprised by this completely unexpected gift recently. You also know it must have been a difficult year if at Brokenwood they decide to blend the fruit of two of their best vineyards, and such was the case in 2014, where the hot growing season meant having to pick exceptionally early. The Trevena is a heritage vineyards of Australia, planted back in the 1920s, the Kindred is younger (but still forty years old) and gives a touch more ripeness and size to the blend. Currently the wine is pure Hunter Valley, with lemony zing and acid cut galore, offering hints of freshly cut grass, white raspberry, minerals, nectarine and lime. I'd love to see how this develops over the next six to eight years.
Dirler-Cadé 2018 Muscat Saering Alsace (France) 94
Straw-green. Subtle notes of mint and white flowers complement grapefruit and anise aromas. Fresh and bright, with lovely inner-mouth lift to its lime blossom and mint flavours, this finishes long, juicy and lively. A blend of 55% Muscat Ottonel and 45% Muscat d'Alsace, this boasts 5.21 g/L r.s and 6.29 g/L total acidity. Dirler-Cadé is one of Alsace's foremost Muscat specialists, but their Sylvaner is exceptional and the Rieslings pretty stellar too..
Gerard Duplessis 2019 Chablis Les Clos (France) 94
I have always been a big fan of Gerad Duplessis and his wines from Chablis, at least since my days spent living in Montréal in my late twenties when his wines were essentially my house white. But even I have to admit that as much as I like them and believe them to be underrated, there is a huge step up in quality between his premier cru and grand cru wines. And so it is for the 2019 Chablis Les Clos, a wine that tastes like it ought to be much more expensive than it really is. At once glyceral and round, but also fresh and vibrant, the ripe and fleshy orchard fruit nuances are counterpointed by lacy minerality and make for a well-balanced, rounded drinking experience. Lovely stuff that flies down like water, but there's sneaky concentration and depth here.
Domaine Weinbach 2019 Gewurztraminer Les Treilles du Loup (France) 94
This is one of the world's thirty or so best wine estates, all colours and nationalities included, so you just know they make wines that can rank with the best of the best. And so it would be far too easy to pick a super sweet but well-balanced SGN wine they make almost every year, but some of the entry-level wines are just as remarkable, such as for example their magically pretty Sylvaner and Muscat from the Clos des Capucins vineyard in front of the house. But for this year's annual Top World Wines list 2021, I will pick their exceptionally good almost entry-level 2019 Gewurztraminer Les Treilles du Loup. Golden-tinged straw yellow colour, this absolutely beautiful Gewurz exudes very pure aromas and flavours of fresh citrus and tropical fruits perked up by floral, cumin, pepper and cinnamon notes. At once concentrated but nicely focused and juicy, there's an almost Riesling-like minerality and freshness to its long finish. Gewurz does not get much better or refined than this, but then again I really believe this to be the single best estate in the world at producing Gewurztramienr wines, and have said and written so for many years now. Previously called the Cuvée Théo, this is a Gewurztraminer wine that will prove impossible not to adore, even for those who normally don't care for it.
Zind Humbrecht 2018 Muscat Goldert Grand Cru Alsace (France)          94
Bright straw-green. Very floral, clean and fresh lime and grapefruit aromas and flavours, complicated by eucalyptus notes, but less minty than some past examples. Lightly saline on the juicy, floral and classically dry finish. The grapes are planted on not so steep, blackish-coloured middle Jurassic limestone soil (and marl) not too dissimilar from that of the Jura that always gives a pronounced salinity in the middle and on the finish and allows the grapes to ripen slowly without packing in too much sugar (and hence keeping potential alcohol levels lower than they might otherwise be). That said, in my experience this wine is very vintage-dependent: in cold vintages its more herbal, but in warmer ones it's more exotic. This was made with practically only Muscat d'Alsace (about 5% Muscat Ottonel too) that is about 32 years old now.
Charles Joguet 2017 Chinon Clos de la Dioterie (France)                       94
Domaine Tempier 2018 Bandol Rosé (France) 94
To be crystal-clear, there are wines in this wolrd that will cost you 100 times more than this one and that will deliver only one one hundredth of the pleasure this absolutely lip-smackingly good, heck great, rosé wine will deliver in spades, and then some. Bright pale orange-tinged deep pink colour. Flowers, flowers and more flowers greet the nose, then complicated by sweet spices, perfumed underbrush, minerals, and the unmissable tangerine and orange zests. Lively, vibrant and juicy, but with real depth and precision to its red berry and citrus fruit flavours, that are nicely complemented by notes of lavender and violet. There's way above average focus and energy here, with truly impressive clarity and cut that all add up to an amaing pink wine. I don't know if Domaine Tempier makes the best rosé wine in the world, but it is my opinion tha it sure ranks in the top five or so: the first sip immediately tells you it's a rose wine of a completely different, much higher, level than any you have drunk before. Essentially a 55% Mourvèdre, 25% Grenache and 20% Cinsault blend (though a very small percentage of Carignan has made it into more recent vintages) the 2018 is a 65% direct press, 35% maceration pink wine that underwent partial malolactic fermentation, and that fermented and aged 50% in stainless steel and 50% in concrete tanks for seven months. An iconic estate that is doubtlessly the best known one of the Bandol Appellation, Domaine Tempier came to life in 1936 when Lucie "Lulu" Tempier married Lucien Peyraud and received the farm (that had been in the family since 1834) as a gift. Lucien, who passed away in 1996, is the recognized father of Mourvèdre in the area, pushing everyone to recognize its greatness and to replant it in palce of higher yielding, less qualitative varieties; he also has the I.N.A.O. (Institut National des Appellations d'Origines) establish Bandol as its own A.O.C. With stories like this one, you don't have to wonder why l like wine.
Raen 2018 Pinot Noir Royal St. Robert Sonoma Coast (USA)                 94
The 2018 Royal St. Robert is the first RAEN Pinot I have tasted. It was almost impossible to put the glass down. The airy aroma which levitates from the glass is most engaging. Cherries, boysenberries, cranberries with an underlying suggestion of earthy spices swirl delicately. An undertone of rose petals and tea, characteristics of stems, balances the natural sweetness of the wine. This elevation is evident on the palate as well. This is wine which may be liquid in form but which wants to transmute into air. The wine is both penetrating and elusive at the same time. (Tasting note and score written by Robert Millman).
Albert Boxler 2018 Riesling Sommerberg Eckberg Alsace (France)                                    94
That Jean Boxler is one of the best three-five Riesling producers of Alsace is agreed upon by most people, and when you taste a wine like this one you understand why there is agreement. Green-tinged color. Lime, mandarin, orange flowers and talc on the rather forward, broad but deep nose. Densely packed and intensely flavored, with youthfully backward spice, herb and mineral elements, offering plenty of texture and noteworthy length. A great Eckberg.
Louis-Benjamin-Didier Dagueneau 2018 Pouilly-Fumé Silex (France)          94
This iconic Loire estate, really "the" name in Pouilly-Fumé, was established by Didier Dagueneau in 1982 and then in the hands of Louis-Benjamin since 2008 who had been working alongside his father when Didier tragically passed away. The 2018 is another classic Silex: gooseberry, grapefruit, lime, honey, and green herbs are complemented in both the mouth and the nose by hints of tropical fruit and minerals. The tangy acidity provides lift and length.
Huré Frères NV Champagne Blanc de Blancs Inattendue (France)   94
One of the best non-vintage Champagne Blanc de Blancs I have tried in a long time, this was made with 100% Chardonnay grown in Ludes and Rilly La Montagne. The wine spends four to five years on the lees and is bottled with 2-5 g/L residual sugar, depending on the vintage. It is therefore classically dry, and drier than many Champagnes carrying the Brut designation, but in fact its Chardonnay fruit is so marvelously pure, precise and ripe and creamy that the wine comes across as having a hint of sweetness though it is clearly a classically dry wine. Bright pale straw-yellow in hue with a steady stream of small bubbles, it explodes from the glass with aromas of lemon verbena, jasmine, lemon and grapefruit. In the mouth it is at once lively and creamy, with a very well delineated set of flavours that bring vanilla, lemon custard, white peaches and minerals to mind. Given the score inflation rampant in today's wine writing, my score might actually be stingy.
Agathe Bursin 2018 Sylvaner Eminence Alsace (France)                               94
Now we're talking! A simply superb Sylvaner wine that is very deep, rich and round, with a noticeably sweet personality but so magically well-balanced (25 g/L r.s., 5.46 g/L total acidity, and 3.5 pH) that it comes across as off-dry and best. Very silky liquid apple jelly nuances linger long on the elegant smooth finish. This beauty is made with Sylvaner vines planted in the Zinnkopeflé in the 1930s by Agathe' great-grandparent Mathias Boherer. The vines face mostly southeast (by contrast the Lutzeltal is southeast /southwest-facing). Lovely Eminence, this is a showstopper; try it with any slightly lean freshwater fish you can think of, mushroom omelettes, roast chicken with mushrooms or even a blaquette de veau.
Sea Smoke 2019 Pinot Noir Ten Sta. Rita Hills (USA)                             94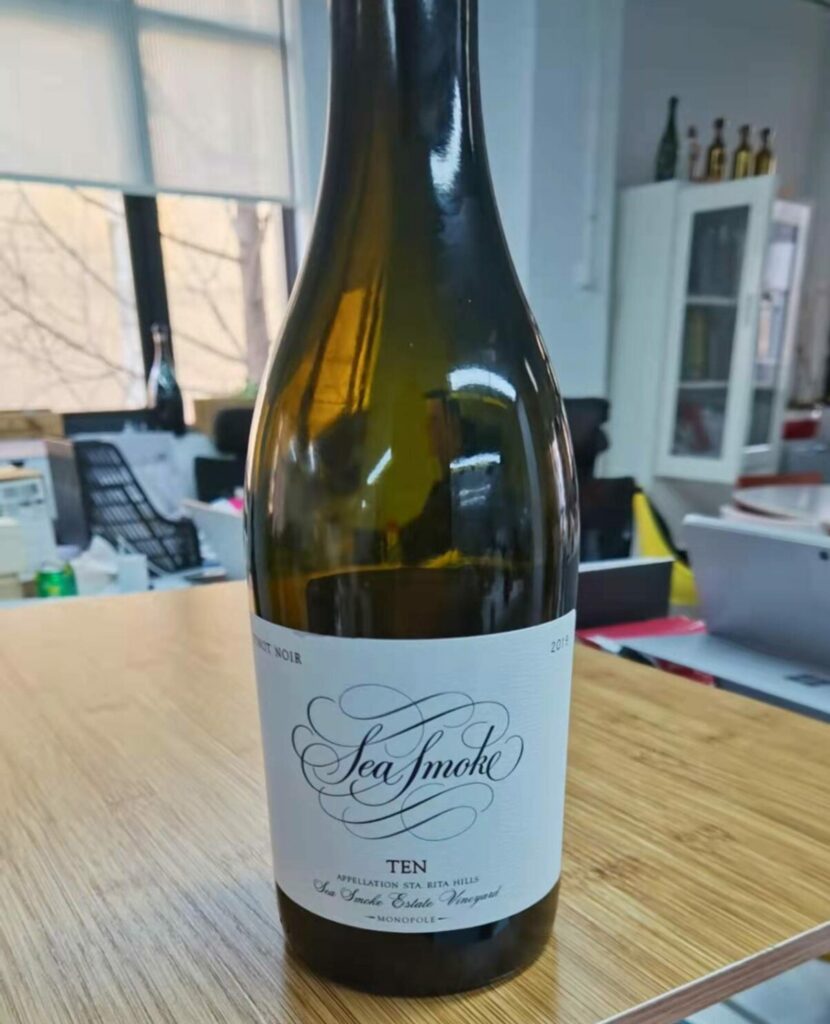 Good full ruby. Forward aromas of red but mostly blue/black fruit (blackberry, blackcurrant, dark cherry), complicated by a hint of cedar, lavender, oaky sweet spices and herbs on the nose and in the mouth. Seamless and juicy at the same time, there's lovely purity of fruit and sneaky concentration here on the long, very focused and brightly energetic aftertaste. The wine's name, "ten", is a reference to the ten different Pinot Noir clones that are planted on low-vigour rootstocks in the vineyard. A monopole that is organically and biodynamically farmed, this is one of the cult producers of the Central Coast.
Domaine Franco Chinois 2016 Petit Manseng Hualai (China)   94
From the deservedly recognized leader in Chinese Petit Manseng wines, this is another gem from the Domaine Franco-Chinois. Brightly golden-yellow, with complex aromas and flavours of crystallized apricot, pineapple and mango, it has a luscious honeyed mouthfeel that lingers long revealing hints of wasabi and ginger on the aftertaste. The wine is excellent, not beating arund the bush: not yet as multilayered and complex as the world's greatest sweet wines, it needs to harness its luscious power and develop more nuance rather than being just mostly treacly, but make no mistake about it, the DNA is there for this to join the ranks of the world's greatest Sauternes, BA, TBAs and Icewine/Eisweins. It really is that good and promising a wine. Very well done.
JJ Prüm 2018 Wehlener Sonnenuhr Riesling Spatlese (Germany)          94
Absolutely pure white peach and white flower blossoms on the delightfully invigorating nose and palate, with honeyed yet mineral nuances to the apricot, pear, plum, and lily. At once delicate but glossy, this finishes long and bright with zingy acdity and lovely liquid minerality. How beautiful, and how refreshing not to be drinking something that tastes like something cows would be happy to munch on (given the fixation with faddish long lees contact of some among the younger generations of the teutonic winemaking panorama). The residual sweetness that is obvious thanks to the ripeness level of the grapes is also welcome and much better to have it and a balanced wine than some astringent, green wines that all too often are passed off as "classically dry and modern". This estate is one of the two or three most famous in all Germany and still today it is still among some of the country's best wines, that are crystalline, pure and extremely precise. This is an address not to be missed when you search for great Riesling wines.
Louis Michel 2019 Chablis Grenouilles Grand Cru (France)   94
From hands down one of the best interpreters of non-oaked Chablis, a memorable grand cru wine from the lower-lying Grenouilles which makes for a slightly rounder, lower-acid mouthfeel. Utterly beautiful Chablis that lasts and lasts with nuances of oyster shells, crystallized orange peel, lemon, apple and talcum powder, plus hints of chamomile and pepper.
Willi Schafer 2020 Graacher Domprobst Riesling Kabinett (Germany)          93+
The Schaefer estate has been making simply fantastic wines for many years. It is, alas, a very small estate of a mere 4.45 hectares yielding fewer than 3000 cases annually. While on paper the Himmelreich is the best vineyard in Graach, the Domprobst in the hands of Will and Christopher Schaefer is one of the glories of German viticulture. In 2020 the Kabinett sparkles on the palate with scents and flavors of white peach, almond extract, apple and a hint of anise. The fullness in the middle is a hall mark of the Schaefer Domprobst. The finish lingers a as long as the taster wishes. I would say drink this now to 2026. Does wine really get better than this? (Tasting note and score by Robert Millman).
Grace Vineyard 2018 Aglianico Tasya's Reserve Shanxi (China)                93
Sometimes experiments pan out, sometimes they don't. But at Grace Vineyard owner Judy Chen is trying a bunch of different grape varieties and having real success with a number of them. I could have in fact picked two other wines she makes in small amounts just as easily as this one, but I am giving the Aglianico the nod because, simply put, it has a track record of excellence (I first tasted this wine something like five years ago and it struck me as excellent already in that now long-gone vintage).  Bright red-ruby, this boasts refined musky and balsamic nuances to the red and blue fruit aromas and flavours. A complicating note of underbrush adds interest on the bright, vibrant very well-balanced finish. Just a lovely, excellent wine that is true to type and proves very food-friendly. First made in 2010 as a trial and released in 2012 for the first time, it's just smashingly good. They have a winner here, but unfortunately it is still made in small quantities.
Kumeu River Chardonnay Estate (New Zeland)                                    93
Surprised that the "lowly" Estate Chardonnay from Kumeu River in this Top World Wines 2021 and not one of the more expensive and famous siblings in the range of Chardonnay wines this winery is famous for? Don't be, this wine is absolutely superb. I could say that the usual deft use of oak here gives way to real Burgundian aromas and flavours, but in fact even that is unfair to the wine, because it is of, and speaks of, New Zeland, a place where they do cool-climate wines extremely well. I absolutely loved this wine's peach, buttery poached pear and hazelnut aromas and flavours that boast utter purity and yet at the same time whisper real delicacy. But when you have the talent of a Michale Brajkovich MW, wines like these are to be expected. Musings aside, I think this may well be the best Estate Chardonnay ever made here after the mythical/legendary 2010.
Bründlmayer 2018 Grüner Veltliner Terrassen Kamptal (Austria)   93
Château Guiraud 2018 Château Guiraud Sauternes (France)                 93
H.Thanisch 2017 Berncasteler Doctor Riesling Spätlese (Germany)          93
Château des Tours 2016 Côtes du Rhône Rouge (France)                     93
Although I am an unabashed fan of this property's rather hard to find Vacqueyras Rouge, there is plenty good to say about the Côtes du Rhône, a blend of 65% Grenache, 20% Syrah and an all-important 15% Cinsault which gives this silky wine amazing filigree and drinkability. Bright red, with notes of smoke, grilled beef, pepper and violets, the full-bodied but refined texture is something to marvel at. Punches way above its weight class (ie. denomination) but given this is made by Emanuel Reynaud, the owner of Château Rayas, it's neither easy to find (but not impossible) nor inexpensive. Still, this is worth the search and the expense.
Bench 1775 2017 Gewurztraminer Okanagan Valley (Canada)   93
The Bench 1775 2017 Gewurztraminer Okanagan Valley is quite simply one of the ten or so best Gewurztraminer wines I have ever tasted outside of Alsace (especially) and Alto Adige. It really is that good. Rich ripe and quite deep, this golden-tinged beauty boasts noteworthy levels of concentration to its ripe tropical and yellow fruit flavours, kicked up a notch by noteworthy levels of sweet spices and ginger. Bright acidity avoids this coming across as heavy, and you invariably go back to you glass again and again, because the balance and concentration are such to make this a remarkably varietally accurate Gewurztraminer wine (a New World example that actually really does taste of a full-throttle Gewurz!) and ultimately, a fairly memorable wine. There is no simpler way to say this than to state that this wine is a real winner!
Domaine de Granajolo 2018 Rosè Tradition Corse Porto-Vecchio (France) 93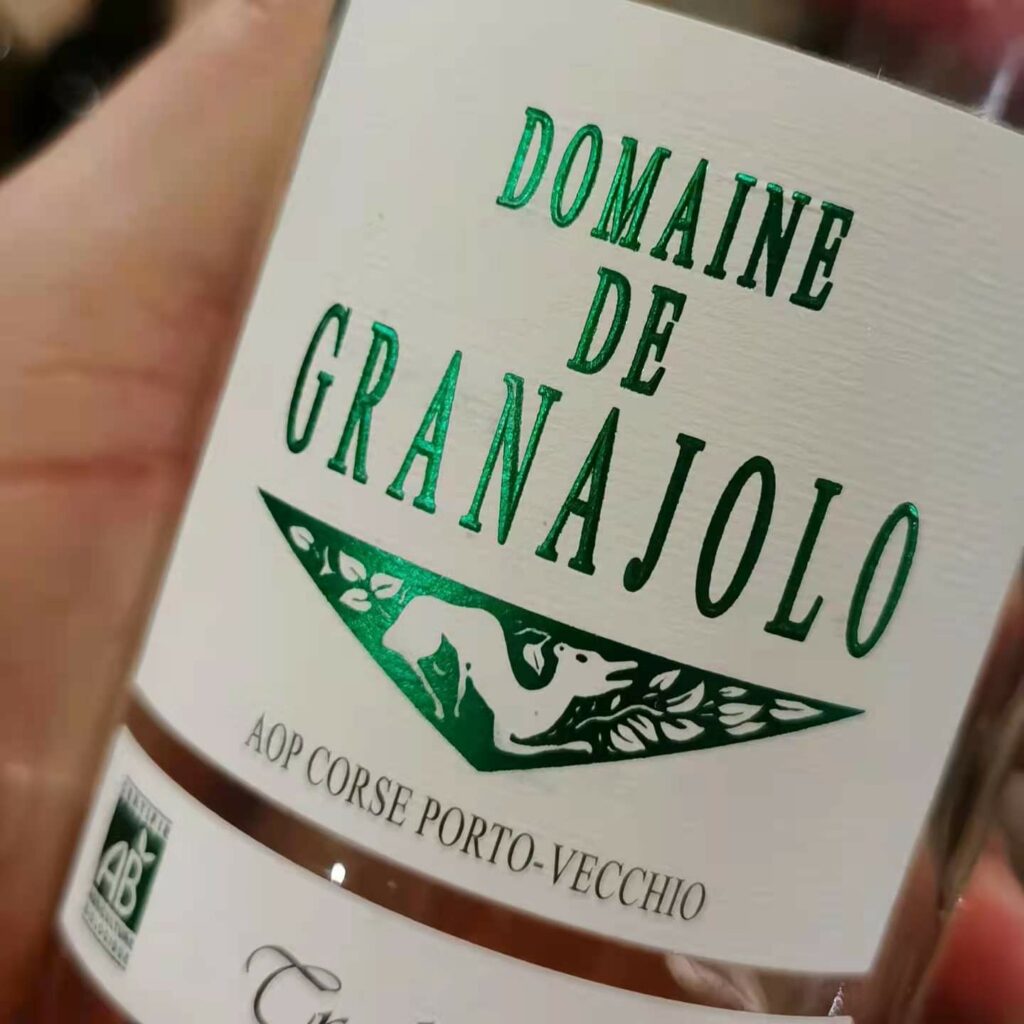 Bright orange-pink. Lovely raspberry, strawberry and fresh herbs on the nose and in the mouth. Beautifully fresh and juciy, and packing in way more flavour than many watery Rosé wines of the south of France; this you can sink your teeth into, but is not a red wine wannabee. Closes long and juicy with bright fruity and floral remidners, plus a welcome saline edge (the vineyards are about three kilometers removed from the sea) for added complexity. This lovely wine is made with 100% Sciaccarellu (the same as Italy's Mammolo: just one look at the grape will tell you the two are one and the same, though clearly Sciaccarellu is a Corsican biotype that has adapted over the centuries to a totally different environment than that of Tuscany and gives different wines) planted in 2007 on decomposed granite and sandy soil. The estate itself has a longer history, founded by by Monika and André Boucher who chose twenty hectares located at the extreme south east of the island in Saint Lucia of Porto-Vecchio. They planted their first vines in 1974 and were true pioneers in organic farming (they were organically certified in 1987, at a time when nobody really could have cared less) and made their first vintage in 1992. Since 2003, the estate has been mostly run by the next generation, that has the face of their daughter Gwenaële (plus her husband Florian). Clean and precise this beautiful wine shows how a well-made low intervention wine doesn't have to smell like a horse's armpit. This is really excellent: very well done indeed.
Domaine de la Grosse Pierre 2018 Chiroubles Au Craz (France)                93
Ready to drink now but you can hold on to this for another three to five years without problems, and therein is all you need to know about the mighty wines that are cru Beuajolais. Add that Chiroubles is the highest of all the crus perched atop Morgon and therefore more elegant in almost all good renditions, and you realize what you are in for at first taste. Chiroubles doesn't get much better and this little gem is a joy to drink: bright red in colour and bright red also in its aroma and flavour profile, this is a little red cherry fruit bomb but with mineral and herbal nuances that add to its charm and overall complexity. A family-run estate created by Georges Passot in the 1960s, Domaine de la Grosse Pierre was run by Alain and Véronique in 1979 and since 2018 has been in the hands of the third generation! The winery can count on 9 hectares of vines most of which are in Chiroubles but a small portion are in Fleurie and Morgon too.
Tantalus 2018 Riesling Old Vines Okanagan Valley (Canada)   93
Thank goodness for friends who are still able to travel in this world and generously squirrel away wine bottles in their suitcases. And even bigger thanks for their remembering little old me when they decide to pull the cork on said such bottles and call me over to join in on the fun. Otherwise, this beauty might have escaped my eager taste buds until I got to go back to Canada (whenever safe travel will resume again). All kidding aside, I am very happy to have gotten a chance to try this given that with slightly more than 300 cases made a year, it's not exactly a wine one finds on every street corner (not even every other street corner, for that matter). Tantalus Old Vines has been one of my five or six favourite New World Rieslings since forever (actually since a friend from Alberta had me try a bottle when I was still in Rome something like twelve-fourteen years ago, maybe more, who knows) and nothing that has happened since its birth has led me to change my mind. From one of the oldest plantings of Riesling planted in Canada (planted back in 1978 and facing north, no less; the Sperling Old Vines Riesling is just as old, and that's another one of my favourite New World Rieslings, so I guess I just like old vines) an extremely laser-like infusion of minerals, white peach, herbs and moon dust. Ok, OK, maybe the moon dust is poetic licence, but you get my drift, it's just a magical wine. Readers who know me even just alittle realize how important I thionk history is in general, and that I believe to be so in the case of wine too: so it should be known thjat one of Canada's greatest wines, one of the best new World wines is made from vineyards mostly planted by the Dulik family, who founded the winery originally named Pinot Reach Cellars, in 1997. The name was changed to Tantalus in 2004 when the estate was bought by Eric Savics of Vancouver). Why it is called Tantalus… well, that's a story for another time.
Château Le Puy 2019 Rose-Marie Francs-Cotes de Bordeaux (France)          93
Made from free run, not pressed Merlot juice, the 2019 Rose-Marie, a pink wine from Le Puy is like quite no other rose you might have tried, and certainly no merlot pink wine, most of which are really nothing to write home about. The labels here are a lot of fun: the wine's appellation is apparently Francs-Cotes de Bordeaux, though you'll see this nowhere on the front label. Similarly, thought he website and everyone I know refers to the property as Château Le Puy, you won't find the word "château" Le Puy on the front label anywhere too. In any case, the property, located on the plateau de merveilles, one of the highest points in all the Gironde, is run by the 15th generation of the Amoreau family, that has been at it for a commendably long time, having started way back in 1610. Please note that the sweet wine that is just as good if not even better, another masterpiece from this very talented people.
Domaine Latour-Giraud 2018 Meursault Charmes Premier Cru (France) 93
The brother and sister team of Jean-Pierre & Florence Latour are on a roll, with one great wine after another. For example, the Meursault Genevrières and Meursault Charmes were both standouts, and the two wines in 2018 just take over from where those two left off. Bright straw yellow-green, exuding aromas and flavours of white fruits, acacia blossoms, and fresh citrus, complicated by butter and hazelnuts, the Charmes boasts more of the buttery round rich mouthfeel typical of the Charmes site as opposed to Genevrières but also plenty of lovely mineral tension and purity of fruit so as to not turn this into an over-the-top cloying New World Chardonnay wannabe. I always prefer the refined reservation of the Genevrières to the opulent forwardness of the Charmes, but there's no denying this wine's wonderful depth and persistence.
Château Nine Peaks 2019 Cabernet Gernischt Collection Series Tsingtao (China) 93
Bright red-ruby in colour, with deep purple highlights. Strawberry, herbs, minerals and cocoa aromas and flavours are multilayered and suave, coupled to sweet spicy nuances. Gently extracted, with fresh acidity providing lift and extending the flavours nicely on the log back end.  I've written it before, wines like this one tell you just how much potential Chinese wines made with cabernet Gernischt have, and how already good they are. Cabernet Gernischt is a real success story in China and do not make the mistake of believing and it needs to be published in reputable peer-reviewed scientific journals for it to be scientifically acceptable, and second because, even if it weren't a grape born on Chinese soil,  the Gernischt here has adapted over time to a completely different habitat than from where it might have come from, and so it at the very least to be viewed as a Chinese biotype of a specific variety, not one and the same. The wiens are certainly nothing like those made anywhere else. (For more detailed information on this grape and its wines, see my article devoted to Cabernet Gernischt here in the TerroirSense Wine Review; to the best of my knowledge, it is the longest and most in-depth yet devoted to this variety in the English language).
Lustau Amontillado de Sanlúcar (Spain) 93
Ever wondered what raisins mixed with caramel, grilled almonds, orange peel, and ocean breezes might taste like? Well, take a sip of this beauty. A very pretty Sherry that is oh-so concentrated yet very light on its feet, with a pure mouthfeel and long luscious but vibrant flavours, the log pungent, briny finish will ensure that this is a wine you will not soon forget. Try it with aged cheese, dried fruits, almond cookies, olives, tapenade bruschetta, and for something out in left field, shellfish of all kinds, even pastas with clams and parsley (and no cream, of course, which no Italian would ever dream of adding to their shellfish pastas). Only 480 bottles made for the world, given that this is a Lustau single cask bottling, but when wine is this good you just have to give it its due.
Voge 2018 Cornas Vielles Vignes (France)        93
Traditional Cornas, with oodles of ripe dark fruit and smoke staring at you from the get-go, but blossoms with aeration, losing a touch of initial gamey funk and becoming sweeter and more floral with time. The tannins are youthfully chewy but noble and the whole drinking experience is one you will relish. Cornas as it should be. Aged 20 months in approximately 15% new oak, the grea[es used to make this wine were sourced from some of the appellation's prime lieux-dits, including La Côte, Les Mazards, Combe, Patou, and Chaillot.
Lopez de Heredia 2010 Rosado Vina Tondonia Rioja (Spain)                 93
Always a classic, and it's no different this year. Vanilla custard and pomegranate are there to greet you, with strawberry-rhubarb pie and earthtones there to say goodbye on the long zingy finish. A meaty rosé with some age on it that is more at home with white meat dishes than most foods you'd pair today's popular pink wines with. A blend of 60% Garnacha, 30% Tempranillo and 10% Viura made in the classic "Clarete" style that sees however quite a bit of American oak to help smoothen it, but still the slightly earthy, tactile mouthfeel may not be for everyone.
Pierre Luneau-Papin 2019 Muscadet de Sèvre & Maine Sur Lie Pierre de la Grange (France) 93
Muscadet does not get better than this. An extremely complex, layered wine, rich but lively at the same time, with briny nuances kept in check by the sheer ripeness of fruit. Very long on the luscious but lifted aftertaste.  What a gem!
Domaine Bertagna 2018 Clos Saint-Denis Grand Cru (France)          93
Atypically dense and powerful for this site (possibly the result of the very ripe vintage that gave a bevy of concentrated wines) this offers spicy red and blue fruit aromas and flavours nicely complemented by a hint of vanillin oak. But best to forget about this in the cellar for the next ten years.
Amethyard 2019 Marselan Classic Hualai (China) 93
Rich thick and dark nit just in colour, but in aroma and flavour expression too, this is very much the Marselan you'd expect but with a great deal more refinement and grace than is common when the grape gets too ripe. Long suave and full-bodied there is real concentration and depth to this wine. It will prove excellent with red meats of all kinds. It also promises to age well.
Château Poujeaux 2018 Moulis (France)                      93
Though highly touted, the truth is that many 2018 Bordeaux currently seem to lack flesh and fruit. This may be just the shutdown phase they are in currently and from which they will emerge in about five years time, but for now many of the wines you'd expect to shine are dumbed down and reticent, and it's not said that all will really emerge from their slumber like Sleeping Beauties or knights in shining armours, given the growing season's summertime heat. Not so with this little gem, that shines brightly every which way but loose. Beautiful on the nose and in the mouth, with vibrant brambly dark fruits that are ripe but fresh and the nuanced mineral and cedar notes add complexity. Showcasing very nicely dosed extraction, this closes long and focused, with menthol and eucalyptus notes and nicely framed by polished tannins. Dn't be fooled by all the low scores that will be thrown at this wine, while all the other more famous and hip names in Bordeaux will be reeling in higher points: Poujeaux is a great wine in 2018, in fact but only one in a very long line of great wines this estate has made over the decades.
Longting Vineyard 2019 Art Series Petit Manseng Late Harvest Penglai (China) 93
Petit Manseng does very well in China, a subject of an upcoming article of mine in TerroirSense Wine Review. Of the many vintages I have tried of this wine, the 2019 struck me as the best yet (always a good sign) with richness and lusciousness to the aromas and flavours of tropical fruit jam and candied fruits. Finishes long and clean, with very good freshness to its fruit cocktail-like quality. Impeccably well-balanced (boasts 270 g/L r.s. and 6.6 g/l total acidity) this was aged in stainless steel only, as the partial oak-aging they tried back in 2016 left them unimpressed. Just a very good sweet wine, withot being needlessly unctuous or over the top.
Frédéric Berne 2017 Chiroubles Les Terrasses (France)                               93
Say Beaujolais and get ready to have people looking at their watch and making excuses for why they won't be staying long. Tell them Chiroubles, and from Frédéric Berne no less, and watch them all sit down, glass in hand. For that's just how good this estate's wines are and the 2017 Chiroubles is a welcome addition to the long list of successes from this estate. After all, Berne gave up a chance to work at IBM to turn to winemaking, studying conventional winemaking for nine years with Robert Perroud in Brouilly, and then elarning about biodynamics at Domaine de Soufrandière in Mâcon. The Les Terrasses is made from the eponymous vineyard site characterized by sandy soils, of which Berne owns very little (0.4 hectares). Say what you will about Gamay and Beaujolais, but this wine is a beauty and showcases why the wine's name is unfortunately tarnished by so many Nouveau wines that have really done more bad than good. This is chock-a-block packed with ripe and sweet red berry and cherry nuances, with a laser beam of minerality and even earth tones for added interest on the long back end.
Xiaoling Estate 2018 Xiaoling Cizhong (China)                                                   93
Translucently bright medium ruby. Blackcurrant, strawberry, violet and herbs, plus a hint of coffee on the perfumed nose. Nicely delineated, with a good sappy sweetness and chewy density to the red fruit and herbal flavours, complicated by a hint of mineral dust. Closes with zingy but balanced acidity and lip-smacking juicy freshness. A cool weather Cabernet wine that is a far cry from the many Cabernet behemoths made all over the world, but one that plays its cards of refinement and grace very well indeed. I've written before that this classy wine has elements that liken it somewhat to Pinot Noir, Petit Rouge and Schiava wines.
Pauletts 2017 Riesling Polish Hill River Clare Valley (Australia)           93
Lemon and lime dominate the olfactory exam but provide an encore in the mouth, where herbs and minerals peek through as well, and with a garlanding of tropical fruit for added complexity. The wine finishes long and classically dry. Pauletts is a Riesling specialist that was founded in 1983 by Alison and Neil Paulett (who graduated from Adelaide's Roseworthy oenology course in 1971 decided to take the leap into owning his own winery after having worked for a decade at Penfolds as a winemaker).
Drappier 2010 Champagne Grande Sendrée (France) 93
Hard not to like this bubbly: complex yet easy to drink at the same time, it offers pristine aromas and flvours of ripe orchard fruit, a salty and smoky minerality and thanks to its seven years on the lees and its blend of 55% Pinot Noir and 45% Chardonnay has enough body to work as an aperitif and to accompany fish and meat dishes of some weight. Drappier is a standout Champagne house that deserves more recognition of its very fine work. Well done here.
Château Fourcas-Hosten 2018 Chateau Fourcas-Hosten Lirac (France) 92
Say what you will about the 2018 growing season's summer heat in Bordeaux, but in Lirac it did nothing but good. A place where Cabernet Sauvignon at times has trouble ripening fully, the 2018 Chateau Fourcas-Hosten is a gem and proof-positive that this is the vintage where wine-hunting in Lirac will prove wise. Ripe black fruits, plus hints of vanilla, ink and cedar for added complexity make for a deep, long wine. One of the best recent efforts from Chateau Fourcas-Hosten.
Sileni 2019 Semillon Late Harvest Grand Reserve Hawke's Bay (New Zeland)        92
Schloss Johannisberg 2019 Riesling Kabinett Rotlack Rheingau (Germany)        92
Trimbach 2017 Pinot Gris Alsace (France) 92
Duval-Leroy NV Champagne Brut Réserve (France)        92
Fontaine-Gagnard 2018 Chassage-Montrachet (France)   92
Domaine Rolet 2015 Trousseau Arbois (France)        92
The rather warm 2015 could have wreaked havoc but not at Rolet: this Trousseau wine is more than enough proof with the variety signature high-acid and levity on full display, nicely perking up the salted plum, blueberry, and licorice aromas and flavours. Finishes mineral, zingy and long. Another beautiful wine from Rolet.
Leon Barral 2017 Faugères Jadis (France) 92
Now in its thirteenth generation, Barral's are traditionally made wines that harken back to days gone by but that are at the same time very modern, and perfect for a change of pace from todays' frenetic, hyper-techno society. The name of this wine tells you all you need to know; "jadis" is a Frenc word that means "once", but for the French, a country in who's culture I spent all of my adolescence (and in fact a great deal of my adult life too), has a deeper, more intellectual, soulful reference to the ways things were once done. The 2017 Faugères Jadis is just a lovely blend of 50% Carignan, 30% Syrah, 20% Grenache made from 30-60 years old vines (but the estate's roughly thirty hectares has vines that are as much as 90 years old) planted on mostly schist soils and aged 24-26 months in oak barrels (10% new). It's ripe and texturally pleasing chewy flavours of red fruit and aromatic herbs have complicating nuances of ink, earth tones and menthol that add further interest on the long hearty finish. Just what your Sunday beef stew was looking for.
Montirius 2016 Vacqueyras Le Clos (France) 92
A 50% Syrah and 50% Grenache blend that actually tastes a bit more of Syrah, with its peppery nuances and tannic power, but the suave fruit and flesh of the Grenache is very evident too. Montirius is a highly-regarded biodynamic producer (Ecocert organic certification and biodynamic Biovincertification) in Sarrians that produces excellent Vacqueyras wines (an Appellation of about 1400 hectares that make white, pink and red wine, thought the whites represent only 3% of the total production) that also owns vineyards in other Appellations such as Gigondas (half their vines there are very old, planted back in 1925) and Côtes du Rhone. its name derives from the acronym of the Manon, Justine and Marius, the three children of current owners Eric Saurel and Christine.
Chapoutier 2015 Banyuls (France)                      92
Clearly Chapoutier is best known for his iconic full-bodied reds from the Rhone, though in fact the family turns out a bewildering number of wines made or co-made all over the world. So it's normal some to fall through the cracks of attention spans, but in fact the Chapoutier Banyuls is really a gem. 100% Grenache Noir grown on mica-schist soils, this little beauty offers at first aromas and flavours of ripe red cherry, raspberry liqueur, and cocoa, then finishes long and save with bright acidity and whiplash of minerality.
Keller 2017 Silvaner Feuervogel Rheinhessen (Germany)   92
Feuervogel as in 'phenix', an apt description as only recently Silvaner (or Sylvaner in Italy and Alsace) has risen from the ashes of oblivion to regain its rightful place among the world's great wine grapes and wines. Off clay-limestone soils and 50-70 years old vines fermented in used oak and aged in 2000 Liter oak casks, this is at once piercing and long, all chalky grip and white fruit intensity. Long laser-like finish will have you reaching for the bottle all night long, until it will be, inevitably, empty. And fairly quickly at that.
Errazuriz 2017 Syrah Las Pizarras Aconcagua Costa (Chile)          92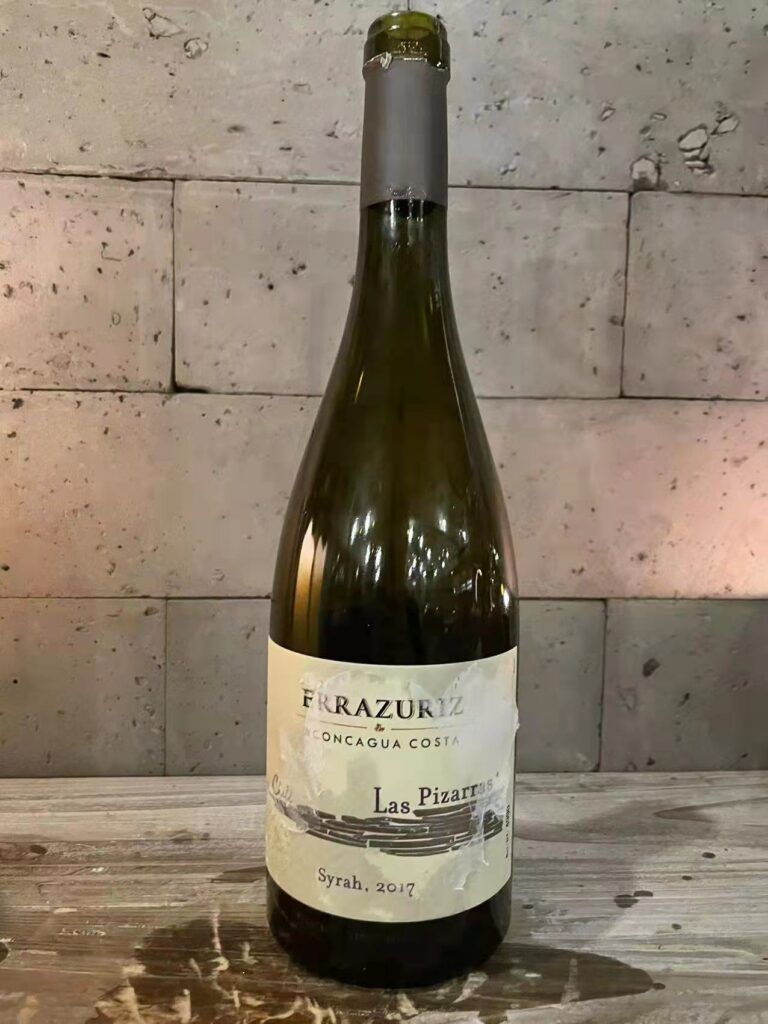 Bright purple-red. Gently peppery with floral black cherries and blackberries dominating the nose. In the mouth, ripe red cherry, mint, grilled meat and vanilla flavour are apparent, with a sft, ripe, juicy and sweet quality. Closes long and creamy. This very satisfying wine was aged sixteen months [(of which about 35% in barriques (20% new) and the rest in larger barrels). When a wine is this good and/or successful you realize there's a lot of work that went into it. Francisco Baettig and viticulturist Carlos Carrasco divided up the 230 hectares into roughly 100 small plots with the help of Burgundy terroir specialist Francoise Vannie-Petit. Eduardo Chadwick, Viña Errázuriz's President, is on a bit of a roll here, as another wine of his, Seña, is also in this year's Top World Wines list.
Wittmann 2018 Riesling Aulerde GG Rheinhessen (Germany)   92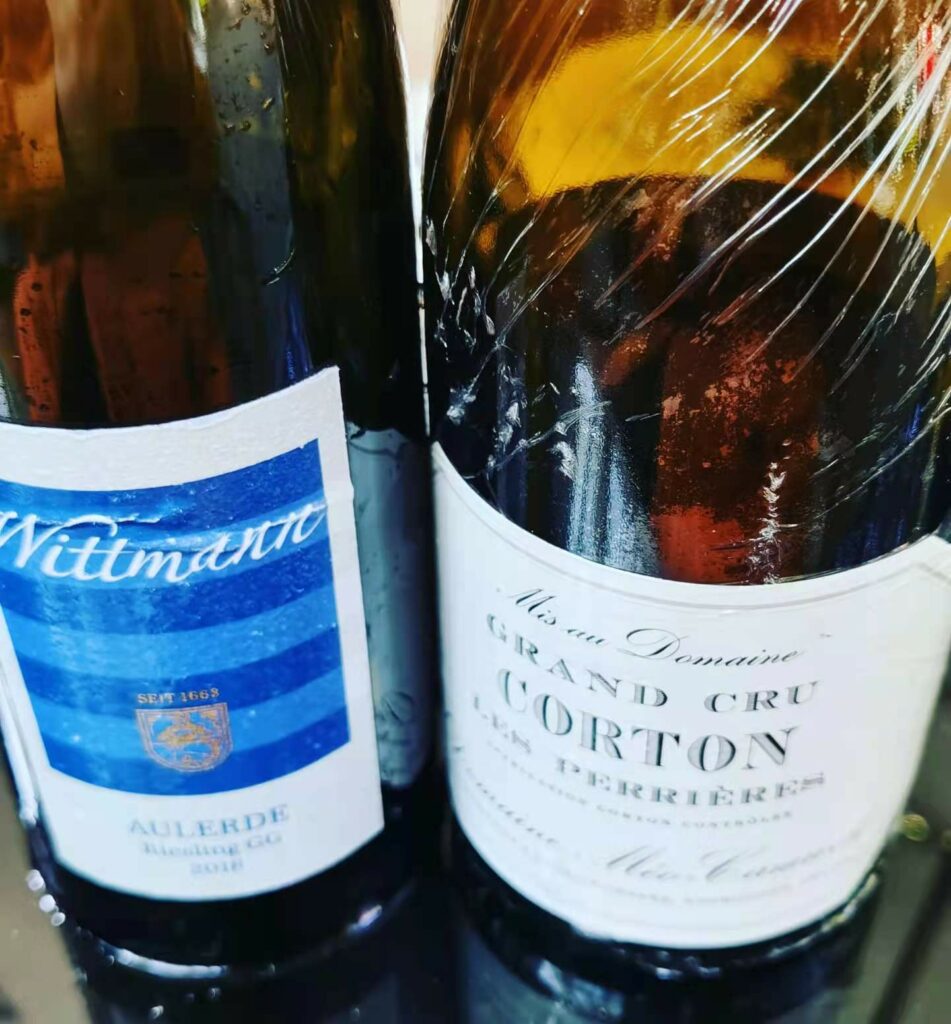 A fascinatingly complex wine from a fascinatingly complex soil reality. Aulerde is Wittmann's warmest site, located at the foot of the protective eastern and southeastern slopes of the Kirchspiel site in Westhofen's southern to southeastern slopes. Aulerde's soil is heavy clayish marl on top, with little or no limestone and Wittmann's Riesling is planted where the subsoil contains is mostly clayey or gravelly sand. Bright straw-yellow with golden tinge, the nose is deep and intense, offering lime and lemon notes complicated by riper peach and apricot, quince and mint, plus a touch of diesel. Compact and compressed on entry, then opens in the middle revealing a multilayered quality to its ripe tropical fruit and apple flavours. Not as mineral as some other Rieslings of the area, but despite its size, this stays light on its feet.
Tardieu-Laurent 2014 Vacqueyras Rouge Vieilles Vignes (France)   92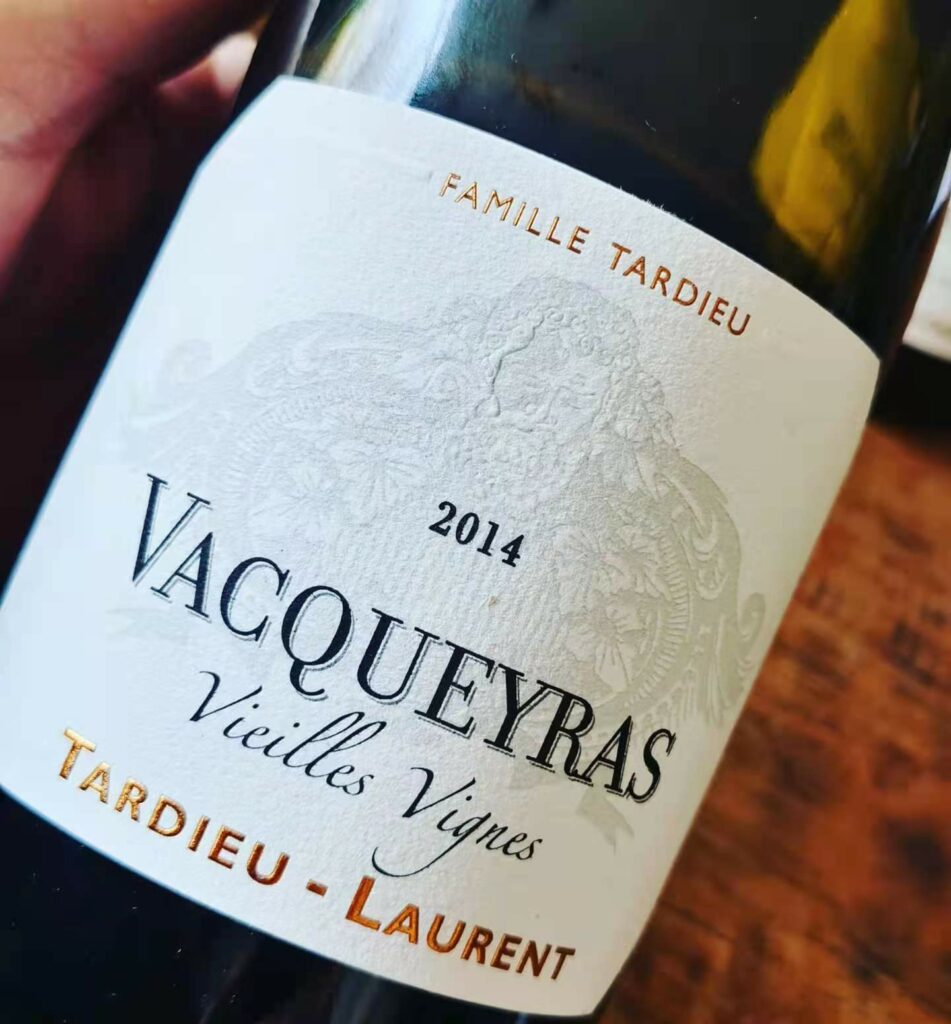 There are other younger vintages of this wine available now, but this effort is so good from what was a challenging vintage (in short, a very cool and rainy summer with noteworthy disease pressure) that I thought it was good to include to give readers a chance at an inexpensive red wine with some age on it should they see it on wine lists or store shelves somewhere. Thick yet light on its feet (50% stems were used), with peppery smoked beef nuances and ripe dark plum and botanical herb notes, this spent one year in one used barrels and then another twelve months in larger oak barrels.  suave and delicious and will marry well with any grilled meat you might like throwing at it. You won't be disappointed!
Pol Roger 2013 Champagne Brut (France) 92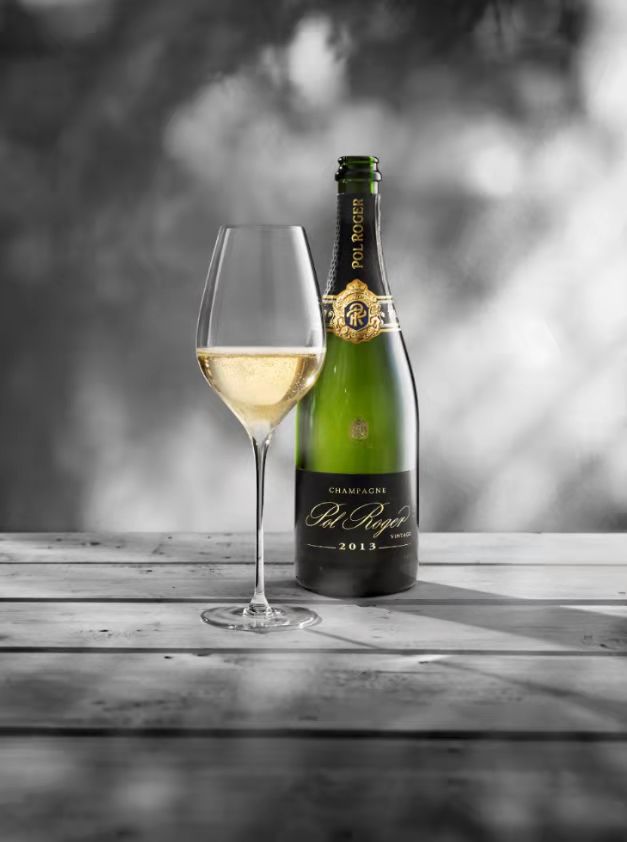 A 60% Pinot Noir and 40% Chardonnay blend from grand cru and premier cru vineyards, aged seven years, this is not the most recent release of this bubbly, given that, for example, the 2015 is now available (careful, the blend is different: the '15 is 50-50 Pinot Noir and Chardonnay, so even considering vintage differences, these two are not at all the same wines, though clearly the all-important house style is there for everyone to recognize). An elegant wine you can chew on, this is a bubbly purists will love: refined, nicely chiseled, bright and focused with lovely orchard fruit and fresh citrus notes from start to finish and a bright saline finish. Hard to get a better vintage Champagne than this without having to splurge for a vintage cuvée.
Waterkloof 2019 Cinsault Seriously Cool Stellenbosch (South Africa)   92
Cinsault is one of the world's most underrated varieties that gives not just lovely pink wines but delightful light to medium-bodied reds that are so much easier to like and enjoy with food than many of the behemoth reds made with more fashionable grapes. This wine from South Africa's Waterkloof winery is a case in point, named "Seriously cool" because it is just that, seriously cool, and because it's both a serious wine and one best enjoyed slightly chilled or on the cool side. Bright and savoury, with a panoply of red fruits and herbs that greet both nose and taste buds, it's youthful and fresh, but boasts concentration that really sneaks up on you, especially on the long suave finish. The winery makes traditional wines and interferes as little as possible with the winemaking process. Whole bunches are used and placed in wooden fermenters gently, by gravity, and natural yeast only used. After about three days of intracellular fermentation, the grapes are punched down by foot and the must kept on the skins for a minimum of 30 days, depending on taste. The wine is placed in second and third fill 600L French oak barrels to finish malolactic fermentation, and then aged for about ten months. By the way, this estate's 2016 Cabernet Franc Circumstance is just as good, truly lovely stuff.
Weltner Silvaner Iphöfer Juklius-Echter-Berg Trocken Franken (Germany) 92
There are more high quality Silvaner wines coming out of Iphöf than almost any other city I can think of, so that tells you something right there: any number of very fine wine from just as very fine producers could have made this Top Word Wines 2021 list. This one is a beauty, of course: taut, chiseled, seamless, a whiplash of citrus acidity lashing out with lemony acidity at the green apple, unripe quince and chamomile flavours, all tied together by a scream. Not a whisper, of mineral angst. This is the sturm und drang I prefer.
Silver Heights 2017 Marselan Ningxia (China) 92
Ningxia is very warm in the summer and so Marselan, a laboratory crossing of Cabernet Sauvignon and Grenache evoking Mediterranean fragrances of herbs, olives, and sun-drenched tomatoes isfirst bred by Paul Truel in 1961, would seem to be ideally suited to the place, given it was created for the south of France, not exactly the second coming of the North Pole. And that's exactly how things turn out to be, with Silver Heights, one of China's top five wineries or so, producing a gem that is suave and well-balanced, but loaded with ripe smoky red fruit, earth tones and herbal reminders. Smooth and deep, luscious but light on its feet, this is quite the achievement, and it's not the only great wine made by the talented Emma Gao.
Sybille Kuntz 2016 Riesling Auslese Feinherb Mosel (Germany)   92
The best wine in a very good lineup of wines, in which the Auselse Feinherb plays second fiddle only to the Beerenauslese, but it's till heads and shoulders above Kuntz's lower levels of classification in German wine, which is saying something because the Kab and Spatlese are pretty darn good too. But the Auslese just has more of everything, much more: great balance (42 g/L r.s. and 7.8 g/L total acidity, so it's much less sweet than the 40+ grams of sugar/liter would make you believe, though clearly, this is more off-dry than dry), crystalline minerality, noble rot peachiness, intensity of aromas and flavours, size and refinement. Made from 40-90 years old vines in the Niederberg-Helden Einzellage with a very obvious 25-40% noble rot-affected grapes (I guessed 30-35%, so I wasn't far off). Very well done.
Puchang 2016 Beichun Xinjiang Turpan (China) 92
Located in Turpan Valley near the Tianshan Mountains Basin, the winery makes a bevy of excellent wines from organically grown grapes, both native and international. Some in fact could not be anymore native than they are: a case in point being the local Beichun variety, a crossing between a wild grape from Jilin province and a Muscat grape variety from Xinjiang. Bright red. Effusive aromas and flavours of red berries, cherries and peppery spices are bright and lifted. The tannins are supple and provide plenty of support to the fleshy fruit present. It's just a lovely, juicy wine.
Vieux Chateau Saint-André 2018 Montagne Saint-Emilion (France)          92
I have been a huge fan of this property for a very long time, and of the wines of Montagne Saint-Emilion in general, and nothing has changed in the interim. Medium to deep ruby-purple in colour, the 2018 Vieux Château Saint André is at its usual subtle best, offering a gentle nose of blackberries, blackcurrants, cocoa and violet. Then mineral and lively in the mouth, with lively acidity nicely framing the pretty candied violet, plum, kirsch, clove and scorched earth flavours. Refined, even understated, the long finish is bright and zingy. Not showy or boastful, it's just the kind of wine you want to spend time with: come to think of it, that goes for people too. Readers might like to know that back in 1978, Jean-Claude Berrouet, then long-time director of Etablissements Jean-Pierre Moueix (where he was responsible for 43 vintages of Petrus, along with many other great wines including Trotanoy, Hosanna, La Fleur-Petrus, Magdelaine and Dominus in California) bought eleven hectares of vines in the Saint-Émilion Satellite appellation of Montagne Saint-Émilion because he had built up a lot of experience buying grapes all over Bordeaux for the firm's then important bulk wine business, and he had come to be impressed by the quality of grapes and wines of Montagne Saint-Émilion (the family also owns Château Samion in Lalande-de-Pomerol, and both properties are now run by Jean-Claude's eldest son Jean-François). The rest is history.
Chateau Bolongbao 2019 Marselan Beijing Fengshan (China)   92
First tasted from barrel during a visit at the estate, this is another very fine wine from this well-regarded Chinese wine estate. Very much in line with the estate's signature fresh, well-balanced and fruity reds, this is an approachable Marselan that is much lighter on its feet than some other renditions of the grape. Brambly red and blue fruit, herbs and smoke linger nicely on the fresh finish. Made from organically grown grapes.
Viña Requingua Sauvignon Blanc-Semillon Toro de Piedra Gran Reserva Curíco (Chile) 92
Xige Estate 2017 Jade Dove Cabernet Gernischt Ninxia (China)          92
Bright red. Red fruit, vanilla, violet, pepper on the nose and in the mouth, plus an oak-derived coconutty note. Very fresh and light on its feet, this closes long and smooth, with a slight green note that adds freshness and lift. Medium-bodied, flavorful and lovely, but this will appeal much less to those looking for chocolate coffee and motor oil-like luscious richness in the red wines. This is the first vintage of this wine and 30% was aged in American oak (so that explains the coconut note), bit the percentage used has since been lowered to 20% with the 2018 vintage.
Dido La Universal 2018 Rosa Monsant (Spain) 92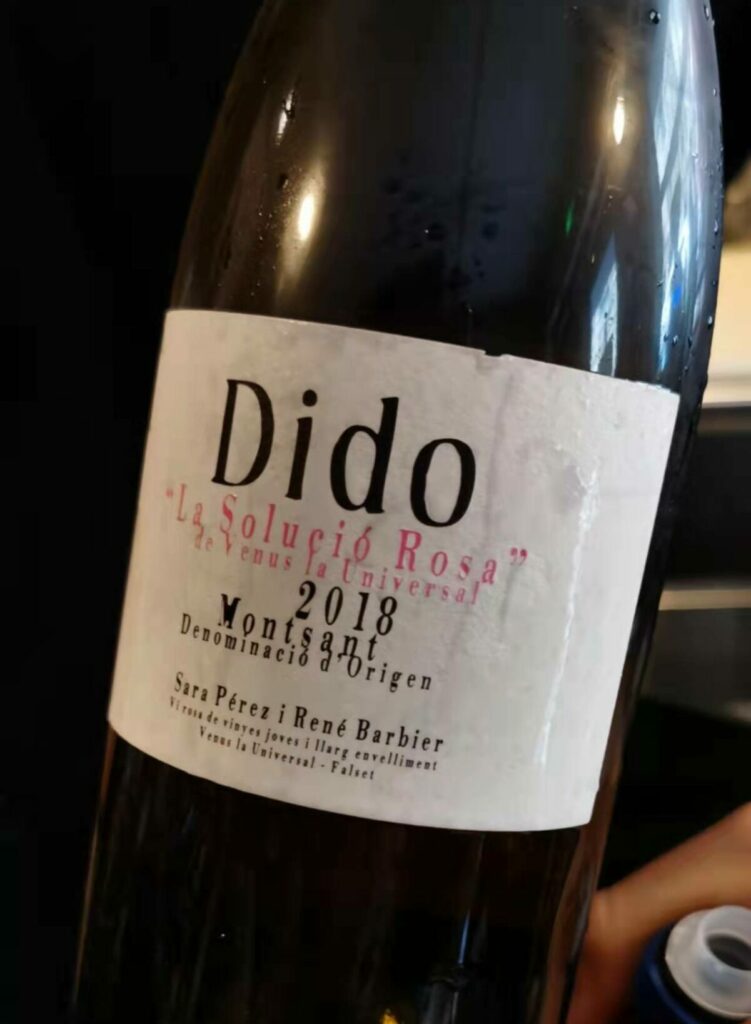 When it comes to wine, wife and husband team of Sara Pérez and René Barbier can seemingly do no wrong and the wines of Venus La Universal provide ample proof in this regard. White, red or rosé, you want drink too many better wines than this one in the year ahead. Granted, the 2019 is now available, but do whatever you can to latch on to a bottle of this 2018, most likely still available in better restaurants. Made with Spain's many different colour-coded Grenaches (Garnatxa) guaranteeing volume and density but with a touch of Tempranillo for alcohol and Carinyena and Macabeo to improve acidity and freshness, plus other grapes still, this is an extremely serious rosé wine that is packed with flavour, ultra-suave and super-fresh at the same time.
Château Carbonnieux 2018 Château Carbonnieux Blanc (France)      92
Ridgeview NV English Sparkling Wine Traditional Method Brut Bloomsbury  (UK)      92
This is a smashingly good sparkler that gives many more famous bubblies a run for their money. Pale straw yellow in colour with tight medium-small bubbles. Aromas of citrus fruit, yellow apple, melon and honey. Light and lively but not angular, with creamy floral and fruity flavours that are mellow (the 9 g/L dosage helps) and very clean. Lovely to drink gulp by gulp! This is a 48% Chardonnay, 31% Pinot Noir, and 21% Pinot Meunier blend. Located in the beautiful countryside of Sussex, Ridgeview is one of the oldest English sparkling wine producers and one of the first to bet wholly on vinifera varieties such as Chardonnay, Pinot Meunier and Pinot Noir.
Veuve Ambal NV Crémant de Bourgogne Brut Grande Cuvée (France) 92
Vincent Pinard 2020 Sancerre Florès (France) 92
Made from what are by now close to 30 years old vines planted on the famous caillottes soil of Pouilly-Fumé that guarantees a noteworthy freshness and mineral precision to the wines, Florès is neither the most important or deepest of the many different Sauvignon Blanc wines that Pinard makes but it's certainly the easiest to like and understand. Lovely floral brightness and orchard fruit crunchiness on the nose and on the palate, with harmonious acidity nicely extending everything. Minimal intervention viticulture and winemaking here (no pesticides used).
Domaine des Carlines Savagnin En Beaumont Côtes du Jura (France) 91
Amirault 2018 Bourgueil Cote 50 (France) 91
Domaine Cauhapé Jurançon Moelleux Ballet d'Octobre (France)         91
Hermann J. Wiemer 2017 Riesling HJW Bio Seneca Lake Finger Lakes (USA)       91
Pretty straw-green in color and boasts archetypal Riesling aromas and flavours. Crystalline-like nuances of green apple, pear, jasmine, minerals and lemon verbena greet the nose and the taste buds and linger impressively on the long nicely ripe finish. The grapes were picked on October 16 and 26, 2017, whole cluster-pressed and fermented with indigenous yeasts. Clocks in at only 3 g/L residual sugar but while not falling over into the "off-dry" camp, it does not taste classically dry either because of its ripeness of fruit and succulent nature. Blessed with lively but well-integrated acidity, this is fresh enough to serve as a lovely aperitif but structured and weighty enough to pair well with fish and simply prepared white meat dishes.
Grace 2020 Koshu Private Reserve Toriibira Vineyard (Japan)   91
Pale straw-green. Crystalline like aromas and flavours of nectarine, green apple and minerals. Bright but harmonious acidity extends the flavours on the suave back end. Not the most concentrated wine you'll ever drinbk but beautiffully balanced and very pure. From Japan, a singular product that is one of the better, more elegant and precise, Koshu wines I have tried. This is made from grapes sourced in the top Koshu producing region of the country, in Japan's Katsanuma area on southwest facing slopes at about 450 meters asl (the altitude is important to rein in this variety's natural tendencies to give high yields).
Alvaro Palacios 2020 Camins del Priorat Priorat (Spain) 91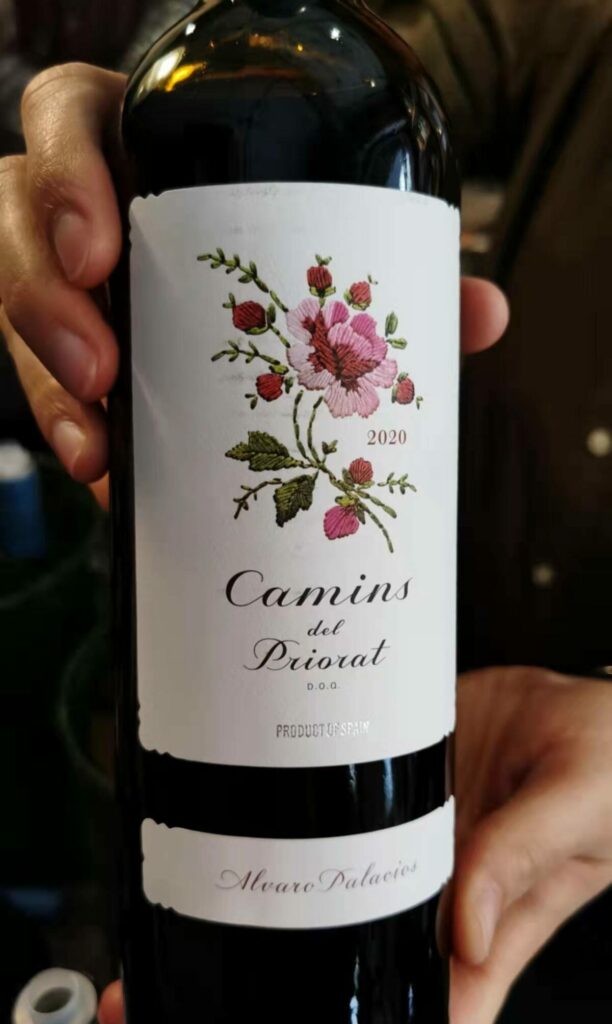 It's just too easy to always write about l'Ermita or the other many great and super famous wines by Alvaro Palacios. At the same time, you'll have a hard time finding and tasting any red wine this year that is more fun and enjoyable than this one, bright, brambly, juicy, suave, crammed with fruit, and dangerously easy to drink, not to mention extremely well-balanced, the 2020 Camins del Priorat from Alvaro palacios is a joy from start to finish. For sheer yumminess in the glass and considering its cost, then this deserves 100 points! A 40% Grenache, 20% Carignan (Carinyena), 15% Cabernet Sauvignon, 15% Syrah and still other varieties planted on broken, loose llicorella slate and sourced from the territories of eight villages in the Priorat, this was aged roughly five months in used oak barrels and vats.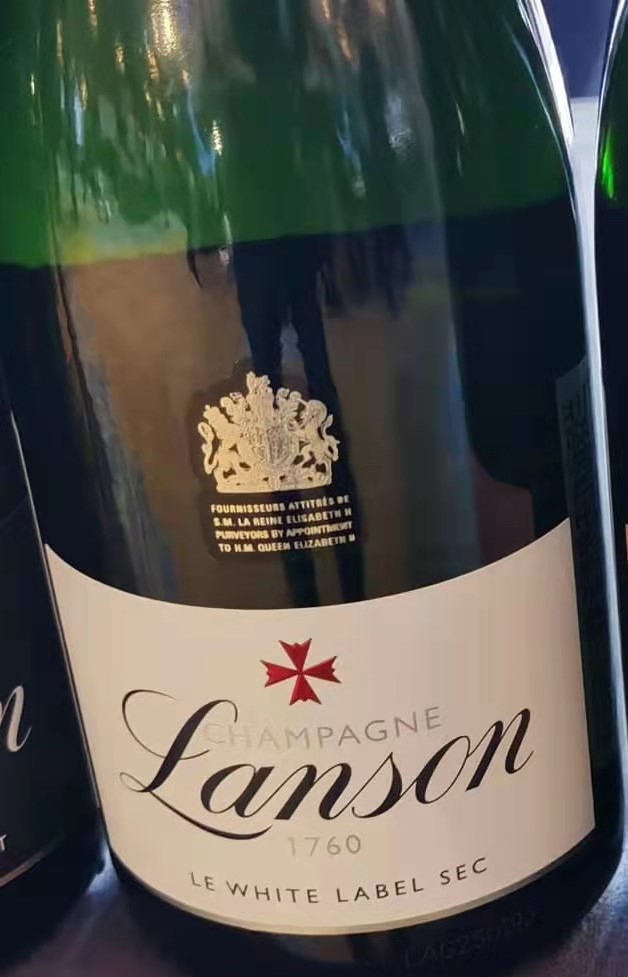 Lanson NV Champagne Le White Label Sec (France) 91
Vaeni 2016 Xinomavros Damascenos Naoussa (Greece)        91
Bright red with a garnet tinge. Aroams and flavours of red cherry, plum, smoke, herbs, mushrooms and even a curious hint of tomato paste. Then long and fresh with very good but harmonious acid cut lifting and extending the flavours on the ripe but lifted finish. This not only looks like a little like a Nebbiolo wine, it smells and tastes a little like one  too, but is made with Xinomavro planted in Greece's Naoussa appellation, one of the country's most traditional and interesting, located close to the northern border next to Macedonia. Blessed with a Mediterranean Sea area-type climate, but where the heat is buffered by altitude of the hills, the vineyards are planted on the Vermio mountains south-eastern slopes at about 200-500 meters asl. Very well done here, this is a very successful, characterful red wine.
Horst Sauer 2020 Müller Thurgau Escherndorfer Trocken Franken (Germany) 91
Horst Sauer is one of the greatest sweet winemakers in the world (his Sylvaner BA and TBA wines are unforgettable, and his Rielsing aren't exactly slouches either) so it's almost unfair to talk about a lowly trocken bottling when anyof the stickies would have palced much higher on this list. But fact is, Sauer is gifted with Muller Thurgau as well, and his wines from this variety are endowed with a liquid minerality and pure ripe orchard fruit, as well as being amongst the crispest and freshest such wines you'll ever come across. Muller Thurgau is an extremely underrated variety and it deserves to be better-known and tis wines appreciated. This is a very good address to start doing that at.
Helan Qingxue Vineyard Winery Jiabelan 2020 Rosé Ningxia (China) 91
Very pretty salmon pink colour. Captivatingly floral nose hints at iris, lemon verbena, rose and violet. Very sweet on entry (10 mg/L r.s.) then fresh and austere in the middle and on the finish, though this still come across as off-dry bordering on the sweet  (in fact, the winemaker told me she drinks this with fruit and desserts). It's really very good as it is so I have nothing to criticize, but I just wonder if it might need to be just a little classically drier to meet success on international markets. 100% Cabernet Sauvignon from free run juice (the estate last made a Rosé last made in 2018, and then back it was a 100% Merlot; in 2014 it was made from Cabernet Franc).
El Maesto Sierra Amontillado Vejez 12 Anos (Spain)                            91
Absolutely lovely Sherry that will undoubtedly convert quite a few of those who try it to the magic of Sherry. Especially complex due to its two ageing processes, that due to time and controlled oxidation thanks to the formation of the surface film of yeast called flor. After spending the first six years of its life in the criaderas system, the wine is then fortified to about 17% alcohol by volume and aged again at length such that the oxidation process can take over, and in so doing contributing nuttiness and herbal complexity. 100% Palomino.
Valduero 2015 I Unacepa Crianza Ribera del Duero (Spain)   91
A medium-bodied, but fleshy-rich wine that is well balanced wine and offers hints of toasty oak, mint, and dark berries. Finishes long and saline, with hints of potpourri and tar. High quality Tempranillo aged eighteen months in a mix of American and French oak.
Tiansai Vineyards 2021 Chardonnay Muscat Skyline of Gobi Festival Year of the Ox Yanqi (China)  91
A curious blend of Chardonnay and Muscat that actually works well, with the Chardonnay gaining aromatic lift and the Muscat a note of finesse: it all ends up adding to a Viognier-like entity. Bright ripe and glyceral, but with bright acidity nicely framing the fruit and spice flavours on the long mellow finish. Very nice. The cartoon like label is a hoot and fun to read; last years, it was dedicated to the year of the ox (Chinese calendar) and this year's will depict a tiger.
Jean-Luc Colombo 2018 Picpoul de Pinet Les Girelles (France)                         91
Bright straw-yellow in colour with greenish tinges, it offers a very perfumed nose of white flowers, lime, wild fennel, and minerals. It enters fresh and juicy, with mellow flavours of stone fruit and botanical herbs (lavender, pine, thyme: the presence of pine notes cannot surprise given all the Mediterranean pines that surround the vineyards) that are nicely supported by a lively structure and good acidity. I especially like this wine's fruit-acid balance (the acidity speaks of the stony limestone-containing soil), not to mention its length, really rather remarkable for such an inexpensive wine. Drink up. Perfect as an aperitif to be enjoyed all summer long, this precise, focused Picpoul de Pinet is not the alst word in complexity or size, but will marry well with shellfish, fried calamari, crab cakes as well as soft sell crabs, and simply prepared fish dishes. The name "Les Girelles" refers to the Rainbow Wrasses, a local Mediterranean fish that is depicted in a stylized form on the label. (Tasted twice with slightly different scores, so this time around my score is an average of the two).
Garzón 2016 Tannat Single Vineyard (Uruguay) 91
Alejandro Bulgheroni and his wife Bettina catapulted their Bodega Garzón into the world stratosphere of quality wines in a relatively short time, and wines such as this one go a long way in explaining why (with over 1600 hectares planted to the variety in Uruguay and the grape having adapted perfectly to the local climate and soils, there are actually many different expressions of Tannat wine in the country). Farming coastal vineyards of Maldonado and contributing to the undeniable success that Tannat has been in Uruguay, Bodega Garzón produces a number of outstanding Tannat wines (for example, their 2016 Reserva is also outstanding). Bright and seamless but with real underlying depth and power, this dark-berried, licorice and mineral-laced red will prove a favourite at lunch and dinner each and every time
Larmandier-Bernier 2013 Champagne Extra Brut Blanc de Blancs Les Chemins d'Avize (France) 91
Niepoort 2020 Loureiro Dócil Vinho Verde (Portugal) 91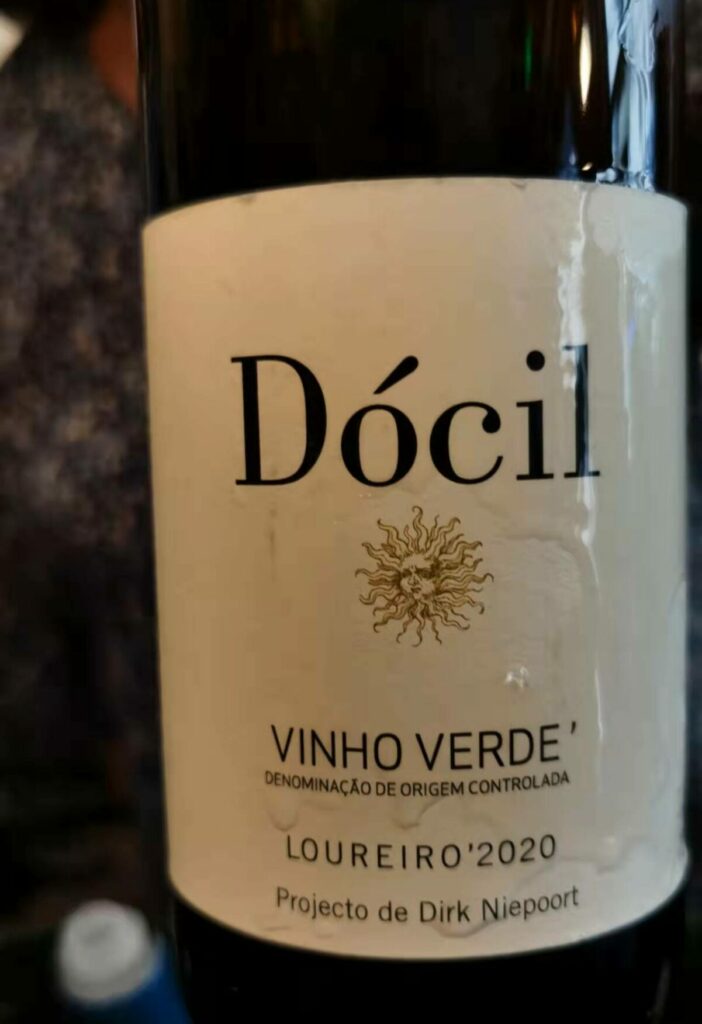 A Dirk Niepoort project, with pretty and very expressive floral and mineral nuances tied together by fresh white fruit echoes, this lovely wine showcases well the acidity of the thin-skinned Loureiro variety (most common in northern Portugal but over in Spain's Galicia as well) while delivering flesh and depth at the same time. The roughly 25 years old vines grow on mostly slate soil and the wine sees no oak (aged in stainless steel).
Château Roc de Cambes 2017 Cótes de Bourg (France)   91
Loimer 2019 Grüner Veltliner Langenlois Kamptal (Austria) 91
Loimer is always a sure bet for quality at a fair price and I never pass ion the chance of tasting one of his many excellent Riesling or Grüner wines. This was shows a soft peachy fruitiness and sweet mentholated herb note on entry, then riveting mineral clarity with savoury flavours of fruit (green apple, lime) and vegetable (radish and rocket), with the unmistakable, very varietally accurate, white pepper spiciness. Loimer has been farming biodynamically since 2006 and is a pioneering member of the Respekt group of similarly-inclined winemakers.
Erath 2017 Pinot Gris Oregon (USA)                         91
Founder Dick Erath, whom I first met at the International Pinot Noir Celebration held in McMinville, actually begun making wine in California in 1965, only to relocate to Oregon in 1968 (premium wine production was launched in 1972, and the winery building was built in 1976). After decades of success, he sold the estate to Ste.Michelle Wine Estates in 2006, but quality at Erath remains just as high as it was under him (this despite a huge increase in production volume, but Ste.Michelle is especially adept at producing large volumes of fine wine and wine lovers know that even its entry level wines are often remarkably good buys). This is an example of what I mean: bright lively and juicy, it is a very varietally accurate wine that speaks of high-quality Pinot gris. Suave and fresh, rich yet light, this will; pair very well with many different fish and vegetable dishes but has enough backbone to go, in a pinch, with white meat dishes as well.
Vera de Estenas 2018 Bobal Utiel-Requena (Spain) 91
This simple, fresh, juicy wine is an absolute joy to drink. Bright ruby-purple in colour, it dances lightly on the glass and doesn't coat the sides implying a fresh drink is coming up. And fresh it is. Dark plums, blackberries, nutmeg, herbs are nicely complicated by touches of earth tones and violet. There's lively acidity to the dark berry and plum flavours, nicely complemented by notes of rhubarb and baking spices. Closes long and juicy. Made from 50-100 years old vines grown on clay-limestone this was fermented in concrete and used American barrels.
Bodegas Breca 2020 Garnacha de Fuego Vino de Aragón   (Spain)                   91
The colour is a deep, almost impenetrable bright purple-ruby. Aromas and flavours are literally in-your-face fruity and juicy, with hints of ripe blueberries, dark plum and cherry, coffee, and enlivened by lively but harmonious acidity. The wine is soft, supple and virtually tanninless, as any self-respecting Garnacha wine will tend to be
This lovely red wine is made with 100% Garnacha de Aragón, reportedly the world's oldest Garnacha biotype, grown in the Barranco de la Rambla, Cerro Verde, Cerro del Cura, El Plano, La Laguna and other vineyards, planted between 1945 and 1985. It's really an easy-drinking gem: soft, round supple, liquid gem, and very inexpensive one. The majority of the vineyards receive no treatments and see minimal human intervention, and are planted on mostly iron-rich red and black slate and quartz soils, with a thin calcareous layer. Natural yeasts, stainless steel and concrete tanks are key winemaking ingredients.
Cape of Good Hope 2020 Chenin Blanc Riebeeksrivier (South Africa)          90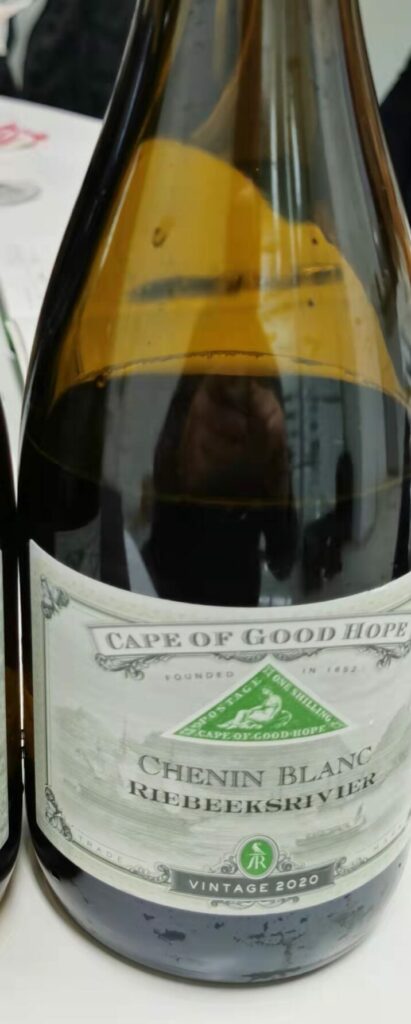 Green and yellow apple, a hint of beeswax and labnolin, plus a lift from lemony freshness. Easygoing and simple, but with good fruit presence and lovely balance, though it's initially a little reserved. Will remind you more of Chenin Blanc after you give it some time in the glass to aerate.
Mission Estate Winery 2020 Gewürzraminer Hawke's Bay (New Zealand) 90
Domaine Belargus 2018 Savennières Gaudrets (France)   90
Au Bon Climat 2019 Pinot Noir Santa Barbara County (USA)          90
Need a good food wine? Look no further, the Au Bon Climat 2019 Pinot Noir Santa Barbara County will match heavenly with just about anything you decide t throw at it, from pasta to piazza to salmon to wild game, just paly around with the temperatures and you and the wine will be just fine. More than fine actually, because this is really a lovely tipple. Deep ruby with purple tinges., it offers aromas of fresh strawberries and blackberries aromas nicely complemented by smoke and herbs. Then very similar flavours to the aroams, complicated by hints of anise and sage, plus cinnamon and clove on the long back end.
Malivoire 2019 Pinot Noir Mottiar Beamsville Bench (Canada)          90
Bodega Noemia Malbec A Lisa Rio Negro Patagonia (Argentina)   90
Bodegas Terra Gauda Albariño Abadía de San Campio Rías Baixas (Spain) 90
Domaine d'Ourea/Adrien Roustan 2019 Vacqueyras Blanc (France)          90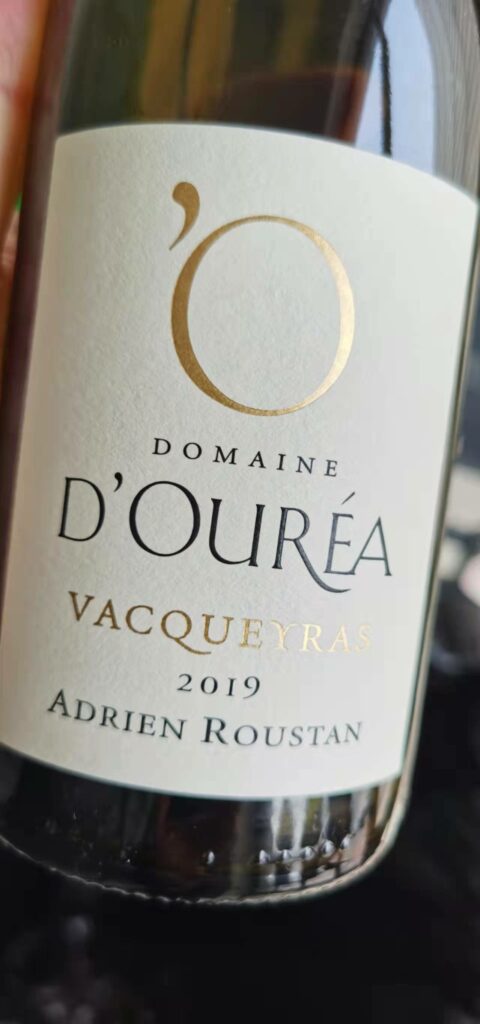 Made from only 30 ares (100 ares are equivalent to one hectare), this 80% Clairette and 20% Bourboulenc blend is aged in oak but the oak is only minimally evident. The wine shows bright apricot, orange and herbal nuances on both the nose and in the mouth, complemented by minty notes of garrique. Rather full-bodied as any self-respecting southern Rhone white wine ought to be, its is nonetheless blessed with lively, even sharp acidity that makes it seem a good more light on its feet than the ripe nose suggests. Domaine d'Ourea is located in the heart of the Vaucluse department in the southern Rhône Valley, opposite Mont Ventoux and the Dentelles de Montmirail. The Domaine is about 20 hectares large and divided between Vacqueyras and Gigondas, producing wines from different appellations including Gigondas, Vacqueyras, and Côtes du Rhône. Certified organic since 2012, the wine is worked as naturally as possible; still, the wine is clean and precise and though it may not be for everyone given it still finishes with the typical acid angularity of many a natural wine, it is not at all flawed or bothersome.