2018 Raen Pinot Noir Royal St. Robert Cuvee                                  94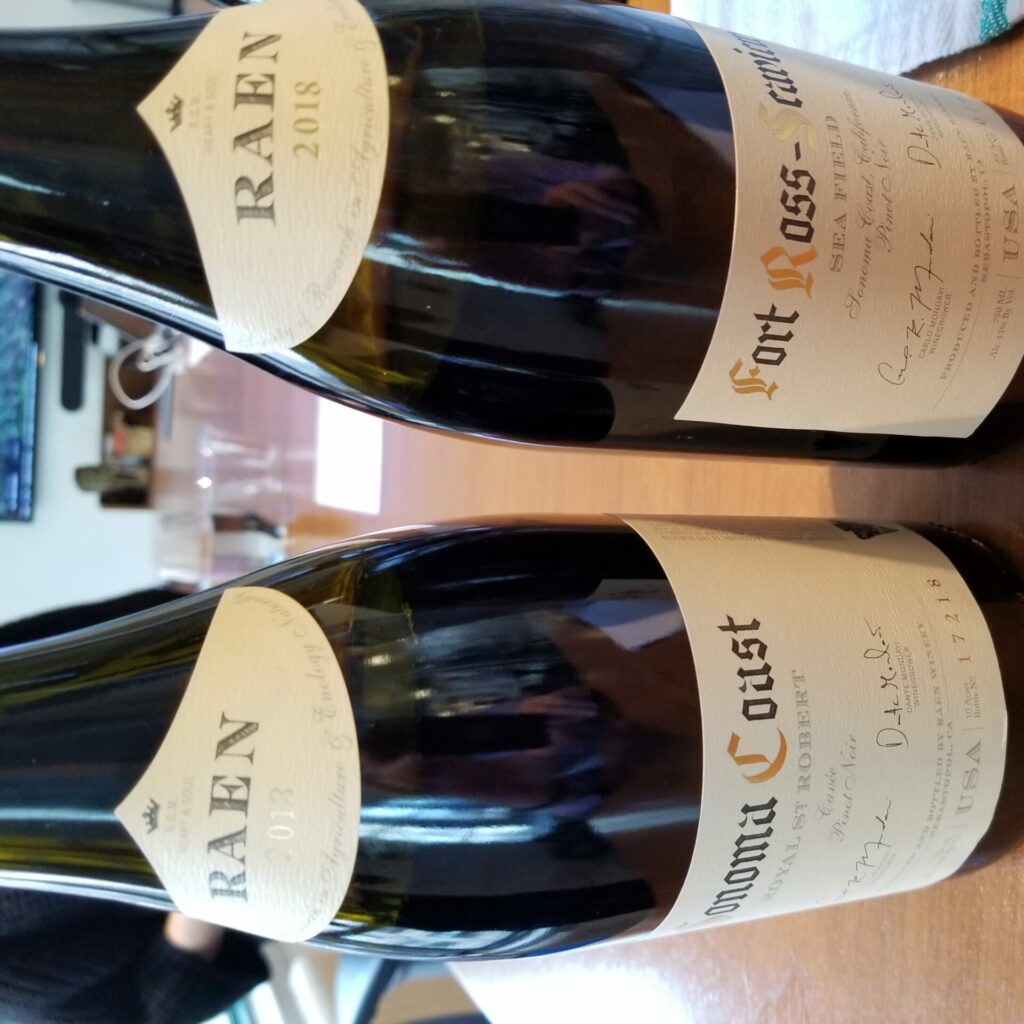 by Robert Millman
I recently had the great pleasure of meeting Robert Mondavi's grandson Carlo Mondavi who, with his brother Dante make 4 superb Pinot Noirs from Sonoma Coast vineyards. Their first vintage was 2013. The Mondavi brothers own about 17 acres of vineyard land from 3 Sonoma Coast sites. Their largest production is a blend from these vineyards dedicated to their famous grandfather. Hence the name Royal St. Robert. The name Raen, pronounced rain is an acronym for Research in Agriculture and Enology Naturally. To quote their website " our name reminds us that wine was rain first. It only becomes wine in our vineyards after being filtered by the rocks taken back up by the vines and sweetened by the sun." I fear that many of us forget just how important rain is for the wines we love: Most dry wines are about 84% water! Vintages with insufficient rain-fall make for wines with high tannins and a dry finish which rarely goes away. Too much rainfall produces dilute wines. There are few vintages in which nature gives growers just the right amount.
The Mondavis make almost all of their Pinot Noirs with 80-100% whole cluster fermentation. This has become more and more common in Burgundy, the northern Rhone and the west coast of America. According to Carlo Mondavi, who showed me photographs of fermented whole bunches, it is not about capturing stem favors and spices per se but about the complexity of fruit favors that whole bunch fermentation permits. Complexity, variety of flavor and finesse are essential to first rate Pinot Noir. Carlo and Dante use only older barrels for aging their wines—typically for 20 months. The cool climate and abundant breezes along the Sonoma coast contribute significantly to the freshness, energy and elegance of the RAEN wines.
The 2018 Royal St. Robert is the first RAEN Pinot I have tasted. It was almost impossible to put the glass down. The airy aroma which levitates from the glass is most engaging. Cherries, boysenberries, cranberries with an underlying suggestion of earthy spices swirl delicately. An undertone of rose petals and tea, characteristics of stems, balances the natural sweetness of the wine. This elevation is evident on the palate as well. This is wine which may be liquid in form but which wants to transmute into air. The wine is both penetrating and elusive at the same time. After the scorching heat of 2017, the cooler summer weather was a blessed relief. Famous wine maker Paul Hobbs called 2018: "the most benign growing season in over 40 years." I might add that even in very warm vintages, the Raen Pinots rarely exceed 13% alcohol: enough for sufficient volume without detracting from those subtle aromatics which are essential to the Raen wines. I will end by saying that I do not like all the Sonoma Coast Pinot Noirs I have tasted. Some are lean to the point of anorexia. There is nothing of this anti-sensuality in the Raen Pinot Noirs!  Drinking Window: Now – 2028.
Robert Ampeau 1990 Savigny-les-Beaune Burgundy                                91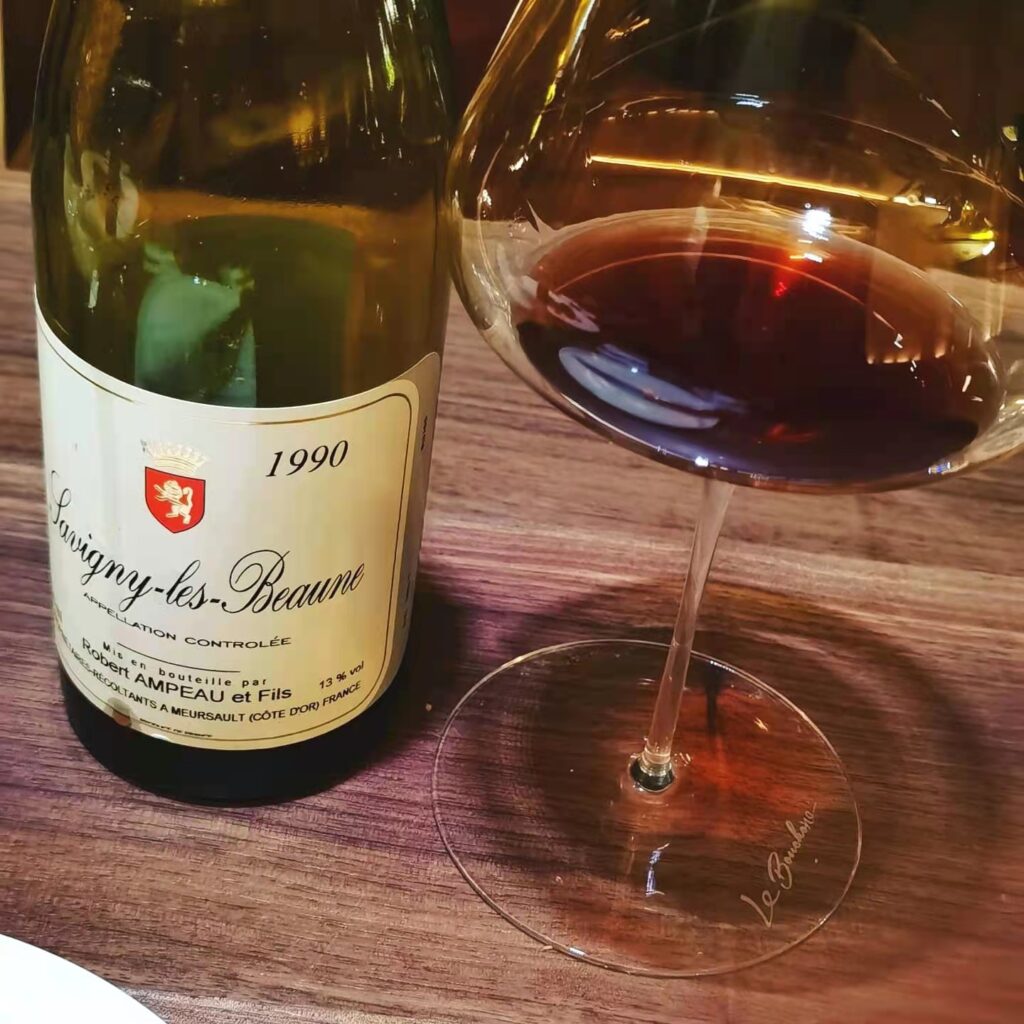 by Ian D'Agata
Robert Ampeau is well-known among Burgundy aficionados for making wines that age remarkably well. You might say that the concept of "current release" has never been mastered by the fellows running this winery, given that you'll never see anything released from Ampeau with as little as two or three years of age on it. Most wines that are available for sale now date back to the 90s, and older vintages are easy to come by as well. The wines are now made by Michel Ampeau, who took over when Robert passed away in 2004. He makes wines from ten different premier cru vineyards
All of the above being true, it is only fair to say that not everyone is as equally enamored with the house style. Detractors complain that the wines are often too lean and though still lively, fail to convey much complexity, supporters like the purity and straightforward delivery of fruit that holds up remarkably well even decades after the vintage. Where you'll stand depends in large part of how you like your wines: fruity or steely? Personally, I'm a fan of the estate, but I too draw the line at wines from premier cru vineyard sites that are nowhere near being multifaceted; after all, ageworthines as a selling point can only take you too far. If the wine is shrill and skeletal, no matter how much I can appreciate its purity of flavour, I will be disappointed. Many who love the wines describe them as soft and dense, but I honestly have never found the wines to boast either one of those two qualities in any large or even average amount. What I do find is that Ampeau's wines are remarkably precise and clean, not to mention very pure, and I really appreciate the remarkable freshness they are imbued with even with even twenty or so years of age under their belt: some are more successful than others, and for what it's worth, I have found over the years that the estate excels and really shiens with what might be reasonably thought of as the lesser wines or lesser Appelations. An excellent case in point is the Robert Ampeau 1990 Savigny-les-Beaune, a wine that proved to be fruitier, deeper and more complex than might have been expected from any now thirthy-two years old wine from Savigny-les-Beaune. The latter is a very underrated Burgundy Appellation that boasts some truly excellent premier cru vineyards (think of Les Narbantons, Les Serpentières and La Dominode, and others still), but even the Village-level wines are often remarkably good wines for their price-point. Medium-dark red with ruby tinges and only a very faint pale garnet colour at the rim, the nose starts off herbal and underbrushy, but opens with aeration to showcase pretty aromas of red cherry, tar, violet, licorice and raspberry. Enters with more tar in the mouth, then stays steely and earthy in the middle, but broadens out with soft hints of mushrooms, red cherry nectar, licorice, black pepper and herbs on the lively, smooth finish. The acidity is obvious (early-picked grapes) but well-integrated and guarantees noteworthy lift. The 1990 was undoubtedly a great vintage in Burgundy, which might have contributed to a somewhat fruitier and fleshier showing in this wine than is common with some of Ampeau's wines, and the wine did pick up more flesh and size as it sat in the glass. Clearly, nobody will ever mistake this for the second coming of a Rousseau Chambertin or anything from Gros Frère et Soeur, but the wine was lovely, and became prettier and sweeter with each passing ten minutes or so. And given the very reasonable price I paid for this Savigny, I'd have to say this lovely wine and the Robert Ampeau winery get not one or two thumbs up, but three. Well done! If you plan to open a bottle of this anytime soon, I suggest decanting 45 minutes to one hour ahead (don't get carried away, it's still a 30+ years old wine, so no sense taking any risks). Drinking window: now-2028.