Mission Hill Family Estate 2011 Riesling Reserve Icewine Okanagan Valley British Columbia     92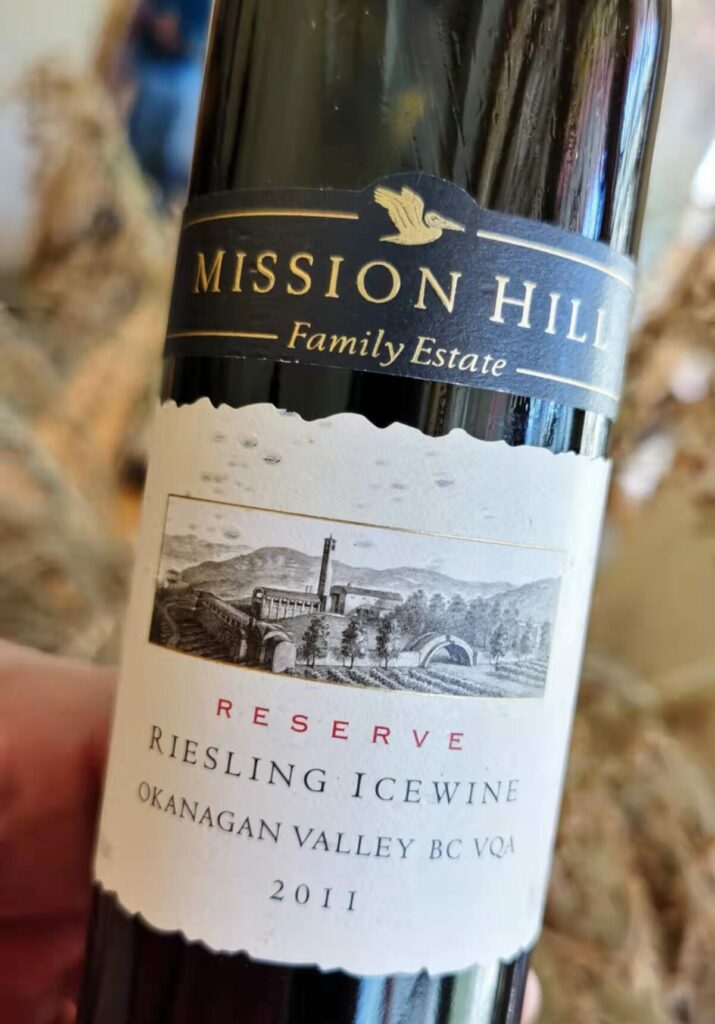 I first met owner Anthony von Mandl many years ago, circa 2001 or 2002 (memory fails me now) in Rome, Italy, when I was still living there. A nice man who was passionate about his love for wine and his Mission Hill estate, I have nothing but good memories of our encounter and his wines that were already quite good back then. Von Mandl is the founder and chief executive of the Mark Anthony Group, that first soared to notoriety and wealth as the producer of Mike's Hard Lemonade, a wildly successful brand of seltzers. The Vancouver-based company distributes wines, spirits and beer and owns numerous wineries in Canada's beautiful British Columbia Province, including Cedar Creek Estate Winery, Road 13 Vineyards, Liquidity Wines, Martin's Lane, Checkmate Artisanal Winery, and of course, Mission Hill Family Estate. Undoubtedly, von Mandl is one of the early pioneers not just in the Okanagan Valley, but in Canadian wine, as when he started out in wine back in 1981 with his first winery (in that year, he bought the rundown Golden Valley Wines property, that had been originally founded in 1966 as Mission Hills winery, but failed, and so was bought and renamed in 1970 Uncle Ben's Gourmet Wines, only to fail again and become the aforementioned Golden Valley Wines). In any case, there were only about forty wineries in Canada at the time (there are over 700 today), so characterizing von Mandl as a pioneer of sorts is not at all out of line. Without doubt too is that Mission Hill Family Estate has been the flagship of the wine empire he has since built, a beautiful winery that practices sustainable farming to produce premium grapes wines. Among the numerous wines offered in the estate's portfolio, the Reserve Collection wines are handcrafted from the top 15% estate vineyard grapes and 75% of the same vineyard blocks are used to ensure consistency vintage to vintage. So differently from too many of the world's wine labels on which the world "reserve" means little or nothing, this is not the case at Mission Hill (the winery also has a Terroir Collection and a Legacy Collection of wines made from even more stringently selected fruit and expressing different aspects of BC viticulture and winemaking: for example, each wine in the Terroir Collection expresses distinct viticultural aspects of their vineyard estates). The Mission Hill Family Estate 2011 Riesling Reserve Icewine Okanagan Valley is a good example of the quality wines that are part of the lineup (the estate also released a SLC, or Select Lot Collection, Riesling Icewine from the 2011 vintage), made by/under the supervision of John Simes, the winemaker at the time. This golden-amber coloured Icewine explodes from the glass with aromas of ripe yellow peach, crystallized apricot and wildflower honey, complicated by sweet spices. Very well-balanced, with harmonious, juicy acidity nicely buffering the super-sweet flavours of ripe tropical and orchard fruit on the long, sultry and suave, toffee-accented finish. It's always nice to taste a Canadian Icewine with ten years of age on it as it's not the most common event in the world, and even nicer it still holding up quite well. The 2011 vintage may not have been the easiest more or less recent vintage in B.C., but I'd say this particular wine is quite the success. And though it will live on a few more years without problems in a good cellar, I would suggest drinking up any bottles you may still have sooner rather than later. When a wine is this good and in its peak drinking window, why defer gratification further? I mean, let's face it, Covid or no Covid, life is hard enough. Drinking window: now-2023.
Chateau Mont-Redon1967 Châteauneuf-du-Pape                                          97

Chateau de Mont-Redon has always been one of my favourite Châteauneuf-du-Pape producers as it is a source of well-made, fairly priced wines that never strayed off its course, meaning it never succumbed to "score pressure" by trying to make wines that were too low in acidity, too high in sugar, and jammier than jam. At 100 hectares planted to vines (in fact, the estate grows all thirteen of the allowed grapes included in the Châteauneuf-du-Pape blend), Château Mont-Redon is also the largest private landowner in the appellation. It is a hallowed place in which to make wine, as grapevines grew here already back in ancient Roman times, over 2,000 years ago, planted at the bottom of the hill that gave the name to the Mont-Redon property (in 1344, that "Mourredon", at the time part of the Pope's land holdings, was recognized officially as a vineyard). Today, the property is being run by the furth generation of the Abeille and Fabre families that make outstanding wine from the premium-situated vineyards, planted on a diversity of soils (Alpine diluvium, sand and Urgonian limestone).
As far as glorious old bottles of wine go, the Chateau Mont-Redon1967 Châteauneuf-du-Pape    rates pretty easily at "all-out glorious". Perfectly kept and still vibrant, but with an age-appropriate hint of bricking at the rim, this wine is just about as good as wine can get from start to finish. A heady perfume of ripe red cherries, garrigue, sweet pipe tobacco, minerals, mint and camphor starts things off on the right foot, but the fireworks continue in the mouth where the impeccable acid-fruit-tannin balance drives the ripe, suave floral red fruit and herbal flavours on the long, multilayered finish. When you come across a wine this good, has held up so well for fifty-three years and is clearly not a fake, you can only tip your hat to who made it and say, chapeau!  Drinking window: now-2030.