Château Lafite-Rothschild 1986 Château Lafite-Rothschild Pauillac                  96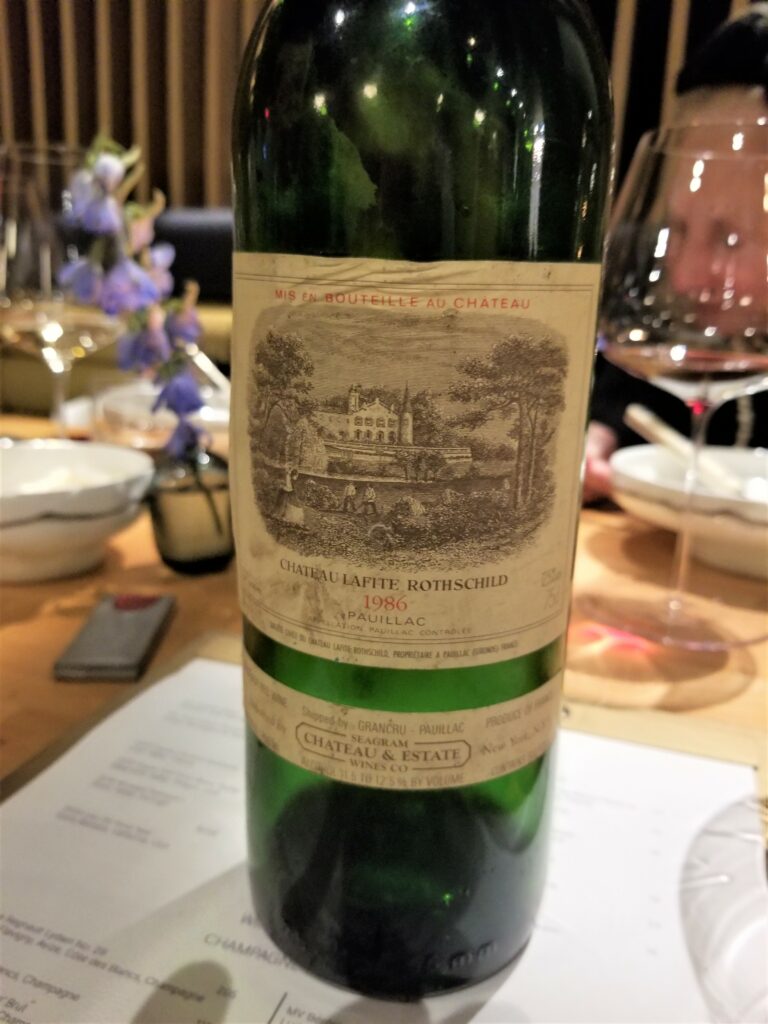 Tasting a mature version of a First Growth Bordeaux is both exhilarating and anxiety-producing. The former because anyone in this situation should be thrilled to have the opportunity—which is hardly an every-day business. The latter because disappointment is always a possibility. We bring a level of expectation to tasting a First Growth that cannot be matched by any other wines. This level of expectation is commensurate with the possibility of the wine not living up to the exalted anticipation. All of this is to introduce my thoughts on recently tasting a bottle of 1986 Chateau Lafite which had been impeccably stored for over 30 years. While a very good vintage for the left bank Bordeaux, 1986 was not, in my opinion, one of the finest vintages in the last 30 years. The long, hot, very dry summer along with a large crop rendered the wines uneven from Château to Château. The selection process of grapes, commonplace in Bordeaux starting with the 2005 vintage, was simply not being practiced to the same degree at that time. The Cabernet-based wines from the left bank were quite tannic from the outset. In fairness, several Chateaux—Mouton and Margaux, notably -excelled in 1986; and initial reviews of Lafite were extremely favorable too. The question now is—how has the wine done after more than 30 years in the bottle? The reader of this report may be wondering if I am about so say that I was thrilled by the wine or that I was disappointed. My answer is somewhere in between. Aromatically, the 1986 Château Lafite-Rothschild Pauillac lived up to the wine's status as one of the great wonders of the vinous world. Indeed, I would argue that it is often bouquet, more than anything else about a wine, that separates the great from the near-great. Lafite has always had one of those mesmerizing noses which make it hard to put the glass down. In this regard, the 1986 lived up to Lafite's reputation: A deep, deep aroma which pulled us right into the very bottom of the glass. Margaux and Mouton may have sexier bouquets, but for depth and concentration, Lafite is unbeatable. While sniffing away, I had the sensation that the factors that go into and make Lafite what it is really start from 100 feet under the surface of the property. Notes of graphite, candied cassis (or confit, if you will), wild mushrooms, and unsweetened chocolate are all held together by a core of crushed coffee beans. Over the course of two hours, that magnificent aroma stayed firmly in place. The wine had been decanted, for those who wish to know, for 2 hours before it was first poured. However, on the palate the 1986 Lafite was not as compelling as it was on the nose, mostly because the fruit has been absorbed into the structure. Very dry and dense, with a dark coffee essence, the most striking aspect of the way this wine tastes was the endless finish. If I abstracted from the wine its bouquet and finish, I would be inclined to rate the wine 98/99. On palate alone, I would say a 93. I rate the 1986 Lafite 96 points, like some other of the world's esteemed wine writers, mostly because of the 1986 Lafite's aromas. I will remember that bouquet as long as my memory is functioning. Drinking window: now-2040.
Hendry 2017 Zinfandel Hendry Blocks 7&22 Napa Valley                            92+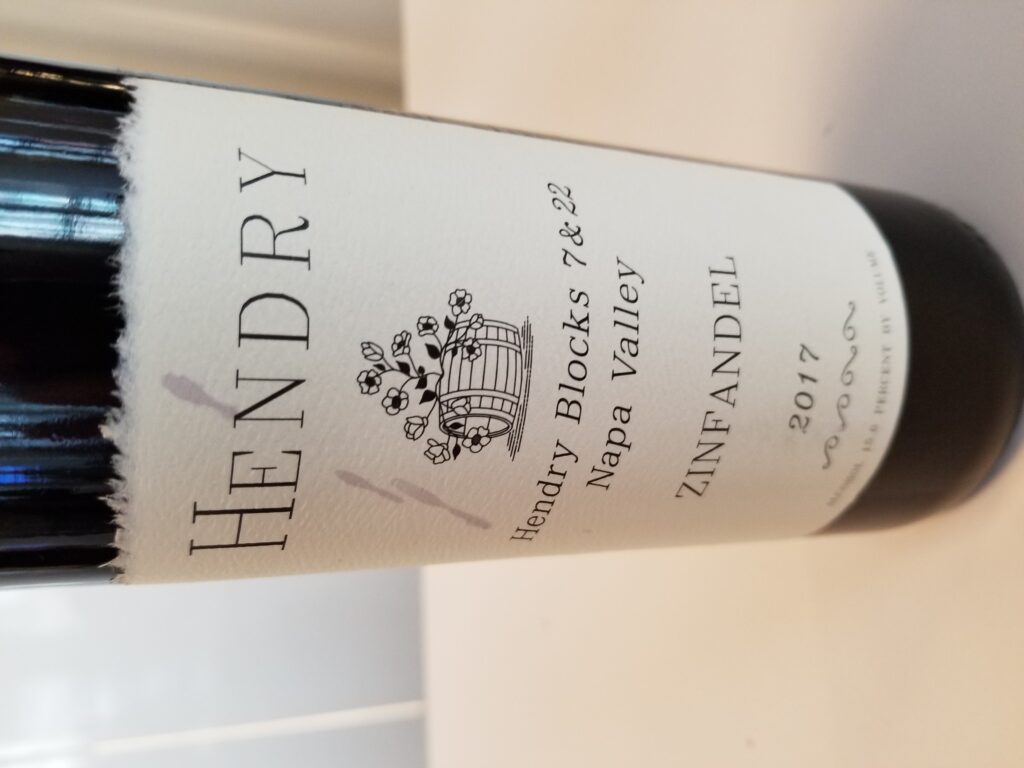 One of the longest continuously operating wine estates in America, the Hendry Ranch in Napa opened its doors in 1939. The Ranch totals slightly more than 82 hectares of which just a tad over 58 hectares are planted to vines. The ranch is located at the foothills of Mt. Veeder. Due to temperate weather and highly varied terroirs, Hendry and his team have been able to grow successfully 10 different grape varieties. George Hendry, now in his 80s, has been at the Ranch from its very beginnings. An unassuming man with old fashioned good manners, Hendry is quite well known as a designer of cyclotrons! Really now, but where else but in America could you find a first-rate vineyardist who happens to be an important nuclear physicist? I have known George Hendry for a decade and I have liked his wines from first sip. His Zinfandels are remarkable for their elegance, not to mention a Cabernet-like reserve and inner compactness. By contrast, most Zinfandels are extroverted affairs with big alcohol and fortissimo levels of expression. Not so with the two Hendry Zins, which demand attention and command respect. Block 7 and block 22 are located on benchlands west of the town of Napa. The nine acres are between 70 and 90 metres above sea level and have thin, stony soils. Block 7 was planted in 1975, Block 22 in 1995. The fermented juice spends 15 months in small French oak barrels of which one third are new, mostly because ripe Zinfandel fruit needs the backbone of French oak.
What a joy to experience a Zinfandel wine which respects the taster without overwhelming the senses! Like many good Zins, the 2017 Zinfandel Hendry Blocks 7&22 Napa Valley offers a potpourri of red fruits animated by a floral top note giving way to a firm yet unobtrusive back bone of ripe tannins which frame the fruit perfectly. After tasting the wine several times, I checked the label for the alcohol level: amazingly, it is 15.6% by volume. Not for one second before or after knowing this level did I think the wine packed so many octanes, and neither did I experience the alcohol's power in the form of say an alcohol-derived heat sensation: An astonishing achievement. Hendry's very fine Albariño and Chardonnay also attest to the man's ability to capture and retain acidity. Alas, the wine press just does not get what makes the Hendry wines distinctive. Those who need to be knocked over with lush fruits and richness can turn to so many other wineries. Those whose palates are attuned to the complexity and restraint of European wines will find much pleasure, both immediate and in the longer term, in Hendry's wines. Drinking Window: Now–2028.