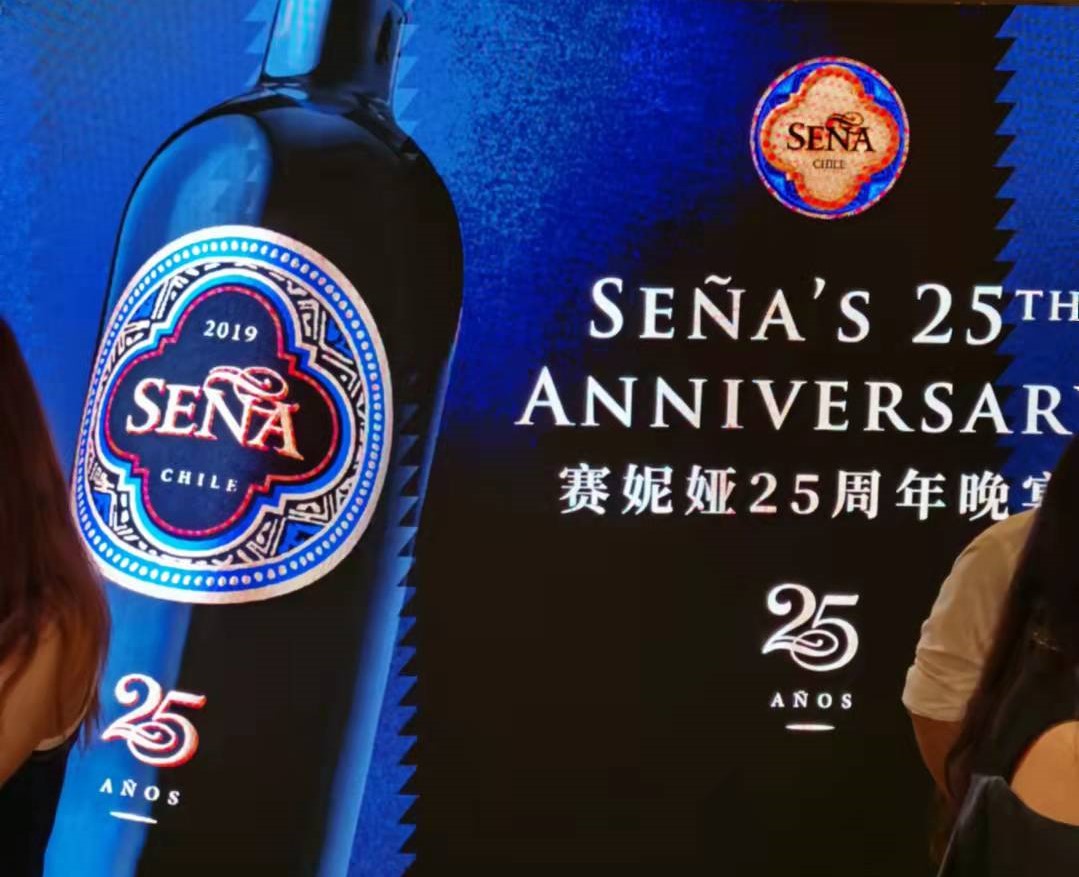 Seña was born in 1995 when Eduardo Chadwick entered into a joint venture with famous American wine producer Robert Mondavi to produce a new Chilean wine that could rank with the best red wines in the world. In fact, this was Chile's first international joint wine venture between famous winemaking families (Chadwick's is Chile's most important winemaking family, active in wine since 1870, and owners of Viña Errázuriz).
Though it might strike one as curious that a modern classic red wine was born by chance, so it was with Seña. Chadwick had always dreamed of producing a world-class red wine that would put Chile on the fine wine map, at least ever since meeting Emile Peynaud in Bordeaux in 1985. Fate would strike under the guises of a family friend and vintner, Agustín Huneeus, who asked him to show Robert Mondavi, the famous California wine producer, around the Chilean wine country, as the American was visiting with his wife Margrit. And so it came to be, on a day in 1991, that while Chadwick was taking Mondavi on a tour of Chile's wine regions, the two began discussing at length the nation's fine wine potential and how this might be best expressed. Apparently, it was Mondavi who felt strongly that the country needed a wine modelled after the greatest red wines of Bordeaux; it followed that either a Cabernet Suvignon- or Merlot-dominant red wine would be the way to go. In this light, it is likely that Mondavi's experience with his own Opus One wine (which began as a joint-venture with Mouton-Rothschild) served the pair well.
Chadwick and the Mondavis scoured the Chilean countryside for a site in which the Bordeaux grapes would not just grow well, but potentially, hopefully, give a truly great wine (by then, Tim Mondavi had also joined in on the fun, and it was reportedly he who insisted on picking a cooler site, which is to his credit, given that it was uncommon to think along such lines back in the 90s). After a four years-long search, the team settled on a specific site in Chile's Valle de Aconcagua that seemed to have real fine wine potential. Undoubtedly, the partnership had hit the terroir-bullseye: Seña hit the ground running, with its very first vintage (1995) reaching noteworthy critical praise and sales. The wine has since gone on to even greater fame, and is now generally credited with being Chile's first "cult" wine. Mondavi last visited Seña in 2003, after which Chadwick continued to run the project by himself and his team, but it is only fair to recognize that the legacy of their original vision lives on.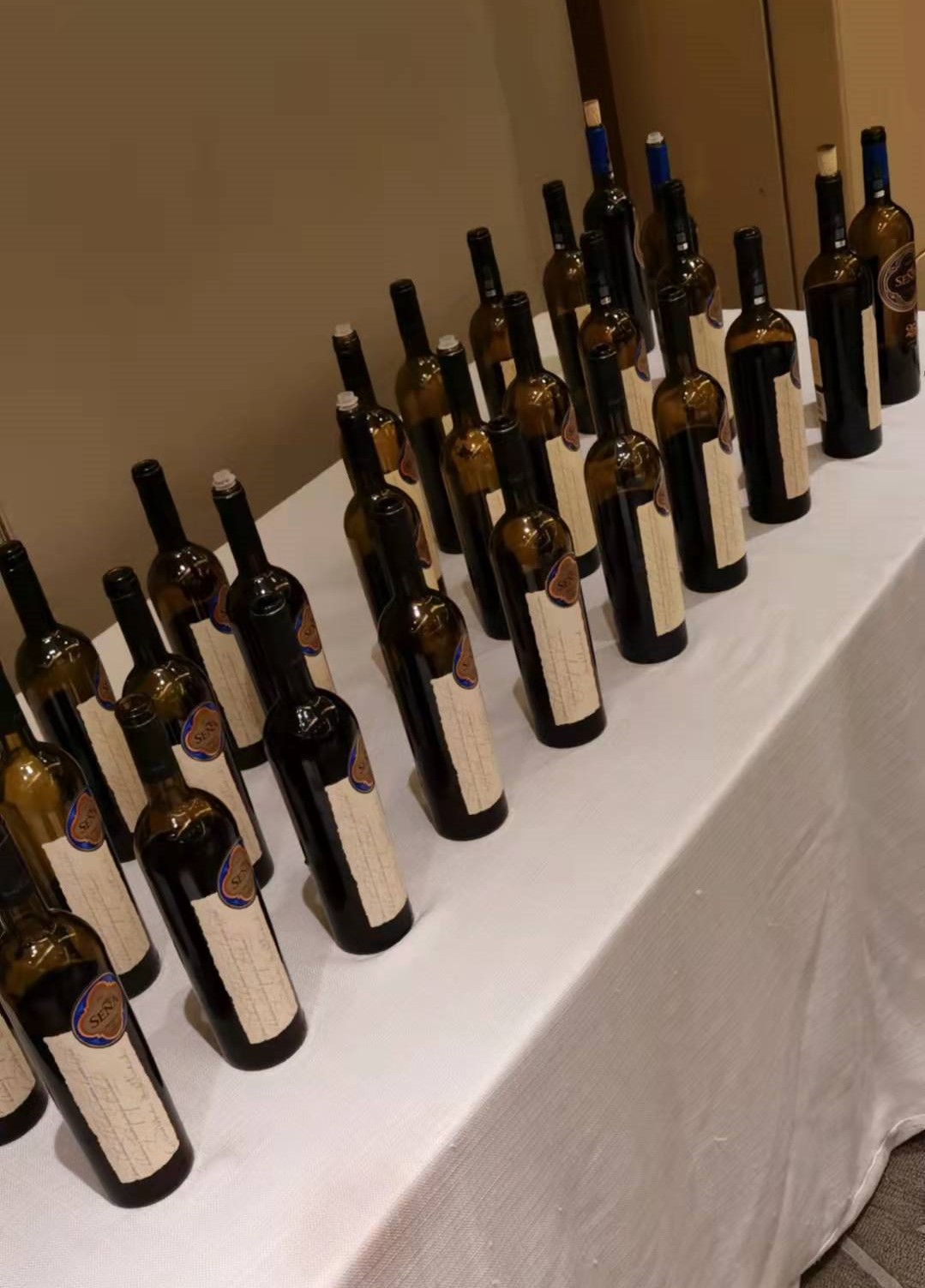 Seña's terroir
Seña is located in the Ocoa coastal mountain range in the Aconcagua Valley, (or Valle de Aconcagua, in Spanish). Part of the Andes mountain range, at 6962 meters, Mount Aconcagua is South America's tallest mountain; actually, it is the second highest of the Seven Summits (the highest peaks on each continent), behind only Mount Everest (8848 meters) in Asia and the fifty-seventh tallest mountain in the world. The valley it gives its name to is an area characterized by a long dry growing season and virtually no disease pressure (Phylloxera is not a concern here). The estate boasts forty-two high-density, steep, north-east facing hectares planted to Cabernet Sauvignon, Carmenère, Merlot, Cabernet Franc, Petit Verdot, Malbec and Syrah. The soil is essentially well-draining colluvium of varying textures featuring a mixture of gravel, rock and loam, with an abundance of many large boulders. Most importantly, and one of the specific reasons as to why Chadwick and Mondavi ultimately settled on this specific area to give life to their vision, Seña is located roughly forty kilometers from the ocean. The combination of the proximity of the Pacific Ocean (and its cooling Humboldt Current), its northern location and the presence of the Andes nearby, means that Seña's mesoclimate is characterized by cooling sea breezes during the day and cold katabatic mountain air at night. This climatic reality is all-important, for it creates a fresher habitat, allowing the estate to harvest later (for comparison's sake, the harvest at Seña takes place two weeks later than in more internal sections of the valley); and so, its Bordeaux grape varieties enjoy greater hang time and are more often than not fully physiologically ripe when picked (the harvest at Seña can easily take place at the end of May, the equivalent of November above the Equator). If you have ever had green Cabernet Sauvignon wines -truly one of the most unpleasant, undrinkable, potions on Earth – you know exactly what I mean and how blessed Seña's geographic collocation is. And last but not least, always a big believer in sustainable viticulture, in 2005 Chadwick converted Seña to biodynamic farming, with the objective of making wines reflecting an authentic sense of origin.
Seña's wine
Grapes at Seña are hand-harvested in the morning, sorted carefully and destemmed. Fermentation occurs in stainless steel tanks at 24-30 degrees Celsius (clearly, this depends on the variety and seasonal conditions, such as microbiological load and alcohol potential), with roughly 6% of the must fermented in new French oak barrels (this is done with the aim of increasing the wine's overall complexity). The wine is then racked to 100% new French oak barrels and aged for twenty-two months, depending on the vintage.
Seña's grape blend is important. Modelled on a Bordeaux style, it has a Chilean soul given by Carmenère and a backbone provided by Cabernet Sauvignon (Carmenère is a traditional grape variety of Chile, and it reaches there its qualitative zenith; differently from what others have written, please note that I do not believe China's excellent Cabernet Gernischt to be the same as Carmenère, but rather that it is a separate variety. See my article: Cabernet Gernischt, a Chinese Wine Grape – out on Friday, September 24, in TerroirSense). Depending on the vintage weather, the Seña blend is roughly 50% Cabernet Sauvignon, 10-20% Carmenère, 10-20% Malbec and the rest Cabernet Franc and Petit Verdot (ver the years, Malbec has gradually replaced Merlot). The variable percentages of Malbec and Carmenère in the Seña blend depend on the vintage's weather patterns; being located at the upper limit of where Carmenère can ripen in Chile  (and in fact it does not reach full physiologic maturity in cold years, despite delaying picking until late April and even into May) Seña's blend will invariably reflect this. Therefore, in colder vintages, the proportion of Malbec is increased in the blend, the Carmenère reduced; and viceversa. Chadwick very neatly summarizes the contribution of each grape variety to Seña: Cabernet Sauvignon is the pillar, Carmenère the signature (meaning that it provides an elegance and an aromatic nuance that speaks of Chile), Malbec delivers chocolaty ripeness (and is early-ripening, something that no farmer will ever complain to you about), Cabernet Franc brings the silky tannins and floral component, while Petit Verdot delivers peppery spices. As mentioned earlier, in past vintages of Seña, Merlot also played a role, but as Chadwick himself says, theirs is not the right terroir for Merlot. "We'll just leave it to our friends at Petrus", he smiles charmingly.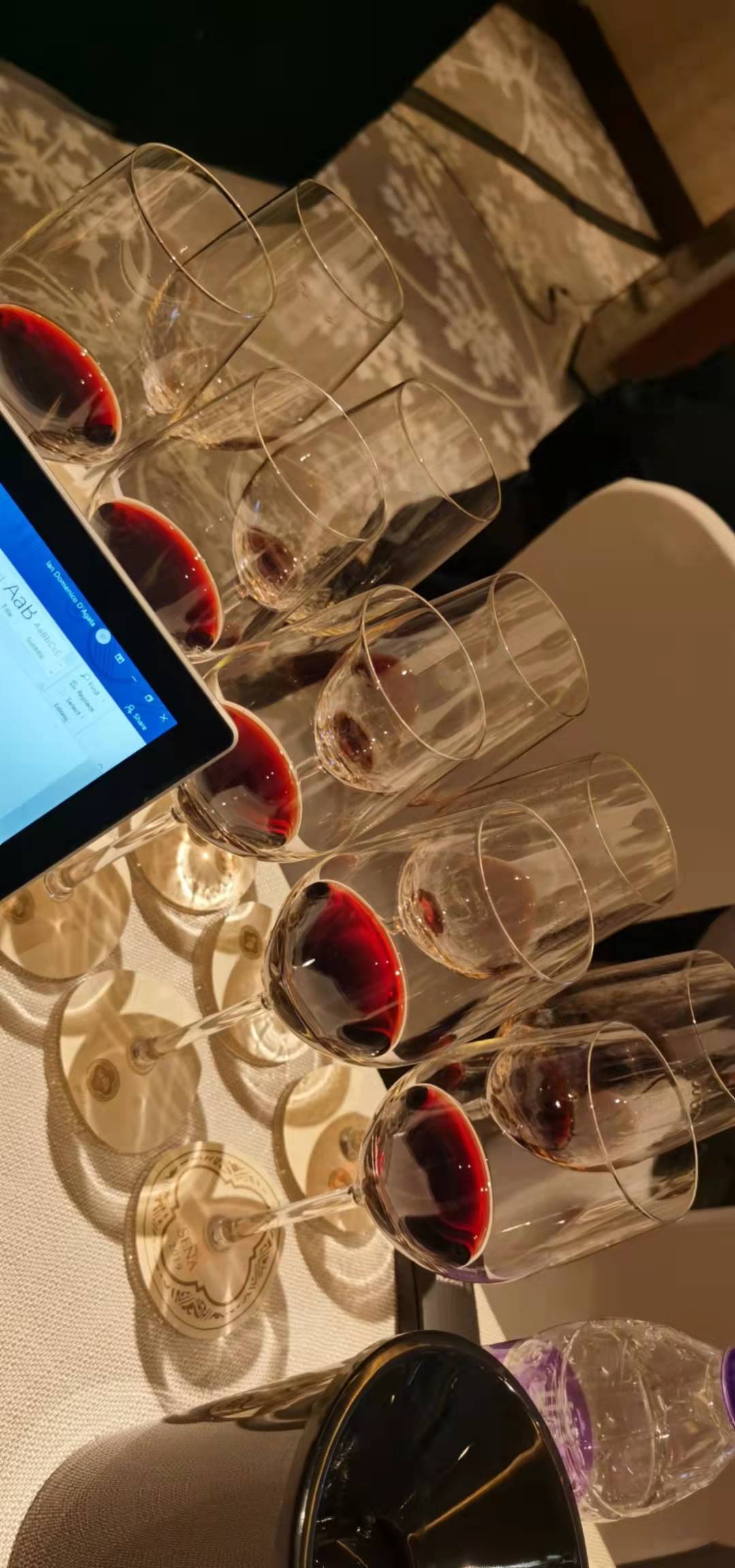 A final word and my impressions of Seña
With the 2019 vintage, Seña is now fully in its third decade of existence. Due to many factors (ownership changes, difficult economic times, loss of or acquisition of vineyards, changes in grape varieties used, changes in winemaker, etc…) it is never so easy to characterize a wine's lifetime; and yet, it is just that easy, with Seña, the wines of which can be broken down in three roughly eight years-long segments. The first segment (1995-2002) of Seña's life was characterized by mostly elegant wines (despite being often made in very hot and dry years) with noteworthy levels of acidity (if you allow me, and you know the Robert Mondavi Cabernet reserves of those years, a Tim Mondavi signature), but also tannins that were more often than not of the noblest kind (working with young vines does mean something). These wines are holding up nicely and are still very enjoyable today, though I always find that younger tasters formed in the modern-day world of riper-than-ripe red wines unfailingly find Seña's wines of those years to be on the slightly unripe, even green side; not so, they are wines of grace and refinement, though clearly they did not have, could not have, the ability to express all that Seña could. For the most part, the wines are quite good and compared to many left bank Bordeaux wines of the nineties are certainly none the worse for wear. The second segment of Seña's triad (2003-2009) was marked by power, with many wines echoing the stylistic choices that were typical of those years in which everyone and their sister was trying to (misguidedly) make the biggest, blackest, structured but jammy wine possible (we'll be charitable and gloss over on why that might have been). The wines are well-made, and though rarely exciting, they are the first set of Seña wines that showcase some real depth and complexity; in short they begin to hint at the greatness that lied ahead. The third decade (2010-today) is where Seña really comes into its own; with the 2010 vintage, the wines become not just gentler in their delivery of Bordeaux blend aromas and flavours, but also a great deal richer, deeper and more complex. Most of all, the tannins enter a completely different stratosphere, one in which silk and velvet abound, and the wines have (mostly but not always) a balance that the just ever so slightly acid-marked wines of the first phase and the overly-tannic ones of the second phase of Seña's existence lacked. It is in the last nine vintages that Seña's best wines were made (which are the 2018, 2010, 2015, and 2013, in that precise descending order).
There is no doubt that, with Seña, Eduardo Chadwick has achieved his dream of creating an iconic Chilean red wine and putting the country on the world fine wine map. Clearly, it's not that Chile wasn't making fine wines before the arrival of Seña on the local and international wine scene, but the country was mostly known for inexpensive, easy to drink quaffers. This is precisely why the wine has the name that it has. Seña, which means 'sign' in Spanish, was chosen to signify and broadcast that Chile could in fact produce world-class wines. And there is no doubt that with Seña, Chile now boasts a highly collectible red wine that famous sommeliers and discerning wine collectors clamor to have bottles of on their wine lists and in their cellars. Twenty-five years of fairly remarkably consistent excellence (as this vertical tasting I report on here for TerroirSense attests) attests to the goodness not just of Chadwick's wine, but of his vision as well.
The following wines were tasted in Shanghai at the presentation of the 25th Anniversary vintage of Seña. To make the tasting more complete, I added tasting notes on three more vintages of Seña (such as the 2000) retrieved from my own cellar.
The wines
1995      Seña Valle de Aconcagua                                         91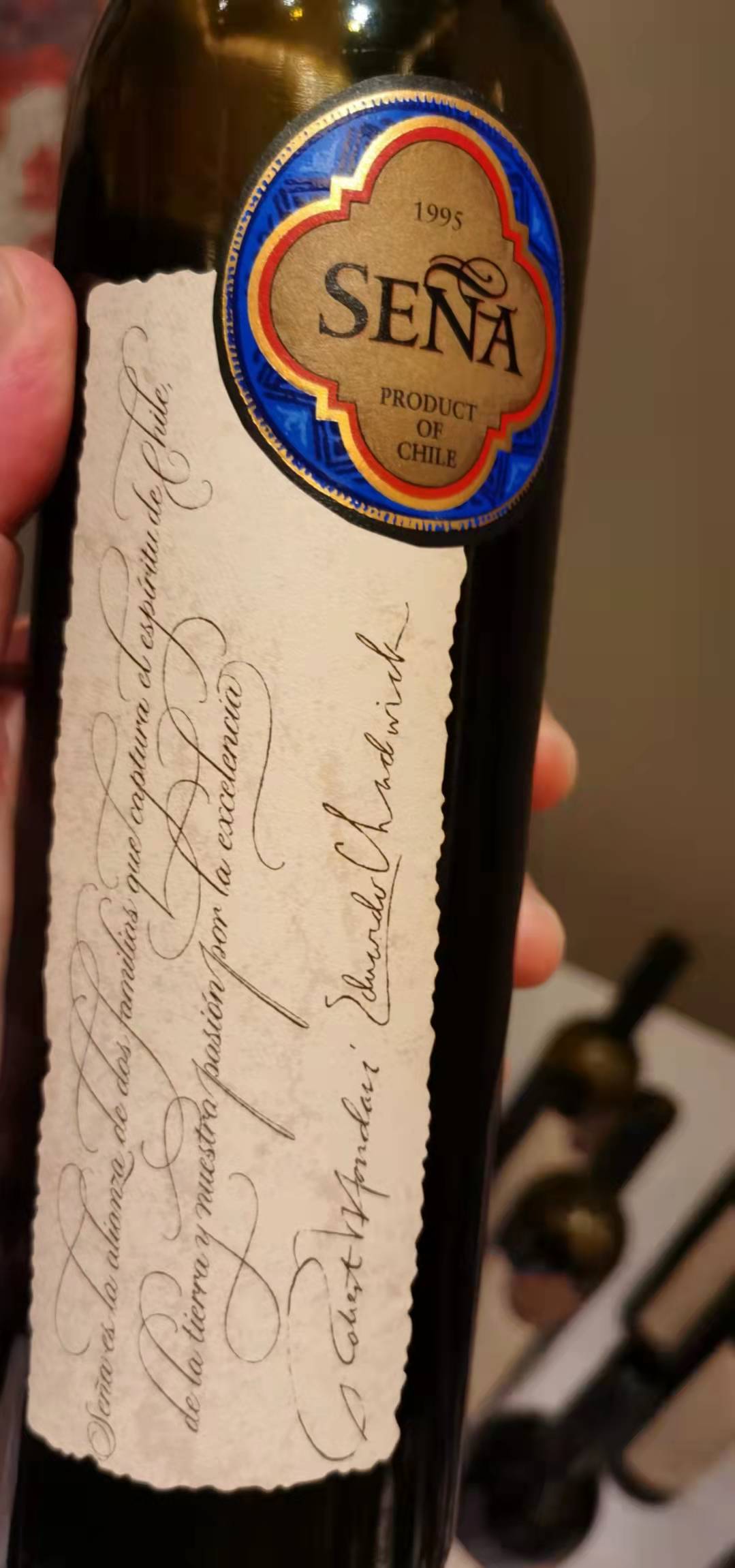 Bright medium-deep ruby-red wine with just a hint of a garnet rim. Mature aromas and flavours of red cherry, tobacco, cedar, plus a strong whiff of herbs, but no jamminess. Very smooth and only a hint of pepperiness on the long and still fresh finish. Blended by Eduardo and Tim Mondavi, the 1995 Seña is a blend of 70% Cabernet Sauvignon and 30% Carmenere that was aged in 100% new French oak barrels for fourteen months. The product of a warm year, I would not hold onto this much longer; besides, it's drinking beautifully now, so why defer gratification? The 1995 vintage featured a rather warm and dry growing season, with a warm spring and moderate summer contributing to early ripening (grapes were picked one week earlier than usual), while the low humidity, absence of rainfall and cool afternoon breezes throughout the growing season meant very healthy grapes. The 1994–1995 season produced outstanding Cabernet Sauvignon and Carmenre grapes that were ripe and rich. Drinking window: now-2026.
1996      Seña Valle de Aconcagua                                         91
Bright medium dark ruby. Aromas and flavours of red cherry, strawberry, graphite, leafy underbrush and coffee. Suave and fresh at once, with excellent length and tannisn given it was such a cold year. The finish features nicely repeating floral and fresh red fruit reminders. This actually strikes me as less evolved than the 1995. A blend of 91% Cabernet Sauvignon and 9% Carmenère (as reported on the website, but during the presentation Chadwik said it was more like 90% Cabernet Sauvignon, 10% Carmenère), this is an elegant, perfumed Seña. A cooler-than-normal season allowed for long hang time and wines of good complexity, so the wines  are ripe but have also very good acidity. Drinking window: now-2029
1997   Seña Valle de Aconcagua                                         92
Deep ruby-red with a pale rim: much darker than the 1995. Herbs, earth and a hint of green bell pepper add complexity and a leafy presence to the violet and cassis aromas and flavours. Given the green edge on the nose, this is surprisingly smooth and ripe tasting, though at only 13.5% alcohol, there's just a hint of alcohol-derived heat on the finish to go along with elements of tomato purée and plums stewed in alcohol. Which features very good lift and lively acidity. Extreme, very dry year, 1997 was the last of a decade of real drought, but though it was dry, it was not especially hot. Still, yields were very low and the grapes showed extreme concentration. But March and April were cold, allowing for a longer growing season and more acidity and brightness in the wine. A blend of 86% Cabernet Sauvignon and 14% Carmenère, this was aged in 43% new French oak barrels for sixteen months. Blended by Eduardo and Tim Mondavi, this showcases the presence of the Carmenère. Drinking window: now-2030
2000      Seña Valle de Aconcagua                                         92
Deep ruby-red. Fragrant aromas of flowers, cocoa and blueberries. Then boasts very good inner-mouth perfume, showcasing a cool creamy texture and outstanding freshness. Finishes long and vibrant, with a highly polished, intense, pure mouthfeel. A blend of 77% Cabernet Sauvignon, 17% Merlot, and 6% Carmenere, it aged for 18 months in 92% new French oak and made in a cooler vintage. Drinking window: now-2027
2003   Seña Valle de Aconcagua                                         89
Pretty, limpid red colour. The nose offers cassis, herbs, and cocoa plus a balsamic topnote from the Carmenère. Enters round and ripe, but also a little chunky, with flavours of peppery spices, coffee and a very obvious Merlot-derived milk chocolate presence, but turns slightly thin and gritty in the middle. Finishes medium-long but not especially smooth. Another very hot dry year, this is a blend of 52% Cabernet Sauvignon, 40% Merlot, 6% Carmenère, and 2% Cabernet Franc, this is a wine made during the decade that saw Seña make bigger and more powerful wines. This is not bad, but there's just too much Merlot in the blend and the tannins just aren't what they should be. The 2002–2003 growing season was affected by a lack of rainfall during the ripening period. Drinking window: now-2028.
2005      Seña Valle de Aconcagua                                         93
Deep opaque ruby-red. Perfumed aromas of strawberry, cinnamon, nutmeg, herbs and earthtones. Lush and dense, with sweet plum, creamy cassis and subtle woodsy nuances linger nicely on the wonderfully balanced, fine-grained and long finish. A blend of 57% Cabernet Sauvignon, 25% Merlot, 9% Carmenere, 6% Cabernet Franc, and 3% Petit Verdot, aged 18 months in 100% new French oak. Drinking window: now-2029.
2007      Seña Valle de Aconcagua                                         92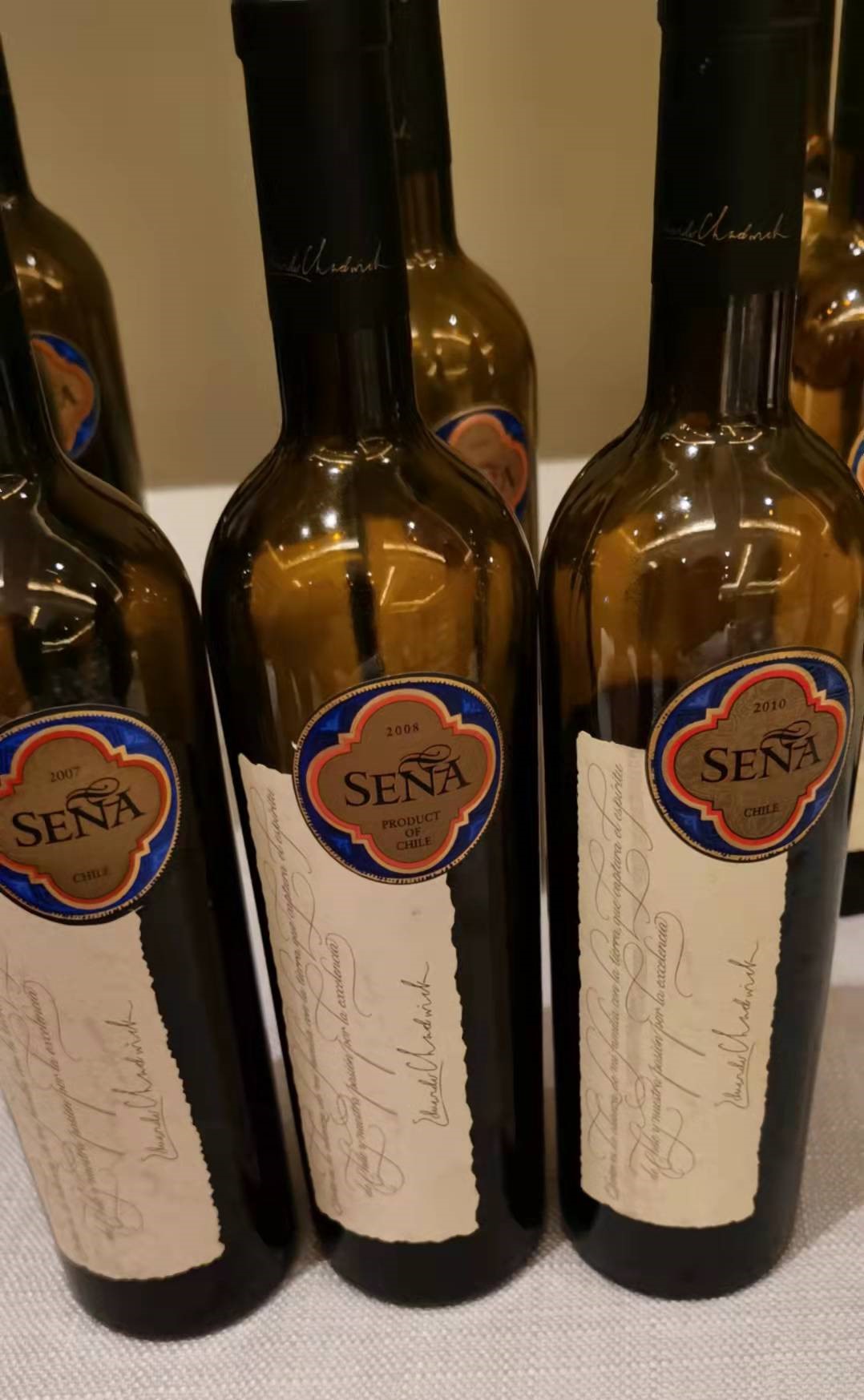 Luminous ruby red. A strong minty note is obvious on the nose, mixed in with licorice, tobacco and herbs and not so fruity as most of the other wines in this vertical.  Then quite saline and downright savoury in the mouth, with a hint of game at the back end that features hints of mulberry, rhubarb and spices. Extremely mouthcoating with excessively astringent tannins, this is big but not especially suave. The 2006-2007 growing season was characterized by a winter that was exceptionally dry, and vineyard fertility was particularly low. The potential for low yields was further aggravated by spring rain that dropped 50 mm on the Valle de Aconcagua during flowering in late October and the subsequent very uneven fruit set resulted in fewer, lighter bunches, and ultimately, lower yields. Fortunately, the summer was moderately warm, which contributed to good tannin evolution and ripening while maintaining acidity and reasonable amounts of sugar in the grapes, but temperatures did drop significantly from April onwards, which slowed ripening and led to a 10-day delay in harvest. This is a blend of 57% Cabernet Sauvignon, 20% Carmenere, 12% Merlot, 6% Cabernet Franc, 5% Petit Verdot. Drinking window: 2025-2035
2008      Seña Valle de Aconcagua                                         89
Medium-deep ruby bit with a large rim; this looks more evolved than all the older wines in this tasting. Sandalwood, onion and faded violet on the reticent nose. Then sandalwood and herbs along with red cherry and spices and herbs (sage, mint), this is layered but finishes very drying. This is another vintage of Sena that strikes me as far too tannic for the amount of fruit it has with not optimally ripe fruit. This left me scrambling for some bread. The 2008 vintage was a very particular one because of El Nino (the temperature of the water warms up, so there's more evaporation leading to cloud formation and rain), so it was a tricky year. It all began with a particularly cold and dry (just 92 mm of rainfall) winter, which continued into a cold spring so that bud break was delayed by 5–7 days. Despite somewhat warmer temperatures in January and February, the season was overall a cold one, leading to a 10–15-day delay in the harvest for each variety. According to Chadwick, the season's greatest challenge was managing vineyard water, and balancing the fruit load per plant to prevent further delay in the ripening process. The 2008 Seña is a blend of 57% Cabernet Sauvignon, 20% Carmenere, 10% Merlot, 8% Petit Verdot, and 5% Cabernet Franc. Drinking window: now-2026
2009 Seña 2009 Valle de Aconcagua                                                           94
Fully saturated ruby. Deep aromas and flavours of dark plums and berries, vanillin oak, cedar, tomato leaf, and black tea. Very dense and plush on the long multilayered finish. A blend of 54% Cabernet Sauvignon, 21% Carmenere, 16% Merlot, 6% Petit Verdot, 3% Cabernet Franc aged 22 months in 100% new French oak. This is a reall interesting wine: the vintage weather was extremely hot and the wine is no doubt an expression of power and ripeness, but it manages the neat trick of staying just on this side of elegant, something that really characterizes Seña. Well done here. Drinking window: now-2030
2010      Seña Valle de Aconcagua                                  97
Deep ruby with a hint of a rim, this is a very beautiful colour. Clean and fresh, with lively aromas of blackcurrant, violet, chocolate, coffee and leafy notes, this is the first wine in the whole vertical to show-off some mineral elements. Refined, magically balanced, suave, long on the finish that showcases red cherry and more minerals. This is outstanding, showcasing the elegance that later vintages of Sena, though richer and more polished, don't always have. I repeat, absolutely gorgeous, this is one of the more elegant wines of the decade. The 2010 Seña is a blend of 59% Cabernet Sauvignon, 21% Carmenère, 12% Merlot, 4% Cabernet Franc, 4% Petit Verdot with 14% alcohol, but you really cannot tell. A cool dry season with low yields, warmer than 2008, bud break began 7–10 days earlier than usual in all varieties, but the subsequent weather allowed the remaining subsequent phenological stages (flowering, fruit set and veraison) took occur normally. Temperatures during flowering were lower than average, resulting in irregular fruit set and loose, lightweight bunches, which actually turned out to be agood thing given the vintage's weather, allowing bettwe ripening and ultimately also better balance in the finished wines. No rain fell during the ripening phase, which resulted in healthy fruit at the time of harvest. The best thing about this wien is just how amazingly perfumed and aromatic the Carmenère is. Drinking window: now-2038.
2013      Seña Valle de Aconcagua                                  96
Very deep ruby colour, even opaque with very little rim; admittedly, it's a beautiful colour. Enticing aromas of cassis, chocolate, coffee and spices. Then very smooth, rich and dense, with ripe plum and balsamic notes, plus hints of coffee that really dominate on the slightly hot finish. Still a little closed, this still has a very long life in front of it. Less acid than the 2010 but denser and spicier, so there's no doubt the 2013 Seña will impress most tasters more, but the 2010 is actually the more balanced, better wine (it's also less hot from alcohol-derived heat), though I so like the 2013 Seña's subtle power and deep flesh. A 58% Cabernet Sauvignon, 15% Carmenère, 12% Malbec10% Merlot, 5% Petit Verdot blend, aged for 22 months in 75% new French oak. Made in a very cool season that began with a cold winter, that continued through spring and summer. There was a delayed bud-break due to some rain, but fruit set was good, and grapes were picked in very healthy condition. Adjusting the fruit load so as to have the right number of bunches per plant was especially key to getting the fruit to ripen fully. Drinking window: now-2038.
2015      Seña Valle de Aconcagua                                         97
Good full deep purple-ruby. Inviting aroams and flavours of black cherry, blueberry, blackcurrant, leafy herbs, cocoa and minerals are pure and extremely well-delineated. Smooth and fine-grained, the finish lasts and lasts. Lovely balance and noteworthy refinement here to what is one of the best Seña wines ever made and that resembles the 2018 closely, if on a just ever so slightly smaller scale. A still very youthful blend of blend of 57% Cabernet Sauvignon, 21% Carmenère,12% Malbec, 7% Petit Verdot and 3% Cabernet Franc, aged 22 months in 65% new oak barrique and 12% in new large Stockinger barrels (foudres). Let me tell you, when the Carmenère ripens fully, it's really a whole other ball game for Seña and it really lifts the wine into a rarefied, classy stratosphere. After a mild winter with normal rainfall, the 2014–2015 season was marked by an absence of rain and moderate temperatures with good flowering, fruit set and a balanced number of bunches. However, record-breaking highs were recorded in March and April, meaning that picking 7–12 days earlier than usual was necessary to maintain acidity and freshness. Drinking window: 2024-2040
2016      Seña Valle de Aconcagua                                        91
Medium-deep ruby. Very torrefacted coffee notes on the monolithic, one note nose: really much depth and complexity here. Then much better in the mouth, where it is smooth and balanced with very good juiciness and excellent harmonious acidity. Much better on the palate than the one-dimensional, sharp nose, and my score reflects this as it's an average of the disappointing aromas and the outstanding flavours. A blend of 55% Cabernet Sauvignon, 20% Malbec,12% Petit Verdot, 8% Carmenere, 5% Cabernet Franc aged in 73% in new oak, the rest in Stockinger foudres. Only 13.5% because they harvested early only. This was the coolest year of the decade, and that explains why Carmenère was not as big a part of the blend in this vintage. A long growing season but a high crop too, on April 15 rain devastated crops, so while 2016 is remembered as a bad vintage for Chile, it was not so at Seña in Aconcagua, where they had harvested most of the grapes before the rains fell (the harvest took place mostly during the first fortnight of April, and the Carmenere during the last week of April, just after the rains halfway through the month). Drinking window: 2024-2035.
2017      Seña Valle de Aconcagua                                         95
Deep ruby colour. Inviting aromas of strawberry, cedar, chocolate and coffee, plus an aromatic leafiness for added complexity. Then similar flavours to the aromas, this is a rich, ripe wine that ought to have along life ahead, though it offers considerable drinking pleasure right now. Beautifully ripe tannins and a long sultry finish are the winning hand of the 2017 Seña. The 2017 Sena is a 52% Cabernet Sauvignon, 15% Malbec, 15% Carmenere, 10% Cabernet Franc, and 8% Petit Verdot blend. The 2017 growing season was hot and sunny days but the cooling breezes blowing from the ocean helped moderate temperatures, allowing grapes to ripen well. Still, the harvest was an early one, almost three weeks ahead of normal annual schedules, but by so doing freshness was maintained. Drinking window: 2025-2044.
2018      Seña Valle de Aconcagua                                         100
Deep ruby, no rim. Pure and very elegant nose, still slightly closed and refined, with captivating nuances of strawberry, blueberry, vanilla, coffee, cocoa, minerals and sweet spices, all lifted by a refreshing perfumed violet top-note. Magically harmonious, smooth, long and beautiful with well-integrated acidity and very well delineated in its enticing flavours that echo the aromas. Showcases wonderful clarity and cut, not to mention real staying power and a downright silky texture. A wine that was great from the first day as all of the world's truly great wines are. A good growing season weather-wise allowed a slow gentle ripening and to harvest late, so grapes were not just healthy but complex in their must characteristics.  The 2018 Sena is a 55% Cabernet Sauvignon, 18% Malbec, 15% Carmenere, 7% Cabernet Franc, 5% Petit Verdot blend, and though it's just beautiful now, it will repay further cellaring and will age extremely well.  Drinking window: 2026-2050
2019      Seña Valle de Aconcagua                                         94+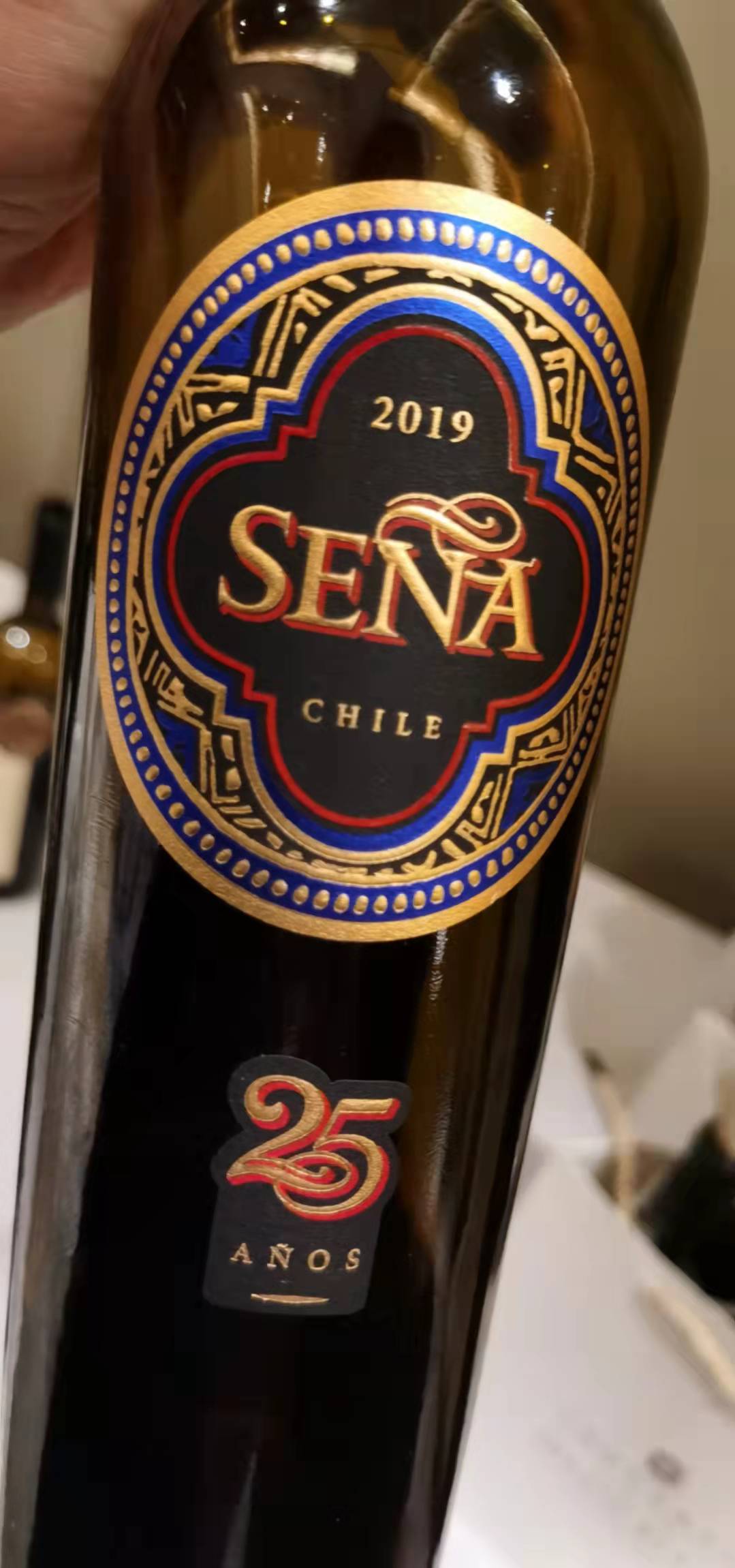 Good full ruby. Redcurrant, rhubarb, strawberry, rosemary plus some coffee and minerals on the showy nose. Clean and fresh in the mouth on entry, with flavours of cracked black pepper, sage, rosemary, dill and red and blue fruits, but then slightly thick in the middle, with a element of rusticity to the tannin that nonetheless provides wonderful support to the rich dark fruit, herb and coffee flavours. Very young, the 2019 may yet blossom and smoothen out somewhat in the glass so as to warrant a higher score, so that is why there is a plus sign on my score. Though heat summation data of the 2019 vintage is the same as that of 2018, the 2019 Seña tastes as if it is the product of a much warmer, even droughtier year than 2018, though the area's specific terroir allows to make more elegant wines than would be normally the case. A blend of 60% Cabernet Sauvignon,  21% Malbec, 15% Carmenere and 4% Petit Verdot, this spent 22 months in 80% new French oak barrels and 10% in foudres. Drinking window: 2027-2040.