DAY 3 AUGUST 4, 2021
We coasted into Camden Harbor and checked into the very lovely 16 Bay View Hotel (16 Bay View St, Camden, ME 04843; (207) 706-7990).  Our Lobster Roll Hit list was extensive so we thought we needed a little recharge beverage and take in the scenery on the hotels rooftop deck, The View.  Overlooking the harbor on a beautiful evening, we settled in to watch the sunset and enjoy a bit of adult refreshment.  The small but carefully curated wine by the glass section lead to a glass of the very excellent Berger's 2020 Gruner Veltliner for me and a salty Blood Orange Margarita for my mom. Well one glass of wine lead to two glasses of wine and before you knew it, we needed a little snack.  We ordered the Lobster Popover not really expecting much.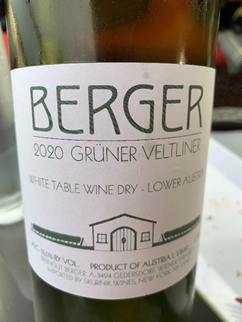 OMG!  What a surprise!  This was our best Lobster Roll to date.  Loaded with fresh, sweet, tender, briny Lobster meat and sandwiched in a warm buttery, savory, light and fluffy popover, it was the perfect ratio of "roll to lobster."  Extra bonus points given for some textural crunch provided by the sesame seeds baked into the popover and the microgreen garnish.  OH, and instead of some boring potato chips, this Lobster Roll delight was served with a bag of Miss Vickie's chips… my total favorite and a bit of diet kryptonite.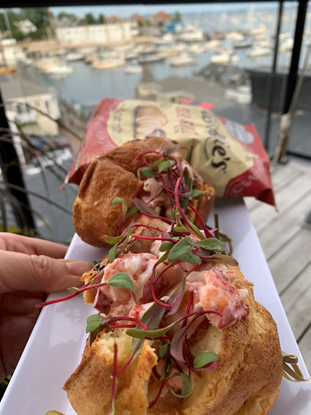 The freshness and citrusy backbone of the Gruner Veltliner was a really great wine complement. However, I had a Classic Vs Local Maine Beverage pair lined up, chilled and ready to go so we took the 2nd Lobster Popover down to our room for the showdown.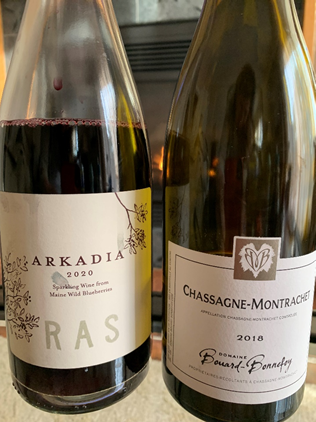 CLASSIC WINE v LOCAL MAINE BEVERAGE PAIR
Domaine Bonard-Bonnefoy 2018 Chassagne Montrachet
Of course, white Burgundy with buttery rich lobster is a classic food and wine pair.  By coincidence, I had this beauty chilled and lined up for our upscale Lobster Roll.  The savory and umami components of the popover combined with the tender sweet lobster meat matched perfectly with the earthy, rich and pedigreed chardonnay, It was elegant, persistent and a really special combination.
RAS Arkadia Sparkling Wild Blueberry Wine
Based in Portland, ME RAS winery was started by 3 friends, Dan, Joe and Emily who met and bonded over cooking, movies and sharing thousands of bottles of wine.  These 3 share a philosophy of connecting wine to their home state, Maine.  Wild Blueberries are fundamental to Maine's history, geography and culture.  They use local farmers to produce a blueberry wine.  This wine tasted of blueberry, was very effervescent and tart.
WINNER:  It's pretty tough to top a Domaine white burgundy and the clear winner was the Domaine Bonard-Bonnefoy Chassagne Montrachet.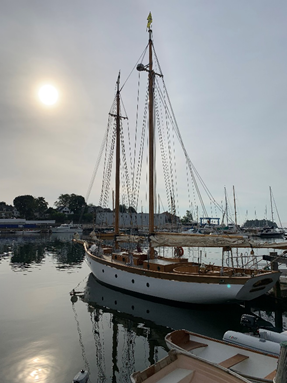 After my morning run around the harbor, I had a special treat lined up for our Camden Lobster Adventure.  We boarded the OLAD SCHOONER at noon for a private sail into the bay loaded down with a picnic of Lobster Rolls, wines, wine glasses and loads of enthusiasm.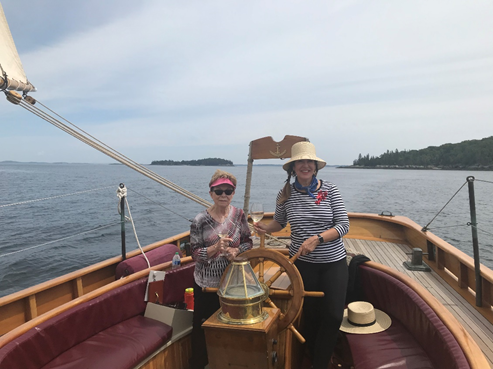 We couldn't have scripted a more perfect day for sailing.  The sun was shining, the breeze was blowing and yes, that is a sequined Lobster on my T-Shirt. Captain Devon and First Mate Louie were the perfect hosts for our adventure.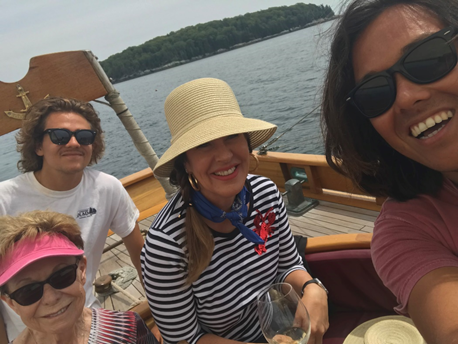 Our favorite Lobster Roll came from the Camden Deli (37 Main St, Camden, ME 04843; (207) 236-8343) with a bargain price tag of $20.  The lobster was fresh and sweet, lightly tossed with a hint of mayo and stuffed into a toasted and slightly sweet split roll.  It kind of reminded me of Hawaiian sweet bread with just a hint of honey lingering on the finish.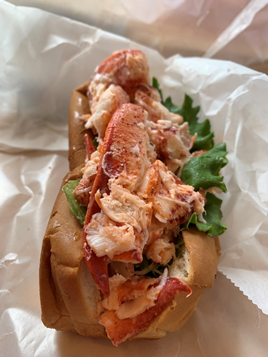 We sailed past a few islands full of big fat seals and their pups sunning on the rocks, a few lighthouses complete with an 86 years old permanent resident and lots of unspoiled nature preserves.  Ginger was in her shipmate glory….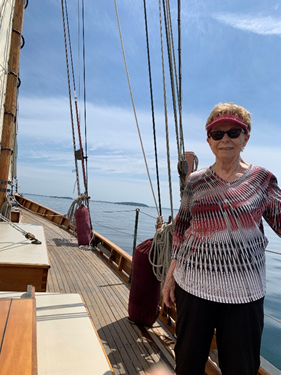 She made me put on this T-Shirt…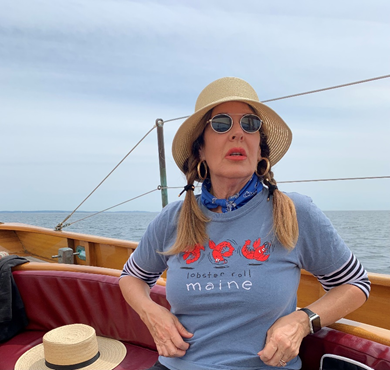 CLASSIC WINE v LOCAL MAINE BEVERAGE
Do Ferreiro 2019 Albarino "Cepas Vellas" vs Eighteen Twenty "Fete" Maine Rhubarb Wine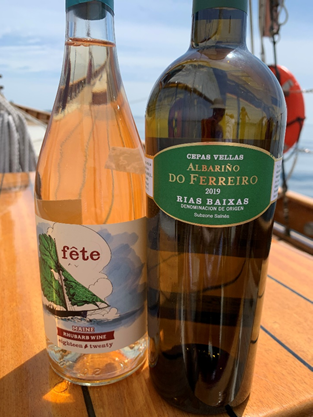 Do Ferreiro 2019 Albarino "Cepas Vellas"
Ok, let's be real here.  The Cepas Vellas is a really, really, really special wine and given the setting, I busted out the great stuff.  This wine is iconic.  Grapes are sourced from a specific 1.5 hectare plot in front of the winery in the Salnes Valley of Rias Biaxas that were planted in 1785.  I've visited this vineyard.  The pergola-trained vines are thick like trees and the branches, grapes and leaves are way over my head.  The wine itself was glorious.  Layered with fruit flavors of crisp apple, sweet tangerine, lemon citrus, salty minerals, bright acid and a long, complex finish, it perfectly paired with the schooner, the Lobster Roll, the sea and the company.
Eighteen Twenty "Fete" Maine Rhubarb Wine
Originally made for the 2019 Portland Wine Week, the wine successfully sold out immediately and has been produced ever since.  Eighteen Twenty winery was started in 2015 by Amanda O'Brien as a side hustle and is solely dedicated to resurrecting the craft of rhubarb wine making.  Honestly, it was surprisingly good.  Dry, crisp, medium-bodied with some notes of rhubarb and celery with a persistent finish and a pleasant, refreshing acid lift.  Given the slightly creamy lobster texture, it worked as a very nice complement.
WINNER:  Do Ferreiro 2019 Albarino "Cepas Vellas"
BUT.. honestly, this wasn't a fair fight.  Pitting a Rhubarb Wine to Cepas Vellas was like bringing a knife to a gun fight.
DAY 3 was perfection.  And now… we continue up the coast with three more Lobster Shacks on deck from tomorrow……
DAY 4
August 5, 2021
We woke up to a soggy, grey Maine day.  However, a little inclement weather was not going to deter us from our Lobster Roll expedition, so we sucked it up, packed it up and backtracked a few miles down US1 to Rockland, Maine.  We'd received mixed reviews on CLAWS (743 Main St, Rockland, ME 04841; tel. (207) 596-5600) from the locals.  Rounding the bend on the route, Claws popped into view and was too cute and looked too authentic to pass up.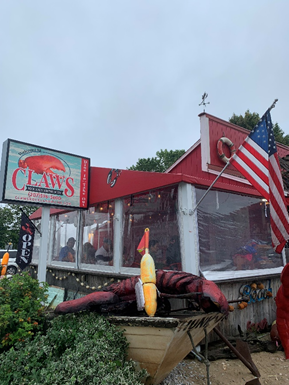 We ordered the footlong CLAW-ossal, a full pound of lobster classically prepared with a toss of mayo or for an extra buck, served warm with butter. (If you've been following along in our adventure, you'll know this is my preference)
WOWSERS!!
Our CLAW-ossal had the sweetest, most tender, warm and steamy lobster meat nestled in a giant fluffy hot roll dripping with butter. There were full lobster tails, multiple super juicy claws and various bits and pieces of tasty goodness.  The roll was inconsequential and thankfully there was no circuitous greenery.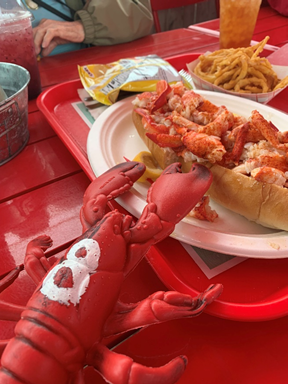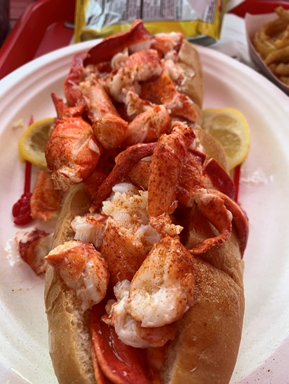 We continued north on Rte. 1 and stopped at McLaughlin's Lobster Shack (12 McKay Rd, Lincolnville, ME 04849; tel. (207) 789-5205) in Lincolnville tucked into a neat little picturesque cove.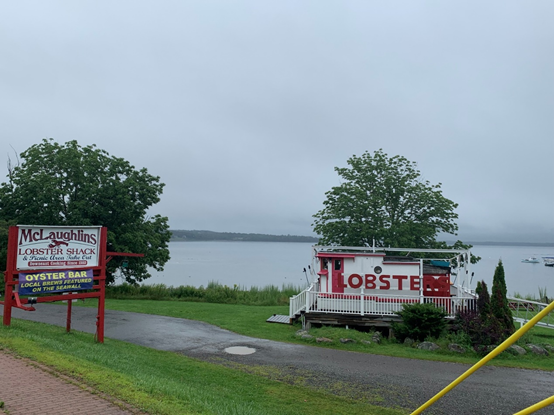 We caught the owner-operators husband and wife team mid-discussion about some pricey concert tickets.  Clearly, the husband was not very happy about the price tag.  I asked the wife who they were going to see.
"Phil Collins," she replied with a smile in her eyes.  The hubby peeked his head out of the kitchen and said, "For that price, it should be the return of Elvis."
The lobster roll looked underwhelming when it arrived.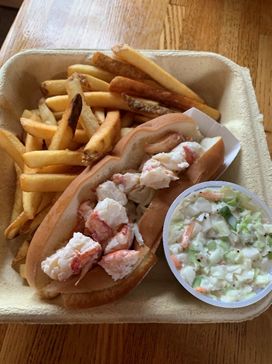 Taking a bite, we were delightfully surprised.  The ratio of sweet lobster meat tossed in a light coating of mayo to a perfectly toasted and soaked in butter split roll was on point.  The fries were super hot and super crispy and salty.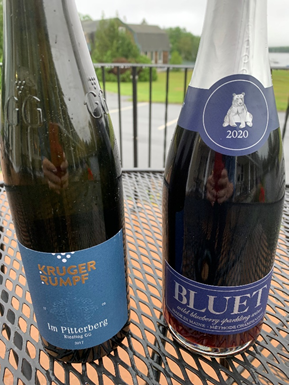 CLASSIC WINE v MAINE BEVERAGE PAIRING
Kruger Rumpf Im Pitterberg GG Riesling 2017
Hints of petrol and mineral give way to a mouthful of tart citrus… lemon, Meyer lemon, kaffir lime leaf, green apple.  The finish is incredibly long and the intense acid lift cuts through the buttery lobster like nothing else refreshing your palate and asking you to take another bite of lobster.  The wine finishes bone dry and lasts forever.  To be sure, the wine has pedigree, depth and class.
Bluet Wild Blueberry Sparkling Wine 2020
Located in Scarborough, ME the Bluet Winery project was started in 2014 by Michael Terrien and Eric Martin, California winemakers who grew up in Maine.  Wild Blueberries are a Maine staple… tiny and precise and grown all over the state.  Despite being called "wild," they are actually cultivated for industrial purposes.  Unfortunately, farmers have abandoned this crop because the price paid per ton is too low to grow profitably.  Bluet is working with the Maine Department of Agriculture and federal grants to raise prices and sustain and attract new blueberry farmers.  The wine itself is made in the champenoise method using wild natural yeast.  It is dry, fizzy and low alcohol… only 8.5% ABV.  The wine was high acid and tasted of blueberry, blackberry with a finish rich in cinnamon flavors… almost like a tart blueberry pie.
WINNER: Kruger Rumpf Im Pitterberg GG Riesling
You cannot deny the refreshing, mouth watering appeal of a Grosses Gewachs Riesling… another knife in a gun fight…. Paired with buttah and lobstah…. But we loved the connection Bluet has with Maine, it's history and terroir.
So, the sun's out now, there are boats in harbor and we are on our way for more Lobster Roll Adventures…stay tuned.