Nalles Magrè 2019 Moscato Giallo Alto Adige Sun                          92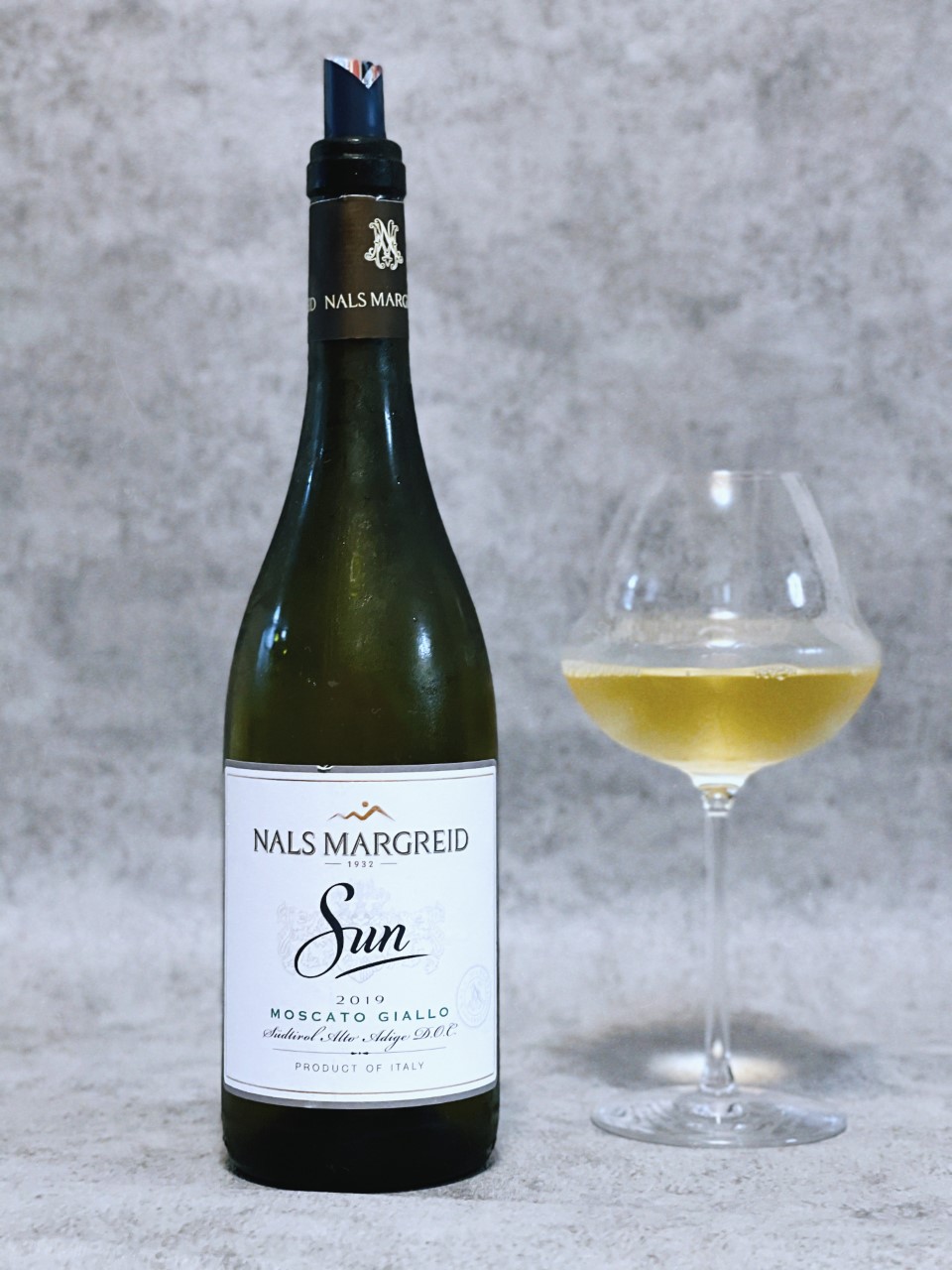 Also known by its German name Nals Margreid, this Italian wine cooperative located in Alto Adige boasts a beautifully modern winery in the town of Nalles and a long lineup of excellent wines. The coop once called Nalles Magrè Niclara (but that name was deemed too long and so was shortened in the 2000s to the more effective, easier to use and better sounding one of today), has long been guided by General manager and director (kellermesiter) Gottfried Pollinger who has done an outstanding job over the years modifying, increasing and improving the coop's wine portfolio.
Founded in 1932 by forty-five members as the Kellerei Nals (Cantina Nalles, in Italian), in 1985 it merged with the Margreid-Entiklar coop (itself another oldie but goodie, founded in 1954) becoming known as Nals-Margreid-Entiklar, or Nalles-Magrè-Niclara in the process. Today the coop goes by the name of Nals Margreid/Nalles Magrè and boasts about 140 members who farm close to 200 hectares in roughly fifteen different areas within Alto Adige, the most important ones being Nalles, Sirmian, Magré and Bolzano. However, the winery is now also farmng vineyards in Alto Adige's beautiful Valle Isarco area, and this explains their new Kerner wine, a variety the coop had never dabbeled with before.
I have been following the wines made here for the better part of twenty years and I never cease to be amazed by how far this coop has come in just a relatively short time. The wines were never bad of course, but they didn't really stand out amongst the many other very fine wines made in Alto Adige (not so arguably the best place to look for white wines in all of Italy). That is all different today, with Nalles Magrè now producing a bevy of outstanding wines. Clearly, a good chunk of that merit has to go to Pollinger's very talented winemaker Harald Schraffl, who is a fountain of knowledge on all things Alto Adige and seems to be truly gifted with just about any grape variety he touches: Gewurztraminer, Schiava from very old wines (the incredibly delicious wine called Galea, don't miss it), Pinot Bianco and Pinot Grigio are absolute stars at this address.
A variety Nalles Magrè has always had a lot of success with is Moscato Giallo, from which they have long made an outstanding sweet wine called Baronesse and more recently a classically dry wine called Sun. The Nalles Magrè 2019 Moscato Giallo Alto Adige Sun is beautifully balanced with 4.6 g/L residual sugar and 5.1 g/L total acidity, so the wine will taste very slightly off-dry to those people blessed with very sensitive sweetness detection capacities or who just plain pay more attention, but in fact most people will find this little gem to be perfectly dry.  The Moscato Giallo grapes grow in vineyards in the Entiklar area and are located between 450-700 meters above sea level. Brightly golden-tinged yellow in colour, it boasts an intense honeyed nose of flowers, lemongrass, grapefruit, lychee and herbs, complemented by sweet spices and hints of almond paste. In the mouth it is both fresh and juicy and replicates the same aromas as flavours. The finish is long, lip-smackingly zingy and deep. It's also just about the perfect wine for all those who like wines made with one of the many Moscato varieties but find them too sweet. Drinking window: now-2026
Chateau Nine Peaks 2016 Cabernet Gernischt Quindao China             93
Chateau Nine Peaks 2016 Cabernet Franc Quindao China             93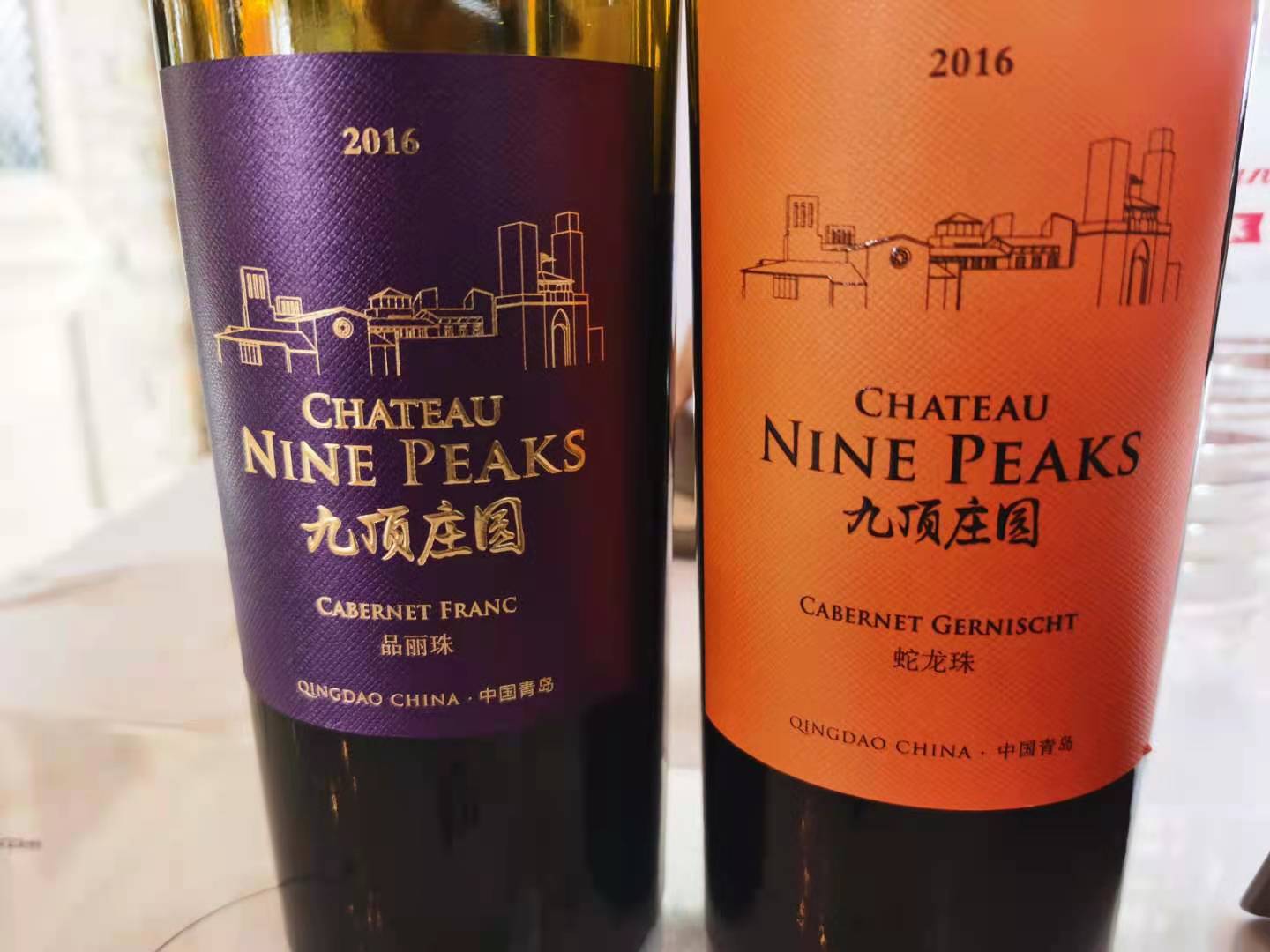 Chateau Nine Peaks may well be the best Chinese wine estate today, though the country actually boasts a number of excellent wine estates that are however still mostly unknown internationally. But with wines as good as the two I am about to describe, that international lack of renown is not likely to last long.
The first thing to applaud Chateau Nine Peaks is the truly admirable restraint of all their wines: unlike many other Chinese and world wineries that try to score points (literally) producing big, thick, even massive wines that are usually over-oaked and devoid of nuance and harmony, just about every wine in the Chateau Nine Peaks portfolio is imbued with a real sense of elegance and grace. A case in point is their truly outstanding Chardonnay Qi, an oaked white wine that could easily be turned into a caricatural butterscotch-tropical fruit bomb as far too many New World Chardonnay wines are; but very commendably, not so at Chateau Nine Peaks. Two Cabernet wines of the estate's single vineyard/single variety "Collection" series of wines that I tasted recently during my latest winery visits confirmed, and then some, the gentle touch the winery technical staff is endowed with. Make no mistake about it, these are two world class wines, and the recent 2019 vintage has given wines that are almost if not just as good (the 2016 vintage was an excellent one in Shandong). The Chateau Nine Peaks 2016 Cabernet Franc Qingdao is medium red with a pale tinge. The nose boasts elements of real Cabernet Franc greatness, expressing that extremely perfumed, lightly aromatic nuance that makes the variety so unique among its many Cabernet relatives. Notes of strawberry and orange peel are complemented by an intense violet presence. Fresh and juicy but not harsh, it offers very floral, lively red fruit and herbal flavours nicely supported by polished tannins (this was aged in one and two year used 225 liter barrels for 10 months with no new oak). The finish is long and saline, lingering impressively with repeating floral echoes. The first vintage of a Cabernet Franc wine ever made at the winery, it's a very noteworthy effort already at the quality level of a good villages-level Loire, Niagara or Tuscan Cabernet Franc wine. But it's especially impressive given the youth of the vines (planted in 2012), so the future looks extremely bright indeed for the wine from Chateau Nine Peaks and I expect this to become a real showstopper and a very important wine for the winery. Drinking window: now-2028.
Just as good a wine but very different (as it should be given it's made with a totally different variety), is the Chateau Nine Peaks 2016 Cabernet Gernischt Quindao. Bright red-ruby in colour, it has deep purple highlights. Initially very closed on the nose, it opens with aeration to reveal really beautiful strawberry, herb, mineral and noble cocoa notes: in many respects, this wine "out Cabernet Francs" the Chateau Nine Peaks Cabernet Franc wine ! Multilayered and suave, with deep flavours of red and blue fruit with sweet spicy and herbal nuances, the gently tannins and fresh acidity provide adequate support and extend the flavours on the long smooth finish. Very juicy and fruity, this is a beautiful example of just how good wines made with Cabernet Gernischt can be in Chinese terroirs. It was aged in 30% new barriques but the fruit is so rich, suave and dense that you won't be able to tell that much new oak was used. About 6000 bottles made, and the recently released 2019 is even more impressive. Cabernet Gernischt is a real success story in China and though it was erroneously passed over in the misguided goal to plant more Cabernet Sauvignon, a variety that despite what people would like to hear and what is said and written does not in fact give especially memorable wines in China (at least when compared to the world's best), my hope is that more and more wineries are seeing the error of those ways and are studying and working with this variety more (a Chinese biotype of most likely Carmenère, though some experts believe it might descend from Cabernet Franc instead) that can give exceptionally good wines in China and that I will publish an entire article on in the weeks ahead: read about it here at TerroirSense. Drinking window: now-2028.