Chateau d'Yquem 2019 Y Bordeaux Blanc           95
When a wine is this good, one often doesn't even know where to start in describing it. Fact is Château d'Yquem's dry white wine, simply called "Y", is in a dry white wine league all its own, but is forced to live in the shadow of its sweet stablemate, not arguably the world's most famous wine. Y Bordeaux Blanc is made with the same painstaking care as Château d'Yquem and that attention to detail is evident at every sniff and sip: you might argue that at roughly only 10,000 bottles a year it's easy to be meticulous but that in fact is not true at all, and there are countless examples of wines made in only 10,000 unites that leave a lot to be desired.
Most interestingly, the way Y is made has changed considerably over the years, with a totally different aroma and taste profile emerging over time. Whether one prefers the richer more opulent, creamier style of the first vintages of Y or the brighter, fresher style of today may very well be a case of different strokes for different folks, as both we and are excellent. Ever since Y came to be (the first vintage was the 1959), it was made with grapes picked late, with many of them hit by noble rot (good old Botrytis cinerea, so vital to making the area's great Sauternes). The changing of the guard, so to speak, began taking place with the 1996 vintage, in an effort to make a much crisper, fresh, bright style of wine more in tune with the changing, super-fast, hyper-techno times we all know too well. What this means is that grapes are no longer picked only late; rather, the majority of the Sauvignon Blanc grapes are picked early in the season, at the start of the harvest, so as the grapes are still high in acidity and not yet hit by noble rot. By contrast, the all-important Sémillon grapes (for it is this variety that gives the white wines of Bordeaux, dry or sweet they may be, their unique character) are picked at maximum, even super-ripeness (not over-ripeness), when the skins are ore pink in colour than yellow-green, and noble rot has just appeared. Sémillon picked at this point in time is characterized by skins that offer the highest aromatic potential and the smoothest possible tannins. As if all these weren't big enough changes, another big one took place in 2004, when it was decided to make Y every year. The wine is aged in one third new French oak barrels.
Though I actually liked the 2018 "Y" Ygrec even more as it boasted a greater presence of Semillon (only 5% more, but boy can you tell), I happen to think that, at least at the present stage of development, the 2019 Y Bordeaux Blanc is one of the best wine of Y's new course. Luminous golden-tinged very pale yellow in colour, it is a marvel just to look at (never mind doing anything else with your glass). The nose is extremely fresh and offers obvious notes of unripe pineapple, gooseberry, sage, thyme, candied grapefruit, and nectarine all lifted by a vivacious note of lemon verbena, jasmine and minerals; indeed there is something vaguely reminiscent of Riesling here, though clearly it is the Sauvignon Blanc that dominates (not at all surprising, given this is a 75% Sauvignon Blanc and 25% Semillon blend). Crisp and lively in the mouth (and with a pH of 3.15 it would be strange if it were otherwise), with penetrating flavours of orchard and tropical fruit lingering nicely on the extremely long and zingy finish thanks to harmonious clean acidity. Very pure and very memorable, the still painfully young 2019 Y is absolutely superb, and is likely to put on a little more weight and gain in complexity with age. So don't miss it.  Drinking window: 2025-2035.
Isole e Olena 2008 Vin Santo del Chianti Classico           95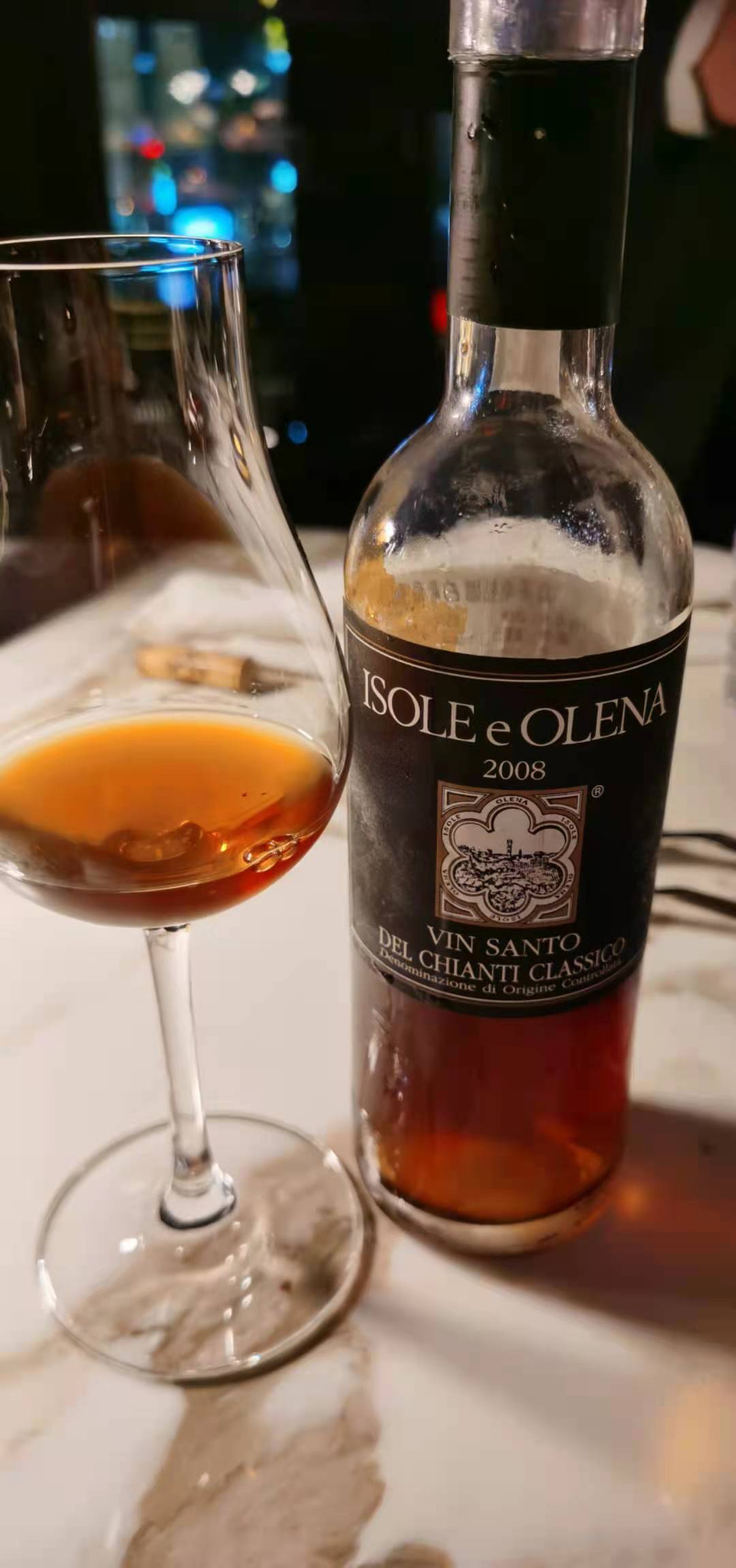 One of the nicest memories I have of my career devoted to wine was a magical afternoon spent in the company of the immensely likeable, not to mention immensely talented, Paolo De Marchi at his beautiful Isole e Olena estate in Chianti Classico's Barberino Val d'Elsa township. The occasion was a chance to taste through the new vintages of his reds from barrel, but it turned out to be a completely different day than expected, because Paolo had been unable to perform the tasting and assembly of his Vin Santo in the preceding days. So when I showed up late that morning, I found him still at the table with something like thirty-three different bottles, all samples of Vin Santo drawn from different caratelli (the caratello is the wooden vessel in which Tuscan Vin Santo is typically aged in: its size varies from 50-200 liters and it can be made from a variety of woods, including oak, chestnut, cherry and juniper). Paolo asked me if I'd like to taste along with him, and needless to say I jumped at the opportunity to do so, a golden opportunity not just to help decide on which caratelli held the best wines and to try and blend them so as to come up with a possible final blend, but simply, to learn.
Italy has been making wines named Vin Santo since forever, and not just in Tuscany for that matter (Emilia Romagna, Umbria and Trentino are three other regions that make very famous Vin Santos, or more accurately in the case of Trentino, Vino Santo). So where does the wine's curious name come from? Well, if you believe the Senesi (people of Siena) it was during the 1348 plague outbreak in Florence that a Franciscan friar decided to use the wine employed for the mass to treat all those who had fallen sick with the disease.  Not surprisingly, people naturally assumed that any wine used for this purpose must have some protective, downright "saintly" properties, and so the wine's name was born. Also not surprisingly, the Florentines do not agree with the interpretation of the Senesi: their version states the name derives from Giovanni Bessarione exclaiming, upon tasting the wine at a banquet during the 1439 Florence Ecumenical Council that it was "of Xanthos". Though he was most likely referring to a sweet Greek wine made with raisins he had tasted at some other time, everyone at the dining table understood it to be a 'Santo' rather than 'Xanthos', and so the name stuck.
We will likely never know the real origin of Vin Santo's name and why it is called just so. What we do know is how good Paolo De Marchi's version is, in fact one of the five best Vin Santos of Tuscany. The Isole e Olena 2008 Vin Santo del Chianti Classico is magically good. The 2008 is a blend of 55% Malvasia del Chianti (actually, the variety's real name is Malvasia Bianca Lunga) and 45% Trebbiano Toscano, the hand-harvested gapes were dried on straw mats for five months before pressing and being transferred to small caratelli for close to ten years (it can be as little as five, but De Marchi usually ages his Vin Santo for longer than that). During those five years, the wine stays with its starter culture and is neither racked nor filtered, and by the time it is bottled, the finished product is not just amber-gold in colour and thick like motor oil, but also much reduced in volume (roughly 15% of the original yield). The 2008 is a truly lovely golden-amber in colour and offers penetrating, luscious aromas and flavours of marzipan, dried citrus peel, dried apricots and chestnut honey. Extremely concentrated but sporting remarkable balance, it finishes very long and suave, and more importantly, extremely fresh and lively. Outstanding Vin Santo from one of the true masters of this wine. Drinking window: now-2045.