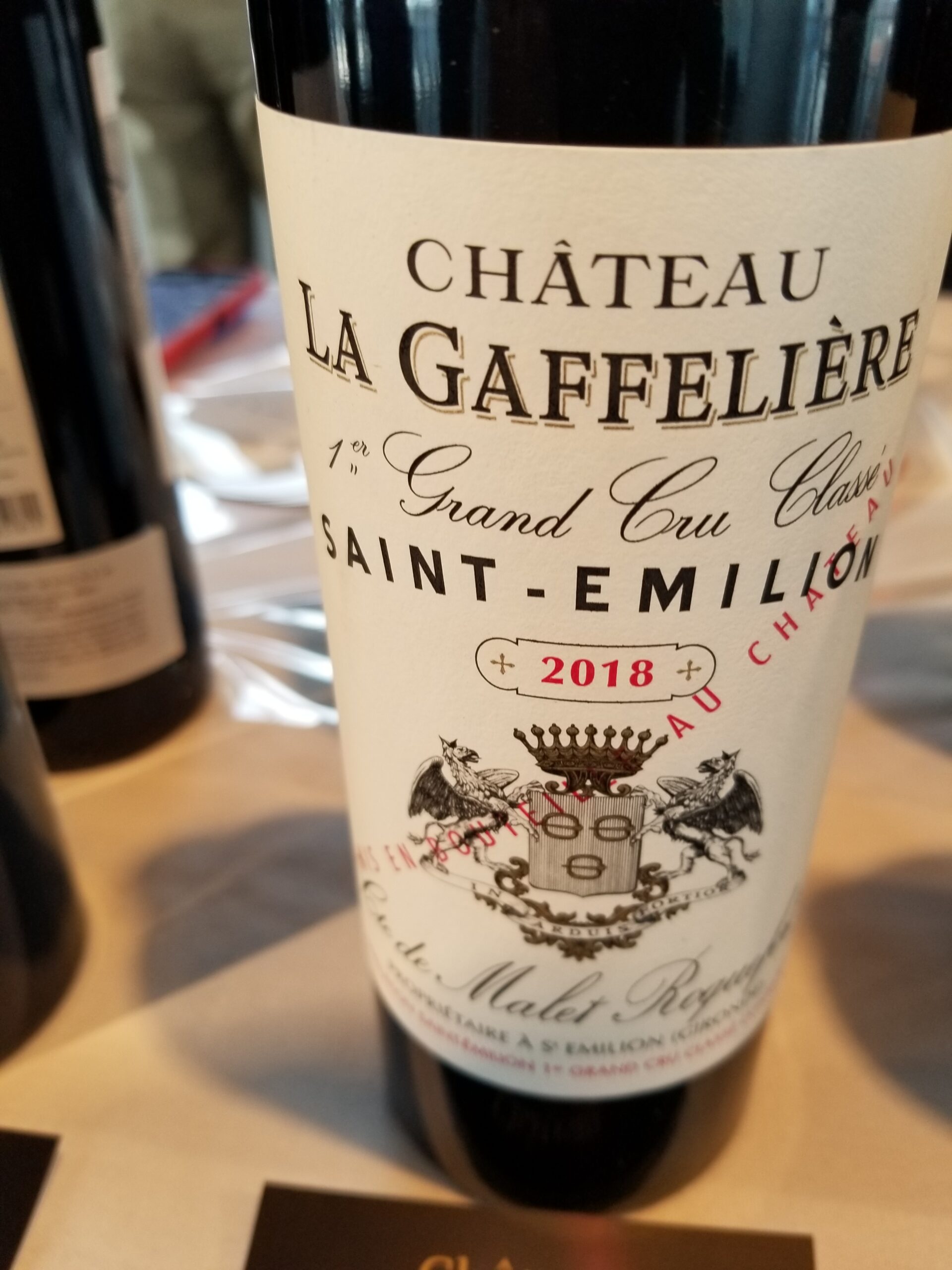 I have been tasting the wines of Bordeaux for something like fifty years (!), visiting the region numerous times and holding annual Bordeaux tastings when I was still running Executive Wine Seminars with Howard Kaplan. So if there is one wine which led to my entering the wine profession it was the taste and memory of fine Bordeaux. For many of us with a long history of tasting, Bordeaux was both the palate-forming wine and the very model of what red wine should taste like. It was only after tasting for over a decade that I was able to branch out to Burgundy, Barolo and Napa Cabernets. And so it is that, still today, I am always excited to taste the new vintage of Bordeaux wines hitting the market, and so it was again just recently with the 2018 vintage.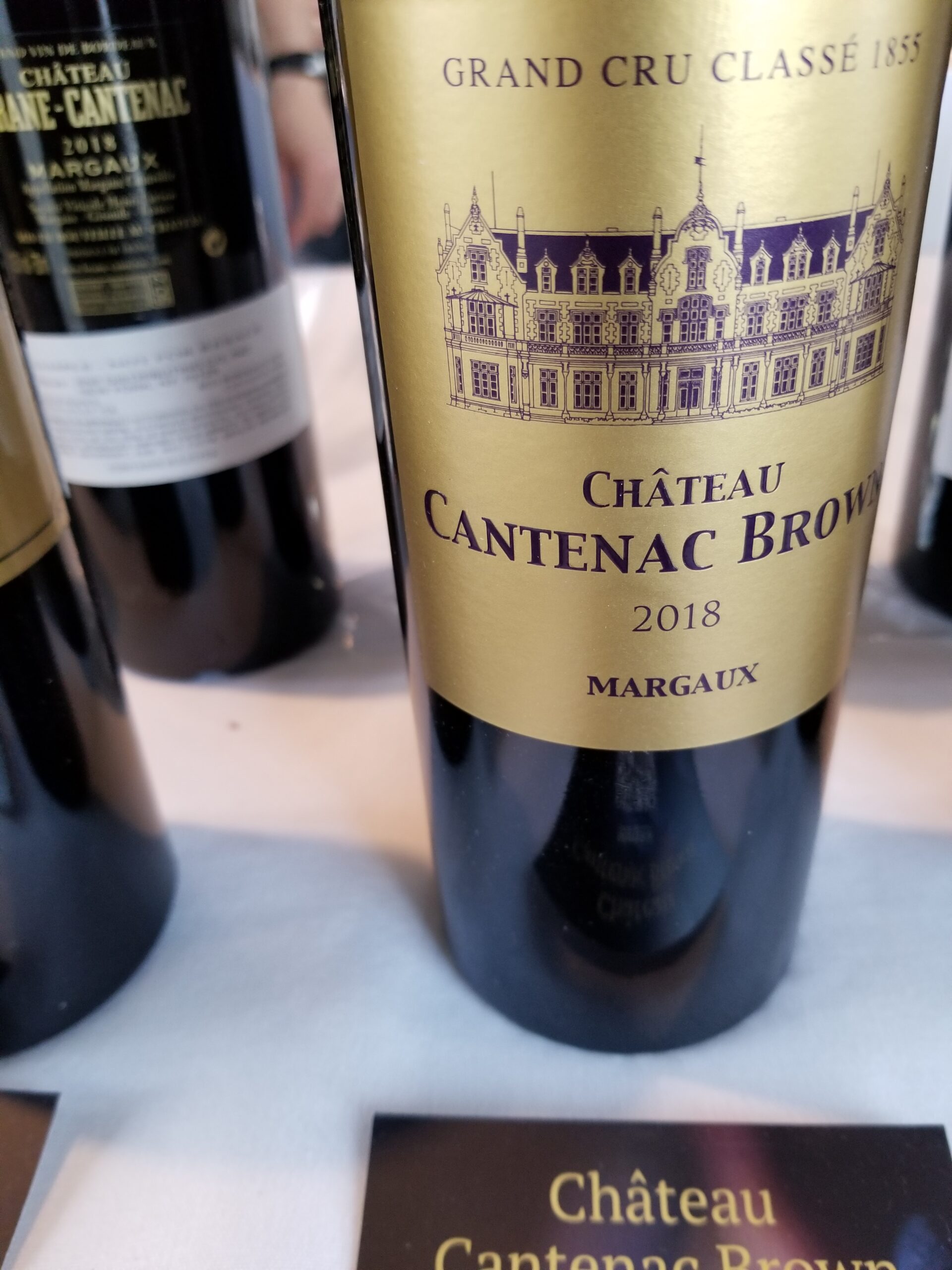 Just recently this June, the Union des Grand Crus held their annual tasting in New York City of the newly bottled 2018 Bordeaux— a tasting that took place six months after the usual time. This of course was due to Covid. Covid has been a disaster on many fronts, some very serious, some less so, and this delay was just another of its seemingly never ending consequences. That fact recognized, June is not the best time to taste tannic red wines, but the venue was certainly spectacular, Manhattan's west side-located Glasshouses (a collection of technologically-advanced high-rise event spaces in New York City). The views of the Hudson River from the 21st floor are breathtaking. Unfortunately, none of the owners of the Châteaux were present; clearly, this was not surprising, given all the travel and safety issues that are still an area of some concern for most of us. And so it was that the wines had to do all the talking.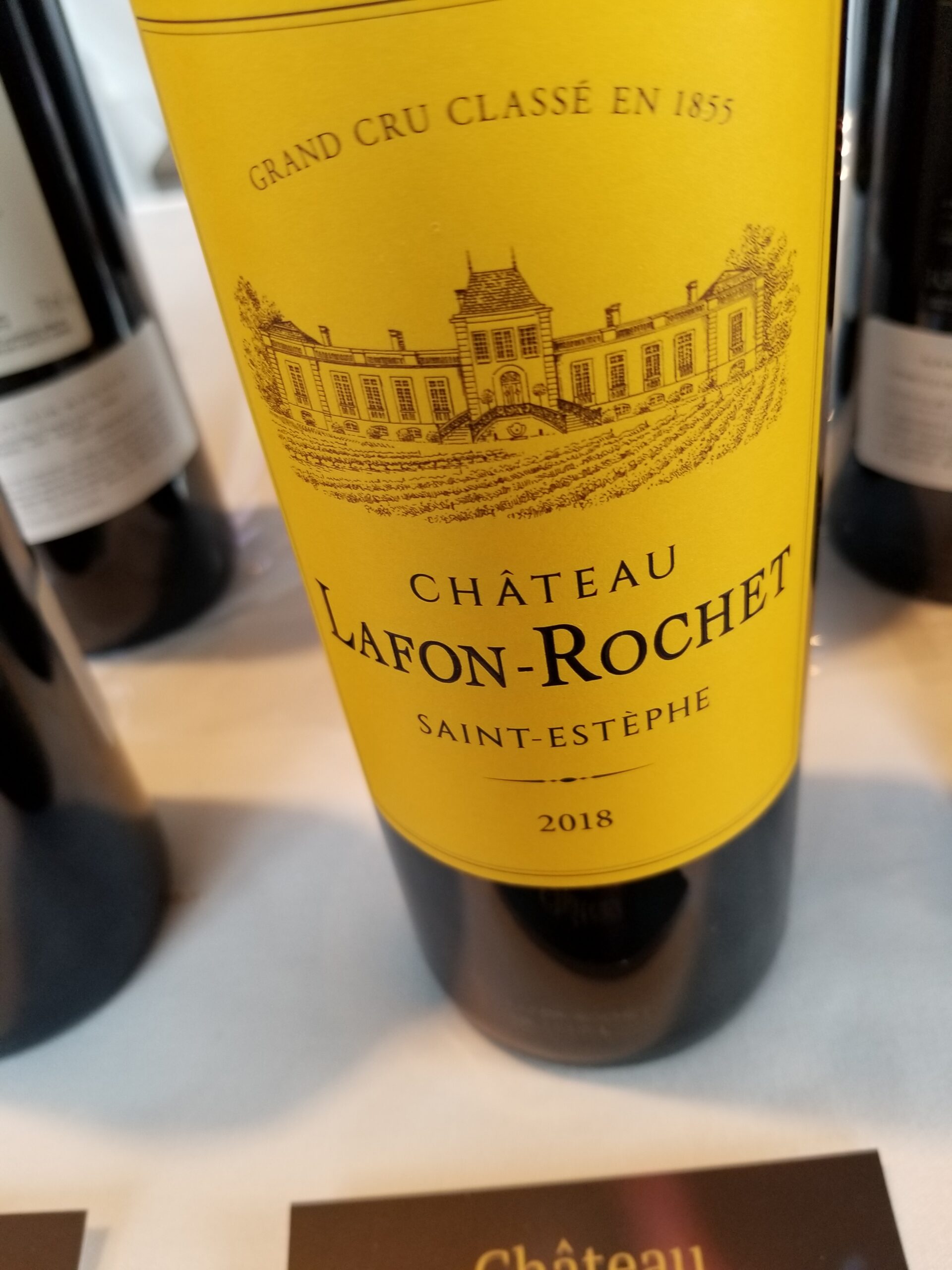 Recently bottled red Bordeaux are challenging; tannin levels are still at a young age, and in general remain high in the region's wines despite a succession of very warm vintages and careful selection of the grapes to avoid astringency. But I did not find the wines to feel hot (due to alcohol-derived heat) on the whole. Alcohol levels, subjectively at least, seemed to me to be in the normal range for the red Bordeaux wines of the last decade. Whatever problems the vintage presented occurred mostly in April and May (on the heels of an unusually wet winter, spring 2018 was also wet, sparking outbreaks of downy mildew and hail hit in patchwork fashion in May and July), but growers had a large window of opportunity for picking their grapes in good condition from early September (the Merlot) to early October (the Cabernets).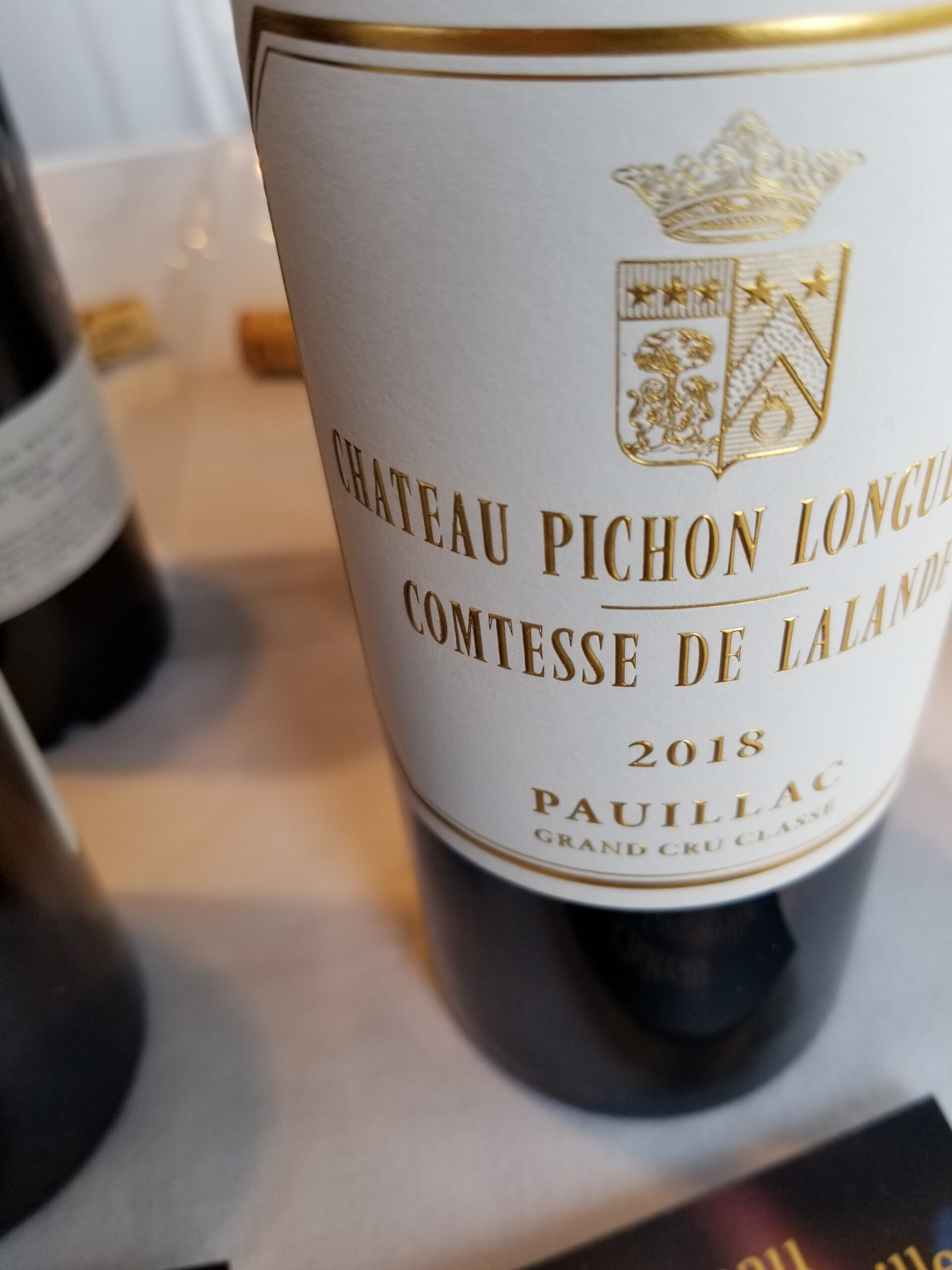 I did not find dramatic difference in quality among the different communes. Naturally I have my preferences: the left bank in my case. Looking over my notes I see that I found the Pauillacs to be the most consistently excellent, the St. Émilions the most variable. I am willing to chalk that up to years of experiencing more deep satisfaction from the Cabernet Sauvignon centric wines of Pauillac and St. Julien than from the other communes of Bordeaux. That said, I readily admit to finding Pomerols the most seductive wines made in Bordeaux; but seductive does not mean the most profound (Petrus, L'Evangile, Trotanoy, Vieux Chateau Certan excepted!). I will focus below on the wines I found to be the most promising. It is always wise to remember that Bordeaux, even Merlot dominated right banks, are difficult for the palate when in bottle for just a short time.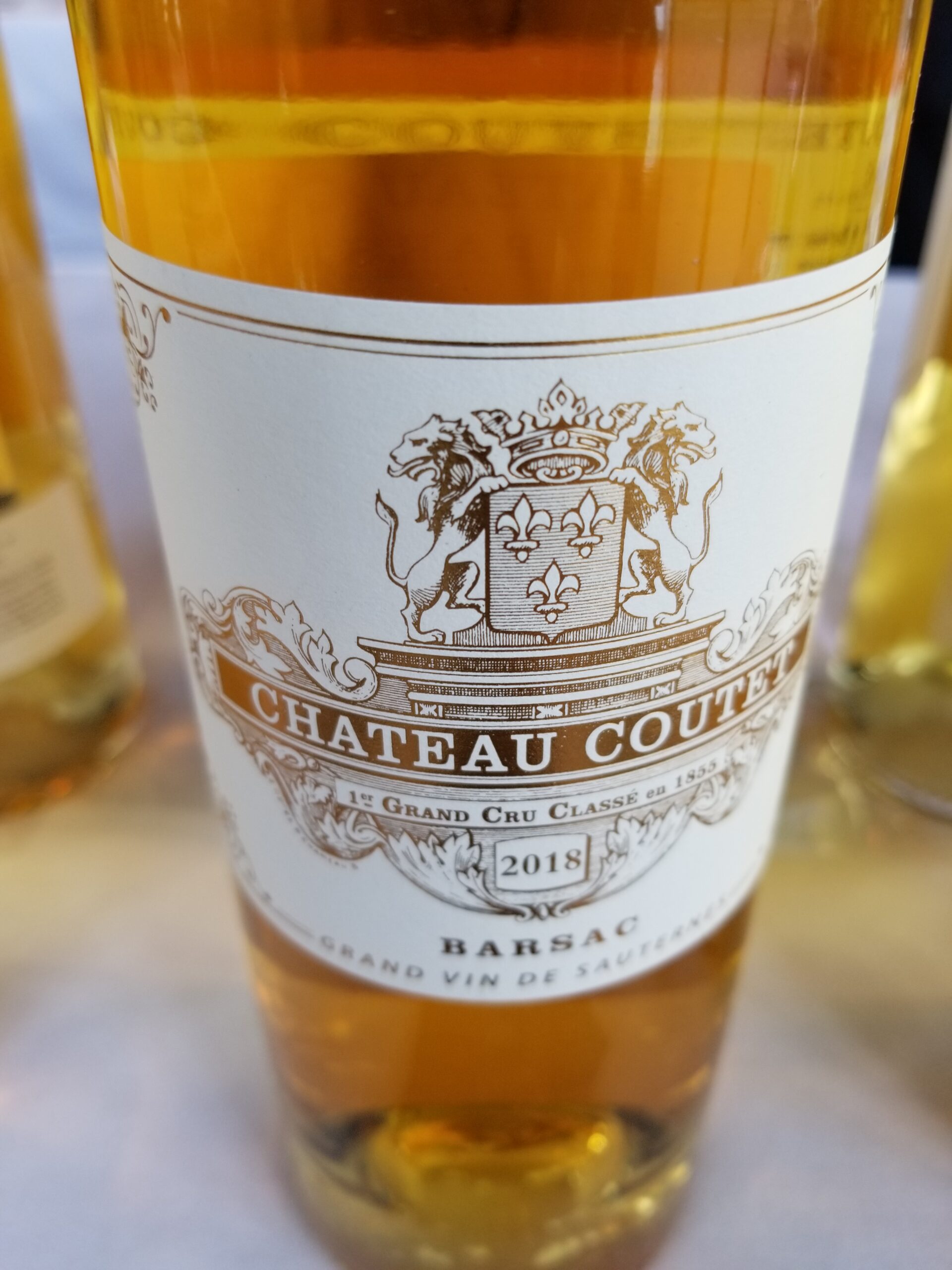 The wines in this report were tasted in New York City in June 2020: they represent my selection of top 2018 wines amongst all those I tasted on this occasion. This report reproduces the sequence of the wines in the order I tasted them. A note on my scoring: I am a conservative scorer, just like Ian D'Agata, Steven Tanzer and a few other experienced wine writers. I do not hand out 98s, 99s and 100s like confetti at a marriage. The virtue of conservative scoring is its trustworthiness: if every other wine gets a score of 97 and above, said scoring is all but worthless. Last but not least, I use the + sign when I believe that aging will be particularly beneficial to a wine, as is also the custom of TerroirSense Wine Review.
The Right bank
Saint-Émilion
2018 Château La Gaffelière Saint-Emilion          95
2018 Château Troplong Mondot Saint-Emilion          94
2018 Clos Fourtet Saint-Émilion          93
To my palate, the three best wines were Clos Fourtet, La Gaffelière and Troplong Mondot. The latter is always a dense, rich, earthy wine full of flavour. Clos Fourtet is its stylistic counterpoint: elegant, refined, and with more precise delineation if less material. Gaffelière was a terrific blend of the two styles.
Pomerol
2018 Château Gazin Pomerol          93
2018 Château La Pointe Pomerol          92
2018 Château Rouget Pomerol          93
Slim pickings compared with the St. Émilion. Only eight wines were presented and none of the heavyweights with the possible exception of the Clinet which is tight as a drum currently. But Clinet never shows much when young! There were three very good wines including the surprisingly fine La Pointe. Interestingly, I recall the 2017 being much better than I expected and so the 2018 is a confirmation of sorts of this property's current happy state. This may have been the most agreeable wine of the afternoon. The Gazin was excellent as it has been for some time now and the much-improved Rouget was also very good indeed.
The Left bank
Margaux
2018 Château Brane-Cantenac Margaux          93
2018 Château Cantenac Brown Margaux          93
2018 Château Rauzan-Ségla Margaux          95+
Margaux as usual provided a wide range of styles and quality. There were three first rate wines: the two Cantenac wines and the outstanding Rauzan-Ségla. The latter had all the features one seeks in a top flight Margaux wine- perfume, lively mouth feel and complex undertones. The Brane-Cantenac is a big earthy wine with lots of presence. The Cantenac Brown was perhaps a little less intense but nonetheless, impressively full-bodied.
Saint-Julien
2018 Château Langoa-Barton Saint-Julien          93
2018 Château Léoville Barton Saint-Julien          95+
2018 Château Léoville Poyferré Saint-Julien          95
Who does not love these wines? Very successful in 2018. Stand outs for me were the elegant, old world Langoa-Barton; the complex, sophisticated, majestic Léoville Barton; and its polar opposite, the juicy, fluid, sexy Léoville Poyferré. These two wines between them define the ever-rewarding contrast between Old World and New World Bordeaux! My taste runs to the Barton interpretation. But that is just mine. Poyferré's success is well merited. Gruaud Larose with its new wax capsule was just too sweet and soft to be true to itself, at least to my palate.
Pauillac
2018 Château Clerc Milon Pauillac          93
2018 Château D'Armailhac Pauillac          93
2018 Château Pichon-Longueville Baron Pauillac          97+
2018 Château Pichon Comtesse de Lalande Pauillac          96
A great success in 2018. Pauillac is the magical commune: three first growths, two super seconds, two fifth growths (Lynch Bages and Pontet-Canet) which sometimes rival the firsts, plus a half-dozen additional fifths now making outstanding wine. There is an aromatic spice and deep tobacco-inflected scent which is instantly recognizable to any experienced taster of Bordeaux. If I am allowed a comparison to Burgundy (both regions will forgive me I hope), Pauillacs combine the best of Vosne-Romanée with the best of Gevrey-Chambertin: an unbeatable combination. The two Pichon wines, as different as day from night were outstanding, fully meriting their super-second growth status. The Baron is a gigantic wine with a multitude of dark berry flavors and a wealth of mineral tones but also a texture to keep the intense flavors in check. The gorgeous Lalande is so fragrant that the nose alone is worth the price of admission, as they say. As almost always is the case with this wine, I find there is a Saint-Julien-like appeal to the Lalande. The Fifth Growths d'Armailhac and Clerc Milon (there is no dash in the wine's name, despite what you'll see pasted all over the web) were both seriously splendid wines. Especially the former was just lovely with a floral fragrance that was beguiling. By contrast, the Clerc Milon is a sturdier, spicier wine with excellent texture. Another wonderful pair of contrasting Pauillac wine styles.
Saint-Estèphe
2018 Château Lafon-Rochet Saint-Estèphe          93
2018 Château Phélan Ségur Saint-Estèphe           93
It is always instructive and a bit of a shock to go from the glamorous, regal Pauillacs to the earthy, chewy Saint-Estèphe wines. As always, it is a matter of terroir, and in this specific case the soil content is most important — Saint-Estèphe is characterized by a slightly higher soil clay content than what is common on the left bank. And so it was that the heavy winter rains helped the Saint-Estèphe terroir retain water in the dry hot summer, such that the better situated estates of the Appellation did not suffer from the water stress that afflicted other Bordeaux areas. There were only a few Saint-Estèphe wines at the tasting. Two were memorable: the ever-improving Lafon-Rochet, with its impressively dense and long mouthfeel, and the stunning Phélan Ségur which has been making wine worthy of Grand Cru Classés status for a decade. In fact, had I tasted the 2018 blind, I would have called it a very successful fourth growth: a powerful, intense wine whose earthiness is mitigated by deliciously ripe fruit.
Pessac-Léognan
2018 Château Smith Haut Lafitte Rouge Pessac-Léognan          96+
2018 Château Domaine de Chevalier Rouge Pessac-Léognan          94
Pessac-Léognan wines are never easy to taste when young. It takes time for the fruit, which is submerged in tannin and the dark earthy tones from the rocky soil to emerge. Eventually, the best Pessac-Léognans exhibit an underlying nobility and structural solidity which can be most admirable. Without Haut-Brion and La Mission Haut-Brion resent in this tasting it is all but impossible to judge the success of this appellation in a very recent vintage. Nonetheless, I found there were two terrific wines and one attractive, albeit New World-styled, wine from Pessac-Léognan in this vintage. The latter was the Pape Clément, so beloved of those seeking fruit forward, juicy Bordeaux. In that mode, Pape Clément is a real success. It is just not what I seek. Both Domaine de Chevalier Rouge and Smith Haut Lafitte were excellent. The former has become a truly first-rate wine in the past ten years or so. Medium-bodied with scents of wild mushrooms and an agreeably fluid palate, it ticks all the right boxes. Smith Haut Lafitte is just a block buster in the best sense. A mouthful and a half of dark, inky wine, infused with the flavours of small rocks and wild mushrooms; it will become a masterpiece in ten years or so.
Sweet white wines
Sauternes/Barsac
2018 Château Coutet Barsac          97
There was not much botrytis in 2018 but plenty of ripening sun! And so, for the most part, wines speak more of air-dried grapes than they do of the smoky complexity induced by noble rot. There was just one masterpiece: the glorious Château Coutet. Luscious on entry, with myriad scents of apricot pit, almonds and pear, the wine takes over the palate in a most enjoyable fashion. The long moderately tannic finish only added to the complexity and enjoyment of the wine.