1989 Château Coutet Barsac                                                               94
Simply put, Château Coutet is one of the top four or five Bordeaux sweet wine producers, with a long history of producing one amazing wine after another.  In fact, it's not just one of my favourite Sauternes of all, but one of my favourite sweet wines from anywhere.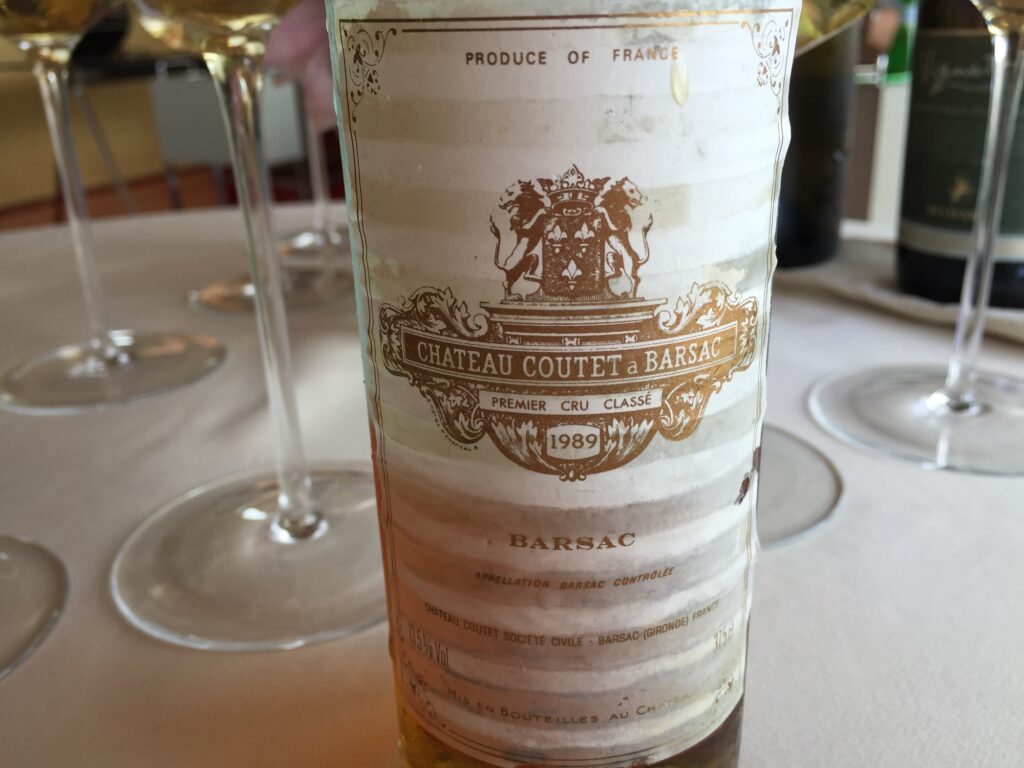 I wrote "Sauternes", but in fact I should have said Barsac. This is because the Barsac production zone is located entirely witin the larger Sauternes Appellation; but differently from their neighbours in Bommes, Fargues and Preignac (also all located within the Sauternes Appellation) that also make Sauternes wines, Barsac estates are the only ones to have the option of labeling their wines either Sauternes or Barsac (many estates choose to go with Sauternes figuring it increases their chances for sales success, given that is the name most people associate with Bordeaux's great sweet wines).  Actually, Sauternes and Barsac are rather different geologically and topographically, so the separation makes a lot of sense (Barsac's lay of the land is generally flatter and its soils have a higher sandy and limestone content making for generally higher acid, racier wines). That Coutet identifies itself as a Barsac is therefore both easy to understand and appreciate.
Over the years I have tasted an almost infinite number of outstanding Coutet wines: the 1988, 1989 and 1990 are the first three to come to mind, but the fact is this property excels even in off-vintages. The 1989 Sauternes vintage was a remarkable one, and the 1989 Château Coutet is in keeping with the vintage's at once powerful yet elegant wines, both extremely luscious and precise. A passerillage and noble rot bonanza, this memorably big yet nuanced Château Coutet is delicious, a wine you can drink alongside many different richer dishes, such as those involving pumpkin, scallops and shrimp and white meat stews. The wine boasts very pure roasted pineapple, canned peach, crème brulée, and honeysuckle complicated by hints of saffron, tangerine marmelade and a strong dose of minerality (always a Barsac signature). Still very fresh and vibrant, this will live another 25 years without any problems. About this wine's only problem is that in 1989 the estate also made its super deluxe cuvée called Madame, an even richer wine than this one. Drinking window: now-2050.
2000 Rocche dei Manzoni Barolo Vigna Cappella di Santo Stefano                                         94
Valentino Migliorini ran a Michelin starred restaurant when in 1974 he decided to buy a second home in Monforte d'Alba. From that point on, his name became much more synonymous of great wines, as his innovative and quality-directed mind led him to make some of the Langhe's first ever and best wines of their kind. Such as, for example, the first assembly of Nebbiolo and Barbera (a wine called "Bricco Manzoni"), and a sparkling wine ("Valentino Brut") made by secondary fermentation in the bottle in the manner of Champagne that was for the longest time the best sparkling wine of Piedmont (and still is one of the best made today). But clearly, it's the Barolos that made this estate's fame, and none have been as successful in my books as those made with grapes grown in the beautiful Cappella di Santo Stefano vineyard.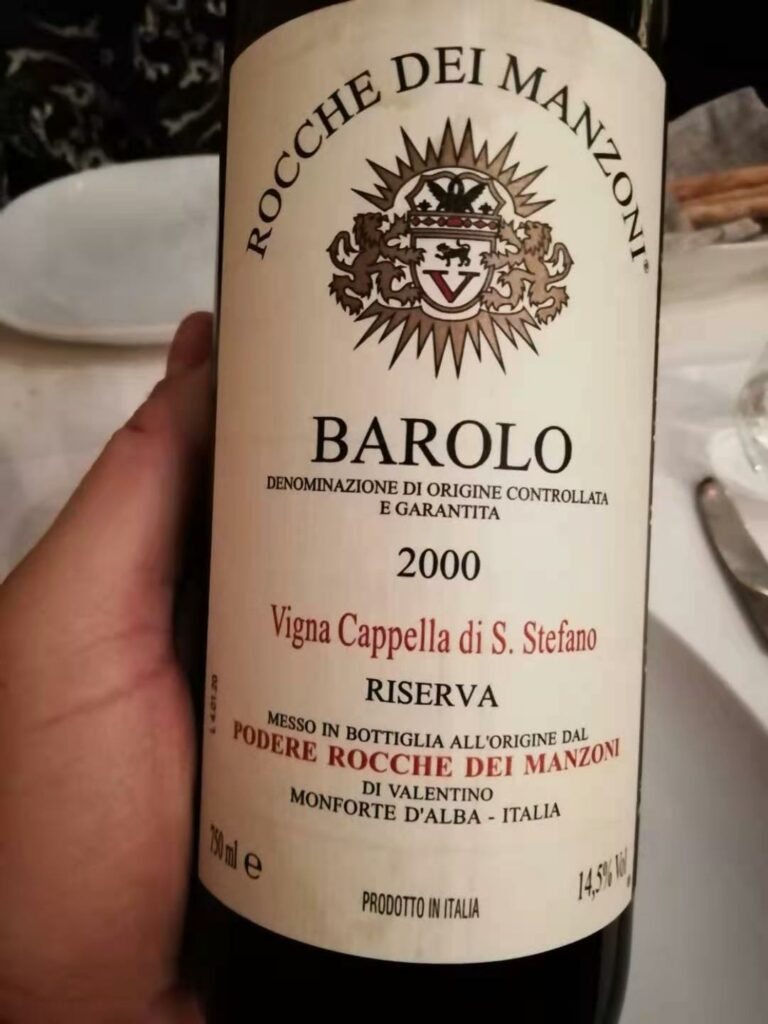 The Cappella di Santo Stefano vineyard is located in the heart of the Barolo production zone, in Monforte d'Alba's Perno cru (the official Italian name is Menzione Geografica Aggiuntiva or MGA, but "cru" is so much better and easier a word to use that it's not even funny). It has a southeast to southwest exposure and the vines grow at about 350 meters above sea level. The soil is characterized by grey marls and reddish-yellow compacted sands that give powerful wines but with especially suave tannins. The wine was first made in 1993 and has always been one of the best Barolos made not just by Rocche dei Manzoni but in the whole of the Langhe.
The 2000 Rocche dei Manzoni Barolo Vigna Cappella di Santo Stefano is a case in point. A shamelessly overrated year (not surprising, given it was a millennium vintage) that for the most part gave good but not great wines, this wine is an exception that proves the rule wrong. By that I mean that whereas I hesitate not once but two and three wines to buy any 2000 Barolos (unless the price is especially inviting) because there are so many other better vintages to go after, this wine by Rocche dei Manzoni is  everything it was and is cracked up to be. Rich and ripe but not at all heavy and over the top, aromas and flavours of red cherry, camphor, woodsy underbrush, vanilla and violet explode from the glass. Unbelievably suave and fine-grained, the finish lasts and lasts and you'll find yourself either not wanting to put the glass back down until you've emptied it, or continuously looking for refills. In typical Vigna Cappella di Santo Stefano fashion, this is never the most powerful or most complex or richest or deepest Barolo you'll ever drink, but it always boasts noteworthy levels of all those qualities while combing them in an exceptionally smooth and well-balanced whole. Therein lies the magic of this vineyard site. In short, this beauty is just plain old lip-smacking delicious! Drinking window: now-2035