2017 Bassermann-Jordan Deidesheimer Paradiesgarten Riesling Kabinett                                   92
One of my favourite wine estates in the world (my first visit there many years ago in the company of winemaker Uli Mell remains one of the high points of my wine life), Bassermann-Jordan has been making amazing wines for centuries. And I do mean centuries. In 1718 the Jordan family emigrated from Savoy to the Pfalz, where Andreas Jordan founded the winery famous for producing exclusively Riesling wines until 1996 (this is not entirely true: like all quality-minded estates, the winery did experiment a bit, and I was lucky enough to try a Scheurebe wine of theirs from the 1970s while visiting the winery). The owners of the estate have not just been successful wine producers but also held official posts at various levels of government: Ludwig Andreas Jordan was a Representative of the Frankfurt Parliament as well as of the Federal Parliament; Dr. Ludwig Bassermann-Jordan played a strong role in shaping the first German wine regulations and co-founded the Association of Natural Wine Producers (later VDP): Dr. Friedrich von Bassermann-Jordan penned a fundamental work on wine history. Today, it is the nhusband and wife team of Gabriele and Margrit von Bassermann-Jordan that manage the estate. Bassermann-Jordan is lucky in that it owns vines in what are not just some of Germany's greatest vineyards, but the of the entire world's (Forst's Jesuitengarten and Kirchestück vineyards spring immediately to mind).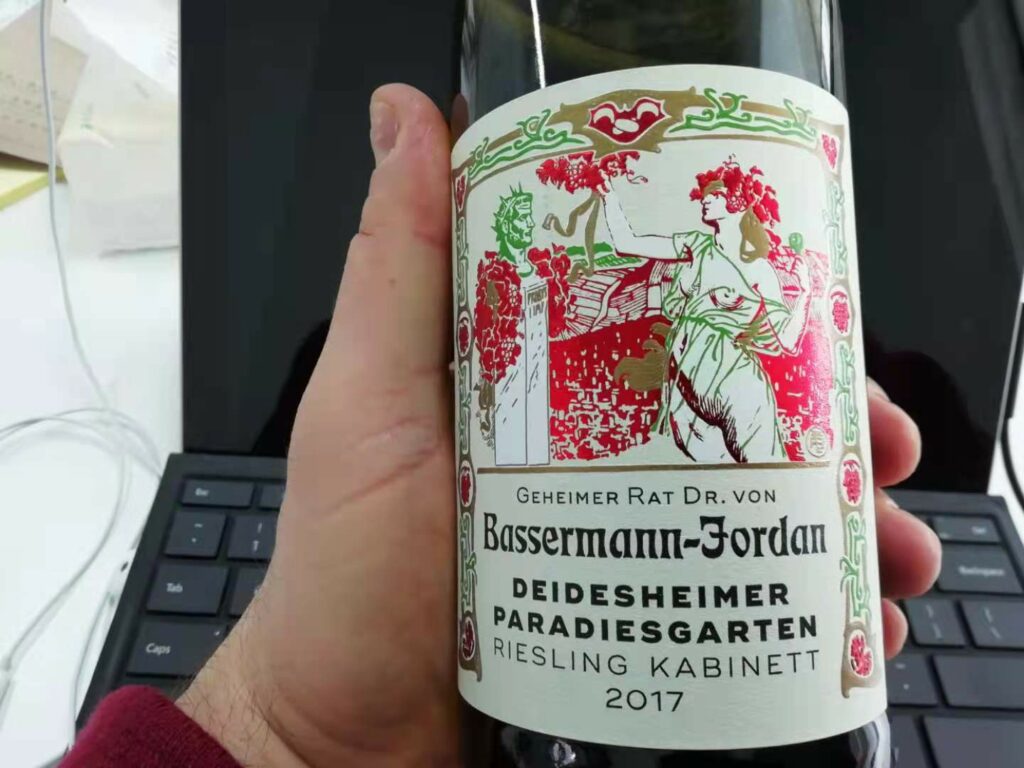 The 2017 Bassermann-Jordan Deidesheimer Paradiesgarten Riesling Kabinett is an excellent example of Pfalz Riesling wine, bigger and more luscious than its Mosel counterparts, for example. The Paradiesgarten is an Erste Lage, a name that in the new German wine classification refers to a first-class vineyard with distinctive characteristics (or in other words, a cru, meaning a specific vineyard characterized by optimal growing conditions by which to make high quality wines and that has done so over a long period of time). It boasts notes of honey, yellow apple, pear, apricot, white flowers iron shavings, and celery jam all combine to leave a complex rich impression on the long very suave mouthfeel, lifted by well-integrated acidity with hints of lime cordial and a dusting of minerals. There is sneaky concentration here, and though currently a little dumbed down this has all the makings of a potentially great Kabinett. Cellar this for another five or six years to let it develop all it is capable of showing, because there really is a lot of wine for the money here but that is currently not fully out in the open. I think you'd be really missing out and not doing yourself any favours by not catching this beautiful wine in all its potential greatness by drinking it too soon. The long finish is not classically dry but more on the slightly off-dry side (as all Kabinetts tend to be, unless also carrying the monicker "trocken") this will match splendidly with fish and pork and other white meat dishes that have a citrus accent to their sauce. Try it, you'll like it! Drinking window: now – 2035
2002 Chateau Guiraud Sauternes                                                                    91
Château Guiraud and Chateau d'Yquem are the only two 1er cru classé estates that have the distinction of being located within the commune of Sauternes itself (all-right, Yquem is actually a 1er cru hors classé, but let's not quibble).
Currently owned by four different families headed by the Planty clan, Château Guiraud was previously owned by a Canadian Millionaire, Hamilton Narby (who deserves to be credited for bringing the property back to its former glory after years of less than stellar management and wines). But it's with Planty and co. that Guiraud has really shot into the quality stratosphere, and is now rightfully considered  to be one of the four or five best Sauternes of all.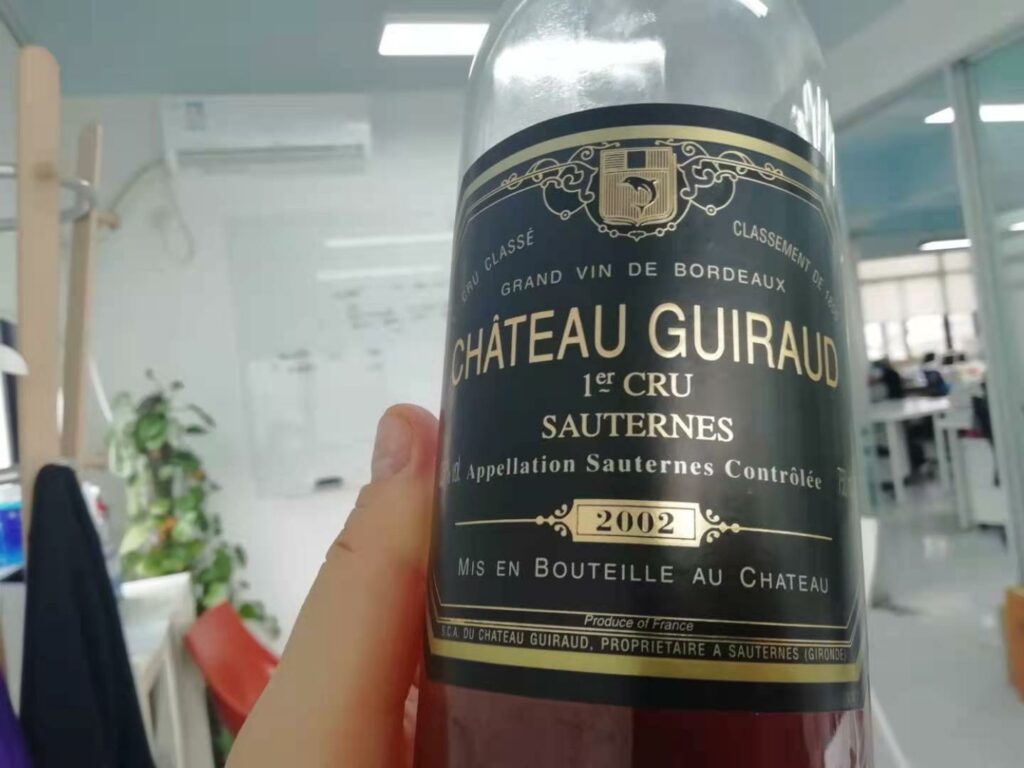 Guiraud is also distinctive because it has meritoriously kept it 85 hectares of vines planted mostly with Sémillon (65-70%) and  has stayed the course, rather than increase the presence of Sauvignon Blanc (currently at roughly 30-35%), as many other Sauternes estates have done over the last fifteen years. Over the years I have tasted many outstanding Guirauds, but most recently I had the good fortune of drinking the lovely 2002 Château Guiraud at dinner with friends. Clearly, the rainy 2002 vintage will never be remembered as a great year for Sauternes (and practically nowhere else in the world of wine, save for Burgundy and few other places), but there's a lot to be said for a graceful sweet wine like this. The very clean aromas and flavours of orange marmalade, beeswax, saffron and peach skin are delightful. Because of its lighter structure and lack of heft, the wine matches well with many other foods than di the more opulent, viscous sweet versions typical of better vintages. In fact, one of the tricks to matching Sauternes with a slew of foods that stray beyond cheese and desserts is to pick wines from what are considered to be lesser years (rightly or wrongly, because the accuracy of that assessment depends a great deal on the context in which you will drink the wine). This very pretty wine is still lively and very pretty, and despite it being a "weak" vintage, it has years of life still ahead. I loved it! Drinking window: now-2028.