Christophe Baron 2017 Champagne Le Dessus du Bois Marie                 95
by Robert Millman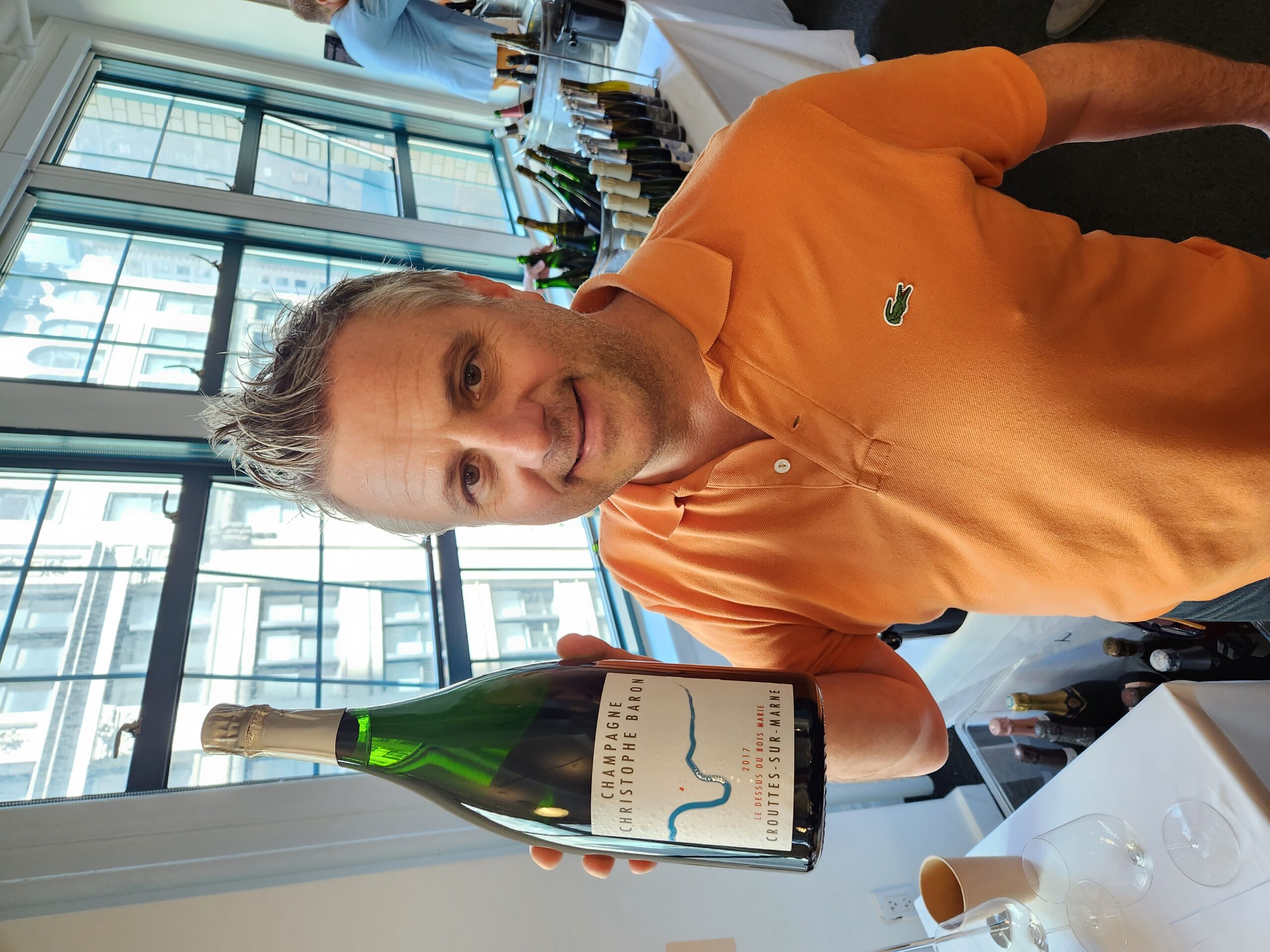 Almost everyone who has met the irrepressible Christophe Baron knows him as the creator of Walla Walla's iconic winery he named Cayuse way back in 1979 when he began planting Rhône varietals in a very rocky region in the Walla Walla district of Washington State. In fact, the area was called 'The Stones', named for forbidding surface area. But to Frenchman Christophe Baron, it reminded him of the southern Rhône. He had little fear about utilizing this difficult terrain to make potentially first-class wine from Syrah and Grenache. He succeeded to a degree that even he might not have expected. Not only are his Rhône variety reds in high demand, but they are the best wines of their type made outside the Rhône Valley.
Baron's background actually belongs to Champagne where his family has been grape growers since 1677. The estate is located in the extreme western part of Champagne in an area called Charly-sur Marne. Pinot Meunier is the grape of choice and necessity in Western Champagne as there is no chalk in the soil making it unsuitable to both Chardonnay and Pinot Noir. Pinot Meunier is thought of as a blending grape in the classic Champagne villages imparting a warmth and roundness which compliments the austerity of Chardonnay and the density of Pinot Noir. But in western Champagne, Pinot Meunier achieves a surprising nobility and complexity not found elsewhere.
Christophe returned to his roots in 2014 when he began a process that would lead to his bottling three to four different Champagnes—in Magnum only—under his name. The 2015s were the first to come to America. It was his 2017 Champagnes which I tasted and discussed with him recently. When Baron started this new project, he engaged world-renowned soil experts, Claude and Lydia Bourguignon, to study his hillside parcels and they found a great variability of different soils. He brought along with him photographs of the terroir structure of each of the three Champagnes he served. I liked them all but preferred the middle Champagne he labels as "Le Dessus Le Bois Marie" (or "Above Marie's woods", in English) which has the highest elevation of his four sites.
Like Krug, Baron ages his wine in used oak barrels, in both regular size and demi-muids. All his Champagnes are non-dosage. Why does Baron bottle only in Magnum? As he explained, one bottle at a table is never enough. A magnum is perfect for four or six people. Furthermore, Champagne ages much better in magnum retaining a freshness all but impossible in 750 mL bottles. All through Baron's career he has liked making statements with his wines using names like Bionic Frog and Horsepower. There is a lot of humor in his approach along with a deep seriousness belied by his jocular manner. I enjoyed the richness and density of all the cuvées he showed. The Bois Marie seemed lighter on its feet, more precise with a wonderful combination of orchard fruits, lemon zest, minerals and mintiness that I found most appealing. If I had a restaurant I would serve the Baron Magnums by the glass—making every taster happy. Drinking Window: 2023-2032.
Passopisciaro 2019 Contrada G Terre Siciliane                              95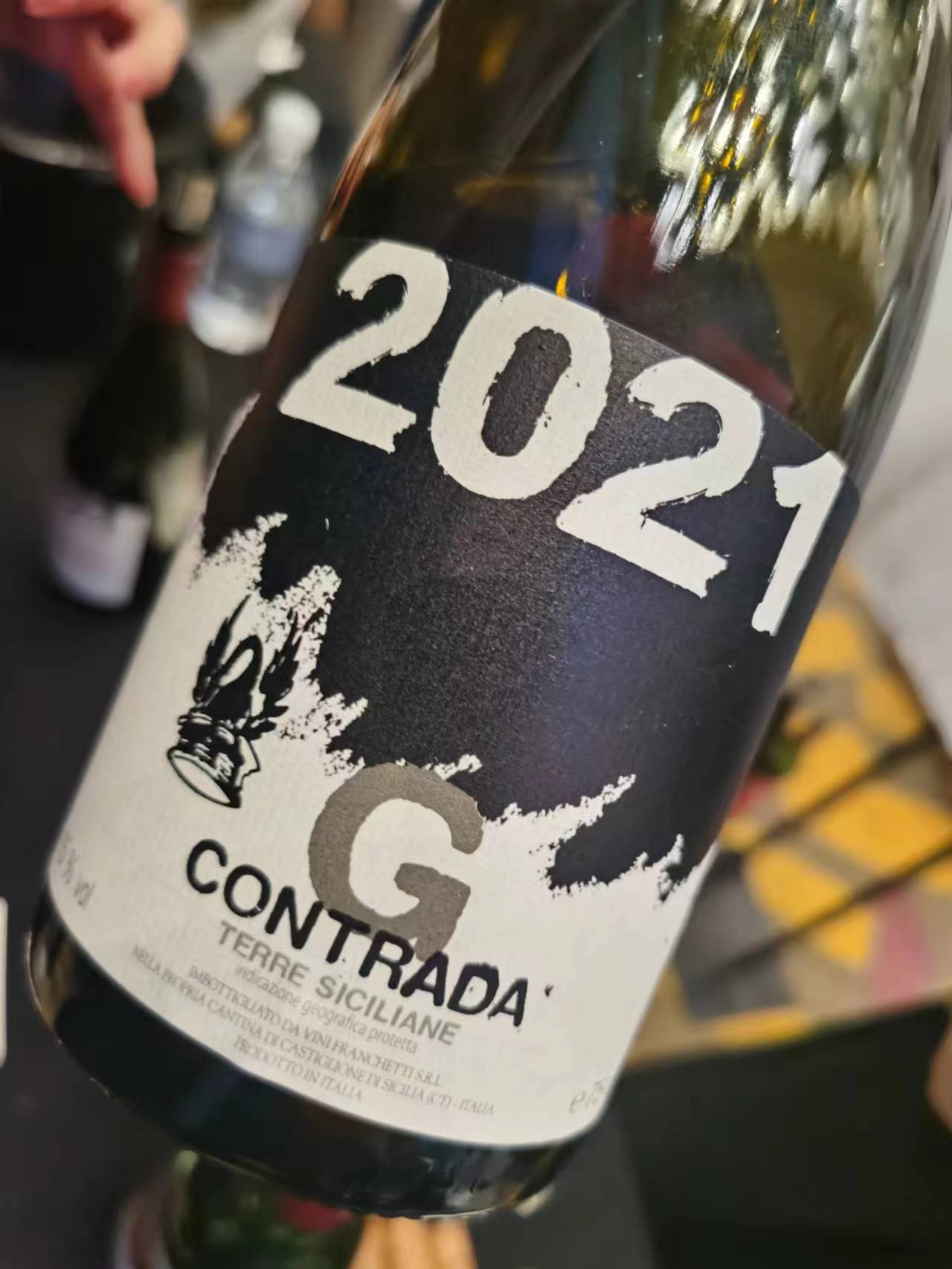 The Contrada G has always been my favourite wine made by the late Andrea Franchetti and his super-talented team at Passopisciaro, the Etna estate of Vini Franchetti (the latter is the name of the holding company that also houses Tuscany's world-famous Tenuta di Trinoro winery and the unique Sancaba project, another Tuscan reality but devoted to Pinot Noir). Contrada G is essentially an Etna Rosso wine made at Passopisciaro from gorgeous vineyards planted on the northern slope of Etna, though the wine is labeled as a 'Terre Siciliane' for mostly bureaucratic reasons.. Fact is, this gorgeous red wine is a magical rendition of Etna wine and tells the story of Europe's highest volcanoes and the fantastic wines that are possible here like very few others.
Broght pale red-ruby. Captivating aromas of sour red cherries, wild raspberries, minerals, violet, sweet spices and a whiff of licorice. Then extremely focused and energetic, with classically austere red fruit aromas enlivened by a whiplash of powdered rocks and balsamic herbs. A very vertical wine, racy and taut, boasting a saline undertone that adds even more freshness to a compellingly well-balanced wine the gracefulness of which reminded me of one of the ballerinas in a painting by Degas. But at the same time, there is a Picasso-esque Guernica-like power that speaks of the steely minerality that are Etna Reds. Currently a little folded on itself and very taut, but time spent in a good cellar will take care of that: so make no mistake, this is absolutely magical stuff that is still very young and that will age and improve for another decade splendidly (hence the '+' sign on my score).
Guardiola is one of the highest of all Etna's Contrade at 800-1000 meters above sea level, hence it is one of the coolest and Nerello Mascalese doesn't always ripen fully there. But when it does, look out, it gives the most elegant and unique of all Etna wine expressions. For my money, it is the grandest of all of Etna's grand crus. Drinking window: 2025-2035.