Mayolet is one of Italy's best and yet least-known native grapes. It is native to the Valle d'Aosta, that bucolic Italian region (the country's smallest) located up high in the alpine reaches of the northwestern section of the country, on the border with France. Mayolet has been hanging around Valle d'Aosta vineyards for a long time: the first documentation of it dates back to 1787, in the Cahiers de la Cave of the Passerin d'Entrèves (and not 1822, as has been erroneously written elsewhere). The fact it is an old grape variety (described as such already in 1896 by Bich, explains why it is one of the parents of other local and non-local grape varieties such as Rouge du Valais (considered a Swiss native grape). It also shares a parent-progeny relationship with Prié and Vuillermin, two other high quality Valle d'Aosta native grapes [see TerroirSense Wine Review, November 8, 2023: The Marvelous Prié Blanc and its Blanc de Morgex et La Salle wines (plus one surprise!)].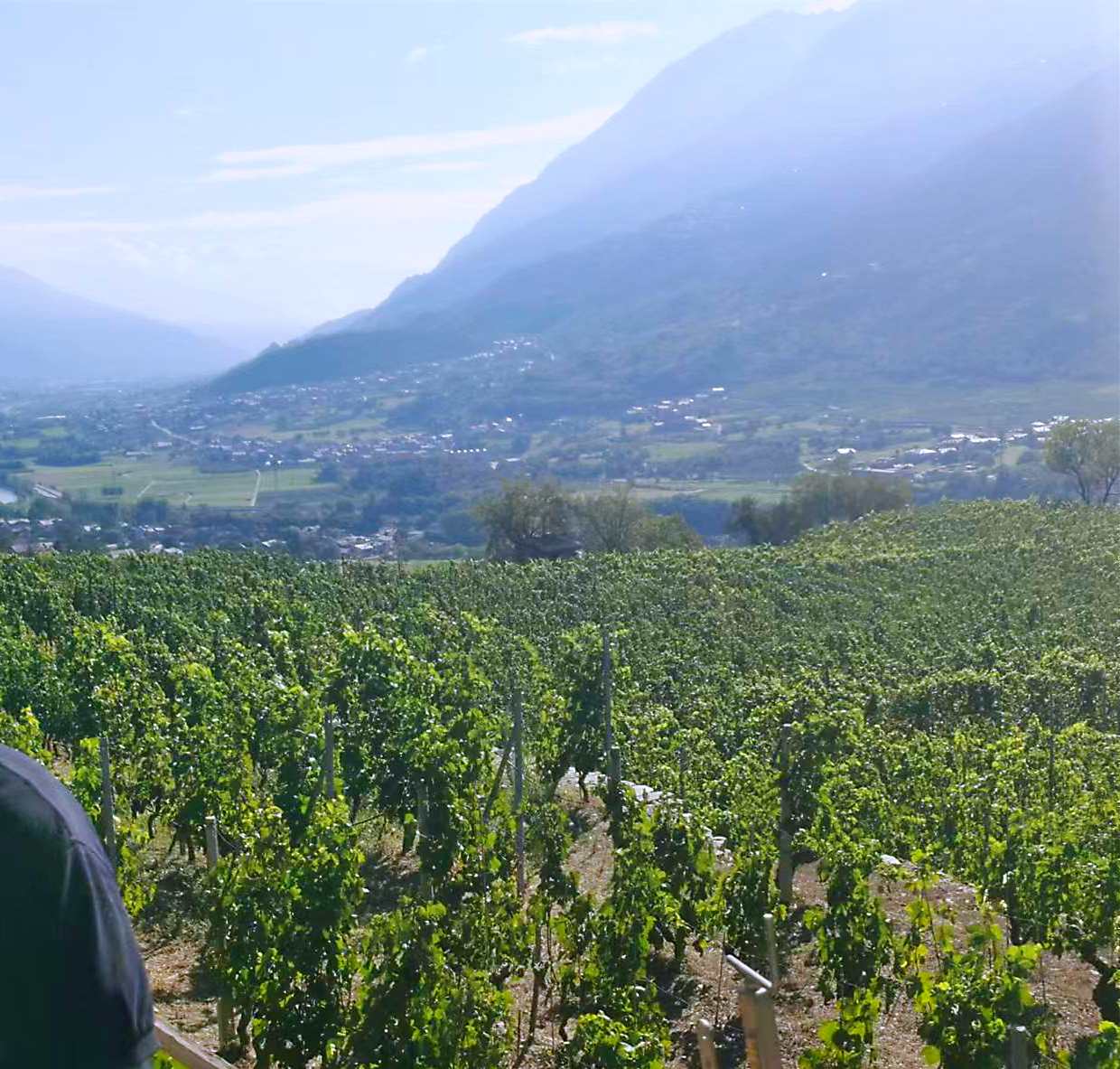 Mayolet was always historically abundant in the vineyards of the towns of Aymavilles, Sarre and especially Saint-Pierre. So it is not without logic that still today, the wineries making the most famous Mayolet wines are located in Sarre and Saint-Pierre (for wine does have a logic).
According to Elvira Rini, the owners of the outstanding Di Barrò winery in Saint-Pierre, they have had Mayolet in their territory "since forever", but it was only at the end of the 1990s that thanks to Giulio Moriondo, a scientist and winemaker who worked for years at the Institut Agricole Regional (or IAR for short, it is the Valle d'Aosta's technical and academic wine and agriculture research center) that it was replanted at a feverish pace in the whole region. But because of the viticultural difficulties Mayolet poses (mostly an extremely tight, compact bunch that is a rot-magnet), already by 2002 it was being abandoned, with estates that had planted it only six-seven years prior ripping it up. The rollercoaster ride that are Mayolet's fortunes is well exemplified by the fact that whereas in the early 2000s there were about ten producers of Mayolet wine, this number fell to two or three in short order, only to be back up to almost ten producers now that the grape has become fashionable once again. Interesting to see how life and fashions change.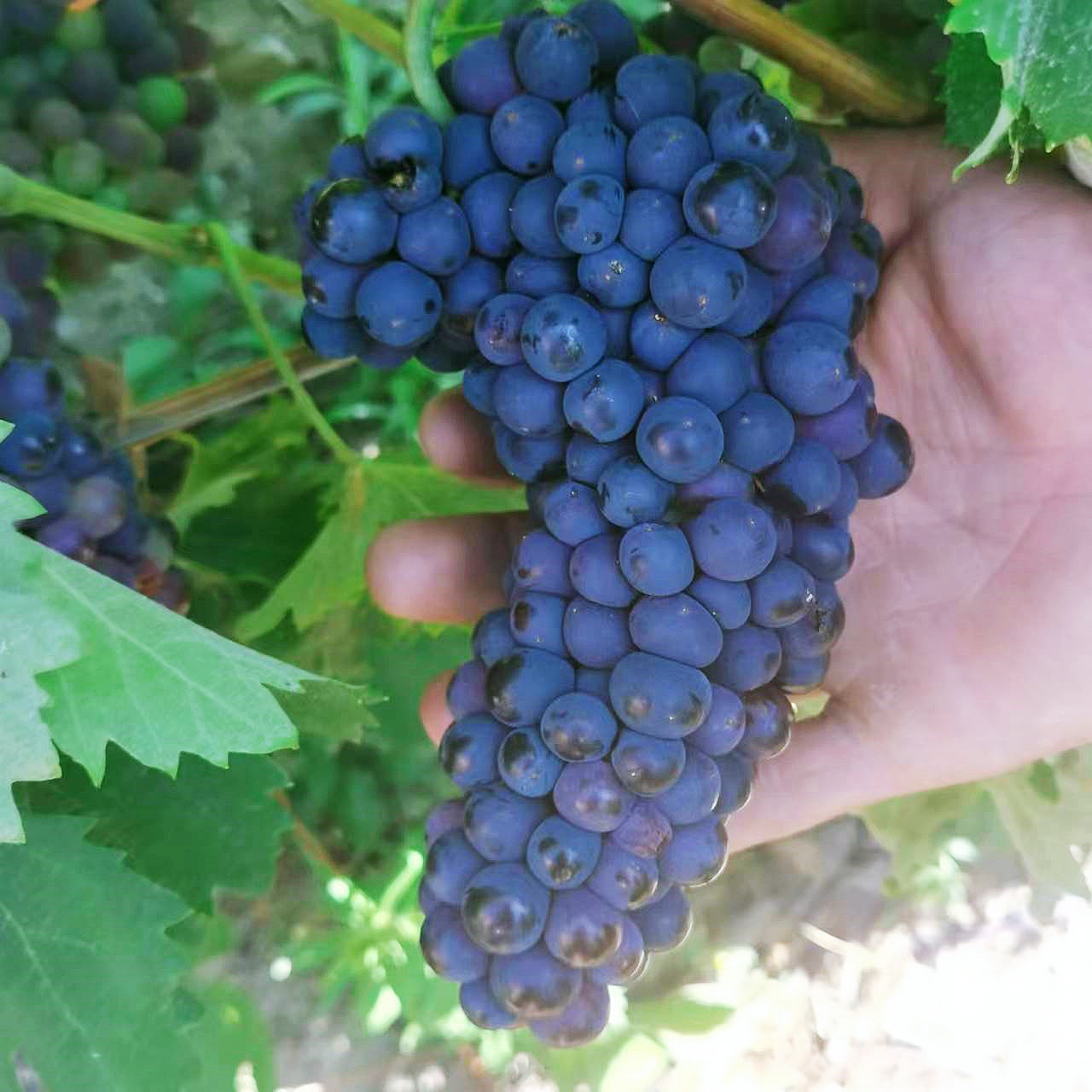 For Mayolet to deliver its best wine, one that boasts a rather rare combination of medium-strength aromatic perfume and light-to medium-bodied fruity and herbal charm, it needs altitude, ventilation (the rot problem again), and soils that are loose and poor in nutrients. For example, if the soil is too fertile or too water-logged, Mayolet will rot even more: among other problems, it is also very sensitive to powdery mildew (oidium). As an interesting confirmation of what I have just told you, Rini told me that they once had a few rows of Mayolet in front of the house but that "they were a disaster", with grapes rotting all the time so they decided to graft over them; by contrast, Mayolet ripens and grows well in all their other vineyards. Besides its bunches being the site of many a rot party, Mayolet grapes also drop their acidity quickly so the grapes have to be picked quickly, once ripe. The variety is in fact rarely picked after mid-September, and is usually the first grape to be picked after the white grapes of the Valle d'Aosta are harvested. Last but not least, Mayolet is a very productive variety, so its vineyard growth has to be regulated by green harvest measures because if not it will produce many kilos per plant; interestingly, climate change has not reduced the need for green harvest.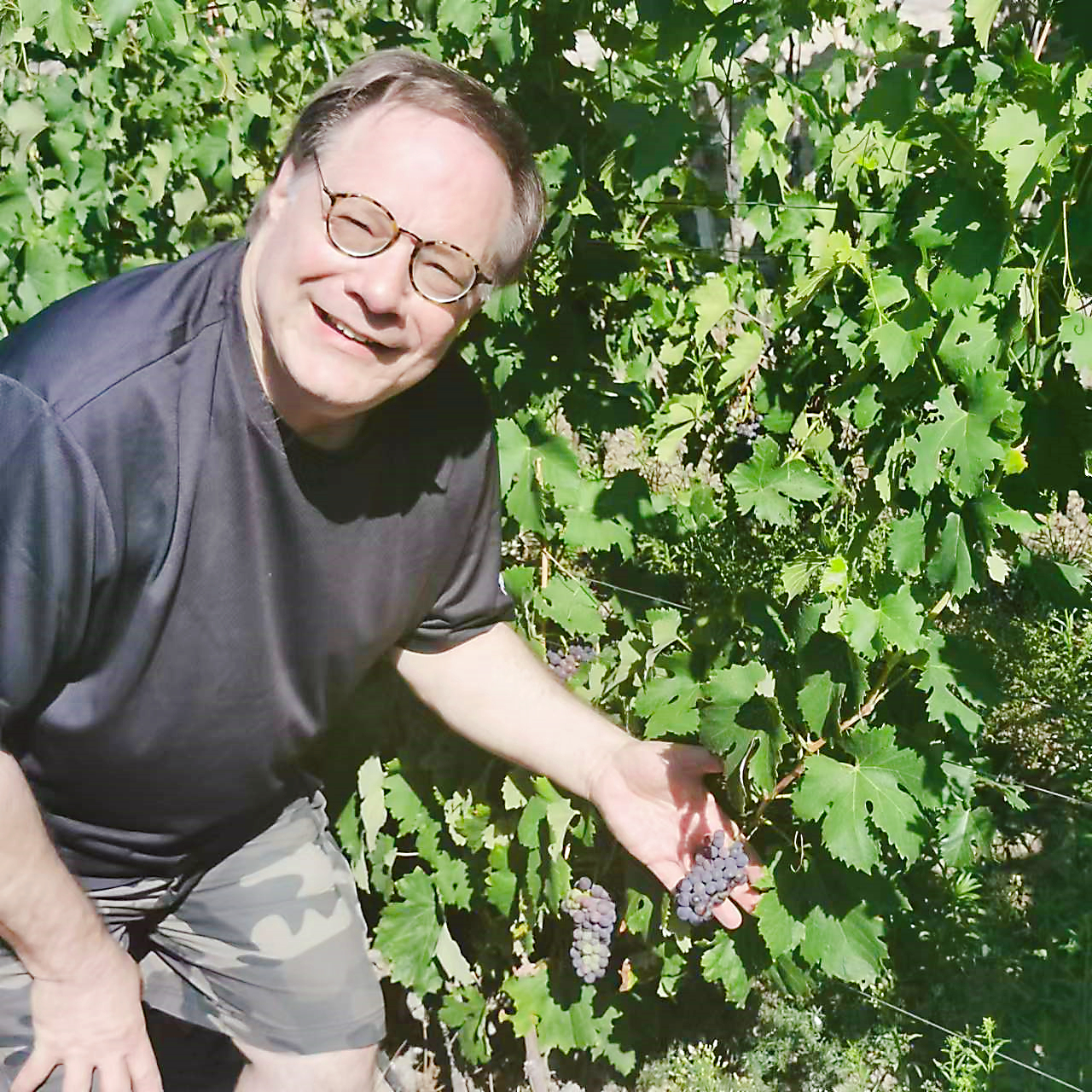 If Mayolet's flaws are admittedly noteworthy, so are its charms: it produces wines of remarkable freshness and perfume (provided the producer knows what he or she is doing, because Mayolet is a reductive variety and off-odours are easy to form during the winemaking process). Its wines are really unlike any other Italian native variety you can think of. Mayolet's wines are not just penetratingly, almost pungently perfumed and fresh, but also very flavourful, and this without ever being too high in alcohol level. Mayolet wines rarely show more than 12.5% alcohol by volume. So it is not just a light-bodied wine, but also one that is never heavy and therefore very easy to drink. Even better, and perhaps somewhat surprisingly given the grape's penchant for giving wines of relatively light frames, Mayolet wines age remarkably well too, as this vertical tasting report will attest.
Undoubtedly, Mayolet's many positives offset its negatives (for the most part): there were once as much as 100 hectares of Mayolet planted in te Valle d'Aosta (to help you put the relevance of that figure in perspective, consider that today there are only about fifteen hectares planted to Mayolet, and that there are less than 500 hectares of grapevines in the whole Valle d'Aosta). So clearly, quite a few people liked it centuries ago; and given its recent rise in popularity,  there are obviously many today who, just like I, think it really is a swell little wine grape after all.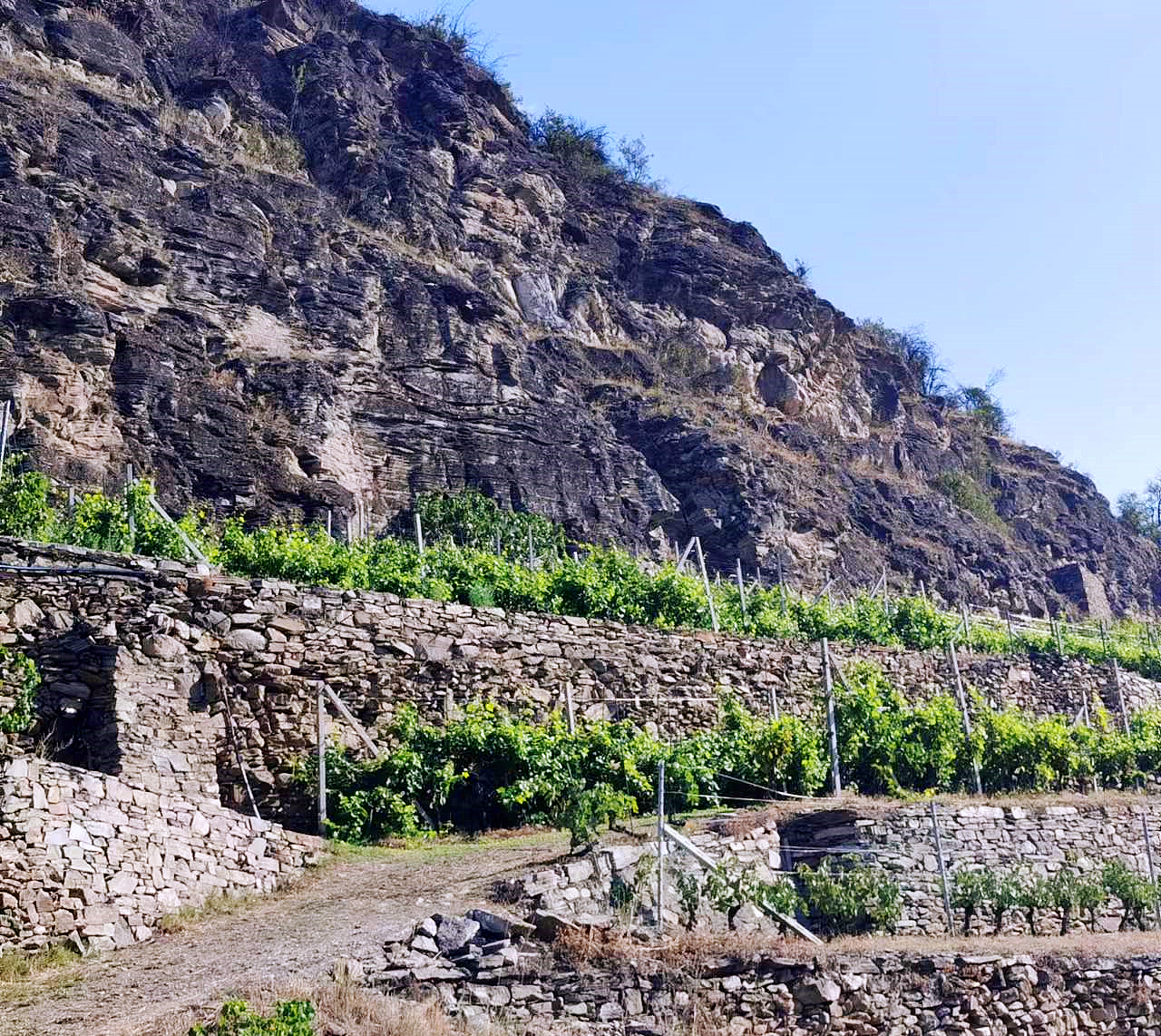 Di Barrò: good things really come in small packages
They certainly must think so too at Di Barrò, a small but extremely high-quality Valle d'Aosta estate that is making some of the region's most exciting wines. The winery boasts only four hectares (how's that for a Lilliputian wine estate?) and produces about 18,000-20,000 bottles of many very fine wines. I am writing here about their Mayolet wine, but the winery makes superlative Petite Arvine, Pinot Gris, Torrette, Torrette Supérieur and Torrette Supérieur Ostro (the latter made with grapes picked in the vineyard planted in the original Torrette lieu-dit) wines too, among others). Di Barrò is run by the husband-and-wife team of Elvira Rini and Andrea Barmaz (a prominent academic researcher in the region and also a huge, well-known and respected cheese expert), now assisted by their son Matteo and daughter Francesca. The winery's name stems from a local dialect word meaning "of the barrels/from the barrels", and is a reference to the small, characteristically shaped wine barrel traditionally used in the region. But "dibarrò" is also the acronym of the first few initials of the surnames of the estate's previous owners, Di Barrò and Rossan, and parents in law of Elvira Rini. Rini took over in 2000, and the estate has never looked back, going from strength to strength. The winery's vineyards are planted with southern exposures in the territories of the communes of Saint-Pierre, Villeneuve and Sarre, between 600-900 meters above sea level and are farmed with eco-sustainable practices. The Mayolet in particular is farmed from the Toule and Condemine vineyards in Saint-Pierre, planted at about 850 meters above sea level. I have walked these two vineyards on a bunch of occasions and can vouch that not just the walk, but the sights and panoramas too are beautiful. The wine is stainless steel-fermented and aged in stainless steel tanks for twelve months prior to bottling and going on sale. Since 2011, Di Barrò has made a Mayolet wine every year, save in 2017 because of frost-related problems.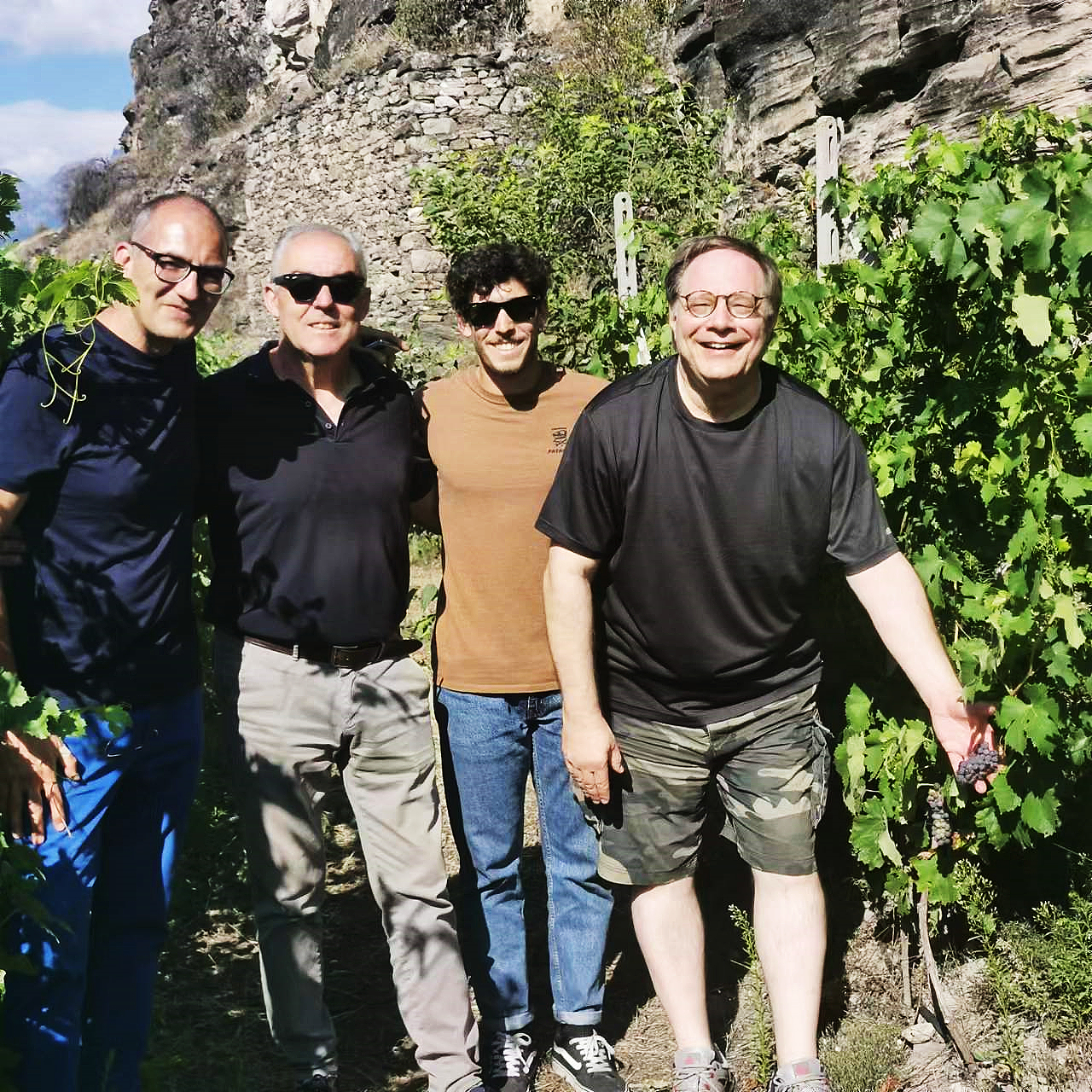 The wines in this tasting report
All the wines in this report were tasted directly at the winery in the company of Elvira Rini, Andrea and Matteo Barmaz this past August, when I visited wineries all over the Valle d'Aosta. As always, travel and accommodation expenses relative to this trip were not paid for in any way or part by government institutions, producer associations or the winery itself. It is your guarantee of independent wine writing and judgements at the TerroirSense Wine Review.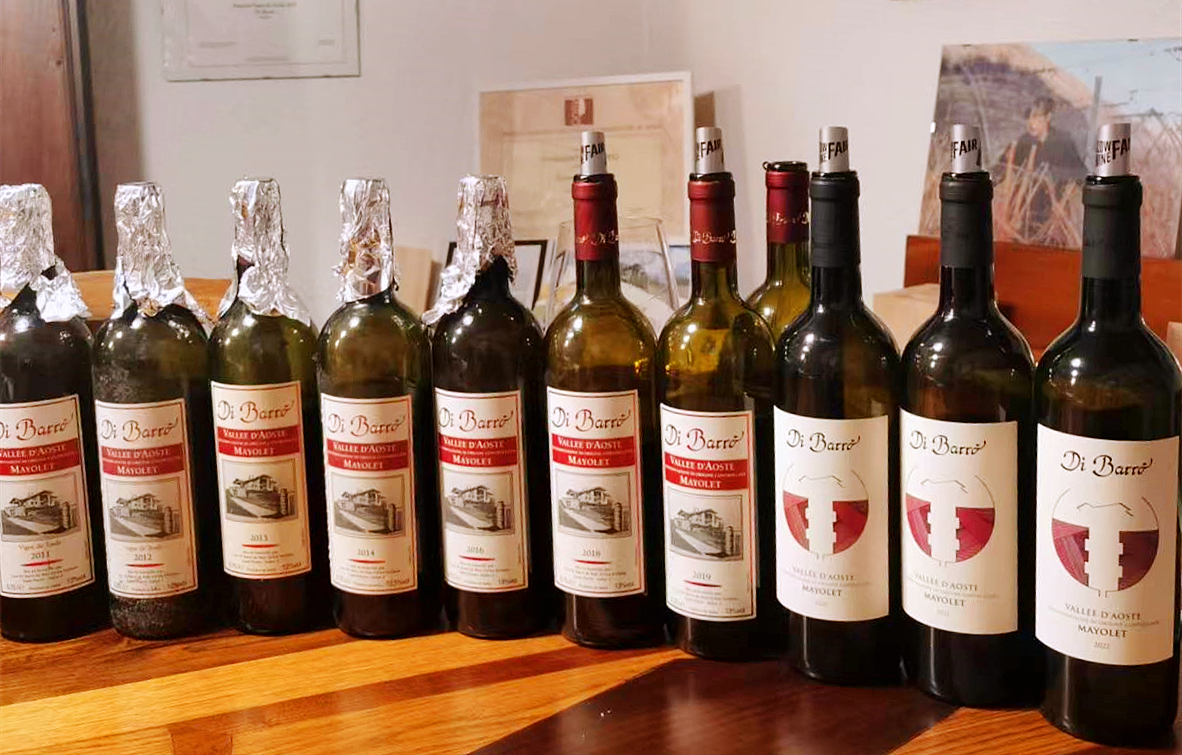 Di Barrò 2011 Mayolet Vallée d'Aosta            94
Bright red. Lightly aromatic nose of greengage, red cherry, blueberry, quinine and lavender, with nuances of nutmeg an cloves. At once fresh and sultry, with flavours of ripe red cherry and berries, boasting compelling acid-fruit-tannin balance and a silky, very pure mouthfeel. Closes with an invitingly long, licorice-accented finish. A very delicate version of Mayolet wine that is all about refinement, delivering a ton of concentration, elegance and flavour while clocking in at only 12% alcohol. Twelve years old and still remarkably young and fresh, this wine is an absolutely superb example of what Mayolet can deliver. Really well done. Drinking window: 2023-2030.
Di Barrò 2012 Mayolet Vallée d'Aosta            89
Medium red with a garnet rim; much less dark than the 2011. Initially quite reduced, then opens with aeration to showcase Mayolet-typical aromas of red berries, red cherries, pot pourri, and lavender. Then similar flavours to the aromas with a lighter mouthfeel and noteworthy acid bite, but only moderate concentration with a more tenuous profile. There's also some hint of a green streak here on the long finish, that leads me to believe they most likely harvested too early, pulling the trigger because of the hail that hit the area in 2012 and the understandable desire to save at least some of their crop in what was undoubtedly a difficult year. The hail episode that year was horrific (it hit on August 27, and believe me, everyone in the area remembers it well) with many wines not made that year; Di Barrò too did not make a Syrah wine that year). Only 12% alcohol. Drinking window: 2023-2026.
Di Barrò 2013 Mayolet Vallée d'Aosta            88
Medium reed with a garnet rim. Subdued aromas and flavours of red fruit and flowers (iris, peony, violet) but with an obviously green edge and chewy, slightly tough mouthcoating tannins. Improves with air but I wouldn't say this was an extremely successful vintage for Mayolet. Drinking window: 2023-2025.
Di Barrò 2014 Mayolet Vallée d'Aosta            90
Luminous medium-dark red. Boasts Mayolet-typical floral aromas and flavours of red berries and forest floor, with peppery tannins and an underlying hint of a green note that adds freshness Closes long and with noteworthy violet perfume. Very light and easy going, this pretty, approachable Mayolet benefits from aeration, so I suggest you decant at least one hour ahead before drinking.  The 2014 vintage was a very difficult one in the area because it rained all the time prior to harvest and it was also the year of the fruit fly (Drosophila) that, much as it did in Alsace and the rest of Europe, ravaged red-berried grapes in vineyards everywhere. And so it was that Di Barrò made less than 1000 bottles of Mayolet wine that year. Drinking window: 2023-2027.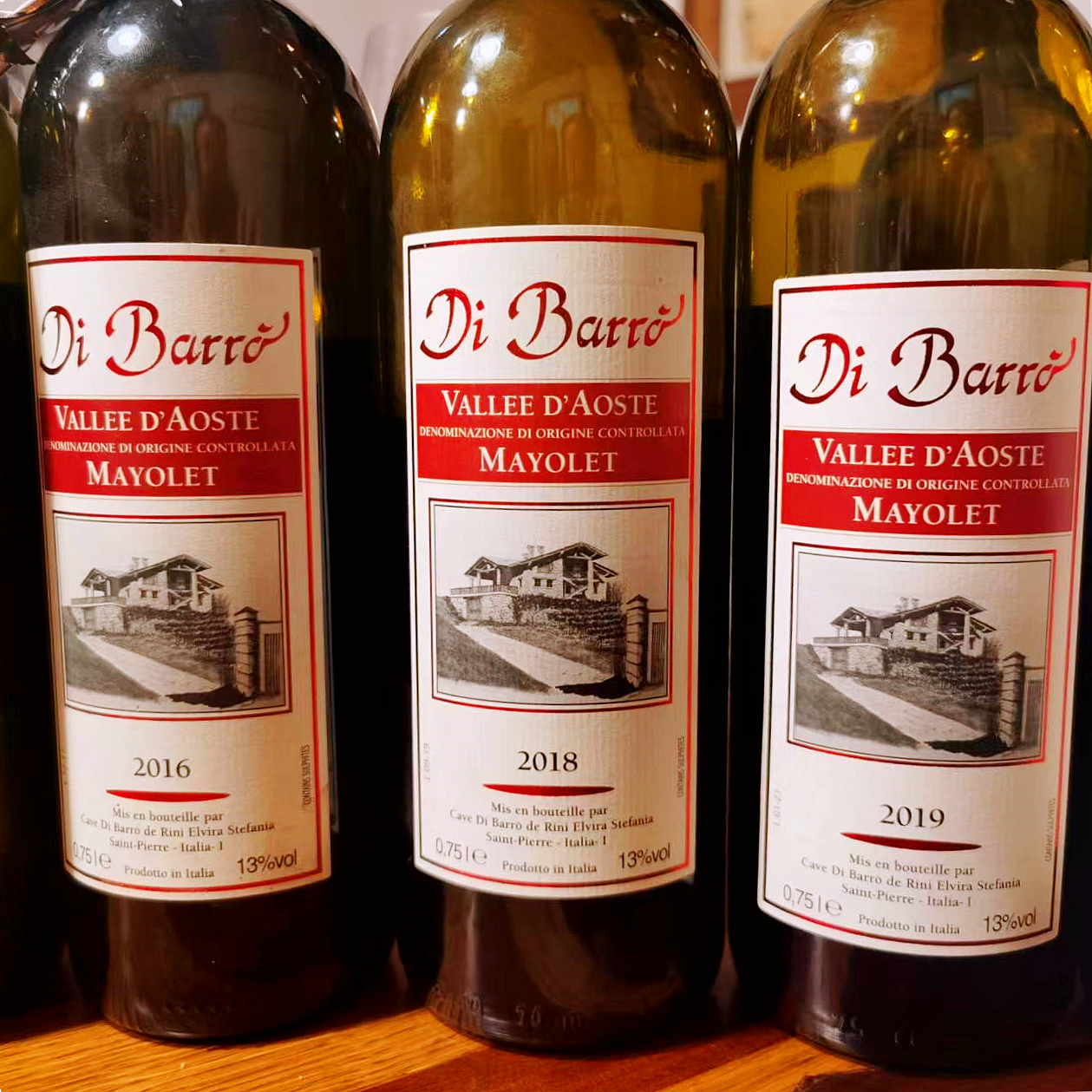 Di Barrò 2016 Mayolet Vallée d'Aosta            93
Luminous red. Lightly perfumed with hints of red fruit and flowers, this is not as aromatic as some other vintages on the nose but is very pretty. Then deep, luscious and round, with an intensely fruity set of flavours (redcurrant, strawberry, raspberry) with hints of cinnamon and clove and a very sultry and round mouthfeel. This is beautiful, very smooth and long and boasts noteworthy flesh for a wine made with Mayolet. The 2016 vintage is remembered locally as being a very productive year of slightly dilute wines overall, but this Mayolet wine has instead turned out very well indeed. Delicious. Drinking window: 2023-2030.
Di Barrò 2018 Mayolet Vallée d'Aosta            91
Bright red-ruby. Perfumed aromas and flavours of strawberry, cloves and nutmeg, with a hint of underbrush and minerals. Smooth and ripe, with a cherry jam nuance on the long close. An excellent wine, this is actually very similar to the 2016 but strikes me as being a little less complex, and with a more angular set of tannins and sharper acidity. In 2018, the vines were nearing twenty years of age and you can tell by tasting the wine, that is suddenly much deeper and complex than the majority of the wines of the previous vintages. It is likely the change is also due partly to climate change as since 2016, Di Barrò's Mayolet wines are bigger and richer. Drinking window: 2024-2032.
Di Barrò 2019 Mayolet Vallée d'Aosta            89
Bright red. Very ripe red fruit, plus a slight hint of red cherry nectar and black pepper on the nose that offers very little of the pungently aromatic notes typical of Mayolet. Then broad and ample with similar flavours and the alcohol showing through (13 percent alcohol) along with some green tannins. Closes long and youthfully chewy. For a multi-awarded wine, I found this to be slightly disappointing, but I think it's just the usual case of a big fat ripe wine impressing judges and pundits upon release only to never live up to the misguided hype and erroneous judgements years later. Drinking window: 2024-2030.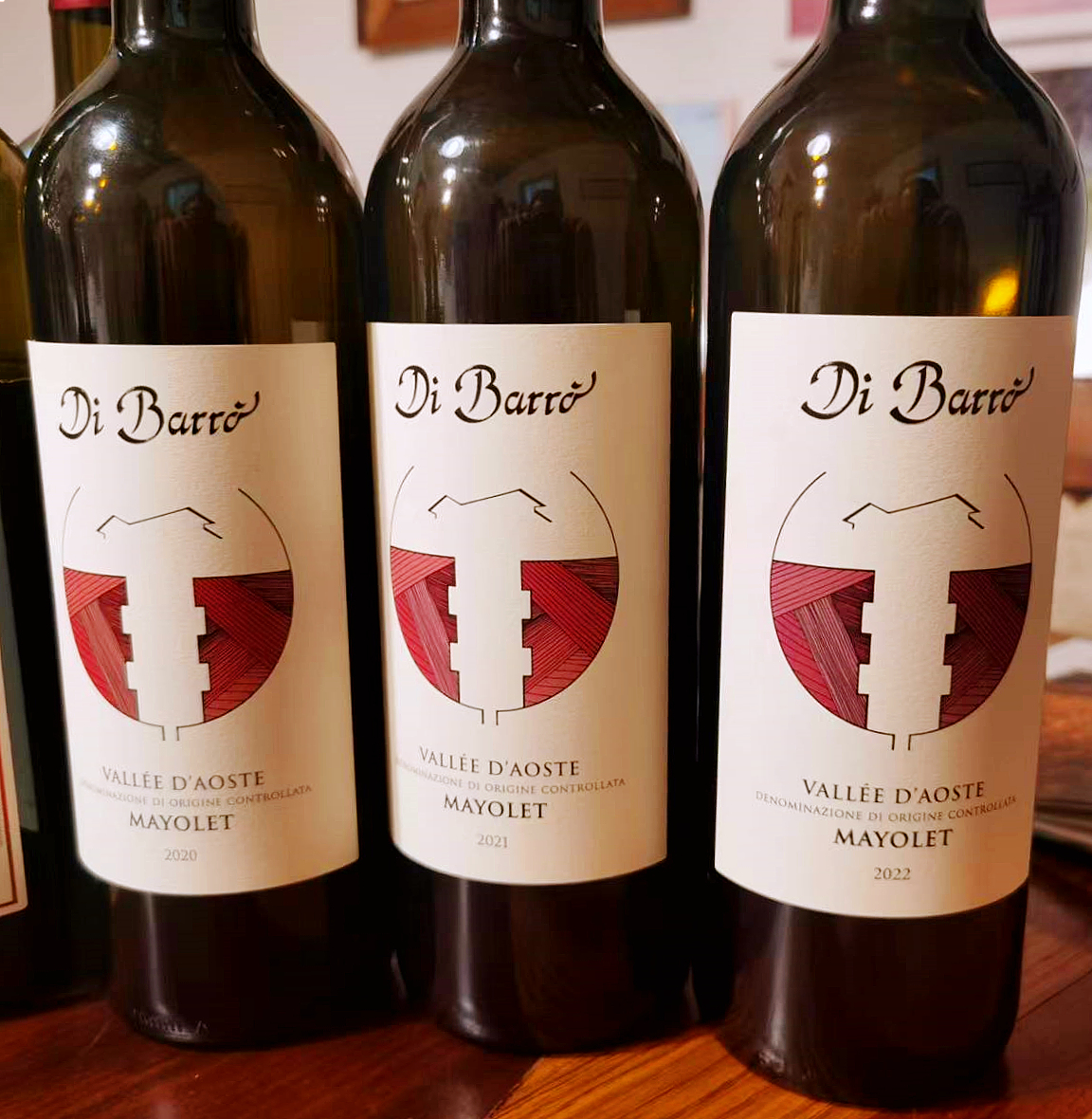 Di Barrò 2020 Mayolet Vallée d'Aosta           94
Luminous red. Raspberry, red cherry, sweet spices and minerals. With long silky tannins and juicy red fruits, this is a very refined wine closing very long and lively with hints of quinine and a peppery note. Very young and very, very good. Well done. Drinking window: 2025-2032.
Di Barrò 2021 Mayolet Vallée d'Aosta           93
Deep purple: much deeper in colour than any other wine in this vertical. The inviting nose offers very deep syrupy yet lifted black and red fruit aromas with hints of mocha, coffee and nutmeg. Closes long and very clean, with outstanding freshness for such a rich ripe creamy wine. If on the one hand this is a very atypical Mayolet wine, on the other it is a rather amazing one; it's most likely the product of extremely low yields and a really unique growing season weather pattern, but I could never have imagined Mayolet could give such a rich-tasting, creamy wine. I'm a big fan of the more typical light and lively, aromatically perfumed Mayolet wines, but in many ways, this offers insight into the as yet untapped potential of this grape variety and the wines it can give. Drinking window: 2024-2031.
Di Barrò 2022 Mayolet Vallée d'Aosta           94
Lively red colour. Very fruity (pomegranate, sour red cherry, redcurrant) with hints of minerals, leafy underbrush, cinnamon and nutmeg on the captivating nose. Then very clean flavours of spicy red fruit and herbs, nicely extended on the long vibrant finish by harmonious acidity. Lovely Mayolet wine that has a great future ahead. Drinking window: 2025-2034.