Hong 0871 
5F, Shanghai Chengtou Holding
130 Wusong Road, Hongkou, Shanghai, China
Tel. +86 2156776898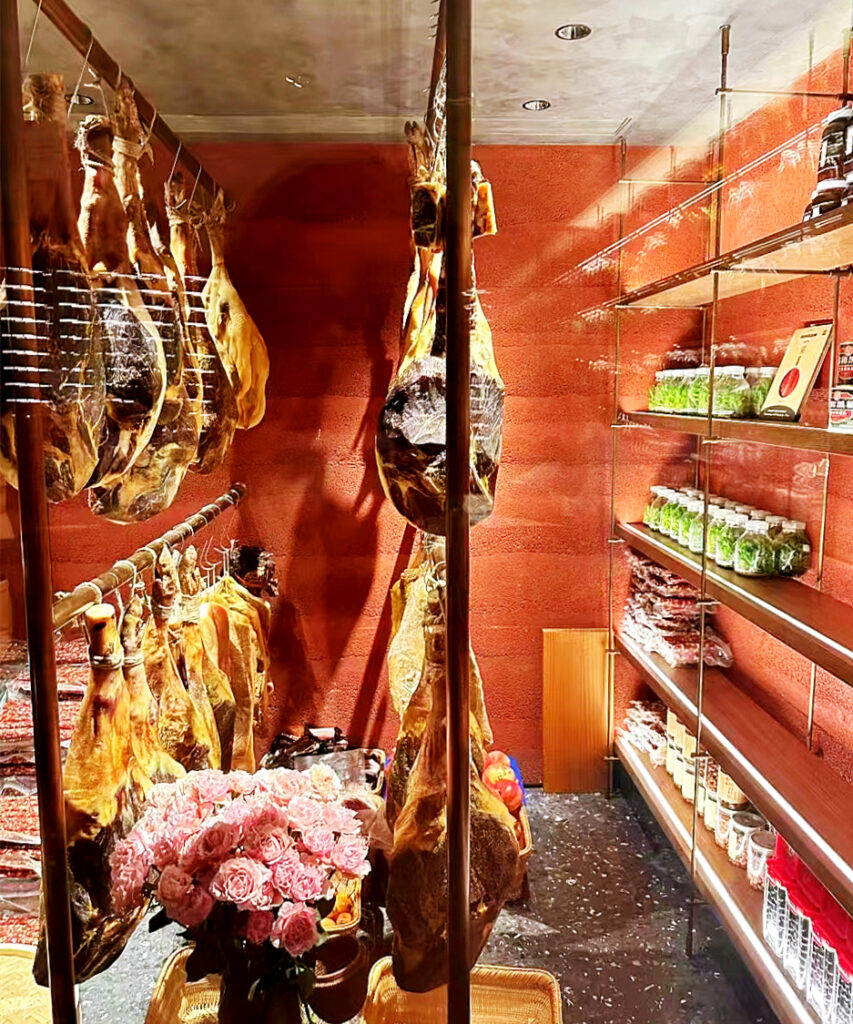 The dishes
Three Years Ham and Dali Cheese
Yiliang Roast Duck
Binchuan Pickled Cabbage with Red Bean and Skinned Meat
Red boletus, pepper and garlic
Black boletus, tamarillo and litsea
The wines
Domaine Rostaing 2019 Viognier Les Lézardes Collines Rhodanniennes           88
Guigal 2017 Côte-Rôtie La Mouline                        97+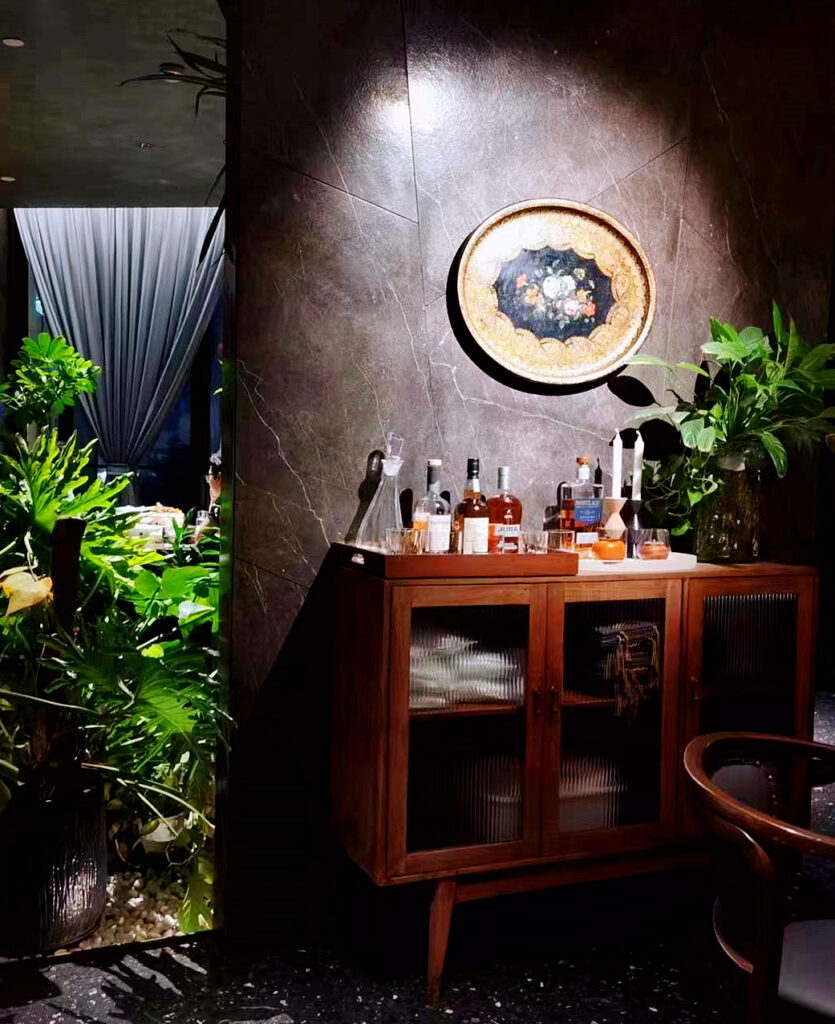 If you want to eat good Yunnan food in Shanghai, it's simple enough: go to Hong 0871, the best place for such fare in the Magic City. Hong 0871 Yunnan Cuisine Restaurant opened in 2022 in the North Bund, an extension of Shanghai's super-beautiful and super-prestigious Bund district (so roughly four years after the first branch had opened in Beijing). The mastermind behind the Shanghai branch is the same person, Yunnan chef Xin Liu, who, given the quality of the food coming out of his kitchens, obviously knows his way around pots and stoves.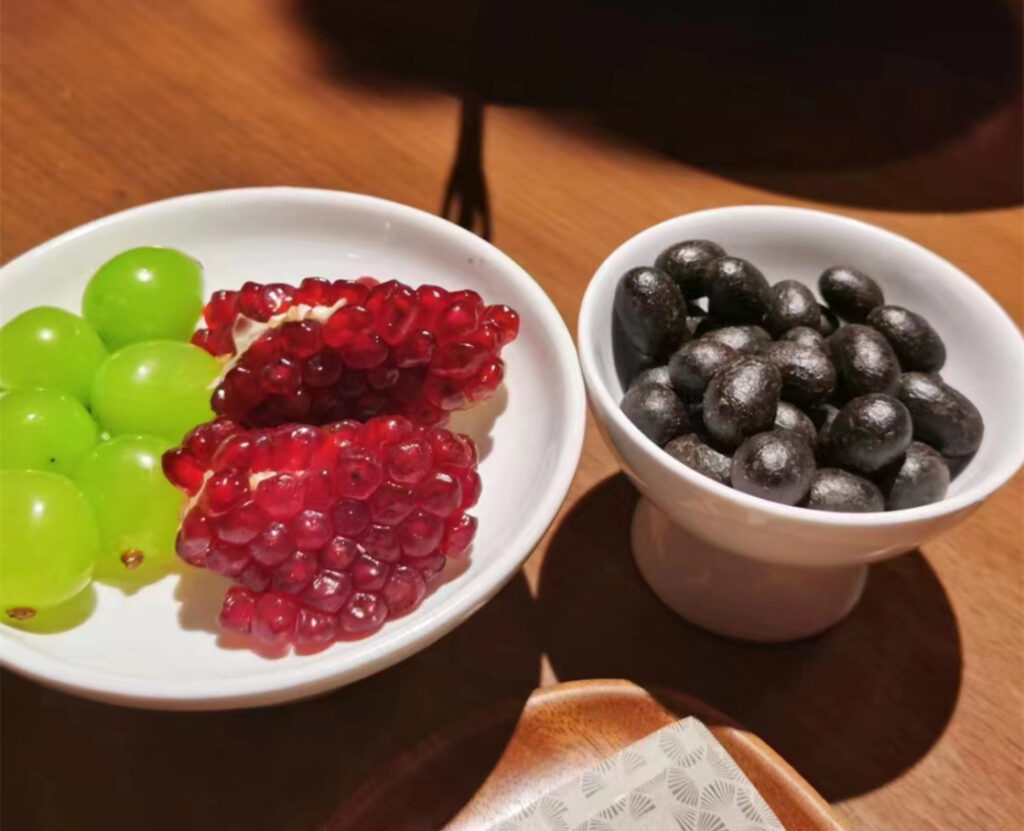 In Chinese, 'hong' means "vast and deep", descriptors that apply very well to Yunnan's culture and food. Over 90% of the restaurant's ingredients arrive from Yunnan, a mecca of Chinese foodstuffs and dishes that are quite unlike those of other Chinese provinces. For while we tend to think and speak of Chinese cuisine, much as we do of French, Mexican and Italian cuisines, there is in fact no such thing. At best, you can recognize and assign specific character traits and ingredients to the cuisines of certain countries, but the fact remains that what they eat in Provence has almost nothing in common with what they munch on in Burgundy; and similarly, neither would the denizens of Milan dream of touching what Romans eat with a ten-foot pole (or close to it), nor would, in normal conditions, the inhabitants of Mexico's Bajio partake with what titillates the taste buds of Yucatán's people, in the country's South. And it's exactly so with China, where there are no two more different cuisines than the best-known, Cantonese and Sichuanese. Yunnan's is yet another.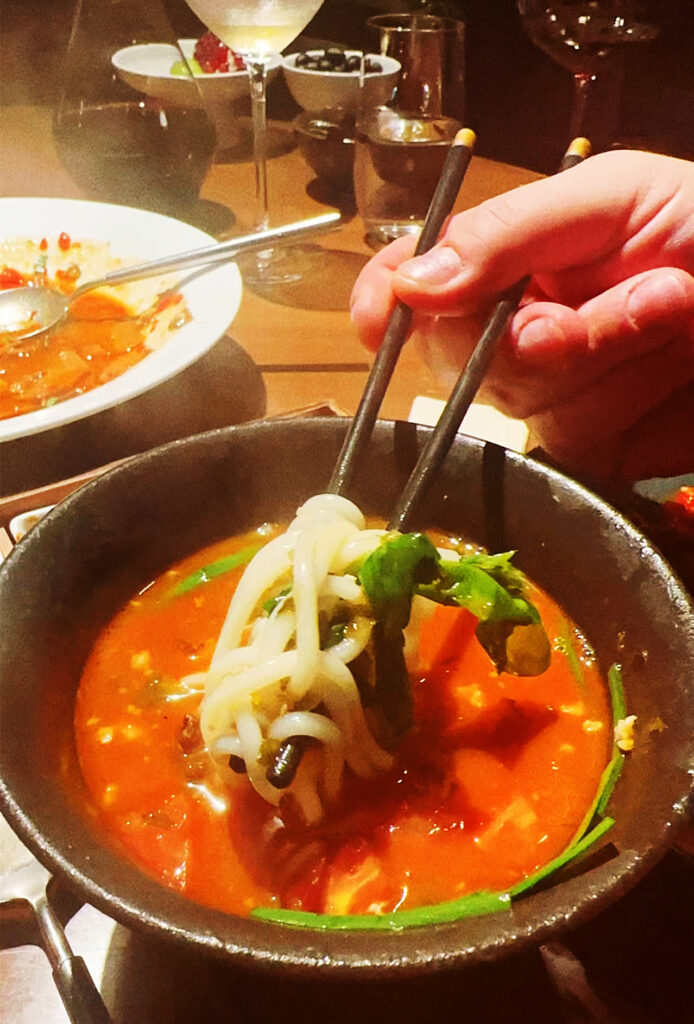 Yunnan's food can be highly complex in that it is China's province with the largest number of different ethnic minorities. Located in China's southwest, bordering southeastern Asia countries, many people living in Yunnan originated from elsewhere and brought their traditions and memories along with them. This is why Yunnan's cuisine incorporates elements of Thai, Tibetan, Mongolian, Indian and Myanmar cuisines, without resembling them at all. Most of all, Yunnan's food fortunes rest on the laurels of the high-quality foodstuffs that grow or are raised there. In short, Yunnan is one of China's best sources for fine coffee (perhaps not well-known out in the West, but Yunnan's coffee is actually famous and sought after); tea (world-renowned Pu'er tea hails from this province, most typically the Ning'er Hani and Yi autononomous county); Xuanwei ham (Xuanwei is a county-level city in Qujing; the ham is obtained from a local breed of hog, it is mostly used as flavouring agent, used in stews and braised foods but also as the stock base of soups and broths, though it is also eaten as is). Documentation of this ham's existence and preparation dates back to the Imperial Ming dynasty; and the crossing-the-bridge (guoqiao) noodles, a rice noodle often eaten like a soup or huo guo (hot pot), paired with pickled pork pig's liver and kidney, chicken, and even fish. Even more typical of Yunnan is its bounty of mushrooms and cheeses. In Yunnan, mushrooms are available in an almost endless supply of diverse species: already in 1881 and 1895, Kalchbrenner and Patouillard, respectively, had described two new genera of mushrooms and ten different species all of the Boletaceae family (three of which had never been described before). Those numbers climbed to twenty-three different species (one completely new) in 1938 with the work of Teng and associates; more recently, in 1948, Wei Fan Ciu reported fifty-four species and two varieties of Yunnan's mushroom members of the Boletaceae family (in fact, but one of sixteen different families of the Boletae order). All that helps you understand why in China Yunnan is viewed as amushroom-lover's paradise: it's actually one of the first things you learn when you talk about Chinese foods and cuisines with any Chinese people. But not just mushrooms, truffles too are plentiful in Yunnan [despite what you are conveniently led to believe outside of China, not all Chinese truffles are flavourless or less interesting than those found in Europe: some Chinese truffles are just as good as the West's, and Yunnan's got a bunch of those too. These are mostly black truffles, the best of the lot being  Tuber Himalayensis]. Cheeses are not common at all in any part of China; but not so in Yunnan, where both fresh cheeses and cooked cheese dishes are easily found. Thanks to the Bai people, cheeses such as the Rushan (from cow's milk) and Rubing (from goat's milk) are not just easy to source, but delicious, and eaten in many different ways. Clearly, the local Tibetans like yak milk products, so cheeses but more commonly yogurt made with this animal's milk are also easy to find in Yunnan. By contrast, Yunnnan's Naxi people are best known for and love seasoned flatbreads, so this province really is a treasure trove of goodies.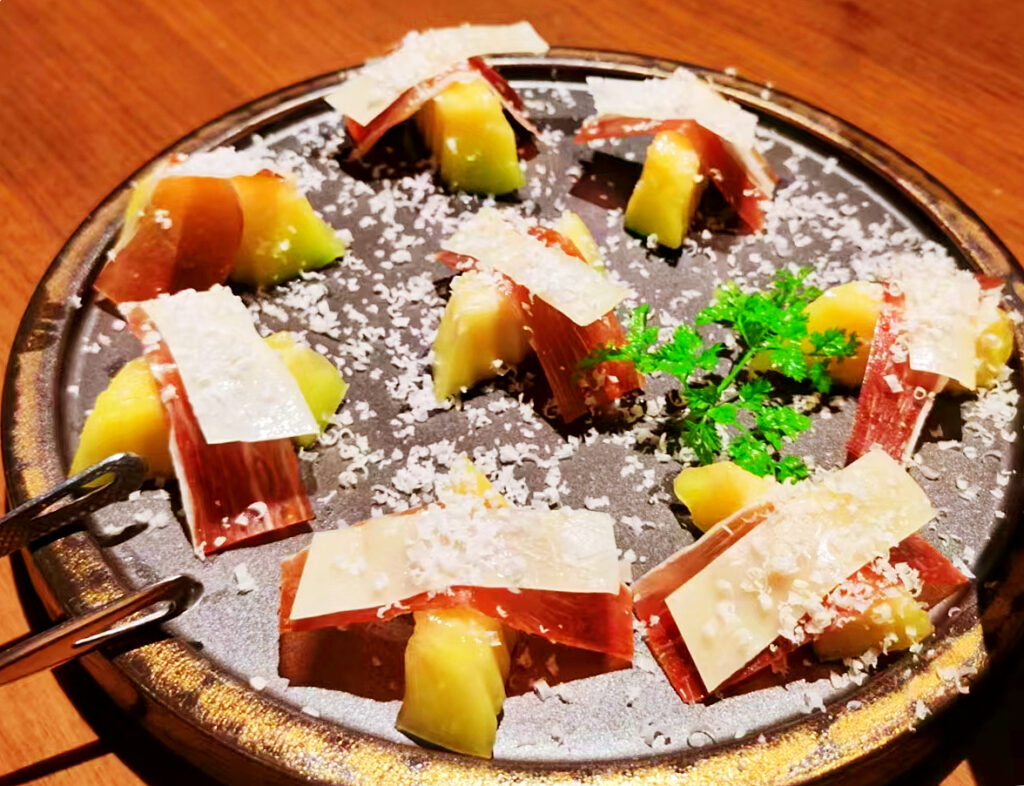 Besides the excellent food and wine list, a word is required regarding Hong 0871's dining room (rooms, actually, as there is more than one dining space). Simply put, it's a beautiful spot. Wu Wei, creative designer of IN·X, has done a truly marvelous job. Wei has had years of experience in the field of catering business strategies, but Hong 0871's look is nowhere close to any catering design you can think of; rather, it is incredibly elegant and upscale space that puts you in a and good mood even before you bite into anything. The idea was to combine and blend references to both Yunnan and Shanghai (two places that could not be any more different). And so it is that the restaurant showcases a vast array of wood, stone, metal, and rammed earth, all ensconced in an atmosphere of warm tones of ochras, browns and blacks, where independent elements work marvelously well together fitting into a seamless unit. Again, the result is one of calm relaxation and of putting the diner at ease; add to this very good acoustics such that you: a. don't have to listen to the chatter of those next to you and b. you can actually hear what your dining partner has top say, and you realize that the place is a winner from all standpoints. But it's not just style over substance: here you will also find a lovely tea room, and, rare for Chinese restaurants in general but very apt for one devoted to Yunnan cuisine, a cold room, where hams hang proudly on display.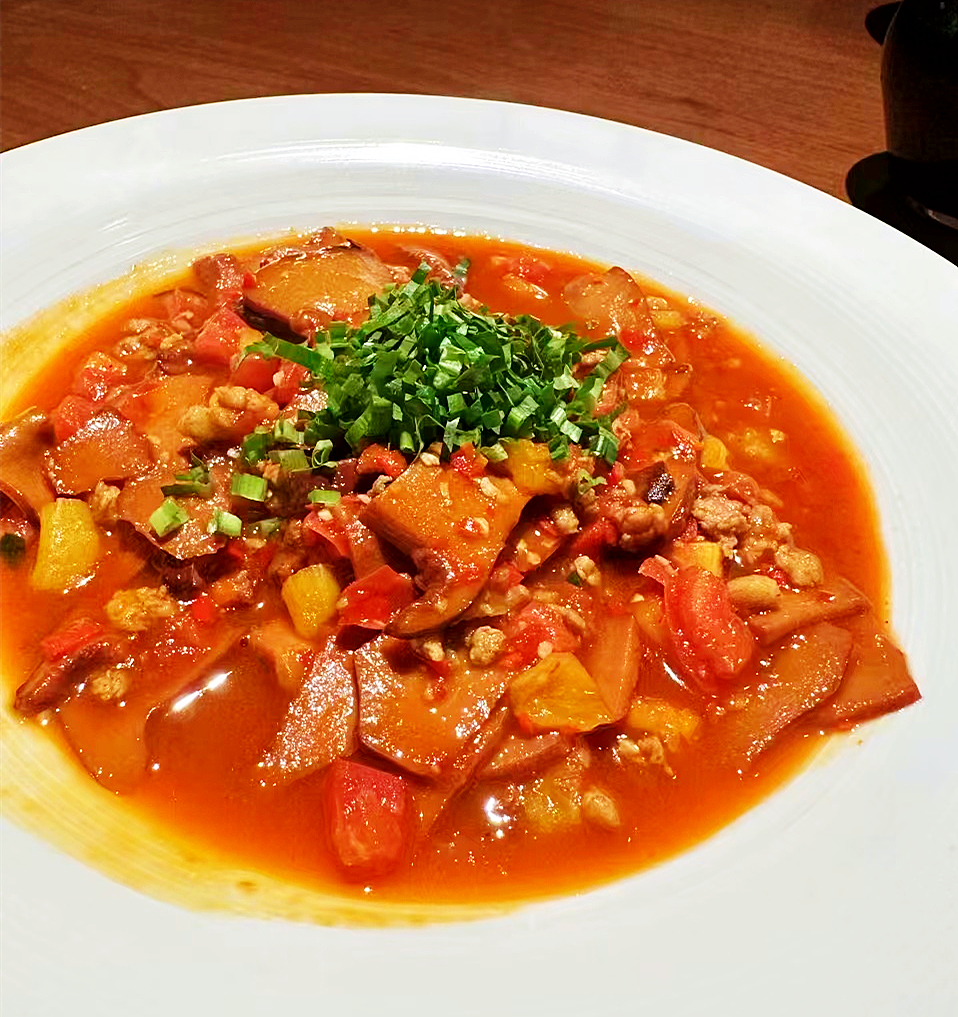 Every time I come to Hong 0871 I have a great time, and it was no different this time around. I started off with the excellent Three Years Ham and Dali Cheese, which made me think back to the prosciutto e melone of when I used to live in Italy, though clearly the similarities end right there. Interestingly, the ham used at Hong 0871 is not Yunnan's Xuanwei ham, but the just as good Nuodeng ham [though people in the Zhejiang might beg to differ (where they raise the excellent Jinhua breed of hog), is is these two hams that are generally regarded as China's best]; with a little experience, it's easy enough to differentiate Nuodeng ham from Xuanwei because it is darker ruby-red in colour and more translucent, thanks to longer fermentation and aging. Nuodeng ham, made from free-range local hairy black pigs, is yet another traditional food of Yunnan of some historical relevance: though the modern-day product is relatively new, it traces its roots back to the Tang Dynasty, becoming more important and common during the Song Dynasty (Nuodeng ham is also called salt-mud ham(盐泥火腿), due to the way it was historically made, pickled in a mixture of salt and mud). Nuodeng ham is mostly typical of Yunnan's Yunlong County, Dali, which known as the Healthy Mountain City (I've been there: let me tell you, at 2007 meters above sea level, in a beautiful area made of uphill and downhill roads the slopes of which are more suitable to mountain goats than overweight wine and food writers such as myself, it's a healthy city for sure, given that no matter how much you eat you are bound to lose calories for sure). It is not by chance then at Hong 0871 they pair this specific ham with Dali cheese (in this case, paper-thin strips of Rushan), just one of the many sensitive, and sensible, touches that Hong 0871 is to be commended for.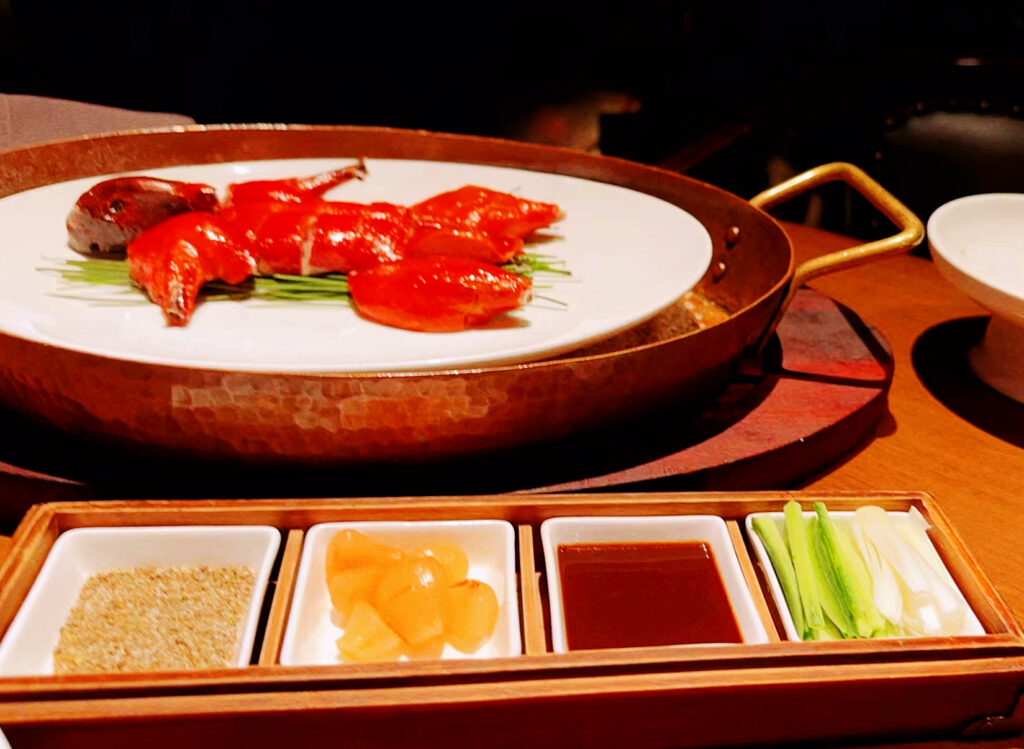 The Yiliang roast duck is also an exceptionally good dish. Yiliang roast duck, perhaps because it is also eaten with scallions, sweet sauce and salt, can recall Bejing duck somewhat but is really quite different. A very traditional delicacy of Yunnan said to have over 600 years of history, it is roasted in traditional ovens over pine needles and wood charcoals (the duck carcass is at first scalded in boiling water quickly, inflated with air and the skin is then coated with honey). Not at all oily and very flavourful and light, I could have easily eaten another dish all by myself.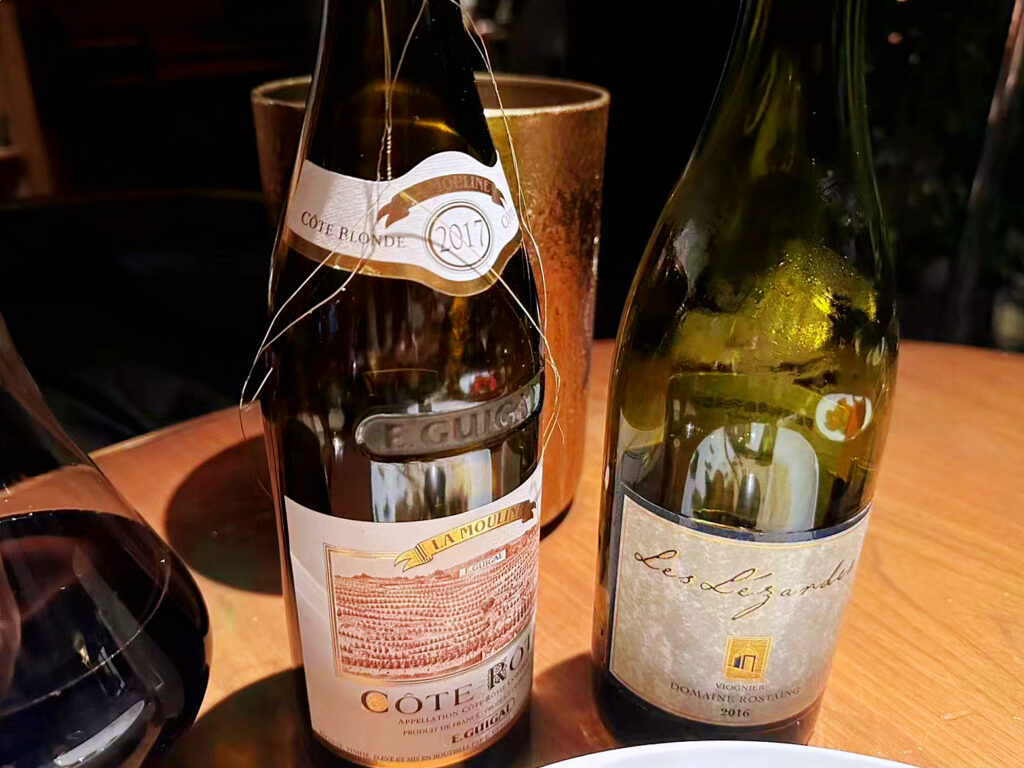 Mostly, the wines of the evening matched well with the food. I am a big fan of Domaine Rostaing's wines, but was frankly left slightly disappointed by the Domaine Rostaing 2019 Viognier Les Lézardes Collines Rhodanniennes. Lemony and waxy, sharp and almost Sauvignon-like, it really didn't remind me much of a Viognier-wine at all, though it served is purpose well as an aperitif. By contrast, the Guigal 2017 Côte-Rôtie La Mouline  is a work of art, though to drink it now really is committing a wine-infanticide. Still youthfully brooding, massive and very deep, it only hints at its future truly noteworthy depth of aromatic and flavour complexity. In fact, it's so massive that it's almost hard to fathom there's 10% Viognier included along with the Syrah in the blend; however, a more careful tasting reveals the Viognier's presence through its telltale addition of a delicate touch and floral lift to the mix (which is altogether absent in Guigal's just as good but totally different -much chunkier- La Landonne wine, for example). Black pepper, spices, tar, sandalwood and red and dark fruit notes are copious, but the sheer tannic framework is such that everything is currently kept under warps. You absolutely need to cellar this beauty for another ten years or so, but my guess is it will develop into something even more splendid than it already is (hence the '+' on my score). All in all, this La Mouline is a splendid way to accompany the whole meal at Hong 0871 and bring it to one very fine close.