The 2017 vintage will go down in the annals for its horrific April frost episodes that greatly reduced yields across the region (in all of Bordeaux, not just Sauternes and Barsac). But the news is not all glum: over in Sauternes and Barsacs, those estates that were spared made excellent wines, rich and unctuous yet elegant sweet Bordeaux wines that, make no mistake about it, I find to be generally far better than has been said and written.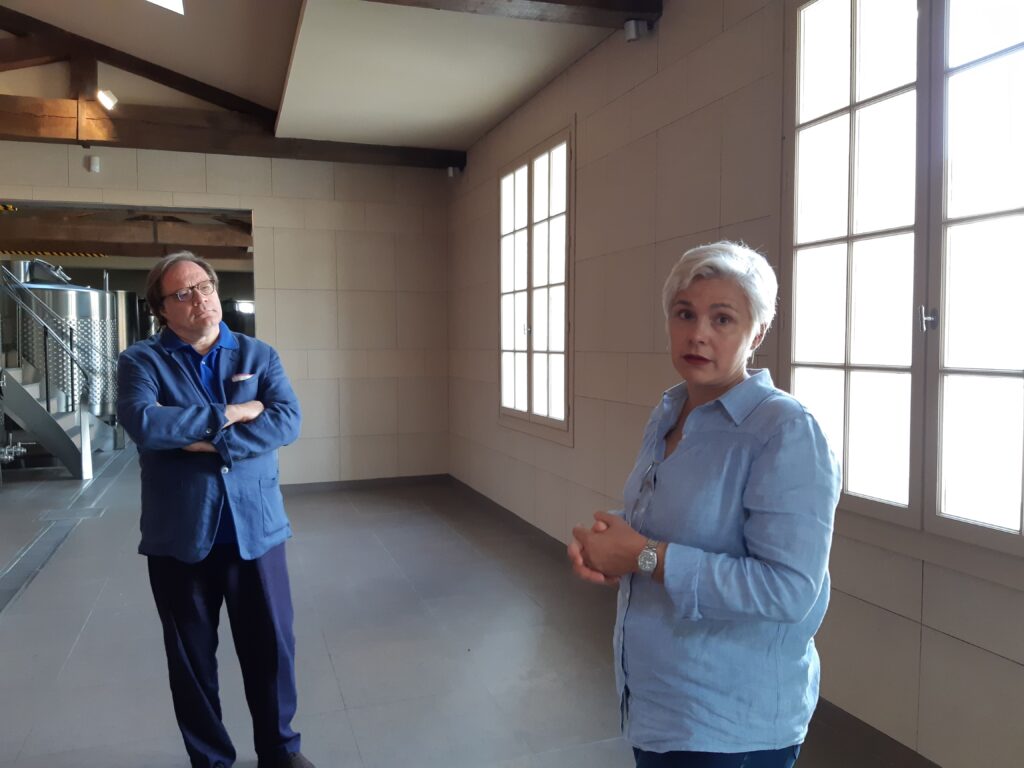 The two key words when discussing the 2017 Sauternes and Barsacs are balance and yield. Balance, because the better wines are uniformly quite rich and dense (more so than the 2019s shown in Primeurs this year, for example) while maintaining an enchanting light on their feet quality; and yield, because the normally already very low yields across the appellation were curtailed even further than usual (though as we shall see, not all estates suffered quite in the same way). The frost lowered yields (properties across the appellation registered losses ranging from 50 to even 100% of the total crop: for example, no 2017 Chateau Climens and 2017 Chateau Romer were made) because it hit late when budding had taken place; consequently, the buds were destroyed (without buds there can be no flowers and no fruit). And although a second budding did take place at many estates, it largely resulted in leafy canopies rather than fruit. What bunches did form presented different levels of maturity (so using them without taking extreme care meant running the risk of making green wines); in any case, the numbers of available clusters at many properties were so small that they did not allow for the stringent selection process required to make a grand vin. It's not surprising then that most quality estates left with little or no grapes in their vineyards understandably passed on the vintage altogether, a difficult but commendable decision.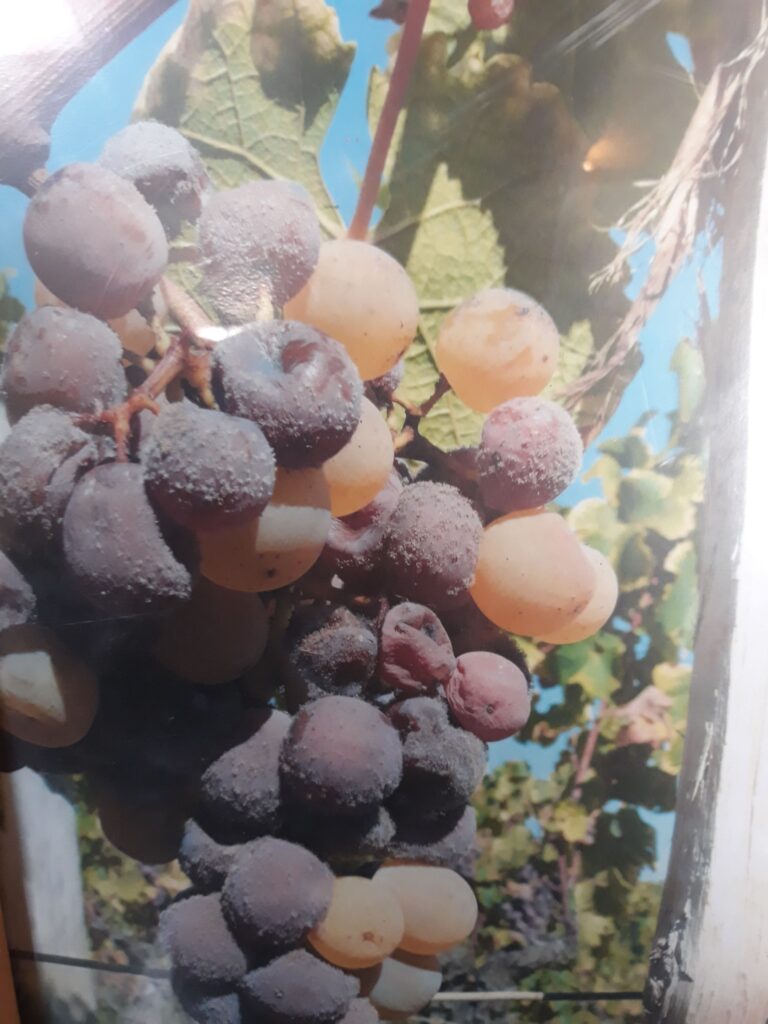 To add insult to injury, the rest of the growing season proceeded uneventfully, and 2017 actually looks like it would have been a truly wonderful year for Bordeaux's noble sweet wines. After the frost hit in April, the growing season carried on uneventfully, blessed with beautiful dry and warm weather. For the most part, growers who performed their sorting and tries carefully were able to pick very healthy grapes. Even better, late August to early September rains and alternating warm days and cool nights unleashed waves of noble rot that resulted in clean, pure, complex, and luscious wines. Though some appear to be under the impression that Botrytis cinerea hit unevenly, this was not really so, because at most estates noble rot appeared in one specific time moment and then all at once, or close to it. In ultimate analysis, the simple fact of the matter is that all those estates that sorted carefully through their berries and picked when the botrytis was still clean and pure made outstanding wines of noteworthy richness, depth and complexity (most estates completed the harvest by mid-October; only at some did the picking go in until October 20). It is a real shame that things unfolded as they did, because what 2017 Sauternes and Barsacs were made are mostly excellent (with caveats).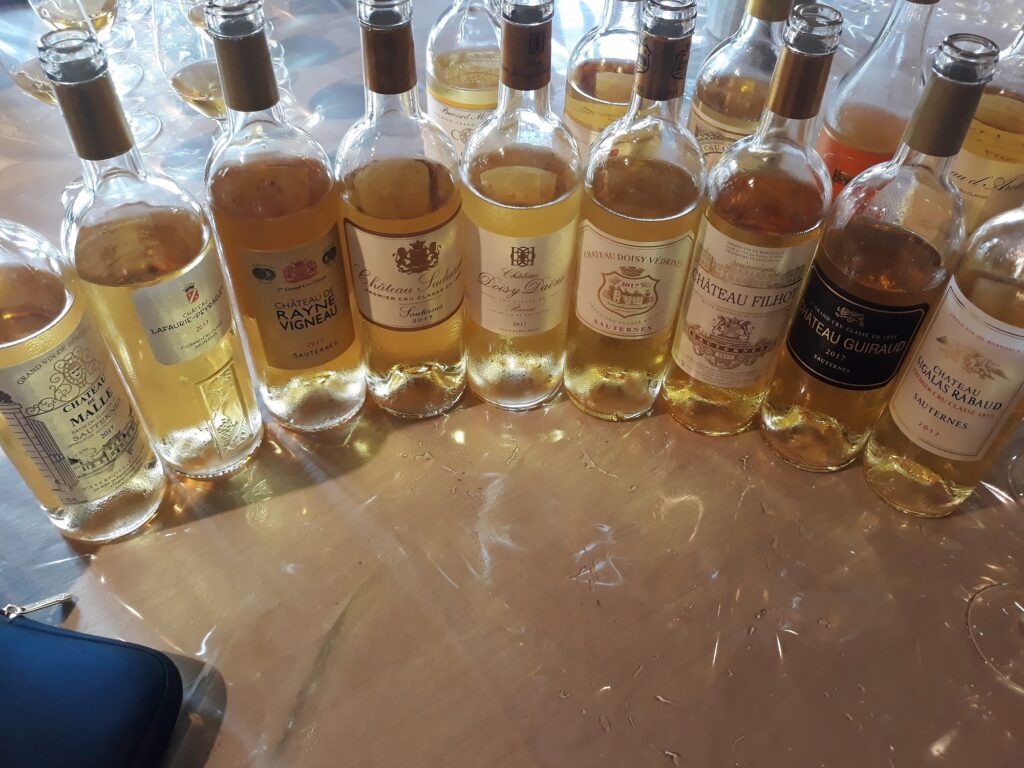 The importance of terroir
While it has become a common habit to discuss Sauternes and Barsac and their wines as if they were interchangeable or almost one and the same (to the point that Barsac producers have the right to label their wines as Sauternes if they so choose), it is completely incorrect to do so. The two appellations are extremely different from many truly noteworthy perspectives, not the least of which are topographical and geological; and in 2017, terroir-related differences between the two showed clearly, with consequences that were plain for everyone to see.
In fact, from both a general and a specific standpoint, terroir spoke loud and clear in 2017. The general terroir-related take on 2017s frost-associated damage is that Barsac was much harder hit than Sauternes. This is not surprising at all: in fact, it would have been very surprising (or at the very least unexpected) had it been otherwise. This is because of the important role played by air circulation (or lack thereof) in the genesis of frost (producers in cool climate viticultural areas regularly install windmills in order to increase vineyard air circulation as well as lighting bondfires to increase nighttime temperatures). Therefore, frost is more dangerous in flatter landscapes (such as Barsac's) than it is in hillier ones (such as Sauternes). In 2017, it was common to see lower-lying slopes of the Sauternais region getting frost-bit (literally), while higher up ones were spared. Clearly, lower-lying vineyards in the other communes of the Sauternes appellation (therefore, not just Barsac) were also hammered hard, if not quite to the same extent.
From a more specific terroir-related standpoint, it is important to know that April's frost did not affect all the communes in the Sauternes Appellation in quite the same way. And that too has to do with the realities of terroir. For example, over in Bommes, characterized by a different mesoclimate and air currents than the other communes of the Sauternais (in alphabetical order, the five communes of the region are: Barsac, Bommes, Fargues, Preignac and Sauternes), frost-related damage appears to have been more limited. Think about it, now: it cannot be by chance that Bommes estates like Chateau de Rayne-Vigneau and Sigalas-Rabaud reported little or no damage whatsoever, while the crops at other wineries got pummeled into oblivion (as mentioned previously, Chateau Romer, located in the commune of Fargues, and Chateau Climens in Barsac did not produce any of their grand vin in 2017;reportedly, Climens was able to produce a little of its second wine).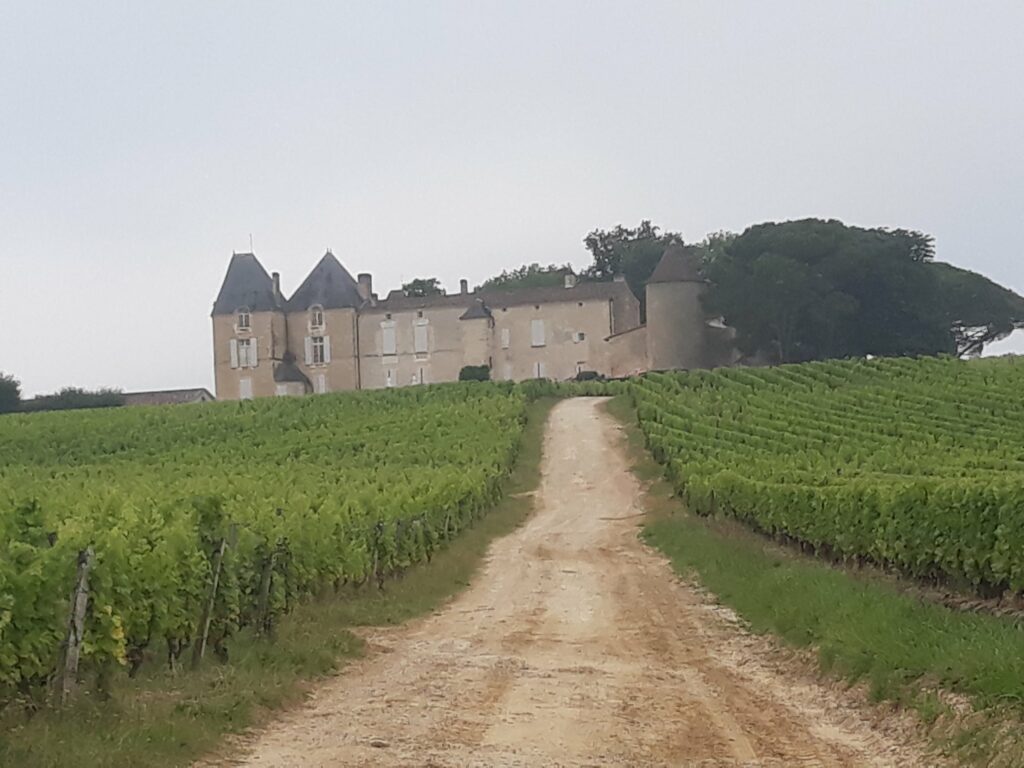 But even within the territorial boundaries of each commune, individual estates were affected by frost to different degrees. While the Barsac estate Chateau Climes lost basically all its crop, Chateau Coutet, also in Barsac, lost only 50% of its grapes, and so Coutet managed to make a 2017 grand vin after all (albeit in smaller than usual volumes). Similarly, over at Chateau Suduiraut (located in the commune of Preignac) only the less qualitative vineyard sites were damaged much. At Château Rieussec (in Fargues), Lafite-Rothschild winemaker Christopher Congé told me noble rot developed perfectly, spreading rapidly and evenly and Domaines Baron de Rothschild (Lafite-Rotschild is Rieussec's owner) were extremely happy with their wine (I guess the likeable and knowledgeable Congé would have to say that, but no worries, I can vouch for Rieussec's excellence in 2017). And clearly, it was no accident that at Yquem, universally regarded as having the best terroir (by far) of all Sauternes, only about three hectares of the estate's total 105 hectares were damaged. And those three hectares are devoted to production of Y, the estate's excellent dry white (terroir speaks yet again: Yquem is located on the highest point of the Sauternes Appellation, and when it comes to frost even small differences in elevation carry enormous meaning). In summary, all the winemakers and Chateau owners I talked with told me the same thing: when it comes to the 2017 Sauterns and Barsacs, it was always the greatest vineyard sites that escaped the frost (almost) unscathed, while lesser plots got hammered (and then some). Yes, sir: that too, is terroir.
My final thoughts on the 2017 wines
When it comes to the 2017 Sauternes and Barsac, it's simple: buy. The best wines have a noteworthy degree of complexity expressing beautifully intense aromas of flowers, orange and ripe apricot (due to the concentration of very pure noble rot), but also very vintage-specific notes of lychee and menthol. The wines also showcase a surprising unctuousness and profound depth. In short, they are outstanding wines that were grossly underrated and generally misjudged from the outset, a very common happening when a vintage is marred by bad weather causing many to jump to broad, and wrong, conclusions. But you don't have to listen to me if you don't want to: just go ahead taste the wines, for anyone not hampered by a wooden palate (or lack of experience) will immediately realize just how good the better 2017 Sauternes are. When all is said and done, it's really a pretty easy task. And in life, someone else's failing is someone else's gain: so when a vintage of good wines (witness the 2008 Bordeaux reds) gets hopelessly misread by the majority of scribes, prices stay reasonable and knowledgeable wine lovers can find themselves swooping in and scooping up more than a good buy. The 2017 Sauternes and Barsac will not be of a richness comparable to the 2009s or of a refinement similar to that of the 2010s, or of the smoky noble rot decadent intensity of the1997 and 2007 wines, but it is an outstanding vintage of well-balanced wines that punch way above their weight class. All those who like Sauternes and Barsac should pounce on these wines, and should do so without hesitation.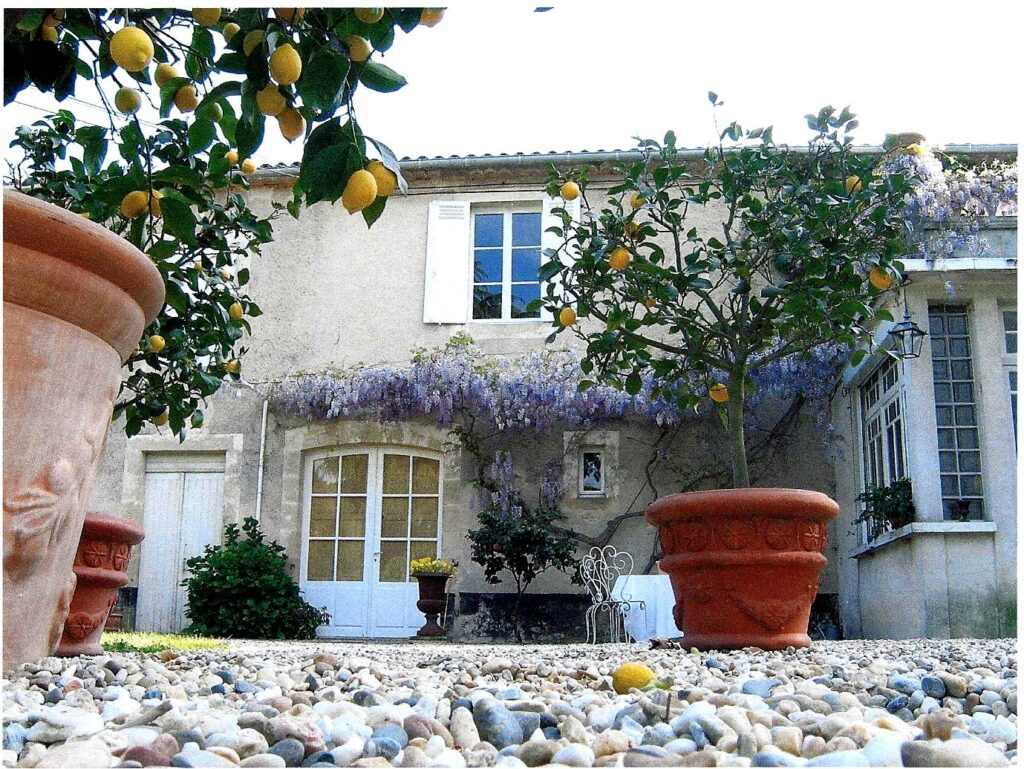 The wines
D'Arche.
2017 Chateau d'Arche Sauternes     85
Ouch. Cardboard, earthy and mushroomy notes on the nose are hardly inviting. Somewhat cleaner in the mouth, but finishes with a strong bitter present. Maybe I had a bad sample, but I am sorry to have to write this was really unimpressive. I am a huge Sauternes fans and think D'Arche normally makes solid wines, so I'm not sure what to think: nothing would make me happier to know that I misread this wine, and will gladly correct my impressions with a new tasting note should subsequent tastings show me I was mistaken in my first assessment. Drinking window: 2023-2027?.
Coutet.
2017 Chateau Coutet     95
The 2017 Coutet exemplifies what this standout property's wines are all about. On the one hand there is Coutet's noteworthy power and lusciousness, but on the other the grace and refinement of limestone soils and of the 2017 vintage. Aromas and flavours of orange blossom, wild honey and yellow peach are complicated by smoky botrytis on the long suave finish. Superlative Coutet (made from almost ridiculous yields of only 8 hL/ha), this is one of the top three or four wines of the vintage. Drinking window: 2024-2038
Doisy Daëne.
Chateau Doisy Daëne     96
Liquid bright gold colour. Very expressive and deep peach, white flowers, and saffron notes on the nose and in the mouth; this is a totally beautiful wine. Impeccably elegant and well-balanced (135 mg/l residual sugar and 6.3 g/l total acidity), despite being very rich and downright luscious in its mouthfeel. Racy acidity throughout and a hint of smoky bitterness on the long back end speak of noteworthy noble rot presence and limestone soils respectively. Building chamomile and grilled nut nuances add further complexity with aeration. Aside from the unbeatable Yquem, this is most likely my wine of the vintage, though there are a couple of other wines also in the running for that title. Drinking window: 2024-2040
Dosiy-Védrines.
2017 Chateau Doisy Védrines       93
Very pretty, the 2017 Doisy-Védrines is a major success in 2017, fresher and lighter than some overly-chunky wines of the past. There's really wonderful balance to the fleshy fruit, sweetness and acidity if perhaps not mindboggling complexity but a lovely wine nonetheless. The finish is clean and dense. Drinking window: 2023-2036
Filhot.
2017 Chateau Filhot          93
Concentrated and suave, the 2017 Filhot offers clean, precise aromas and flavours of menthol, orange peel, yuzu and white peach, complemented by hints of green tea, lychee and peppery spices. Hints of Mirabelle and crystallized quince linger nicely on the honeyed, long finish. Drinking window: 2025-2040
Fontaine.
2017 Chateau Fontaine Sauternes      90
Lovely and well-balanced concentration to the peach and pear aromas and flavours, nicely lifted by hints of quince and fresh ginger. Finishes with very good but not outstanding length and nuances of lychee and white tea. Drinking window: 2023-2033.
Haut-Bergeron.
2017 Chateau Haut-Bergeron Sauternes      92
One of the best and most unsung, under the radar, wine of all Sauternes, insiders know there is hardly a bad vintage made at Haut-Bergeron. The 2017 is refined and fresh, with racy acidity nicely framing the tangerine, glazed kumquat and lemon zest nuances. Very nicely focused on the laser-like finish. Drinking window: 2023-2033.
Clos Haut Peyraguey.
2017 Clos Haut Peyraguey Sauternes       94
In the usual style of all of Bernard Magrez's wines where if a powerful wine is good then a more powerful wine is even better, the 2017 Clos Haut Peyraguey boasts plenty of superrich lusciousness but ultimately not much finesse. That fact recognized, this is a nonetheless cracking Sauternes wine. Expressive notes of white and yellow fruits, tea and flint are nicely framed by the unctuous nicely persistent mouthfeel that closes featuring strokes of marzipan and lime oil. Though maybe not my cup of Sauternes, it's hard to argue with this wine's outrageous personality, that is admittedly hard not to like. Drinking window: 204-2036
Guiraud.
Chateau Guiraud Sauternes         95
The 2017 Guiraud is a beautiful wine in an extremely fresh, lithe style that will have many admirers and prove very flexible at the dining table. White flowers, lychee, menthol and high acid yellow fruit, very pure and lovely with a laser-like finish that lasts and lasts. In 2017, Guiraud started picking on September 5 and continued through October 10 (three tries in all, the best grapes coming in at the end of September.  Drinking window: 2024-2042
La Tour Blanche.
2017 Chateau La Tour Blanche Sauternes         94
The 2017 La Tour Blanche threw me a curve ball, being much less rich and unctuous than I normally find it (most often, La Tour Blanche rivals all wines for the top prize of richest, most decadent wine of the vintage). But what the 2017 loses in size it gains in precision and lightness of being, with very pure lemony botrytis and honey-accented crystallized ginger, lychee and menthol notes. The long aftertaste is pure and clean, and features spicy botrytis. Not the most acid Sauternes of the vintage, I would drink this over the next twelve-fifteen years at most. But so good, why defer enjoyment anyways? Drinking window: 2023-2035.
Lafaurie-Peyraguey.
2017 Chateau Lafaurie Peyraguey Sauternes       96
Knockout wine: at once elegant but also very rich and dense but not at all over the top; fine-grained, with orchard fruit and minerals that blast out onto the olfactory and taste buds, grab them and just won't let go. Not just botrytis here but also an air-dried quality (notes of raisins, honey, marzipan, orange marmalade) to this that is captivating and leaves you quivering in a jelly-like mass of paroxysms of joy. Beautiful wine, one of the best of the vintage. Picking at Lafaurie-Peyraguey in 2017 started on September 25 and ran through October 12, the shortest picking period in the estate's history. The grand vin was made from only 50% of the harvest; like everyone else in 2017, the property was touched by frost (but only about 20% of the vineyard was damaged). Drinking window: 2024-2040.
Lamothe.
2017 Chateau Lamothe Sauternes           91+
Very smoky, downright flinty botrytis totally dominates the nose, then fresh and linear with building savoriness and lip-smacking saline juiciness on the long close. Almost too saline in fact, to the point that this became too angular and fruit-deficient with aeration. Maybe all it needs is a little time to settle down. I'd give it the benefit of the doubt. Drinking window: 2025-2038
Lamothe Guignard.
2017 Chateau Lamothe Guignard Sauternes        94
Much like the 2017 Lamothe, very saline and tense but also clean and precise with very good fruity flesh and nice ripeness. Harmonious acidity really extends the flavours of lychee, apple, kiwi and peach on the long back end. A hint of glazed kumquat adds complexity. Well done here. Drinking window: 2024-2038
Lapinesse.
2017 Chateau Lapinesse Sauternes            90
Fresh and fruity, with racy minerality colouring the lemon peel, orange nectar, pineapple, and white peach aromas and flavours. Very good length. Easygoing and accessible early. Drinking window: 2023-2030
2017 Chateau Lapinesse Vieilles Vignes Sauternes           92
More tropical and luscious than the Lapinesse from younger vines, this also boasts noteworthy elegance and an herbal twist to the unctuous quince, tangerine and peach flavours. Finishes rich and broad with hints of spicy botrytis. Drinking window: 2024-2035
Liot.
2017 Chateau Liot Sauternes            91
Flowers, lychee and almond and a complicating candied note on the low acid mouthfeel. Closes suave with very good length. I'd drink this soft sweet pretty wine over the short term, say over the next eight years or so. Drinking window: 2023-2030.
De Malle.
2017 Chateau de Malle Sauternes        96
Very elegant but also rich and ripe, this fresh, pretty wine is long and well-balanced, with a really penetrating thrust to its tropical fruit, honey, tangerine and menthol aromas and flavours. Simply outstanding, this is one of the best wines of the vintage, finishing long and suave with notes of peach, papaya and candied tangerine but also plenty of spicy botrytis (nutmeg, cinnamon). Knockout wine. Drinking window: 2023-2038.
De Myrat.
2017 Chateau de Myrat Sauternes          95
Quite floral on the nose initially, then lychee, quince and marzipan emerge with aeration to also dominate in the mouth. Very deep clean and rich, with noteworthy balance (147g/L of residual sugar and 7 g/L total acidity). Finishes long boasting notes of marzipan and orange oil. Drinking window: 2023-2034.
Piada.
2017 Chateau Piada Barsac       90
Candied lemon peel, quince and saffron, with hints of coffee and almond paste in the nose and the mouth. Closes nicely suave and with honeyed yellow fruit elements that are nicely persistent. Drinking window: 2023-2030
Rabaud-Promis.
2017 Chateau Rabaud-Promis Sauternes       93
Beautiful defined, with racy minerality nicely framing the white peach and exotic fruit aromas and flavours, complicated by crystallized peach and lemon, not to mention spicy botrytis. Outstanding finish lasts for minutes. Drinking window: 2024-2038
2017 Chateau de Rayne Vigneau Sauternes         95
Fresh, pure and mineral, with very floral aromas and flavours of spicy ginger and yellow fruits. Not at all opulent or decadent, but rather very precise and penetrating, this closes very long with hints of peppery botrytis. A 72% Sémillon and 28% Sauvignon Blanc blend, I loved this wine's excellent acid-sugar balance (147 g/l residual sugar and 6 g/L total acidity) and long, clean, ballerina-like graceful finish. Drinking window: 2024-2038
Rieussec.
2017 Les Carmes de Rieussec Sauternes          92
There is no doubt that Rieussec's second wine has been on a roll of late (just check out the amazing 2019 wine shown en Primeurs this year, it's a "second wine" in name only). And it is no different with the 2017 vintage: Les Carmes de Rieussec is once again simply outstanding. I cannot say but wonderful things about this elegant wine's rare combination of precision and purity, boasting complex, creamy but lifted aromas and flavours of exotic fruits, mint, and lemon curd, complicated by nuances reminiscent of a walk in the moors (heather honey, rocks and wild flowers everywhere). Not especially sweet (only 100 mg/L r.s) but very well-balanced as usual, this 94% Sémillon, 3% Sauvignon Blanc and 3% Muscadelle blend hits all the right high notes. Drinking window: now-2028.
2017 Chateau Rieussec Sauternes         96
Picked between September 26 and October 12, this 83% Sémillon and 17% Sauvignon Blanc has hit it out of the park. Lighter-bodied and slightly less sweet than many of the past's greats from this property (the 2017 Rieussec carries only about 125 g/l of r.s.), this beauty is all about balance and grace but boasts sneaky concentration to its honeysuckle, lemon tart, marzipan and lychee aromas and flavours. The seamless finish has a captivating crystalline quality, leaving behind lingering echoes of burnt orange, yuzu and wild fennel that are complicated by notes of lemony botrytis. At Rieussec, a not exactly small 30% portion of its vineyard holdings were hit by frost, but those were mostly plots the grapes of which are usually reserved for the second wine and the dry wine (R de Rieussec). Drinking window: 2024-2045
Roûmieu-Lacoste.
2017 Roûmieu-Lacoste Sauternes
Aged in about 70% new oak (and the rest in one year-old oak barriques) for twelve months and boasting roughly 156 g/L residual sugar, the 2017 Roûmieu-Lacoste is no shrinking violet. Dense and mouthcoating flavours are similar to the aromas: burnt orange, caramel, lemon curd, and earthy botrytis stand out. The long rich aftertaste repeats earthy botrytis notes that add complexity. Well done here. Drinking window: 2024-2034
Sigalas Rabaud.
2017 Chateau Sigalas Rabaud Sauternes         96
Pale yellow-gold. Vibrant and extremely pure aromas of orchard fruit, tangerine, green melon, chamomile, coconut and brown spices, with an enticing honeyed botrytis character. Concentrated but very refined, with a lightly saline, firm acidity that really extends the flavours on the long seamless and very light on its feet close. Offers an exhilarating sugar/acid balance (127g/L r.s. and 6.5 g/l total acidity), making this 100% Sémillon and absolute knockout and one of the very best wines of the vintage. Drinking window: 2024-2042
Suau.
2017 Chateau Suau Sauternes           92
Pale golden-orange hue. Reticent and slightly cardboardy on the nose, this needs decanting; with aeration, the initially unexpressive nose opens to offer clean and slightly high-toned, ripe aromas of candied apricot, honey, marzipan and vanilla emerge. Then much better in the mouth where it tastes not just clean and fresh, but also rich and dense, with flavours similar to the aromas.  I really like the Sémillon presence here, well done. Finishes long and spicy with very pretty and nicely persistent notes of ginger. Suau has underperformed at times over the years, but this wine boasts sneaky concentration and size, and has a fresh saline bite that will make it very food-friendly. If it weren't for the nose, I would have scored this much higher, but maybe time will allow this to harmonize further, and so I'll be generous in my score. Reportedly only the second time this wine is 100% Sémillon.
Suduiraut.
2017 Chateau Suduiraut Sauternes        96
Deep yellow gold. High-pitched aromas of orange blossom, lemon jelly, pink grapefruit, peach, pear and yellow apple. At once rich and dense, but also racy and super well-delineated, with beautiful focused intensity to the juicy flavours of crystallized pineapple, orchard fruit and sweet spices, complicated by honey and flinty botrytis. Closes very long with an excellent and still youthfully tight core of pure fruit. Suduiraut performed three tries, picking most of its grapes from October 4 to 15 (the second trie or vineyard pass; the third took place on October 19). Interestingly, as the grapes were picked when the botrytis hit ripe but not overripe grapes, this Suduiraut strikes me as one of the livelier 2017 Sauternes. Like most every other estate, Suduiraut's vineyards were also touched by frost, but mostly it was only in secondary plots.
Yquem.
2017 Chateau d'Yquem Sauternes       98
Bright golden yellow. Outstanding spectrum of fresh fruit, honey, saffron, lemon tart, ginger, marzipan, and lovely noble rot aromas and flavours that are very pure and precise. A very rich, concentrated and luscious Yquem (148 g/L r.s and only 6 g/L total acidity, but a 3.8 pH) that is the wine of the vintage by a considerable distance. This is an absolutely beautiful Yquem that speaks clearly of a greater than usual Sémillon presence, making for a richer, deeper, creamier wine; even better, it will pair well with a bunch of different dishes. Sandrine Garbay, Yquem's winemaker with whom I spent a wonderful morning tasting at the winery, told me she believed the 2017 Yquem is somewhat like the 2009 in personality (both are fairly luscious, ripe wines, though clearly the 2009 is one of the biggest, most luscious Yquems ever made) and because the harvest's denouement was fairly similar (meaning it took place very quickly and intensely). In 2017, picking at Yquem occurred over the course of only two weeks (from September 26 to October 4 and then from October 5 to October 14) and in only two tries. At Yquem, it rained off and on from August 30 to September 25, followed by a period of warm weather that really kick-started the presence of noble rot among the vines. Most importantly, there was no passerillage effect (no airdrying) in 2017, making for a lighter, fresher, more refined wine (though still very unctuous): in this, the estate helped itself by beginning to pick the cooler clay-rich parcels first where the gapes were blessed with higher acidities. In the end, about 70% of the grapes used to make the 2017 Yquem were hit noble rot, with the remaining 30% picked at the physiologically ripe and pourri plein stages of development. Yquem's one of a kind terroir was such that the estate wasn't hardly touched by frost at all (only three hectares out of the total one hundred and five hectares, plots from where grapes are sourced to make the dry white wine, not the Sauternes) Yields were about 17 hL/ha and only 45% of the crop was used for the grand vin.