All-right, let's get the simple basics out of the way such that we are all on the same page and can convey the impression of knowing, at least, what we are talking about. To be crystal-clear, there is no such thing as Pelaverga. Neither a grape nor a wine. So stop saying and writing it.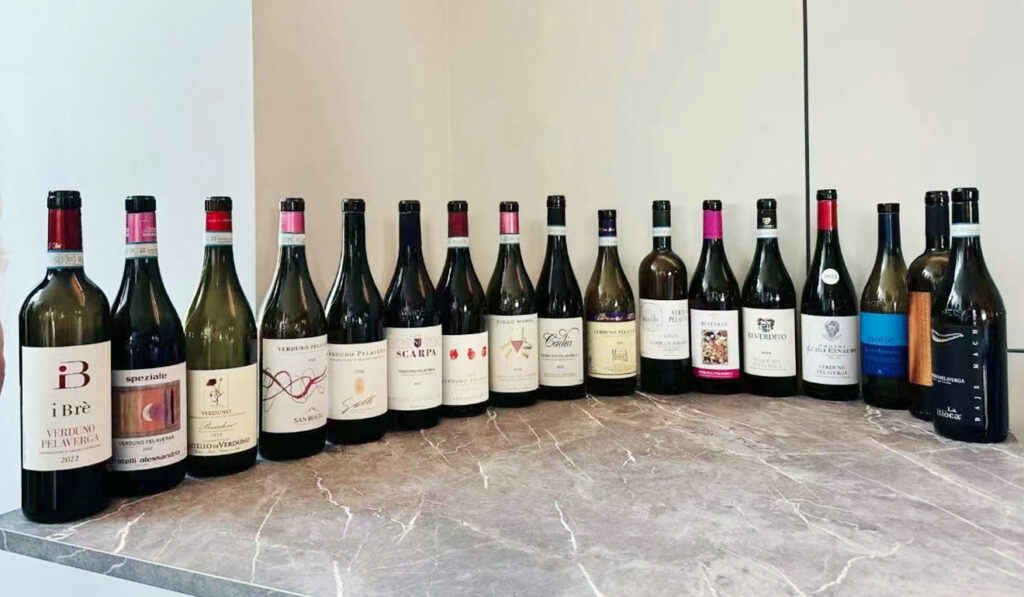 There exist not one but two Pelaverga grape varieties: Pelaverga Grosso, typical of the Salluzzese part of Piedmont, and Pelaverga Piccolo (also referred to at times as Pelaverga Comune), common to the territory of Verduno, a town best-known for being only one of the eleven communes the territories of which are allowed to produce Barolo. Just like we all realize a wine made with Cabernet Sauvignon offers different aromas, flavours, and tannic power from one made with Cabernet Franc, the same applies to the two distinct Pelaverga grapes. They are distinct grapes: hence, they give different wines. In fact, the wine made with Pelaverga Grosso is called Cari, while the more famous wine made with Pelaverga Piccolo is called Verduno Pelaverga. It follows that just like you would distinguish between, and specify, whether you are talking or writing about a wine made with Cabernet Sauvignon versus one made with Cabernet Franc, or for example a Pinot Gris wine versus a Pinot Blanc wine, that you would do the same when dealing with the two different Pelaverga grapes and their respective wines. So I repeat, there is no such thing as a Verduno Pelaverga grape: that's the name of a wine, made with Pelaverga Piccolo, and not of a third, non-existent, Pelaverga variety.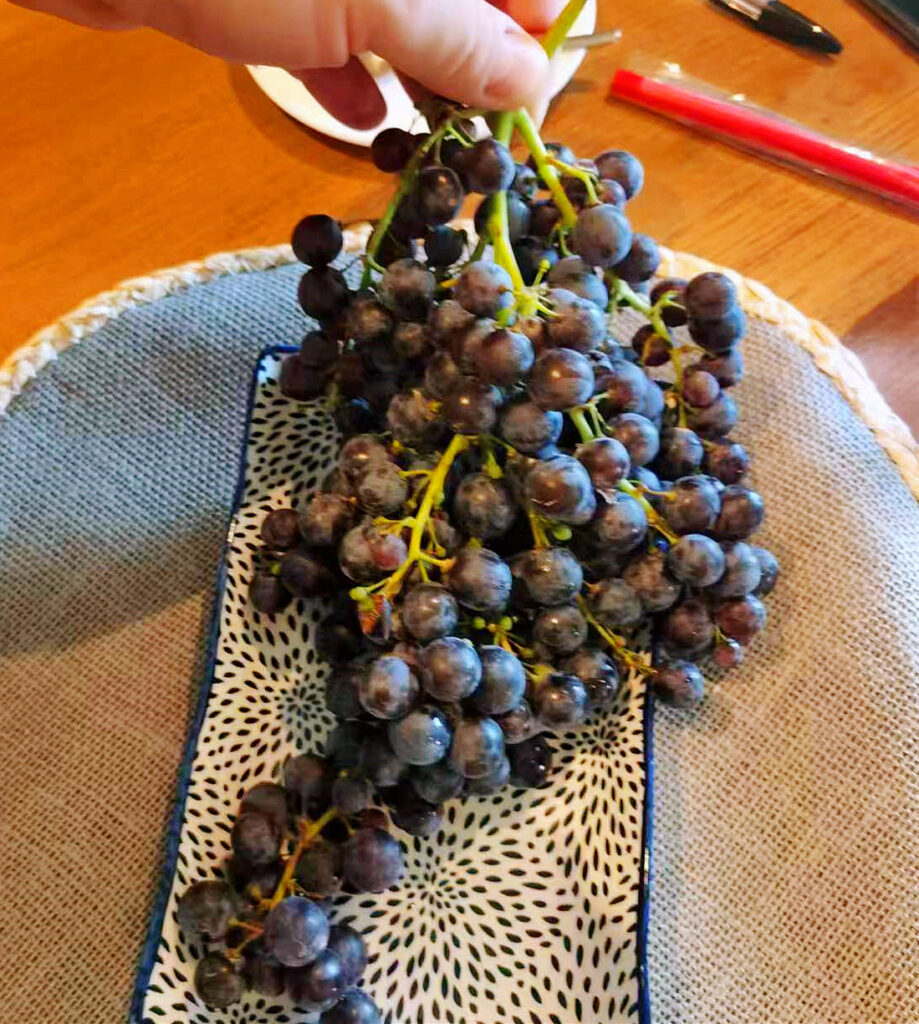 Pelaverga Grosso and Pelaverga Piccolo have been officially part of the National Registry of Italy's Grape Varieties as of 1981 and 1994, respectively: the two, despite carrying similar names, are unrelated, with the latter perhaps brought over in the eighteen century to the Verduno area by Sebastian Valfrê from his native Saluzzo. For sure, some old vineyards in the Verduno area have the occasional plant of Pelaverga Grosso planted amidst all the Pelaverga Piccolo, but it is to be considered an absolute rarity there. Birthplace and territorial location are not the only important differences between the two grapes: as the adjectives grosso and piccolo imply, the two varieties have also very different-looking bunches and berries (clearly, Pelaverga Grosso is so-called because it has the bigger bunches and especially the much bigger berries: it's the latter that is the real make-or-break distinction between the two varieties). Even more importantly, Pelaverga grosso tends to give perfectly fine but aromatically neutral wines, while Pelaverga Piccolo belongs to the group of the "lightly aromatic wine grape varieties" (for example and to help you better understand, Ruché belongs to the "moderately aromatic wine grape varieties"; and Moscato Bianco and Gewurztraminer are included in the group of "strongly aromatic wine grape varieties"). In fact, the very expressive aromatic profile of the Pelaverga Piccolo wine is its single most important distinguishing feature. Lacking that, you can safely say it is a poorly-made Verduno Pelaverga wine that you are tasting.
Getting to know Pelaverga Piccolo, the grape and its wine
Pelaverga Piccolo is late budding, so it doesn't fear late spring frosts. It is also relatively late-maturing, so in the days prior to climate change, it was regularly harvested by mid-October. Today, harvest is more likely to start in the second half of September (grape-wise, it therefore has a relatively short growing season). Pelaverga Piccolo is vigorous and a regularly yielding, high-crop producing variety that requires careful vineyard management such as for example more or less intense thinning operations. As its name implies, it is characterized by medium-large bunches that are said to be compact (but in my experience, not always so) and of an elongated conical or pyramidal shape. The berries are medium-small (hence the real reason for the variety's name) and has medium-thick skins covered in bloom. Of note, Pelaverga Piccolo tends to be a reductive variety. Given that aromatic expression is one of the variety's strong suits, oak is generally eschewed in its vinification techniques and aging regimens.
The Pelaverga Piccolo production area covers the territory of Verduno and parts of the territories of communes of Roddi and La Morra: of those roughly thirty hectares, slightly more than 25 are in Verduno, 3.96 hectares are in Roddi and 1.62 hectares in La Morra. Until recently, there were roughly 150-180,000 bottles/year of Verduno Pelaverga wine produced, but the 2022 vintage saw the biggest production yet, 204,000 bottles. This is a sure-fire sign of the grape's and wine's popularity. There are now 35 entities involved with Pelaverga Piccolo, with nineteen wineries and nineteen bottlers making a Verduno Pelaverga wine. The official producers association was founded in 2000 and has eleven members; founding fathers where the wineries of Castello di Verduno, Comm. G.B. Burlotto, Gian Carlo Burlotto-Massara, Bel Colle, Fratelli Alessandria and Vinandolo by Antonio Brero. Historically, nobody made a monovariety Pelaverga Piccolo wine save for those few estates where it was particularly appreciated. One such fellow was Fabio Alessandria's grandfather Ignazio who, given that vineyards planted entirely and solely to Pelaverga Piccolo did not yet exist at the time, sourced the grapes from friends in their co-planted vineyards, exchanging grapes of his (of other varieties) with their Pelaverga Piccolo. The first ever monovariety Pelaverga Piccolo vineyard was most likely the one planted by, to her immense credit and legacy, Gabriella Burlotto of the Castello di Verduno in 1972 (in what is today's Massara cru), though there appears to be documentation of a "Pelaverga" vineyard that had been planted as early as in 1971 by the Fratelli Brero (a wine outfit that no longer exists).
A 100% Pelaverga Piccolo wine is characterized by a pale to medium red colour (dark ruby, purple and almost black wines are an impossibility with this grape, unless varieties such as Barbera are added in, something that is rarely done though, if one was so inclined, up to 15% of other red grapes can be legally included in the wine's makeup). Aromas of mostly red fruit, sweet spices, herbs and a pungent floral quality (even in the absence of whole bunch use) are typical, and especially typical is a note of black or pink peppercorns. The peppery note is related to the high levels of rotundone that Pelaverga Piccolo can express: concentrations in its wines average 40 ng/L (whole bunch use increases it expression further), which is much higher than the 16 ng/L of the olfactory perception threshold. What those numbers mean is that almost anyone can spot this wine's peppery qualities almost at first sniff. That much admitted, please note that Pelaverga Piccolo, while certainly a "peppery" wine, is not especially peppery. For example, both Schioppettino, another well-known Italian native grape the wines of which are famous for the intense note of green pepper they exude, and Syrah, best known for its black pepper aromas, have average concentrations of rotundone that are about fifteen times higher than those of Pelaverga Piccolo; at over 5500 ng/L, the highest rotundone levels of all are those recorded in Vespolina (so the latter grape expresses 1200 times more rotundone than Pelaverga Piccolo). And even a white grape, Austria's Grüner Veltliner, can express close to 2000 ng/L of rotundone. Nevertheless, even at only 40 ng/L, Pelaverga Piccolo's wines come across as quite spicy. Pelaverga Piccolo also tends to accumulate sugars easily, such that alcohol levels in finished wines are usually not shy (regularly at 14 percent in this day and age of climate change). Last but not least, this grape's wines are characterized by a medium-light structure and by good brightness, despite Pelaverga Piccolo not being a very high acid variety. In short, it's high-quality wine grape the wines of which have met with much, understandable, success all over the world.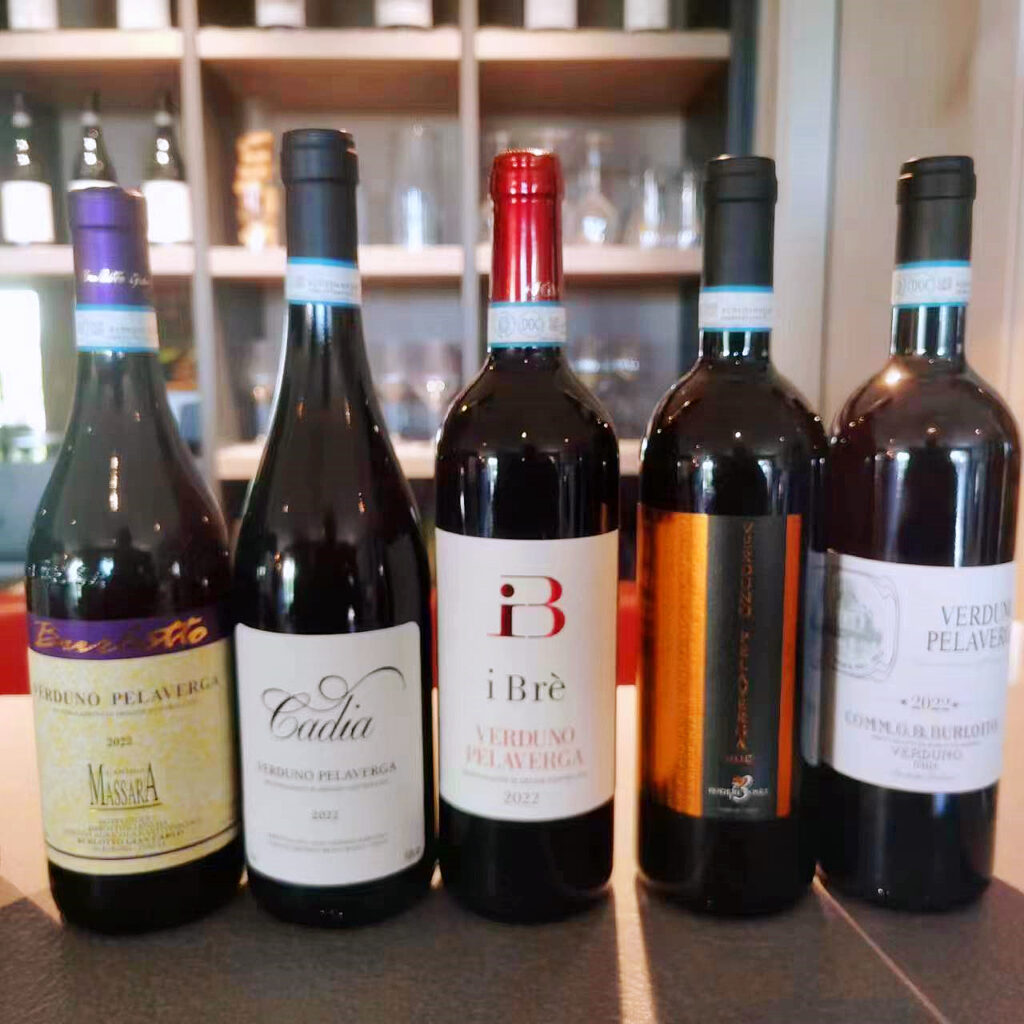 Recent vintages
In one word, the 2022 vintage can be described as "hot". High temperatures and low rainfall characterized the year, and only the water-retentive capacity of some of Verduno's soil types (especially one of two) made for an easier time in this specific part of the Barolo denomination. The unusual weather that would characterize the 2022 growing season was apparent from early on, beginning in early winter when there was a shortage of rainfall and the climate was unseasonably mild. The growing season started one week earlier than the previous vintage. The lack of noteworthy rainfall throughout the spring helped to offset the early plant growth, so the timing of bud break was standard for all varieties in 2022. Temperatures in April were in line with seasonal averages, while May was on average four degrees higher than the previous year's average. The very low rainfall of the start season continued (only 130 mm of rain fell up to October). There were also higher maximum and average temperatures than in the past from April to August, especially from the end of May throughout June. This, coupled along with the previously-mentioned low amount of rainfall, led to the flowering taking place ten days earlier than the average, before mid-June. The month of July saw a continuation of the trend of fine weather and high temperatures: by now used to the little rainfall, the vines adjusted on their own to the low availability of water, showing less vegetative growth due to the absence of suckers, and smaller clusters. Fortunately, September and October were cooler than average, which helped growers a lot, and clearly, vineyard management proved to be relatively straightforward given the absence of disease pressure. It follows that in 2022, a great deal of the success (or lack thereof) in making a great Verduno Pelaverga wine depended particularly on how well foliage and canopy management was undertaken to deal with the long sunny and hot periods of the summer, providing shade for the grapes and preventing any damage associated with burning due to direct exposure of the Pelaverga Piccolo grapes to the sun. Clearly, given that the trump card of Verduno Pelaverga wines is their mesmerizing perfume, any viticultural snafu that led to aromatic precursor molecules in the grapes being burned off by the summer sun and heat led to making less than stellar Pelaverga Piccolo wines in 2022. All that being true, it cannot be denied that 2022, a hot year no matter how you slice it, was not the most ideal in which to make aromatically perfumed wines like Verduno Pelaverga. Still, there were many fine wines made, as you will see in the following tasting notes.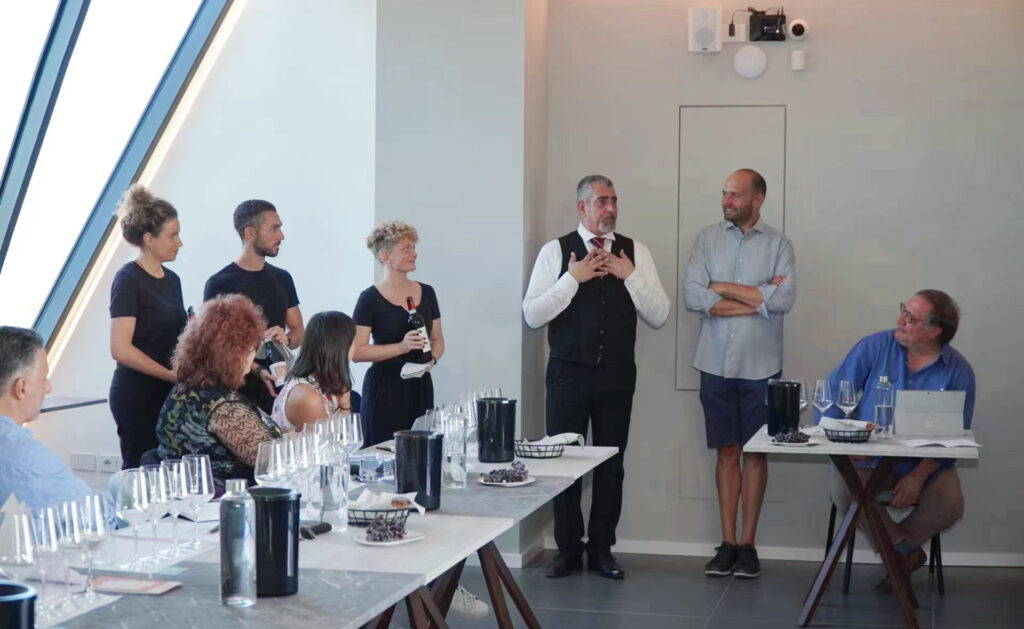 The wines and the producers
All the wines in this tasting report were tasted directly in Verduno in September 2023 during one of my many yearly winery trips to the Barolo region. In this instance I was actually there to speak at a wonderful two days event organized by the Verduno è Uno association, the eleven members of which have the goal to promote and broadcast the qualities of Pelaverga Piccolo and the unique Verduno Pelaverga wine. About 15-20 Italian and foreign wine journalists and somms were invited and the general conclusions drawn were that despite the hot year Verduno Pelaverga is a wine deserving of its great current popularity and that the wines share many similar traits, with most clearly showcasing the qualities of the Pelaverga Piccolo grape variety and the unique production area where this wine is made.
B. Burlotto 2022 Verduno Pelaverga 94
Dark red. Delicately flinty and ripe on the nose, with deep blackberry and red cherry aromas and notes of spice, licorice, cinnamon and tobacco. Full and rich but also bright, with red and dark berry flavors enlivened by juicy acidity and framed by supple tannins. Fresh, multilayered and long, with a lingering note of very pure red berry liqueur. Utterly delicious and already accessible. Roughly three hectares of vines were planted beginning in the 1970s through 2016, with two more vineyards in 2021 and 2023, facing east, west, south and northeast between 250-350 meters above sea level. The vineyards are located in Sut Jort, Boscatto, Lasagne, Rodasca (in the village of Verduno) and Cadia (in Roddi). The lands have different type of soil between the Fossil Marls of Sant'Agathe (in Lasagne, Rodasca e Cadia) and the Cassano Spinola Formation (Sut Jort and Boscatto). The youngest plantings are those of Rodasca, planted half to Pelaverga Piccolo and half to Nebbiolo. The winery makes about 30,000 bottles/year, and unlike most other Verduno pelaverga wines, sees some oak. The 2022 is stainless steel fermented and aged (70%) and the remaining 30% sees used (10 years+) large oak barrels. Drinking window: 2025-2033.
Diego Morra 2022 Verduno Pelaverga            93
Good very full red. Sappy, deep aromas and flavours of red and dark berries and spicy, tarry herbs, with a hint of violet and quinine. Bigger and stonier than most Pelaverga Piccolo wines I tasted this year, but also comes more elegant and suave than most. A denser Pelaverga Piccolo wine than many, but you can hardly tell that this clocks in at 14% alcohol and is further freshened by nicely harmonious saline acidity. Planted in 1995, 2008 and 2018 with northwest to southeast exposures, between 220-260 meters above sea level, Morra is one of the largest landowners of Pelaverga vines at 2.2 hectares. The winery makes about 15,000 bottles/year, all stainless steel fermented and aged, with the clearcut aim being of enhancing and protecting the wine's inherent freshness and aromatic qualities.
Gian Luca Colombo-Segni di Langa 2022 Verduno Pelaverga 93
Good deep vivid cherry red. The pure, ripe nose suggests red cherry marmelade, raspberry nectar, smoked meat and quinine, along with a whiff of cinnamon and dried fruits. Sweet, dense and fine-grained in the mouth, with flavours that are very similar to the aromas, and that are nicely supported by tannins that are rather suave. Closes long and lifted with a risingly firm edge to the finish and nicely lingering perfume of peony, lavender and red roses. Colombo got to know the Pelaverga Piccolo variety well back in 2004 when he was working at the Terre del Barolo coop, then the largest owner of Pelaverga Piccolo vines in the area; in 2017, Colombo planted two vineyards and subsequently still more small parcels of Pelaverga Piccolo of his own, choosing to do so with the Castello di Verduno Pelaverga Piccolo biotype, which is most likely the "original" Pelaverga Piccolo biotype native to the area. His vines face south/southeast and are planted at 240-250 meters above sea level. His specific intent with this variety is not to make just a perfumed, summery wine but one that can age and improve. He currently makes about 2200-2700 bottles/year, all aged in amphora, a rarity for the area. Drinking window: 2025-2033.
Cadia 2022 Verduno Pelaverga                 92
Pretty pale red colour: Cadia's is always one of the lightest coloured Pelaverga Piccolo wines of all. Intriguing scents of dried lemon rind, strawberry, hawthorne, pungent herbs and anise. Offers impressive depth and piercing red berry and orchard fruit flavors complemented by herbs and dried flowers. Smoky hazelnut nuances carry through the sappy and brisk finish. Cadia is run by Bruno Giachino who was for fourteen years at the Monfaletto estate, but then left in 1996 to make his own wines out of the commune of Roddi. The first vintage made of Verduno Pelaverga was in 1998. The winery owns two vineyards of Pelaverga Piccolo, one about 15 years old and another planted in 1985 that is about 50 years old now (0.45 hectares facing east located at 280 meters above sea level). The final wine is almost always a blend of roughly 60-40% grapes from the two vineyards. The wine is all stainless steel-fermented and aged. Drinking window: 2023-2029.
Castello di Verduno 2022 Verduno Pelaverga        92
Deep bright red color. Dark plum, strawberry, green tea, incense and an earthy nuance on the deep nose. Juicy on entry, then nicely concentrated and rich in extract, with the wine's saline character and edge of lemony acidity not currently able to offset an impression of monolithic solidity. Finishes classically dry and long, with slowly developing aromatic perfume. The estate owns two vineyards of Pelaverga Piccolo and rents another two hectares: the owned vineyards are in the cru Massara (about 0.7 hectares planted in 1972, 1988 and 2001 facing southeast at 240 meters above sea level on mostly clay-calcareous soil) and in the cru Boscatto (about 0.42 hectares planted in 1989 facing southeast at 340 meters above sea level on mostly calcareous-clay soil). The winery makes about 26,400 bottles made, all stainless steel-fermented and aged. This wine was renamed "Basadone" in 2000: in Piedmontese dialect, it means poppy (as in the flower, a common site in Barolo's vineyards), but it also means "baciadonne" (or "he who kisses women, an apt descriptor for such a sultry, sexy, spicy wine). Drinking window: 2025-2032.
Fratelli Alessandria 2022 Verduno Pelaverga Speziale       92
Deep red. Hints of camphor, cloves and violet complement blueberry and dark red cherry aromas and flavours. Creamy and smooth in the mouth, Fratelli Alessandria's Verduno Pelaverga, despite its name hinting strongly at spices, is actually less aromatically pungent (neither too floral nor too peppery) than most in the denomination, but its easygoing, approachable nature is downright charming. This is another wine that delivers a lot of flavour while clocking in at a relatively shy 13.5% in alcohol. Roughly 3.3 hectares of vines were planted to Pelaverga Piccolo clones CVT C1, CVT 212 and CVT 223 beginning in the 1971 and proceeding through 2021. The vines are located in the crus of Riva Rocca (facing south and east at 270-320 meters in altitude); Campasso (facing eastwards, planted at 250-350 meters of altitude); Boscatto (facing eastwards also at 250-350 meters above sea level); Neirane (with a western exposure, planted at 330-400 meters in altitude); Sotto Orti (facing westwards at 270-310 meters in altitude), and Galleria (looking out to the west, at about 250-280 meters above sea level). The winery makes about 26,000 bottles/year of Verduno Pelaverga, all stainless steel fermented and aged. Drinking window: 2024-2030.
I Bre 2022 Verduno Pelaverga                   92
Luminous red colour. Enticing aromas of wild strawberries, raspberry nectar and sweet spices, all lifted by a bright violet topnote. Then also lithe and seamless, with crisp acidity nicely framing the small red fruit and spicy but not especially peppery flavours. Beautifully balanced and magically light on its feet, this pretty red wine offers lots of flavours and only 13.5 % alcohol on the long clean steely finish. Some might view this little gem as too lean or not concentrated enough, but a Verduno Pelaverga wine should never be the second coming of a Cabernet Sauvignon or Syrah behemoth. The estate first bottled a Verduno Pelaverga wine in 1994 and today owns about three hectares of Pelaverga Piccolo first planted in 1995, facing southeast at 250 meters above sea level. The winery makes about 5000 bottles/year, all stainless steel fermented and aged. The vines were planted thanks to the passion of Luciano Brero, who did so specifically in the Lucco area and in the Breri cru of the Verduno territory. Drinking window: 2024-2030.
Michele Reverdito 2022 Verduno Pelaverga          92
Dark red. Plum, redcurrant, white pepper, tobacco and cedary nuances on the nose. Dense and chewy but bright, with very good intensity to the spicy, deep flavours of redcurrant, red plum, raspberry and nuts. Harmonious acidity gives the creamy fruit a piercing quality. The aftertaste is supple, smooth and long, with lovely sweetness. Very well done. The winery owns about 0.65 hectares of Pelaverga Piccolo planted in 2008 facing southwest at 290 meters above sea level, and makes about 2980 bottles/year. Stainless steel-fermented and aged, it clocks in at slightly over 14% alcohol. Drinking window: 2024-2031.
Arnaldo Rivera 2022 Verduno Pelaverga Sui Cristalli 91
Bright red. Delicate cinnamon and rose petal aromas mingle with nuances of sour red cherry and violet. Soft and easy in the mouth, with a supple texture and good intensity to its flavours that recall the aromas. Finishes with decent grip and excellent persistence. Another Verduno Pelaverga wine that was less spicy than I expected it to be (but there was no getting around the 20022 heatwave). From 25 years old vines on average, planted in two different plots: one 0.66 hectare plot was planted in 1991 and in 2004 facing west at 310 meters above sea level; the second 0.4 hectares were planted in 1992 and 2005 facing east at 300 meters. The soils are mostly of the reddish-brown type hat are richer in loam and give bigger-bodied, less perfumed Verduno wines, thereby explaining this wine's nose. About 8,000 bottles/year made, this is stainless steel-fermented and aged. As good as this wine is, I point out that at Arnaldo Rivera, besides a slew of outstanding Barolos made from many of the denomination's best crus, you would do especially well to choose a bottle of their Freisa, which is really remarkably good. Drinking window: 2023-2029.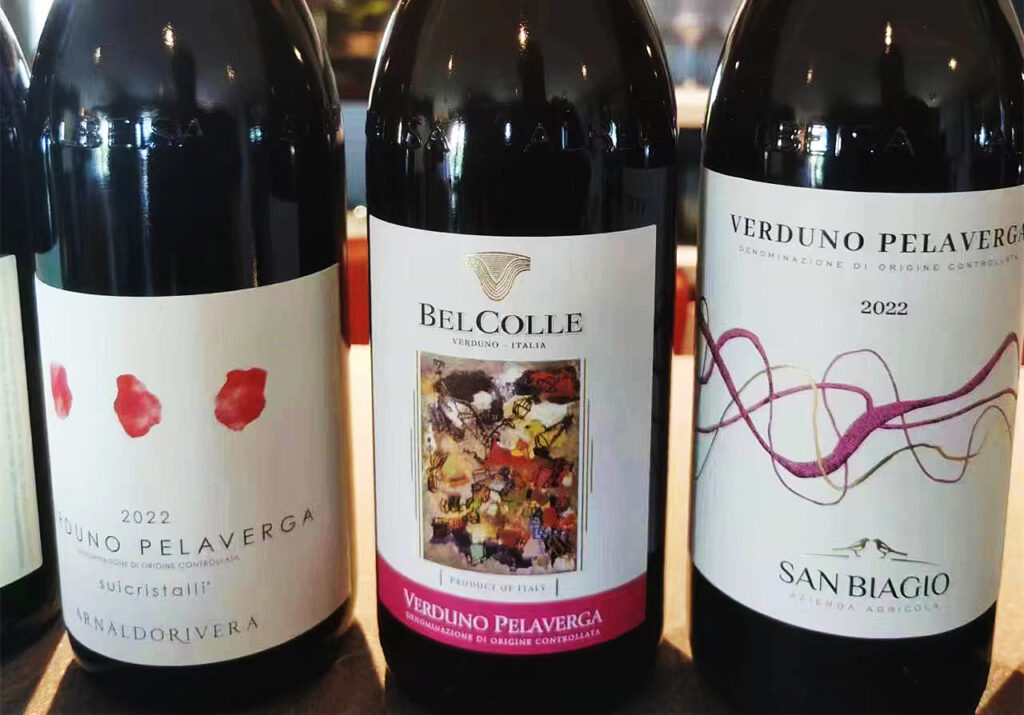 Gian Carlo Burlotto-Cantina Massara 2022 Verduno Pelaverga    91
Medium-deep red. Ripe yet cool aromas of plum, savory peach and red berries, with a dusting of herbs and spices. Ripe and fairly rich, with fruit-driven flavors of plum, red cherry and melon complemented by a leesy complexity. A rather big, somewhat monolithic Verduno Pelaverga wine that lingers nicely while managing to convey an impression of suavity. This is always one of the darkest of all Verduno Pelaverga wines, and though I've asked, those who make it are unclear as to why that is. About 1.1 hectares of Pelaverga Piccolo were planted in 1980 facing southeast at 290 meters above sea level. The winery makes about 14,500 bottles/year, all stainless steel fermented and aged. Drinking window: 2024-2029.
Luigi Einaudi 2022 Verduno Pelaverga                  91
Bright ruby. Deep aromas of roasted plum, blackberry reduction and red cherry, with notes of raisin and dark coffee. Soft and rich in the mouth, with an almost syrupy texture to its blackberry, plum jam, and coffee candy flavours. The finish is thick and long, with a sweet suggestion of cherry preserves that is very much in keeping with the hot 2022 vintage. This is the first ever vintage of Verduno Pelaverga for this famous Dogliani and Barolo estate, and though it is a very good wine, I really would like to see it in a fresher vintage when it can express more of Pelaverga Piccolo's charms. Einaudi planted roughly 0.5 hectares of vines were planted in 2000, facing west at 300 meters above sea level. The wine is aged in concrete fiberglass and stainless steel. Drinking window: 2024-2031.
Ascheri 2022 Verduno Pelaverga       90
Saturated red. Straightforward but lovely aromas of cassis, kirsch, strawberry, tobacco, graphite and lavender are pure and precise. On the palate, both red and dark berry flavours verge on jammy but maintain freshness thanks to bright mineral and just enough acid lift. Closes with sweet strawberry and blueberry notes and outstanding length. About 0.38 hectares were planted in 2017 facing north at 250 meters above sea level, the winery makes about 3,200 bottles/year, all stainless steel fermented and aged. I have had better Verduno Pelaverga wines from Ascheri, well-known as an excellent Barolo producer; this 2022 Verduno Pelaverga is a very good wine, but there was just no getting around the heat in 2022 so as to let the variety express its aromatic potential to the fullest. Drinking window: 2024-2029.
San Biagio 2022 Verduno Pelaverga 90
Bright medium red colour; in my experience, San Biagio usually makes one of the darkest Verduno Pelaverga wines of all, but this is not the case in 2022 (in fact, their Pelaverga Piccolo is planted in La Morra's Capalot cru, a very clay-dominated site, that often tends to give some of darkest Barolos of La Morra). Then offers simple, straightforward aromas and flavours of strawberry and orange peel, with a light dusting of herbs and spices. The aftertaste is fresh and medium-long. Another very easygoing wine that isn't exactly the last word in concentration but that offers plenty of flavour and only 13.5% alcohol, but I would drink this up over the next four years or so. About one hectares of Pelaverga Piccolo were planted in 1990 and again in 2018, facing east at 390 meters above sea level; the winery today makes about 8000 bottles/year, all stainless steel-fermented and aged. The winery, which is not situated in Verduno, has an historical exemption to produce in La Morra. Drinking window: 2023-2027.
Scarpa 2022 Verduno Pelaverga        89
Very dark red. Liqueur-like aromas of blackberry, blueberry, violet, menthol and cocoa powder. Fat, sweet and ripe, with slightly high-toned flavours of dark berry and cherry. Shows an almost candied sweetness and impressive flesh. This is a good, well-made wine (hence the 90 score) but in many ways this is the least typical Pelaverga Piccolo wine of the whole tasting. Much of this has to do not with the winemaking or the specific soil but rather with the very hot year. However, I would most definitely dock this wine's score a few points had it this same type of bigger, not so aromatic perfume in a cooler year. About 1.1 hectares were planted in 2019 by grafting over pre-existing vines that had been planted in 1970, facing east at 350 meters above sea level. The winery makes about 13,000 bottles/year, all stainless steel-fermented and aged. Drinking window: 2025-2032.
Bel Colle 2022 Verduno Pelaverga            89
Light red. Subdued aromas of strawberry, orange peel, fresh bay leaf and coriander. Juicy, expansive and glyceral red berry and herb flavors show an intriguing blend of sweetness and vivacity. Really coats the mouth on the finish, with the raspberry and orange notes repeating and leaving behind a glyceral, superripe slightly evolved impression. I think the strong heat made making a noteworthy Verduno Pelaverga wine very hard in 2022. Bought by Bosio in 2015, the winery first made a Verduno Pelaverga wine in 1982, it has always believed in the grape going as far as uprooting Chardonnay and Dolcetto about six years ago to plant more Pelaverga Piccolo. Today, the winery owns about two hectares planted in 1990 facing southwest at 400 meters above sea level, and makes about 15,000 bottles/year, all stainless steel-fermented and aged. Drinking window: 2023-2027.
La Bioca 2021 Verduno Pelaverga            87
Medium red. Aromas of flinty, syrupy, nutty red fruits. There is decent concentration and sweetness to the red fruit and herbal flavours, but could use a bit more clarity and depth of flavour. Finishes medium-long with light, dusty tannins. Drinking window: 2023-2028.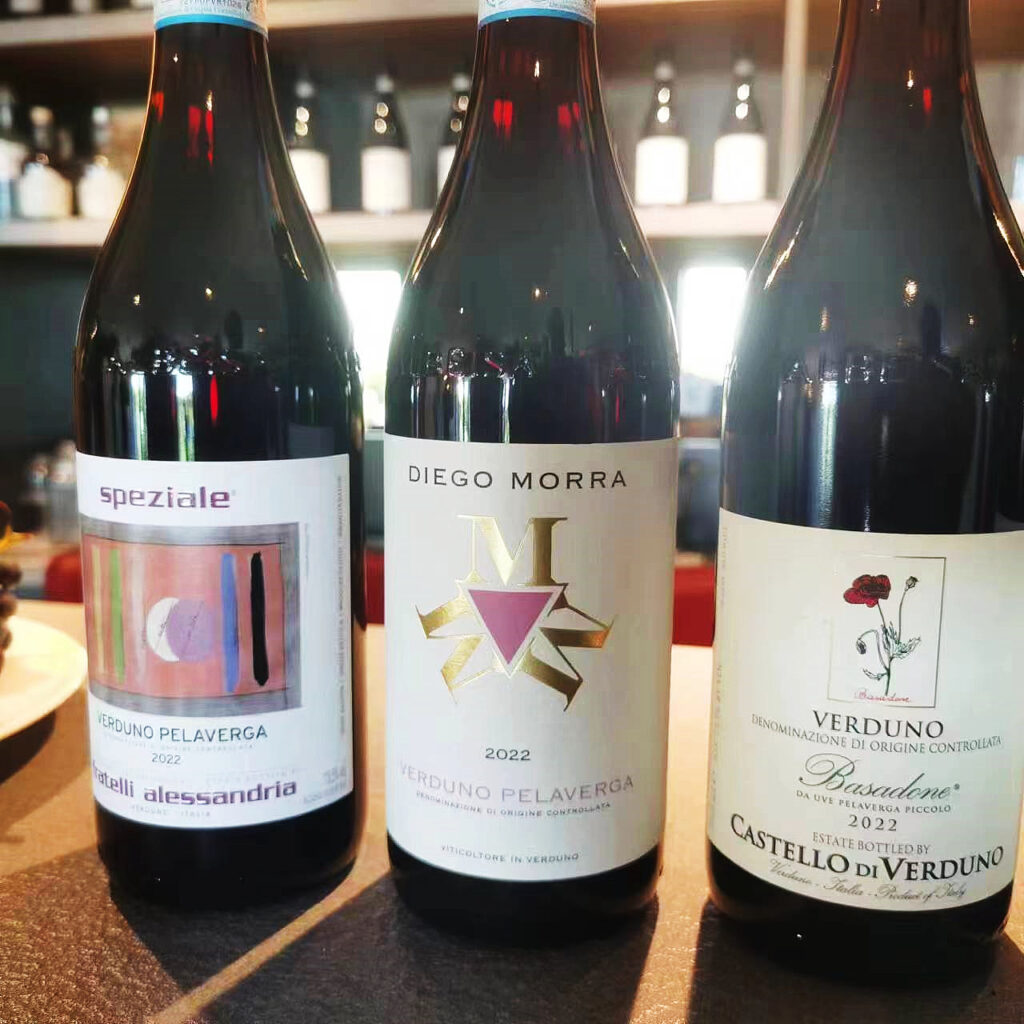 Poderi Roset 2021 Verduno Pelaverga     87
Medium red. Musky coffee, red cherry, and tobacco on the nose. Thick and broad, with moderately dense red cherry and raspberry flavours that are supple on the front half but slightly ungiving on the medium-long back end, due to some unabsorbed acidity and slightly tough tannins. About 0.51 hectares were planted in 1996 and 2021 facing southeast at 350-450 meters above sea level. The winery makes about 4000 bottles/year , all stainless steel fermented and aged. Drinking window: 2023-2028.